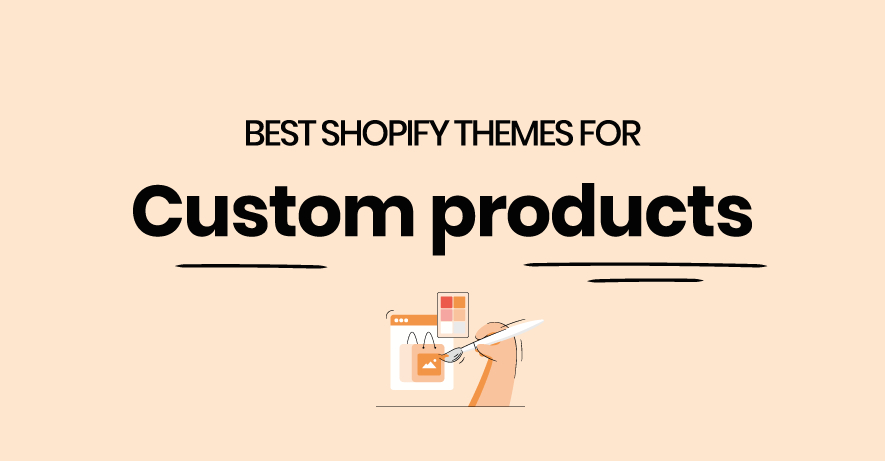 By purchasing through the links on this page, you are giving us the opportunity to earn a commission. Your support is greatly appreciated!

Shopify is an excellent platform for selling pretty much everything. So, it's no surprise that with powerful built-in editing features, excellent customization, and hundreds of apps, Shopify is an excellent choice for selling custom products.

But just the right platform is not enough. For the best results, you need the best Shopify theme for custom products. You need a theme that's easy to edit, works perfectly with a wide range of customization apps, and offers excellent product pages, as well as a modern, lightweight design.

In this post, we'll cover some of the best Shopify themes for custom products – and help you choose the right option for your new and unique store.

Optimize your store for the best user experience. Use TinyIMG to improve your site speed and SEO rankings!

Try TinyIMG today!
What to look for in a Shopify theme for custom products?
Customizable design. Your custom product website might also take advantage of several excellent item customization apps. Pick a theme that's easy to edit and isn't overloaded with elements: so you can customize and improve it yourself.
Powerful product pages. This is where the magic of customization happens. Shopify offers plenty of first and third-party tools to make product customization simple – but a good theme will also offer you excellent, well-designed product pages that will include a lot of features from the start.
Simple, buyer-friendly navigation. Let's be blunt: your goal here is to sell. Make sure your site's navigation and purchasing path are simple and easy to understand, on all devices. We picked out the themes which do exactly that.
10 best Shopify themes for custom-product stores in 2023:
These right here are the best Shopify themes for custom product stores:
Now, let's take a deeper dive and see them in detail:
1. Palo Alto – powerful customization and stock information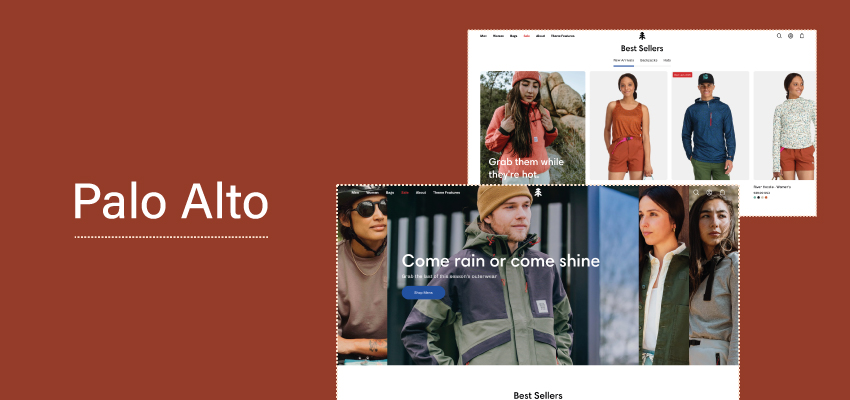 Compatible with Shopify 2.0:
Palo Alto is one of all-time favorite themes for custom product businesses. Fittingly, websites made with this theme are incredibly customizable. With a wide variety of sections, and built-in sales integrations, it's super versatile, making it probably the best Shopify theme for custom products.
One of the key features for custom product stores is stock notifications – Palo Alto has that built in, so you'll always be on top of your orders and demand. Plus, the theme has a very powerful and customizable product page: which is where all the customization magic happens. With Palo Alto as a base, you can make visually-stunning stores with live customization – like Purse For The People.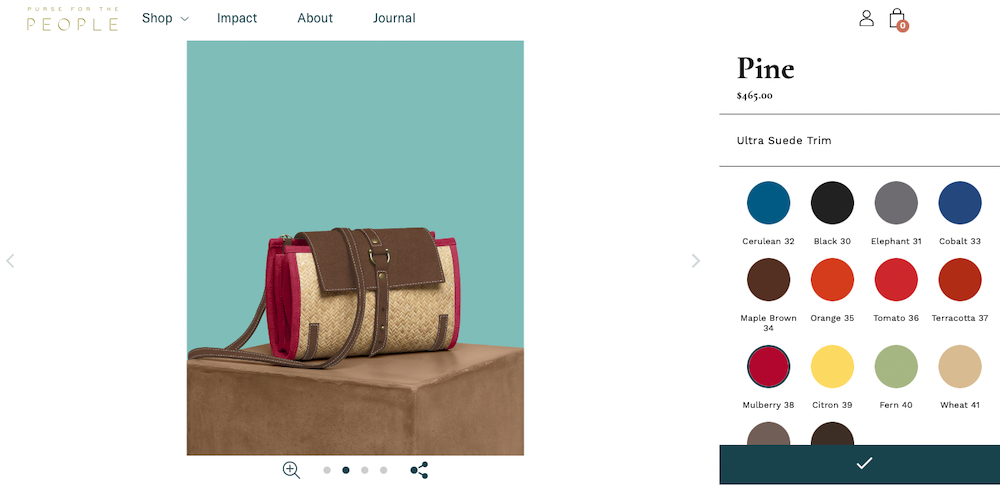 The theme is free to try – if you decide to go live, it'll cost $280.
Main features:
powerful product page,
stock notifications,
product upsells
2. Retina – flexible and modern Shopify theme for custom product stores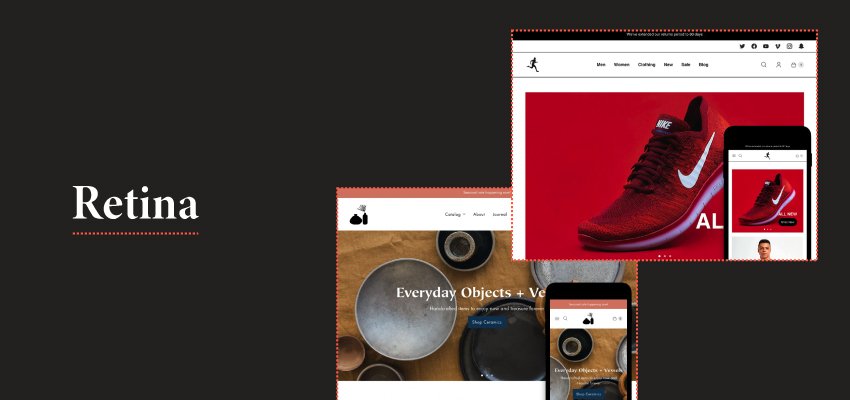 modern brands, flexible customization
Austin, Melbourne, Montreal, Amsterdam
Compatible with Shopify 2.0:
Retina is a modern and stylish Shopify theme that allows you to showcase your products with bold imagery and chic styling. Flexible customization makes this theme great for stores selling custom products.
Since Retina is a Shopify 2.0 theme, you can utilize the features it offers. Using Shopify metafields you can add custom fields to your product pages in order to allow customers to customize the items. For example, they can upload a pattern they want to add to a mug. And with tons of sales boosting features, you'll be able to sell your products more efficiently.

Main features:
Mobile-friendly design
User-friendly theme editing
Focus on bold imagery
3. Handy – excellent custom product theme for mobile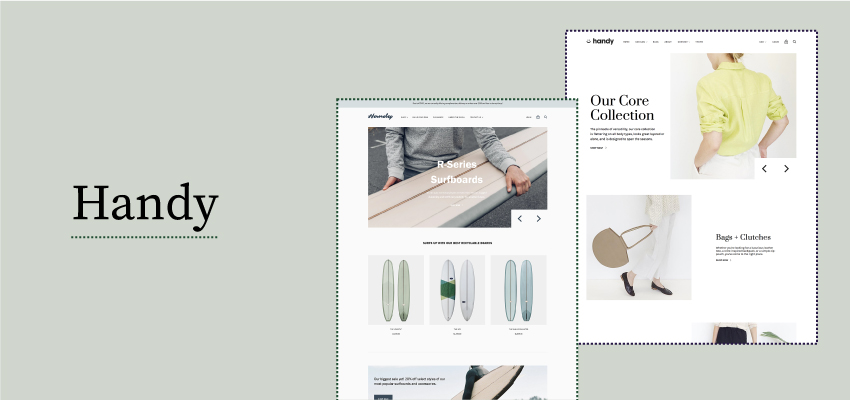 mobile devices, additional integrations
Compatible with Shopify 2.0:
Handy is a Shopify theme optimized for mobile devices. But with a clean design, putting your text and images first, it'll look great on just about any screen. Plus, being so simple in its style – Handy is also perfectly ripe for any product customization of your choosing.
With promo banners, product badges, images zoom and rollover, this theme can support just about any display idea you can think of. And the product page is really powerful, too: you can use product tabs to offer several options of one item. Or go even further, and offer a full product customization with a custom design – like PrintedMint right here.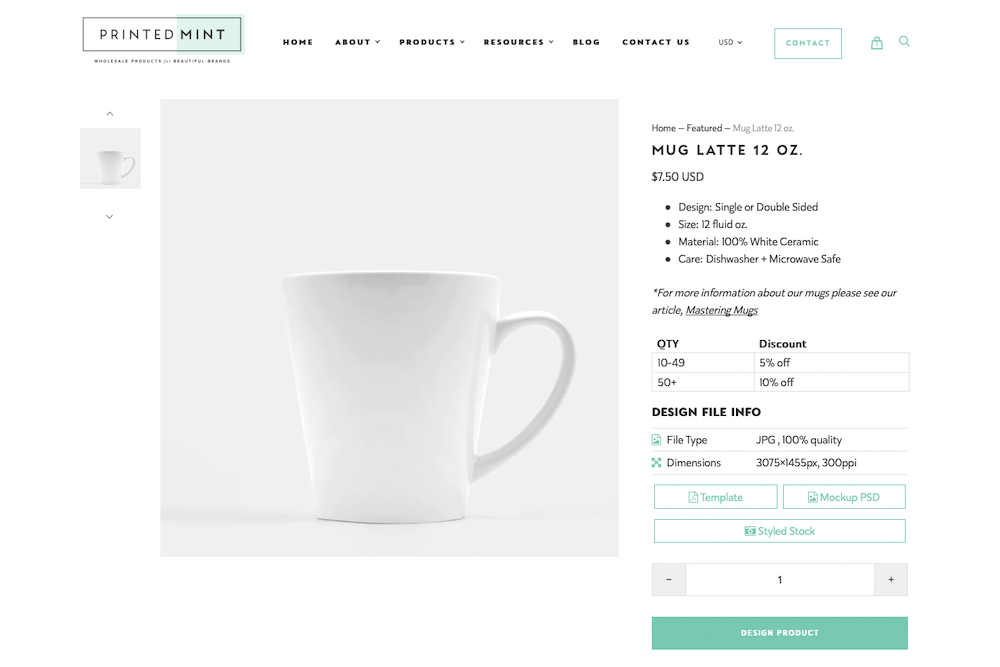 Handy is free to try on Shopify: if you go live, that'll cost $180.
Main features:
minimalist design,
mobile-first interface,
powerful item customization options.
4. Pacific – excellent theme for large Shopify custom product stores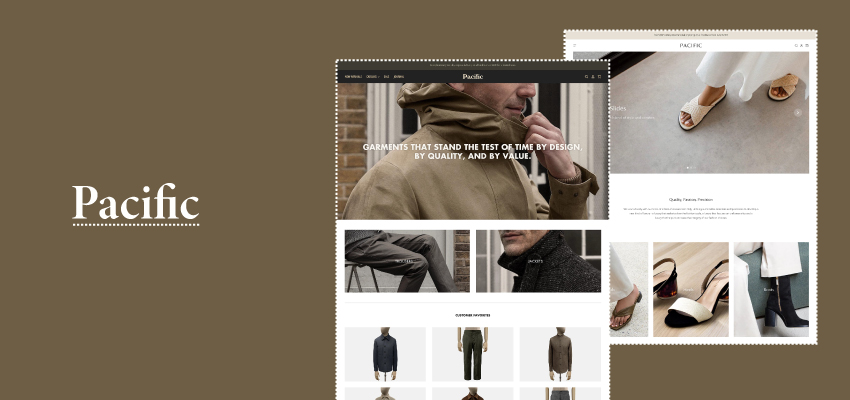 complex websites, extensive customization
Compatible with Shopify 2.0:
Pacific, a theme by Pixel Union, offers excellent pre-made product pages and extensive options to edit them to your preferences. It's a great all-around theme that works perfectly with just about any type of product: and this includes custom items.
The multi-tier sidebar menu makes even the most complex websites look simple and ordered. Modular design lets you mix and match various elements to build a site fully to your specifications, and support for Shopify 2.0 gives you additional options for editing each page to the tiniest detail. That includes pages for your custom products as well.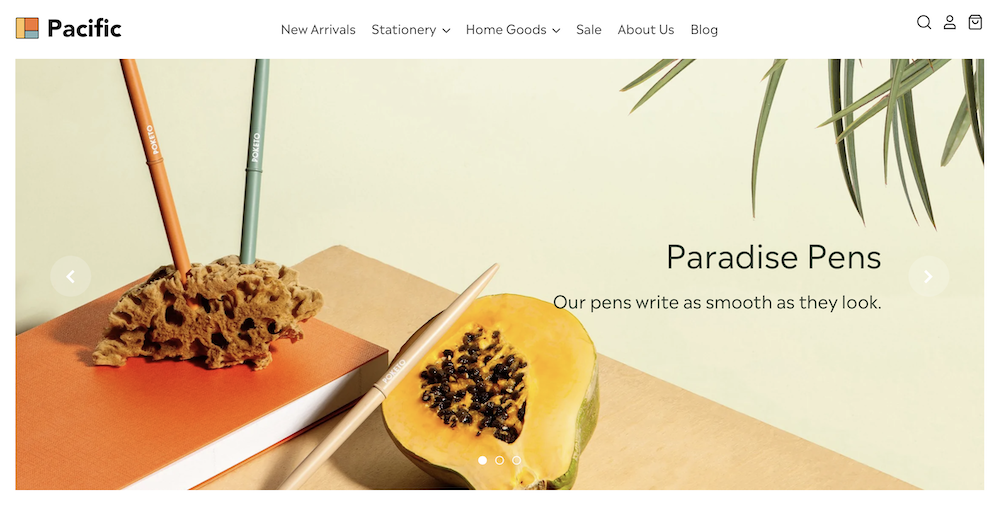 Pacific costs $220 – a decent investment for an excellent all-around theme.
Main features:
modular design,
multiple product pages,
multi-column menu
5. Responsive – custom product theme, focused on the images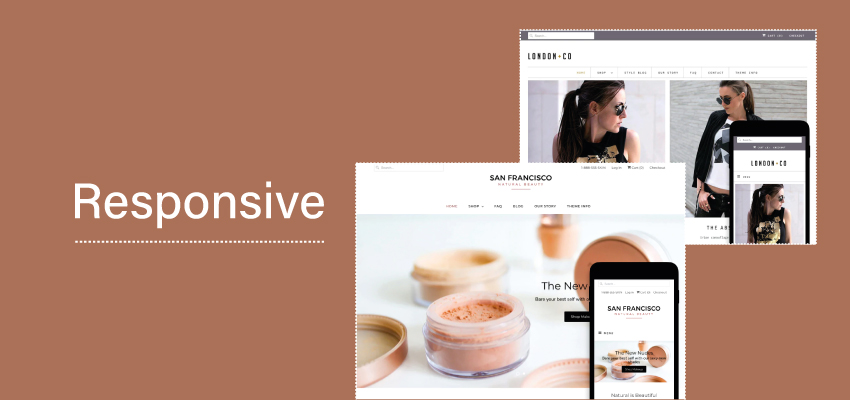 Attractive, modern designs
New York, San Francisco, London, Paris
Compatible with Shopify 2.0:
Responsive is a theme, created by Out of the Sandbox – a design company, known for its visually striking themes. This one is no different. Responsive focuses on detailed, full-width imagery: which is an excellent choice when selling clothing, jewelry, or printed items.
With powerful image gallery and zoom options as well as hero videos, you can make sure that your visual content looks as good as it can. Plus, you have various options for layouts, typography, and promotions – making sure that your website is as custom and unique as the things you're selling.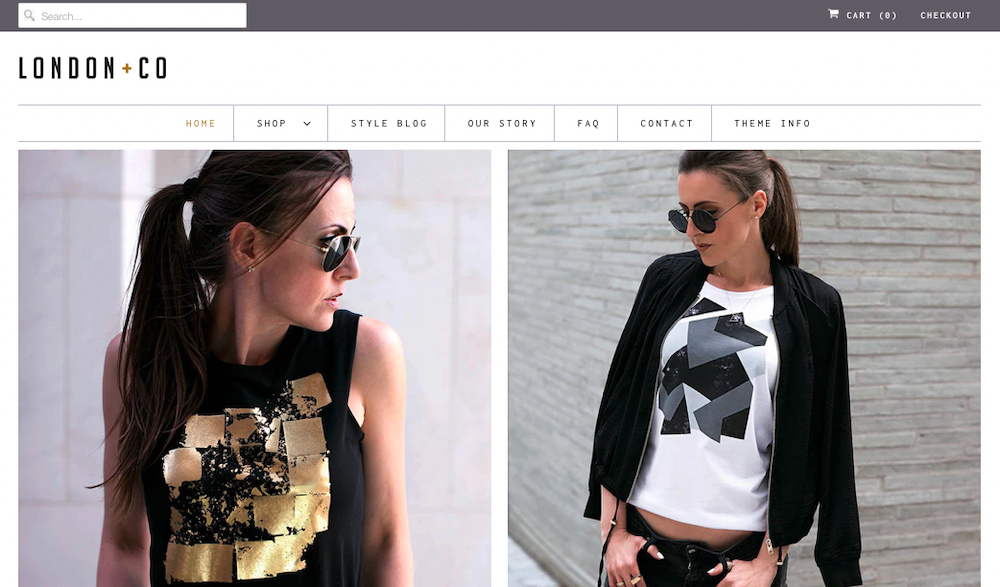 Responsive is free to try: if you wish to publish your website, it'll cost $220.
Main features:
custom typography and promotions,
image display options
6. Expanse – custom product theme with powerful display options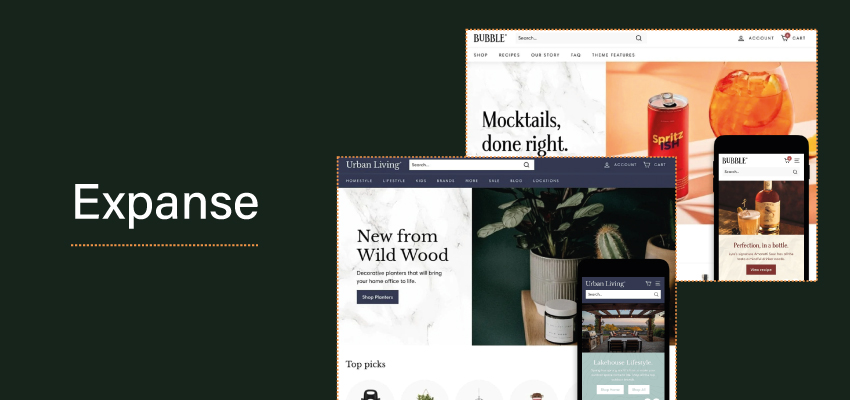 larger inventories, dropshipping
Classic, Modern, Contemporary
Compatible with Shopify 2.0:
Expanse offers an expansive list of business tools that are made for increased sales and growth. With excellent cross-sell features, promotion screens, and extensive product editing options, it's a great option for any larger store which wishes to sell custom products.
The theme offers a large range of sales and design tools. There are multiple ways to display your media (slideshows, galleries, lookbooks), and the product page is super powerful – offering product videos, tabs, and options. Plus, adding full optimization with Shopify 2.0, you get plenty of editing opportunities.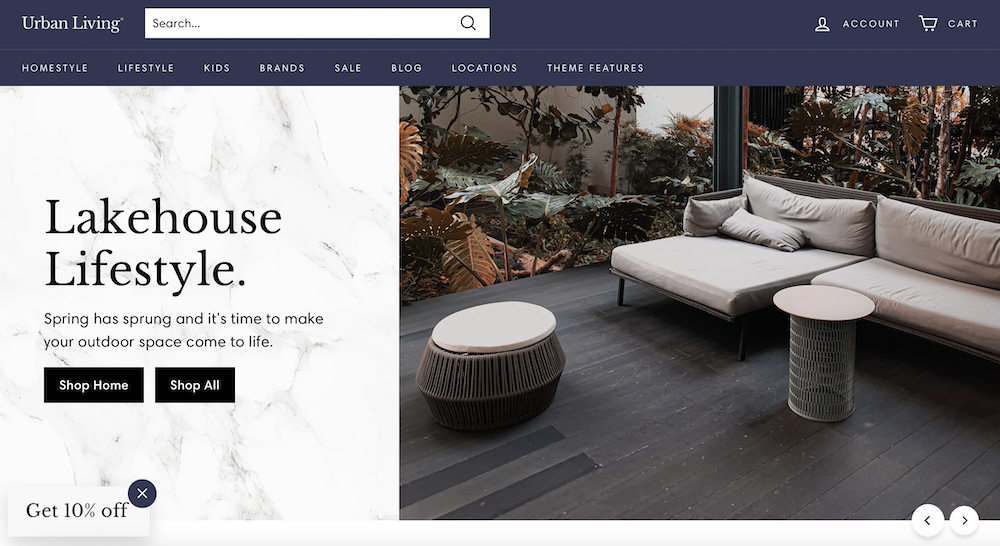 Expanse is free to try: if you decide to use this theme to go live, it'll cost you $320.
Main features:
extensive product editing,
full Shopify 2.0 customization
7. Expression – great custom product theme for blogs and stories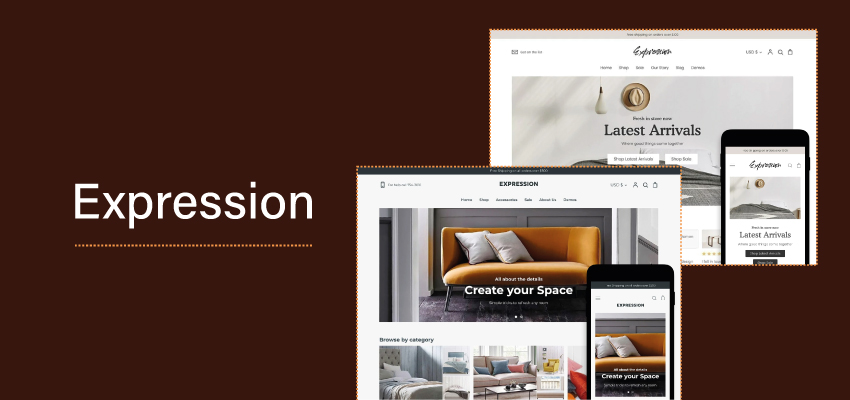 custom design, editorial content
Innovate, Oxford, Naturale, Ocean
Compatible with Shopify 2.0:
Expression is the best Shopify theme for custom products with a story to tell. This is an excellent option if you are looking to pair your original items with some original thoughts: using the fully modern blog section.
The versatile sections on this theme include custom sidebars, as well as small editorial-style text and image columns. This way, you can showcase your content in all its glory. Fully translated in 5 different languages, it's also an excellent option for multi language selling. With a customizable product page and full Shopify 2.0 support, it can handle your custom product needs with ease.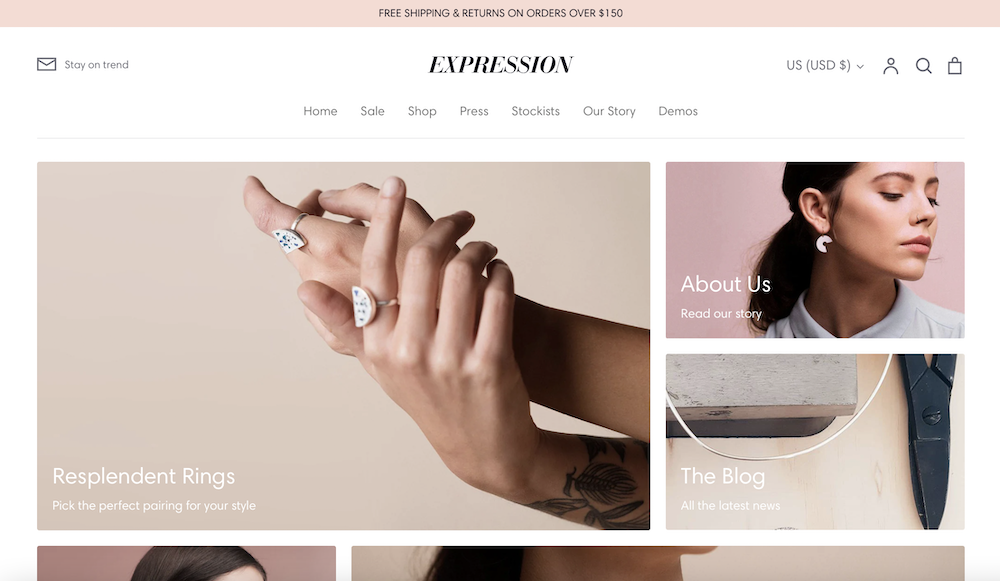 Expression is free to try – if you choose to publish a site with it, it'll cost $240.
Main features:
solid blogging tools,
multilanguage options,
customizable sidebars
8. Highlight – visually stunning custom product theme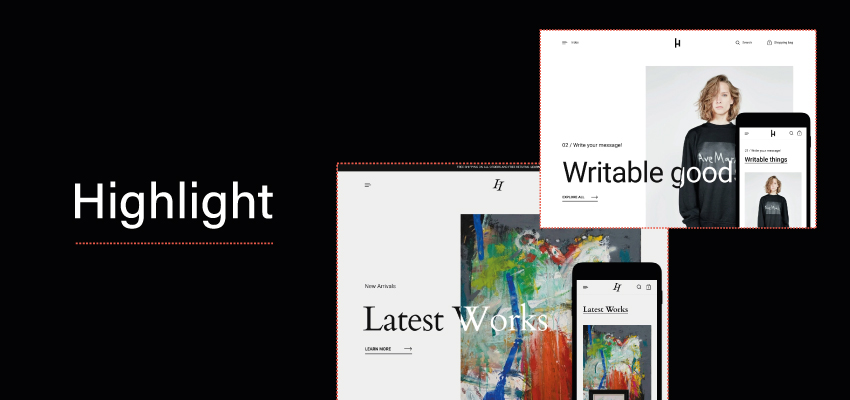 stunning visuals, small inventories
Compatible with Shopify 2.0:
Highlight is a theme which aims to wow: with an impressive parallax vertical slider, and asymmetrical product grid, it succeeds. This theme is probably the most unique option from the ones available on this list. If you're looking for something that sets you and your products apart and highlights your media, this is a great theme to pick.
With product videos, tabs, and options, a lot of the customization features are already in place. There are also additional product information options, letting you customize a specific product's page with extra notes and features for buyers to note. With full support for Shopify 2.0, there's even more you can do – without even counting in Shopify's extensive app store.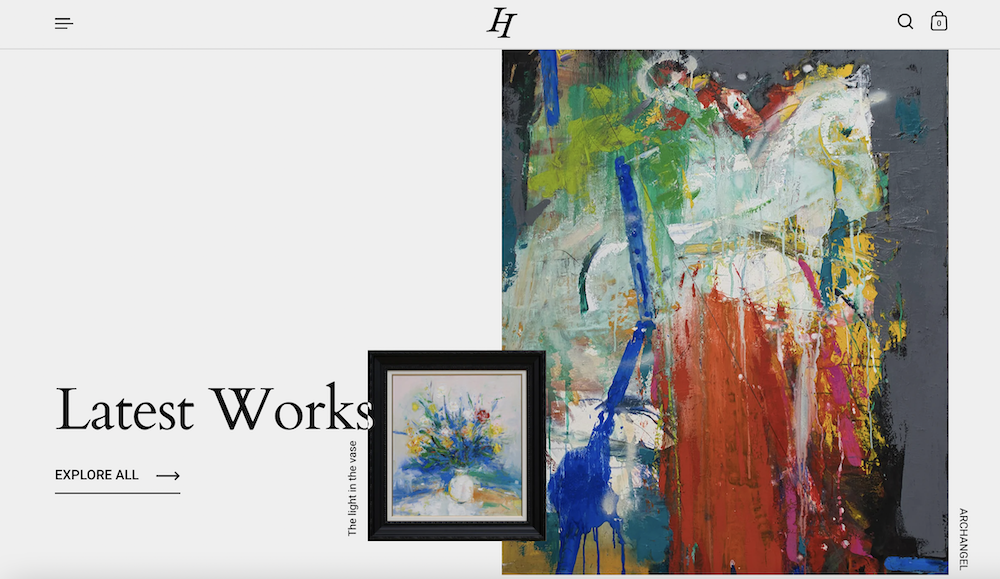 Highlight is free to try – with a $250 fee if you decide to use it to go online.
Main features:
striking design,
additional product information
9. Rubix – custom product theme with plenty of demos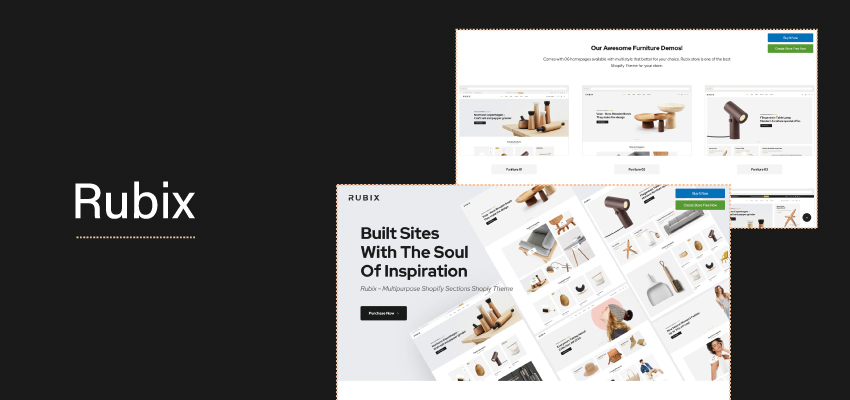 Compatible with Shopify 2.0:
Rubix is a theme, offering 20+ different demos, covering several varying niches. It's a theme loaded to the brim with exciting features and possibilities: while you couldn't possibly use them all, there's definitely something that might catch your eye, and make your custom product store seriously exciting.
Rubix theme offers 3D and AR product previews – if you have the required files, you could give your visitors the best possible look at your items. 5 different types of product pages are available, too – so you can pick out the option that suits your customization preferences the best. With color, size, and material swatches built-in automatically, there's plenty of customization your visitors will be able to do right out of the box.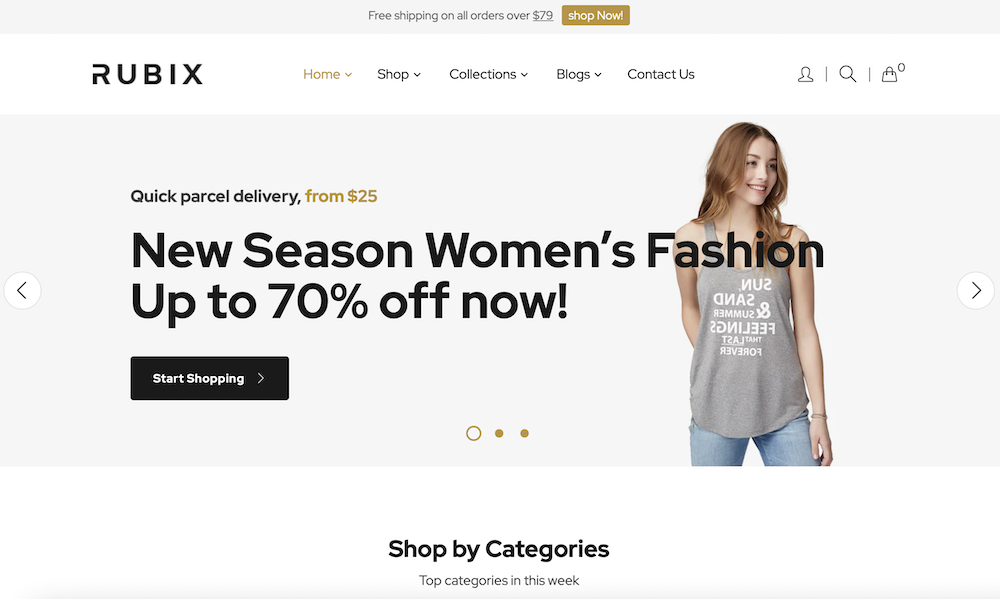 Rubix costs $69: a relatively low price, compared to many other premium Shopify themes for custom products.
Main features:
20+ demos,
3D/AR product display,
custom product pages
10. Debutify – fully customizable Shopify theme with powerful features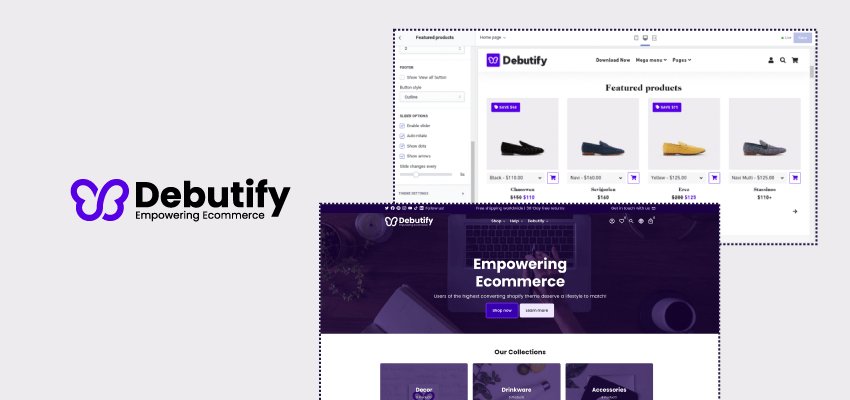 boosting conversions, flexible customization
1 preset, 50+ built-in add-ons
Compatible with Shopify 2.0:
Debutify offers a powerful builder, allowing you to customize your store to your liking. Flexibility and customization is also important in order to sell custom products since you'll have to put more effort into building your product pages.
You'll find conversion-boosting add-ons that other Shopify themes usually don't offer. That means, you can save money on third-party apps that have the same features. The features include cart maximizers, conversion triggers, loyalty builders, shopping enhancers, and shop protectors.
Woof Palace uses the Debutify Shopify theme for their custom product website.

Main features:
Highly customizable
50+ built-in add-ons
Focused on great UX
Regularly updated
How did we choose Shopify themes for a custom-products store?
For this article, we've researched dozens of the most popular Shopify themes – as well as looked into Shopify themes used by some of the popular custom product stores. Here are the main things we found to be important:
Powerful product pages. A product page has to look good, and be fully editable to include your customization options. Each theme here has either several great product pages, or at least offers expansive editing options.
Modern, responsive design. Each of the themes here works perfectly for custom products: on both mobile and desktop devices. With extensive product pages, mobile interfaces can get cluttered. Themes on this list solved this issue handsomely.
Simple buying process. You'd imagine every store would make it as simple as possible to pick out a product, customize it, and pay the money. Well, you'd be surprised. Luckily, each theme here offers a simple and straightforward user experience: from first visit, to a happy review.
What else do you need for a personalized products Shopify store?
Here are some of the things you will still need to put together and launch a successful Shopify personalized product store:
Your customization solution. Shopify, together with the themes on this list, is plenty powerful enough to offer solid customization for the products. By choosing to add "Variants" in the product editing interface, you can set up pretty much everything. However, there are apps like Product Options & Customizer, or Variant Option Product Options which can help you do even more.
Technical considerations. We want to offer our customers the world: but can we? Make sure to set realistic boundaries, fulfillment times, and hard limits on what you can and can't do. It's better to offer less and deliver, than offer more – and don't.
Futureproof business plan. It's a good headache, but a headache nonetheless. Custom product turnaround time is notoriously large. In order to make your store profitable, you might need to set up a process on how to deal with larger requests – so your success doesn't turn into a big issue. Business process automation is key to improving sales and increasing customer satisfaction.
Final words
Building a personalized products Shopify store can be a tricky task – there are so many things to consider along the way. But, using the best Shopify theme for custom products that suits your preferred style can solve a lot of the issues.
With simple and clean design, fully customizable pages, and excellent tools for increased sales, these themes here are ready-made to help you make a top-notch site. So get to it, and start customizing!
Want to explore more options? Check out these lists: