By purchasing through the links on this page, you are giving us the opportunity to earn a commission. Your support is greatly appreciated!

Responsive theme developed by Out of the Sandbox is a great choice for Shopify stores that focus on high quality, impactful product imagery across different device screens. Hence, the name Responsive. It's a technically robust and flexible Shopify theme that caters to various industries.

This theme is a great choice for high-volume stores and business owners who want a full package of solid features. All of that comes with a price tag though, so it might not be fitting for those who are just starting out.

In this article, we're going to take a deeper dive into why you should (or maybe shouldn't) choose the Responsive theme. What features does the theme have? Is it worth it? We'll answer all of these questions shortly.
Responsive theme overview
| | |
| --- | --- |
| 💻 Theme name | Responsive |
| 🧑‍💻 Theme developer | Out of the Sandbox |
| 📅 Last update | July 2023 |
| ⭐ Notable features | 100% responsive, Quick buy, EU translations |
| 🖼️ Premade layouts | 4 |
| 💵 Pricing | $170 |
Responsive theme pros and cons
Advantages
Some of the advantages that Responsive theme offers:
Designed for every screen. Everyone's shopping on their phones now, so it's important for your online store to not only look good on mobile but to work seamlessly as well. The Responsive theme focuses on providing its users with a good user experience across multiple different devices.
Media-forward design. TheResponsive theme is great for online stores who want to proudly display their products in full-length images. And not only images – you can showcase hero videos as well.
Fit for high-volume stores. This theme is developed to handle a large number of transactions. Therefore, it's a great choice for Shopify stores with hundreds of products.
Four distinct theme styles. With the Responsive theme, you get access to four theme styles: Paris, New York, London, and San Francisco. All styles come with a different tone and feel. One thing that remains consistent is its modern and user-friendly design.
Non-expiring license. Once you buy this Shopify theme, you get a license for one store, and it remains valid for as long as your store is active and running.
Compatible with the latest Shopify features. Shopify continues to grow and expand with its ever evolving feature set. When you buy the Responsive theme, you can be sure that the theme will always work with the latest Shopify features.
Disadvantages
Here are some of the Responsive theme's disadvantages:
The theme is on a pricey side. There are a lot of Shopify themes for sale out there, so you might hesitate going for something that's over a hundred bucks. Generally, we always say that if you're just starting out or don't have a lot of money to spear, go for a more affordable option.
No "real" free trial. You can try out the Responsive theme on your unpublished store but once you're ready to launch it, you'll need to pay for the theme.
Responsive theme features
The Responsive theme has a bunch of integrated features that can help you maximize marketing and conversion-boosting efforts. Let's go over some of the most prominent ones.
Cart & checkout features
The Responsive Shopify theme offers several features that make checking out easier. You can generate pre-order buttons, which will help you sell products even before you launch them.
There's also a quick buy feature, which allows potential buyers to finalize their purchase without leaving the homepage or a collection page.
Last but not least, a slide-out cart feature allows a person to instantly view their purchase details and subtotal, incentivizing them to buy the product as soon as they put it in the cart.
Conversion-boosting features
There are a bunch of features focused on improving conversions, like back-in-stock alerts, which notify your customers about items they're interested in.
You can also add product reviews and collect feedback. Reviews are also a great way to build trust with your audience.
Another important feature is integrated EU translations to popular languages like Spanish, German, Italian, and French. If you're not optimizing your store for other languages, you could be losing a good chuck on potential buyers.
There's also a possibility to add in-menu promos and product badges for better visibility when it comes to sales, promotions, and special deals.
Among other great marketing features there is quick view, stock counter, and recommended products.
Merchandising features
With the Responsive Shopify theme, you can display all images in high resolution without it weighing down the website and causing performance issues.
Speaking of images, this theme also allows you to add image galleries, slideshows, and image rollover. These features may seem like not a big deal but it creates a more dynamic experience for website visitors. And a better user experience can lead to better monetary results.
A size chart feature is also available in this theme, meaning you won't have to code it yourself or buy a third party Shopify app.
Product discovery features
Whether visitors find it easy to navigate your website has a huge impact on user experience and, consequently, sales.
That's why Responsive theme offers a bunch of useful product discovery features. One of the most important is enhanced search, allowing store visitors to find items quicker and easier.
You can also add a mega menu to your store – it improves navigation by better structuring your products into clearly visible categories.
Another great feature that Responsive theme offers is product filtering and sorting. Just like all of these features, it allows people to find desired products easier, or filter out products they're not interested in.
And last but not least, to always have a navigation bar available, the Responsive theme allows you to enable a sticky header feature. This way, store visitors will be able to get back into searching without having to scroll back up again.
Other features
Related products. Showcase more items in the product page to incentivize people to browse and grab another item or two.
Google maps integration. You can add a Google maps widget to your website to show the location of your physical store.
Custom page templates. You can customize product and info pages with configurable content and unique layouts.
Responsive theme layout options
The Responsive Shopify theme offers four style options for your website. Let's go through them.
London – Shopify layout style for fashion stores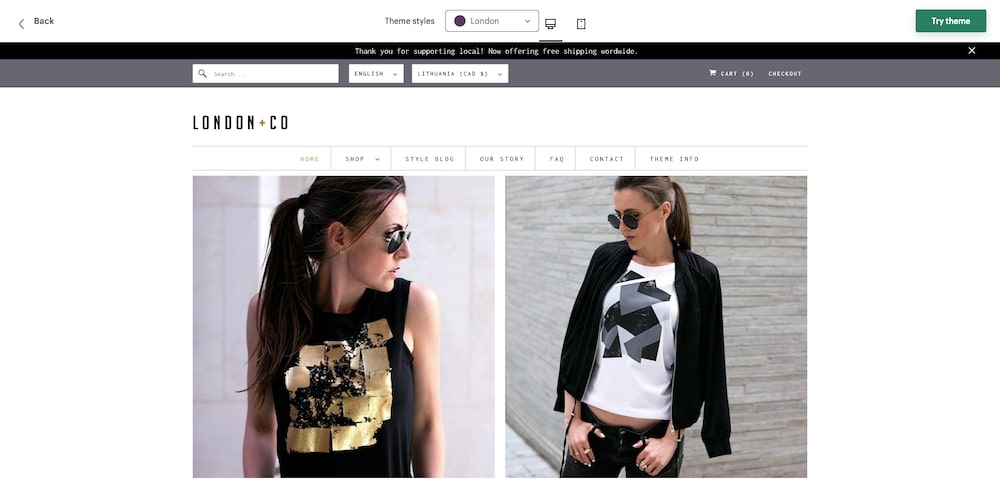 London is a good choice for those delving into fashion ecommerce. It's fairly minimal, a mega menu is neatly organized, and product display is uncluttered.
Paris – theme style for all home goods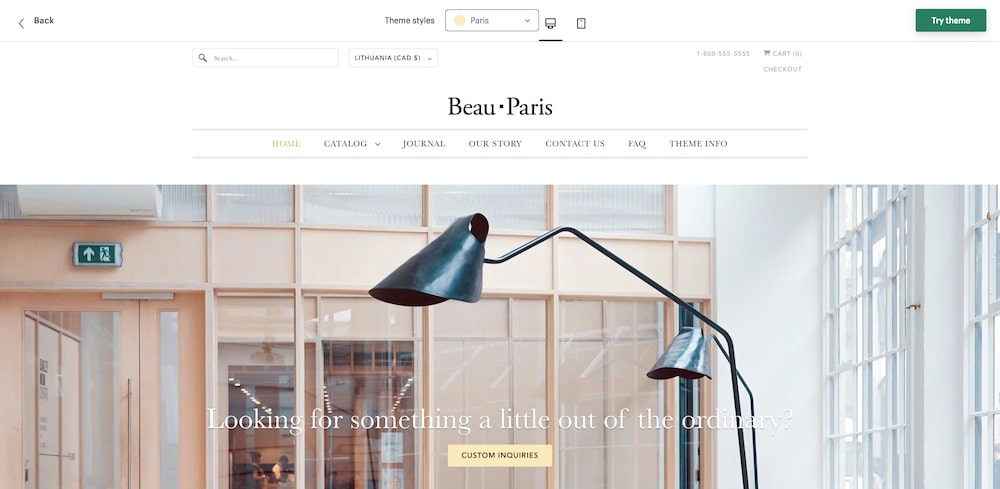 Paris feels elegant yet modern – serif typography blended with contemporary white space. Every section is neatly organized, and nothing feels out of place.
New York – refreshing theme style with a pop of color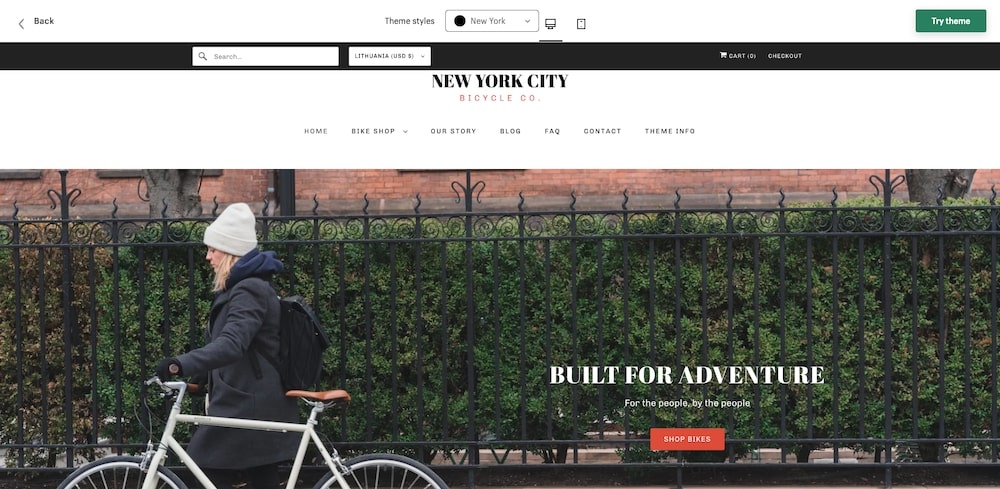 New York theme style gives a breath of fresh air with its light, colorful design, and minimal navigation. The feel of this style is more energetic and fun, therefore it's perfect for a sports or kids store.
San Francisco –Shopify theme style for beauty stores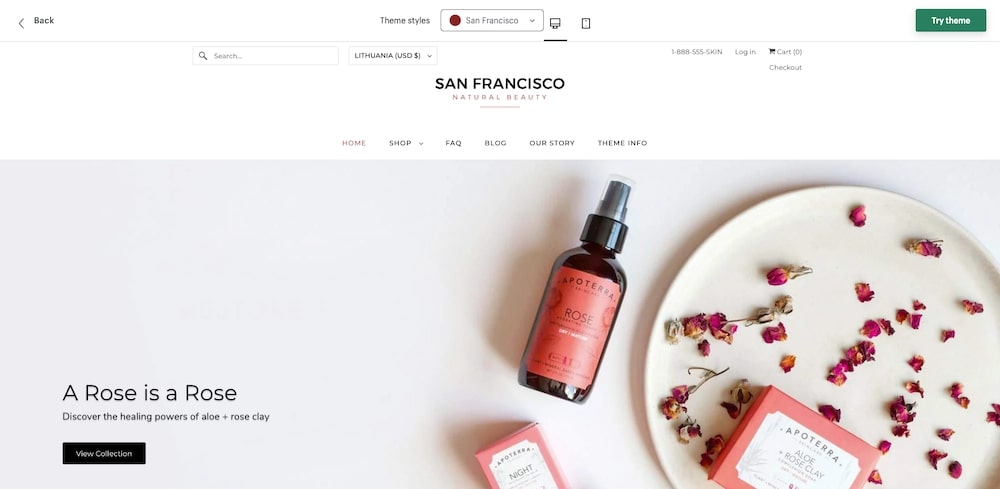 San Francisco theme style is great for stores selling beauty and skincare products. Its minimal yet chic and delicate design creates calmness, and visible product ratings add to the feeling of brand trust.
Pricing and plans
Paid plan
The pricing plan for this Shopify is pretty cut and dry. You can get the Responsive Shopify theme for a one-time payment of $170.
Free plan
When it comes to a free trial, you can use the Responsive theme on your store for free until you decide to publish it. Additionally, the theme offers excellent value for its price, as it comes packed with a wide range of features and customizable options to enhance your e-commerce experience.
Responsive theme review summary
The Responsive Shopify theme is a modern and powerful theme packed with a bunch of features that – if used correctly – can boost conversions and improve user experience.
While the theme itself is not very cheap compared to other Shopify themes available on the market, it's worth getting for those who want to build a big, reliable Shopify store with great performance and design across different devices. Since the theme is built by developers who have been in this game for 10+ years, you can trust their expertise in Shopify theme building.
We would only not recommend this theme for Shopify beginners, as there are a lot of cheaper, and even free Shopify themes that work perfectly fine. At the end of the day, choosing a theme for your online store largely depends on your business needs.
Curious to read more? Check out these articles: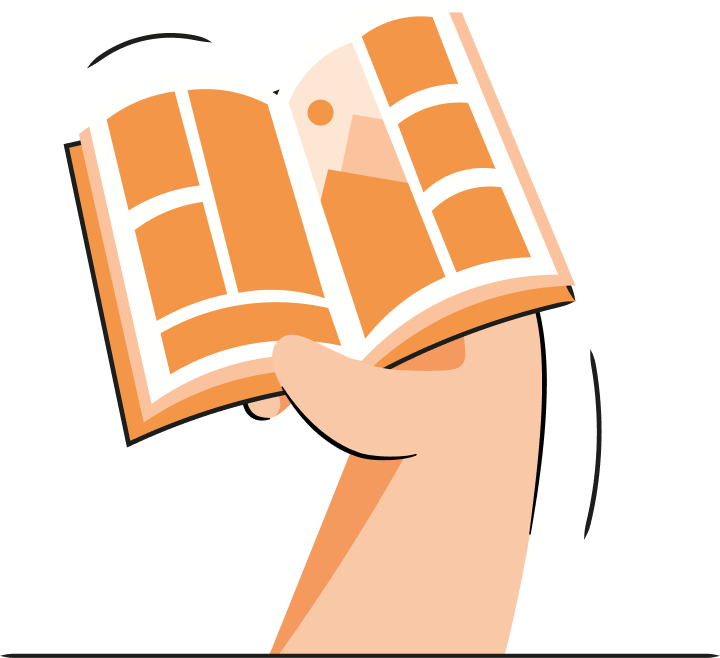 Frequently asked questions
Shopify Responsive theme is worth it for those who want a reliable theme that works well and looks good across various screen sizes. However, since the theme is on a more pricey side, it might not be worth it for those who are just starting out with Shopify, as there are multiple cheaper themes to choose from.
It's worth paying for the Responsive Shopify theme if it meets your business needs, and you want your website to blend seamlessly from desktop to mobile screens.
Shopify Responsive theme is one of the themes developed by a team from Out of the Sandbox. It's modern, minimal, and offers a bunch of useful features that can boost your efforts with marketing, product discovery, and merchandising.