By purchasing through the links on this page, you are giving us the opportunity to earn a commission. Your support is greatly appreciated!

If you're frustrated with Shopify's limitations on product options and variations, it's time to start looking for a Shopify product customizer.

In this article, we'll explore the top features, pros and cons of the 10 best Shopify product personalization apps out there.

Read through and pick one that ticks all the boxes for your Shopify business!
What is a product customization app in Shopify?
Shopify product customization app is a tool that allows your customers to change and personalize your product design or components.
The functionalities of Shopify product optimization apps range from simple color swatch selection and custom textbox to basically designing products from scratch.
Some apps also offer advanced technology for live previews, social share buttons, build-a-box option and other handy features.
These apps are bread and butter for stores that depend on product customization, such as print-on-demand services. However, a Shopify product customizer app will benefit any store that wants to offer a variety of product options to their clients.
Top 10 Shopify apps for product customization for 2023: In-depth reviews
We reviewed every product customizer app Shopify app store has to offer and selected 10 that stand out.
Here is our top 5 shortlist of Shopify product customizer apps:
The remainder of our list is dedicated to valid alternatives or Shopify custom product builders that offer very niche solutions.
1.Variant Option Product Options

Variant Option Product Options is at the top of our list because it's the golden middle of all Shopify product personalization apps out there.
With this app, you can customize your product pages to the tiniest detail, including infinite variants, options, conditional logic to manage out-of-stock or sold out products and much more.
It's a tried-and-tested app that's been helping improve product options on Shopify stores since 2017. Very competitive pricing, superstar customer support and intuitive app UI will come a long way for anyone starting out with Shopify product personalization.
Pros:
Great value for money - all features at $18.99/mo
Checkboxes, color swatches, buttons, file uploads
Conditional logic
Add-on upcharges for different product options
Compatible with all 2.0 themes
Multiline text boxes
Cons:
Might clash with apps that change add-to-cart or checkout button functionality
No date selector
Here is what a highly customizable jersey product page made with Variant Option Product Options looks like: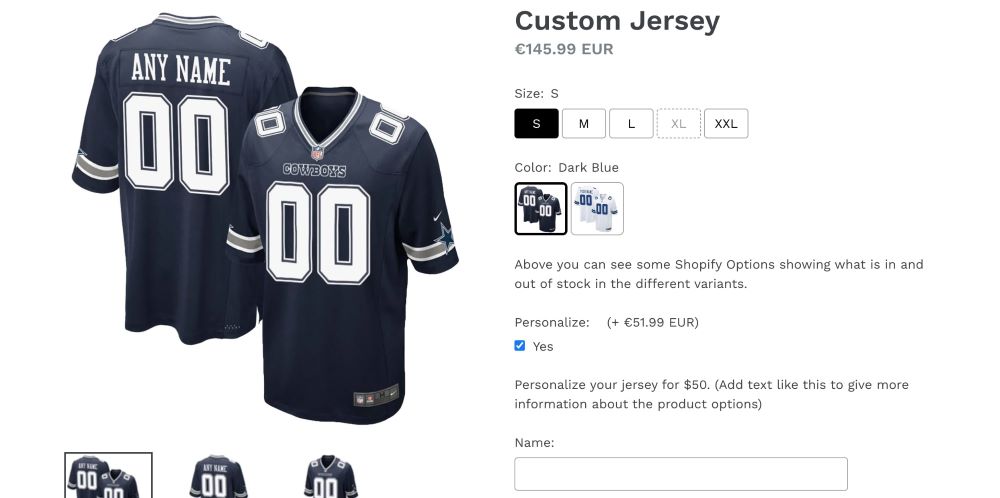 2. AvisPlus Product Options

AvisPlus Product Options is a Shopify product customizer determined to conquer the Shopify app store.
Launched at the end of 2019, this app boasts an impressive range of functionalities and is still free. On top of that, their customer support is happy to create a demo product page for you to test their app.
The only reason we're not recommending it as our number one option is that there is no assurance the app will remain free and its main competition is already offering a very reasonable pricing range.
Pros:
Free
Product demo can be created by their support team
Very wide customization options (date, text box, checkbox, color swatches, etc.)
Conditional logic to display only relevant options
Product bundle for upsells
Upcharge option
Build-a-box option
Cons:
Here is a build-a-box product page for candies made with AvisPlus: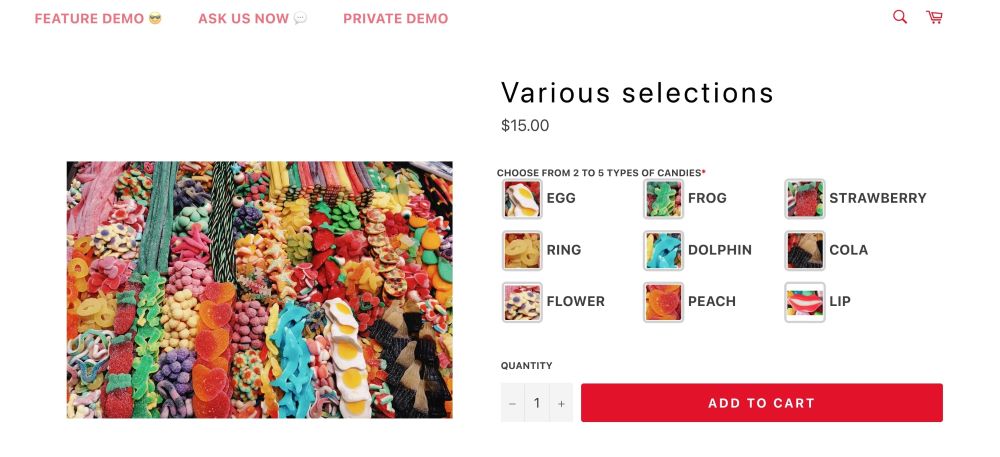 3.Kickflip Product Personalizer

Do you want to offer your customers the freedom to design their perfect product?
Kickflip Product Personalizer allows you to take that one additional step and provides software for full product personalization with real-time preview.
This Shopify custom product builder is pretty new to the Shopify app store, yet it's one of the most powerful apps out there.
Kickflip offers the option to not only fully customize product design but also components. Your customers will also have access to numerous additional features, such as finished design social sharing and you will be able to view order and design data.
Pros:
Possibility to add/remove product components (e.g. shirt sleeves)
Social sharing buttons for customers
Supports numerous currencies and languages
White label option
Pricing upcharges
Mobile-compatible product design software
Cons:
Transaction fees apply on every plan
Unlimited product plan is very expensive
Here is what a product page of fully-customizable sneakers made with Kickflip would look like: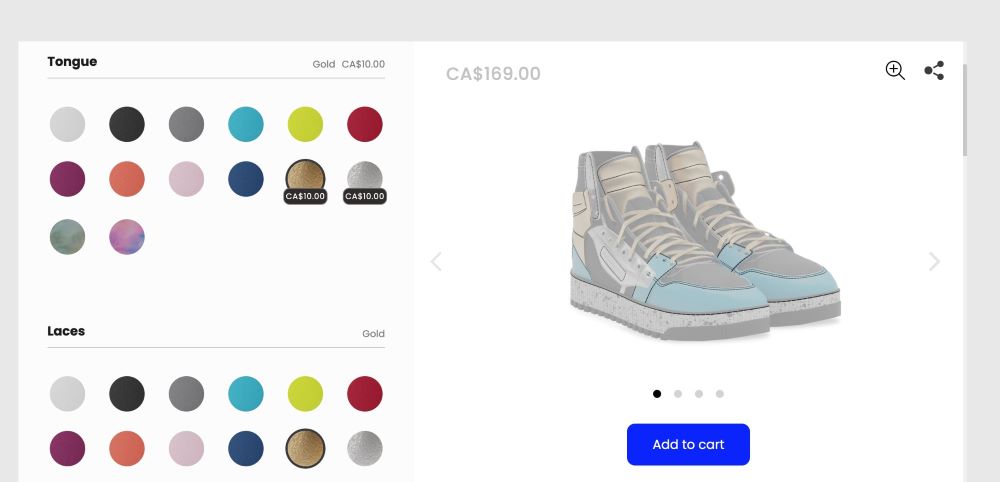 4.Zepto Product Personalizer

Zepto Product Personalizer offers everything you would expect from a powerful Shopify product customizer. On top of that, it has a rare live product variation preview feature that allows your customers to see what the product variations actually look like and make fully informed orders.
The plans are priced very reasonably, their customer support reviews are shiny and overall we couldn't recommend Zepto more.
Pros:
Live product variation preview
Wide product customization options (text area, color, custom font)
Monogram with customizable design and font size
Conditional logic editor
Upcharge feature
Bulk actions
Great value for money
Cons:
Reported clashes with Shopify discount apps
Some features are unclear (two top plans include Inventory control, but no description on what exactly you can do with it).
Take a look at this fully customizable pillowcase product page with monogram created using Zepto: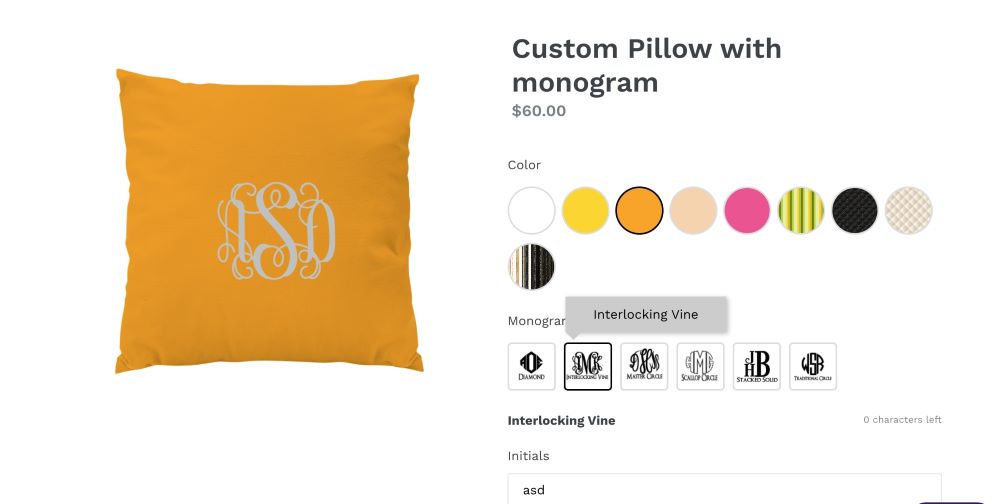 5.Angle 3D Configurator - 3D & AR

If you sell clothing or furniture, 3D product customization and visualization could do wonders for your sales.
Consider Angle 3D Configurator, a Shopify app for custom products that on top of all expected functionalities allows real space visualization using powerful augmented reality technology.
Pros:
Powerful 3D modeling
Augmented reality to view products in 3D space
Customizable design to match store theme
Wide customization possibilities (custom text, color and more)
PDF export for finished designs
Cons:
Take a look at this product page of a handbag that you can customize and preview from every angle in 3D space: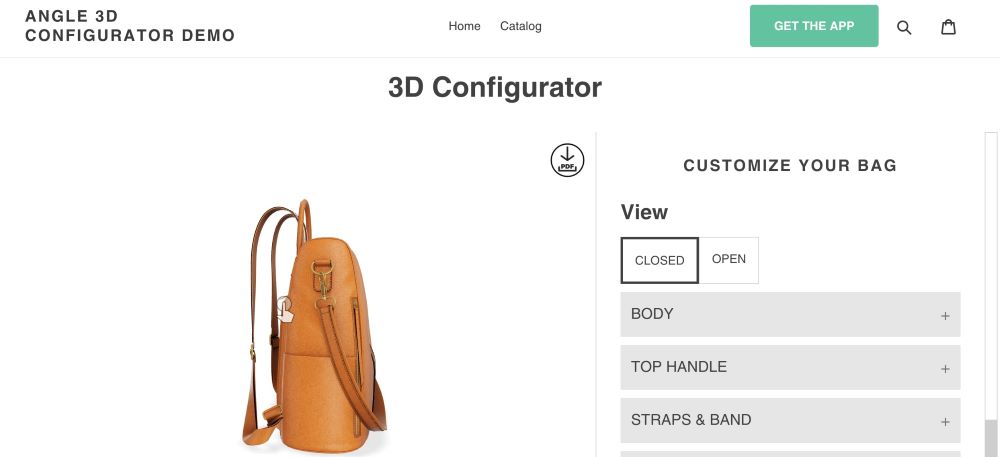 6.Product Options and Customizer

Product Options and Customizer will give your customers extensive product personalization freedom.
However, their Free and Basic plan features are quite limited. If you want the features that make this app sufficiently functional, you'll have to upgrade to Premium, which is significantly more expensive than its competitors with similar functionalities.
We're suggesting it as a strong alternative though because it's a trusted app. Plus, it has product tagging and bulk action options to save you some time as well as an informative in-app Setup Wizard to help guide new users.
Pros:
Add-on upcharge feature
Conditional logic to show and hide product options
Possibility to create templates and apply same variants to multiple products
Date and font picker
Outstanding customer support
Cons:
Add-on upcharge and conditional logic comes only with Premium $49.99/mo plan
Free plan allows only one product customization
Here is a product page for paint with multiple product customization options: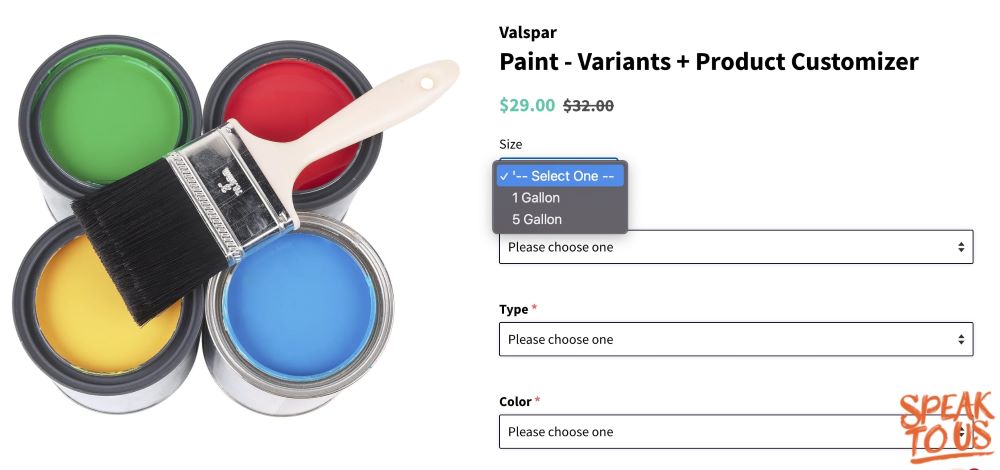 7.Inkybay - Product Personalizer

Inkybay is another great Shopify app for custom products with a pretty specific target audience - print-in-demand stores.
Using their advanced custom Shopify product design software, your customers can choose from an array of font and clip art options as well as upload their own designs, add text, graphics and more.
Pros:
Customers can design their product fully
Huge clip art library for quick designs
Mobile-friendly design software
Allows customers to negotiate price for custom orders
Longest free trial
Cons:
Might be too extensive for stores outside of print-on-demand industry
Expensive
This is what Inkybay product customization software looks like (pretty impressive!):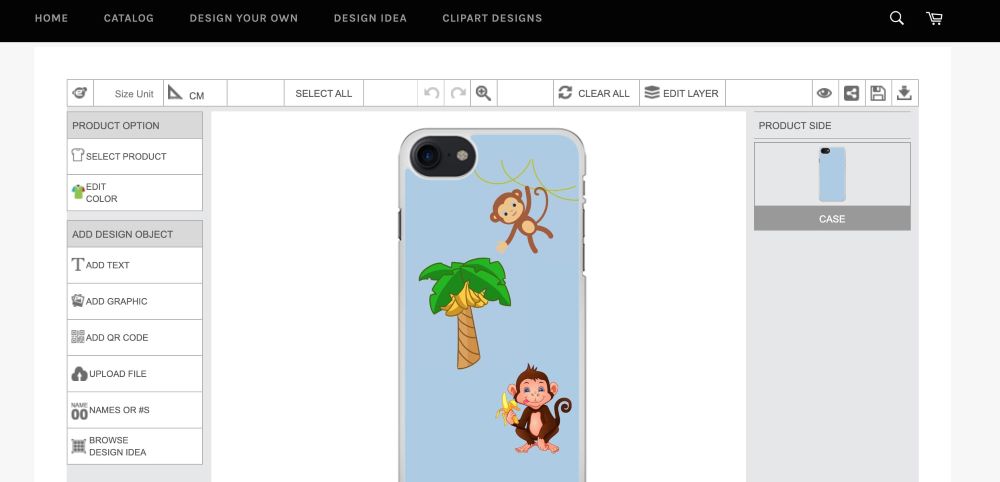 8.Personalized Image Uploader

If you sell stickers, phone cases, photo slates or any other product centered around photos, Personalized Image Uploader might tick all the boxes for you.
This Shopify app for custom products gives your customers the functionality to upload, crop, rotate and add text to images of their choice to create a product with a personal memory or preferred design.
Pros:
Possibility to upload images from mobile
In-app wizard
Optional text with every uploaded image
Post-upload crop and rotation
Supports multiple image uploads for one product
Cons:
Limited to niche businesses
This is what a grid display with multiple images would look like in Personalized Image Upload: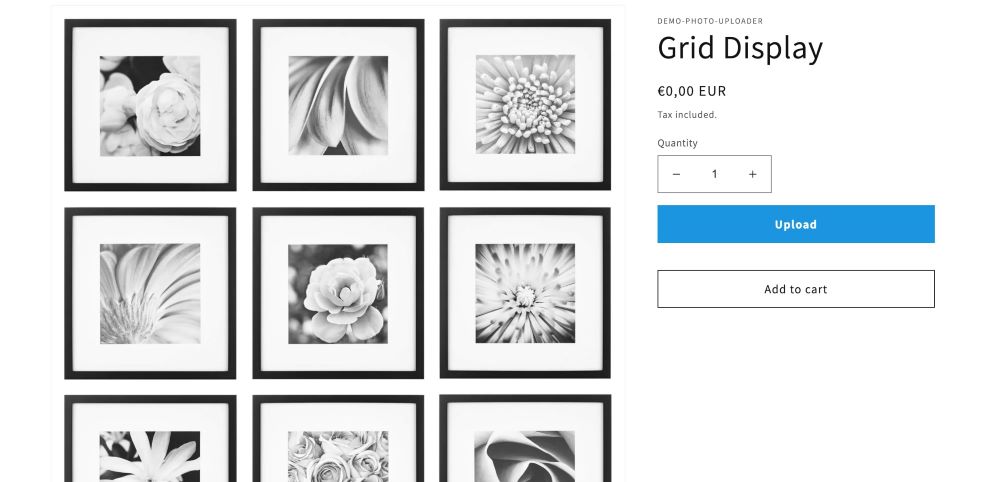 9.Custom Price Calculator

Do your products already have all needed selections and all you want is to charge differently for them? Custom Price Calculator app will customize your product pricing options.
With Custom Price Calculator you can add multiple pricing variables and display custom prices as the customer navigates your product selections.
While a free trial is available, there is no free plan and the only paid plan option is pricey considering it adds a single functionality.
Pros:
Any variable option (size, volume, color, material, etc).
Multiple input option
Convenient drag-and-drop builder
Possibility to add custom CSS
Can be embedded on any product page
Many templates
Cons:
Expensive
Styling section a bit limited, might require custom CSS to match your store design
This is what a different size print price calculator made with this Shopify app looks like: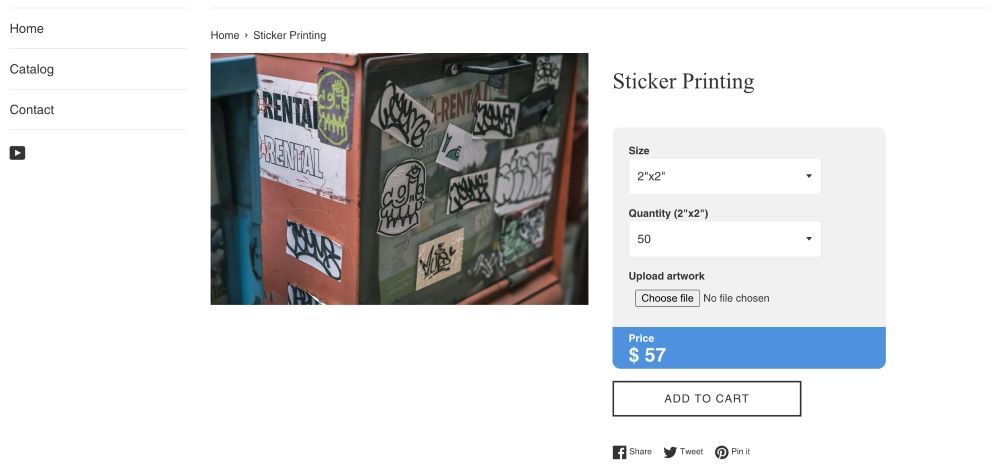 10.Neon Sign Product Customizer

Our last suggestion provides a very niche yet interesting solution - your customers can create their own unique neon signs.
It could be an exciting option for furniture or home decor stores that want to liven up their product selection.
Pros:
Size, font and color customization
User-friendly design software
Cons:
Limited to a very specific niche
Unlimited plans are only available with the Pro plan
Curious to see what the sign customizer looks like on the inside? Here it is: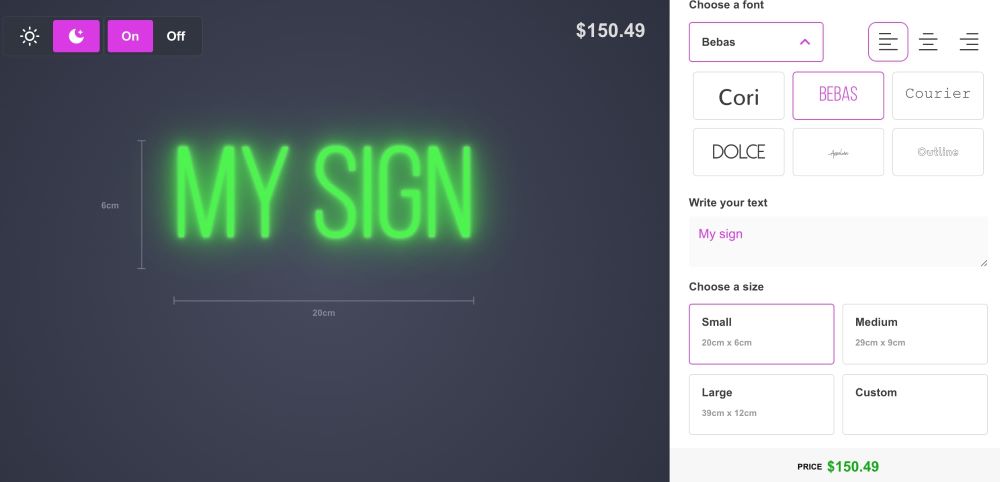 How to choose the best product customization app for Shopify
We've taken a lot of legwork out of your research process - all apps you see here are reliable, have good reviews, outstanding customer support and all features required for a functional Shopify product customization app.
Yet how do you settle on one?
These are a couple additional aspects to consider when choosing Shopify product customization app:
Decide what features you need. Before you even begin the selection process, you need to look at all of your products and come up with a list of features that require customization. It will help you understand if you need an advanced app, or perhaps one with very basic features will do just fine.
Don't save on what matters. If your store requires product customization, you don't want to settle for the cheapest option. Make sure the app has all the functionalities you need, it will pay off in the long run.
Consider how fast your store will scale. Migrating from one product customization app to another might not always be easy. We suggest picking an app that offers sufficient plan upgrades to cover your product customization needs in the foreseeable future.
Final thoughts
There it is, a carefully selected list of top 10 Shopify product customization apps that will empower your product pages, cater to your customers and improve conversion rates.
We hope you'll find it easy to choose the perfect one and take your store to the next level!
Looking for more? Check out these articles: