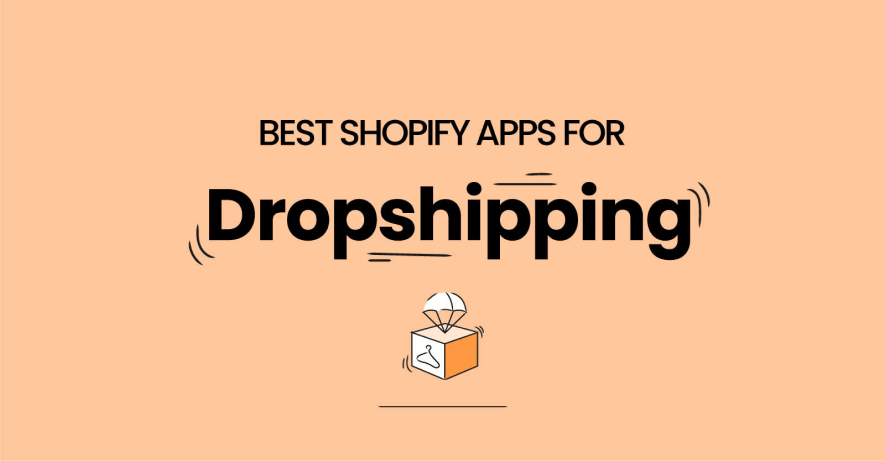 By purchasing through the links on this page, you are giving us the opportunity to earn a commission. Your support is greatly appreciated!

Dropshipping is a lifesaver for many merchants. It's an excellent way to offer a versatile selection of products and reach a massive audience, without having to manage a massive stock room. With the right Shopify dropshipping app, all the sourcing, packing, and shipping will be sorted out for you – making running a store very simple.

In this article, we'll cover some of the best Shopify dropshipping apps out there. Let's take a look at what they are and how they can help your business.
Best Shopify apps for dropshipping: overview
DSers – top Shopify dropshipping app for AliExpress
CJDropshipping – Shopify dropshipping with custom promo material
Spocket – high-quality Shopify dropshipping
EPROLO – custom Shopify dropshipping from China
Automizely – fully automized Shopify dropshipping
Syncee – custom supplier dropshipping solution
Spreadr – solid Shopify dropshipping with Amazon
Nihao Dropshipping – best Fashion Dropshipping Solution
Shopify has a massive selection of apps: many of them are made for dropshipping. In this article, we'll help you choose the best options – with a good selection of products, fast shipping options, and additional features to help your brand and business shine.
Improve your Shopify store speed and SEO optimization today
And these are the best Shopify apps for dropshipping:
1. DSers-AliExpress Dropshipping – Best Shopify dropshipping solution

Automatic AliExpress dropshipping
DSers is an excellent solution if you're looking to use AliExpress for your dropshipping business. The manual work here is reduced to a minimum. Automatically synced shipping and tracking information, as well as no manual order placing allows you to make and track hundreds of orders in just a few clicks.
DSers also aims to solve one of the dropshipping's biggest problems – finding the right supplier. DSers lets you change suppliers on your existing products to find the best quality, as well as pick country-specific suppliers for the lowest worldwide shipping times.
There are also options for bundle offers, letting you combine several products into one excellent deal for you and your clients.
And if something goes wrong, excellent 24/7 email and live chat customer support is there to help.
Pros
Powerful free plan
Great shipping supplier options
Automatic order placing
Great customer support
Excellent for AliExpress
Cons
What do the DSers reviews say?
Users love the customer support and how easy the app is to use. The negative reviews are pretty rare (it's a 5.0 overall rating, after all!) – and they mostly focus on the instances where there are some issues with payments or shipping.
DSers is an excellent Shopify dropshipping app – and our #1 solution for AliExpress.
2. CJDropshipping – solid all-around Shopify dropshipping

Custom promo materials and US shipping
CJDropshipping offers excellent US dropshipping options with custom promotional material. It can actually shoot videos of your desired products, giving you additional marketing content to boost your promotions. Some products can also be shipped to you free of charge – so you can test them out before you decide to sell them. With warehouses in the US, certain products can be shipped very quickly: making this a solid Shopify dropshipping app.
Branded packaging is available, letting you sell the products with your name printed on them, and 24/7 customer support is there, should any issues arise.
Pros
Item promo material available
Fast shipping times
Free to get started
Cons
Possible additional fees
Can be tricky to use at first
What do the CJDropshipping users say?
Users love the customer support and the low shipping times. Negative reviews mention issues with additional fees and item refunds.
3. Spocket – top Shopify dropshipping for US and EU products

High-quality products from local markets
Spocket lets you sell high-quality products, and ships them directly from the US, Canada, the EU, and more. It offers an extensive market, offering you a wide variety of products, like clothing, jewelry, beauty products, home & garden accessories, pet products, baby products, and more.
As the products are based where your customers are, their shipping can be seriously quick.
Some of the products will be marked as "Premium" – these are the curated high-quality options from the top suppliers. Some will offer special discounts, letting you sell the best items at the biggest profit margins. And if there's an issue while you're working on your store, 24/7 email and live chat customer support is there to help.
Branded invoicing will help you create a solid unique brand, and sample orders will let you see just how your business will operate from your clients' perspective. Putting that together with real-time order tracking, you can use Spocket to build a fully working business quickly and effortlessly.
Pros
High-quality products
Fast shipping
Plenty of worldwide shipping locations
24/7 chat and email support
Cons
What do the Spocket reviews say?
The positive reviews love the quality of the products and the shipping times. Most of the negative reviews point to the same thing: Spocket can get a little bit expensive.
It's true. The free plan is only meant for "browsing Spocket's catalog of products". If you wish to sell them on your website, you'll need to go for a premium plan. Plans start from $24.99 a month. The cheapest option lets you sell up to 25 unique products and get 24/7 email support. If you want more products, some Premium options, and live chat support, you'll need to pay even more.
But while expensive, Spocket is still absolutely worth it, if you're looking for premium products and low shipping times.
4. EPROLO – China products with fast custom dropshipping

Custom branded items with fast shipping
EPROLO offers a simple way to ship out products to your clients all across the world – from their headquarters in China, where everything will be double-checked, packaged, and shipped, based on your preferred specifications. All you have to do is to request a quote for your preferred items, agree on a deal and start selling. Also – EPROLO is free!
Shipping to the US and the UK will only take around 5-8 days. Europe orders will take around 8-12 days. Instead of your buyers getting several packages from their order, everything will be put in one parcel.
Your brand can also be displayed on the invoice, shipping label, and even tape: giving you a unique, reliable look. Auto fulfillment will let you sort everything out in just a few clicks, leaving all the hard work to EPROLO. Orders can be tracked automatically on every delivery, and an active tracking number is added.
If something goes wrong, refund and replacement options are available – so you can avoid extra costs if something goes wrong during the shipping.
Pros
Entirely free
Custom item branding
Fast worldwide shipping
Easy to use, intuitive app
Cons
Before selling, you have to source a product and get a quote
What do the EPROLO reviews say?
The positive reviews love how simple the app is to use. Customer service and low shipping times are both heavily praised as well. The negative reviews focus on various shipping issues and unreceived items.
5. Automizely – smart and easy Shopify dropshipping

Fully automated dropshipping experience
Automizely offers smart selling tools, letting you build and dropship with no effort – but with your branding all over the products.
Everything is automated: generated item descriptions save your time and money, orders are automatically fulfilled, and tracking numbers are instantly accessible.
Pricing is automated, too! You can add new products, simply set up your desired profit margins, and let Automizely do the hard work.
The app lets you choose from over 1,000,000 products, covering many different niches. Suppliers come from all across the world, including the US as well. Domestic US orders take around 3-8 days to ship. China-US orders take around 8-10 days: an overall solid result.
Pros
Smart automated product features
Fast shipping times
Over 1,000,000 products available
Local USA item options
Cons
Reported issues on lost products
What do the Automizely reviews say?
Users love the product sourcing, and how the app takes away the guesswork from setting up the prices. However, some users report issues with the shipping and customer support – but they are fairly rare.
6. Syncee – versatile Shopify dropshipping option

Shopify dropshipping on any supplier
With over 4,000,000 products on their marketplace, Syncee offers a massive variety of products for you to fill your dropshipping site with.
It's a fully automated solution – with automatic uploads, updates, order data and synchronization letting you keep everything in order.
It works with most other item suppliers, too – using Syncee's DataFeed Manager, you can simply upload their CSV, XLS(X), XML, JSON, or TXT file. This way, you can dropship from wherever you want – and use Syncee Shopify dropshipping app as your intermediary to help you sell easier.
Pros
Full control of your suppliers
Solid automation features
Free plan available
Cons
Premium plans can get rather expensive
Some reported issues with the suppliers
What do the Syncee reviews say?
Dropshippers love the amount of control given to the user. Customer support and automation features are also praised. Some negative feedback includes rather high pricing and some issues with suppliers.
7. Spreadr – Amazon dropshipping app for Shopify

Amazon dropshipping on Shopify
Spreadr offers something a little bit different – it lets you easily sell Amazon products on your Shopify site. You can choose from one of the two options: you can either dropship the products and get to work with the clients, or simply send your visitors directly to Amazon, taking the affiliate fee.
Amazon is well known for its excellent list of items and low shipping times – Spreadr lets you take advantage of that. From there, it's only a matter of you deciding which of the two distinct approaches works better for you. This right here is one the best Shopify dropshipping apps for Amazon.
Pros
Reliable Amazon fulfillment
Fast shipping times
Two distinct business options
Cons
Rather low profit margins – Amazon is more expensive
What do the Spreadr reviews say?
Users love how effortless it is. Customer support is also lauded. Some users had issues with the functionality of the app – but it appears to be more of a user error than anything else.
8. Nihao Dropshipping - Best Fashion Dropshipping Solution

All-in-one dropshipping platform
Nihao Dropshipping offers over 500,000 products available for sale. Based on over 8 years of experience in wholesale jewelry and women's apparel, they are uniquely positioned for fashion dropshipping.
In addition, they are also a sourcing agent to help you find and source high quality merchandise from China and get back to you within 2 business days. If you encounter any problems, their 24/7 customer support is always there for you.
Customized packaging is also one of the services they offer. With it, you can promote your brand better.
Pros:
Free to install, No monthly fee or membership fee
Exquisite product images
Worldwide delivery
All products are at cheap wholesale prices
Free product sourcing and storage
Cons:
Currently only available in English
What do the Nihao Dropshipping users say?
Users like customer support and product quality. Friendly for small business users.
Tips for better Shopify dropshipping
Looking to make money from Shopify dropshipping? That's an excellent idea – there's a lot of it to be made! Here are some things that will help you get off the ground faster, and build your business quicker:
Get some sample products. Dropshipping is exciting, because it can help you sell without keeping all of the stock with yourself. But don't get lured into selling products you haven't actually tried.
Promo materials matter. When you find the right product, make some high-quality photos and videos. They make a major difference.
Make the margins worth your time. Sure, everyone wants to sell low! But if you're only making a couple of bucks an item, you need to make loads to make your investment worth it! Don't be afraid to ask for more.
Search for the right supplier. Suppliers aren't all the same – they can differ in product quality and shipping times. Always try out different options: you might find something that you love even more!
Don't forget the basics: optimize your Shopify store speed, use SMS and email marketing and upsell products to increase convertion rate and revenue. You can also use some of the best Shopify apps to automate those tasks.
Summary
There are a lot of excellent Shopify dropshipping app options: ever so different, they offer exciting options for selling products to users all across the world. All of the options here are highly rated by us, and other users alike – so you can't go wrong with any of them.
Some of the apps here use platforms like AliExpress and act as a middleman. Others keep their own stock, and offer lower shipping times so the items reach your buyers quicker. It's all about the approach that you like more – that's what you need you know when looking for the best Shopify dropshipping apps.
So, to build a successful dropshipping business with one of these apps, try to think what kind of business you wish to run, what products will there be, and how much time you wish to spend. Then, just pick out the most suitable app, and make your dropshipping business grow!
Other Shopify apps you might be interested in:
Frequently asked questions
What is the best app for Shopify dropshipping?
There are many excellent dropshipping apps: DSers is excellent for AliExpress, Spocket is great for custom high-quality products, but there are other great options as well.
Is dropshipping on Shopify worth it?
Dropshipping on Shopify is absolutely worth it – you just need to pick the right profit margins and the right platform to use, so you and your store can be successful.
Is Shopify dropshipping legal?
Yes, Shopify dropshipping is entirely legal. You can build your dropshipping business without worrying about any possible legal issues.