By purchasing through the links on this page, you are giving us the opportunity to earn a commission. Your support is greatly appreciated!

Spocket app allows you to dropship products to your customers from vetted US and EU suppliers. This results in faster shipping, and better product quality than simply dropshipping from Aliexpress.

This is just a short introduction of the Spocket app – there's a lot more to cover. And we're here to do just that.

In this review, we take a deep dive into the Spocket app pros and cons, its features, pricing, how to set it up on your Shopify store, and, ultimately, is it really worth it?
Spocket app overview
| | |
| --- | --- |
| 💻 App name | Spocket |
| ⭐ Notable features | Fast delivery, branded invoices, US & EU suppliers |
| 🛠️ Ease of use | Suitable for beginners |
| 💵 Pricing | From $39.99 |
| 📥 Install app | Install Spocket |
What is Spocket?
Spocket is a dropshipping app that acts as a middle man between your online store and wholesale suppliers in the US and the EU.
What makes this app stand out among other dropshipping apps, is that you get access to pre-vetted suppliers. This ensures better quality products for your clients. And since they work with US and EU based suppliers, people receive their orders in 2-5 days.
You can sell products in the following niches:
Men's and women's clothing
Fashion accessories
Footwear
Bath and beauty
Customer electronics
Pets
Party and festivals
Sports and outdoors
Kids and babies
Home and garden
Gifts
Bags and wallets
Jewelry and watches
Toys
Tech accessories
Spocket has become one of the most popular dropshipping apps with high ratings, and raving reviews.
Spocket pros and cons
| | |
| --- | --- |
| Spocket Pros | Spocket Cons |
| ✔️ 2-5 day shipping in the US and the EU | ➖ No free plan |
| ✔️ Vetted suppliers & higher quality products | ➖ Expensive for beginners |
| ✔️ Branded invoicing | ➖ Popularity can create price erosion |
| ✔️ Over a million products | ➖ Non-customizable product packaging |
| ✔️ Multiple product niches | |
| ✔️ 30-40% discounts on all products | |
| ✔️ Product sample ordering | |
One of the biggest advantages Spocket offers is the connection to the US and EU suppliers, and 2-5 days shipping. All the suppliers in the app are carefully vetted so you can expect high quality products. If you're unsure, you can order samples and decide for yourself.
On the flipside, one of the biggest downsides of Spocket is its popularity. Why would that be a bad thing, you may ask. Well, since the app has thousands of users, there's a high chance that there are hundreds of people selling the exact same items as you. And competitiveness can lead to price erosion.
Spocket features
Spocket offers loads of useful features, let's go through them.
Suppliers in the US and the EU
Unlike most dropshipping platforms, Spocket works with product suppliers from the US and the EU to bring packages to your customers' door faster than the competitors.
Those suppliers also have to go through rigorous screening procedures to be approved. This way, Spocket ensures better product quality.
Product samples
Before you start selling products in your store, you can order samples from Spocket to make sure they meet your expectations. Once you see and try the products, you can take your own product photos and better describe the items to your customers. This way, you'll build a better and more trusting relationship with your audience.
Multiple integrations
Spocket works with various ecommerce platforms, including Shopify, BigCommerce, Amazon, AliExpress, Wix, eBay, WooCommerce, BigCommerce, Square, Alibaba, Squarespace, Felex, and Ecwid. It creates bigger flexibility because you don't have to commit to one platform.
Branded invoicing
Another way to build trust with your customers is by branded invoices. When a person buys a product from you, they'll see your logo and other brand details. It's a huge competitive advantage against other dropshipping apps.
Easy (or easier) returns
Spocket suppliers generally offer pretty good return policies which is yet another thing that makes this app a great dropshipping platform. Returns are negotiated through Spocket's customer support because they can't get you in touch directly with the suppliers.
While returns and refunds are possible with Spocket, it generally depends on an individual supplier, and you should look at their policies before promising your customers something you can't fulfill.
Pricing and plans
Spocket offers three pricing plans for entrepreneurs:
Starter for $39.99. With this plan, you can add up to 25 products to your store, get access to email support and 24/7 live chat, as well as access to AliExpress dropshipping.
Pro for $59.99. With this plan, you can add up to 250 products and 25 unique products to your store. You also get access to branded invoicing, 24/7 live chat support, AliExpress dropshipping, supplier communication, and product search by images. This is also Spocket's most popular plan.
Empire for $99.99. With this plan, you can add up to 10000 products and 10000 premium products to your store. You also get access to branded invoicing, 24/7 live chat support, AliExpress dropshipping, supplier communication, and product search by images.
Unicorn for $299.99. With this plan, you get everything that is in the Empire plan, plus 25000 unique products and 25000 premium products, access to the Vip chat and email support, and bulk checkout.
Every paid plan comes with a 14-day free trial. It's a good feature to have but, realistically, you won't see any real result in those two weeks.
When it comes to their free plan, things get interesting.
The free plan only allows you to browse Spocket's product catalog or sell with AliExpress dropshipping. You can do that for as long as you want cause the free plan doesn't ask you for any credit card details. Once you're ready to start selling, you have to subscribe to a paid plan.
How to set up Spocket on your Shopify store
It's easy to sync up your Shopify store to the Spocket app. Here are the steps:
1. Go to your Shopify admin
2. In the left sidebar, under Apps, click Add apps
3. On the Spocket app, click Install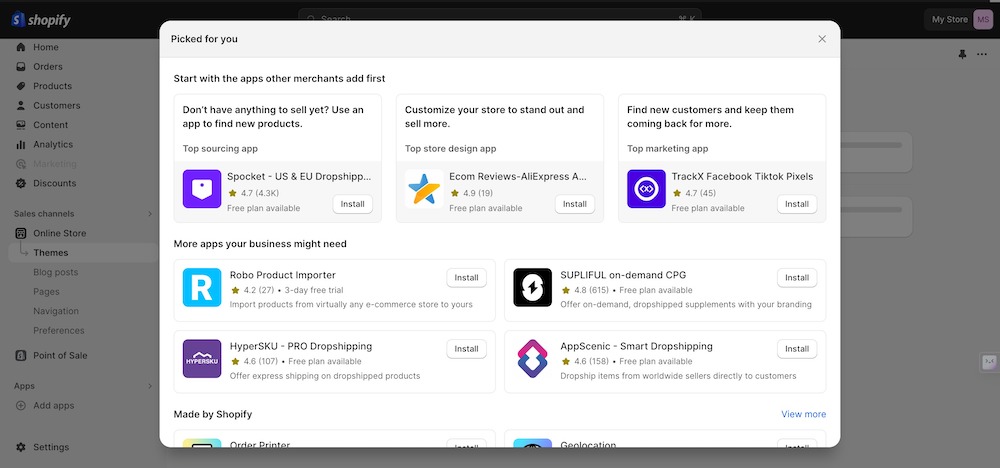 4. In the top right corner, click Install app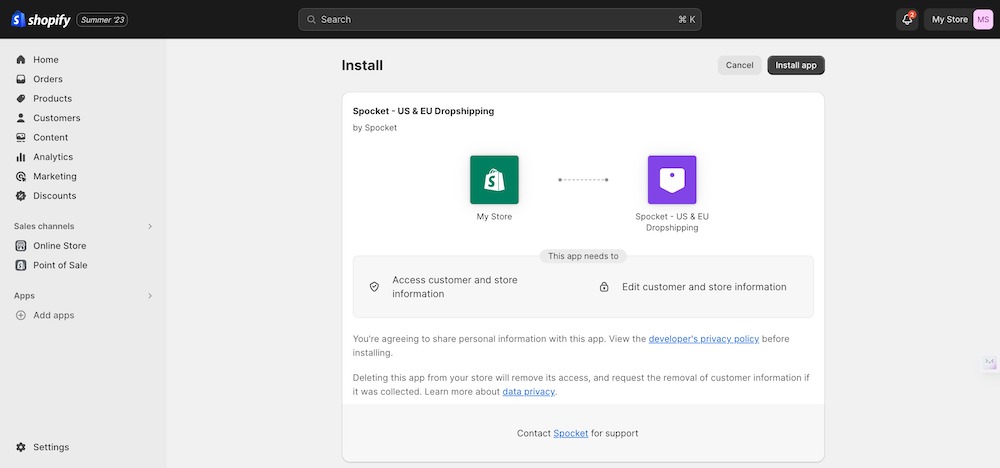 5. You're going to be redirected to the set up screen, you can skip it for now if you're still unsure, or you can fill in all information, and click Continue.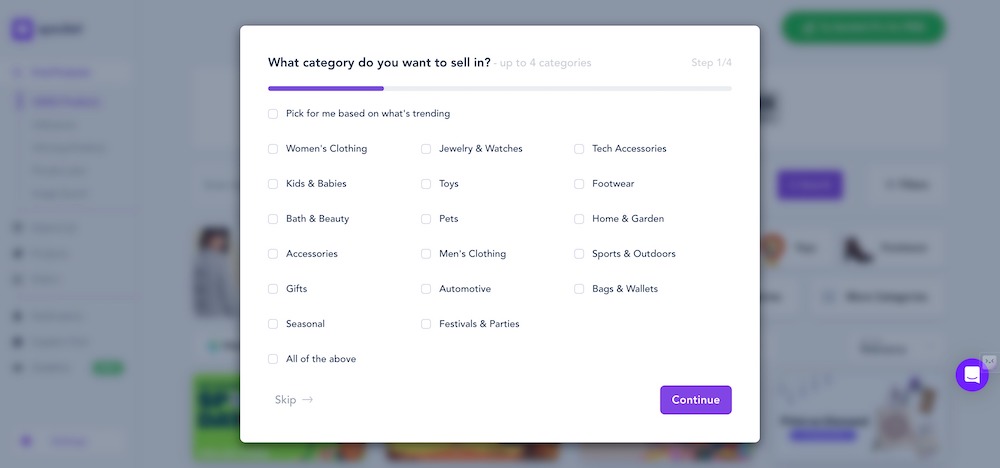 6. When you get to the Select a plan screen, you can pick one or click I'll upgrade later in the bottom left corner.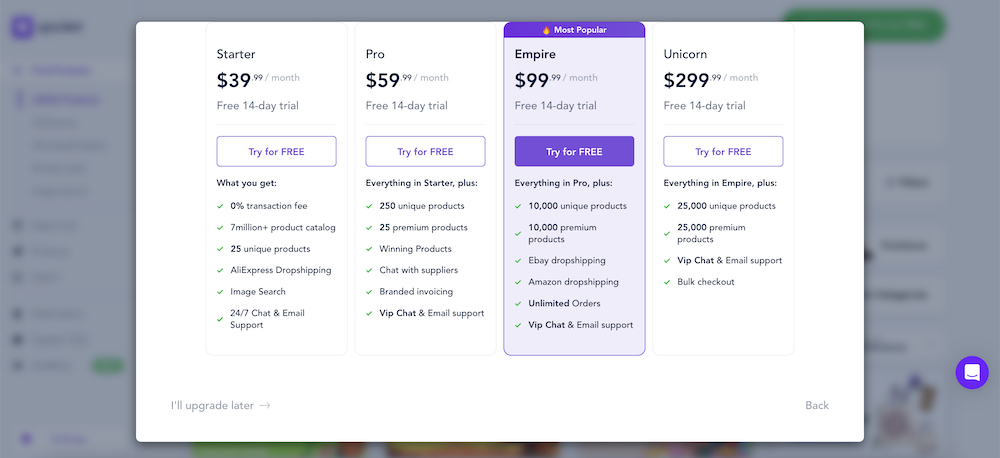 And that's it! If you're on a free plan, you can browse the products and get familiar with the app. If you went for a paid subscription, you're ready to start adding products to your Shopify store.
Is Spocket good and worth getting?
Spocket is worth getting if you want your dropshipping business to appear more professional since they allow branded invoicing and fast shipping. And they're one of the very few dropshipping companies working with US and EU suppliers.
Spocket is pricey if you're just a beginner but it does allow you to focus on your business instead of having you deal with supplier issues. That's because Spocket's suppliers have gone through a lengthy screening process, saving you a lot of time that you would spend researching and vetting suppliers yourself.
Spocket compared to other Shopify dropshipping apps
Spocket earns its competitive advantage compared to other dropshipping apps by doing the following:
Carefully vetting all suppliers and their products
Offering 2-5 day shipping as opposed to the standard 30-60 day delivery
Offering branded invoicing for building trust with your customers
Sending out samples so you can review products yourself
Other dropshipping platforms may be cheaper, but Spocket actually tries to give its clients high quality service and trusted suppliers.
Curious to read more? Check out these articles: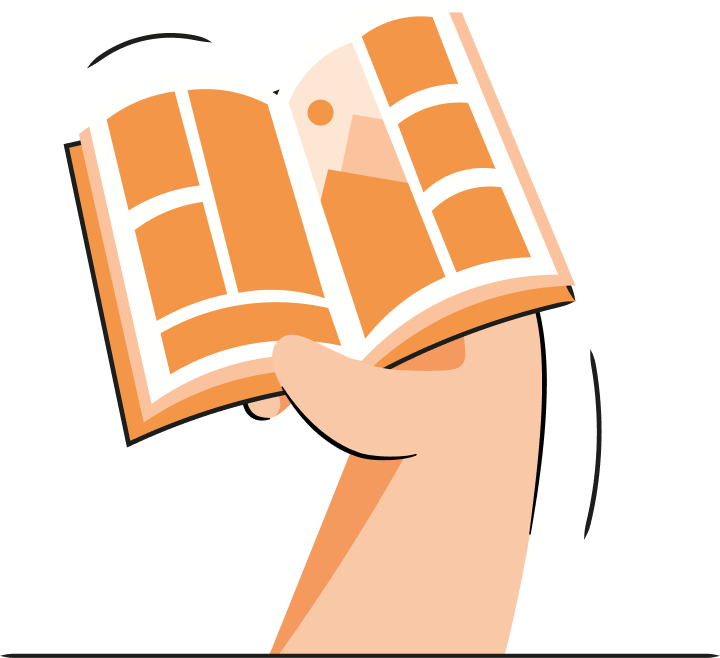 Frequently asked questions
You can certainly trust Spocket – thousands of merchants do already. It's an extremely popular dropshipping app that gives you access to the US and the EU suppliers who, in turn, deliver the packages to your customers in 2-5 days.
Spocket dropshipping is 100% legit. There are loads of reviews and thousands of merchants already using it.
Whether you'll earn profit through Spocket depends entirely on you. If you build a strong marketing strategy and offer products that people are interested in, you can certainly see your business growing.