By purchasing through the links on this page, you are giving us the opportunity to earn a commission. Your support is greatly appreciated!

Shopify online course themes aren't very easy to come by. However, it doesn't mean you can't create a website for selling courses on the most popular ecommerce website builder.

There are thousands of amazing, highly-customizable options that can be edited and turned into excellent course-selling platforms in minutes. In order to find the best Shopify themes for online courses, we looked at the themes used by existing online courses websites, and picked out the ones with the top features.

Let's take a look!
How to choose a Shopify theme to sell online courses?
Shopify offers a massive list of top eCommerce themes for you to choose from. However, there aren't many options focused specifically on online courses. Here are some of the main things you should look for instead:
Full site customization. Shopify 2.0 offers powerful site editing that lets you mix and match various elements into a fully custom website. Choose themes that offer top class customization, and plenty of elements for you to work with.
Design that reflects your story. Adding courses to a site is easy – but changing a theme style isn't. Choose a theme that looks the closest to a course website of your dreams, with the right amount of text and media in its demo pages.
Great user experience. Choose a theme that's fast, as well as offers great search and menu options. The more convenient it is to browse, the easier it will be for you to turn those visitors into customers.
6 best Shopify online courses themes - our detailed list:
Without further ado, let's get right into it and see which one's best for you:
1. SmartBook – best Shopify theme for online courses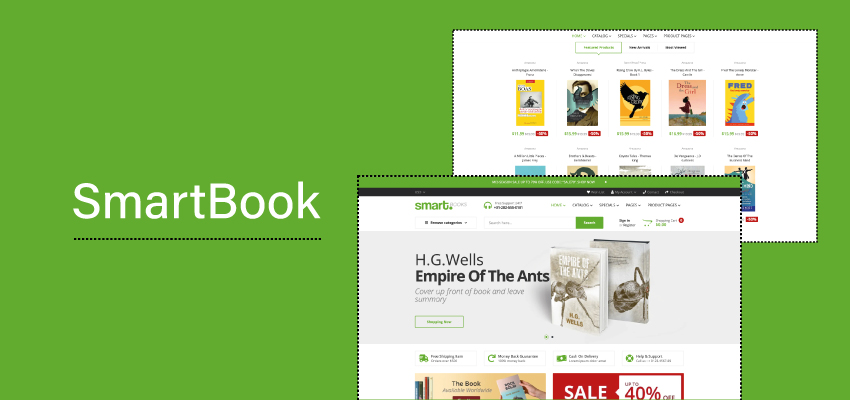 Compatible with Shopify 2.0:
SmartBook Shopify theme for online courses offers a smart, modern, minimal design: a perfect customizable canvas to make your products shine. You can choose from a variety of different headers, product display options, and menus – and put together a perfect site for your courses.
With custom views for both products and categories, you can easily adapt this theme to work for both large and small online course inventories – it will look just as good, whether you have 3, or 100 options to sell. Different product variants, user logins, and powerful search functionality can help you build a real online education powerhouse that looks easy on the eyes: just look what it can do.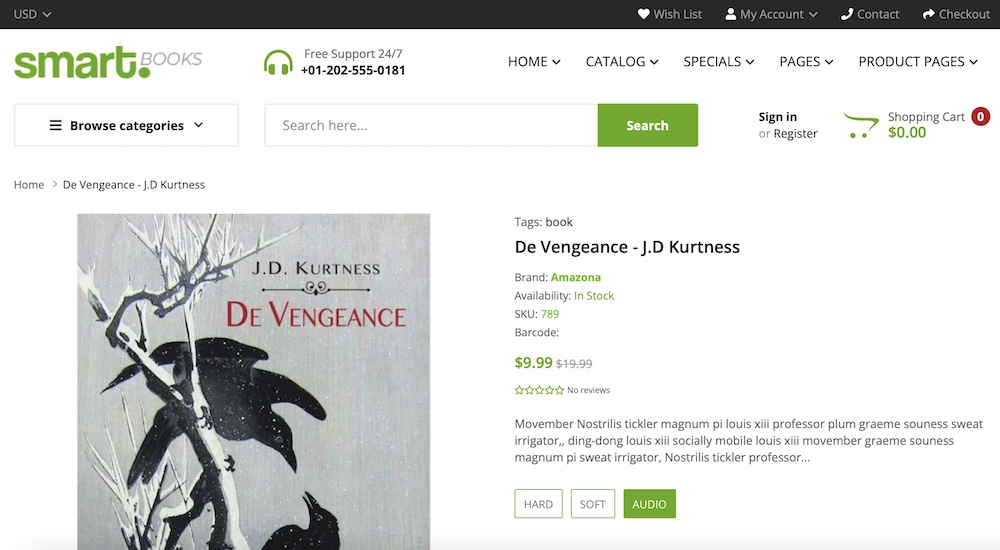 What makes the SmartBook theme great for selling online courses:
Several pre-made header options available
The theme offers product slider module
It's also excellent for blogging
2. Egrad – Shopify theme dedicated to online courses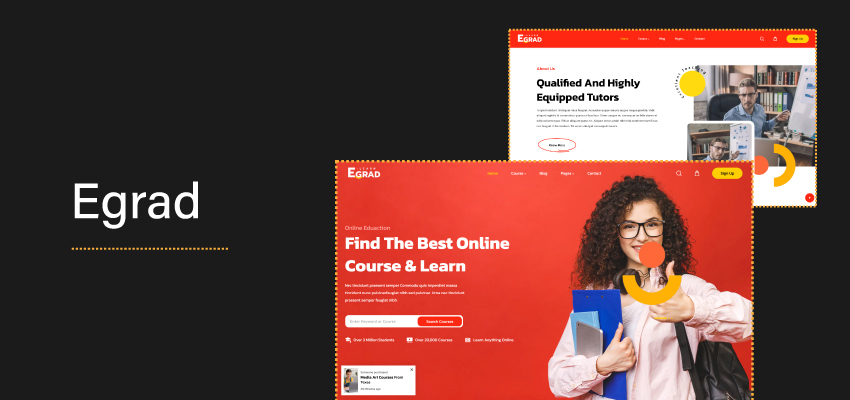 Compatible with Shopify 2.0:
E-Grad is a great Shopify theme for selling online courses. It offers a bold, colorful look with contemporary fonts and design elements.
The theme is highly customizable, and you can add a search field straight to the hero part of the homepage. This way, it will make it easier for website visitors to search for courses. Alongside search features, E-Grad offers an extensive and customizable mega menu that makes navigation faster.
E-Grad also supports great visual elements, like stylish sliders, carousels, sleek typography, icons, and subtle special effects.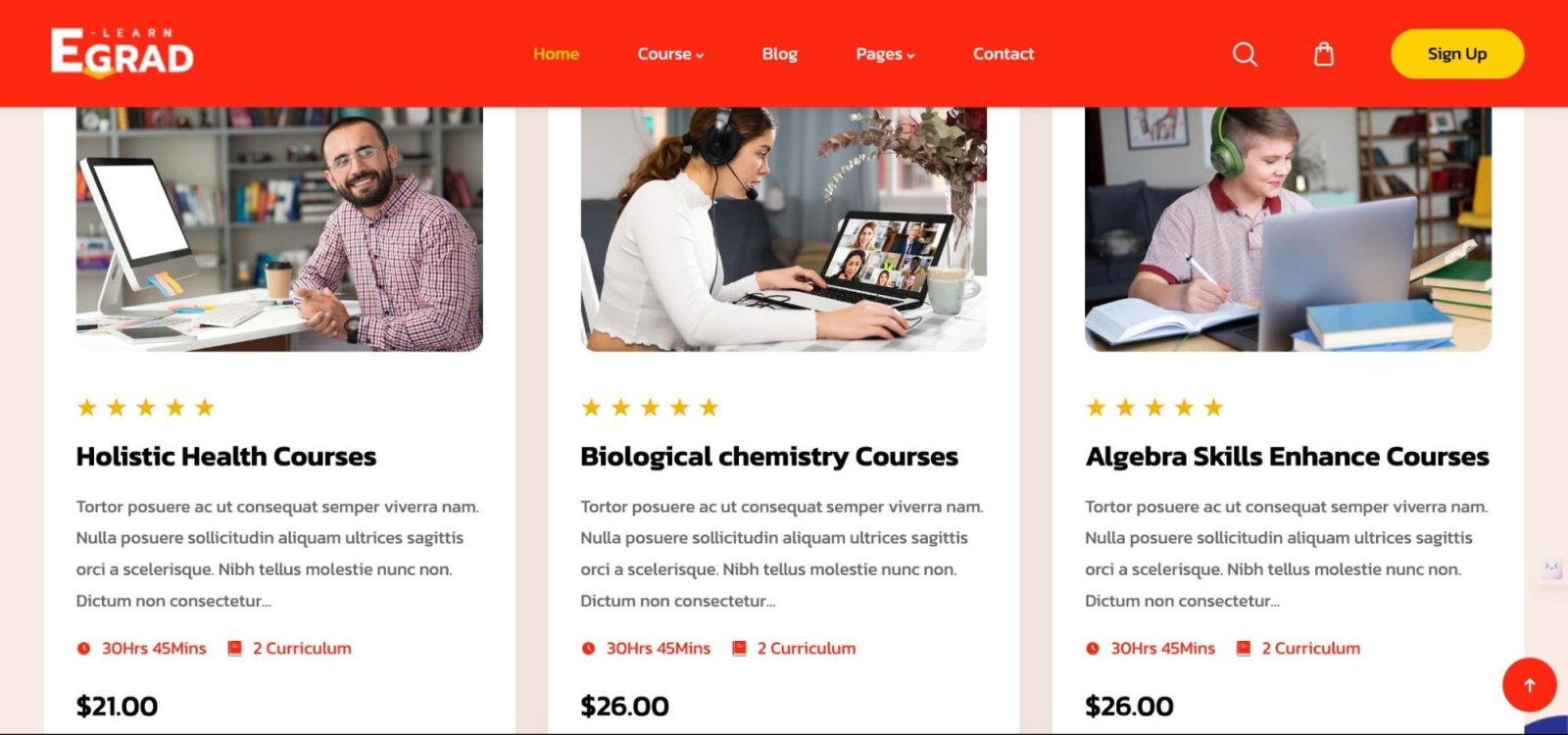 What makes the E-Grad theme great for selling online courses:
The theme is 100% responsive
You can add a beautiful newsletter popup
Extremely easy to customize
Intuitive drag-and-drop builder
3. Craft – excellent free Shopify theme for online courses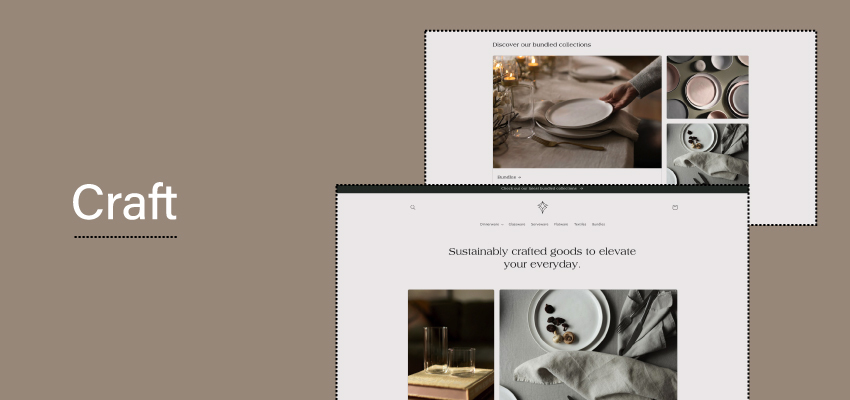 Compatible with Shopify 2.0:
Craft is a simple and clean Shopify theme, created to make your content and media shine – and it's a great option for building an online course website of any size.
Created by Shopify, Craft is fully optimized to load quickly and can be easily edited using Shopify 2.0 tools. As for the site editing, you'll get a massive array of sections and templates to display your content and items as you see fit. A mega menu option is helpful, if you plan to sell a wide range of products, letting you neatly display them.
Despite being entirely free, Craft is still a trusted choice for several excellent online course businesses. Like Needle and Hook, which combines many different types of goods and services in one, easily-accessible site.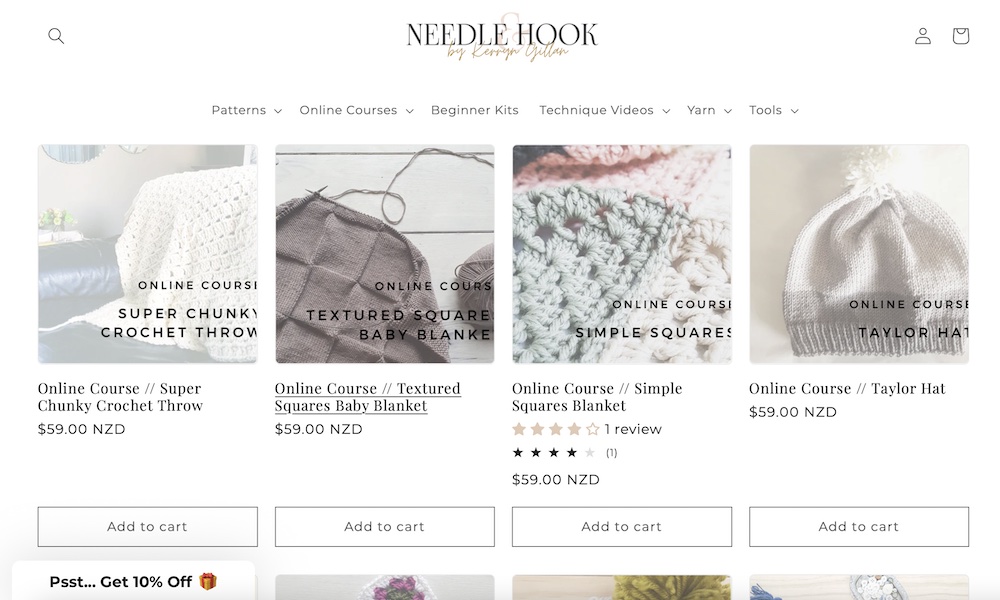 What makes the Craft theme great for selling online courses:
The theme is created by Shopify itself
Powerful mega menu and product display
Cherry on top – it's entirely free
4. Boighor – affordable premium Shopify theme for online courses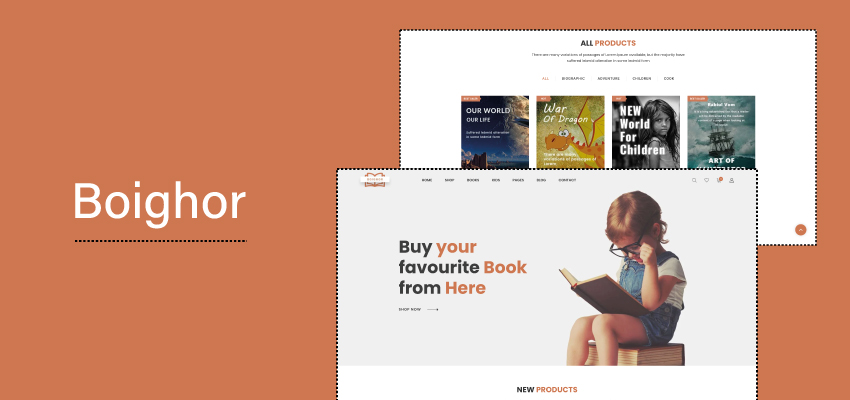 Compatible with Shopify 2.0:
Boighor is an excellent Shopify theme for online courses. One of the main reasons for that is the amazing product display functionality. On the homepage, your courses can be easily separated in tabs, sliders, or grids: giving you full freedom to separate and display them as you see fit.
Showcasing your products all over the site, you can also display them in lists, letting you add a lot of additional content – perfect for giving your visitors a better look at what courses will be.
Mini cart and quick view features will be great for easy browsing and purchasing experience. And you have the right images to pair with your courses, Boighor's media-centric design can be an excellent option to choose. It can look just like on the demo right here: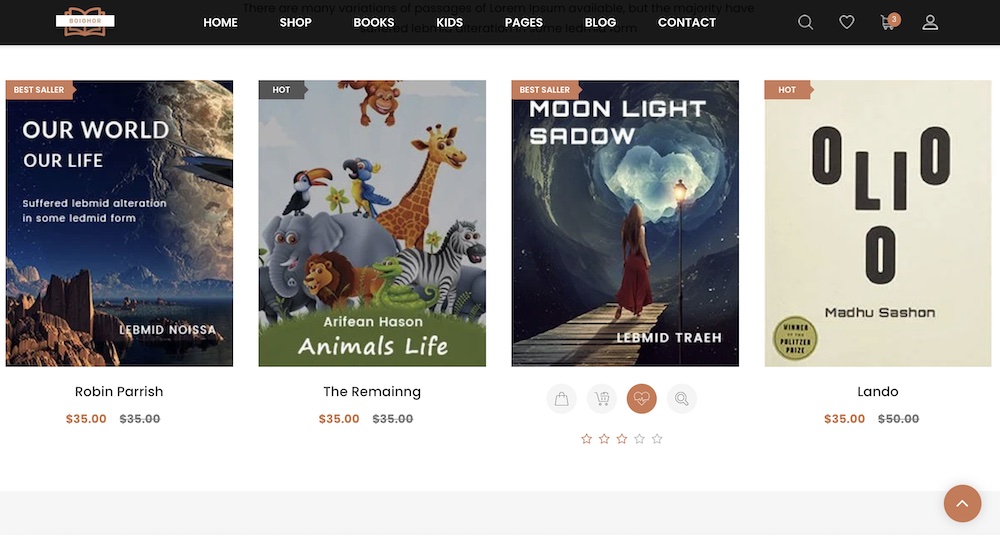 What makes the Boighor theme great for selling online courses:
Advanced product display options
Mini cart and quick view features
Looks great on all devices
5. Label – Shopify online course theme with great additional elements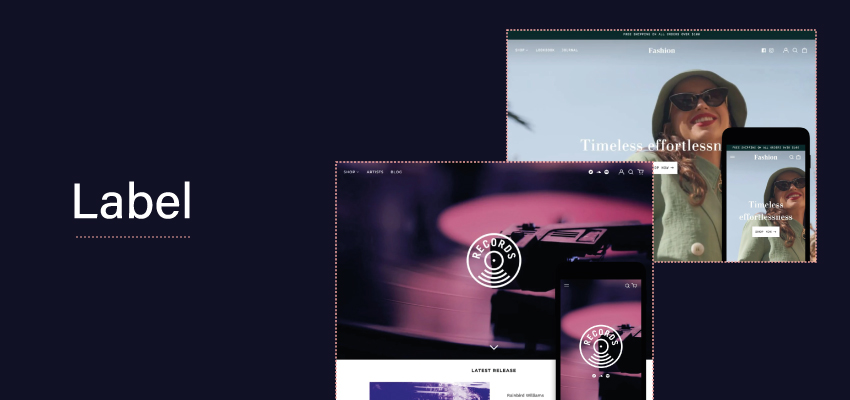 $320 (free trial available)
Compatible with Shopify 2.0:
Label is a Shopify theme that's great for selling online courses It offers three dedicated styles for fashion, music, and books: if your online courses are in either of these niches, this theme is a no-brainer. If not, you will still appreciate this theme's media display features, as well as options to display reviews and testimonials.
This theme is an excellent choice for adding extra information to your products and the site itself. Reviews and testimonials offer extra help to your visitors looking for the best courses, and audio and video players let you reach out to them in all the ways possible.
If you're offering live courses, you'll also appreciate a powerful live event calendar. This way, this site can act as a forefront for all of your future events. Label is meant to be alive and bustling with information – that's what makes this theme an excellent choice for online courses.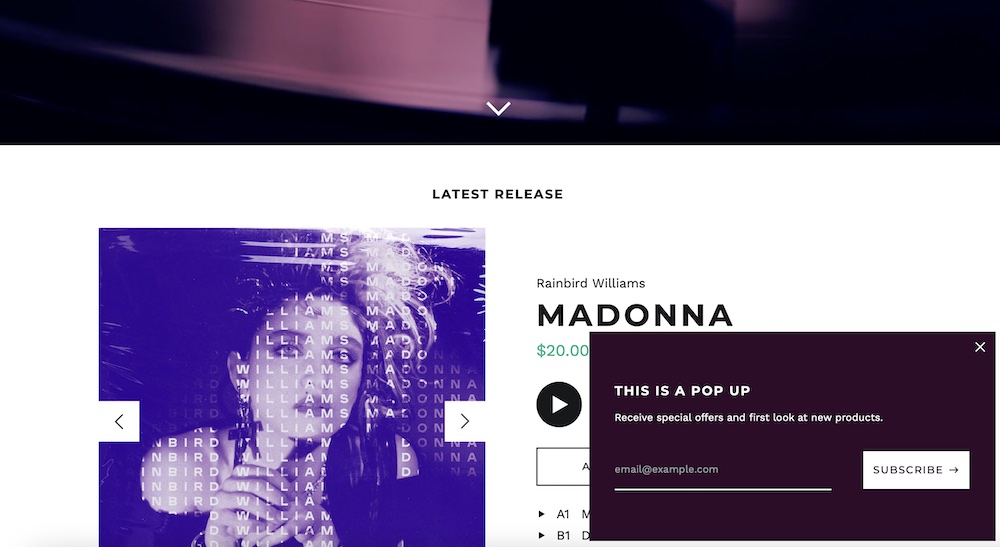 What makes the Label theme great for selling online courses:
Product testimonials and reviews
Convenient audio and video players
Additional product information functionality
6. Broadcast – powerful and customizable Shopify course theme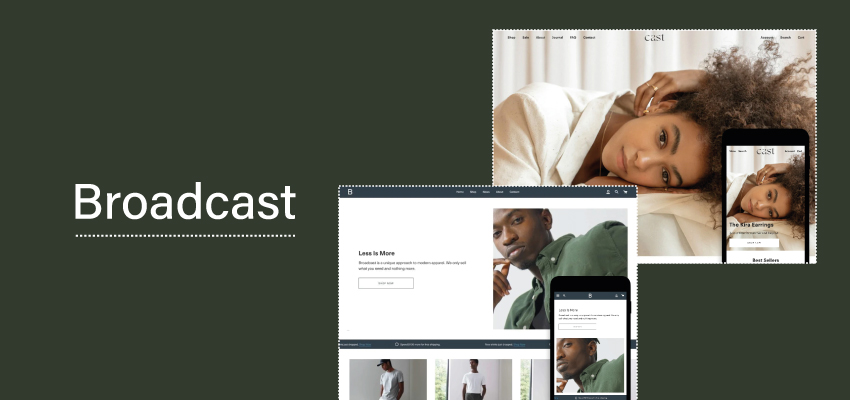 $360 (free trial available)
Compatible with Shopify 2.0:
Broadcast is an amazing multifunctional Shopify template for selling online courses: with expansive design options, and plentiful marketing features, it'll be a great option for any online course website.
This theme is a customization and marketing powerhouse, offering built-in course reviews, promo banners, pop-ups, and a wide range of tools for customizing your site and getting people to enroll in your lessons. Completely custom About, Story, FAQ sections fit seamlessly to the style, and offer you an opportunity to tell your learning platform's story and be reached by the clients – you can even go a step further and use a fully custom contact form.
With plenty of ways to express yourself and tell your story, Broadcast offer an opportunity to make excellent websites, and spread the story of your website's teaching mission: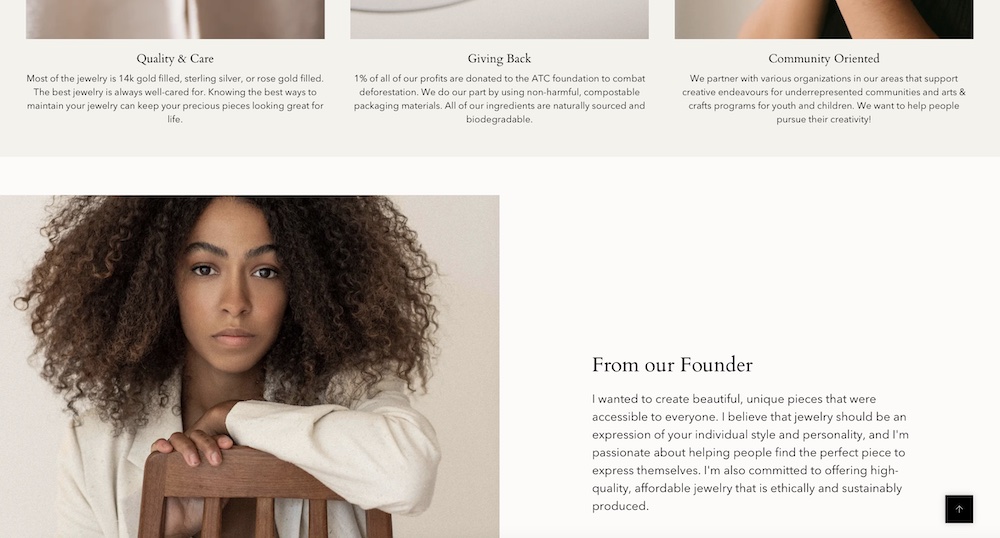 What makes the Broadcast theme great for selling online courses:
The theme offers many text-based elements
You can create a custom contact form
The design is flexible and easily customizable
How did we select these Shopify themes?
Shopify has thousands of amazing themes available. This is how we picked the best Shopify themes for online courses from all of them:
Top-notch customization. Shopify themes focus more on physical items – but we picked the most customizable templates, letting you easily adapt them to suit your courses.
Design to be seen and heard. Whether it's plenty of room to tell your mission in words, or smart design options to express yourself through media – these themes are perfect for showcasing your courses.
Powerful product management and app integration. With built-in product variant functionality and powerful product display, you can easily use existing Shopify features to sell online courses. They also work really well with third-party virtual item apps on Shopify's app store – so you can use additional applications to sell even more efficiently.
How to actually sell courses on Shopify?
With plenty of marketing tools, a powerful management system, and thousands of great themes, Shopify is an excellent platform for selling.
We have a detailed guide on selling courses on Shopify, and here's a short version of what you should do in order to start:
1. Plan your Shopify course website
It's important to figure out exactly what kind of Shopify course website you will be making. There are several options:
simply sell digital products, which customers can easily download to their devices,
use digital products to offer in-person courses as well, or
build courses right into your Shopify website. Shopify allows long-form text, but its video uploads are limited to 1 GB and 10 minutes, so you might have to use an external hosting service like YouTube and embed videos in.
However, a lot of this functionality goes beyond what Shopify can offer with its base tools. This is where our next step comes in:
2. Use the right Shopify tools
If you wish to have a more advanced online course website, you will need some help from third-party Shopify plugins.
Apps for online course management will include built-in tools for your students to enroll and for you to teach. You can also find apps for accessing restricted, members-only digital content.
Finding the right tools to work with can help you build a powerful interface to manage your business and run your courses – as well as provide your customers with a premium learning experience.
3. Find your marketing niche
You need to ask and answer the questions "Who are the people who will buy my courses?", "Where do they hang out and share their thoughts?", and "What is the best way to reach and form connections with them?"
This can involve groups on social media, real-life networking events, groups in your local college or university, and more.
Just running a social media ad campaign might not work – people are bombarded with these ads left and right. As you're just trying to settle in, try to form meaningful connections with people where they really are. This will help you later on, as you'll progress with your online course business.
Don't forget to optimize your Shopify store for Google and other search engines. If your online course solves some problem, people might be looking for information to read on the topic - here you can utilize the power of blogging (and some successful Shopify store blogs show that it's a powerful tool to create community and loyal customers)
4. Prepare for launch and growth
There's a good chance you won't get a massive influx of visitors and buyers in your first months. See it as an opportunity to work out any possible issues and perfect your courses.
Just as you finally go live, start actively looking for your first enrollers. It can be your friends, family, people from the online communities you're on, or contacts from various networking events you reached out to.
Once you get them on, use every opportunity you can to receive constructive feedback. Maybe certain points of your courses need improving. Maybe there's something people expected to hear, but didn't. While regular buyers will just shrug and leave, your contacts can give you great ideas.
Use the feedback to improve and perfect your courses. Then, when you're ready, it's time to use Shopify's powerful marketing features to reach even more people and aim for the stars.
Final words
It can be a challenge to choose the best Shopify theme for selling online courses. Both the platform and its themes can look like they're focused squarely on physical goods, leaving you behind. However, this couldn't be farther away from the truth – Shopify is an amazing option for selling all types of digital goods.
There are both free and premium options you can choose from. Highly customizable, working well with both in-house and third-party apps, they work great for selling online courses. Pick one of the options here, and get to educating!
Curious to read more? Check out these articles: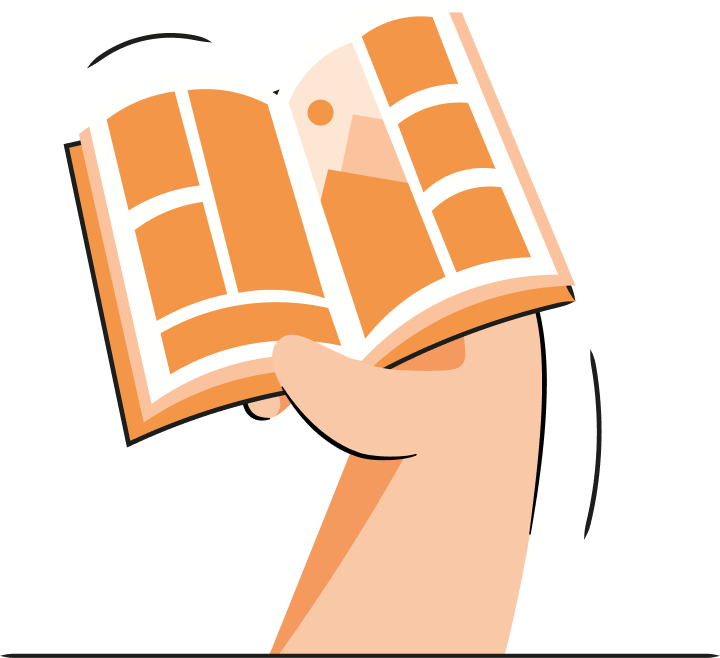 Frequently asked questions
Yes, you can sell online courses on Shopify. It's possible to do using both built-in Shopify sales tools, and using third-party apps, which will make enrolling and working a little bit easier.
Despite being focused more on physical items, Shopify is the best option for selling online courses. With thousands of top themes, product variant options, and third-party apps, it's a great way to build your own online course website.
You can include video courses on Shopify, using the platform's built-in video functionality and a restricted content feature. Videos are limited to 10 minutes in length and 1 GB in size. For live video chat, you should link your visitors to a Zoom or Google Meets call.