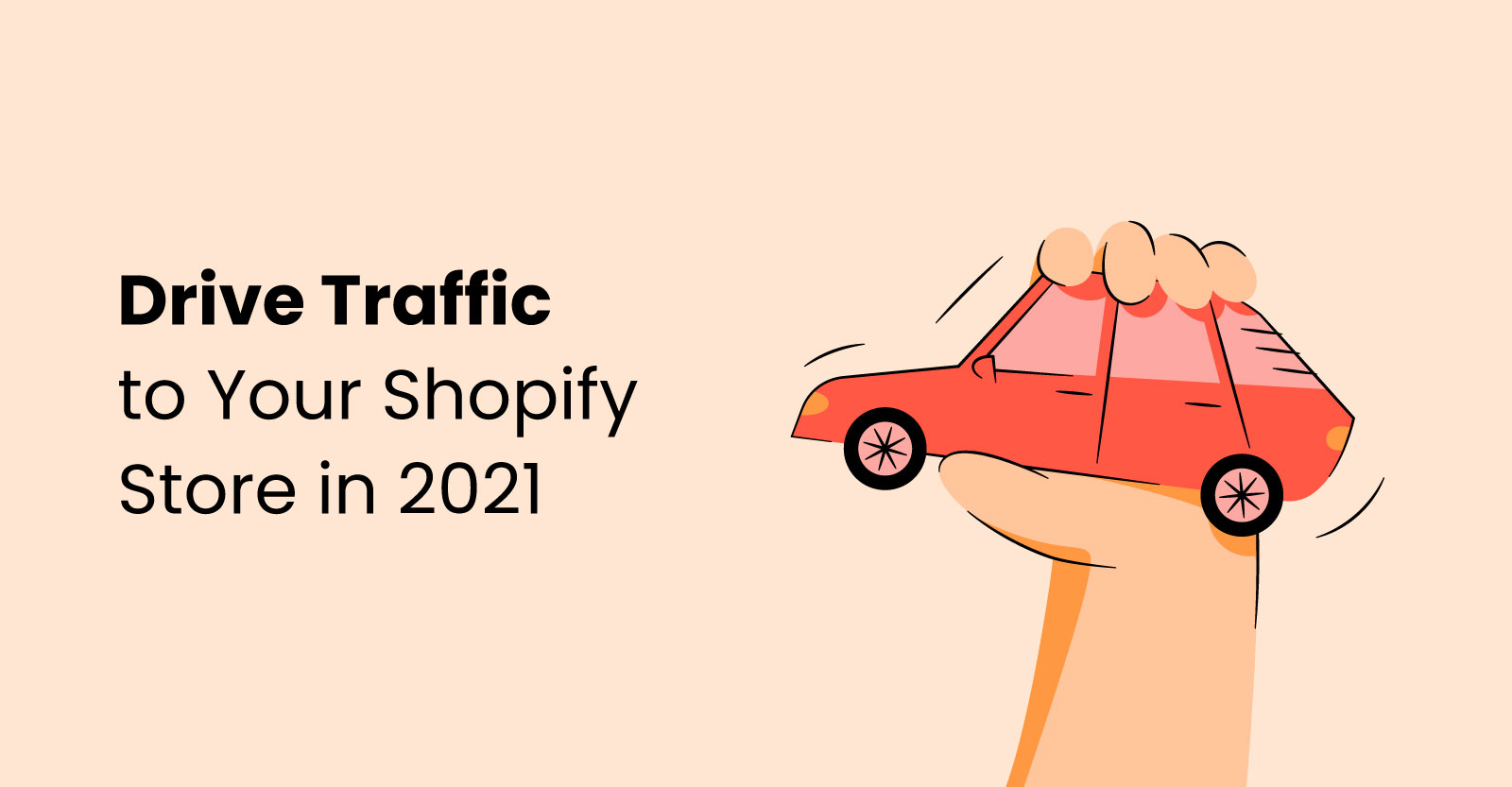 While eCommerce platforms like Shopify have made it easier for businesses to go online, turning it into a success is still a challenge for most. With so many options available to a consumer, it's tougher grabbing their attention on any channel of marketing; let alone drive traffic to your Shopify store.
But of course, driving traffic to your Shopify store isn't impossible. All you need is a strategic approach to things!
In this article, we're going to talk about:
The importance of traffic and engagement on your store
Tactics on how to drive traffic to your Shopify store
Frequently asked questions about driving traffic to your store
Let's go!
Start driving more traffic to your Shopify store with smart search optimizations, using TinyIMG.
Get the app!
The importance of driving traffic to your Shopify store
According to statistics, the average conversion rate is just over 2.35% for most online stores. So irrespective of your industry or the type of products you sell, you need to be able to drive enough of the right kind of traffic to be able to actually turn a concrete number of visitors into customers.
But before we dive into discussing how to drive traffic to your Shopify store, let's discuss the first step a little.
Before you drive traffic to your Shopify store, you need to first identify who your target audience is and what your ideal customer looks like. While the goal is to drive more online shoppers to your storefront, it is also important to ensure that the right kind of people are coming to it.
Imagine making all the efforts to drive thousands of visitors to your Shopify store, only to realise none of them really find value in the products you sell. Wasted effort, right?
So focus on answering the following questions before implementing any of the tactics we're about to share:
What are the demographics of your target market (age, gender, location, etc.)?
Who is your ideal customer from the target market (income, purchase power, need, etc.)?
Why should that ideal customer make a purchase from you?
What other options are available to them in the market?
Where are they the most active when seeking products?
How do they typically make purchases?
Where are your best chances to grab their attention (marketing and advertising platforms)?
What information would you need to present them with to help them make a purchase?
Once you know who you're talking to, why and how you can get them interested in what your Shopify store has to sell, it's time to get to work.
Proven tactics to drive more traffic to your Shopify store
When it comes to running and marketing an online business, there is no one-size-fits-all approach. But these tactics have been used by brands big and small to reach their audience where they are the most active, to drive traffic to their storefront.
1. Identify the keywords you want to rank for
The very first strategy we recommend to Shopify stores is identifying the keywords that they want to rank for. This defines what your brand will be perceived as, how your products will get discovered and what type of traffic (high intent buyers or not) will visit your storefront.
Keywords are essentially phrases in your web content that make it possible for people to find your site via search engines. A Shopify store that is well optimized for search engines, essentially uses the same language as its potential buyer. Simply put, they use the words that a buyer is more likely to use when looking for a product.
Here are some quick tips to follow for finding the right keywords for your Shopify store:
Step 1: Study your niche
Step 2: Define your goals
Step 3: Make a list of relevant topics
Step 4: Create a list of seed keywords/ phrases that describe you and your products
Step 5: Use good keyword research tools like the Keyword Planner, SEMrush and others
Step 6: Study the search intent of your potential buyers
Step 7: Identify long-tail keywords around your products
Step 8: Find out about your competitors
To understand more about keywords, we recommend reading this guide: Key steps to identify the best SEO keywords.
2. Optimize your product descriptions
Now that you know who your target audience is, how they search for products, and have your keywords in place, the next thing to do is to optimize your product descriptions.
Product descriptions are essentially explanations of what your product has to offer. It includes the smallest of details like the weight, dimensions, materials, etc used in the product, to help the online shopper visualise it before making a purchase.
Now optimizing product descriptions does not mean throwing in all your keywords. It means structuring your descriptions in such a manner that they address all the queries a buyer may have.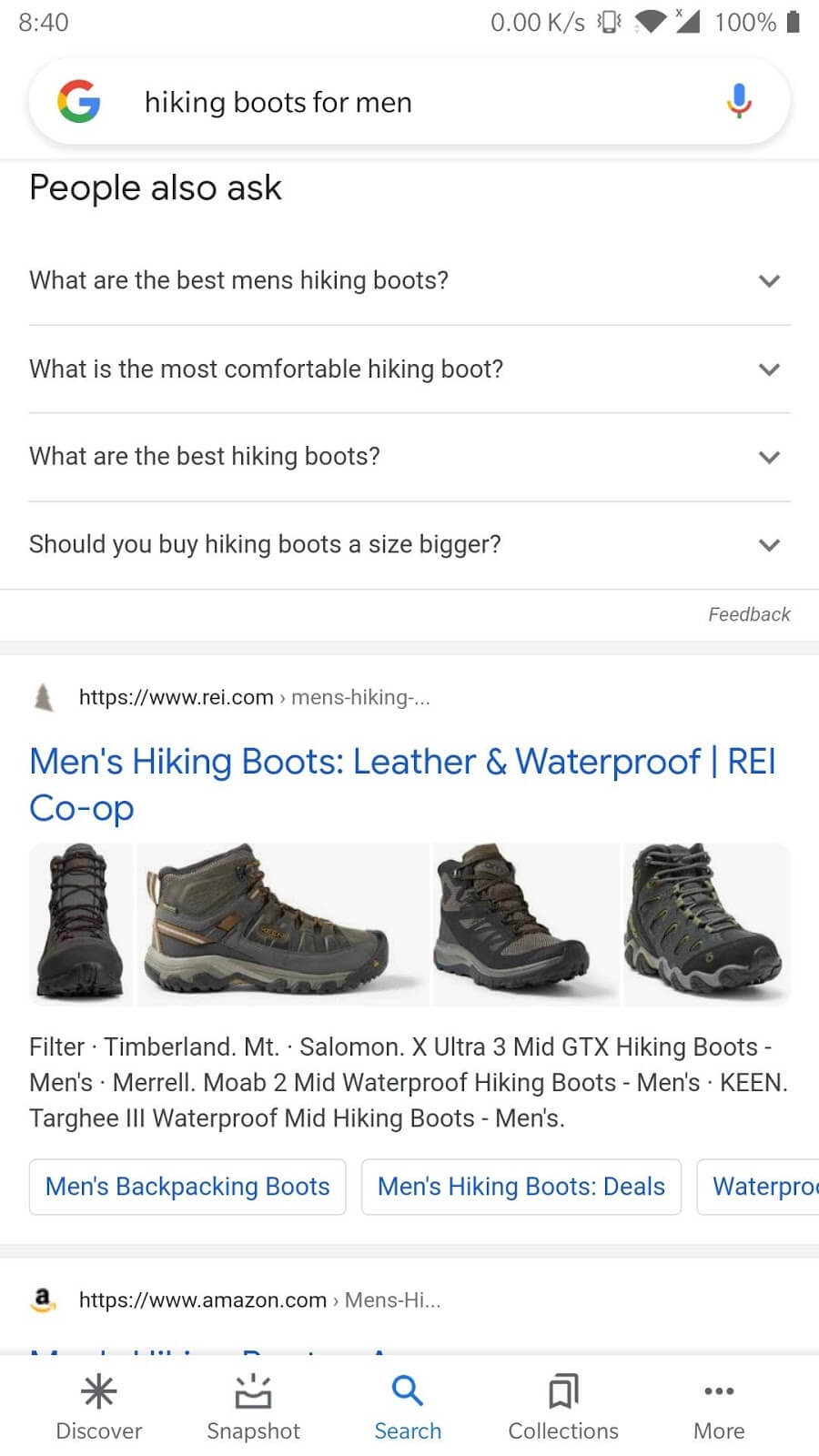 Here are some tips to follow:
Use keywords that best describe that specific product or collection (include long-tail keywords)
Write for buyers, and not bots; the more helpful you are, the more brownie points you get
Include product features in detail and mention the benefits of each
Place your keywords strategically - once in the page's URL, once in the product description title, once or twice in the body copy and once in the alt image tag
Don't overstuff keywords
Pick the right product page templates to compliment your efforts
Want to get a detailed guide on how to optimize product descriptions for search engines? Read this article here by Shopify.
3. Optimize your Shopify store product images and more
Did you know that the average weight of images on web pages counts for 21% of the total website's weight! The weight can result in impacting your Shopify store's load time, leading to a drop in your conversion rate by an average of 4.42% with each additional second it takes.
And that most online shoppers actually seek product images on the search engines to find products they want to buy?
This is where your Shopify store image optimization comes into play. By that, we mean tackling two things - the weight of your store images and how you describe them to the search engine crawlers to make them easily discoverable.
1. Compress your images smartly
First things first, make sure your images are not heavy. To be able to do this, you need to use a smart image compression tool like TinyIMG so that the quality of your images does not get compromised. Your store visitors still need them to look clear to be able to make a purchase decision.
2. Use an image format that the search engine prefers
WebP images are proven to help your images rank better, when compared to other popular formats like JPG and PNG. Wherever possible, make sure you convert images to WebP; this does not compromise the image quality and also works better for your search engine results.
3. Name and describe your images clearly
Instead of going with generic names or default names that you may have saved files with, take time out to describe your images better. Include a clear file name and ALT text that includes your target keywords to help the search engine crawlers index them better. Image optimization apps like TinyIMG help you do this in a smarter way. It automatically generates ALT tags and titles for your images to boost your SEO efforts.
Optimize your Shopify store images for better SEO with the all-in-one tool - TinyIMG
Get the app
4. Leverage content marketing
Online shoppers are no longer just looking for discounts. They want to interact with brands that truly care about them and want to help them make an informed purchase. This is where content marketing comes in.
Content marketing refers to the creation of various types of content, such as articles, tutorial videos, infographics, social media posts and more that help a potential buyer get to know a product better. It should help them visualise the product in their lives and how it brings value to them.
This is why you see the biggest of brands like IKEA, investing in creating how-to videos.
To know what type of content you should be creating, simply follow through these points:
Go deeper into keyword research to identify 'queries' around purchases
Take a look at what your target audience is talking about on social media and other online platforms
Understand the type of content that can help them make a better purchase
Identify content formats that you have the resources for to create
Make sure your content is not just highlighting your products, but also adding value to your audience in some way
Once you start creating content, optimize it with the keywords you're targeting. While organically, the search engine will start to drive traffic to your Shopify store, make sure you share that content across social media pages, online forums and more!
In fact, with apps like DropInBlog, you can set up a blog on your Shopify store to create and publish content easily.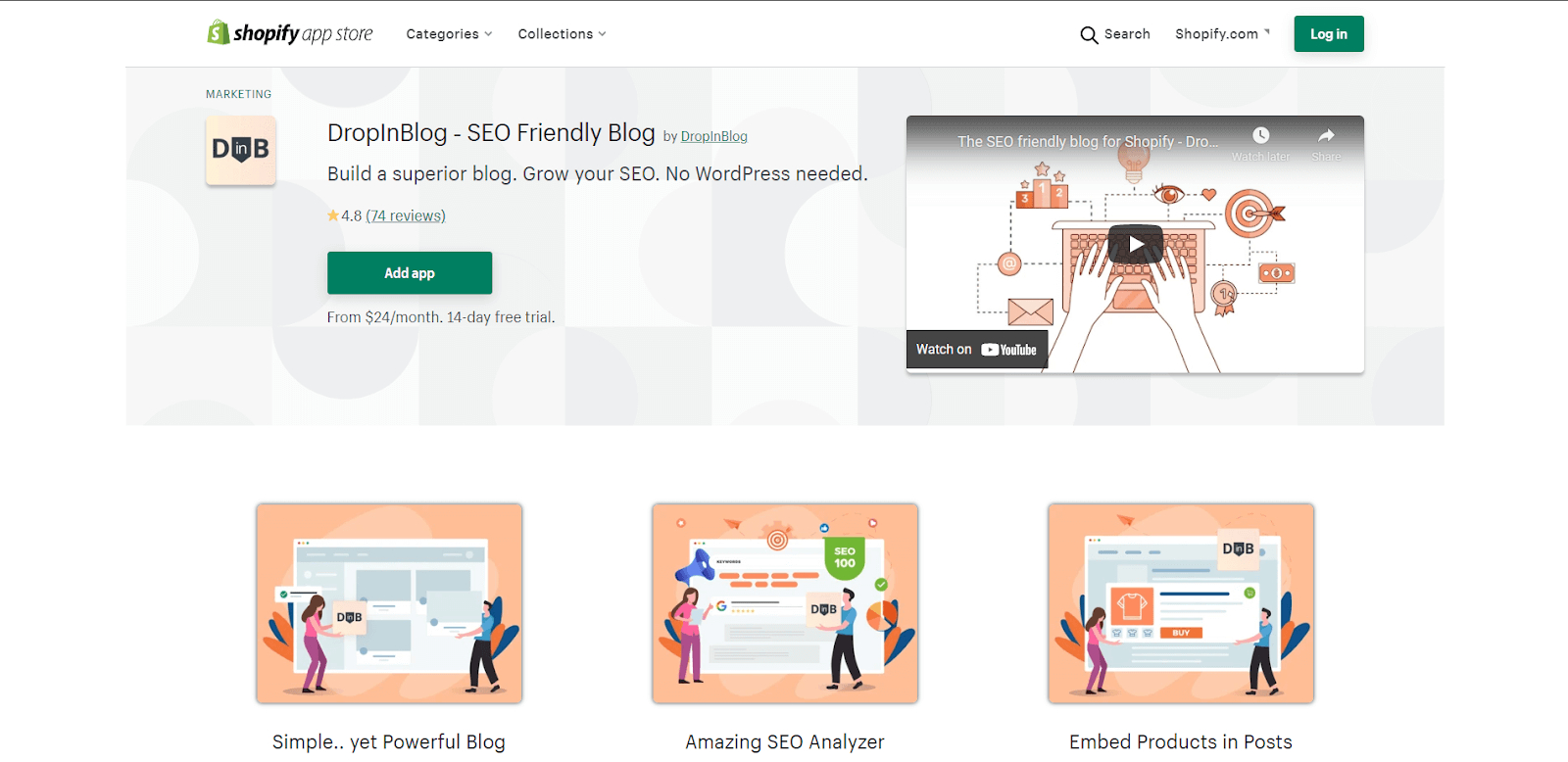 5. Get active on social media
Now that you're creating content already, it's time to take it to your audience where they are the most active throughout the day. Share your brand's story, product images, short videos and more in the form of social media posts to drive traffic to your store.
If you don't have them yet, make sure you start with only those that you can realistically handle. For example, if you know your audience is more active on Instagram than Snapchat or TikTok, focus all your efforts on that channel.
Once you have built an audience on it, you can start exploring other social media platforms as well.
Remember to make the most out of the different, native content formats that each social media platform offers. For instance, if you're on Instagram, leverage Reels to share short product videos or sneak peeks.
6. Run paid ads on social media and search engines
Driving traffic to your Shopify store organically can be a slow and overwhelming process. But you have a business to run!
This is where after you have established your base using all the tactics above, you tap into the power of paid ads. Using both search engines and social media advertisements to get in front of your potential customers can help you get in front of shoppers.
If you're not sure where to begin, we actually recommend starting with one channel for your paid ad campaigns. Then slowly work your way up to experiment with others, noting down which one brings better traffic to your storefront.
The idea is not just to get traffic onto your store, so make sure your ads:
Target your ideal customers with as defined demographics as possible
Create ads that focus on your products and its benefits for the consumer
Combine your ads with a deal that is hard to say no to
Make sure your ad copy is crystal clear
Ensure you have remarketing and retargeting pixels set up on your store to bring back the traffic that does not convert
To make things simpler, there are a number of Shopify apps that you can use for running ads on social media and search engines. Explore them all here.
7. Guest post content on popular accounts
Whether you're going with paid strategies or organic ones, building your own audience can take a while. But to reach them faster, you can actually collaborate with websites and accounts that have a similar target audience as yours.
Request guest posting that allows you to share more about your products and your brand, and links back to your site from theirs. Or you could simply do a similar content collaboration on their social media accounts.
Don't be afraid to reach out to fellow entrepreneurs. The Shopify ecosystem enables one another to grow, and you never know which guest post really helps you reach your ideal customers faster!
PS. If you do end up doing a traditional guest post on someone's website, an online magazine that your audience follows, the backlink can get you more traffic organically. Search engines award websites that get quality backlinks!
We call it a win-win tactic even though it takes a lot of time and effort to execute.
8. Reach out and collaborate with influencers
According to surveys, 90% of marketers believe that influencer marketing is an effective form of marketing; no matter what size your business is. In fact, 38.5% of brands view influencer marketing as a successful tactic to drive traffic to the Shopify store.
As consumers, we all follow people we aspire to be or look up to. Be it for their fashion sense, the way they keep their home or the content they share, there are people your audience follows.
So, seek out influencers in your industry that have a known voice amongst your target market. From celebrities to those who have a few ten thousand followers, look for those who can create authentic content to promote your brand's products. You want brand advocates who can help get your audience engaged and interested in what you offer.
Also make sure that you have a concrete way to measure the impact of your influencer marketing campaign. Be it the number of followers you generate, traffic, comments or how much it boosts brand awareness, document it all.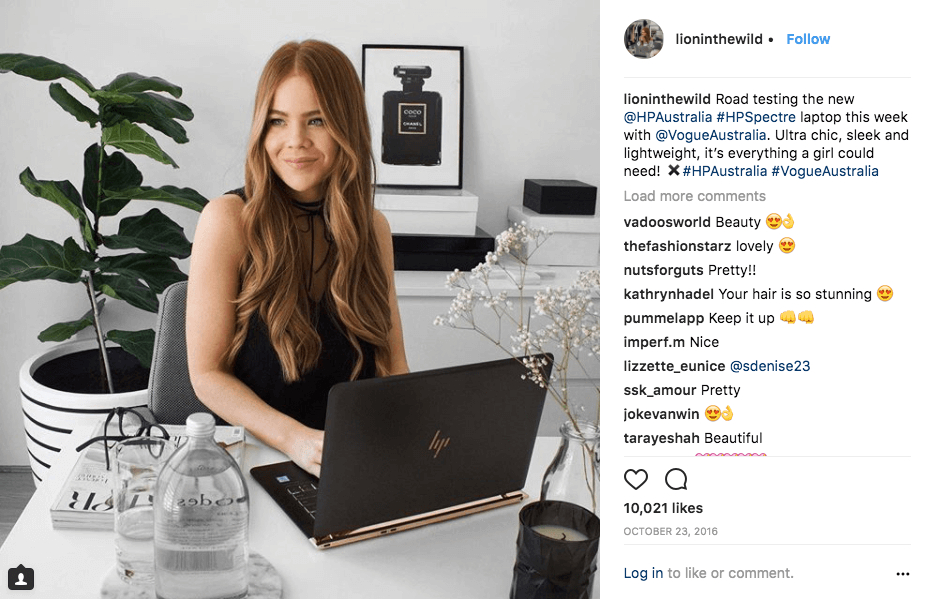 After an influencer marketing campaign is over, also feature their content on your website. You can create a dedicated page for all the content or simply feature it on the specific product's page.
9. Exchange ads with fellow stores
Similar to guest posts, exchanging ads means placing promotional content on someone else's website. In this case, it is similar to an ad campaign you're running on social media and the search engines.
All you need to do is identify stores and websites that have a similar target audience. Then, you reach out to them with a collaboration offer and set up your ad campaigns.
You don't even have to do this all manually. There are Shopify apps like Free Traffic, Sales Boost by Automizely that can help you with this.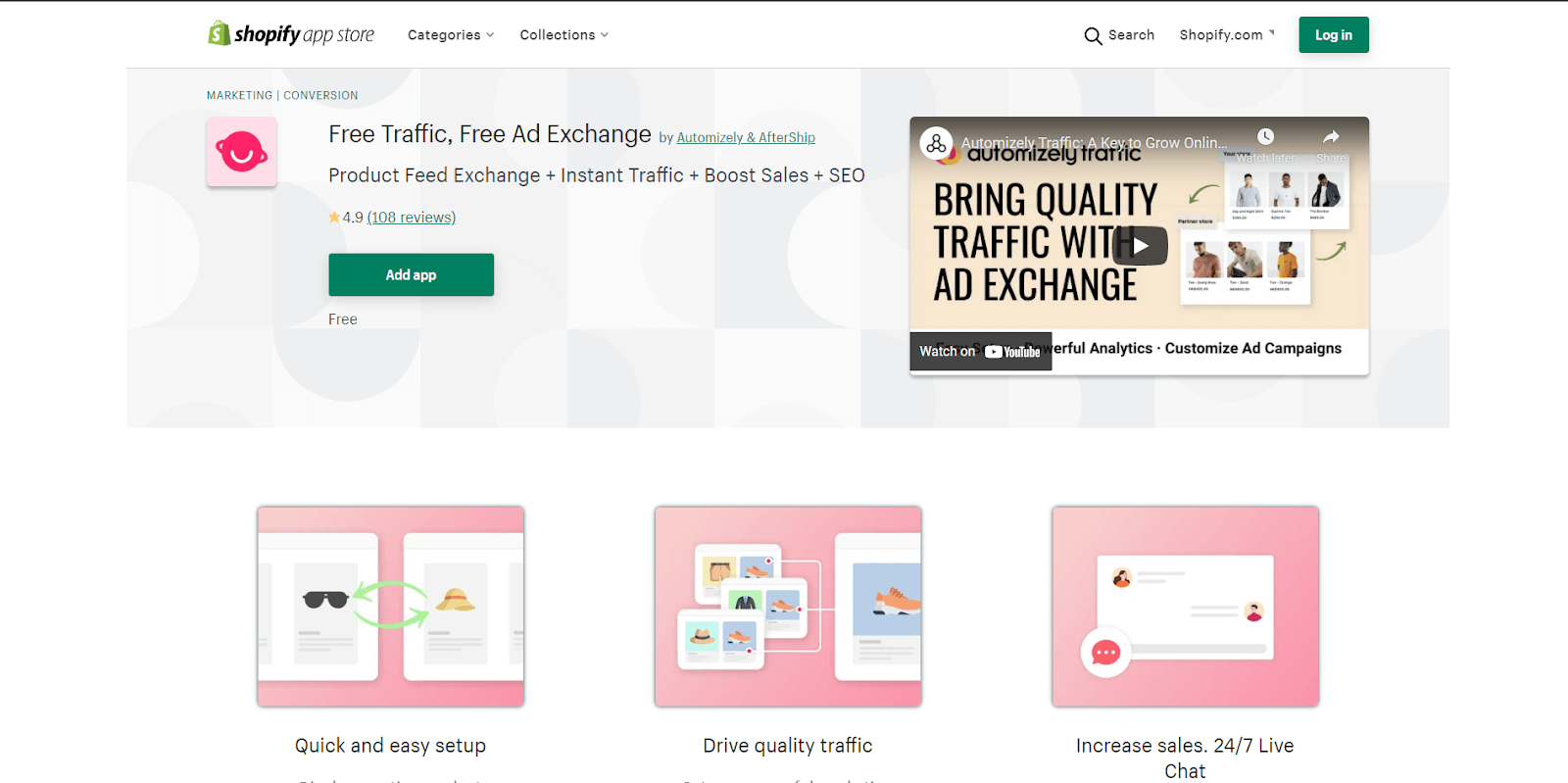 10. Stay in touch with the audience you build
Then comes the one thing that most Shopify stores, in their zeal to reach more people, miss out on. Keeping the audience they build, engaged with their brand.
This is where you need to establish a multichannel strategy to continually stay in touch with the audience you build using all the above tactics. Use all the popular channels like email, web push, SMS and the Facebook Messenger to stay in touch with your audience.
With Shopify apps like Firepush, you will also be able to automate all this conversation. Remember, the goal is to stay in touch with them and not spam them. Use this app to send out quality marketing messages that add value to your audience, nurture them and eventually turn them into your customer.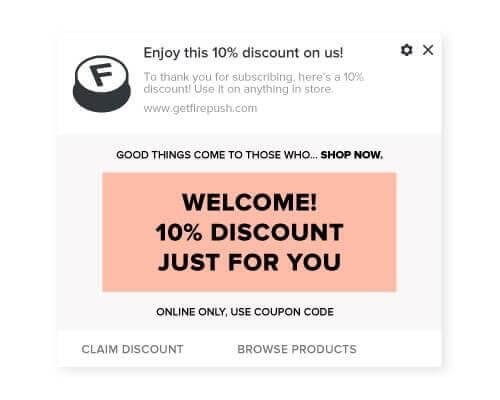 Well, these are ten of the most effective ways to drive traffic - new and repeat, to your Shopify store. But as you start to use them, you will realise that there are many more ways to bend each of them to create a unique strategy for your own business.
So how do you decide which one to use?
Which traffic strategy is the best for your Shopify store?
The answer is that ALL of them are the right ones for you.
But at the same time, keep your focus on trying out only a few tactics at a time. This will help you cover all ground in an end to end manner, and also measure the impact the strategy has on the traffic you drive to your Shopify store.
Assign clear goals to the strategy you use. Document the entire process and only then begin. This is important so that you know the ROI of the investment you make both in terms of time, effort and resources!
Which traffic strategy is the best for you?
There is no magic formula that will increase your Shopify store traffic overnight. It requires clever planning and masterful execution.
While all of the above strategies are effective at driving traffic to your storefront, we do recommend not spreading yourself too thin. Pick a few of them to start with based on your goals and the resources available to you.
Implement those end to end, measure the impact they have on your store traffic and then include other tactics to the mix in a strategic manner.
Take one step at a time, and nail it all!
Ready to drive more traffic to your Shopify store?
Start by optimizing your images for SEO.
Get TinyIMG today
Frequently asked questions
How do I get free traffic to my Shopify store?
Focus on optimizing your store with the right keywords using apps like TinyIMG to drive free, organic traffic. You can also use apps like Free Ad Exchange or channels like social media to reach out to your audience and drive them to your storefront.
How much traffic can a Shopify store handle?
Shopify can handle over 100,000 products. So even if you're driving as much traffic, the store runs just fine. Although we do recommend continually optimizing it for load times.
How can I drive traffic to my Dropshipping Store?
All of the strategies we've discussed in this post work well for all kinds of Shopify stores. So, if you own a dropshipping store, you can use social media, paid ads, content marketing and even search engine optimization to drive traffic to your store.
How do I increase sales on my Shopify store?
By focusing on driving quality traffic to your Shopify store. Remember, quality over quantity. So make sure all your organic and paid campaign efforts are always targeted at a specific audience.