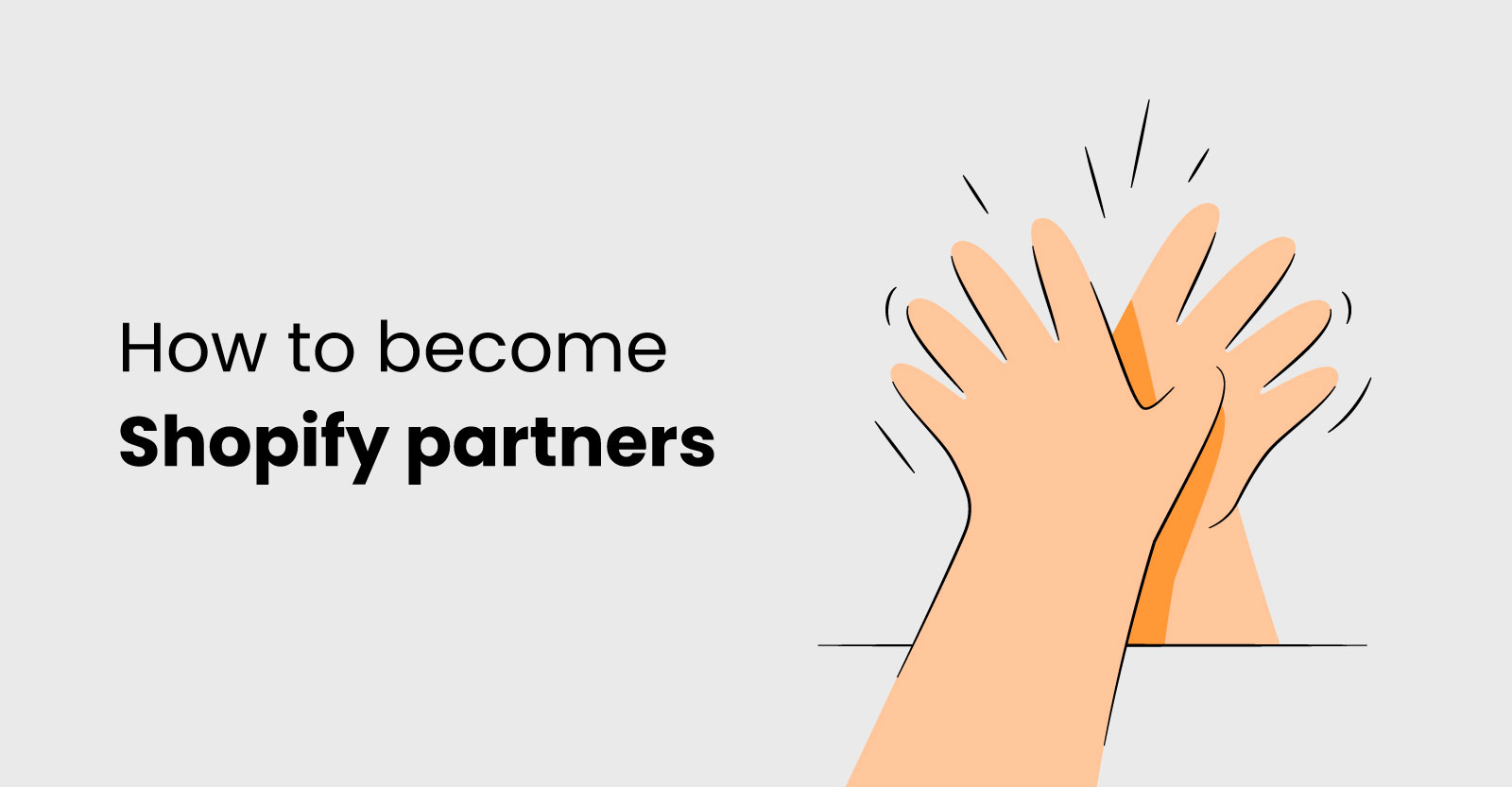 Shopify is an excellent platform for online merchants around the globe. With the platform, brands of any size and nearly any business field can increase their sales and brand awareness, as well as build a solid customer base.
However, if you have been on the platform for quite a while now, you may be feeling an urge to use your skills and experience to help other Shopify members that are just starting their online business.
To do that and to take the experience to the next level, it's key to consider joining Shopify Partner Program.
With it, you can support merchants in taking advantage of everything Shopify has to offer.
To help you learn more about the Shopify Partners program, in this blog post, we will share how to become Shopify partners, some of its most common benefits, and anything else you should know about the process.
Would you like to know how you can improve your Shopify store SEO? TinyIMG app can help you with that!
Get started Now!
Who are Shopify partners, and what do they do?
Let's start by learning the basics. Shopify partners are online merchants that signed a contract with Shopify.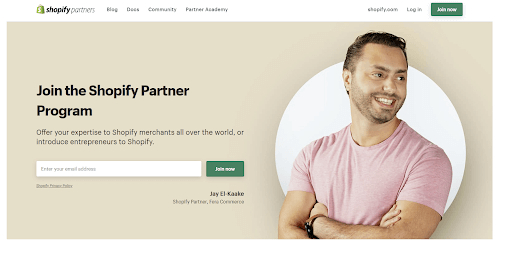 Usually, Shopify Partners earn money by referring new clients to the platform. This process is called run-of-the-mill affiliate marketing.
Also, one can join the Shopify Partners program as a Shopify Expert. In this case, you have a track record of success with Shopify.
Generally, as a Shopify Partner, you can:
1. Build or migrate stores.
If you are someone who gets excited about the technical part of Shopify, building new Shopify stores or migrating stores from other commerce platforms to Shopify could be the perfect position for you!
By creating customizable and intuitive Shopify stores for your clients, you'll earn a solid recurring revenue.
2. Solve merchant problems.
For those analytical minds out there, joining Shopify Partners as an Expert is the best bet!
In fact, according to Shopify, 1 in 3 of their merchants reach out to the Shopify Partner every 6 months.
You can help the merchants as well as earn revenue out by sharing your experience and skills in the following fields:
design;
development;
marketing;
and more.
Generally, if a merchant has a problem, there is probably an expert who can help to solve it - be it fixing any SEO mistakes and issues, or ensuring that all images are optimized.
3. Create apps.
So you say creating apps is your strongest asset? Great! There is a Shopify Partner position for you as well!
Shopify shares that 87% of their merchants admit to relying on apps to scale their business.
And here is exactly where you come in - you can earn regular revenue on the Shopify App Store by building customer apps for Shopify merchants around the globe.

In case you'd like to learn more, visit a dedicated Shopify Developers page.
4. Become an affiliate.
Last, but not least, you can join Shopify's Affiliate program!
If you happen to know online merchants that still haven't found the Shopify platforms, here's your opportunity!
Encourage entrepreneurs to join Shopify, and earn income as you go!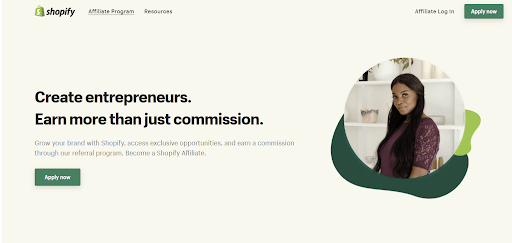 For more information, visit Shopify Affiliates page.
Benefits of Shopify Partner program
Joining the Shopify Partner program is something entrepreneurs and experts of any nearly digital field could opt for!
In fact, there are plenty of benefits of joining the Shopify partners program, and the most common ones include:
Earning more revenue. As we have briefly mentioned above, there are numerous opportunities to earn income as a Shopify Partner. You can help other merchants on the platforms with your marketing, design, IT, and other skills. And the best part of it all is that you can use your revenue share and invest it all back into your online business to scale its growth.
Exclusive access to deals on various tools that you can use. Once you join the Shopify Partners program, you are entitled to enjoy all the extra tools that other Shopify merchants do not have access to. As the offers change constantly, make sure you follow the updates!
Creating a stronger bond with customers and other Shopify merchants. The Shopify Partner program is a great way to expand your professional network and create meaningful bonds. Joining the program increases your chances of finding customers that would love to invest in your product and potential partners to work with in the future.
Vast learning opportunities. What you may not know is that The Shopify Partner Program offers nearly endless learning opportunities. On the platform, you can find comprehensive documentation, a learning portal with courses and guides, a huge partner community, and friendly 24/7 partner support.
Steps to becoming Shopify partners in 2022
If you have made your mind to join Shopify Partners' program - congrats! Now let's look at some of the key steps you'll have to complete to become a partner.
Go to the Shopify Partner page
First things first, head to the Shopify Partner page to start your membership: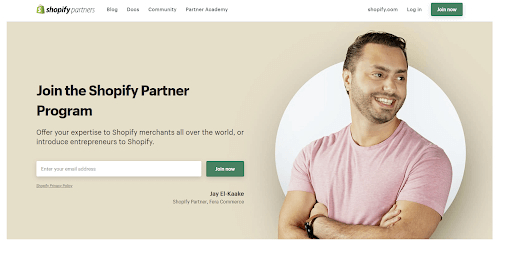 Once you're here, click on the green Join now button at the top of the page, or insert your email address and click on the green Join now button next to it.
Fill in credentials and create your account
Now is the time to fill in credentials and create your account.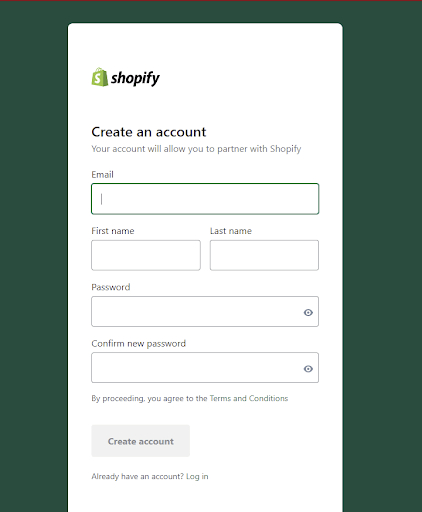 The procedure is very basic, and you'll have to provide your: email, first and last name, and password.
Verify by the membership by email
Now comes the last step - verifying your membership by email.
Simply go to your email, and find a letter from the Shopify Partner team. In case you haven't received the letter, check the Spam, or double-check if you have provided your credentials correctly.
And that's it! You are now able to reap all the benefits that the Shopify Partner program has to offer!
Shopify Experts and Shopify Plus: explained
Before continuing on the topic, let's quickly discuss the difference between Shopify Experts and Shopify Plus, as both topics tend to cause questions for Shopify users worldwide.
PS: in case you have more general questions about Shopify, make sure you read our article on How Does Shopify Work.
Shopify Experts - a brief overview
What's great about Shopify is that it enables merchants to hire Shopify experts that are able to support them in building and scaling their online business. All of that is possible on Shopify's Experts Marketplace.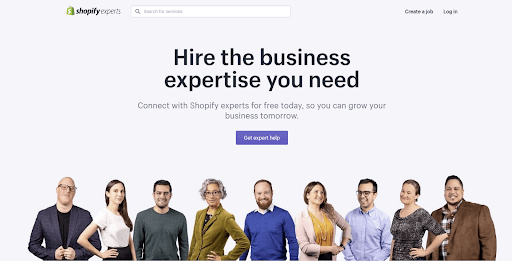 On the Experts Marketplace, you can find trusted, third-party agencies and freelancers who provide services for Shopify merchants.
You can expect to find the following experts:
marketing and sales specialists;
online store builders;
developers;
troubleshooting experts;
photographers
and more.
One key thing to note here is that the Shopify Experts are independent workers, and Shopify takes no responsibility for them. Therefore, pick your expert carefully!
Shopify Plus - a brief overview
Put it simply, Shopify Plus is a platform that enables you to manage your B2N customers and your direct-to customers clients in one single place.
On Shopify Plus, you can take advantage of a variety of flexible payment options, a quick checkout experience with Shop Pay, and more.
The primary goal of Shopify Plus is to provide its users with more customizable solutions, flexibility, a reliable support team, and if you are interested, access to your Shopify store's underlying code.
On the Shopify Plus' new dashboard, you are able to manage all of your stores easily, check out the analytics, and take advantage of numerous automation tools (e.g., Shopify Flow).
With the dashboard, you are more likely to see a full picture of your online business and spot any development opportunities as soon as possible.
Pros and Cons for Shopify Partners
As we have covered the basics of joining the Shopify Partners program, let's now discuss the program's most prominent pros and cons.
Learning both the advantages and disadvantages will help you make a more informed decision on whether the program it's something you'd like to go for.
Shopify Partners PROS
We have already covered the key benefits of the Shopify Partner program at the beginning of this blog post. Now, let's quickly recap the pros that could help you make the final decision on whether to join the program or not.
Access to a variety of tools and recourses.
A quick way to find and offer the needed services.
A reliable 24/7 Partner Support team that is ready to answer all of your burning questions.
Extra revenue and income.
Expanded professional network.
Business growth opportunities.
Competitive advantage in the market.
Shopify Partners CONS
Joining the program can be time-consuming.
You'll have to learn along the way (but, hey, maybe you are someone who would consider this as an advantage?).
Instead of conclusion - is it worth becoming a Shopify Expert?
The short answer is - it's definitely worth becoming a Shopify Expert!
Not only will you be helping other merchants to reach their goals, but you'll also earn a solid commission that is up to 20%.
Most importantly, though, you'll gain extra skills on using Shopify to your benefit.
We hope we've answered all of your burning questions on the program, and if you want to learn even more, make sure you visit the Shopify Partners page.
Frequently asked questions
What are Shopify Partners?
Shopify Partners are active Shopify Plus members that are willing to use their skills and expertise to help other online merchants grow and succeed on the platform.
Shopify Partners can take different positions, ranging from designers, developers to affiliates, app creators, and much more.
How much do Shopify partners make?
A recurring commission is equal to 2.9% of the merchant's monthly subscription fee.
The commission recurs months as long as your merchant is an active paid Shopify customer and as long as you remain an active Shopify Partner.
Where can I find Shopify Partners?
You find Shopify Partners by going to the Partners' page and creating your account.
After completing this step, you'll be able to use Shopify Partners' services.
How can I become a Shopify Partner?
To become a Shopify Partner, you have to sign up for a Shopify Partner account.
After doing so, you can use your skills and experience to help other merchants. For instance, you can build Shopify stores or migrate stores from other platforms to Shopify, you can offer your sales and marketing skills, or you can create apps.
Either way, your effort will be rewarded by a portion of the revenue.