By purchasing through the links on this page, you are giving us the opportunity to earn a commission. Your support is greatly appreciated!

With more than 2 billion active users, Shopify is one of the top platforms out there to launch a successful online store. It's inexpensive, incredibly intuitive and has powerful tools designed to help your store grow.

In this Shopify guide, we'll go over how to start a successful online store on Shopify, from product idea generation to optimized online store creation. We'll also dive into promotion and performance strategies so that you have all the tools imaginable to start selling on Shopify successfully.
13 steps for starting a successful Shopify store
Shopify store creation can be broken down into researching, creating, launching and growing. We prepared a list of 13 simple steps that cover those stages and ensure your Shopify story is set up for success:
Let's dive into each step to see how it can serve your goals to be a booming Shopify business.
No Shopify business will be successful without an optimized store. Improve your site speed and SEO with TinyIMG app!
Get TinyIMG now
1. Choose products to sell
The very first step to start a successful business on Shopify is to come up with product ideas that sell. Let's go through stages needed for an effective Shopify product strategy.
Idea generation
Begin with what you're at least remotely familiar with. It will be easier to anticipate customer expectations for your products, judge value and grow.
For example, if you spend the better portion of your free time tending to your backyard garden, why not consider starting a gardening supply store. You will be able to provide top-notch product descriptions with recommendations and ensure your product selection includes all necessary items.
Your store growth might not be explosive, but it will happen organically.
Alternatively, you can browse yearly product trend overviews and pick something that is currently in high demand. To get ahead of the game, look through top influencers' social media accounts, Google Trends, niche blogs and other places to discover trending products.
However, do remember that trends come and go, so you can find yourself struggling to sustain store growth if you don't invest into long-term strategies.
Idea validation
What seems like a ground-breaking idea for you might not always prove to be something the market needs. Research your product thoroughly and validate your idea before you commit and stock up or sign contracts with suppliers.
Understand historical demand, the scope of your competition, the underserved needs of your target audience. If you have the resources, run a couple of tests with potential customers to see how they would respond to your product prototypes.
Determining store type
Whatever products you decide to sell will determine the type of Shopify store you're starting. If you're looking to double down on what you know, you're likely to consider a one-product or a niche store.
Alternatively, the trending products route usually lends itself to a dropshipping model. Top dropshipping products are always in demand, and it's one of the easier routes for new Shopify stores since you don't need to worry about inventory.

Sell the products people need
Sign up for Shopify's free trial and start building your online eCom business today
2. Analyze your competition
Competitor analysis is a tried-and-tested way to understand how crowded your target market is and mitigate product launch risks. This step is crucial to launch a successful Shopify store.
While with a proper competitive advantage you can run an eCommerce business in pretty much any industry, most successful Shopify stores are ones that discovered a niche all direct competitors overlooked.
Plus, competitor analysis can give insights into your target customers' preferences when it comes to the marketing and sales strategies. You can also benefit from knowing the development timelines of established competitors because you'll be able to anticipate the pace of your store growth and upcoming challenges.
How to Conduct Competitor Analysis
The models of competitor analysis are numerous. We propose a route that works for budding Shopify stores and their market environment:
Choose and categorize competitors. Depending on how crowded the market is, use competitive analysis tools and aim for a set of 5 to 15 competitors you're going to analyze.
Determine primary and secondary competitors. Find at least one Shopify store that matches the vision for your future store as closely as possible, this will be your primary competitor. By analyzing their success factors you will understand the baseline requirements for a successful Shopify store in your niche. The remaining competitors can come from slightly less related niches or more varied business sizes. Understanding what you can take from these secondary competitors will be your ticket to a competitive advantage.
Put together a list of criteria. It's always a good idea to have a starting point from which you will analyze all competitors. This way you will notice patterns and get the most out of your research.
Analyze the positioning of your competitors. Check out their about page and timeline to get a grasp of their message, values, development and business strategy. Also, do extended research to learn about their special offerings, best sellers, how they handle holiday and seasonal sales. Make sure you take it past the online store alone and familiarize yourself with the overall marketing strategies, including social media, organic search, email campaigns, PPC.
Tip: Looking to get into detail about your competitors' websites? Use a web archive, such as Wayback Machine, to learn about the development of competitor web design.
3. Set up your Shopify store
Creating a Shopify account for your successful future business is a breeze. Creating a Shopify account is a breeze. The process only takes a couple of minutes plus you get a 3-day free trial, so you can explore all of the platform's possibilities without commitment.
Once you're done choosing your Shopify plan, you get to your admin panel. This is where you manage your products, orders, access customer data and store analytics, manage marketing activities and sales channels. Take a close look at each of these sections while you set up the Shopify site, they will power your online store success.
Once you get comfortable with the admin panel, dive into setting up a Shopify store with outstanding features.
Pick a theme
The Shopify themes are numerous and you want to choose correctly. It's the base of your Shopify store design and it will largely determine your conversion rate success and ease of navigation. Changing a Shopify theme later on is easily doable but it's still a hassle you want to avoid if possible.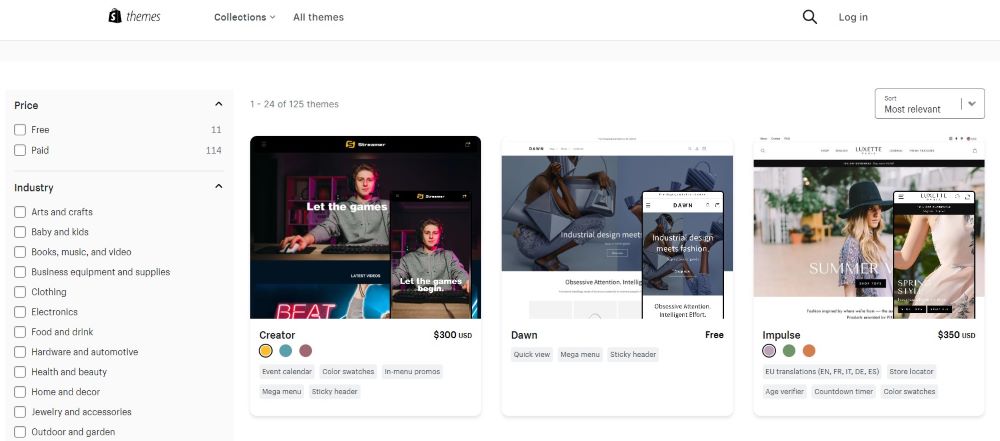 To get it right the first time, consider these aspects:
Your preferences. Before you begin browsing, list features you want your online store to have. That way, you'll have a clear starting point when deciding which themes are suitable for your store specifically.
Reliability. We recommend you stay within the Shopify theme store and reliable marketplaces, like Themeforest. Most themes there are tried and tested, plus provide designer and technical support.
Optimization. You want one of the best themes that is optimized for fast store load times and conversions. If you're wondering how to pick one like that, check out our guide on the best converting Shopify themes.
Mobile-friendliness. A lot of shoppers will visit your store on their mobile devices, so mobile-responsiveness is a must of any Shopify theme.
Reviews. Before you commit, make sure to look at what fellow store owners are saying about the store and whether the theme delivers on its promises.
Budget. While most Shopify themes with extensive features are paid, if you're just starting out and a limited functionality range is sufficient for your store, you can opt out for a free theme.
Create important pages
Next up is creating the main pages of your Shopify store. No Shopify store can get by without:
Homepage. As the face of your store, your homepage plays one of the biggest roles for good first impressions and conversions. For a successful online store, you need a homepage that is designed with purpose and inspires action.
About us/contact page. People love to know who they're buying from and develop emotional attachments to the brands they support. Do yourself a favor and pour your heart out into the About Us page, it's one of the easiest yet most impactful branding decisions.
Return and shipping policies. Crystal clear return conditions, shipping fees and timeframes can save your customers and your customer support from many frustrating post-purchase clarifications and disputes.
Terms & Conditions. Transparency is key. Make sure every shopper knows their duties, rights, what you do with their data. Also ensure that everything is written understandably. Not everyone might read terms and conditions, but those that do should find literally everything they're looking for.
Of course, that's just the tip of the iceberg. A successful Shopify store would likely benefit from having an FAQ page, collection pages and a review page. Last but not least, you will save your customer support quite a bit of time and give your shoppers a piece of mind with a branded tracking page.
4. Make your store look professional
A successful Shopify store is one that inspires trust, screams quality and reliability. To get there, you need to invest into the aspects of your online store that send such messages.
Choose a fitting domain name and email. Your domain name should ideally be your business name and your email should be based on the custom domain you got.
Settle on coherent branding. Similar-looking store pages that communicate the same message create a shopping experience people will remember and repeat. Plus, colors are a powerful tool of communication, so you can design that experience to be impactful in ways you want to be associated with.
Invest in a custom logo. A way to grab attention and form brand identity, a logo is a must for a Shopify store of any size. If you don't want to invest much in it in the beginning, using an online logo maker for your store is an option.
Display security credentials. SSL certificates, safe and varied payment options and guaranteed refund badges are a proven way to create a trustworthy narrative around your brand.
Fast load times and no visual clutter. Visually crowded stores that have misplaced elements and take forever to load drive shoppers away.
Set your Shopify store up for success with TinyIMG. Autoptimize your images for a fast store loading time in just one click!
Speed up your store
5. Create product pages and collections
To launch a successful Shopify store, all your products need to have their dedicated pages optimized for conversions.
A product page of a successful Shopify store should contain:
Product name. Uniqueness and memorability should be a priority when naming your products.
Product description. Provide descriptions with selling points that would create accurate expectations for your customers.
Product images (and videos). Take images from all angles and enable zoom in to let potential customers explore details (see how to make product images with a smartphone). And remember to always optimize your product photos!
Shipping and returns information. Summarize the main details and link to an extensive T&C page.
Social proof (customer reviews). Nothing convinces a browsing potential client better than a display of satisfied previous buyers.
An FAQ section. Anticipating potential customer questions saves time for customer support and helps eliminate doubts in the purchase journey.
An "Add to cart" button. There isn't much use in presenting your product well if shoppers can't actually buy it, is there?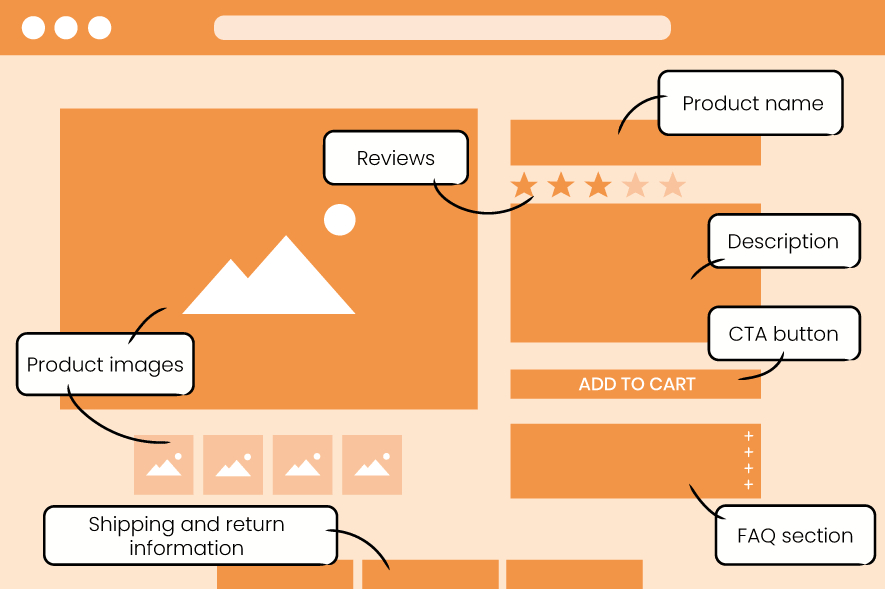 When adding a product to your Shopify store, scroll to the very bottom of the page and take a look at the Search engine listing preview. To be successful on Shopify, you need search engine optimized title and description for all your products.

Collection pages are not a complete must, but if your store is any bigger, it's a great way to bring together what you're selling. Inspire shoppers with themed or seasonal product collections, get them excited by showing all bestsellers or items on sale in one place.
You can create your collections manually or automate the process based on certain conditions, such as product type.
6. Improve your online store design
If you followed the advice above, chances are you picked a great Shopify theme for your store. However, if you want your Shopify business to be truly successful and stand out, you don't want store design that looks similar to your competitors.
Don't fall short here, invest a lot of time and effort into a unique Shopify store design and proper functionality. The way your store looks and how accessible it is will lay the groundwork for smooth customer journeys and good conversion rates.
Shopify offers only the most basic opportunities for design adjustments, any more serious editing would require getting a good Shopify app that enables it.
To make more drastic changes, like redesigning the layout, working on HTML and CSS files won't cut it. You'll need to know Ruby and its template language used by Shopify, Liquid. If none of that means anything to you, hire a Shopify developer, explain your vision to them and sit back while the work is being handled by professionals.
If you decide to try on your own, make a duplicate version before you go wild and redesign your entire theme. You can revert back to it if you change your mind and want to start over. Once you click on Actions -> Duplicate, the theme named "Copy of…" will appear down below in your Theme library.

This is also the stage where you can see how your overall store design and your images come together.
Not only should your product photos be representative of what you're offering, they should work as a coherent whole with your store layout, color scheme, fonts and general feel. You can customize every one of these aspects by clicking Customize next to your live theme. You should also optimize your images while still maintaining outstanding quality.

Don't feel like you want to get in-depth with the code? Save yourself some trouble and get a page builder app. With templates and business features these apps make redesigning your Shopify store a rather quick task.
7. Collect customer emails before the store launch
As the Shopify success story of Glade Optics shows, solid email marketing strategies can be your shortcut to a successful Shopify store.
Email list collection can begin before you even launch the store, that way you'll generate noise around your new store from the start and set yourself up for success.
Such a suggestion sounds a bit like a paradox though - how do you ask people to sign up for something that doesn't even exist yet?
It's actually quite simple, you can collect emails pre-launch with these strategies:
Create a "Coming soon" page. While you can't sell yet, you can create the hype with a well-crafted "coming soon" page. Put forth an exciting offer and leave an email subscription box with a promise that your email list will be the first ones to hear about the launch and the special offer. Make sure each email is verified.
Collaborate with influencers to run giveaways. With a new brand, chances are your social media presence isn't huge yet. Leverage the voice of influencers in your niche and reward them for running a giveaway of your brand products. Include email address as one of the conditions to enter the competition and watch your list fill up.
Use social media. Set a launch date and start generating traction for it way in advance with your social media accounts. Over time, you'll get a decent following and build up excitement. Direct all social media traffic to your landing page with an email subscription box.
When the time comes for store launch, create an email launch campaign worth all the hype you've created so far.
Send a pre-order offer. If your product supports this strategy, send a pre-order email a week before the launch. Create FOMO by explaining how many people are excited about the launch, that out-of-stock is a possibility and that your subscribers get exclusive rights to order in advance.
Send a countdown email. A day or two before the launch send an email with a countdown timer to get people truly excited about the launch day.
Craft a killer launch email. This is where you go all in. Powerful imagery and copy matched with a solid offer should help your Shopify store become successful very quickly. If you're lacking ideas, browse email launch campaigns that succeeded massively.
Tip: Segment email addresses as much as possible, that way you'll be able to target different audiences effectively. E.g. keep the regular email list you got through your landing page and the one you acquired through giveaways separately because very likely these people have different levels of interest in your brand.
8. Organize a pre-sell product campaign
Presale refers to selling a product before it even exists. You'll establish an initial customer base, get feedback and succeed on Shopify when you launch to the whole market. It's your opportunity to make a market analysis and implement all necessary adjustments before the big game begins.
Pre-sale strategy isn't difficult, but it must be executed to perfection. If you fail to do so, you can damage your brand.
Let's make sure you can be successful on Shopify with a pre-launch strategy:
Create product prototypes and samples. Depending on what you sell and whether your budget allows, create samples you will send out.
Market your product. Pre-launch email list we discussed above will do wonders for your pre-sales. Also, don't shy away from crowdfunding and social media presence to get interested people on board.
Make conclusions and changes from initial feedback. Your customers will respond to your offer. See if everything meets their expectations, take feedback seriously and make necessary adjustments. Just make sure you fit into your general launch timeline, people don't like delays.
Launch to the full market. Now that the final version of your product is ready, enter the market with a bang and skyrocket your Shopify store success.
9. Promote your online store
Regardless of your niche, the competition is going to be there. That's why effective promotion strategies are key if you want to be a successful Shopify seller.
In fact, you need a basic marketing strategy in place prior to your store launch. New players in any industry can easily generate a lot of hype around them and set their online business up for success from the very beginning.
If you're looking to get in-depth about your opportunities, our guide on increasing Shopify store traffic should be an interesting read. In short, you can promote your newly-launched Shopify store in these formats:
Paid advertising. By far the quickest way to gain traction when you're starting out, but requires semi-substantial initial investments and devalues over time.
Email marketing. One of the most accessible ways for new Shopify stores to create value for their customers is using outreach emails. Set up attractive leads, email journey automations, cart abandonment emails and offers to have a well-rounded email marketing strategy from the start.
Social media. An incredible playground for branding and staying in touch with your clients, social media is at the forefront of Shopify store promotion.
Organic channels. While it takes a minute to create and execute an organic growth strategy, its long-term value to the success of your Shopify store is immense.
Alternative promotion effort. Depending on your niche and the scale of your store, sponsoring events, podcasts or collaborating with niche influencers might bring you immense benefits.
SEO and store speed are crucial for Shopify store growth. Automate your image optimization and SEO effort!
Get TinyIMG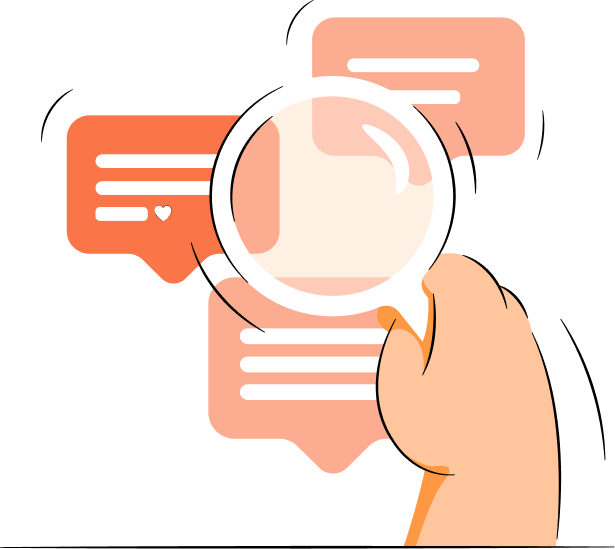 10. Work on conversion rate optimization (CRO)
CRO for successful Shopify stores means designing shopper journeys in a way that generates a value narrative around the product and makes the purchasing experience frictionless.
Here are three areas that can be optimized to bring the most optimal conversion results.
User Experience (UX)
Smooth navigation, familiar design patterns and readability are known factors that turn website visitors into clients.
UX addresses all of them to improve accessibility, usability and thus conversion rates.
But UX design of a truly successful Shopify store reaches past that and puts emphasis where it really matters. For instance, a Shopify store with good CRO strategies should invest a vast amount of effort into the above-the-fold screen space, because that part is the only thing around 60% of visitors see.
Calls to action
Calls to action are design or language prompts meant to give interested shoppers that extra nudge necessary to take action.
A perfect CTA can make every difference in how you design shopping journeys. CTAs with value propositions, action verbs, and personalized buttons are known to do wonders for conversion rate.
Tip: Run a/b tests to understand what catches shoppers attention the most and what you can capitalize on.
Upselling and cross-selling
Successful Shopify store CRO strategy is designed to maximize profit at any opportunity while also providing additional value to the customers.
Upselling refers to exposing customers to higher-end versions of the product and directing them towards that purchase. While it can easily refer to selling items with unnecessary features and convincing people that they need them, it's just as much of an opportunity to introduce shoppers to some things they were not aware existed. It's all about how you approach it.
Cross-selling is a bit broader but basically refers to offering additional items related the one chosen by the shopper. Once again, it's easy to see how it can have a negative connotation, but if designed well, cross-selling strategies can maximize store profit by creating more inclusive shopping experiences beneficial for everyone.
There are great Shopify upsell and cross-sell apps to help you with this task.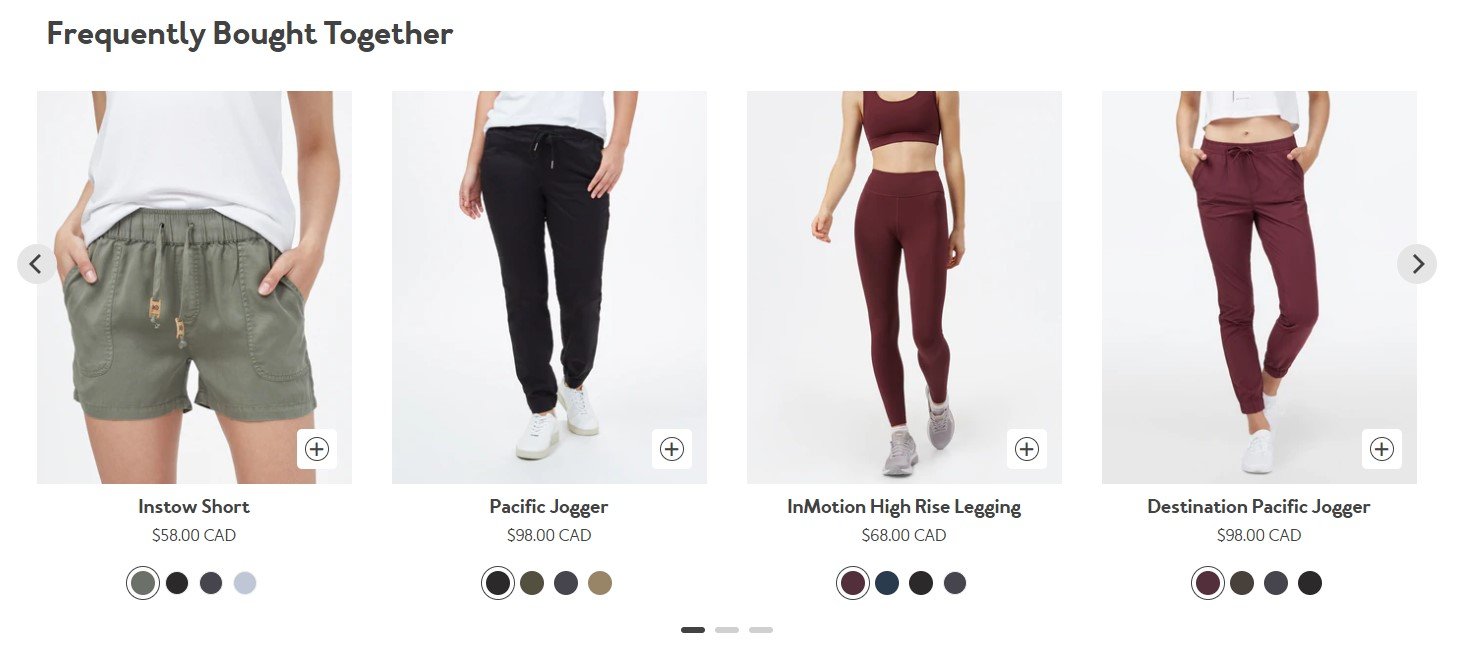 11. Collect reviews
Social proof of your product value and quality is the one true way to become a successful Shopify store owner.
As your store gains traction from promotion and CRO strategy, it's time to make sure that happy customers give back and provide reviews.
Set up post-purchase email campaigns, use a Shopify review app, or include a physical card inside their package to ask for reviews directly. Add reviews not only to your product pages, but collections as well.
Alternatively, you can run social proof campaigns with existing reviews with a CTA that encourages more shoppers to share their experiences.
Tip: If your product is big on visual qualities, ask for photo reviews. Good-looking real-life images of products are a known way to reassure potential customers of their decision to buy an item.
12. Add free shipping
While a seemingly small detail, free shipping can help succeed on Shopify more than you might think.
Not only is it a huge selling point that 75% of customers expect, it's an opportunity for upselling.
This is how you use free shipping to be successful with Shopify:
Offer free shipping with loyalty programs. It will encourage people to make a commitment to your brand and improve customer retention rates.
Include free shipping with orders over a certain amount. It will motivate people to spend more and increase average order value. Quick tip - include a widget at the checkout to show people how much they're missing in their cart to qualify for free shipping and make related product suggestions.
Make it evident you offer free shipping. Feature it with a homepage widget and at checkout to encourage shopping and reduce cart abandonment.
13. Create a flawless customer experience
Now that your store is live and you even have some feedback from your first clients, it's time to eliminate friction points.
Create a seamless experience by addressing:
Product quality. Don't take your first reviews lightly, they can make or break the brand. If you received negative feedback about product quality, act immediately and change manufacturers, suppliers or your own practices.
Store performance. Have you noticed or received feedback about slow load times ever since you launched your store? Optimize images, hire a developer to clean up the code of your theme, or take any other solutions necessary to speed up your Shopify store.
Shipping and returns. If customers complain about slow delivery times or return policies, you can't overlook that. Change the company that handles your deliveries and make information about returns more accessible and straightforward.
Customer service. 24/7 customer support that goes above and beyond is becoming an industry standard. If your customer support situation does not match that description, it might be one of the first things to aim for when improving customer satisfaction.
How to run a successful Shopify store?
Now you have all the tools you need to start a Shopify store designed for success. But where do you take your business from this point?
Ensuring long term growth of your Shopify store involves additional effort.
Retention strategies. Proper marketing funnel will get the first customers in through the door, but the success of your store depends on them returning. Provide discounts for following purchases, offer a possibility to create a buyer account and save a wishlist, leverage data you have by sending personalized offers.
Affiliate and referral programs. Turn happy customers into advocates, attract influencers and other businesses to join effort and facilitate your growth.
Diversified marketing effort. You can't do everything at once. But as your store starts growing, try to capture as much market as possible by expanding the social media channels you use, growing your organic reach, maximizing email and PPC effort.
Interaction with customers. Organize contests, giveaways, write social media posts that ask for your customers' opinion. Anything that has people interacting with your brand and promoting your products will bring long-term value.
Is Shopify a good start for beginners?
If this is going to be your first ever eCommerce store, Shopify platform is about the best choice.
With Shopify, beginners can enjoy an array of templates and themes. The initial budget and maintenance costs are quite low, all product payment and process management is taken care of, plus you have access to 24/7 support.
The only foreseeable disadvantages could be the fact that there is no email hosting, meaning you can't have an email with your store name through the platform. Plus, it's not the cheapest option out there, but we'd say it's definitely worth the tiny bit extra for everything that comes with it.
Starting a successful Shopify store: summary
If you follow these steps, you should come out with a Shopify store that is thoughtful, offers value, has a great website and effective marketing strategies - everything you need for a successful Shopify business.
But it's only a beginning and there is much more you can do to get your first sales.
Just remember, constant success requires constant effort, so always plan ahead and put customers first.
Curious to read more? Check out these articles: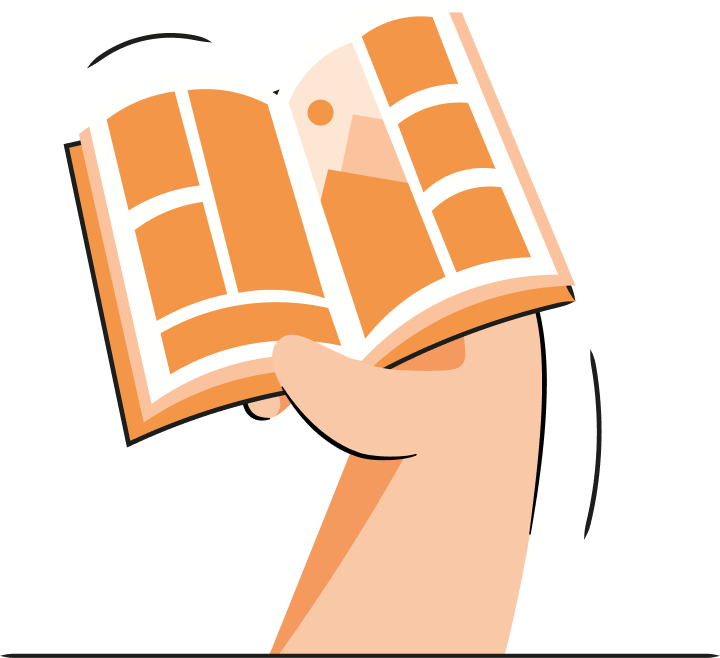 Frequently asked questions
Any successful online store starts with good quality products that are in demand, a user-friendly eCommerce website and quality customer support. However, ensuring long-term success requires you to go the extra mile and invest in thoughtful, data-driven marketing and branding decisions, constant market research, valuable partnerships and more.
The setup and maintenance of your Shopify store website is rather cheap. You can start with their basic plan with as little as $29 per month. The real costs come in when we start talking about store's startup costs, maintaining inventory and marketing. Initial investments usually start at around $2000 but can go way over that, depending on your products. In general, 0-employee Shopify stores report around $18,000 in spendings during the first year.
To make your Shopify store stand out among the competition, invest in 24/7, impeccable customer service, creative product presentation, sales campaigns that actually offer value, and thoughtful branding. However, don't forget that good quality products, transparent return policies and a user-friendly website are at the forefront of any good Shopify store.
It's hard to tell, because Shopify stores aren't obligated to report their profit publicly. From various surveys conducted over the past couple of years, average Shopify store earnings range anywhere between $72 to $88 per customer, so it's safe to assume that an average Shopify store makes around $80 per customer.