By purchasing through the links on this page, you are giving us the opportunity to earn a commission. Your support is greatly appreciated!

Shopify doesn't become the world's leading ecommerce solution by simply hoping its users can figure stuff out as they go along. Rather, Shopify provides practical help at every step of a store's development journey, and a big part of that journey is where your conversions happen - your product page.

We've listed here the best free and paid product page templates on Shopify – the tried-and-tested foundations that give you a huge leg-up on your quest to achieve bigger, better conversions. Below, you'll find information on the top 10 Shopify product page templates, their key features, and tips for adapting them to the needs of your store.

Improve your Shopify store loading speed, SEO performance, and image optimization with one app

Install TinyIMG now
What is a Shopify Product Page Template?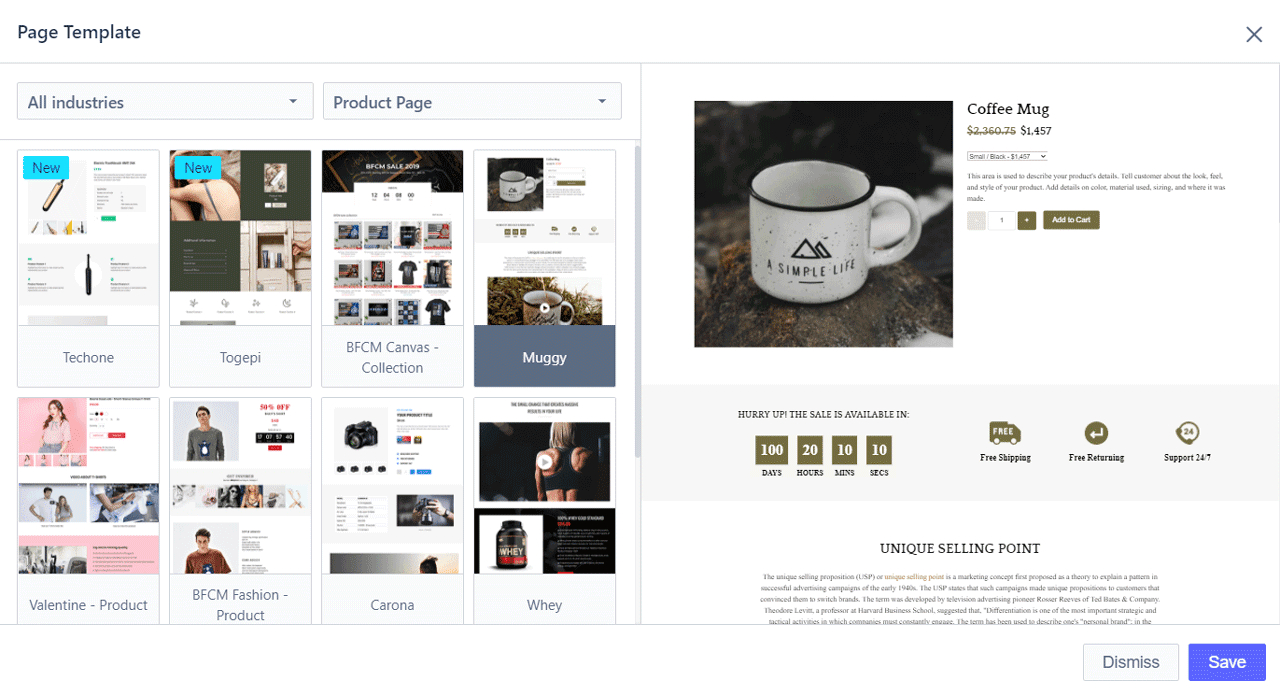 A library of product page templates for Shopify, provided by PageFly advanced page builder.
Shopify's product page templates are expertly crafted designs that any store owner can download and adapt to their store. There are 2 types of templates for product pages:
A whole-store template that applies to every page of your store, including your product pages. These templates are available for download on the Shopify Theme Store and other template sites on the internet.
A single-page template that applies only to your product pages. These templates can usually only be found on Shopify's third party page builder apps, which are apps like PageFly and GemPages, which help you build stores with more advanced features than Shopify's default page builder.
A library of product page templates for Shopify, provided by PageFly, the advanced page builder.
Of course, Shopify's product page templates are just the building blocks of your store's product pages. Once downloaded, you'll need to fine-tune the layout of the template to make sure it chimes with however you want your product pages to look.
Once that's completed and has been published, this layout will be rolled out across your whole store (for a whole-store template) or all of the product pages of your store (for a single-page template).
What are the Features of the Best Shopify Product Page Templates?
So, which of Shopify's product page templates should you choose? Before you make your decision, you should know the telltale signs of a well-designed, customer-converting theme that knows how to shine your product in its best light.
Image-centred Design
67% of online buyers rate product image as a 'very important' factor in their buying decisions.
Thus, centering your product page around its image is a great way to increase your conversion rate. Not only are images one of the most powerful tools for driving purchases, but they also make your products immediately more shareable on social media.
In addition to this, having images that are the right size can really help improve your page's speed and its SEO score on Google. Check out more about optimizing images for your Shopify store here.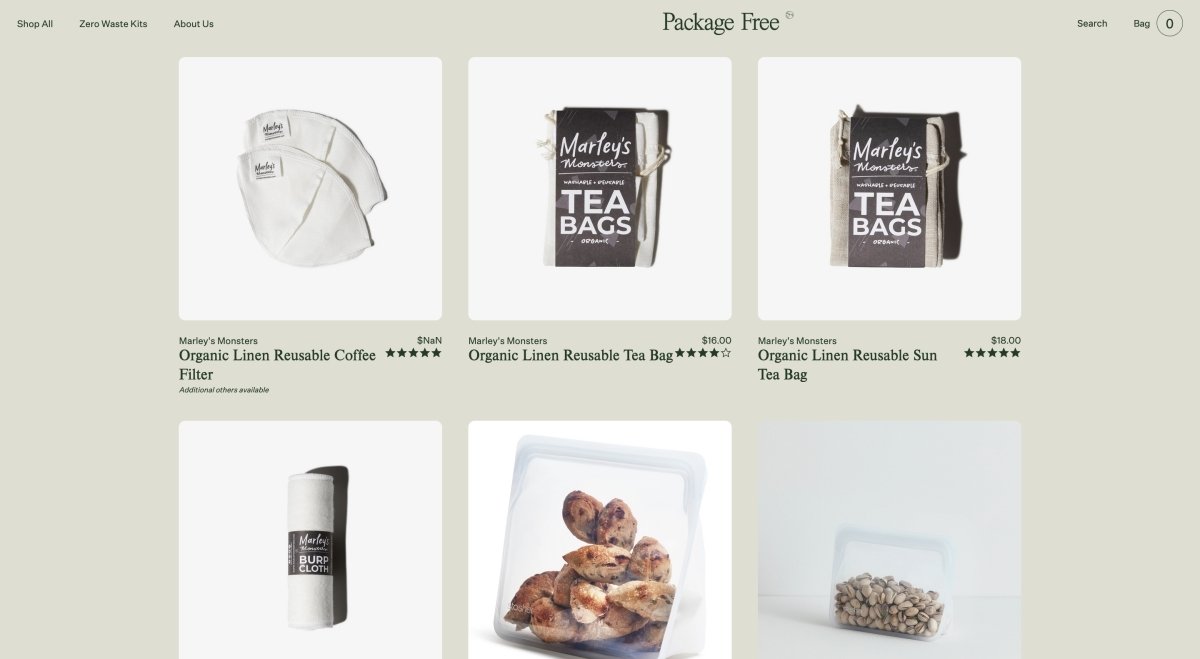 Images play an important role in selling your products for little effort. Image credit
Videos
More and more nowadays, you'll find that the best Shopify product page themes contain video features to help visualize your product. With video driving up to a staggering 144% more conversions than non-video, it's rapidly become an absolutely essential feature.
There are a few different ways you can include video on your product page. You can make it a storytelling ad (like a traditional TV ad), an entertaining video (showcasing your product in a uniquely entertaining way), a review (using third-party 'influencers') or an instructional video (showcasing how your product works).
Mobile-Friendly
I'm sure you're aware of how mobile shopping is taking over ecommerce. Because of this, you need to make sure your product page is responsive to mobile and easily usable for the breadth of mobile shoppers your store will host.
By default, most of Shopify's product page templates look and work great on mobile. However, when you're adapting them to your store, you'll need to constantly make sure that every element is as beautiful on mobile view as it is on desktop view.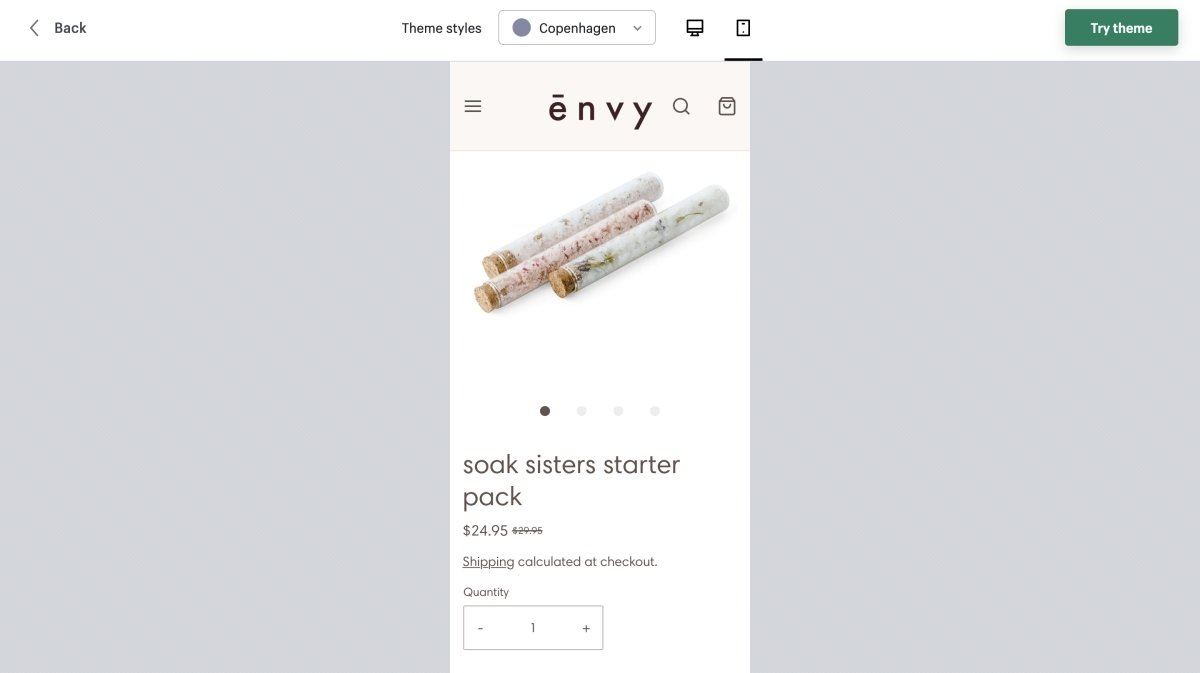 Make sure your product page template looks good in mobile view and has great converting features. Image credit.
Converting Features
It's those little extras on product pages that really help to cement a sale:
Upselling features - Improved add-ons and services for an additional sum.
Cross-selling features - Money off when buying with another related product.
Product options - Clickable buttons that show a different image of your product's color, style, or size alternatives.
Social proof - Reviews, trust badges, and social media share counters.
Currency converters - Prices that are automatically converted into the currency of the user's location.
Some of these extra features are built into Shopify's product page templates, but many need to be downloaded as third-party apps, which you can find in the Shopify App Store.
And if you're interested, learn more about conversion rate optimization best practices and how to use them.
Free Whole-Store Templates on Shopify
Please bear in mind that these templates are whole-store templates and can not be applied to just product pages. If you would like to see exclusive product page templates available on Shopify's page builders, then check out our next section here.
1. Brooklyn Theme ('Playful' Style)
70% positive reviews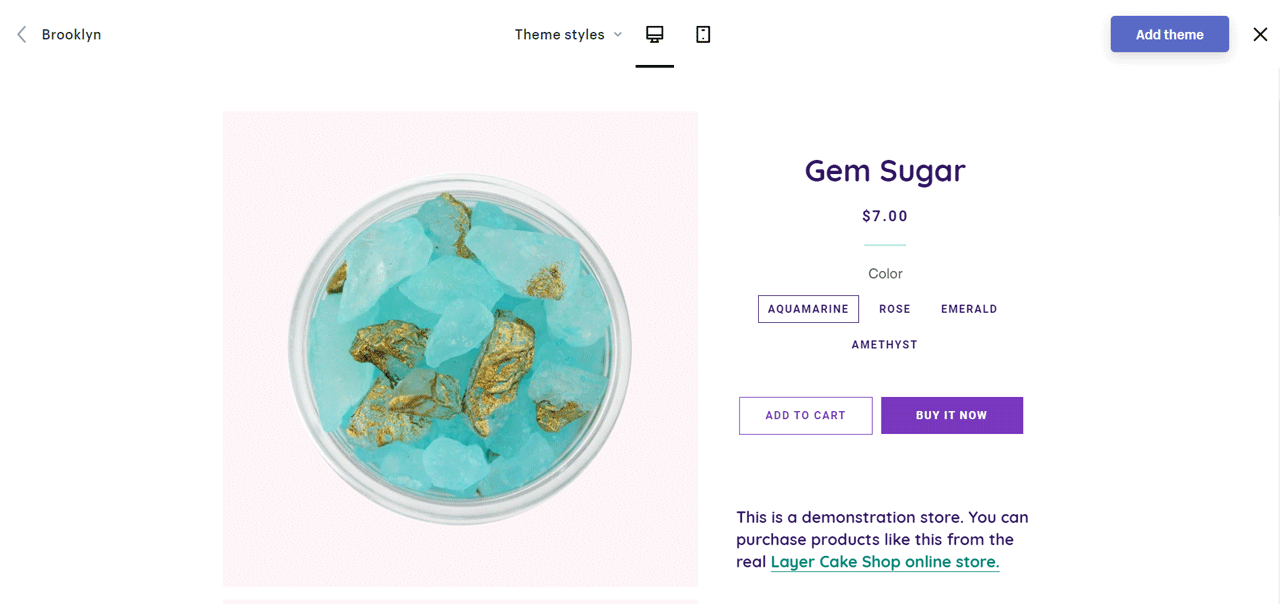 A beautifully simple design with a nice mixture of color and whitespace to highlight buttons and the product's description. Product options are seamlessly highlighted via the click of a button, but the template is missing some more prominent buttons and features to help sell more.
Top Features
Beautiful primary font
Great buttons to see product options
Clear 'add to cart' and 'buy it now' buttons
Good use of whitespace
Improvements to Consider
Make the social sharing buttons larger
Add image zoom
Add some font diversity
Add elements to upsell, cross-sell and convert currency
2. Narrative Theme ('Warm' Style)
65% positive reviews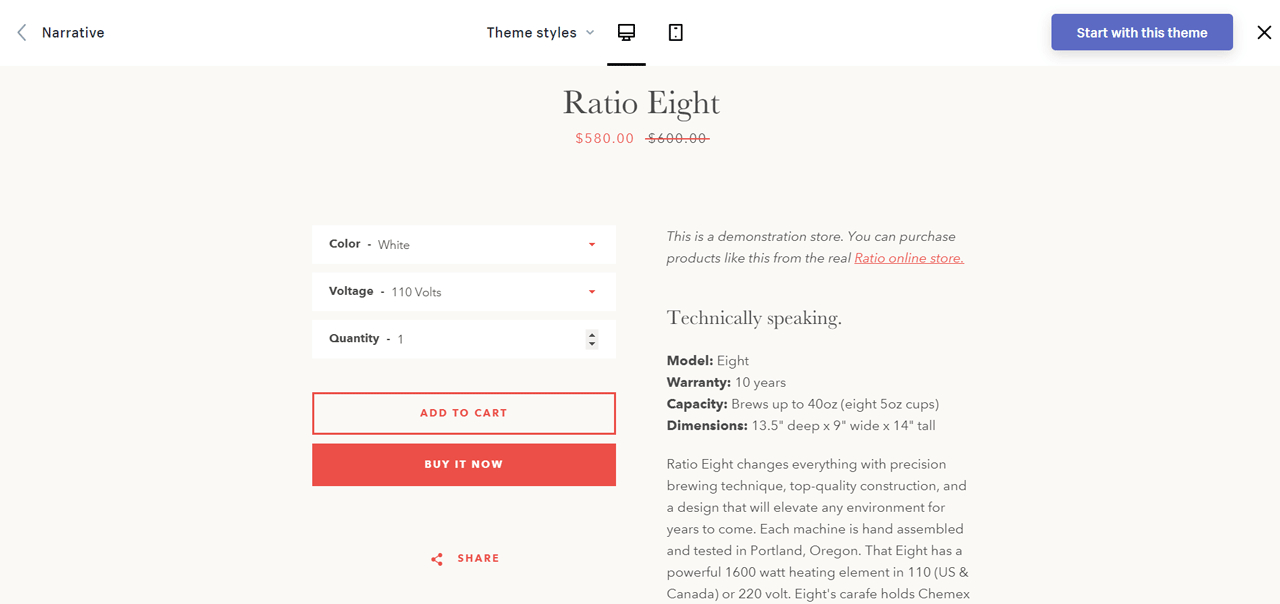 A crisp and clear design with a great vertical layout to differentiate it from the standard horizontal one on product pages. The head of the page features an enormous product image, and just below it is some great product option dropdown boxes, clear buying buttons, and a wonderful image gallery. Certain elements will need to be rearranged, and its mobile capabilities are a bit suspect.
Top Features
Unique layout with images above and buttons and description below
Great image-led design with enormous central image above and image gallery below
Clickable image element to bring up scroll-through gallery
Description split between bullet point specs and long-form writing
Great whitespace
Improvements to Consider
Add social sharing buttons
Add upselling and cross-selling elements
Mobile view has to be made from scratch (many reviews complain about lack of mobile option)
Indeed, if it's a full-store Shopify theme that you're looking for, check out our list of best converting Shopify themes.
Can you customize a Shopify theme's product page?
You have a few options when it comes to customizing your Shopify product page theme.
Basic customization through your theme itself.
These options are, well, basic – but for most users, they should be enough to allow your own personal touch on things.
Basic options include the ability to change colors, some text characteristics, and usually some style changes, such as left/center/right-adjusted content.
Editing through 'Liquid' – a template language created by Shopify and written in Ruby.
You'll need some coding expertise for this. If you're comfortable with editing lines of code, mostly in HTML and CSS, then this will most likely be your best chance to make the page truly yours – as the sky is your limit.
Install a Shopify app to add custom designs to your product page.
There are some apps that are pretty self-explanatory and easy to use, but can make a big difference to the look and feel of your page overall.
Free Shopify Product Page Templates
Here's a collection of the best Shopify product templates. Most of them you'll find in one of the top page builder apps - PageFly. These templates are exclusively single-page templates, meaning that, unlike Shopify's templates, you can have different templates for the different pages of your store.
By virtue of PageFly's free plan, their entire template library is available and costs nothing to implement onto your store.
3. Gym Product Theme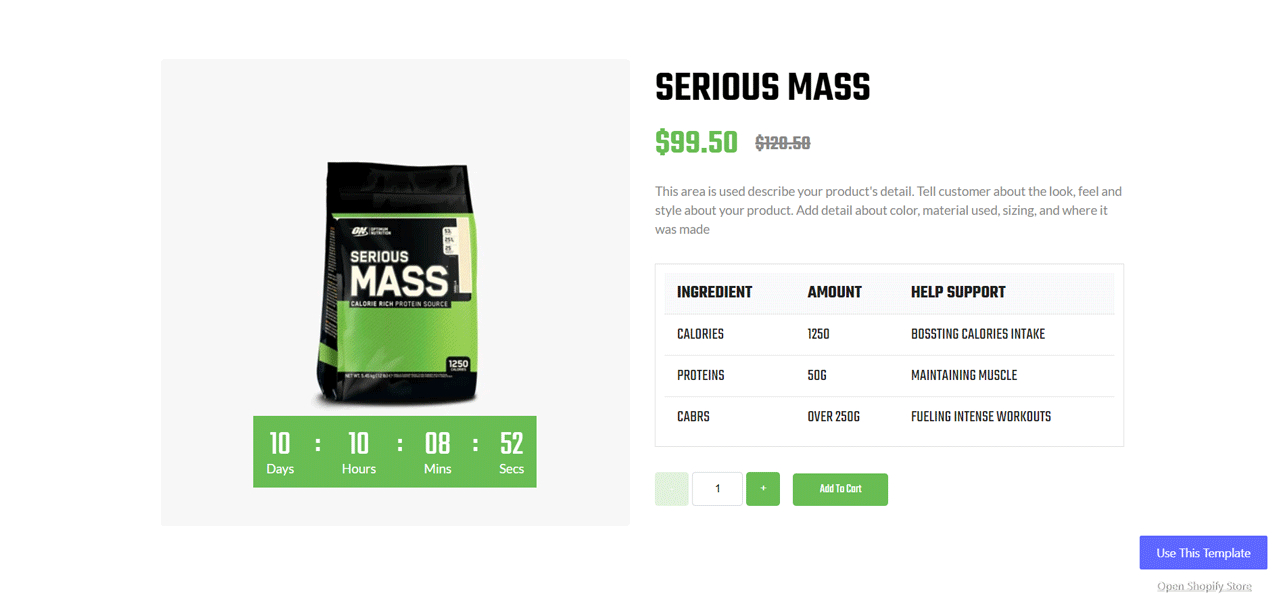 You may guess pretty quickly from the name of this theme what kind of products it's aimed towards. This is one of the best Shopify product page themes for gym stores, given the strong aesthetic provided by its boxy text, use of green, spec table, video element, and review section. Big images and a beautifully integrated Instagram feed are also great features of this free template.
Top Features
Attractive text and color to match with product
Adjustable table to mention key information, as well as key features section below
Text often overlaps images
Instagram feed and reviews for social proof
Countdown sale timer to up the FOMO factor
Clear policy section with great icons
Improvements to Consider
May need to make images larger
You'll need to add an image gallery
4. Muggy Theme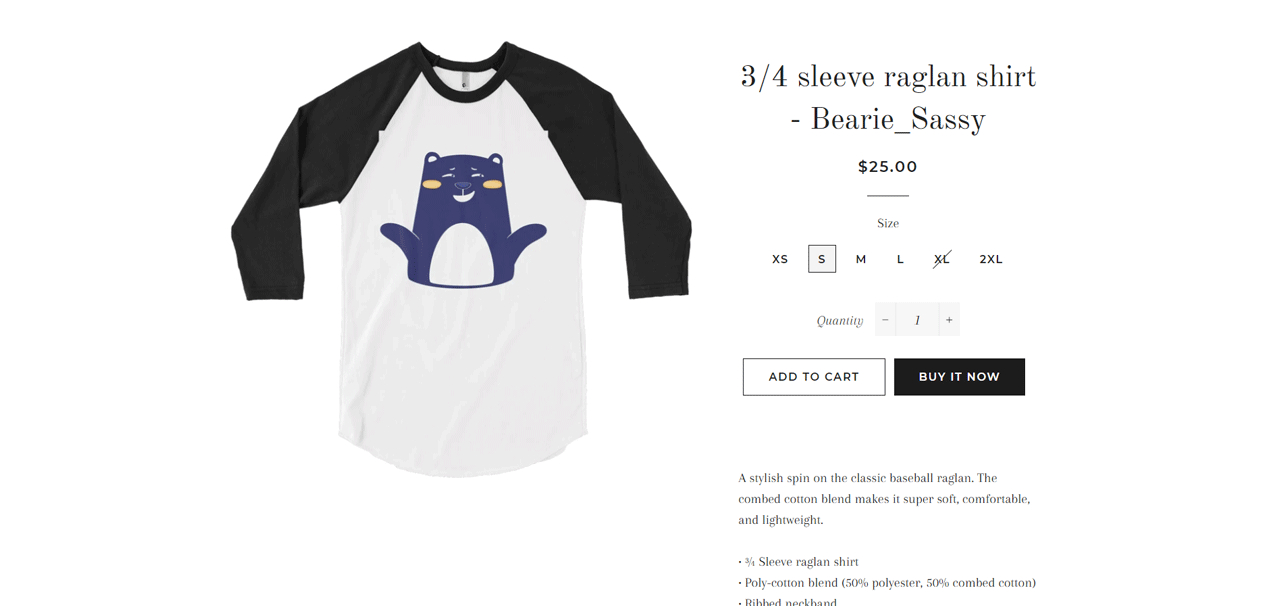 For a Shopify product page template that you can get for free, the Muggy theme from PageFly is fantastic value. It's got great placement of elements, including buttons, product options, a cross-sell section with customizable options, reviews, and more. It's missing a bit of color and an image library, but you can add those parts yourself.
Top Features
Clear call-to-action buttons
Social proof sections - reviews, testimonials, and trust badges
Space for images and videos
Excellent whitespace
Cross-selling sections - 'frequently bought together' and 'similar products'
Clear policies
Improvements to Consider
Add more color throughout the sections
Provide an image library for your product
Rearrange some sections
5. Product Page Theme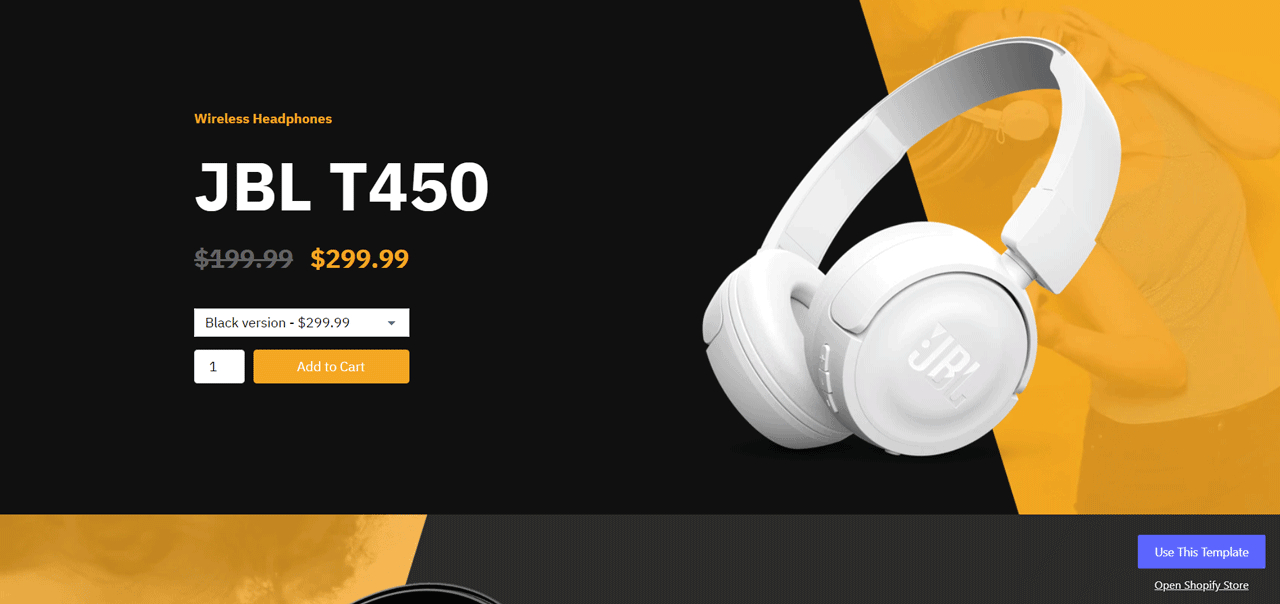 Contrary to its rather uninspiring name, this free Shopify product page template is an explosion of color and excitement. The excellent black, yellow and white color scheme looks great, while the use of large images and screen-wide video helps appeal to a younger audience. There's a bulleted section for specs and key product features, but you'll have to rearrange some of the sections.
Top Features
Beautiful image and color-driven design
Truly unique amongst product page templates
Great use of spacing between elements so as not to overwhelm customers
Image and video elements are prioritized
Great icons and box elements to list key features
Lazy loading of images for faster page performance
Improvements to Consider
Need to sync the different product options with their corresponding image
Space for long-form description needs to be brought closer to the 'add to cart' button
6. Jewelleri Theme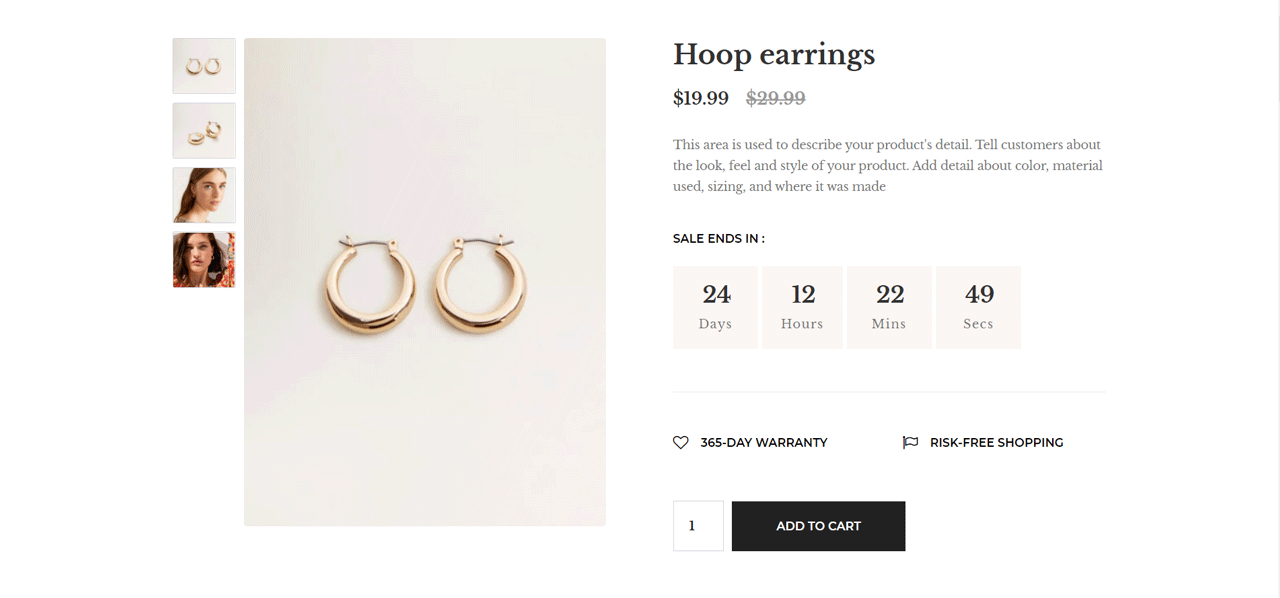 Neutral colors really help to give this product page template its sophistication - perfect for products such as jewelry, clothing, or homeware. To this end, the image gallery on the side certainly helps, as does the customer-uploaded image section just below it. This theme really helps stores sell more, with two separate sections devoted to cross-selling and a countdown ushering customers towards a sale.
Top Features
A great mixture of creamy colors with plenty of whitespaces to enhance the elegance
Excellent social proof features with testimonials and customer images
Videos and large images throughout the page
Room for product intro, key specs, and long-form description
Two separate cross-selling sections
Improvements to Consider
Add a dash of more extravagant color to the buttons you want to highlight
Swap out the quantity counter for a more elegant option
To check out all of PageFly's 100% free product page templates for Shopify stores, you can search through their entire template library here.
7. Buzo Theme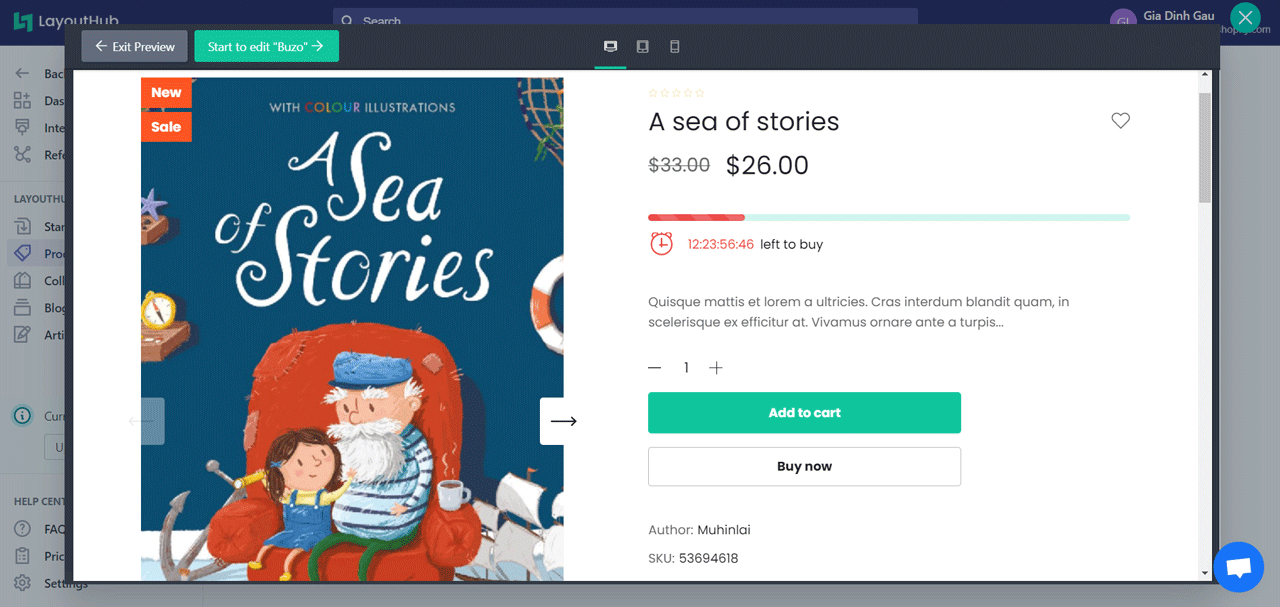 A pretty simple design by LayoutHub but with some neat features that help it stand out from the crowd. Most notably, there's a great countdown timer with a time-represented bar, and there's also the option for some conversion-boosting stickers that say 'new' or 'sale'.
Top Features
Clear call-to-action buttons
Unique countdown timer and cute social buttons and stickers
Nice cross-selling element with a scrollable function
Tabs to keep customer reviews and shipping policies orderly
Improvements to Consider
Might need to add more sections for video, key features, customer images etc.
A more adventurous color scheme might be nice
8. Somi Theme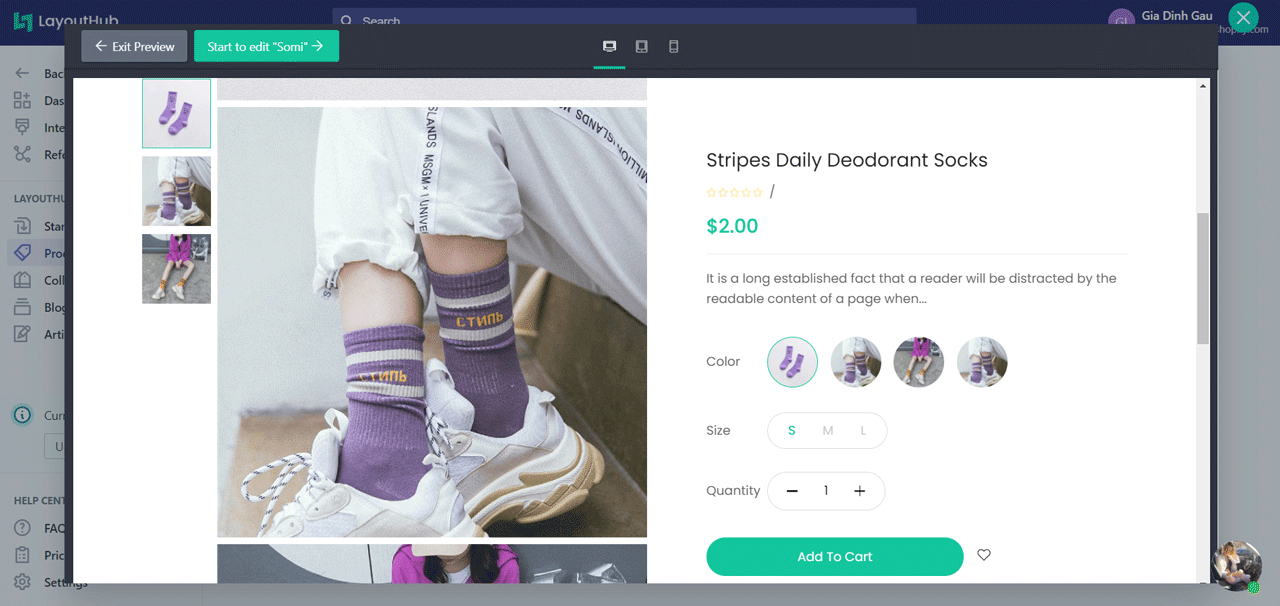 If it's more neat features you're after in your Shopify product page template, this one from LayoutHub might have what you need. The main draw here is the fact that when you scroll down the page, it reveals more product options that automatically change the price and the selected product option in the circle on the right. There are some technical scrolling issues with this, but it could be a great addition to your product page if LayoutHub can iron these out.
Top Features
Scrollable product options with updating information
Great selectors for different product options such as color, size, and quantity
Tabs for keeping information orderly
Cross-selling element that lets you see different color options of products without leaving the page
Improvements to Consider
Technical issues mean that the user can't see the product details after scrolling past the second product option
Need to add more elements such as videos, testimonials, a social feed, an FAQ etc.
Premium Shopify Product Page Templates
Another page builder option to personalize your store is GemPages. Unlike PageFly, GemPages' full template library is only available for users of its 'Professional' plan, which costs $29 per month. This is a more significant investment for sure, but the range of its product page templates for Shopify stores is pretty vast.
9. Vélocity Theme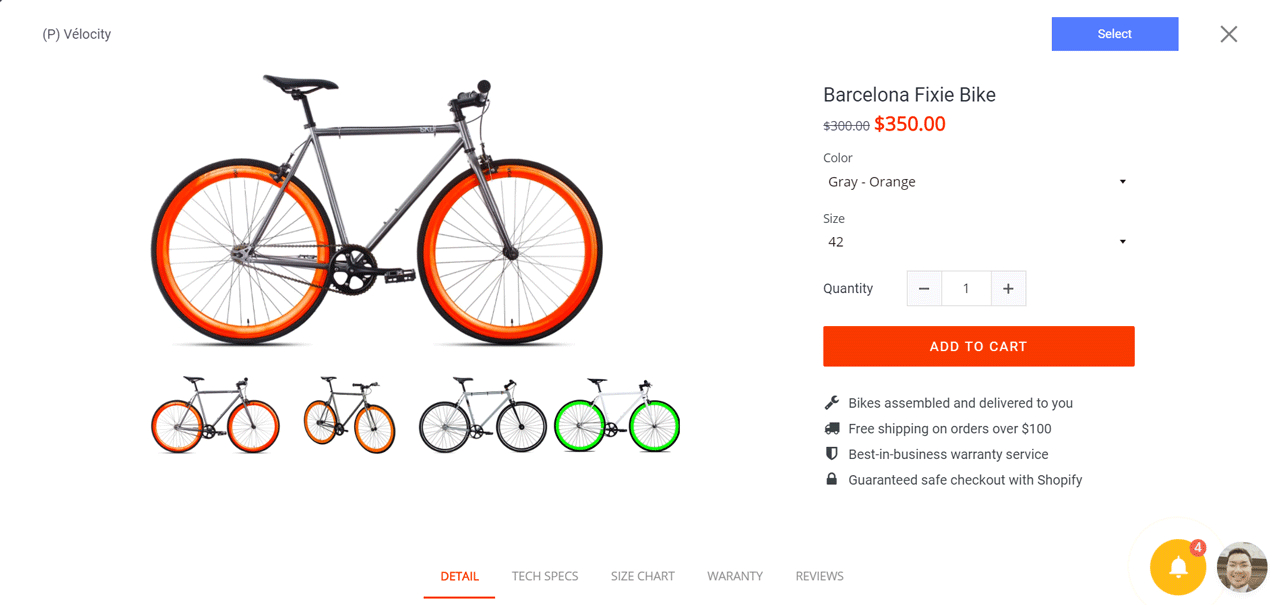 Vélocity is a fantastic-looking theme with just the right ratio of bullet description to detailed description. Dropdown menus and a well-laid-out tab element encourage exploration, while image banners further down the page can link to a full gallery and customer-uploaded images on social media.
Top Features
Image zoom and well-placed image gallery
Excellent tab element covering different parts of the product description
Great icons that bullet point the important info
Plenty of social proof in the review and hero banner showing customer-uploaded images
Great whitespace
Improvements to Consider
Might need to make the social proof more prominent
Not clear how to link the hero banner to social accounts
Need to add easy social sharing buttons
10. GemCosmetic Theme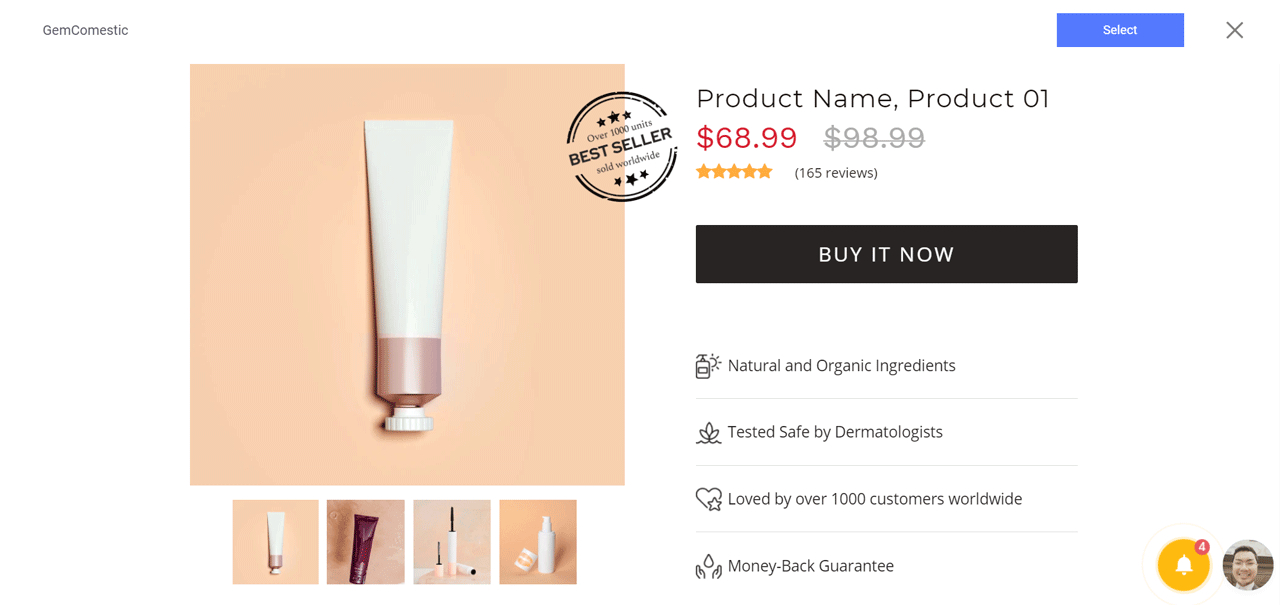 A simple heading layout but with all the effective elements included. A trust badge and review counter enhance social proof, while bulleted and long-form description boxes help to shed more light on the product.
There are some great icons to use if you're looking for a Shopify product page template for beauty and cosmetic products, but the page is quite text-heavy and might need to be scaled back a bit.
Top Features
Great social proof made obvious through the review counter and trust badge
Beautiful split image element with text in-between
Clearly defined sections
Lovely icons to help bullet-point for cosmetic products
Improvements to Consider
Change the color of the 'buy it now' button and add an 'add to cart' button
The image gallery has a bug that doesn't allow image selection
Might need to remove some text elements and replace them with images or social elements
Best Practices for Adapting your Shopify Product Page Template
Regardless of whether you've selected one of the aforementioned product page templates on Shopify, PageFly, GemPages or LayoutHub, we strongly recommend you download a page builder to fine-tune your product page with ease.
Doing this is the first step in adapting your new theme to fit your store. After that, you can focus on the next few steps to turn your template into a converting machine:
Make your calls-to-action bolder – Your 'add to cart' or 'buy now buttons' will usually be large by default on a pre-designed template, but you'll want to make sure they're colorful enough, bold enough, and spaced out enough to stand out amongst your other elements.
Replace stock images and videos with great visual content – As we mentioned before, visuals are a huge help in your page's attempts to convert customers. Find, or preferably make, the best quality content you can to substitute with the default stock on the template.
Use text to stress your unique selling point (USP) – The USP is the part of the product description, its key features, or its specs that are going to get visitors clicking your sale buttons. Whatever sets your product apart from the rest, be loud and bold about it.
Get creative with FOMO marketing – The Fear of Missing Out is a powerful phenomenon in eCommerce. If your template didn't come with countdown timers, stock scarcity notifications, or limited discount alerts, add them in. Don't go over the top, though, or you'll annoy your customers.
Add detailed product information – The more, the merrier, as the saying goes. Adding more details to your product descriptions is a sure-fire way to ensure that your customers will have less to think about. On top of that, it decreases the likelihood of them contacting your support with simple questions – saving you time.
Speaking of support, live chats are key – The world we live in now is very much focused on fast, effortless service. As such, utilizing a live chat as opposed to email support is a no-brainer.
Make use of size charts – Maybe only be useful if you're selling things like clothing or apparel – but sizing charts are a big deal. Again, it comes down to making the experience for customers as smooth and simple as possible.
For more overall advice on how to effectively adapt Shopify's product page templates to your store, check out this comprehensive guide.
Summary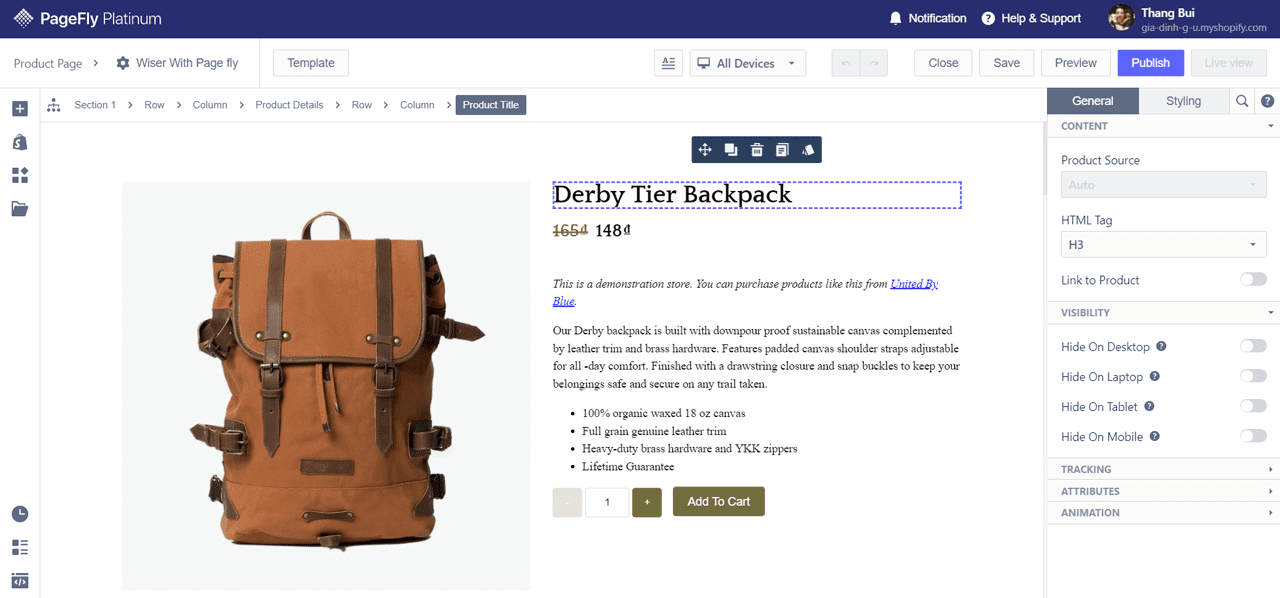 Tailor your templates with PageFly and scale your conversions.
There are tonnes more you can do with your Shopify product page templates in order to meld them well with your store. Page builders help you do this, and there are none better than PageFly.
PageFly currently ranks number 1 in Shopify's page builder category, with over 3,200 reviews and a 4.9-star rating. All of its product page themes are completely free to use on your store, and you'll receive 24/7 in-app support via live chat to ensure that you have a perfect transition of any template to any product page.
To try out PageFly's advanced plan for free over a 14-day trial.
Curious to read more? Check out these articles: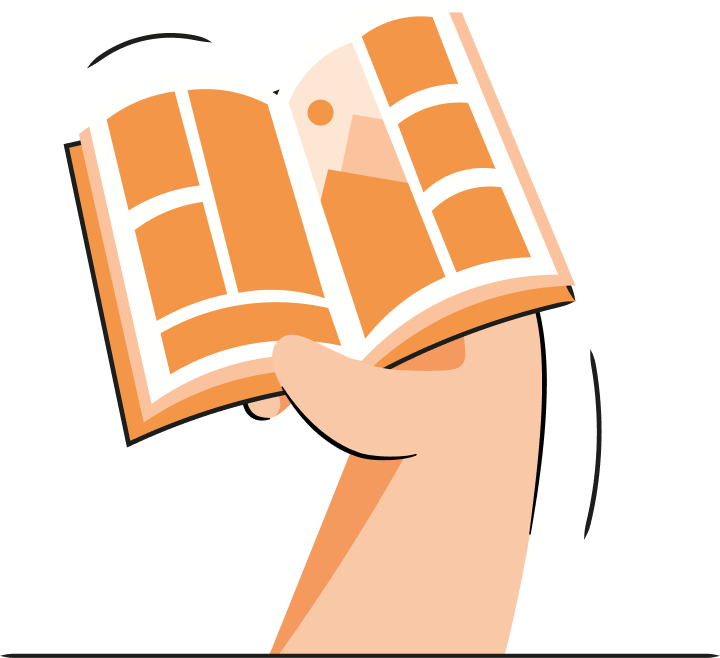 Frequently asked questions
In a word: yes. In other words: it's complicated. Look, anything default is never going to be as good as something you create and customize yourself – but it's all about economies of scale. If you're just getting started, you may be better off saving your money for improving your products instead of buying Shopify product templates.
You can customize the theme itself through basic options, you could also edit the code if you have the skills and/or time, and finally, you can install add-ons that do it for you.
Yes! There are plenty of free options available, and some of them are really quite good, too.
A custom Shopify product page is yours – your customers won't find another like it anywhere else. It gives you control over everything – as opposed to following rules set out by a default page.