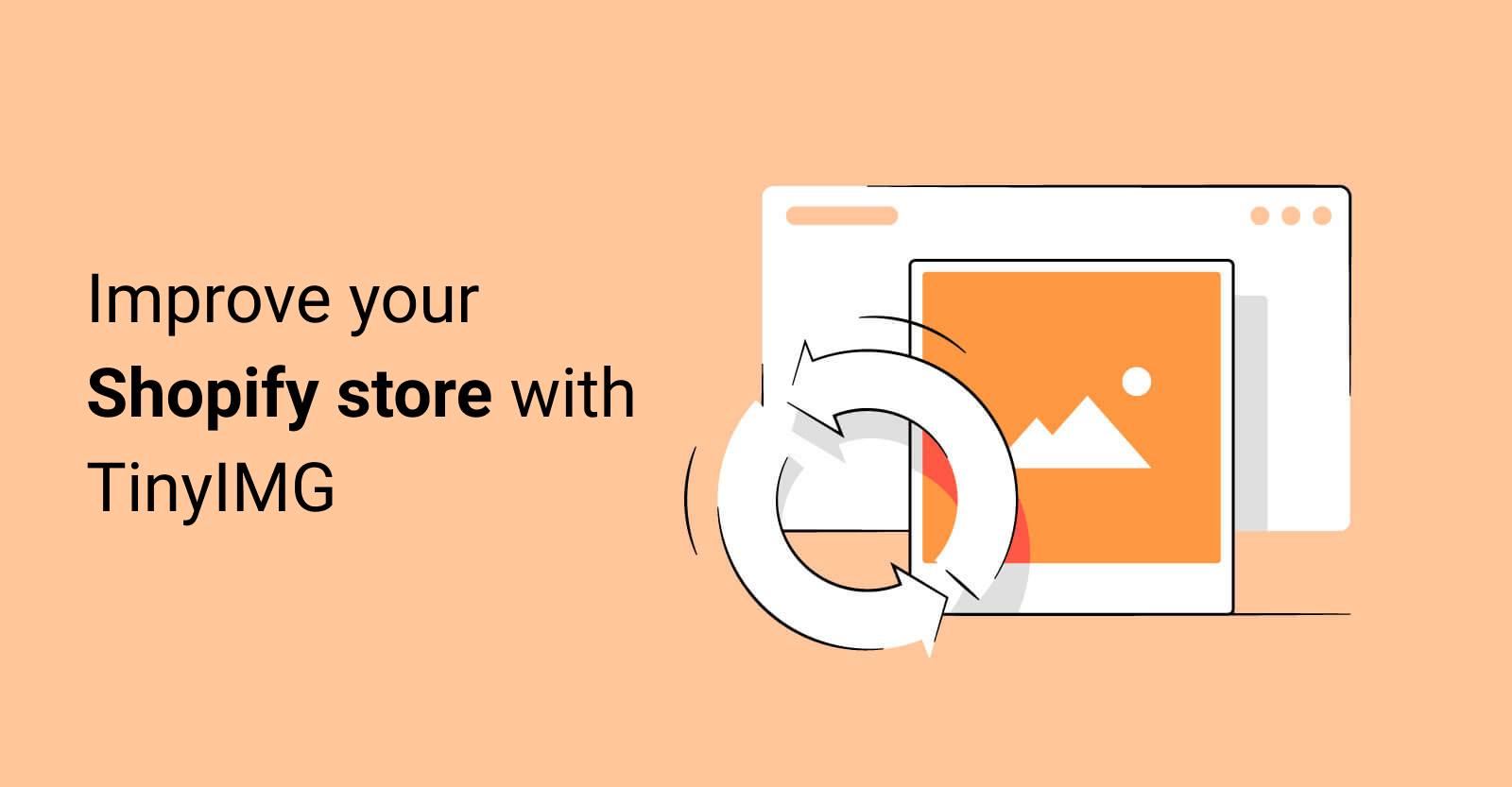 For most of us, time is the most important currency. Therefore, we constantly strive to find tools that will do the tedious tasks for us and let us focus on the important things.
TinyIMG is one of those apps. With it, you are able to improve the overall SEO of your eshop by optimizing images, metadata, ALT tags, and more.
In this article, we'll discuss how using TinyIMG can support you in better Shopify store management that requires less effort and time.
What is TinyIMG?
TinyIMG is an intelligent image and SEO optimization tool for Shopify stores.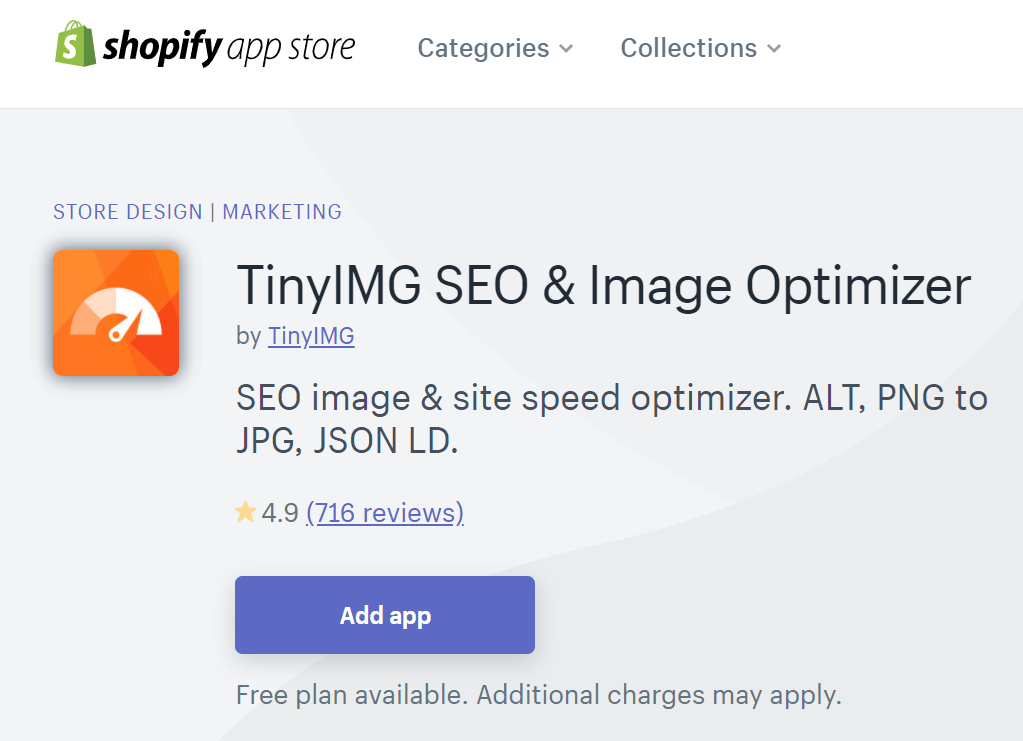 With this app, you are able to do the following:
Take advantage of an advanced or standard image reduction.
Enjoy the 30-day backup option.
Improve your Shopify store with nearly zero tech knowledge.
Let's now review these benefits in more detail by offering you some handy tips.
Want to improve your Shopify's store SEO today? Get TinyIMG now!
GET STARTED
TIP #1 - Optimize your Shopify store images for an improved page loading speed
There are few things that worsen user experience as much as slow websites do.
To avoid such problems, you can do several things - like checking your website speed on PageSpeed Insights constantly.

However, one of the fastest ways to overcome this issue is optimizing the product images on your Shopify store.
With TinyIMG, you can do that both fast and conveniently.
TinyIMG is able to reduce your image sizes by almost three-quarters while keeping excellent visual quality. Changes made are usually not visible to the human eye.
In case reducing images too much is not something you want, you can simply optimize your images by almost a third - no quality will be lost.
How does this feature work?
After you install the TinyIMG app, it automatically optimizes your images and uploads the optimized version to your Shopify store. If you want to, you also have an option to optimize your images manually.
What's great is that if you opt for a Premium plan, you are able to restore images to their original state within 30 days.
TIP #2 - Optimize the metadata for your Shopify store to help search engines find it quicker
Metadata is something many Shopify store owners overlook.
However, optimizing it doesn't require that much effort, and the results pay off.
With the TinyIMG app, you'll be able to automatically generate good meta titles and meta descriptions, which will save tons of time for you.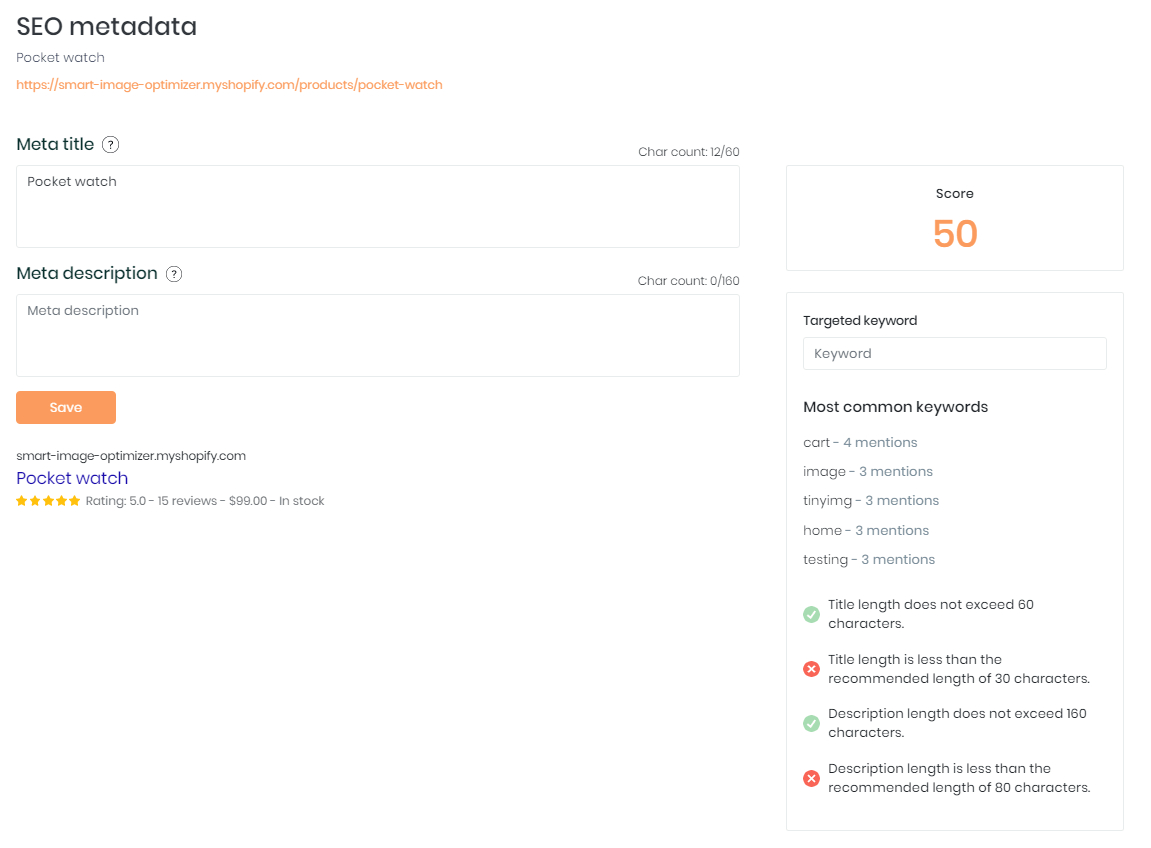 With optimized titles and descriptions of your products, Google and other search engines would be able to find your eshop faster. And that is something you'd like, right?
TIP #3 - Fix all broken links on your Shopify page in one click
Broken links are something nobody wants to have on their eshop as it sends a message that you are careless about your content and overall Shopify store.
The best way to deal with the broken links is by redirecting them. In fact, for some pages redirecting them is a must to avoid the so-called index bloat. Index bloat happens when there are too many pages on a website indexed in search engines.
With TinyIMG, you'll get to choose to receive broken link reports (weekly, monthly, or never) and redirect them in no time.
That way, you'll keep your Shopify store up-to-date and user-friendly.
TIP #4 - Optimize the ALT titles for the images you upload to your Shopify store
If you have already optimized your images, metadata and fixed the broken links, there is one step left to complete - optimizing the ALT tags for the images on your Shopify page.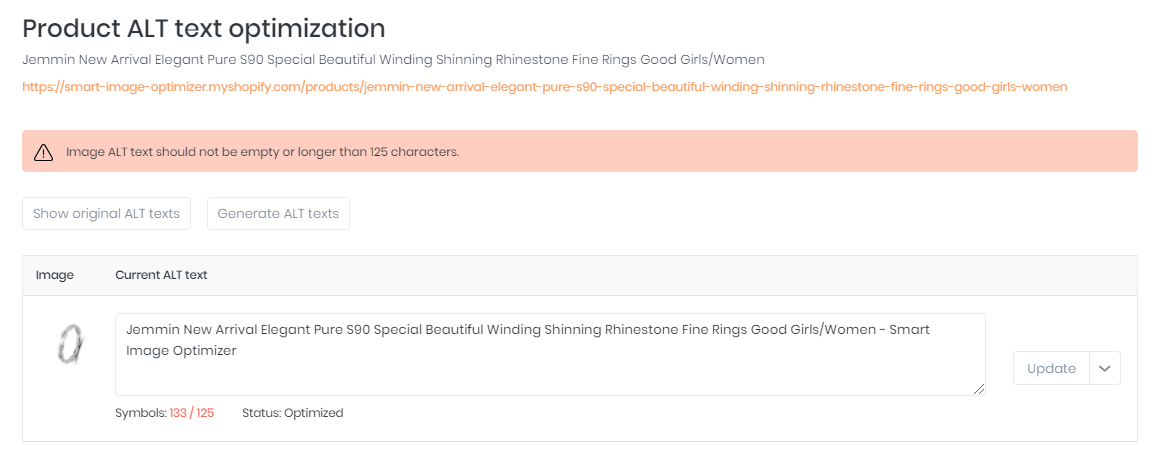 Again, it may seem like a tedious and less important task. However, completing it will benefit your product images and the overall quality of your eshop.
TinyIMG will automatically generate the best file names and ALT titles for your images so that they are better found on search engines.
Bottom line
In times where saving time means saving money, finding the tools that could help you do just that is key.
By investing in TinyIMG, you'll solve most of the Shopify SEO issues in no time.
With useful guidelines, you'll take your Shopify experience to the next level!