It can be difficult to know where to start with SEO for your Shopify store. But your product pages are a good place to focus on. They can be great performers when a customer is searching for a specific product.
And bringing in customers organically is great for two reasons:
It's free. Instead of increasingly expensive paid ads, you can use SEO to bring free organic traffic to your site. That means more profit for you.
It boosts sales. Organic traffic is not only cheaper than paid, it converts better too. That's because the organic visitors to your site are genuinely searching for the products you have to offer, they didn't just click an ad that popped up. So they are more likely to make a purchase.
This blog is a step by step guide to optimizing your product pages for SEO. Follow these steps and your product pages will start to perform better in Google search rankings. And that means more free organic traffic and higher sales. What's not to like?
Let's get into it.
Optimizing the URLs on your product pages
A well-crafted URL provides both search engines and human visitors with a clear idea of what your page is about. So it will improve your search rankings and also make potential shoppers more likely to click.
Here are some of the best practices to stick to if you want clear and consistent URLs:
Be consistent. All your URLs should follow the same formatting rules. For example, you could decide to always use lower case letters or use slashes to separate folders. This way you will avoid creating duplicate pages and damaging your website structure.
Include keywords. Keyword use in a URL can act as a ranking factor when it comes to your site's search visibility. Building your URLs around your main keywords is a great way to make search engines consider your page more relevant for a specific search query.
Avoid special symbols. Symbols such as &, %, $, or @ make your URLs harder to read. Also, do not forget that spaces in your URLs will be converted to %20, which does not look appealing. If you need to separate words, use hyphens.
Shorten your URLs. If your URL is already less than 50-60 characters, you're all good. But if you have URLs pushing 100+ characters, you need to rewrite them. Why? Shorter URLs are easier to parse, copy, paste, and share. Try cutting down on stop words, such as and or but, and the number of folders.
Optimizing your product page meta title for SEO
When it comes to SEO, the meta title (also known as the title tag) is one of the most important page elements. That's because its job is to tell search engines and visitors what they can expect from the page.
Since title tags are visible on search engine results pages (SERPs), it is essential that they are well written and entice the user to click-through to your page.
They should also include your most important target keywords so that search engines can best match your page with search queries. TinyIMG now has tools to help you check that your titles are optimized to include your keywords.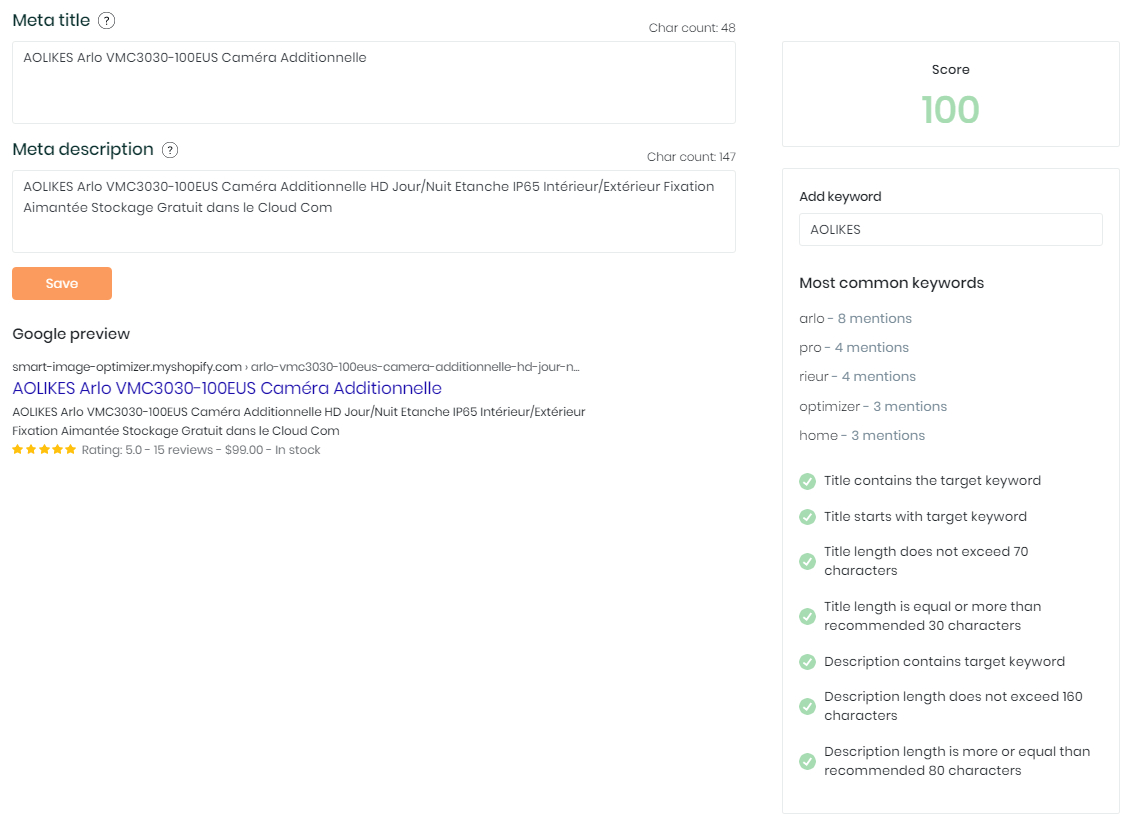 Using TinyIMG, you can ensure that your meta titles are clear for your users and contain the most important keywords
Here are 3 top tips to follow when optimizing your meta titles
Begin with keywords. Your title tag should contain the target keyword you want to rank for. The closer to the start of the title tag your target keyword is, the more likely it is to rank well for that keyword based query. Making your keywords more specific by adding concrete numbers, dates, places and years (as shown in the examples below) will help them perform better in search.

Keep it short. Your meta title should be between 50-60 characters long, and should not exceed 60 characters. If it does, it will be truncated in the SERP and any information or keywords included after this point will be cut out. As you can see in the example below, while H&M's title remains uncut.

Keep your customers in mind. Your meta title is a lot like an ad for your page, so make sure it is designed to drive click-through. You should include your main selling point – something unique about your product that will compel users to click on the link. You could mention materials, design features, or something unique about your brand.
How to do product page meta titles: the case of 21DW Design
21DW Design is an eco-fashion brand whose t-shirts and hoodies feature unique designs from local urban artists in Ireland. And this Shopify store is really on top of its SEO game. Not only has 21DW Design optimized its images to improve site load speed by more than 3 seconds, it has also optimized its product and collection page meta titles for SEO.
Take a look at this example for its t-shirts collection page:

This meta title is perfect. Why?
It front-ends the most important keywords

. Google knows immediately this is a suitable page for anyone who searches for "Soft Cotton T-shirts."

At 57 characters,

it fits perfectly into the character limit sweetspot

, with no words cut.

It manages to include 2 clear and specific selling points that will encourage clicks: the soft cotton material and the fact they feature designs by urban artists. So on a results page featuring lots of different stores offering cotton t-shirts, this result is likely to stand out.
Optimizing your product page meta description for SEO
A meta description is the snippet of text that is displayed in the SERPs underneath the title of the page. Think of it as a mini-ad for your page that offers a preview of the page content. The meta description is your space to succinctly explain what the page offers, and, if done right, it allows your listing to stand out.
Here are 3 essential tips to follow when optimizing your product page meta description:
A well-crafted meta description should include relevant keywords.

It should be written in a way that encourages searchers to click on your listing, so make the description specific and relevant, and emphasise the benefits for the user.

Try using action-oriented language, including a call to action to encourage click through.
Let's see how Health Mutt have successfully optimized their meta description for SEO:

First up, you'll notice that keywords in the meta description directly connect to the target keyword phrase "healthy pet treats in Seattle."

Second, it emphasises used benefits: "Give your pet the care they deserve." Every pet owner wants to take good care of their pets, so this user value will connect with them.

It includes a specific call to action - "Shop online" - that will get potential shoppers clicking.
Optimizing your visual aids for SEO on your product pages
Adding images to your product pages is essential. It keeps users engaged, and it also tells Google you have higher quality content.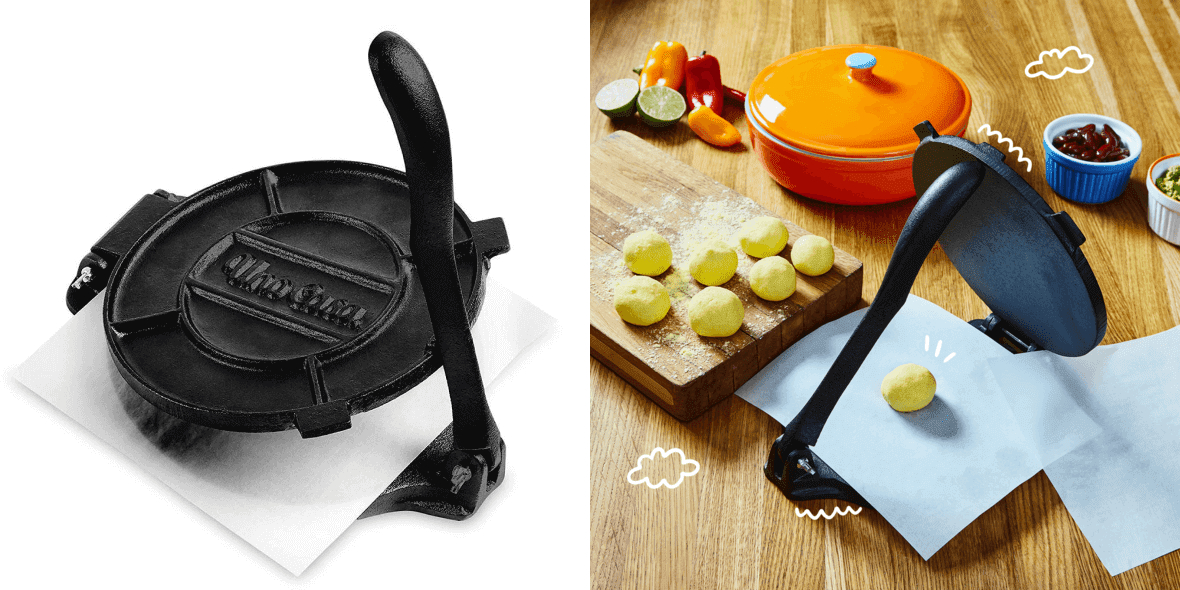 Captivating product pictures can keep your site visitors engaged and showcase how your product will look and feel to use, just as this product pic from Shopify store Uno Casa does
(Image source: Uno Casa)
But, because image files are heavy, they can slow down your page speed, which is very bad news. It harms your SEO and damages sales too. So make sure you optimize the visuals on your product page in the following 2 ways for ultimate SEO performance.
Optimize your alt tags
Alt tags are parts of HTML code that describe your image. Search engines scan alt tags to understand what the image is about, so they provide another opportunity to include your target keyword on a page.
The best format for alt tags is a few phrases that are sufficiently descriptive but do not contain any spammy attempts at keyword stuffing. The example below shows how, and how not, to write your alt tags.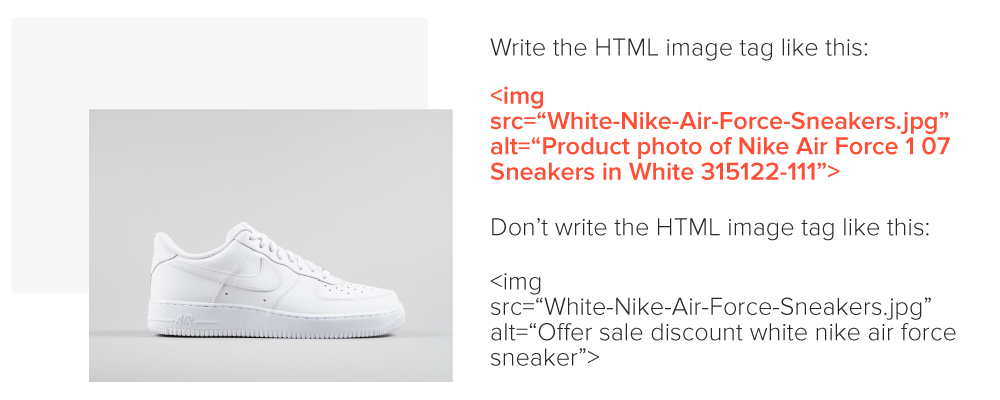 As this example shows, give a clear description of the product and include product numbers if you have them - this can really help with your performance in Google image searches.
For full guidance on how to write your alt texts, check out this detailed guide to optimizing your images. And don't forget that tools like TinyIMG can generate alt tags for you, or optimize your existing ones. So if you don't have the time to write them yourself, no problem.
Compress your images
Downsizing your images files will have a positive effect on page speed and overall user experience, which in turn will help with SEO ranking. And you can get this done without lifting a finger - image optimization tools like TinyIMG can automatically reduce your image sizes while maximising image quality. And doing this will get your product pages loading super fast, no matter how many images you have on your store. For example, after optimization the product pages on Shopify store Coast to Coast Collectibles load in just 0.7 seconds - and that's despite the fact that the site has over 10,000 images on it.
Optimize your images on auto-pilot using TinyIMG
LEARN MORE
Optimizing your product page structured data for SEO
Structured Data is specific information that helps search engines understand what your page is about. It is especially important for product pages, because you can include very detailed product information in your Structure Data, including:
productID,

brand,

mpn (Manufacturer Part Number, MPN),

and gtin (Global Trade Item Number, GTIN).
Using this data, Google can match your product page with search queries for specific products.
And one of the most important features of Structured Data is that search engines can use it to generate rich snippets.
Rich snippets are display visuals shown on results pages, and they look like this:

Along with URLs, meta titles and meta descriptions, rich snippets also included visually appealing elements such as rating and images that will make your page stand out in search results pages.
Here are some important points you should know about Structured Data for your product pages.
Make sure you define your main page types (eg. homepage, collection, product, blog) before adding Structured Data.

Be sure to add the following 3 data types:

Product

,

Offer

and

BreadcrumbList

.

Product,

as you would expect, defines the product.

Offer

defines the variant on sale, in other words any discounts or price reductions. And

BreadcrumbList

helps Google to categorize the information on your page.
How to fix your product page Structured Data
Fixing your product page Structured Data sounds complicated, right? Well, the good news is you don't need to do it yourself. TinyIMG can now fix your Structured Data for you using JSON-LD, the most common format for Structured Data. This guide takes you through everything you need to know about JSON-LD and how TinyIMG uses it to fix your Structured Data.
Optimizing your product page heading tags for SEO
Using heading tags (H1-H6), you can tell users and search engines about the different sections of content on your page and what a particular section is about. Heading tags contribute towards good user experience by helping users navigate your page.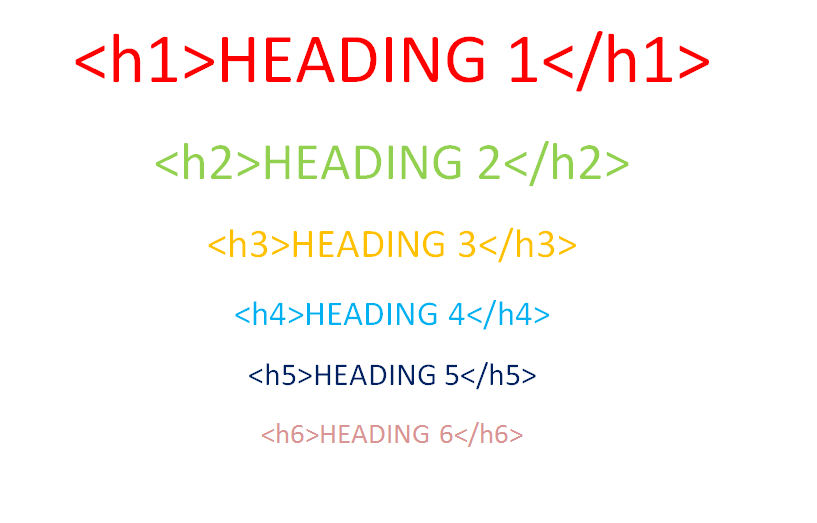 Using headings makes your content easier to read and navigate
Moreover, including your keywords in headings will improve the search engine visibility of your product page. Here's a quick breakdown of the different types of heading tags.
H1 heading

.

H1 is the main heading. It should be the name/title of the page or post; so on a product page, it should be the product name. You are limited to using one H1 heading on each page.

H2 headings

.

H2 headings are subheadings that split your page into sections. They act as signposts guiding users through a page, enabling them to skim the content and go into the details wherever interested. H2 headings also help search engines understand what the page is about, so do not forget to include secondary keywords in them.

H3-H6 headings

.

These are more specific headings used to introduce further subsections of your content. It is rare for most content, unless it is really long and technical, to get deep enough to need to use H4 tags and beyond. If you find yourself venturing into H4 and H5 territory, think about optimizing your content structure.
Optimizing keywords for SEO on your product pages
Search engines are not humans, but they are getting better at processing natural language. Today, search engines have moved on from keyword stuffing as a positive ranking factor, so there is no need to excessively load your content with keywords. In fact, if Google thinks you are just cramming in keywords for better SEO it might penalise you.
However, keyword optimization is still important – so here is some keyword advice you should follow on your product pages.
Use keywords early
The first couple of hundred words of copy count most heavily for both search engines and users since most users never scroll further down. Make sure to use your main keywords early. You should also include keywords occasionally and evenly throughout your content. This should happen naturally if you stay on topic - and remember not to force keywords where they do not sound natural.
Go beyond exact matches
Google has already learned to recognize the intent of searchers' queries beyond the meanings of individual keywords. This means that Google gives a common answer to a number of "different-in-keywords" but "same-in-meaning" search requests. So this means you no longer need to think in terms of single keyword optimization. Instead, you should try to make your pages relevant for multiple synonyms and related terms. Be sure to add all kinds of related keywords to your page as it will help you improve your search engine visibility and avoid unnecessary keyword stuffing.
Ensure your product pages are optimized to be mobile-friendly
With people spending more and more time on their mobile devices and tablets every year, mobile-friendliness is a must!
Shopify allows you to choose a responsive template for your site, and also having built-in mobile commerce shopping cart features. You may also want to think about visual hierarchy for mobile and other design considerations - this guide to mobile-first design for Shopify stores goes into detail with some great design ideas.
Optimization for SEO is your key to profitability and sales
As we can see, there is plenty you can do your Shopify product pages to optimize them for SEO. But this is a process you can take step by step - start with the basics like your meta title, meta text and images. This will already have a big impact on your page's overall performance.
Then you can tackle more complex and time consuming tasks like keyword optimization and Structured Data.
And don't forget, tools like TinyIMG can do a lot of the SEO heavy lifting for you, and they require minimal investment - just take a look at TinyIMG's competitive pricing plans.
With TinyIMG installed, just work through the steps above and in no time you'll have high-performing SEO-friendly product pages.
Try TinyIMG for free today with 50 free image optimizations
Install now