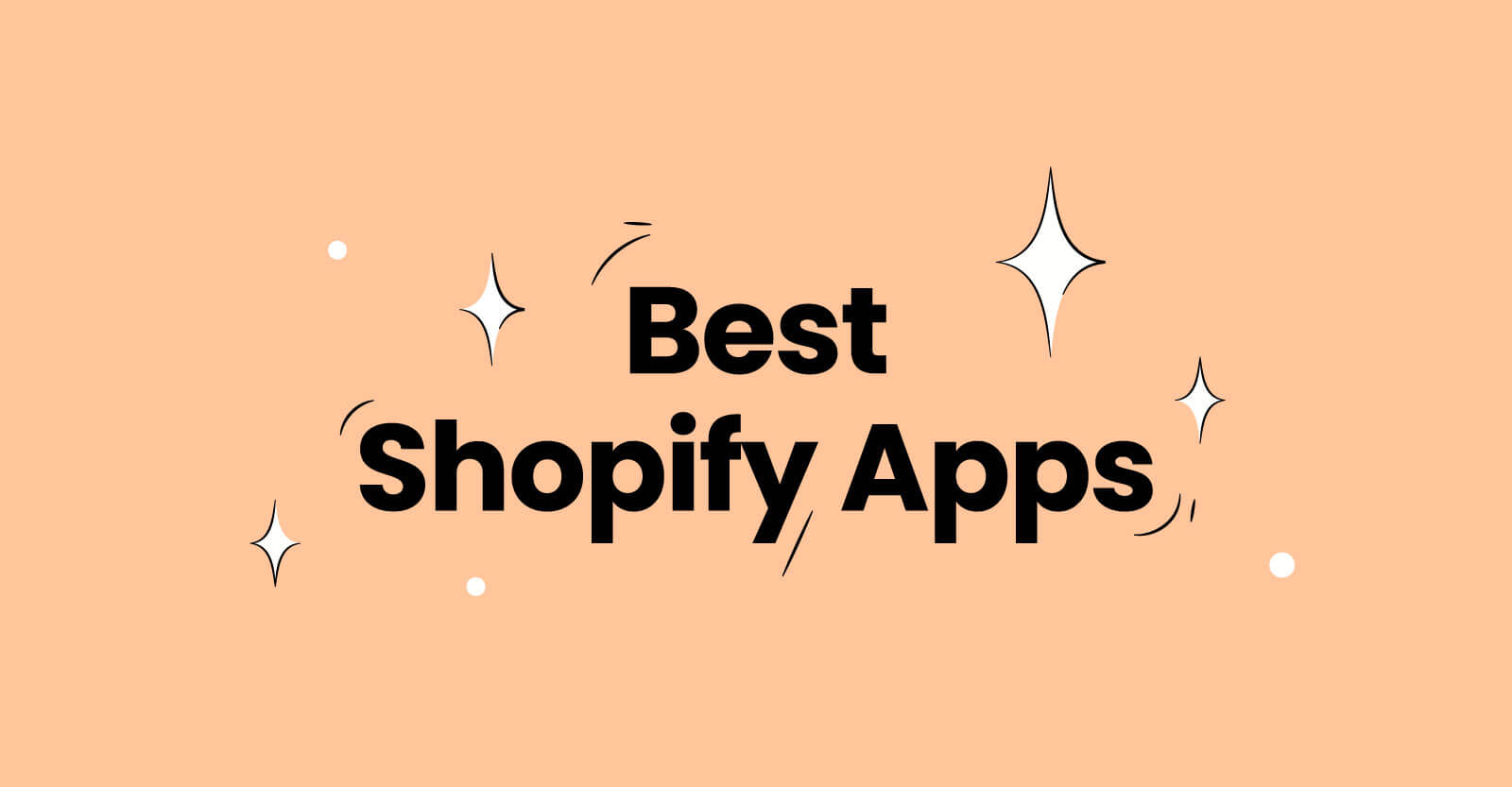 We may receive commissions for purchases made through links on our website. We appreciate your support.

Shopify has revolutionized the concept of selling online by eliminating the need for multiple POS (point of sale). You can use the integrated platform to sell your products, interact with customers, accept payments, and more.

In this article, we're going to go over 15 of the best Shopify apps to boost your eCommerce business.

If you browse the internet, hundreds of apps will come up. It will be a very daunting task to find the right one if you don't know what you're doing.

That's why we've stepped up to help.
Best Apps for Shopify in 2023: shortlist
TinyIMG

– an intelligent image compression and optimization app

Firepush

- automated Web push, Email, and SMS marketing app

PageFly

-

best for building landing pages

Tada

– highest converting wheel discounts popup

Loox

- top choice for product reviews
If you care to learn more about the performance, pricing and other pros and cons of these and many more apps, let's proceed to the best Shopify app reviews.
13 Top Shopify Apps: Reviews and Recommendations
This section will review 15 apps you can add to your Shopify dashboard and give your business a new dynamic. All of them help you boost your ROI and engage as many customers as possible.
1. TinyIMG - best for Shopify image optimization

5 plans, from Free to $39.99/month
Image and SEO optimization, page speed reports, broken link detection
Image optimization is at the forefront of any fast Shopify store and TinyIMG is your number one option.
What's great about TinyIMG is that you can compress images by 70 percent without any loss of quality. Plus, it's completely up to you whether to optimize images automatically or manually.
Some other features you can take advantage of after getting TinyIMG include:
JSON-LD structure

Website audit

Broken link reports and redirects

Optimized metadata

Easy ALT text modification
For any technical assistance or support, TinyIMG has a live support team ready to troubleshoot with you and answer your questions in no time.
Overall, TinyIMG is a great Shopify image resizer and general SEO app with varied plans at affordable prices.
Pros:
Excellent for image and SEO optimization

Ensure fast website speed

Highly intuitive

User-friendly pricing plans
2. Firepush - a great tool for email and SMS marketing

Free, Basic $15/month, Pro $29/month
Email and web push notifications, campaigns, SMS marketing
Firepush is an all-in-one remarketing app focusing on SMS, email, and web push in a single dashboard to help its users reach their customers easily.
With Firepush, cross-selling and upselling with SMS, reducing cart abandonment with email strategy, or setting up promotional push campaigns is a breeze.
The best part is that you can choose from three different plans, and get a 14-day free trial to see whether this app meets your expectations. Plus, 24/7 customer support available with Basic and Pro plans will ensure all of your questions are answered in a timely manner.
Pros:
Dedicated Customer Success Manager

Free migration

Pay-as-you-go SMS option

Personalized strategic sessions
3. PageFly - best for building landing pages

Four options, from Free to Platinum $99/month
7 types of pages, collection assignment, elements library
Building landing pages can be stressful - said no one using the PageFly app!
Use one of the vast array of themes fully compatible with Shopify and creating an effective landing page will be a breeze. Plus, PageFly boasts the biggest element library that will allow you to enhance your store appearance in any way imaginable.
Every plan, including the free one, gives you access to all PageFly's features, the plans are based on how many pages you can work on.
Plus, to say that PageFly is a tried-and-tested app would be an understatement. The app has received a whole total of almost 6000 customer reviews, all of which amount 4.9/5 rating.
Pros:
Many opportunities for customization

Highly intuitive

User-friendly pricing plans

Great integration (Google Analytics, Facebook Pixel, Bold Bundles, Omnisend, Vitals, Judge.me)
4. Tada - the highest converting wheel popup app

Four options, from Free to Business $29.99/month
Responsive, interactive, highly customizable, 3 different popup variations
Tada is the highest converting wheel discounts popup that is able to take your Shopify to the next level.
With it, you are able to create customizable Spin a Wheel and Pick a Gift Box pop-ups. As users will be able to win a discount in exchange for an email address or a phone number, you are bound to increase your conversion rates.
On top of that, you will have access to a comprehensive analytics dashboard and email validation functionality to optimize your email list.
Pros:
Converting popups.

100% Customizable.

Increased customer loyalty
5. Growave - an all-in-one marketing platform

Four options, from Starter $19/month to Growth $99/month
Product reviews, wishlist, gift cards, social login
Growave is the all-in-one marketing platform best suited for small and medium-sized Shopify stores that are hoping to grow a loyal audience.
Gain traction with your Shopify store by enabling the review feature and showing the world you're selling 5-star products. Growave will also help you prevent those abandoned carts - their wishlist with reminder emails will give your customers that extra nudge to continue shopping.
Start off with a 14-day free trial. From there, you can upgrade to anything between $19/month to $99/month, depending on how many orders and features you need.
Pros:
Helps in increasing customer engagement

Excellent support

Great for new stores
6. Rewind Backups

Four options, from Basic $3/month to Plus $99/month
Automated backups for product pages and photos, customer data, theme files and more
Just imagine - you're editing the code of your store or integrating a new Shopify app. Next thing you know, all of your shipping information, prices and product descriptions are gone!
Avoid downtime, the nightmare of any Shopify seller, by using Rewind Backups. With a few clicks, you will return to times when everything worked perfectly.
For as little as $3/month, the app backs up your store daily, stores the data for 1 year and gives you a peace of mind. The plans scale based on orders per month, with Basic overing 20 and the Plus covering 2000. If you need more, you have the option to contact Rewind Backups and get a custom plan with them.
With Rewind Backups, if something goes sideways, you can regain access to your product pages, store policies, blog posts, theme files and much more. Alternatively, you can use this app to access historical data or content and reuse it.
Pros:
Daily automated backups

1-year access to historical data

Simple interface

7-day free trial
7. Loox - top choice for product reviews

Four options, from Beginner $9.99/month to Unlimited for $599.99/month
Review request emails, video reviews, customizable review display
Any Shopify store can benefit from building trust and showcasing customer appreciation of their products. Loox is your answer to that.
Share customer reviews in many formats and happy customer-generated content on your site will bring you benefits. Plus, you get to customize how the reviews look like.
17 languages and 24/7 customer support only add to the greatness of this app.
Pros:
Photo and video reviews

Easy referral generation

Email campaigns
8. PushOwl - great for web push notifications

Free, Business $19/month, Custom
Automated notification sequences, Campaign Creator, web push performance analytics
If direct marketing has always been your comfort zone, then look no further than PushOwl. You can amp up your marketing campaigns with his app by sending the offers directly to your customers.
Another huge selling point for this Shopify app is that you can send a 'Back in Stock' alert to your customers. It's an innovative feature that even some of the best Shopify apps fail to deliver!
Apart from these features, PushOwl also works as a tool to solve cart abandonment issues. It boasts cross-platform support, which means the difference between your device and your customer's device won't be an issue for marketing!
The Basic plan for PushOwl is free! However, suppose you want to take advantage of advanced features like cart abandonment alerts and Hero images. In that case, you should opt for the $19/month package called 'Business.'
If you are among the big leagues, don't worry, PushOwl has an Enterprise solution that lets you craft an individual plan.
Pros:
Great features on the free plan
All-in-one Shopify package
Innovative back in stock alerts
Direct marketing features
9. Postscript - top pick for SMS marketing

Four options, from Free to $500/month
Automated text marketing, SMS campaigns, segmentation
Grow your store with the power of SMS marketing provided by Postscript. This app comes armed with numerous features, from building your TCPA-compliant subscriber list to triggered welcome series automations and advanced user segmentation.
SMS marketing apps for Shopify are numerous, so what makes Postscript stand out?
Among other features, their abandoned cart trigger can help you bring customers back to your store. Then there is also the Safe Send feature. Use it to ensure you don't overwhelm your customers with too many texts.
On top of everything else, the customer support team at Postscript will help you take your store to the next level. Not only are they exceptionally knowledgeable about the app itself, they will also gladly help you put together authentic SMS marketing solutions.
Their plans scale based on a credit system, which easily helps you choose a solution that's sufficient for your store.
Pros:
Exceptional customer support team
Revenue and ROI tracking
Premium features for Shopify Plus stores
Safe Send feature
10. Flits - customer accounts solution

Basic $4.99/month, Business $19.99/month, Enterprise $29.99/month
Customer order history, recently viewed product information, wishlist
How about giving your customers more control of their shopping journey? Flits presents you with exactly this opportunity. It's a Shopify app that offers a personalized customer account solution.
Your customers can create wish lists and place quick reorders. In return, you get information about customer order history and increase repeat purchases.
The range of plans is affordable even with the most extensive plan. The plans are mostly based on the number of customers, meaning stores of different sizes can find appropriate solutions.
Pros:
Personalized customer accounts and profiles
Recently-viewed products feature
Multi-language support
11. NextSale - top choice for social proof

Four options, from Free to Growth $79/month
Review and testimonial display, store activity notifications
Building trust and customer loyalty is undoubtedly at the top of priority list for any Shopify store owner. With personalized popups for reviews and testimonials, NextSale is a Shopify app designed to help your customers see the true value of your store.
One feature of this app is truly exciting, and it's the Store Activity one. People browsing your store get to see how many people recently looked at a specific product or bought it. Use it to your advantage by creating a sense of urgency using your most sought-after products.
Pros:
Personalized popups for six different special offers
Recent sales and store activity notifications
Wide integration possibilities
Cheaper annual billing options
12. ReferralCandy - incredible referral program

Automated referral program, branded store pages, Fraud Center
Channel the power of word-of-mouth recommendations with a referral program designed by Referral Candy. Trusted by 3000+ growing stores, this Shopify app will make sure every recommendation turns into a new customer.
With ReferralCandy, you can offer store discounts to your customers for recommending friends. You can automate this process with post-purchase pop ups, sit back and watch your customer base grow.
On top of that, ReferralCandy empowers your store's pages and emails with branding opportunities and has put together a customer support team that will guide you through anything.
Pros:
Set up in 30 minutes
No need for customers to earn or redeem points
Straightforward plan pricing
Acknowledged for exceptional customer support
13. AliReviews - top pick or photo reviews

Four options, from Starter $9.90/month to Enterprise $99.90/month
Customizable email campaigns and review widgets, A/B widget testing, dedicated server
If you want unique ways to showcase your customers' love, AliReviews has all the answers.
A quality review of a real-life person wearing or using your product presented in a creative widget will add that extra touch to your store. AliReviews also aims to improve your cart abandonment rates by displaying top reviews of abandoned products to remind your customers that they were about to make the right decision.
The way plans scale for AliReviews is convenient for everyone. Their $9.90 Starter plan offers 200 orders a month and all of the main features, more than enough to accommodate new or smaller Shopify stores. For Shopify giants, there is the Enterprise plan, with unlimited orders, a dedicated server, and numerous additional functionalities. Two plans in between will cover any other store.
Take advantage of their 7-day free trial and try it out! After all, a 4.9 rating with over 7000 customer reviews has to mean this Shopify app is doing something right.
Pros:
Customizable review widgets
Large range of functionalities across plans
Effective strategy to reduce cart abandonment rates
Outstanding reviews
Best Shopify Apps by category
We've covered the list of best Shopify apps, and tested assets that will help you scale and diversify your store.
If you'd like more options for Shopify apps with specific functionalities, we have prepared a few lists of the best Shopify apps by category.
We're ready to walk you through:
Tips for a Good Shopify Store
Shopify apps are advisable and beneficial, but don't overlook other aspects necessary to take your Shopify store to the next level.
Here is what you should look into:
Optimize Your Store for Mobile
The majority of internet shoppers use their mobile phones or tablets. So, your shop must be optimized for mobile devices.
Introducing characteristics like a bigger CTA button, limiting the number of popups, designing responsive elements for different screen ratios all translate to a better mobile experience.
Plus, Google prioritizes the mobile version for good rankings, so you simply can't overlook it. Looking for more details? Take a look at our mobile SEO guide.
Use only verified and tested Shopify Apps
All of the apps we've reviewed in this post are designed to aid you in increasing sales. Use them! Whether you want to go with email marketing, SMS marketing, or Messenger marketing, we've got you covered.
Also, Shopify apps come with integrated analytics tools to help you find the inefficiencies and fix them.
Focus on the images
Product photos make all the difference when it comes to a successful Shopify store. The platform might be taking care of your orders and deliveries, but presenting your products effectively is your job.
Invest in some good photography materials, i.e., camera equipment or a professional photographer, to attract more customers.
Also, don't forget the best practices. Optimize your images, low image size means a faster website. Plus, ensure people can understand the content of your images in case they don't load by using alt text.
Tip: Use an app, such as TinyIMG, to compress JPG and PNG images to have a lightning-fast website. When possible, Shopify will additionally render them as WebP images, which are around 30% smaller than the usual formats.
Use best SEO practices
You may sell spectacular products on your Shopify store, but if people don't come across your store while browsing, then what's the point?
This is where SEO comes in. Learn and use best SEO practices to improve the visibility of your business and drive traffic to your store
For more information, read our guide on Shopify SEO and common SEO mistakes to avoid.
Bottom line
We congratulate your decision to become a Shopify store owner - Shopify is one of the finest tools to earn money from online businesses without getting too technical. Here we have listed 15 of the best Shopify apps with their reviews to help you grow your business fast.
All of the apps on our list come with different perks and functionalities. Depending on the kind of business you run and the type of products you sell, you can benefit immensely by investing in these apps.
If you're not ready to commit yet, why not use the free demo versions to test yourself?
Frequently asked questions
What are some must-have Shopify apps for my store?
Depending on the spectrum of your business, you may need an email or SMS marketing app, a CRM app, an inventory management app, SEO optimization and so on. Check our article. We've included the list of best Shopify apps.
How many Shopify apps do I need?
It really depends on the size and scope of your store, but we recommend anywhere between 5-10 Shopify apps. Less than that and your store can lack functionalities. On the other hand, many more can add up in price and complicate the maintenance process.
Can I use only free Shopify apps?
Yes, if you pick plans that offer free plans, you can use only free Shopify apps. However, keep in mind that the features of free plans are often limited, so depending on the size of your store it could be worth investing into paid plan upgrades.