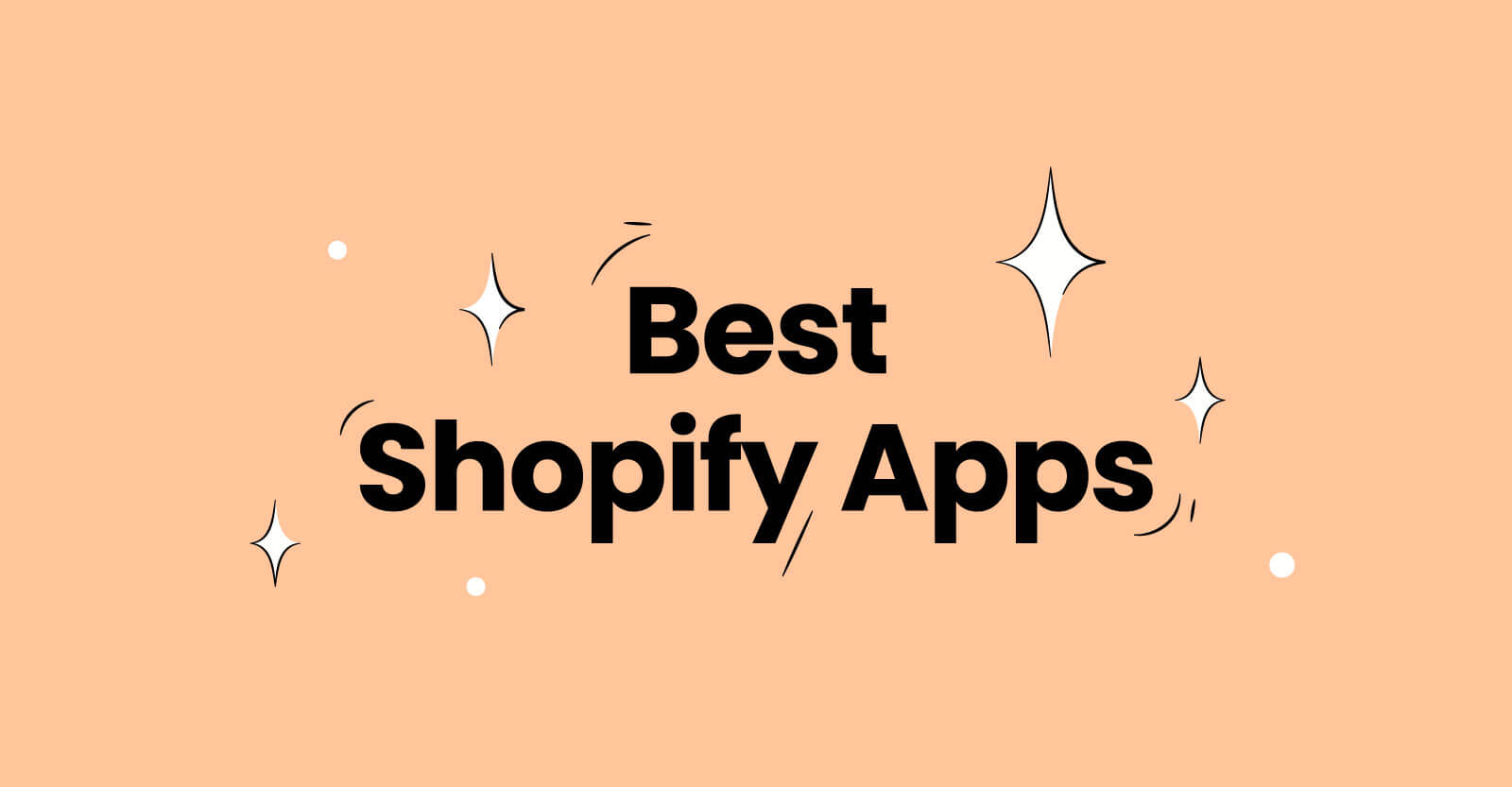 Shopify has revolutionized the concept of selling online by eliminating the need for multiple POS (point of sale). You can use the integrated platform to sell your products, interact with customers, accept payments, and more.
In this article, we're going to go over 15 of the best Shopify apps to boost your sales as an online businessman.
If you browse the internet, hundreds of apps will come up. It will be a very daunting task to find the right one if you don't know what you're doing.
That's why we've stepped up to help.
5 Best Apps for Shopify in 2021
TinyIMG – an intelligent image compression and optimization app

Firepush

- automated Web push, Email, and SMS marketing app
PageFly - best for building landing pages

Tada

– highest converting wheel discounts popup
Growave – an all-in-one marketing platform that empowers your Shopify store with product reviews, wishlists, loyalty programs, referrals, and more.
Would you like to know how you can improve your Shopify store SEO? TinyIMG app can help you with that!
Get started Now!
Top Shopify Apps Overview
This section will review 15 apps you can add to your Shopify dashboard and give your business a new dynamic. All of them help you boost your ROI and engage as many customers as possible. Without further ado, let's get started.
1. TinyIMG - best for Shopify image optimization
TinyIMG is an ideal image and overall SEO optimization app for a user-friendly price.
| | |
| --- | --- |
| Price: | From $0.99/month |
| Free trial: | No |
| Ease of use: | Intuitive |
| Best for: | SEO, image optimization, structured data |
What's great about TinyIMG is that you can compress images by 70 percent without any loss of quality. What is more, it's up to you to decide whether to optimize images automatically or manually.
Some other features you can take advantage of after getting TinyIMG include:
For any technical assistance or support, TinyIMG has a friendly Support team.
Overall, TinyIMG is an excellent app for any Shopify store owner ready to take their online shop to the next level.
Pros
Excellent for image and SEO optimization
Highly intuitive
User-friendly pricing plans
2. Firepush - great tool for email and SMS marketing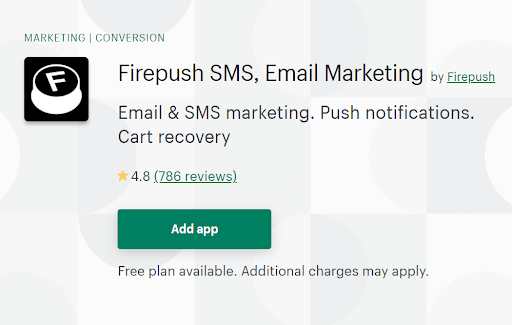 | | |
| --- | --- |
| Price: | From $15/month (free plan available) |
| Free trial: | 14-day free trial |
| Ease of use: | Intuitive |
| Best for: | SMS and email marketing |
Firepush is an all-in-one remarketing app focusing on SMS, email, and web push in a single dashboard to help its users reach their customers easily.
With Firepush, sending promotional SMS, email, and push campaigns about special offers or products is a breeze.
The best part is that you can choose from three different plans, and get a 14-day free trial to see whether this app meets your expectations.
PROS:
Dedicated Customer Success Manager.
Free migration.
Priority support.
Personalized strategic sessions.
3. PageFly - best for building landing pages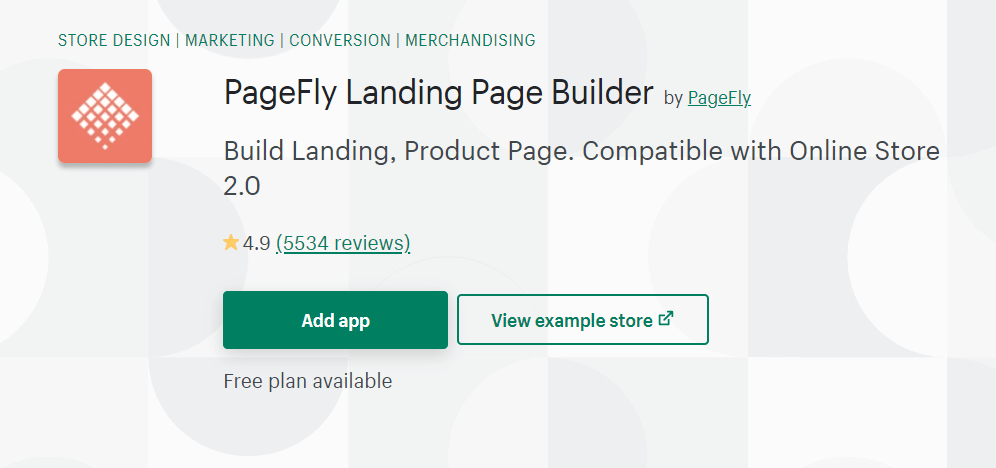 | | |
| --- | --- |
| Price: | From $19/month |
| Free trial: | Yes |
| Ease of use: | Intuitive |
| Best for: | Building landing pages |
Building landing pages can be stressful - at least if you are not using the PageFly app!
With it, you'll be able to:
Enhance your store appearance

. You'll be able to access the biggest element library and page sections to build your store pages.

Enjoy a vast array of themes that are fully compatible with Shopify

.

Improve your page performance

.

Take advantage of a friendly 24/7 support team

.
Pros
Many opportunities for customization.

Highly intuitive

User-friendly pricing plans.

Great integration (Google Analytics, Facebook Pixel, Bold Bundles, Omnisend, Vitals, Judge.me)
4. Tada - the highest converting wheel popup app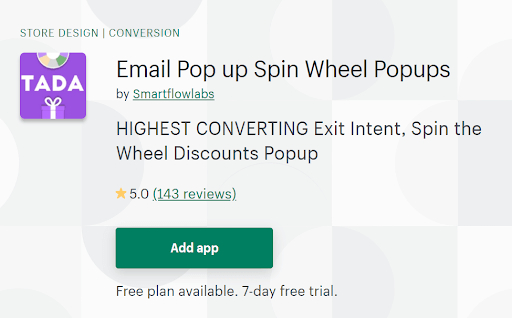 | | |
| --- | --- |
| Price: | From $9.99/month (free plan available) |
| Free trial: | 7-day |
| Ease of use: | Intermediate |
| Best for: | Gamified and full-screen pop-ups |
Tada is the highest converting wheel discounts popup that is able to take your Shopify to the next level.
With it, you are able to create customizable Spin a Wheel and Pick a Gift pop-ups. As users will be able to win a discount in exchange for an email address, you'll be likely to increase your conversion rates.
PROS:
Converting popups.
100% Customizable.
Increased customer loyalty
5. Growave - an all-in-one marketing platform
| | |
| --- | --- |
| Price: | From $19.00/month |
| Free trial: | 14-day |
| Ease of use: | Intermediate |
| Best for: | Shopify marketing |
Growave is the all-in-one marketing platform that benefits your Shopify store with:
product reviews;
wish lists;
loyalty programs;
referrals;
social login;
UGC.
The app is best suited for small and medium-sized Shopify stores that are willing to grow a loyal audience.
PROS:
Intuitive.
Helps in increasing customer engagement.
Excellent support.
6. Omnisend - great for email marketing and SMS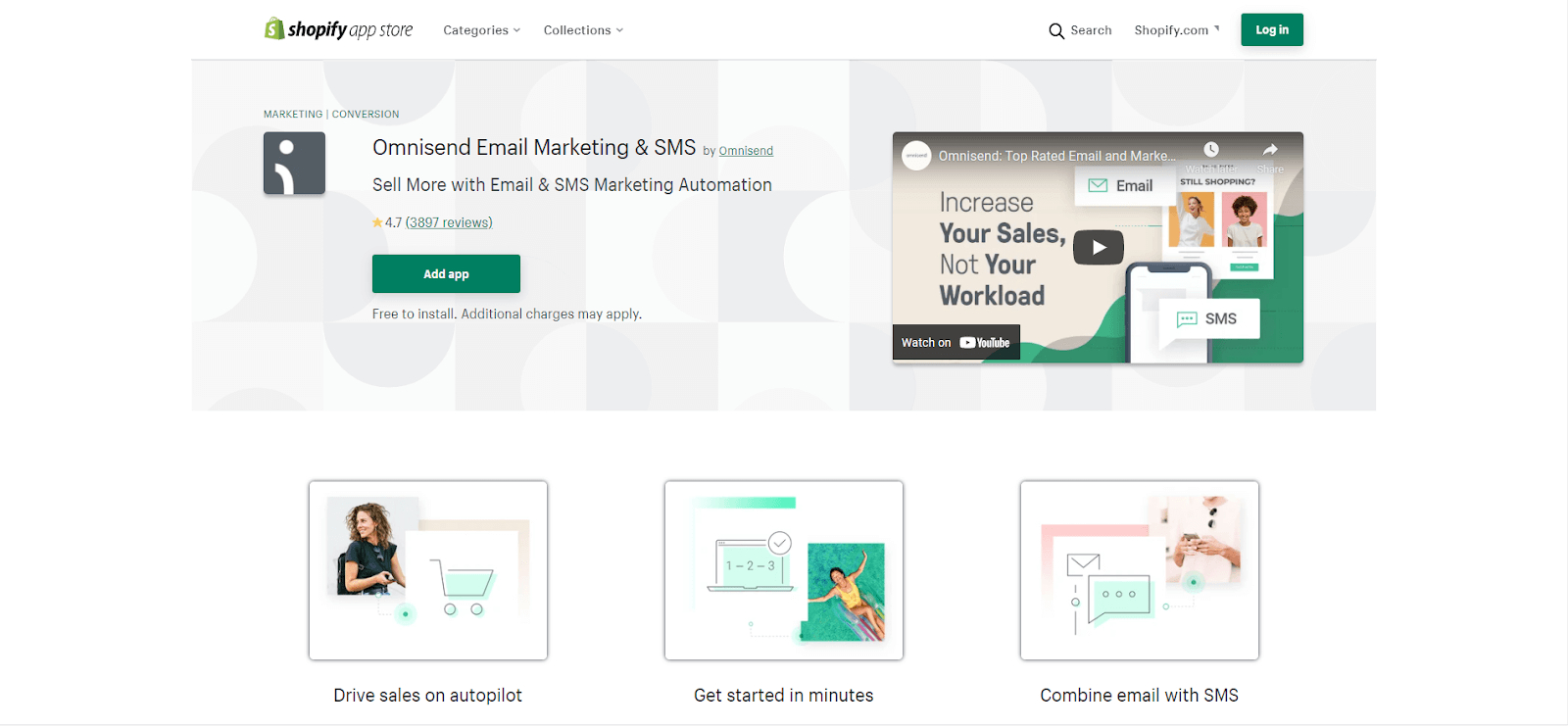 | | |
| --- | --- |
| Price: | From $16/month (free plan available) |
| Free trial: | 14-day |
| Ease of use: | Intermediate |
| Best for: | SMS and email marketing |
Onmisend is one of the best Shopify apps at the time of writing this article.
What makes Omnisend one of our top choices is that it allows the merchants to integrate multiple marketing channels into one. This feature allows you to streamline your workflow better than ever!
The app also allows you to segment your audience by email and purchase behavior and send customized messages. The integration with Facebook Ads and Google Ads enables you to retarget the customer group very well.
Pros
Very easy to use
Flexible pricing
SMS notifications
Ad integration
Customer segmentation
Flexible pricing
Cons
It doesn't work on previous orders
7. OptinMonster - best exit and email popup app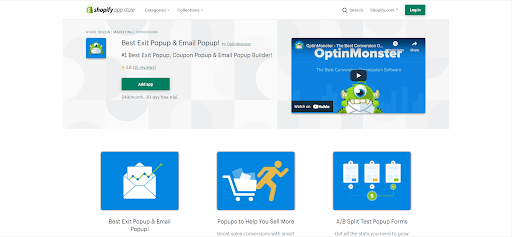 | | |
| --- | --- |
| Price: | From $9/month (free plan available) |
| Free trial: | 30-day |
| Ease of use: | Advanced users |
| Best for: | Converting website traffic |
OptinMonster is an excellent app, packed with features to convert leads into paying customers.
The app is designed to take care of all kinds of conversion needs for an online business. You can drive more email signups, reduce your cart abandonment issues, increase sales to boost ROI, all from the same app interface.
OptinMonster is also equipped with tools to create epic marketing campaigns for your business where you get to design your popup messages, sticky floating widgets, timers for limited-time campaigns, and so on.
There are over 50 templates already available so that you can jump right in and start designing.
Pros
The amazing campaign builder tool
Integrated A/B testing
Fixes cart abandonment
Seamless integration
Cons
8. Conversio - best for creating marketing campaigns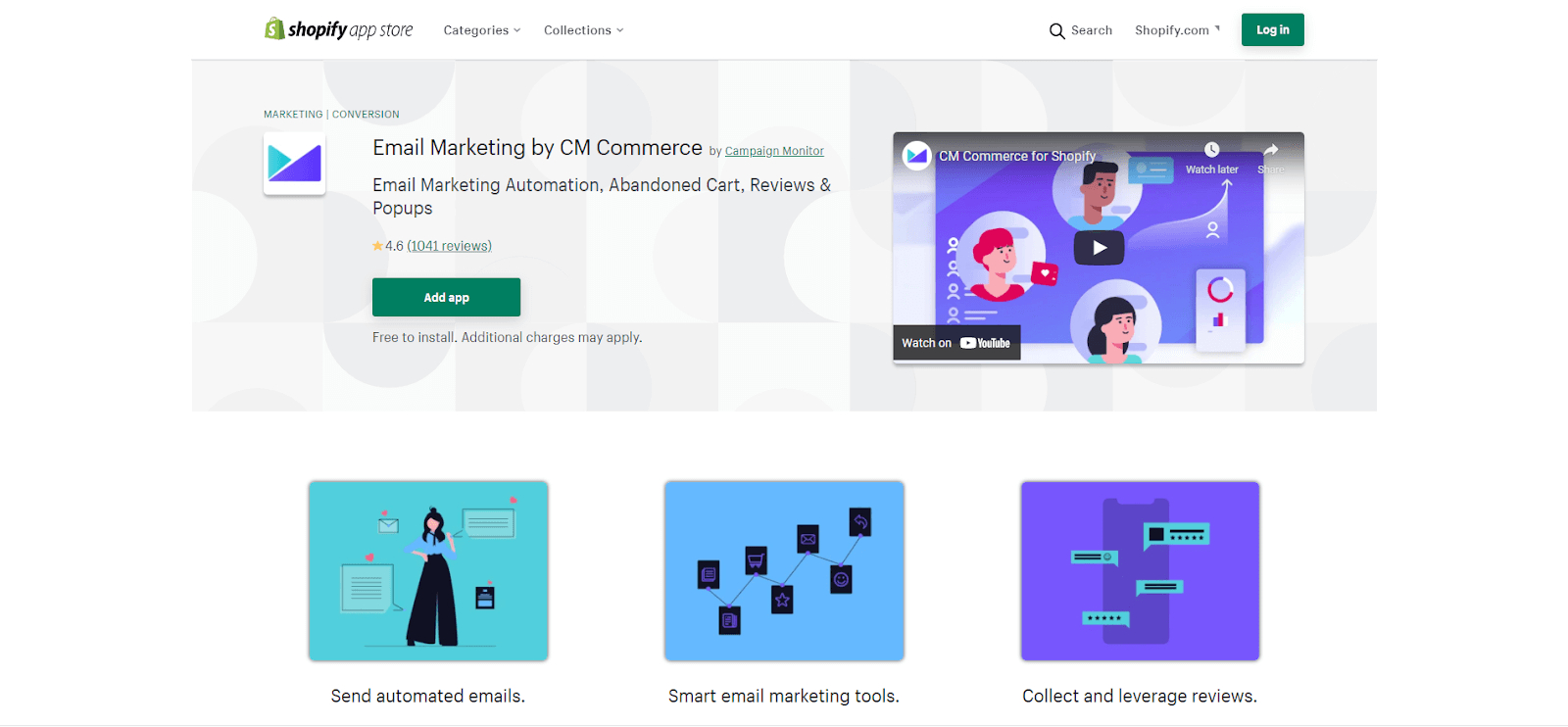 | | |
| --- | --- |
| Price: | From $9/month |
| Free trial: | No |
| Ease of use: | Advanced users |
| Best for: | Email marketing |
Conversio is an email marketing automation app to help you with your marketing campaigns. It's designed to get your abandoning customers back and pursue them to make the purchase.
The app also allows you to customize your receipts for the customers, an aspect of eCommerce businesses that often go unnoticed.
Once your free trial is over, you can decide whether you're comfortable with Conversio or not. You can start with the $19 base package or customize your plan according to your order volume.
Pros
Solves cart abandonment issues
Allows receipt customization
Affordable pricing
Straightforward interface
Cons
No SMS marketing features
9. PushOwl - great for web push notifications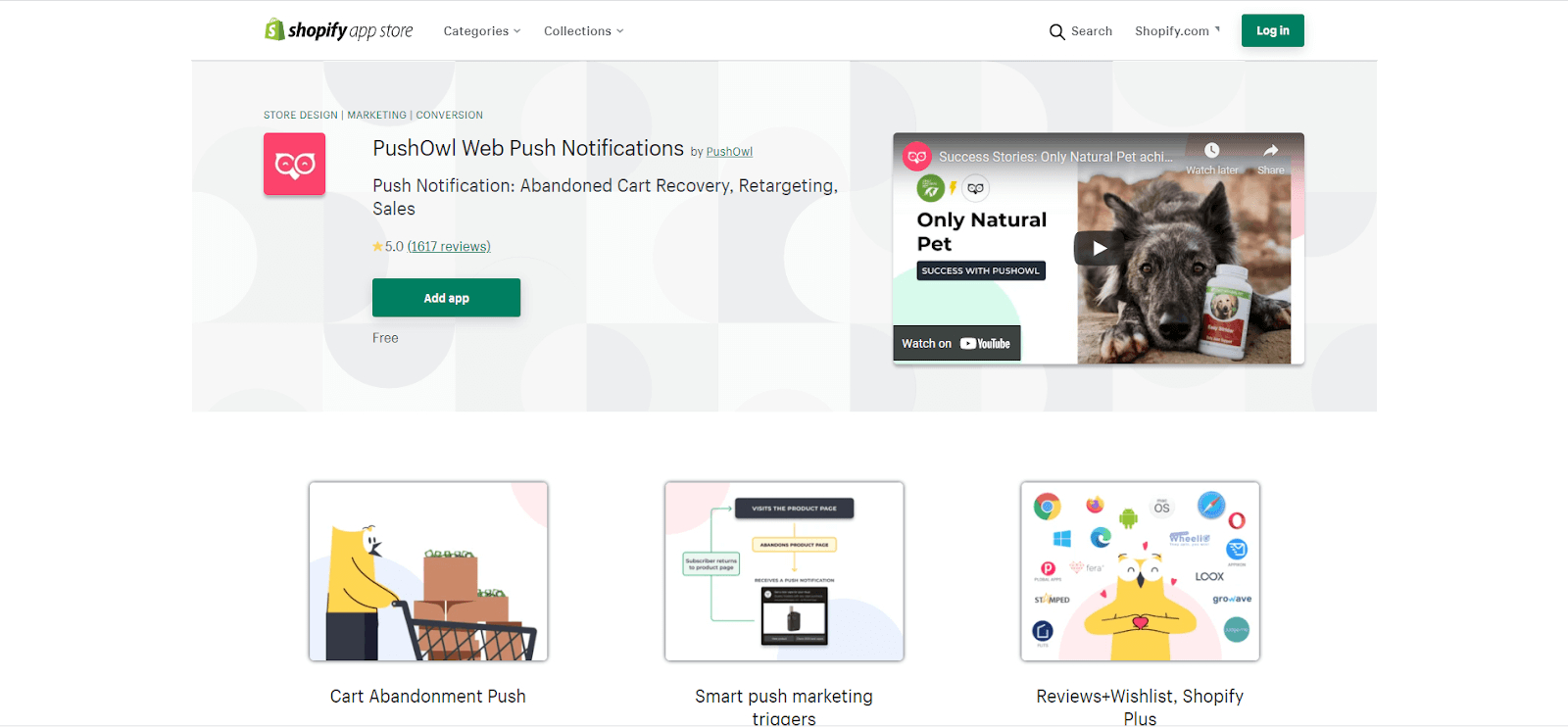 | | |
| --- | --- |
| Price: | Free |
| Free trial: | No |
| Ease of use: | Intuitive |
| Best for: | Web push notifications |
If direct marketing has always been your comfort zone, then look no further than PushOwl. You can soup up your marketing campaigns with his app by sending the offers directly to your customers.
Another huge selling point for this amazing app for Shopify is that you can send a 'Back in Stock' alert to your customers! It's a unique and innovative feature that even some of the best Shopify apps fail to deliver!
Apart from these features, PushOwl also works as a tool to solve cart abandonment issues. It boasts cross-platform support, which means the difference between your device and your customer's device won't be an issue for marketing!
The Basic plan for PushOwl is free! You are eligible to use it on your store for up to 500 impressions every month. However, suppose you want to take advantage of advanced features like cart abandonment alerts and Hero images. In that case, you should opt for the $19/month package called 'Business.' If you are among the big leagues, don't worry! PushOwl has an Enterprise solution that lets you craft your plan!
Pros
Great features on the free plan
All-in-one Shopify package
Innovative back in stock alerts
Direct marketing features
Cons
Some premium features come with an additional fee
10. PushEngage - great at grabbing your customers' attention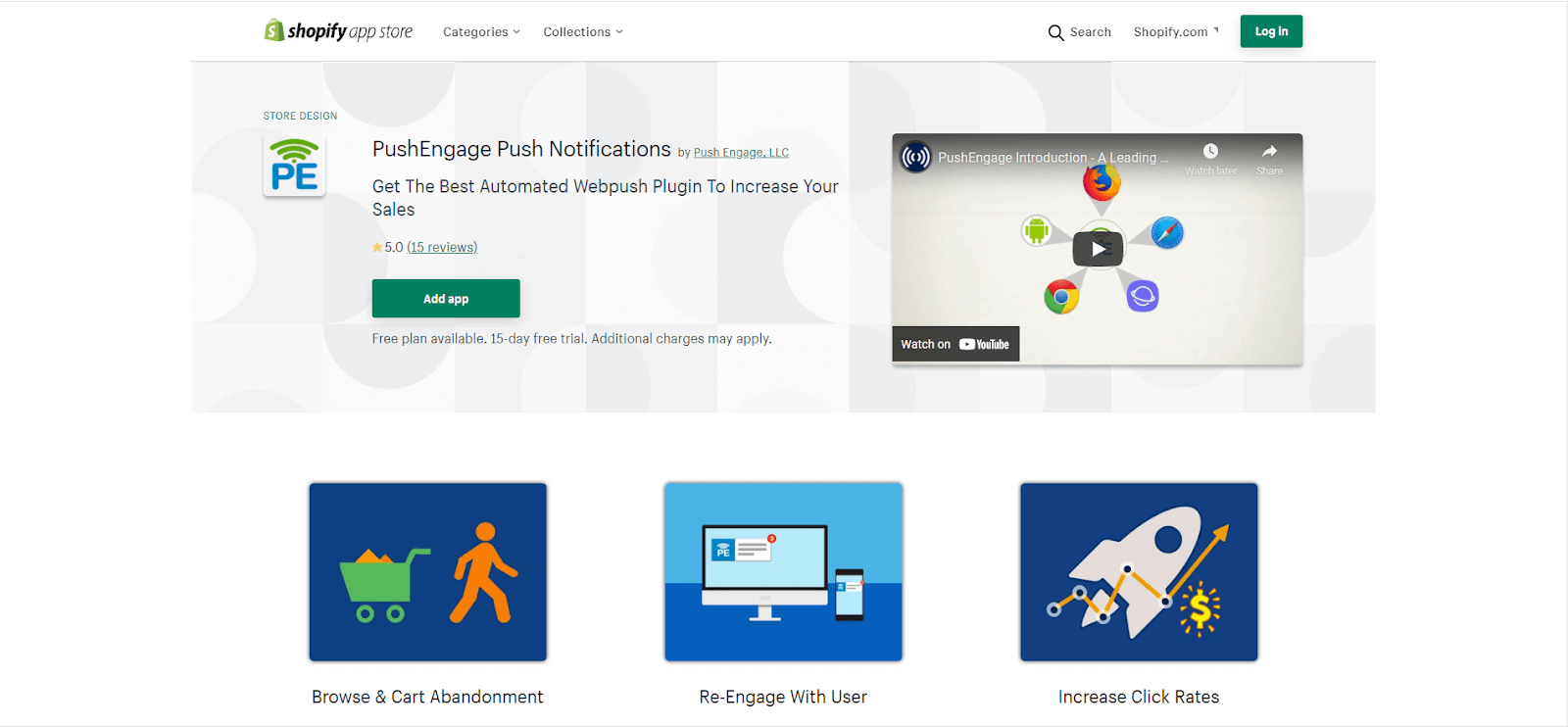 Price:
F

rom $29/month (free plan available)

Free trial:

15-day

Ease of use:

Intermediate

Best for:

Web push notifications
Just like PushOwl, PushEngage is another amazing Shopify app for virtual store owners like you. As the name suggests, PushEngage cleverly utilizes push notifications to grab the attention of your customers.
It's one of the most feature-rich apps on our best apps for Shopify list. You get a wide array of functionalities like Triggered notifications, Goal Tracking & Analytics, Deep Ecommerce Integrations, GDPR compliance, Abandoned Cart reminders, Automatic Drip Campaigns, and so on.
Do you know what our most favorite feature is? The 'Drop in Price' notification. Many other apps may have already done it, but no one does it better than PushEngage. It also boasts a 'Back in Inventory' notification!
Overall, PushEngage can take your business to new heights if you manage to use it carefully. You'll notice a significant bump in sales by utilizing the power of push notifications.
Pros
Lots of features
Easy to use
Very affordable
A variety of customized notifications
Cons
11. Sumo - best for boosting conversions and sales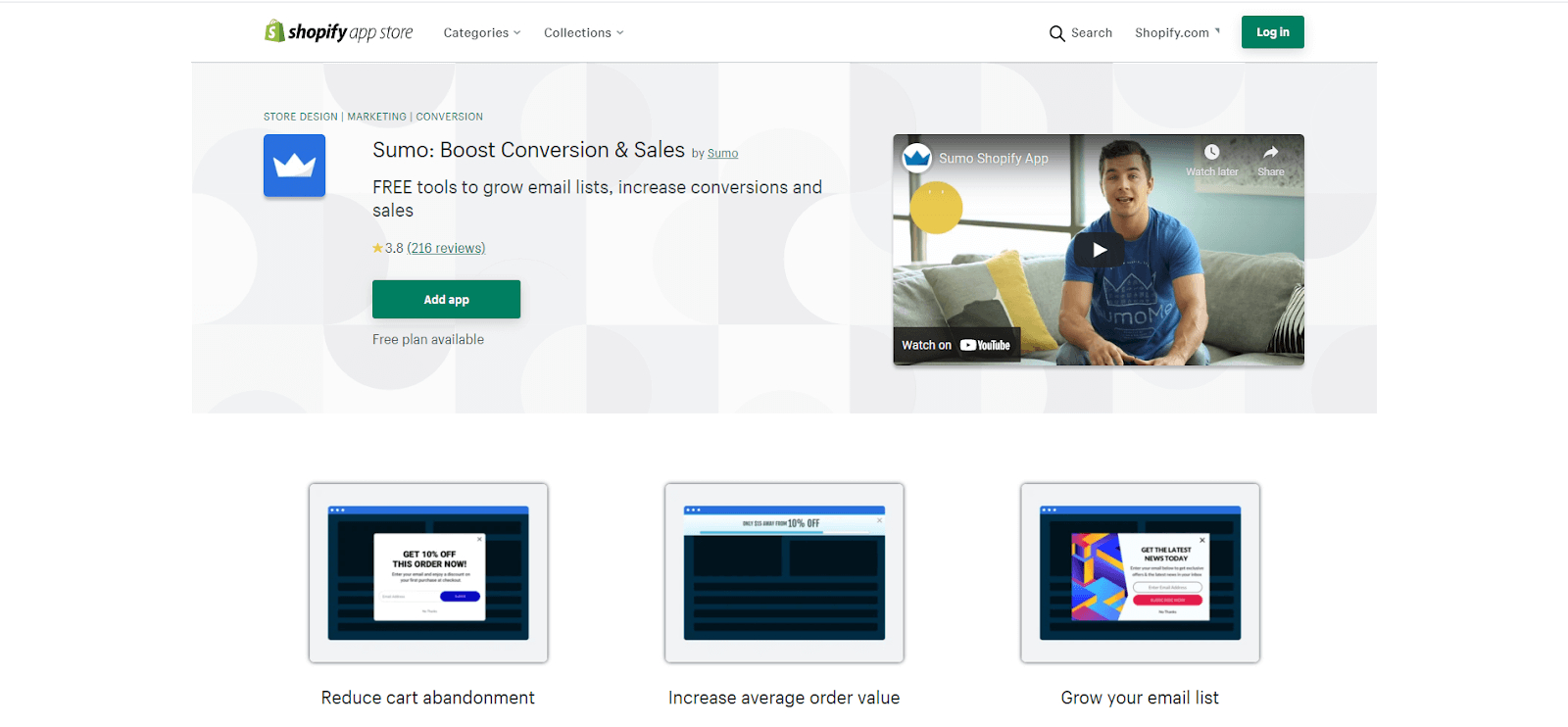 | | |
| --- | --- |
| Price: | From $49/month (free plan available) |
| Free trial: | No |
| Ease of use: | Intermediate |
| Best for: | Growing email lists and increasing conversions, and sales |
Sumo has basically revolutionized the email list-building practices with its innovative features. And now, it has come to conquer the world as one of the best Shopify apps!
You still get the email marketing features on this app. It's one of the easiest tasks you'll ever come across. The innovative drag and drop style of email forms has helped clients collect hundreds of thousands of visitors.
When you decide to get Sumo for your Shopify store, you can effortlessly integrate it with your store to create discount coupons for loyal customers. To be more precise, for those who signed up for your email newsletter.
Some of the other important features include cart abandonment reminders, unlimited subscribers for your email list, various eCommerce shortcuts, and so on. The best thing is, you can enjoy all of these features with the free plan.
However, if you want to remove the Sumo branding from your store entirely, opting for the $49/month package is recommended.
Pros
Increasing order value
Increasing email list
Easy to use and integrate with other apps
Amazing marketing tool
Cons
Free demo contains Sumo branding everywhere
12. Klaviyo - automates your marketing in no time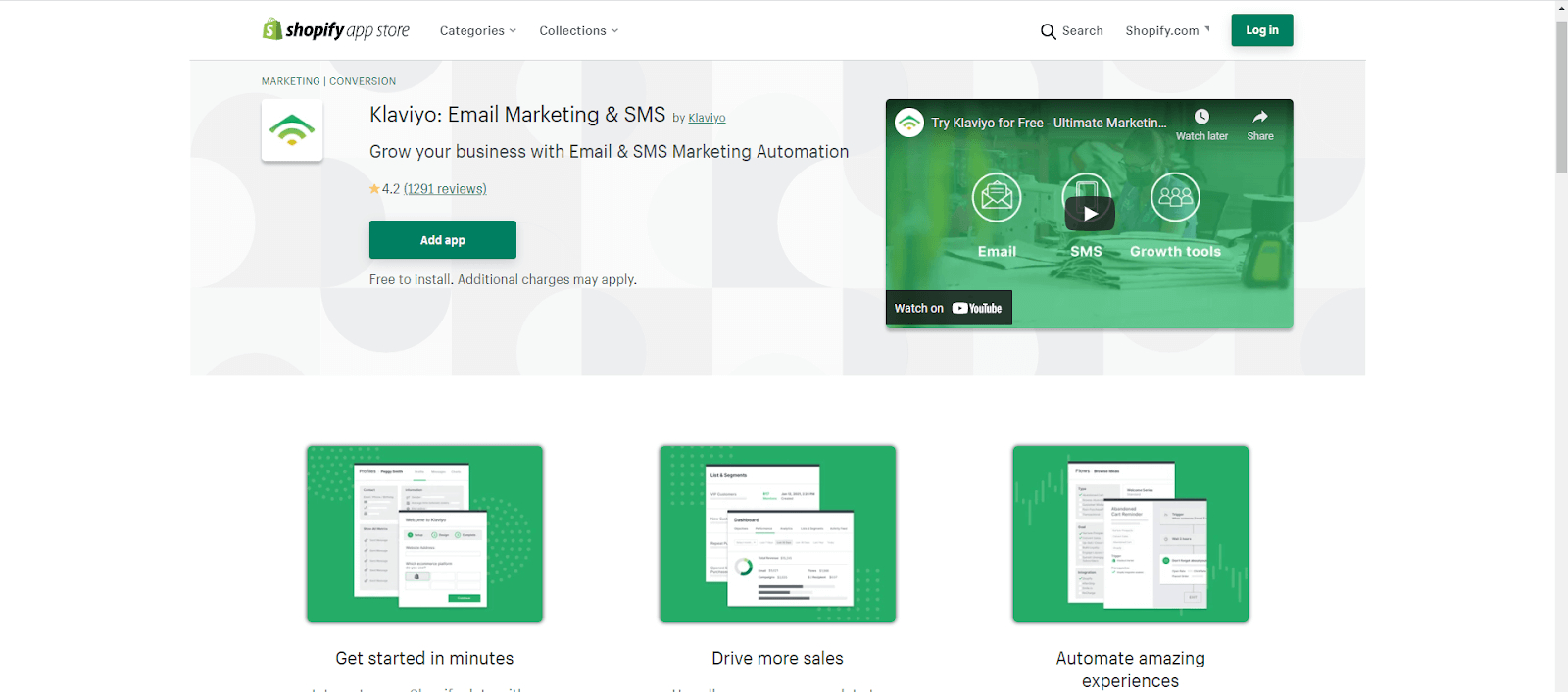 Price:
F

rom $5/month (free plan available)

Free trial:
No
Ease of use:
Intuitive
Best for:

Email and SMS marketing
Klaviyo is an email and SMS marketing tool at the same time! All it takes for you to integrate the app with your Shopify store is a few clicks. The app collects data on your customers that you can use later to send them personalized emails and SMSs according to their past purchase history.
Klaviyo boasts over 100 integration tools to improve your sales on Shopify. All the pre-built forms, automation techniques, and templates are there to cater to your audience exactly how they like it. This is one of the best Shopify apps ever because it opens endless possibilities for your online store!
Another thing we love about this Shopify app is the pricing. It's custom, and you get separate billing plans for email, SMS, or email & SMS services. All you have to do is enter the number of your email list and the contact list to get the perfect pricing.
Pros
Amazing integration tools
Email and SMS features combined
Innovative pricing scheme
Allows personalized messages
Cons
13. Metrilo - superb at eCommerce analytics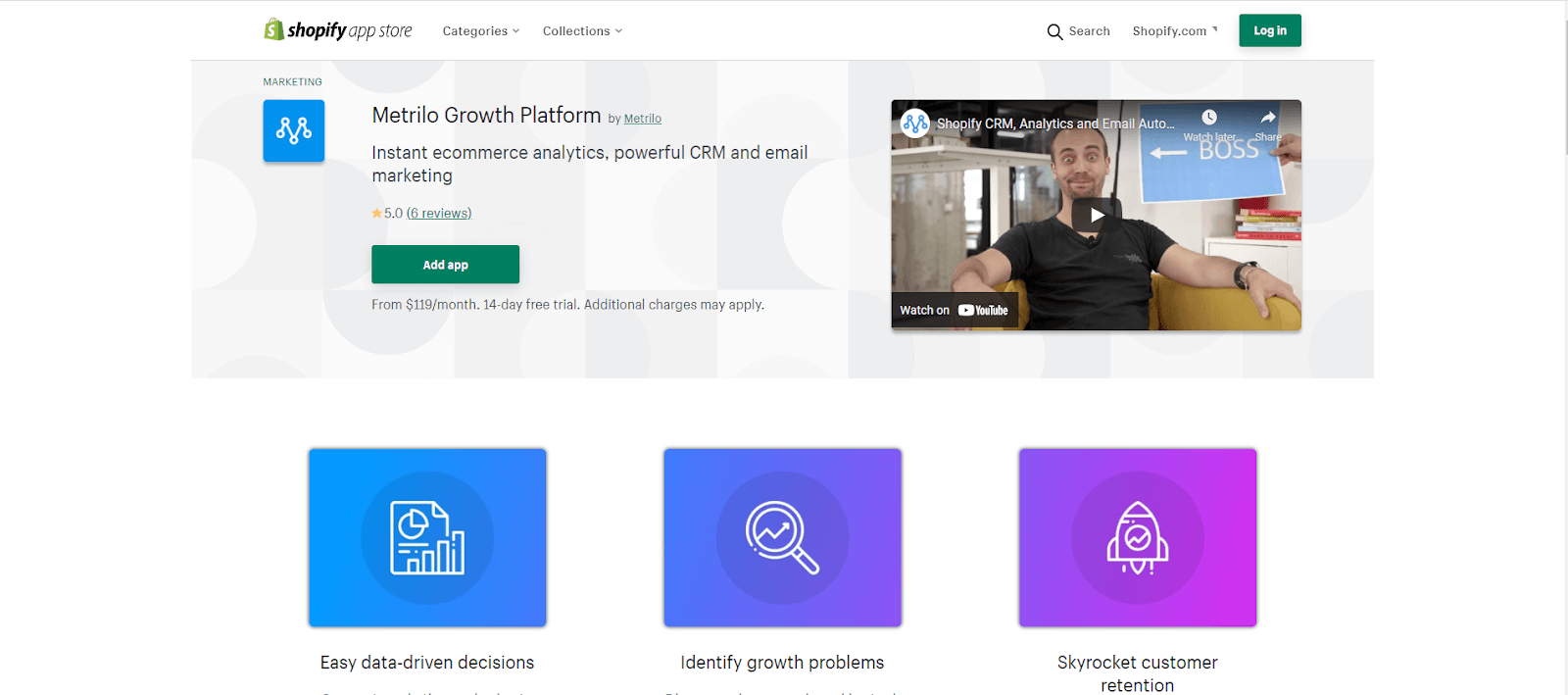 Price:
F

rom $119/month

Free trial:

14-day

Ease of use:

Advanced users

Best for:
I

nstant eCommerce analytics, powerful CRM, and email marketing
With Metrilo, you can monitor the KPI (Key Performance Indicators) of your business, compare the results from different marketing channels to identify and eliminate inefficiencies, track revenue streams in real-time, and so on!
Among the best Shopify apps on our list, we have a special affection for Metrilo because it has a CRM feature integrated! Managing a professional relationship with your customers is very important if you want to grow your business successfully.
Features like Automated Feedback Gathering, recovering lost sales, tracking a customer's journey, etc., work flawlessly to manage your customers.
Many Shopify stores have used Metrilo as a tool for growth and have seen immense success. You can get started with the 14-day free trial period, and we can say that you're going to love it. It is, however, more expensive than most other Shopify apps on our list. It can cost you anywhere between $119 to $299 a month.
Pros
Very effective CRM solution
Growth tool for your business
Improves efficiency
Monitor customer journey
Cons
14. Drip - famous marketing app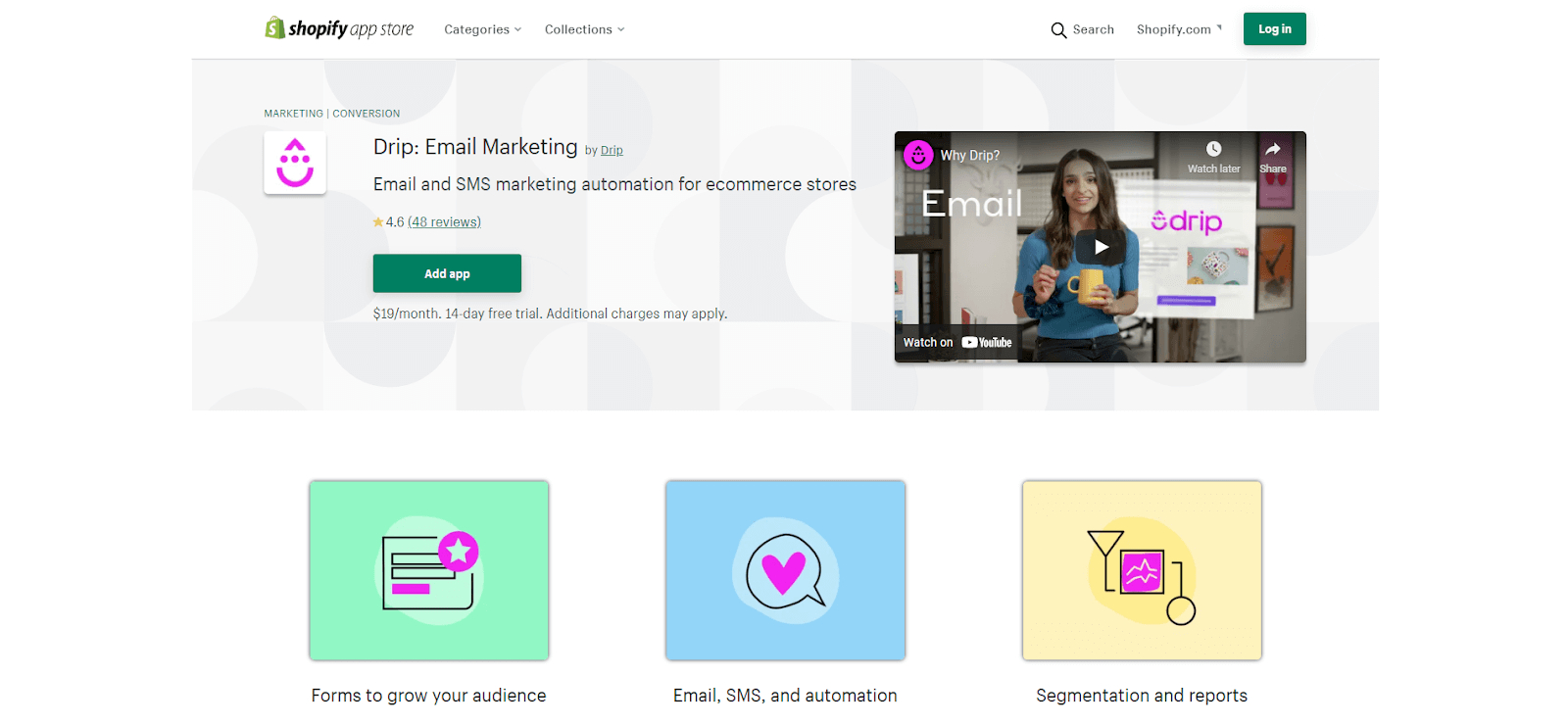 Price:
F

rom $19/month

Free trial:

14-day

Ease of use:
Intuitive
Best for:

Email marketing
Drip is a very famous online marketing tool, and it integrates with Shopify very easily. There are hundreds of Drip campaigns live as you're reading this post, and all of them are quite successful! You can rely on Drip to automate your email marketing needs and your overall workflow better than even the best apps for Shopify.
The tool allows you to break your audience into segments to help you with better targeting. From the moment you decide to add this add-on to your Shopify dashboard, you can start collecting feedback from your customers. The feedback will help you create amazing marketing campaigns that will solve your abandoned cart problem in return!
According to the Drip website, eCommerce businesses have earned over $1 billion in revenue using Drip as their marketing tool! You surely want a piece of the pie, don't you? All you have to do is start with the basic $19/month plan for up to 1500 contacts. You can also opt for the SMS service to send personalized messages to your customers.
Pros
Easy to get started
Automation of workflow
Solves cart abandonment issues
Automated feedback collection
Has a free demo
Best Free Shopify Apps
If you're not willing to spend any money on the premium Shopify apps yet, worry no more because we have some great free alternatives for you.
TinyIMG pay as you go plan
If you don't want to commit just yet, opt for our pay as go plan.
With it, you'll be able optimize 50 free images per month, compress images without quality loss. Any extra optimization will cost you 3¢/image.
Shopify Email
Email marketing is undoubtedly one of the greatest ways to increase sales. And did you know that you can use the Shopify Email tool to send emails in bundles? From your Shopify admin dashboard, it will only take a few clicks to send branded emails.
The app is equipped with features to allow your logo, product descriptions, product images, and so on. The entire process takes a few minutes. You start by importing your email list into Shopify. And you get up to 2500 emails every month for absolutely free.
BetterReplay
As the name suggests, this app replays the customers' behavior while in your store. You can analyze the recording to find out exactly why you are losing customers! You can squeeze information like where the customer decides to abandon your cart and take action to fix that exact pain point.
ReConvert Upsell & Cross-Sell
As we've already established, upselling and cross-selling are some of the best ways to increase your overall sales figures. Reconvert Upsell add-on your Shopify Dashboard can help you funnel those extra sales.
Tips to Get Your Shopify Store Started
As a Shopify store owner, if you're just starting, we believe these tips we're sharing will help you increase your sales in a short time.
Optimize Your Store for Mobile
The majority of internet shoppers use their mobile phones or tablets. So, your shop must be optimized for mobile devices. Introducing characteristics like a bigger CTA button, limiting the number of popups, designing the elements for different screen ratios all translate to a better mobile experience.
Use the verified and tested Shopify Apps
All of the apps we've reviewed in this post are designed to aid you in increasing sales. So, use them! Whether you want to go with email marketing, SMS marketing, or Messenger marketing, we've got you covered.
Also, Shopify apps come with integrated analytics tools to help you find the inefficiencies and fix them.
Focus on the Photographs
The product photos make all the difference when it comes to a successful Shopify store. The platform might be taking care of your orders and deliveries, but presenting your products gracefully is your job.
So, invest in some good photography materials, i.e., camera equipment or a professional photographer, to attract more customers.
To learn more about best practices on images, read our article.
Use SEO
When anything related to online marketing is a concern, SEO comes to the rescue. You may sell spectacular products on your Shopify store, but if people are not finding it, then what's the point? So, learn and use basic SEO practices to improve the visibility of your business.
For more information, read our guide on Shopify SEO.
Bottom line
Shopify is one of the finest tools to earn money from online businesses without getting too technical. We congratulate your decision to become a Shopify store owner. And we have listed 15 of the best Shopify apps to help you grow your business fast.
All of the apps on our list come with different perks and different functionalities. Depending on what kind of business you run and what type of products you sell, you can benefit immensely by investing in these apps. If you're not ready to commit yet, why not use the free demo versions to test yourself?
Frequently asked questions
What are some important apps for my Shopify store?
Depending on the spectrum of your business, you may need an email marketing app, and SMS marketing app, a CRM app, and so on. Check our article. We've included the list of best Shopify apps.
Does Shopify sell apps?
All of the apps we've mentioned are easily found on Shopify App Store. It's one of the richest collections of both proprietary and third-party apps to help you grow and succeed in your store.
What are some good Shopify theme suggestions?
There are numerous themes available on Shopify that you can use in your store. Here is a list of some of the best Shopify themes.
Elessi 2.0
Barberry
Lezada
Electro 7.0
Belle
To learn more, read our previous article on Shopify themes.
What are some good Shopify apps that I can subscribe to?