By purchasing through the links on this page, you are giving us the opportunity to earn a commission. Your support is greatly appreciated!

No eCommerce store is complete without apps that optimize store performance, automate marketing effort and track post-purchase processes. But choosing the best Shopify apps for your store is quite a task, especially considering that there are over 8,000 of them.

You want apps that are reliable, affordable, multifunctional and will make an actual difference for your store and customers, we get it.

So, we reviewed hundreds of apps in every category, from established market leaders to up-and-coming apps ready to make a statement. All of them went through a rigorous review and comparison process.

The result - a list of best apps Shopify app store has to offer covering store growth and management needs.
Best Shopify apps 2023: full list
Here's a shortlist of our 16 handpicked best Shopify apps:
Seems like a pretty long list, but it's not an easy one to get on. Our standards are clear and they're not easy to meet.
What makes a great Shopify app?
So how exactly do we determine if an app is indeed worthy to be called one of the best Shopify apps?
These are the expectations for every app on this list:
Adds a truly useful functionality. Some apps are a must-have, some are situational. But every single one of them must add tangible value to your store, otherwise it's a waste of money and dead weight for your store speed.
Shopify rating 4.6 or more, no recent negative reviews (or at least unresolved ones).
Reliable and well-regarded customer support. We're not just looking for support that does the bare minimum and calls it a day. The expectation here is support that troubleshoots everything and makes recommendations you didn't even know you needed.
Constantly updated to keep up with the latest themes.
Sufficient free trial. It can be anywhere between 7 to 30 days, depending on the app's functionality. But it must be sufficient for you to see the actual impact of the app.
Does not slow down your store upon installation.
User-centered interface for intuitive usage.
Pricing. What's affordable or expensive is relative to every business. Our goal was to find apps that meet (or exceed) all the criteria above and still offer the most optimal pricing plan among the competitors in the same niche. Free plan was a huge plus, but always viable.
These were the baseline criteria for this list, and they should be for any other app you consider adding to your store. Remember, the Shopify app store is overflowing with solutions, so keep your expectations sky-high.
Now let's take a look at what makes these 15 Shopify apps so exceptional. We'll divide them into two main groups: must-have apps for every store and useful apps for store growth.
Must-have Shopify apps for every store
If there is anything you should take from this list of top Shopify apps, it's these five apps.
1. TinyIMG - best Shopify app for SEO and store speed

Launched in 2019 as a Shopify app for image optimization, TinyIMG quickly grew into an all-in-one site speed and SEO solution every single store needs.
TinyIMG makes the power of Shopify store optimization accessible, affordable and fast. It's largely a set-and-let-run type of app, meaning effort on your end is minimal. Not only does this app take care of the baseline for good store performance, it will save you hours and hundreds of dollars every month with its powerful automations.
On top of the app's functionalities, they have a solid knowledge base, comprehensive onboardings, and customer support that always goes an extra mile (or two).
How will TinyIMG help?
Improve store speed to convert better and rank higher on Google
On-site and technical SEO solutions will increase search engine rankings
Rich snippets will help your products stand out on Google search
Automations and reports will save you hours every week on store maintenance
Customer feedback:
Very positive. Many highlight noticeable site speed improvement soon after installation and exceptional customer support.

Suggested reading:
Wondering what alternatives you have? Browse our dedicated app reviews:
2. PH Multi Carrier Shipping Label - The Best Shopify Shipping App

Looking for a versatile Shopify Shipping Solution to streamline your shipping process across multiple carriers? Look no further than the PH MultiCarrier Shipping Label app! Designed specifically for Shopify stores, this robust shipping app seamlessly integrates with renowned carriers such as FedEx, UPS, USPS, DHL, Canada Post, Australia Post, Purolator, TNT, ParcelForce, and many more. With its user-friendly interface, this app significantly reduces the time and effort required to handle your shipping tasks, making it the ultimate choice for efficient shipping management.
How will PH MultiCarrier Shipping Label App help?
Live Carrier Calculated Rates Display: Display real-time carrier rates at the checkout, providing customers with accurate and up-to-date shipping costs.
Bulk Shipping Label Printing: Generate shipping labels in bulk with a single click, saving time and simplifying the fulfillment process.
Live Order Tracking: Track the status of orders in real-time, allowing both store owners and merchants to stay informed and provide proactive customer support.
Convenient Shipping Management: Schedule carrier pickups, print commercial invoices, and other essential shipping documents effortlessly, streamlining logistics and ensuring smooth operations.
Customer Feedback
Incredible feedback! Throughout the globe, customers have placed unwavering faith in PluginHive's exceptional Shipping Solution.

3. Automizely - amazing Shopify app for customer engagement

Every Shopify store needs some kind of way to be in touch with their clients. Automizely all-in-one marketing platform indeed does everything - drives leads, keeps them engaged, analyzes their behavior and finds a way to convert.
The plan pricing increases mostly based on the amount of contacts, so you can choose to work with your most valuable customer segments only and save by sticking to the lower-end plans.
How will Automizely help?
Recapture all lost or potential sales with effective email and SMS campaigns
A/B testing will help with conversion rate optimization
Personalize effectively and easily with default customer segments (repeat buyers, win-back opportunities, etc.)
Increase sales with countdown timers (FOMO), product recommendations (potential additional sales) and opt-in forms (potential to convert later).
Customer feedback:
Very positive. A lot of businesses highlight very prompt and knowledgeable customer support answers, ease of use and sufficient free plan.

4. Growave - best all-in-one social proof and referrals app
Growave tackles another mandatory marketing angle - social proof and referrals.
It's a truly comprehensive app, covering review collection and display, loyalty and referral programs as well as some smaller scale features. Between Growave and Automizely, two best Shopify marketing apps, you should have all your marketing needs covered.
Growave fees are on the lower end and upgrade based on order per month, so even a small store that's not willing to invest a fortune will get the full range of features. They also put a lot of focus on their UX and compatibility, so setting up and using Growave will be a breeze.
How will Growave help?
Loyalty program will improve customer retention
Cut down on ad spend and increase revenue with referral program
Wishlists and back-in-stock alerts incentivize purchase completion
65% of users trust the product more when it has reviews with UGC (photos or videos) - Growave will get you those reviews with automated flows
Customer feedback:
Great overall reviews, many accounts of revenue increase and prompt support, praised for feature variety. Exceptional reviews from long-term clients (1+ years using the app). Plus, every review has a thoughtfully-crafted response from Growave.

5. AfterShip - Shopify post-purchase tracking app

We've all had that one super important package that got lost, so post-purchase buyer anxiety is very real.
Solve it for good with AfterShip, a multilingual post-purchase tracking and management app.
Their payment plans cater to small businesses and eCommerce giants alike, branded tracking pages give peace of mind to your customers and you stay up to date about your shipped products using comprehensive dashboards.
How will AfterShip help?
Shipments dashboard will help track deliveries, avoid lost packages and identify problematic couriers.
Customer updates for shipment location will reduce post-purchase anxiety and support requests
AfterShip protection add-on insures packages, allows quick reshipment and claim management
Customer feedback:
Great feedback, a lot of stores emphasized improved experience and satisfaction of their customers, quick problem solution, great free plan.

6. Rewind Backups - top choice for consistent Shopify store backups

The purpose of Rewind Backups is pretty straightforward - it allows you to play around with your store knowing that whatever you do is quickly reversible.
Do yourself a solid, secure your store's data and your hard work with automated store backups for up to 1 year of history.
Due to the niche of this app, no free plan is available and the starting cost is larger compared to the rest of the apps on our list. But it's nothing compared to the losses you could experience if your store goes down due to a mistake and you can't restore it.
How will Rewind Backups help?
Creates automated store backups (up to 1 year of data available)
Backs up changes immediately
You can restore a single item (product page, image, customer account), theme code or the entire store
Customer feedback:
Overall positive, stores report life saving data restoration and solid customer support. A couple stores had confusion regarding the backup creation process, but everything was resolved.

Best Shopify apps to increase sales and traffic
If you're putting together an advanced sales and growth strategy, these are our Shopify app recommendations.
7. PageFly - Shopify landing page builder app
Do you have consistent, well-targeted paid traffic and solid CTR rates on your email campaigns, but people just don't seem to be converting? You need a page builder app and PageFly is your answer.
Your first landing page is completely free, all features and add-ons included.
How will PageFly help?
Landing pages with content personalized to an offer is a known strategy to increase conversions
Businesses that use optimization tools (like PagePly) for their landing pages see a 30% conversion rate increase on average
100+ page templates, 100+ section templates and UX-optimized element library will make page creation process a breeze
Global styling functionality allows bulk landing page or section creation
Customer feedback:
A lot of feedback about outstanding customer support willing to do custom coding, beginner-friendly page builder. A couple stores reported the interface being buggy, but we couldn't spot the issue.

8. UpPromote - top Shopify app for affiliate and influencer marketing

Very few marketing techniques are more powerful than affiliate and influencer marketing. Tap into that potential with UpPromote.
Their free plan has a full range of features for up to 200 affiliate orders, so you only need to start paying as you grow.
How will UpPromote help?
Create affiliate programs with varied commission options
Create and send unique links to track each affiliate's performance
Dedicated marketplace will help expand affiliate network
Introduce affiliate bonuses for extra motivation
Fraud protection prevents false claims
Customer feedback:
Very positive, many highlight setup walkthroughs and customization opportunities. Customer support is prompt, knowledgeable and willing to consult on affiliate marketing strategies.

Suggested reading:
Have something else in mind for your affiliate marketing effort? Browse our handpicked list of best Shopify apps for affiliate marketing.
9. TinyICONS great free app for icons and trust badges

Building trust is crucial, and oftentimes just displaying customer reviews won't cut it. TinyICONS is your free opportunity to introduce icons and trust badges to any page of your store and reassure visitors of your store's credibility.
How will TinyICONS help?
Guarantee, payment icons reinforce trust during the checkout process
Feature and social icons promote product benefits and facilitate social sharing
Designer icon library with customization options makes using icons fast and easy
Customer feedback:
It's a rather new app, but all of the reviews so far have been very positive. Highlights go on easy app setup and icon implementation, support is quick and willing to make custom changes.

Suggested reading:
Want to add labels to your product images and listings as well? Take a pick from a list of top Shopify apps for product labels.
10. FAQKing - best Shopify app for store FAQs

An effective FAQ page the users can intuitively navigate reduces your support tickets, that's a fact. If done well, they also rank on Google, give your brand credibility and foresee problems people didn't even know they had.
Powerful growth tool, isn't it?
FAQKing is a mobile-responsive and affordable solution for FAQs on any page of your Shopify store.
How will FAQKing help?
Proper FAQ pages will save a lot of time for customer support
Informative and well-designed FAQs influence purchasing decision
FlyoutFAQ will save space on your page and improve UX
Templates will simplify the FAQ creation process
Customer feedback:
Overall positive, support is eager to go the extra mile (e.g. implement translations upon request).

11. ReConvert - top choice for upselling

Upselling, cross-selling and even downselling are super powerful revenue optimization techniques. But success isn't guaranteed, it depends on offering a product someone actually wants at the right time.
ReConvert can do that and more. Super powerful Thank you page and other post-purchase upsells, advanced segmentation and analytics will help you take off.
How will ReConvert help?
Upsell customers to subscriptions for recurring revenue
Thank you page and order confirmation emails are notoriously overlooked upsell opportunities - ReConvert will fix that, it's their specialty
One-click upsells make customer journey seamless
Drag-and-drop editor simplifies customization
Customer feedback:
Positive, merchants report increased conversion rates, great feedback on customer support agents who are willing to do individual onboardings for new clients.

12. Back in Stock - top app for Shopify inventory alerts

Back in Stock is one of the most used apps among top 100 Shopify stores for a good reason.
Their free plans include all features necessary to keep the interested potential customers (although not very many of them) updated about the status of your inventory.
How will Back in Stock help?
Inform your clients when their desired products are available again to recapture all lost sales
Create unlimited customer lists
Customer feedback:
Merchants confirm this app is a valuable addition to their business - helps grow email lists, sales and customer satisfaction. Their own customer support received only praises.

13. Appstle - best app for product subscriptions

Did you know that subscriptions can account for as much as 40% of revenue? Make it easy for your customers to set up recurring payments for your products or services with Appstle.
Alongside a truly vast feature variety, this Shopify subscriptions app has an exceptional pricing system - the plan pricing grows based on your subscription revenue. Basically, you don't pay for the app unless it's making you a solid amount of money.
How will Appstle help?
Subscriptions mean recurring revenue - every sellers dream
Loyalty features (tiered discounts, gifts, etc.) can incentivize customers to subscribe
Variety of subscription models and build-a-box features ensures you're catering to every possible client
Customer feedback:
Very positive, Appstle is praised for its feature variety and seems to be the final stop of numerous sellers who have tried other apps already. Technical support is stellar.

14. Rivo Loyalty - top app for loyalty programs

Although a couple of our previously suggested apps include some type of loyalty features, this app has them all.
Rivo app specializes in loyalty programs through extensive hands-on research - talking to Shopify merchants, observing customer behavior and more.
Result?
A Shopify app for loyalty programs that actually converts.
How will Rivo Loyalty help?
Points programs increase cart value and repeat purchases
30+ ways to earn points will ensure customers remain interested
Features like birthday and referral points personalize your store's interaction with the customers
Powerful customization possibilities let you create loyalty page and widgets perfect for your brand
Customer feedback:
Outstanding, many positive experiences with migration from other apps, great satisfaction with lower-end plans. Merchants appreciate how invested the app's support is in their stores' growth.

15. Tidio - top choice for implementing live chat

Two words - customer satisfaction. Live chat can bring that up to 82% in comparison to other, less prompt support channels.
With stellar UX, unbeatable pricing model and chatbots that actually solve customers' issues, Tidio comes as our most recommended Shopify live chat app.
How will Tidio help?
Live chat helps decrease user passivity and increase conversions
Sales and support bots are an interactive alternative to an FAQ that many customers prefer
Internal ticketing system will keep customer support requests organized
Customer analytics will help recognize what type of support requests you get the most and improve your store accordingly.
Customer feedback:
Great reviews, merchants emphasize effective chatbot, slick UI, and all around great experience.

16. Vajro - mobile Shopify app builder

If you're looking for additional ways to cater to mobile shoppers, a dedicated mobile app is a solid leap forward.
With Vajro, you can build one with zero tech or app design experience in under 60 minutes.
It's equipped with simple drag-and-drop builder, customization and 70+ Shopify plugin integrations, all of which will make the app creation process an intuitive and rewarding one.
How will Vajro help?
Mobile app will elevate both your customers' shopping experience and your brand
Push notifications will be more effective since they can lead directly to a purchase
Mobile apps serve as reminders on people's phones and increase the numbers of returning customers
Live selling increases interest, engagement and spontaneous purchases.
Customer feedback:
Professional and knowledgeable support, offers detailed help throughout all stages of the app building process, intuitive app UI.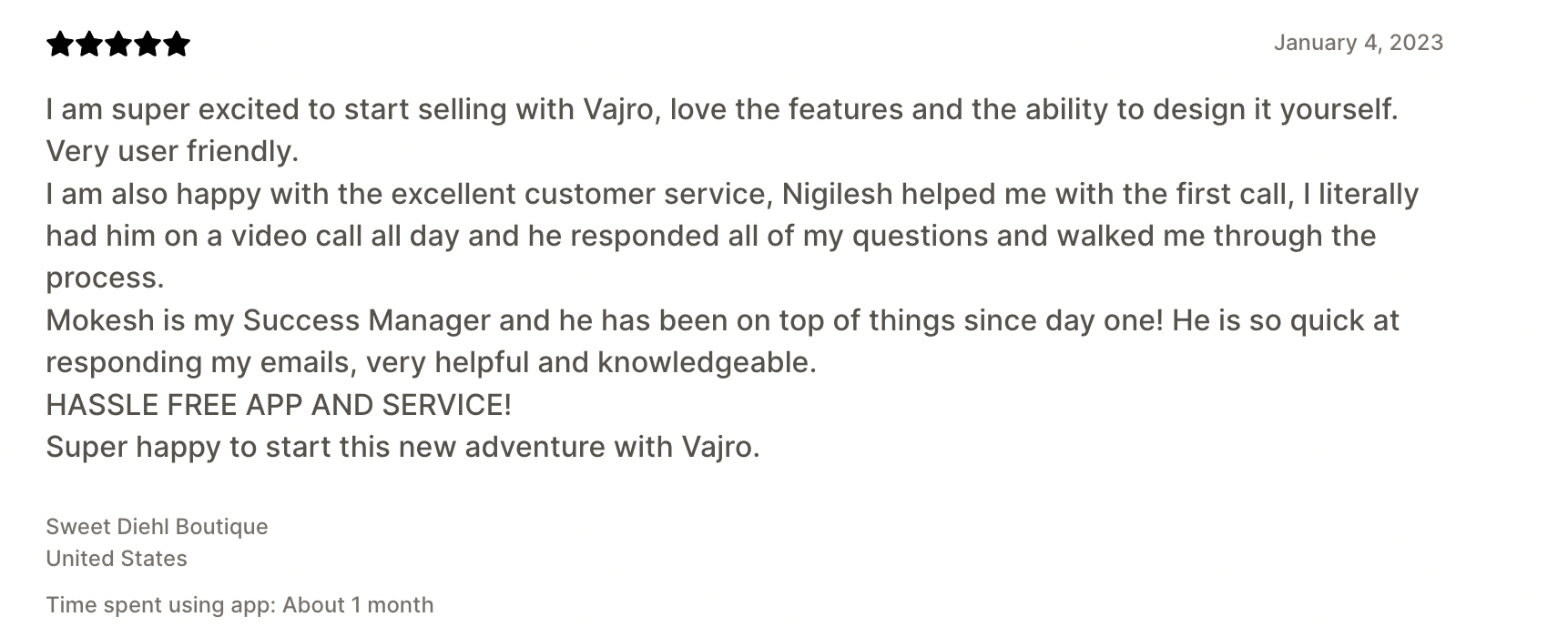 Best Shopify apps by category
We don't take the task of providing best apps for your Shopify store lightly.
In fact, we have analyzed the options and prepared quite a few lists of the best Shopify apps by category.
We're ready to walk you through:
Summary
There it is - 16 best apps for your Shopify that will help you grow, diversify and improve. Each will add value, now it's up to you to choose what serves your business the most.