By purchasing through the links on this page, you are giving us the opportunity to earn a commission. Your support is greatly appreciated!

Visual content is one of the selling points that affect consumers' buying decisions, and it's a crucial part of the buying process.

In the eCommerce world, you need to choose high-quality and high-performing product images that will drive conversions and increase sales.

In this post, we'll touch on the points of how to choose and use stellar product images for Shopify stores that'll do the work for you.

Let's get started.
Why are product images important?
If the Shopify product description copy is inadequate or fails to explain the product thoroughly, then here comes the product images to deliver your messages.
The product image gallery has several aims:
Grab user attention
Fully describe the product
Increase conversions
Since we are image centric, we do care about how our belongings look. Thus, if two products' all features are equal, and if we simply like the look of an item over another, we're likely to choose the product with the better look.
There are thousands of brands online that offer to the same niche, and the product descriptions will be more or less the same. Thus, to stand out among the competitors and make sales on your Shopify store, you need to choose product images distinctive from others.
Capturing user attention and actually driving sales. For the landing pages, there're lots of ways to increase conversions like testimonials, promo popups, a clear copy of services and products, appealing header image, etc. But, on the single product page, unlike the landing pages, what drives conversions is product description and images. As we mentioned above, people love to see visual content more than text. Thus, images should be your - merchant's focus and carefully selected.
How to choose product images that sell?
Here are the most important recommendations of product images I'll elaborate on today:
High quality and relevant images
Images with different product angles
Displaying products in use and content
Color and size variables with respective images
#1 Use high quality and relevant images
There's research conducted by Anjan Goswami on eBay's high-converting products, mainly analyzing the images with several tests.
In short, Shopify product images should be high resolution and include:
contrast colors
foreground and background segmentation;
large ratio of white space and product.
Also, according to the research, increased white space ratio with the item led to more sales.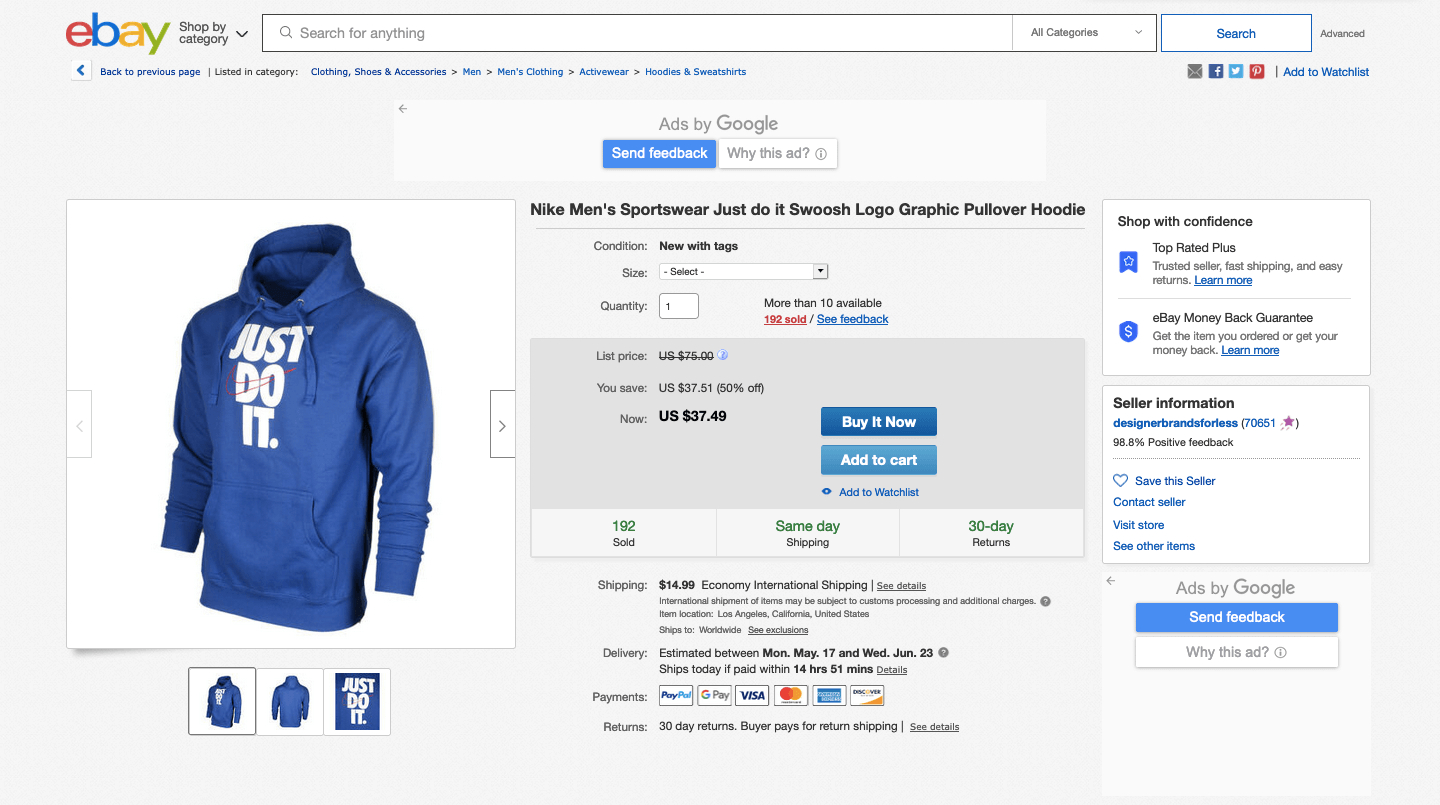 Source: eBay
If we pay attention to Amazon's product image requirements, we can see the same picture:
Pure white background - RGB 255, 255, 255.
No text graphics, or inset images, and additional confusing objects
Displaying the full product in the frame
To take pictures, you don't always need to hire a professional photographer. You can actually take great product images with your mobile phone that will not be different from professional cameras.
#2 Use images that show the product from several angles
Unlike in a physical store, online consumers aren't able to live the experience of holding and inspecting the product in hand, it's better to show your items from multiple angles.
In the example below, ASOS perfectly shows the product images and looks from different angles and lets users know how the jeans look in her body. ASOS also includes a video to show the jeans in a model in action.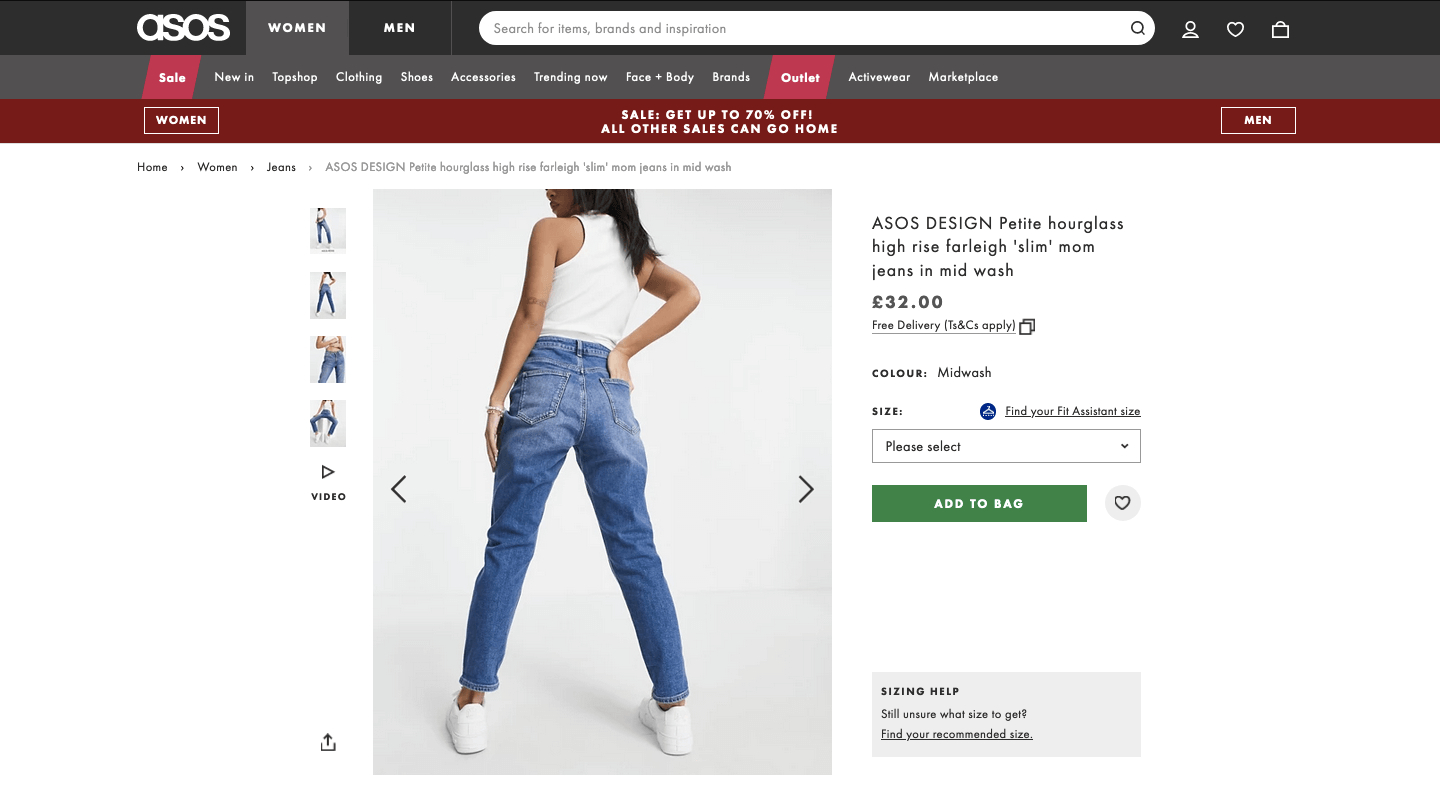 Source: ASOS
#3 Show products in use and context
Showing products in use makes customers feel the ownership and already have the product.
For this, use product images in use or include actual gif or video of the product, showing how it works.
In the example below, Mexten - an online shopping mall, shows how the item cuts pizza and inputs GIF to the description to display the product in context.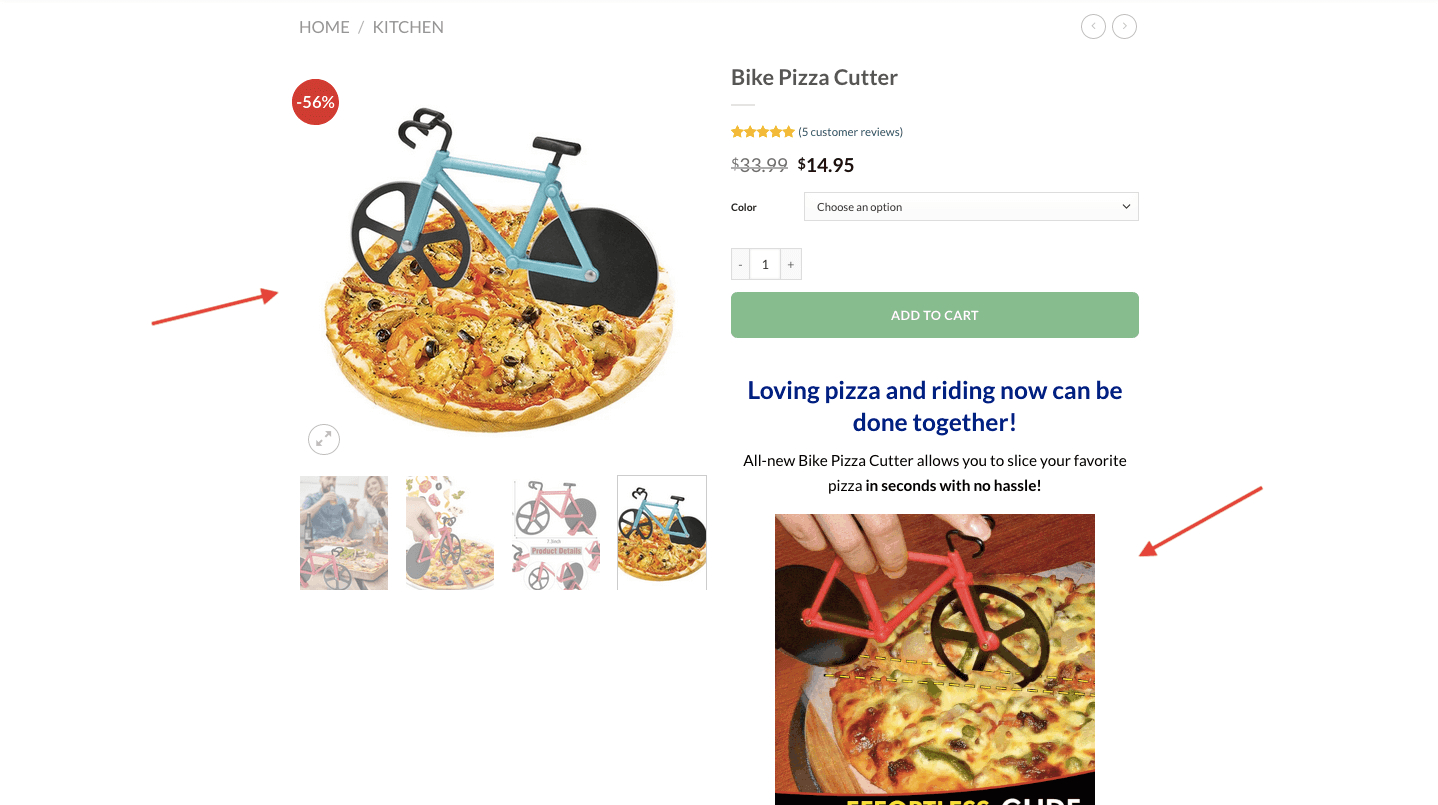 Source: Mexten
And, displaying products in context lets users know how the product will look in its desired place and the size compared to an object.
See the example below; the image can tell us how it'll look on the wall: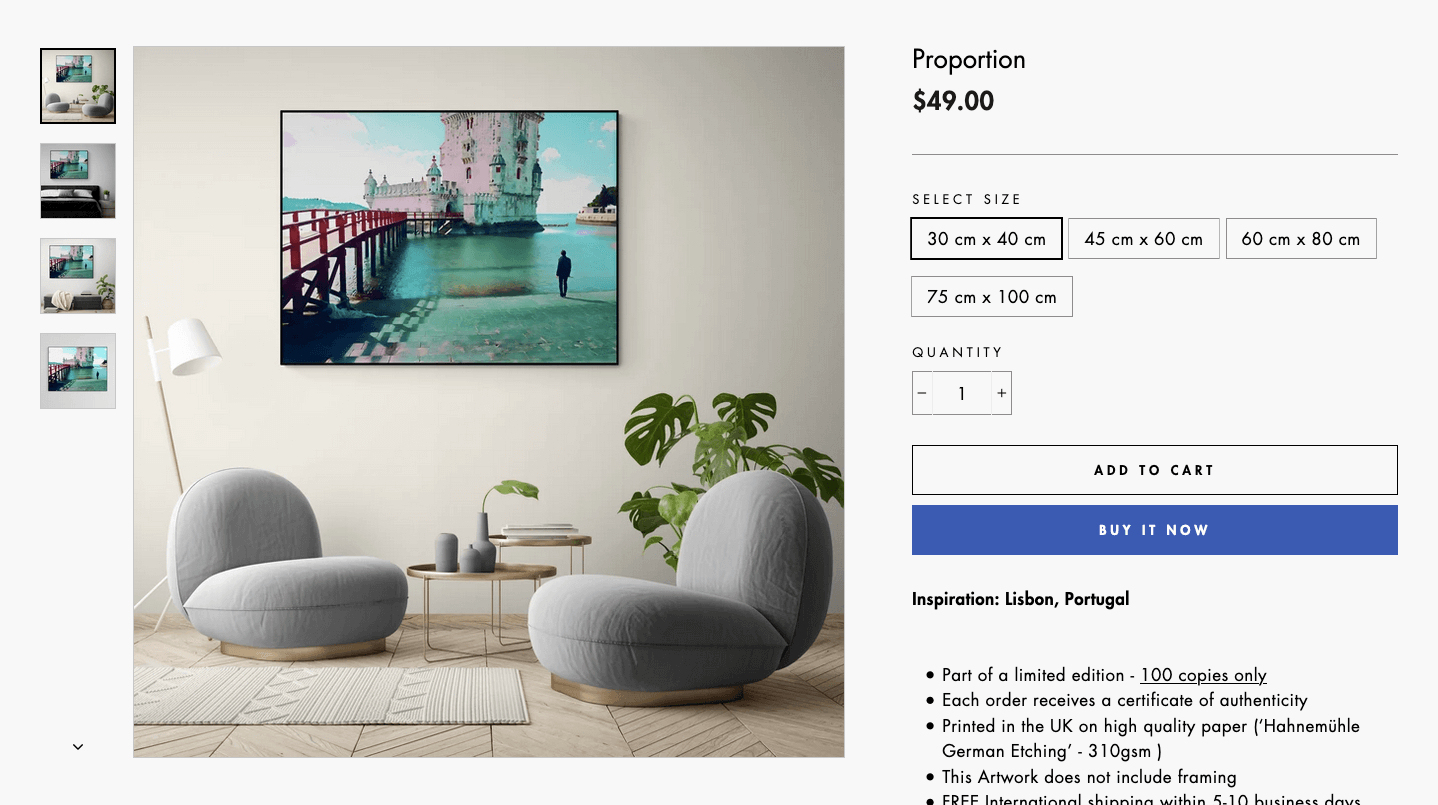 Source: SHUSHU
#4 Show each variation color with its image
Show a product image for each option, color, or configuration.
See how Nike makes it easy to check the product variations by showing colors and available sizes. The color variations - buttons are responsive to the image, meaning when the color is selected, its matching photo is also displayed: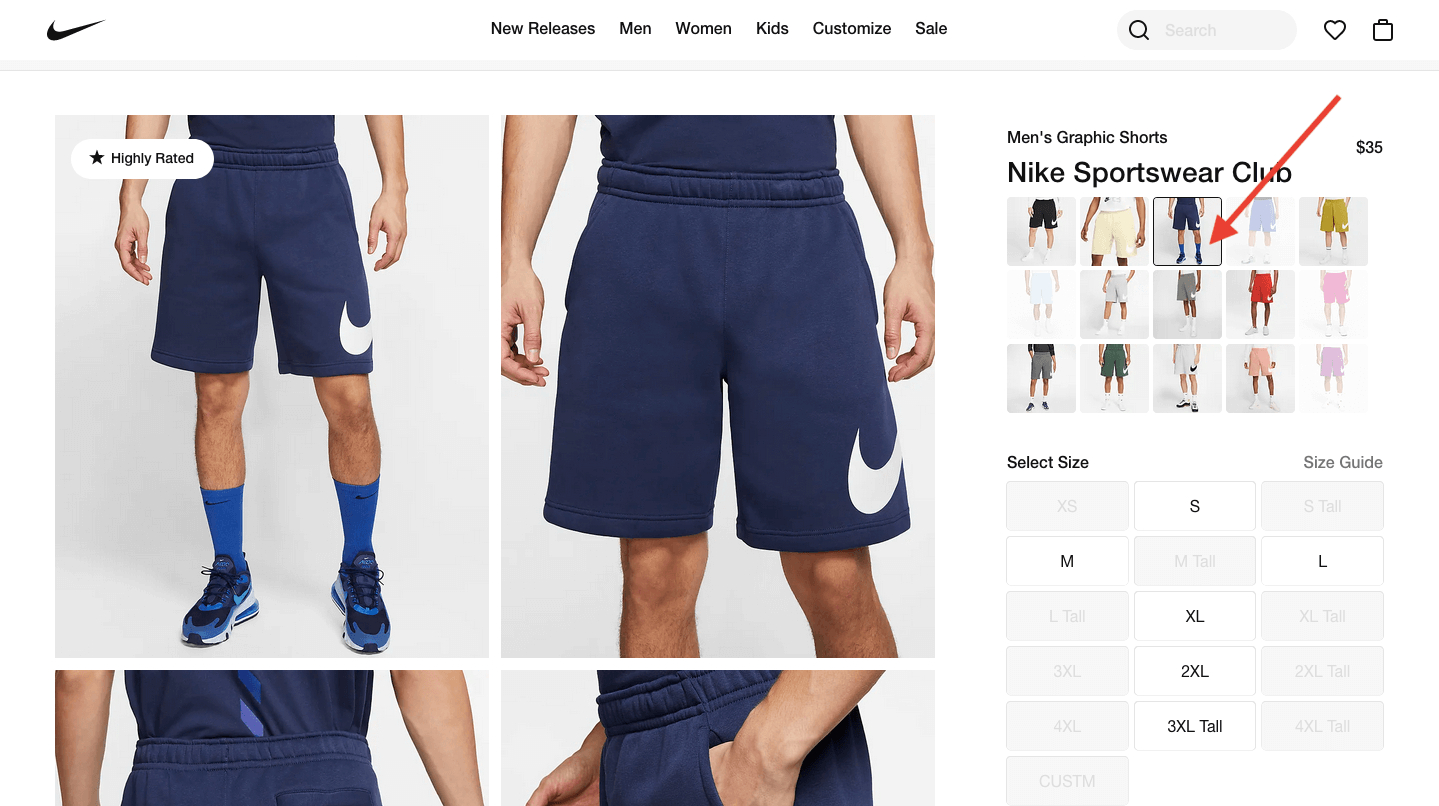 Source: Nike
#5 Provide zoom in feature
Since the photos are the only way to show your visitors what they are going to get, you got to include detailed visual content in the storefront.
Always provide a zoom feature for each image and show 360 views of the product.
Zoom on hover feature lets consumers see the details: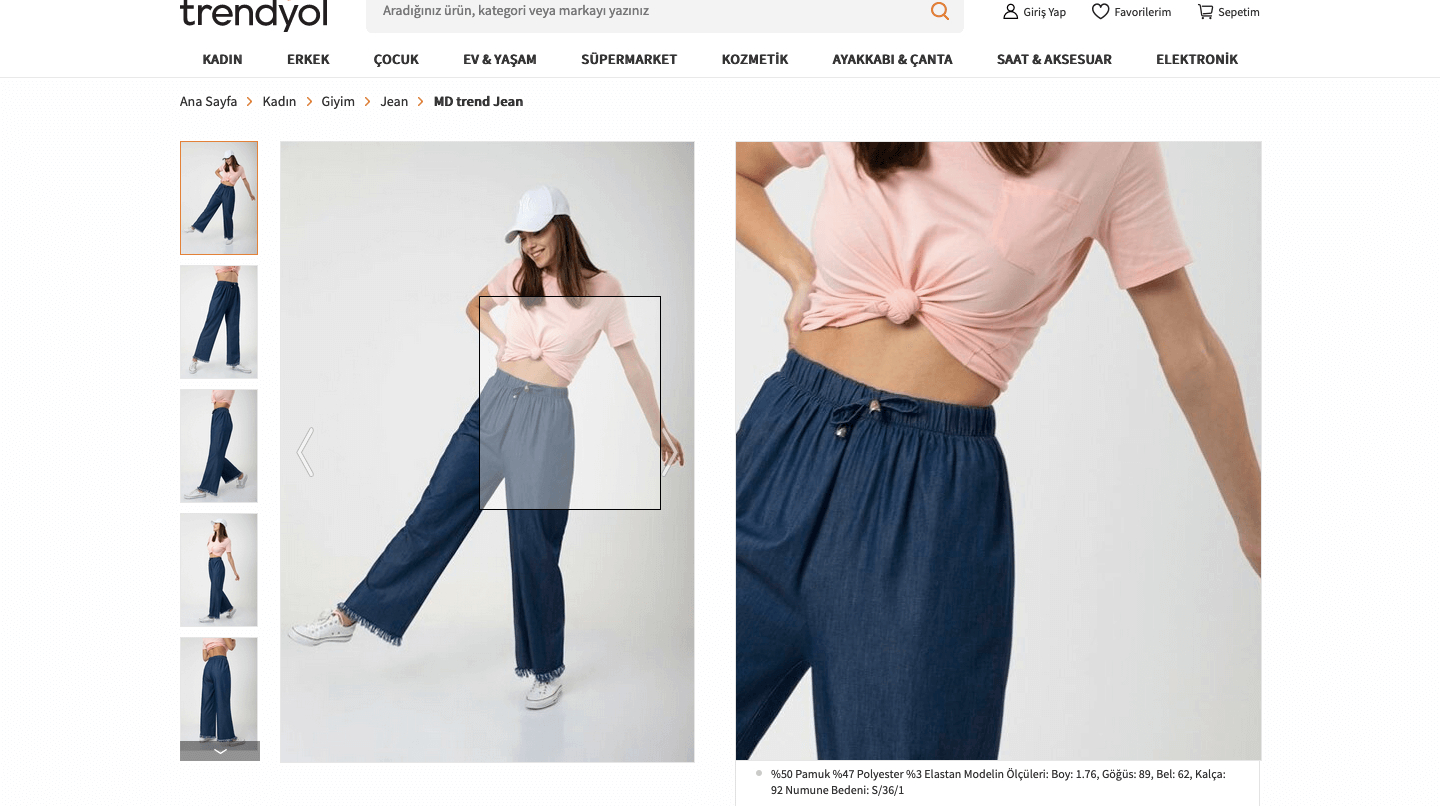 Source: Trendyol
How do you optimize product pages for more sales?
Single product pages tend to have low text - descriptions that'd make it difficult to rank in the search results. Or, it'd be challenging to explain the product fully only with text. Thus, the text description alone may affect the coming to the buying decision for users and hence conversions.
How to optimize your product images for search rankings and increase selling points?
#1 Write image Alt attributes
Alt tags stand for the text that's displayed to users if the image hasn't loaded yet. We also use alt tags for Google spiders to understand the pictures and read them out loud by accessibility software used by people with visual impairments.
Alt titles, on the other hand, are not essential. Alt titles are the titles of images and will only be visible only on hover.
Alt tags should better contain keywords that you want to rank for and be more descriptive. Avoid keyword stuffing, and write alt tags that make sense. You can find more Alt text best practices in this guide.
Also, change the file titles before you upload the images to your storefront. Besides the image SEO purposes, clean and descriptive titles add a professional touch.
Consider the following example in which the title of an image is random letters and numbers. When a user opens the image in a tab, the title, in this case, will not look so professional: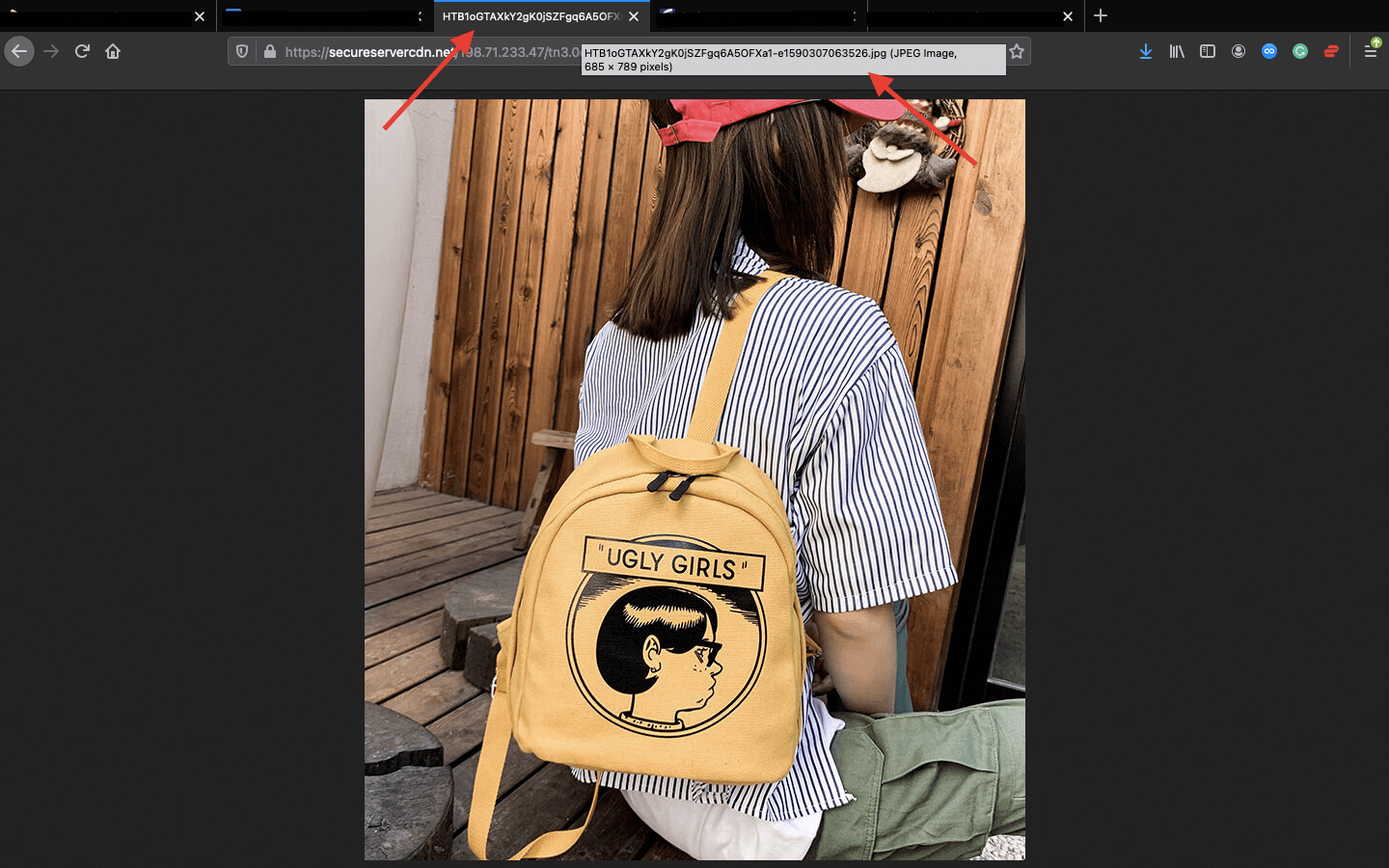 Source: bagsforhumans
#2 Compress & reduce the size of the images
We all know that page speed hugely affects rankings. And it takes longer to load images. In this case, reducing image size helps your pages load faster, and it's better to compress the images before uploading them.
When compressing, images must keep their quality. With smart image optimization apps like TinyIMG, you can bulk compress your images and optimize formats for all the images within clicks.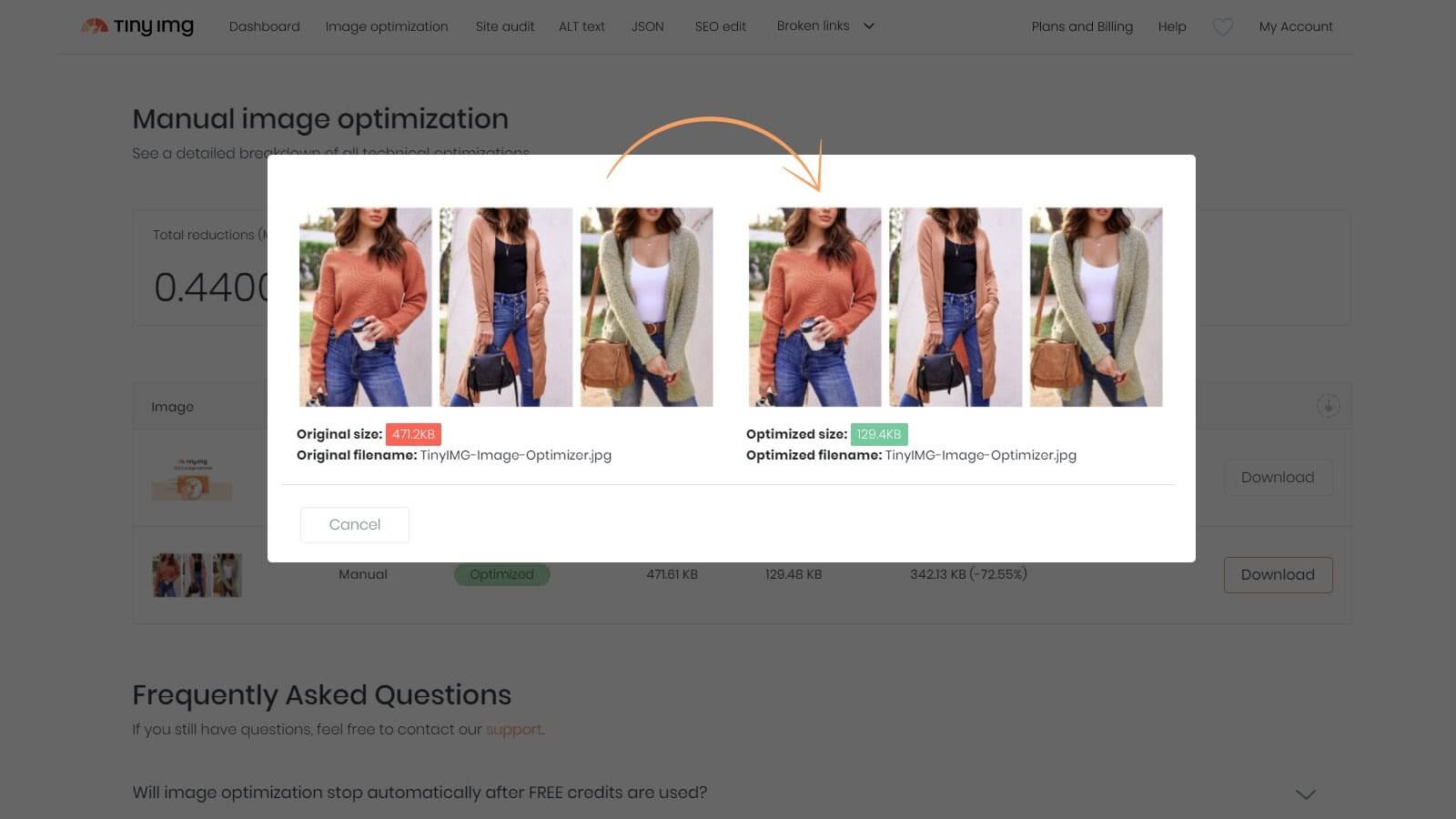 TinyIMG helps you reduce the sizes of images without losing the quality.
Consider the recommendations of Shopify for product image sizes.
#3 Offer special discounts
To create high-converting Shopify product pages and increase sales, you can display on-page widgets like promo popups and top bars.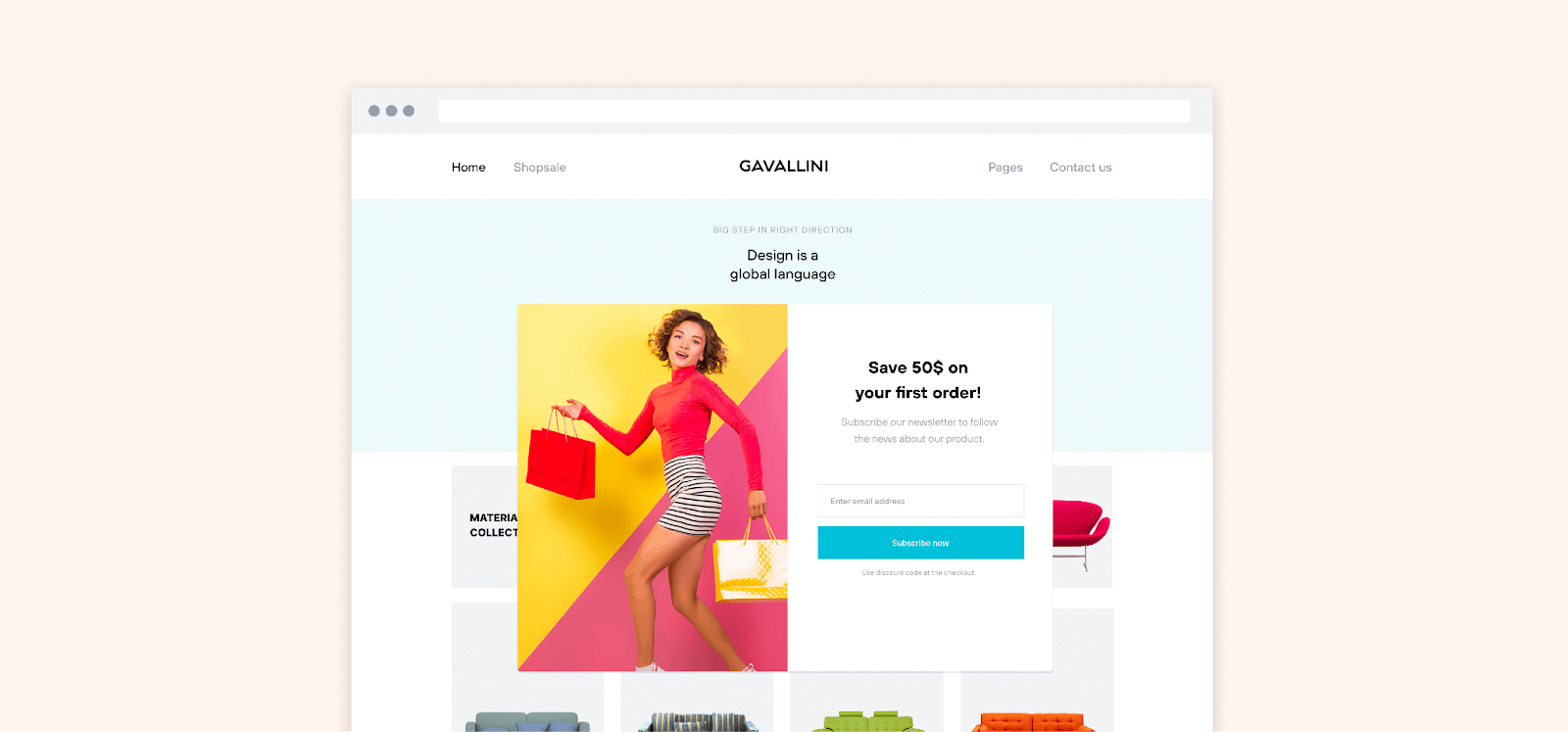 A promo popup example by Nextsale; it helps increase visitor engagement and sales.
With promo popups, conditioned by time-based triggers, scroll, and exit-intent technology, you can offer special discounts to motivate visitors to buy your products.
Time-based and scroll triggers help you decide to display the popup after visitors spend a certain time or scroll the page by a certain percentage. So, let your visitors be familiar with your product content, then show them discounts.
By displaying promo popups, you motivate users to speed up the buying process.
#4 Write a clear description copy
Your product description should be price and corresponds to the product images. Include a description for each image in the collection.
You can include a detailed description for each product image in the description part.
Here is how Adidas also shows detailed descriptions in the image gallery, including models' sizes. This helps with the visual size guide: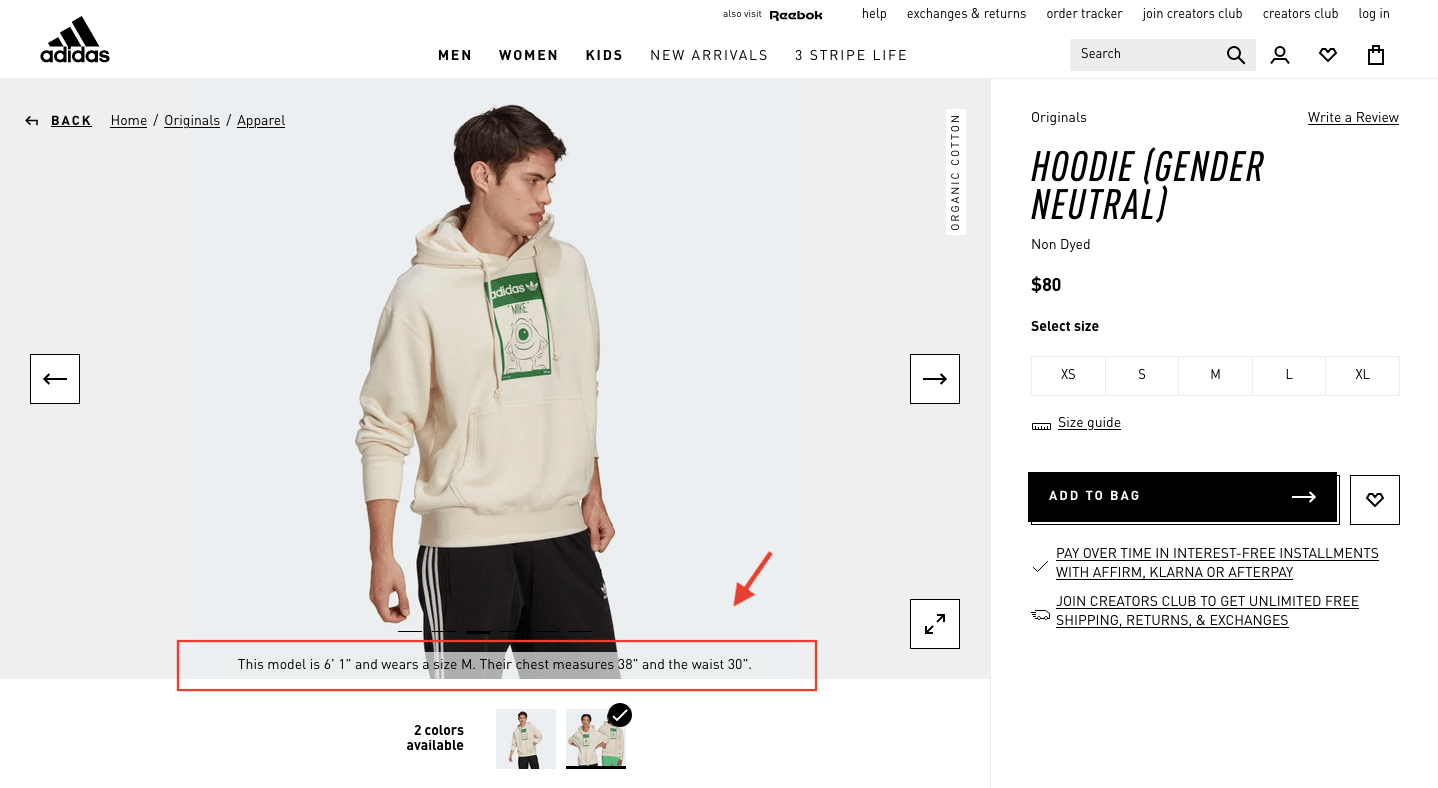 Source: Adidas
#5 Create social proof
With social proof, you can overcome consumer skepticism and build trust and credibility around your brand.
You can display sales and review notifications on the single product page to increase sales.
Sales and activity notifications allow your visitors to see your store is busy and people are actually buying from your store.
Shopify apps like Nextsale help you create an incredible social proof and shopping experience for your customers with reviews, sales, and activity notifications: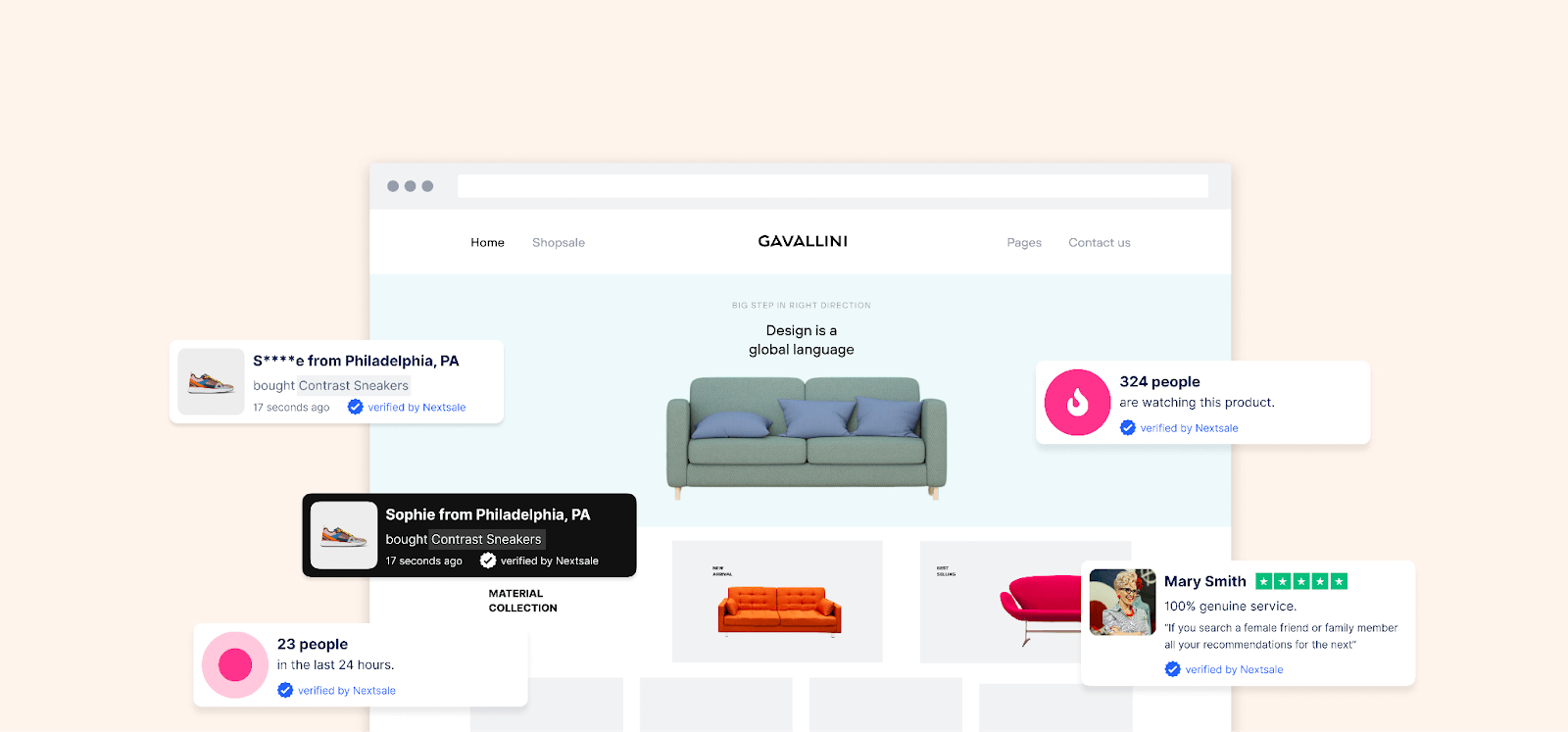 Social proof and activity notifications examples by Nextsale.
#6 Use the right file type
TinyIMG differentiates the JPEG and PNG files as following:
Both JPEG and PNG images are good. The best overall balance between quality (pretty good) and file size (not too big).
PNG images offer excellent quality, but the files are big. Plus, they will lose image quality if they are heavily compressed.
Choosing the right file format helps the web pages load faster and rank on both desktop and mobile.
Consider the following when you practice image SEO:
Choose JPEG for larger photos or illustrations
Use PNG when you want to preserve background transparency in images
Make use of WebP instead of JPEG and PNG for better-optimized compression
Use SVG for logos and icons only
Wrap up
To summarize, assessing product-image quality is a crucial factor in the context of online shopping. In the eCommerce world, you should provide consumers with real land-based shopping experiences to help them know the product the best way possible. And the best way to provide such an experience is by visual content.
If you optimize your product image alongside the storefront, the only limit is the sky!