commissions for purchases made through links on our website. We appreciate your support.

The best Shopify themes can assist you in creating a shop that meets your business purposes and visually appeals to visitors.

There are thousands of themes available on the internet, and we selected only the most suitable ones for various Ecommerce sites. The listed themes are useful for fashion, beauty, food, retail, gaming, and other Ecommerce businesses.

Both paid and free Shopify themes listed below are well known for their attractiveness, effectiveness, and speed. Also, they work perfectly on all kinds of electronic devices either desktop or mobile.

Take a look at the best Shopify themes and delve into their functions so you could choose which one of them is right for your business.
What should a qualitative Shopify theme contain?
Probably you have noticed that many retail stores are using various strategies to draw customers in. Most of them aim at creating a memorable shopping experience by showcasing their products. The stores do so by applying designs and visuals that create a stunning effect. Online stores should aim for similar goals.
However, if you want to get any close to them, any random theme won't do. First, you should check if your chosen theme can offer you some of these functions:
Support from the theme's developer
Ability to adjust product images and catalog's size
Responsiveness to various digital devices
Built-In SEO function
Optimized checkout process
Language and translation support
Ability to alter the construct and other elements of each visual
If your chosen Shopify theme hits most of the listed requirements, you may go with it forward.
As we are done making the record straight on the matter of choosing your best Shopify theme, let's pick for you the most suitable option.
Best Shopify themes by category
If you have a certain requirement for your Shopify theme, be it product or function related, you can browse our selected themes by category:
17 best Shopify themes for 2023 - our detailed list:
We took a number of Shopify themes to test and choose from the best ones. The winner themes have been selected regarding some key aspects. Some of them are usefulness, theme styles, compatibility with Shopify 2.0, and price-to-functionality ratio.
1. Wokiee - multipurpose Shopify theme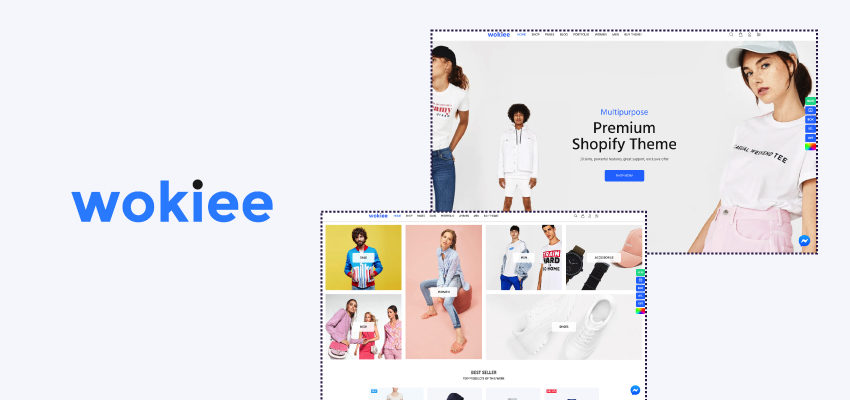 Wokiee is a multipurpose Shopify theme made by P-themes. The tool is well-known for its versatility for its inherent applicability to any type of Ecommerce store. The theme offers a vast number of homepage layouts to choose from and abundant space for creativity.
Wokiee can offer you all the necessary means to produce a super-fast, responsive, and mobile-ready store. You will get various layouts and styles allowing you to create unique structures and meet any specific demands of your business.
With this theme, you will face no issues in adding your own personal zest to your store's design. You can alter the layouts and color swatches of the menu according to your liking.
Main highlights:
6-months support from p-themes
The developers will assist you in the onboarding process and help to resolve any occurring issues.
Mobile optimized
The theme is mobile-friendly, permitting access and use of your website's services across all forms of devices.
SEO optimized
With this theme, your content will be indexed by search engines in the best way and will boost your good rankings.
2. Minimal - the Shopify theme with a strong focus on SEO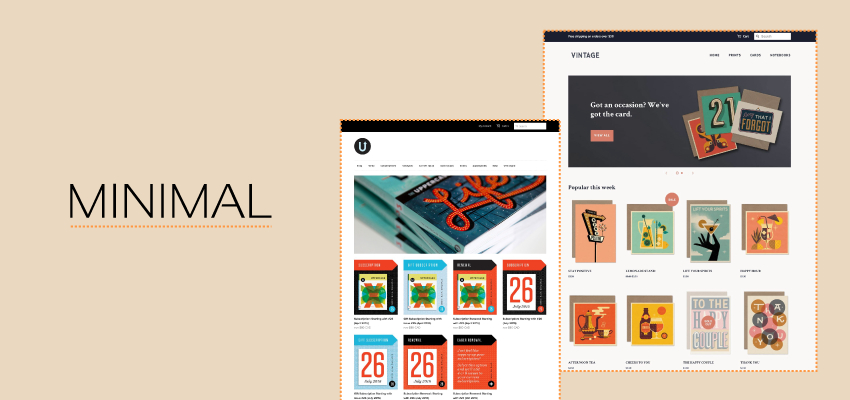 Minimal is a free Shopify theme that received more than 84% of positive reviews from its users. The tool, created by Shopify, has been praised for its great customizability on the backend and smooth navigability.
Minimal is an ideal pick for merchants who want to reduce their visual distractions and highlight the products. The theme also includes functions like a mobile-friendly design or tools for SEO-optimization.
Minimal also grants the ability to customize content on the homepage. Hence, allowing to alter the content and its composition according to one's dynamic SEO and business strategies. This shopify theme is a perfect choice for those who specialize in fashion, home decor and other markets.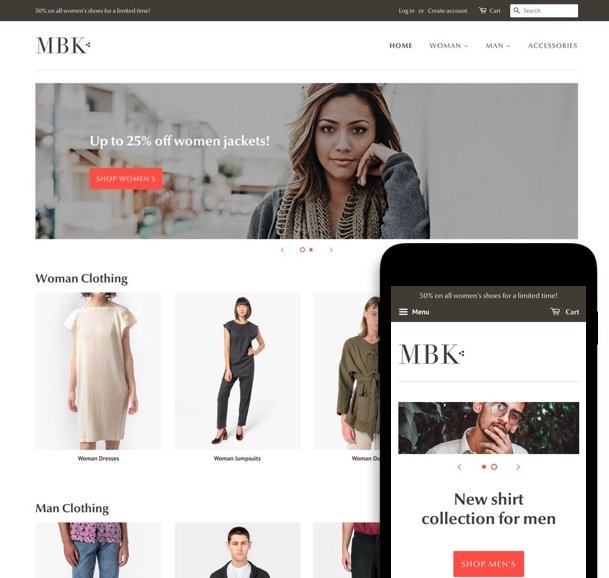 Main highlights:
Home page video
This feature will help you to craft entertaining content for your visitors, in turn, increasing conversions.
Product Image Zoom
Shoppers love websites that allow them to zoom in the product images and see all of its details as it helps to make a decision faster.
Cart page
Users can write notes on their order on the cart page. This specific feature will help to deliver specifics on how they want to receive their order.
If a theme's search engine optimization is one of your main criteria, take a look at our list of SEO-optimized Shopify themes to choose from.
3. Handy - the first Shopify theme for mobile devices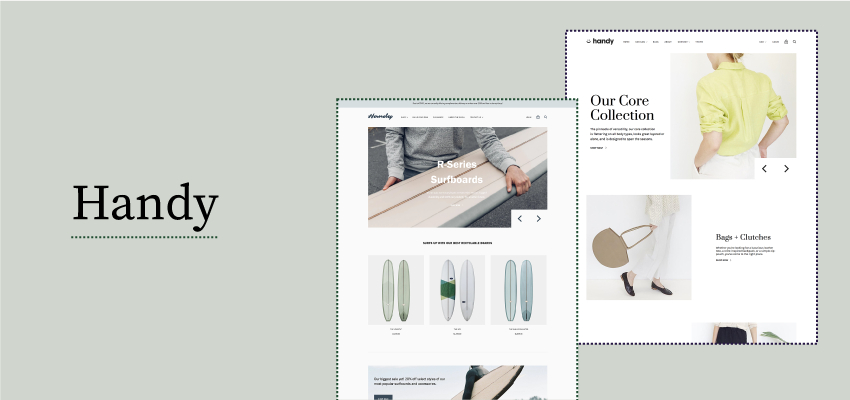 Handy, which was developed by Pixel Union, is a mobile-first Shopify theme for smaller e-commerce players. Both customers and theme users will find this tool easy to navigate on their smartphones.
Handy is a truly minimalist Shopify store theme for sellers focusing on industries such as fashion and clothing. The theme provides a neat content layout, allowing you to showcase your products in detail. Even though the theme was developed to satisfy fashion stores, it can also be used to make shops for food or pets as well.
On top of this, Handy includes resizable layouts for easy customization of your website. Also, a multi-column menu, an add-to-cart popup system to enhance a user's experience, and the ability to run promotions and sales.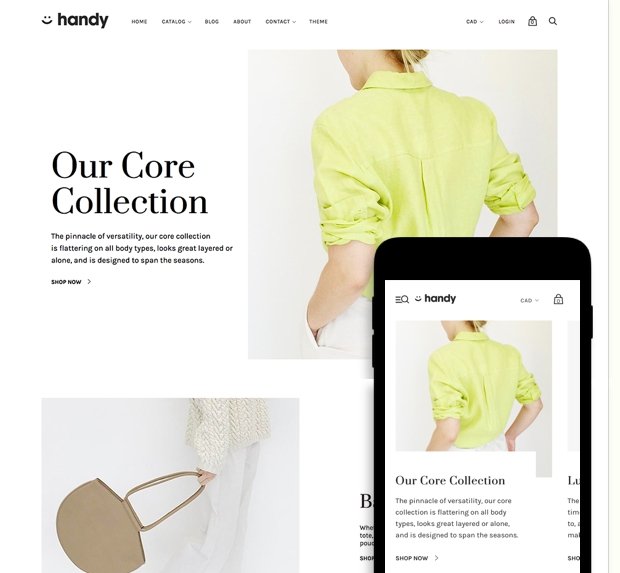 Main highlights:
Non-expiring license for one store
You can use the theme on a single store, and keep it as long as you like.
Custom promotion tiles
Promote discounts, sales, and feature your products with special promotional tiles.
Search-focused menu
This theme will allow your customers to search for products easily on mobile devices.
4. Ella - the best multipurpose Shopify theme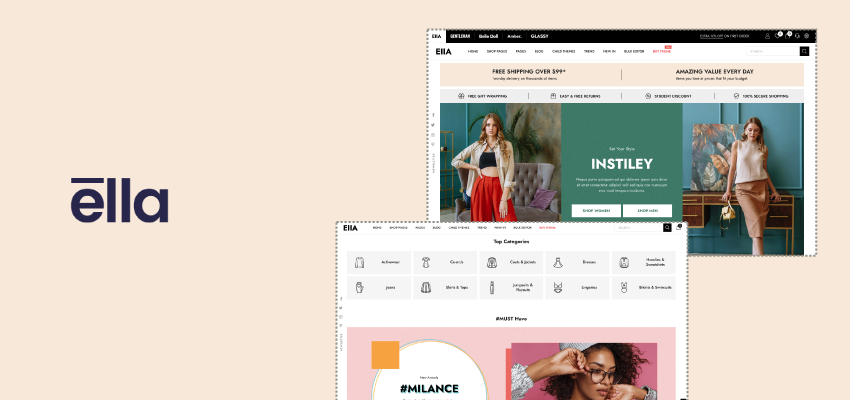 Ella, developed by Halothemes, is the best-seller on Themeforest. This Shopify tool has an amazing reputation as a drag-and-drop Shopify theme with excellent UI/ UX and Mobile Optimized layout. It has been rated 4.81/5 points with 525 product reviews.
This Shopify theme allows mixing colors, banners, and blocks to make captivating layouts. Ella enables its users to produce large banners to display products and intrigue its users. This theme is optimized to work on all devices which may act as a valuable tool to convert each user's visit into sales. On top of that, you will be able to add your own homepage video, link to Google maps and so much more.
Main highlights:
Drop-down list Shopping cart
This feature makes it easy to navigate the shopping cart block without needing to open a new page to check what has been added in the order submission.
New monthly themes
The developers update the current themes regularly to satisfy your need to keep the store looking new.
Lazy Loading
Theme loads the requested images while delaying the unseen part until it's needed. It is done to reduce loading time and memory usage; hence, improving the functionality of a website.
5. Roxxe - all-purpose responsive Shopify theme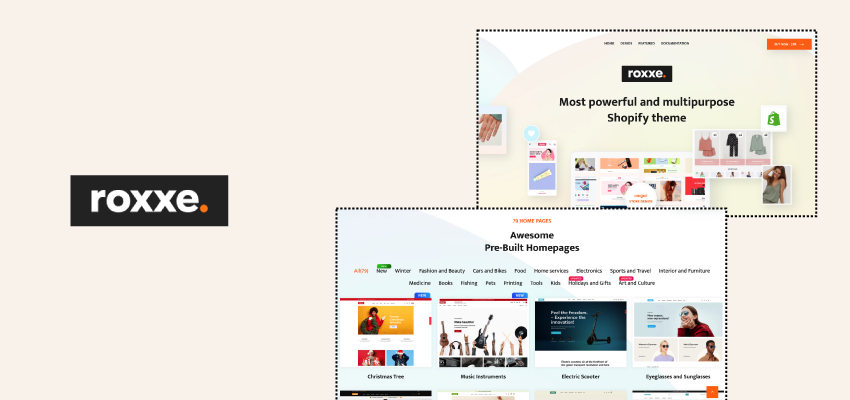 Roxxe, developed by ZMEZ, is an all-purpose Shopify theme for literally any online business. This template is one of the Thermoforest recommended solutions for merchants who want to create a perfect online store.
With Roxxe you can create a design matching your needs. Also, you can incorporate into your website various sliders, colorful banners, and widgets to grab the visitor's attention. Its editing tools are easy to use as they're based on a drag-and-drop function; thus, permitting you to add visuals to your website at ease.
The theme also enables merchants to employ the best SEO practices to make your website at the top of the search engine results. Also, it's completely mobile-friendly.
Main highlights:
Customizable headers and footers
Allows shoppers to find exactly what they're looking for by typing in the search menu their specific queries. On top of that, you will be able to add a newsletter subscription to get in touch with your clients on a regular basis.
Quickview
Customers can quickly review product details from a lightbox popup without leaving the shopping page they're on.
Quick integration
Import Demos Roxxe comes with more than 50 pre-designed store demos that can be easily integrated as a base template for your design.
6. Shella - fast and flexible Shopify theme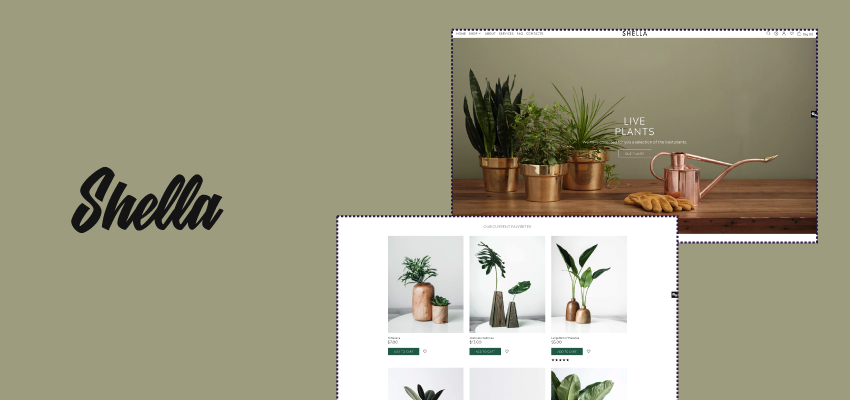 A product of MPIthemes, Shella theme is designed to satisfy all kinds of merchants who are ready to launch with their Ecommerce dreams. This awesome theme is designed to attract online shoppers and retain their interest in your services or products.
Shella has a number of convenient tools that makes it enjoyable to many. The theme's UI is fast and has refined design elements. On top of that, it includes components such as advanced filters, a MegaMenu, and a banner builder. If you are looking for a theme that will grant you the chance to set free your creative genius - this might be your pick.
Main highlights:
Optimize your site for SEO
Shella's tools will help you to optimize the website's content to rank better in the search engine.
Numerous pre-built pages
With this temple, you will get an option to choose from an endless color palette and over 68 pre-designed pages.
High page speed statistic
This Shopify theme's speed score is 89 meaning that your store will function faster than the majority of other Shopify stores.
If store speed is one of your main priorities, take a look at our fastest Shopify themes list.
7. Foodly - for running grocery stores and other food and beverage services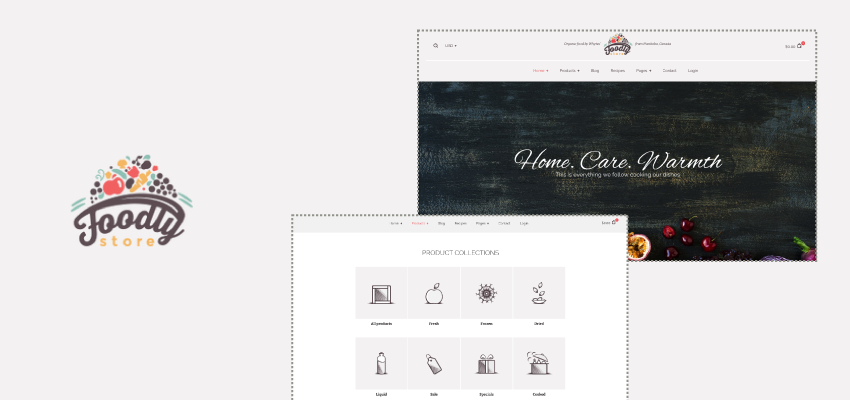 The Olia-Roma's Foodly theme is a clean and responsive template. It's optimized to load faster and make your website look perfect design-wise.
With Foodly, you will get various options to achieve your business goals. You will be able to add wishlist options, SEO-optimized reviews, and integrate your website with social media.
Moreover, the theme comes with a visual constructor to customize the layout of your web pages according to your personal needs. This responsive theme for Shopify has everything you'll need to set up your e-shop to run your food-related business.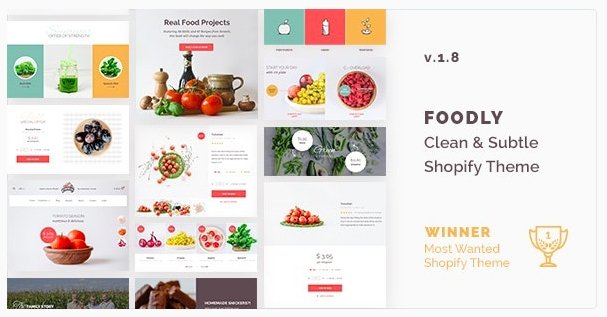 Main highlights:
Speed-tested and approved
This theme is approved by Shopify as keeping up with its standards. Meaning that with this template you'll have a chance to create an effective shopping experience for your buyers.
Mailchimp Integration
The theme allows the integration of email marketing tools like Mailchimp. Thus, permitting you to catch up with your buyers on a regular basis and promote your products on a larger scale.
Blog Ready
Foodly will allow you to run a blog. Sharing your area of expertise through a blog will enable you to build credibility with your audience
8. District - the best pick to launch sports and apparel e-businesses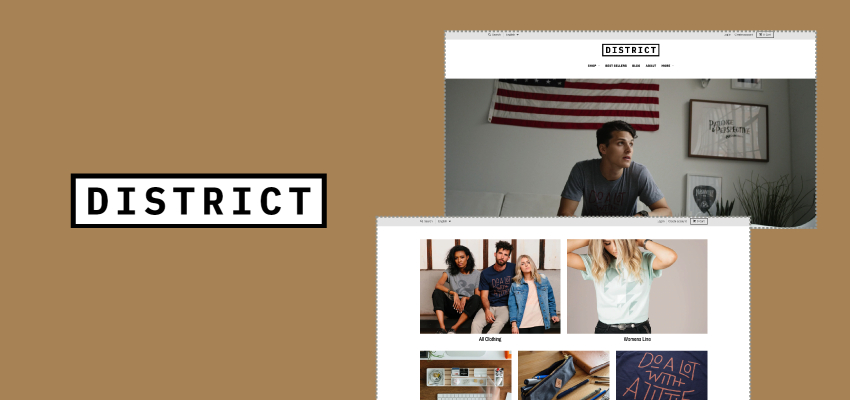 Another Shopify theme that should be worth your attention is District, developed by Style Hatch Inc. The template provides its users with a solid and reliable solution for e-commerce.
There are various interesting aspects that make the District theme unique. First of all, it supports email marketing tools; it allows you to make your customers aware of your great products or featured promotions. District also operates with Instagram integration.
On top of that, the theme comes with adjustable, well-designed blocks for images, products, video, quotes, and more. This Shopify theme has a drag-and-drop feature which will help you to edit the website efficiently without special coding. The District theme is a fine pick for merchants, who desire to showcase their products creatively at ease.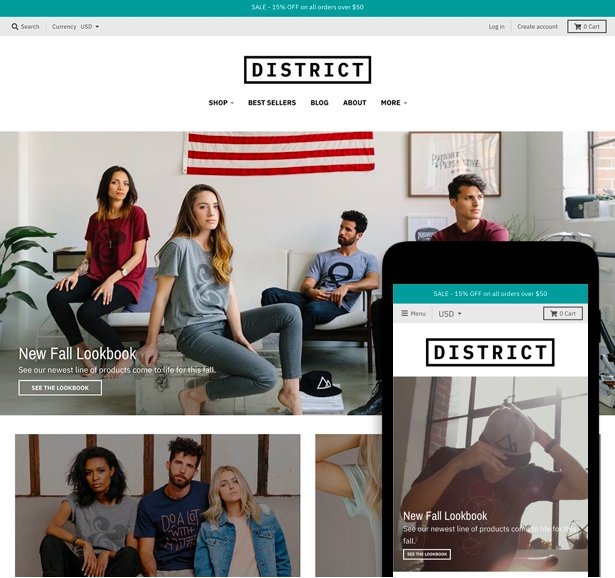 Main highlights:
Color Swatches feature
This feature will allow your shoppers to view a product in various available colors and visualize what the product will look like.
Promotional banners
With District you can promote specific products or discounts at the top of your store's home page.
Home page videos
With this theme you can tell your stories and promote your products by featuring a YouTube or Vimeo video.
9. Porto - the top-notch pick for fashion and retail merchants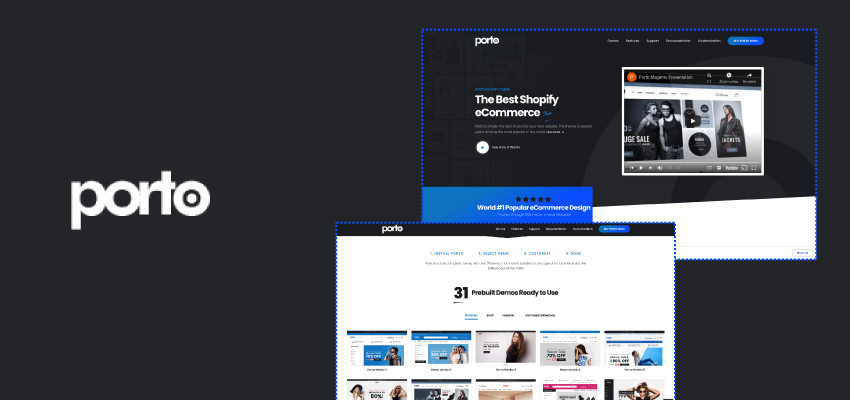 The Porto theme by Obest belongs to the 100+ best Shopify themes 2022 collection. It offers various opportunities allowing the merchants to boost their sales over the roof.
Porto includes more than 20 layouts and styles. It has a specific content management system tailored so that merchants could make changes to the design effortlessly. The theme has all the tools and a chance to create a website with an amazing UX and UI experience.
Because of Porto's rich demos, layouts, and styles, you can dodge spending immense amounts of your money on the designs and other related matters. Although Porto is usually proposed as a theme to run fashion stores, it can be also used for other e-commerce related purposes.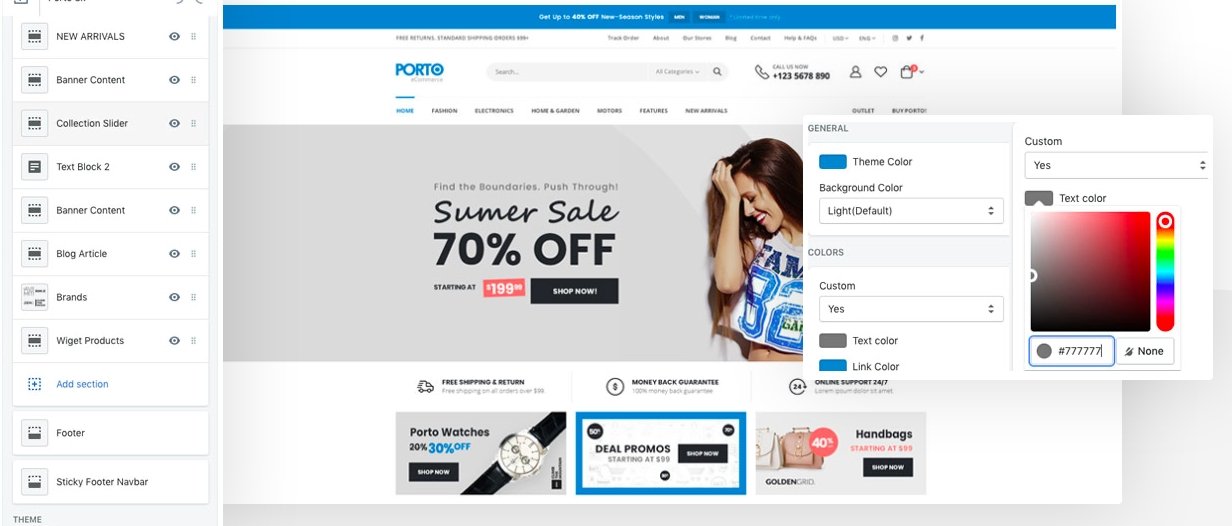 Main highlights:
Top-Level Support
If you choose to go with this theme, you will be able to use the developer's customer support 24/7 to solve any occurring issues.
Translation Ready
Porto is a multi-language Shopify theme; thus, you can run your e-stores in any language you prefer.
Fully Responsive
This theme works on any screen resolution - makes your website accessible as well as easy to use with all electronic devices.
10. Retina - the best Shopify theme to elevate your brand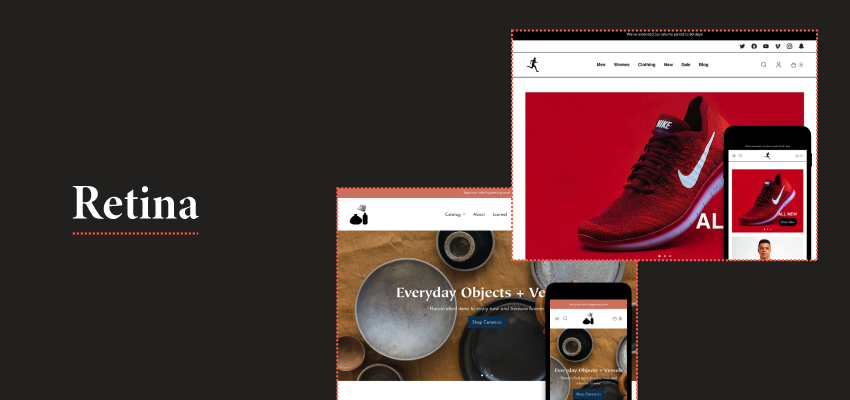 The Retina is a multi-award-winning Shopify theme, developed by Out of the Sandbox. This template has superbly developed theme templates. Also, the ability to include stunning testimonial sections and other callouts to build a brand's credibility.
Retina works perfectly for growing Shopify stores. The modern design and easy navigability will make your brand look professional. Retina includes integrations such as testimonials, mobile-optimized design, predictive search, and more. From layout down to its functionality, this Shopify theme is easy to handle and a pleasure to shop in.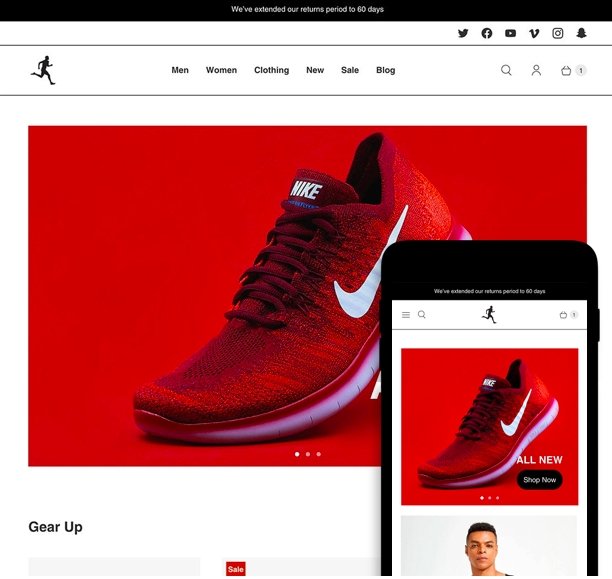 Main highlights:
Modern boutique design
The theme has a mobile-friendly design that will make your brand look polished and sophisticated
Simple setup and customization
The Retina is a user-friendly theme. This means that editing will be simple, and with its abundant layout options you will be able to create a professional-looking e-store.
Upgraded product and page layouts
This feature will allow you to create memorable and engaging pages. Provide necessary information about your products, feature creatively your products and more.
11. Icon - the best Shopify theme for dropshippers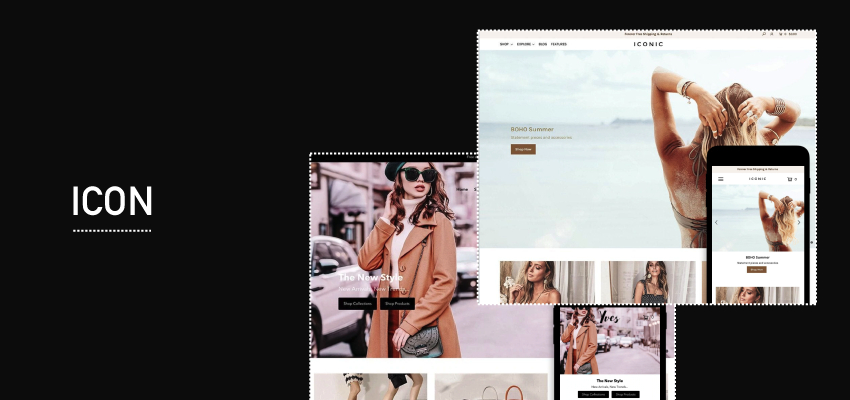 Icon by We are Underground, is the best option for stores focusing on visual material.
With this theme, there are many things you can do. For instance, the theme allows you to add interactive and various sliders parallax effects. Also, newsletter subscription forms, and a sticky header. On top of that, you can include a product quick view feature. It will allow you to inform your visitors about each item without exiting the site.
This theme is customer-first focused as it has been designed to ensure that you could deliver a pleasant shopping experience. That will be possible by inserting large-size images and tailoring the website's design easily. Also, the theme operates perfectly on smartphones, tablets, and desktops.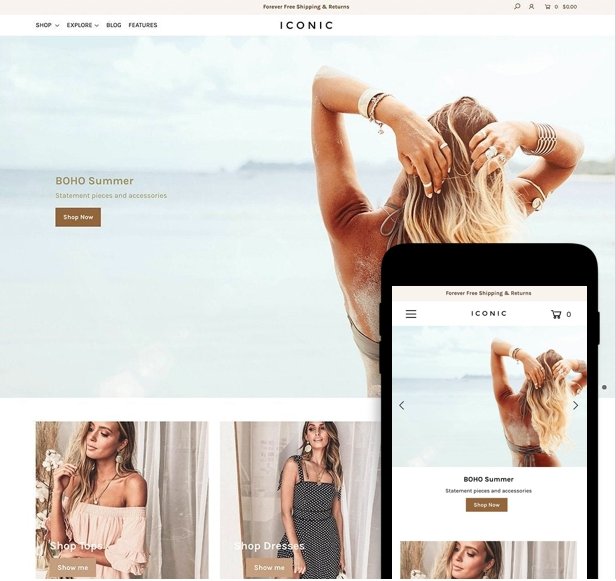 Main highlights:
Product image enlargement
With Icon, your shoppers will be able to click to zoom in on the product images.
Quick shop modal
The quick view pop-ups will increase the conversion rate and allow the shoppers to access the products faster.
Optimized mobile design
The theme has responsive layouts that will work effectively across all electronic devices.
12. Atlantic - amazing Shopify theme for product discovery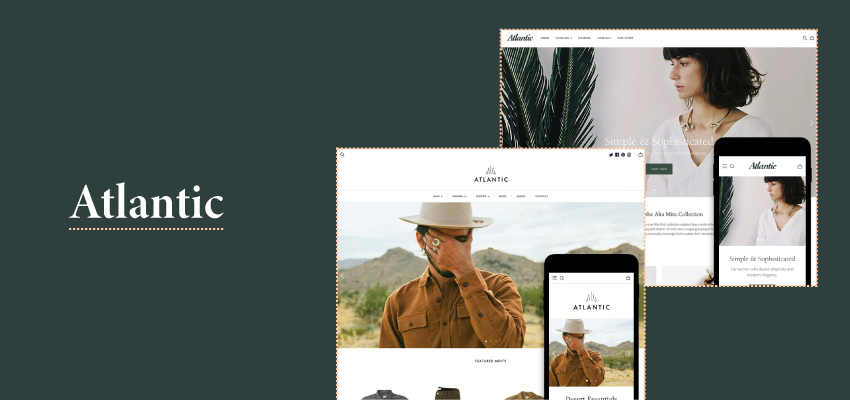 Pixel Union's Atlantic is another great Shopify theme. It comes with a beautifully minimalist design - a perfect fit for product-specific businesses.
The Atlantic theme provides its users with a chance to showcase their products with large-size images and slideshows. The tool has a customizable header and search function, making the product search quick and easily navigable.
Furthermore, Atlantic also comes with various product presentation options. It would allow you to create a unique customer experience and help shoppers to discover a wide range of product choices.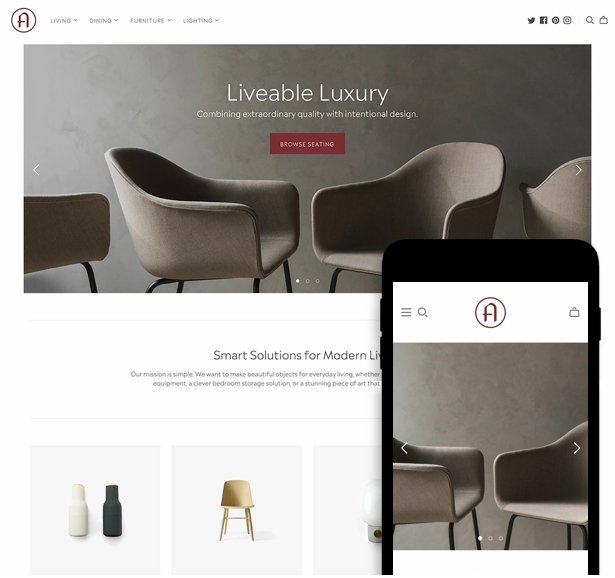 Main highlights:
Responsive and mobile-friendly design
The theme works perfectly with all mobile devices. It will help to increase the amount of time that shoppers spend on your website.
Built-in search engine optimization
By optimizing your content according to SEO standards - you can reap its juiciest benefits. For example, you will get a 24/7 promotion enhancing organic discovery and website traffic.
Slide-out cart
With Atlantic, you can customize the Slide Out Cart item. Also, you will be allowed to include text, title, promo code. Consequently, creating a far better user experience and increasing the conversion rate.
13. Testament - one of the most popular Shopify themes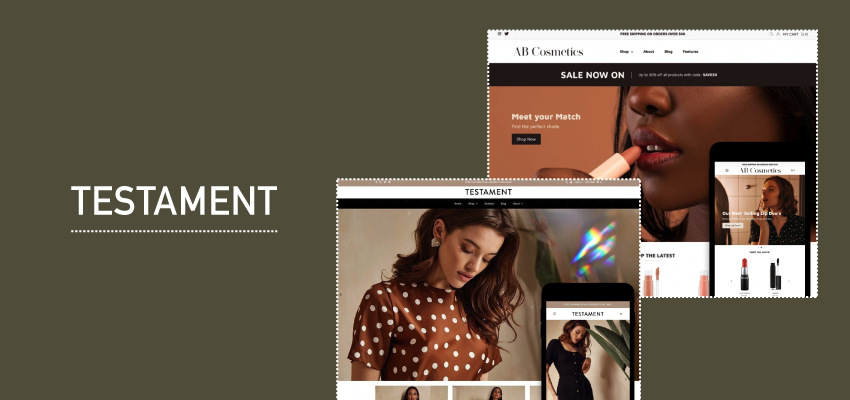 Another theme made by We Are Underground is Testament. This Shopify theme is well known for its excellent customization ability and has become a favorite among thousands of stores.
Testament comes with an interesting set of functions and highly adjustable configuration options. The template will let you add high-resolution photos to your main landing page. It will generate a professional look and an outstanding visual experience for the shoppers.
Most importantly, Testament also permits online buyers to easily view the product details in a popup. Leading to increasing time spent on the page, which, in turn, will boost your conversion rate.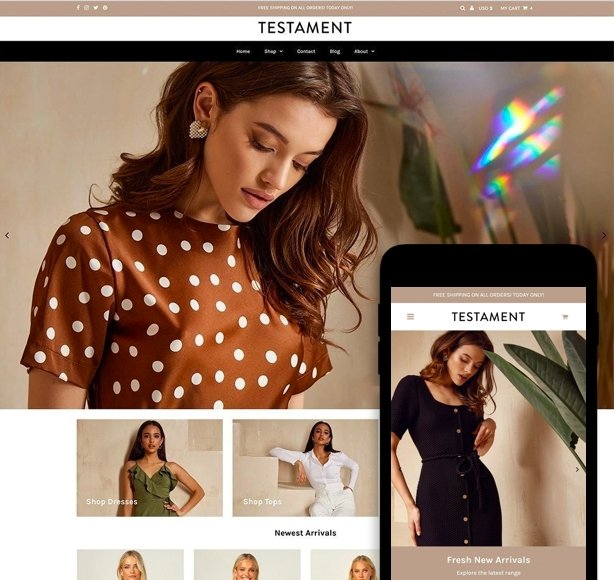 Main highlights:
Easy section editing
Testament helps to build the ideal layout easily. It means that you will be able to employ your creative genius to build a website according to your liking and business objectives.
Multiple blog layout options
Blogging can improve your credibility. Also, persuade online visitors to take a specific action. And most importantly, improve your website's rank in the search engine.
Smooth integration of testimonials
With this theme, you will be able to publish product reviews in any place on your website. This feature will hand you a chance to nurture your brand's authority and also boost sales.
14. Flow - the best Ecommerce Shopify theme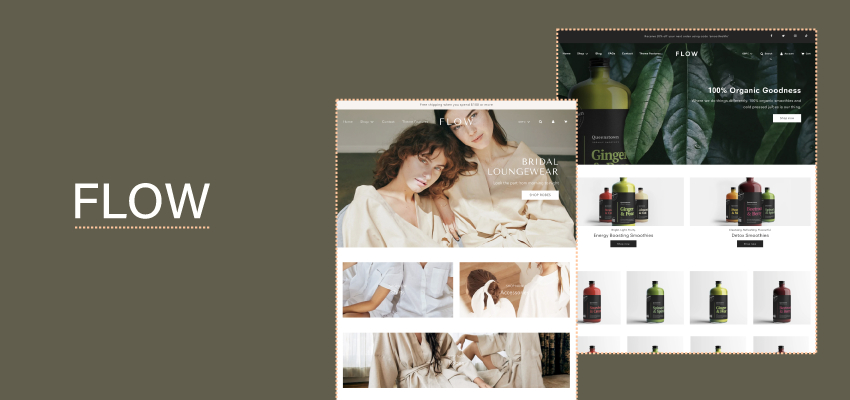 Flow is a neat, minimalist theme that has a modern style to appeal to a certain type of shopper. This theme was developed by Eight, one of the leading theme developers.
It could be said a lot about this theme. Yet, one of the most important function is its ability to develop a long-form homepage. This thing can allow you to provide an adequate amount of relevant information about your business and products.
Apart from that, it has well-designed desktop and mobile homepages' layouts. This feature may assist you in achieving stable conversion rates. Moreover, this theme allows the display of your Instagram content on your website. And run promotions of your products at ease.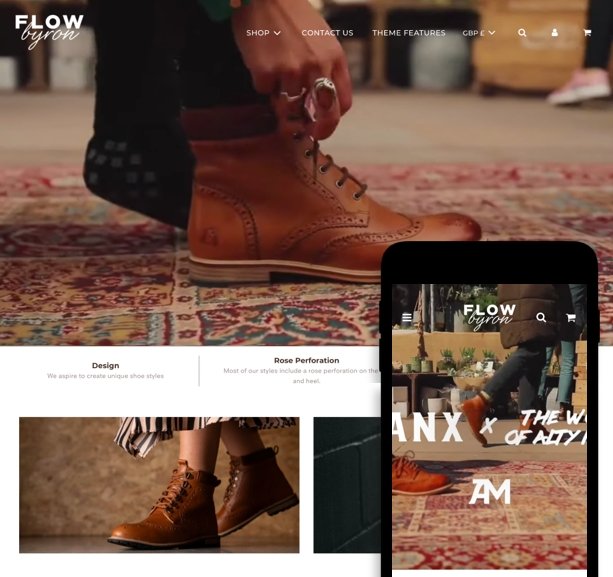 Main highlights:
Homepage video
Videos keep people on your website longer and engage them with your content. It is a great tool for your visitors to get to know, like, and trust you.
Image zoom
Image appeals to the online visitor's eyes as they click to get a better look at the product. It helps shoppers to check the product and gives them an idea of how it would suit their needs.
Recently viewed feature
You can enrich a customer's journey by showcasing recently viewed products. It will allow exhibiting the personalization quality of your brand, and make shoppers feel satisfied and wanted.
15. Split - the most unique theme for your Shopify store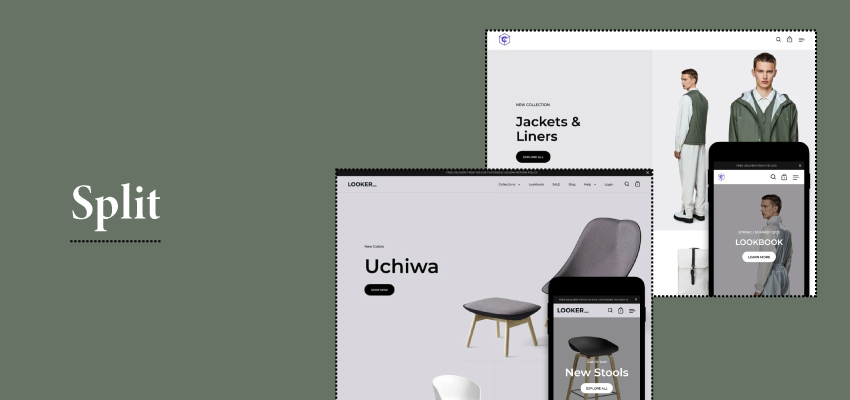 The next Shopify theme in this list is Split, developed by Krown Themes. It is very unique in its design options and ideal for Ecommerce stores that aim at making a good impression on their visitors.
This theme uses a split-screen design that allows creating a unique look of the website. With this template, you will get a parallax scrolling effect, various layouts, and animations.
Plus, you will get a great deal of control over the layouts of your store's homepage and its section. Besides, it will permit you to add customer testimonials to enhance your brand's credibility. Including full-width product grids and blog post excerpts to make your site look stunning.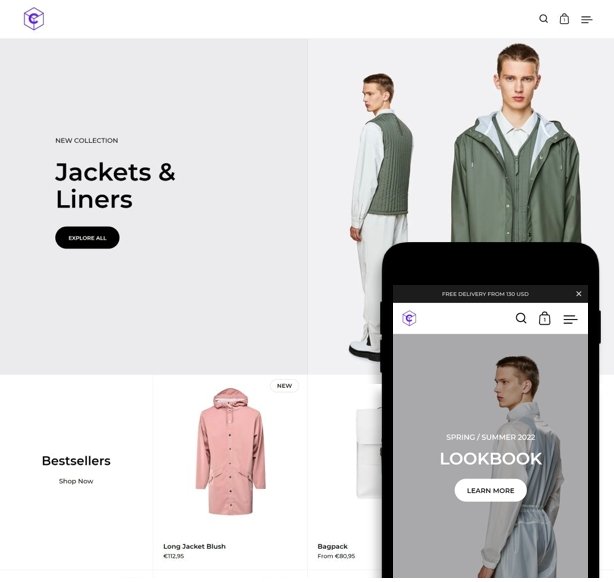 Main highlights:
Shopping the look
With this theme, you can show products commonly purchased together. That will enhance your sales as the shoppers may purchase multiple items at one take.
Promo tools
The Split theme will allow you to use pop-ups and feature add-and-drop sections to promote your products and discounts.
Cart notes
Your shoppers will be able to leave notes by describing the specifics of how they would like to get their products. It will help to improve customers' satisfaction with your service and social validation of your brand.
16. Venue - the best Shopify theme for conversions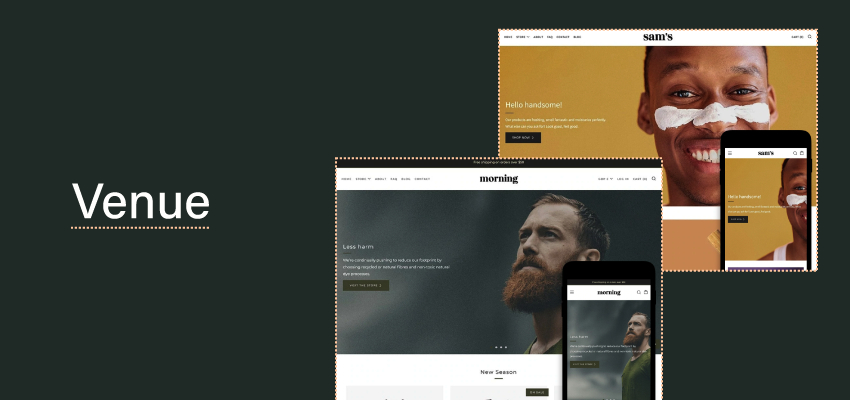 Venue by Safe As Milk is a good pick for those looking for a great start in their Ecommerce pursuits.
The Venue gives you three template styles you can experiment with. Each design is produced so that you could strategically reach out to your target audiences and make better sales.
This shopify theme also comes with an abundant choice of colors and fonts and you can also add videos, pop ups, and opt-in forms to your store. You can use Google Maps integration. It will straightforwardly inform your customers about the physical location of your business or the areas you serve.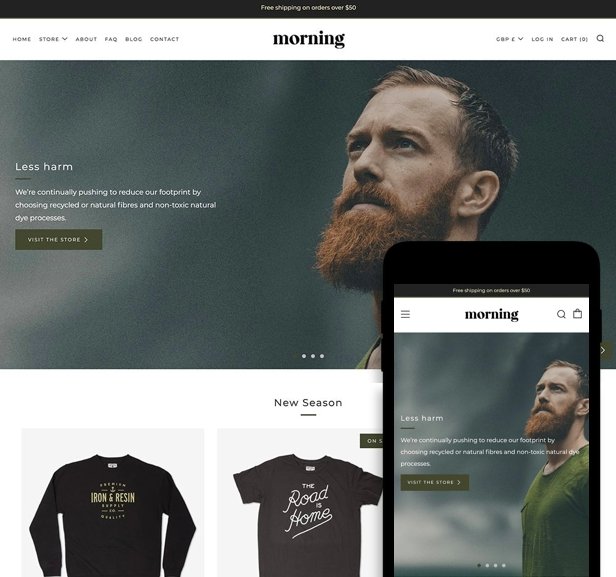 Main highlights:
Excellent customer support
The theme's support team is always ready to keep website owners' stores open and running smoothly.
Easy to use
Venue doesn't require advanced-level coding and much skills. Instead, it has been made to be simple to customize and edit in any way you want.
Superb blogging experience
To enhance your brand's credibility and make your visitors trust you, blogging should take a part in your eCommerce strategy. The Venue theme will provide you with all the necessary tools to rise at the top in this field of content.
17. Blockshop - the Shopify theme with powerful promotional function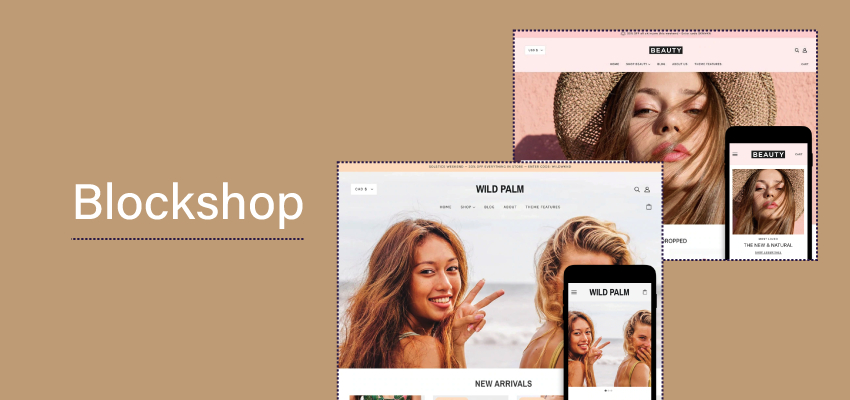 The Blockshop theme by Troop Themes will help you draw your online visitor's attention to the best products at your Shopify store.
This theme has 4 layouts to choose from for your Ecommerce website. These designs are excellent for selling fashion brands, accessories, and more. With Blockshop, you'll be getting to all the functions an online store ought to have. For instance, you will get a switcher for currency conversion, multi-column drop-down menus.
On top of that, blog templates, and various types of slideshows to make your content rich and engaging. The theme also supports social media; thus, you will be able to integrate your social media pages and display your content on the webpage too.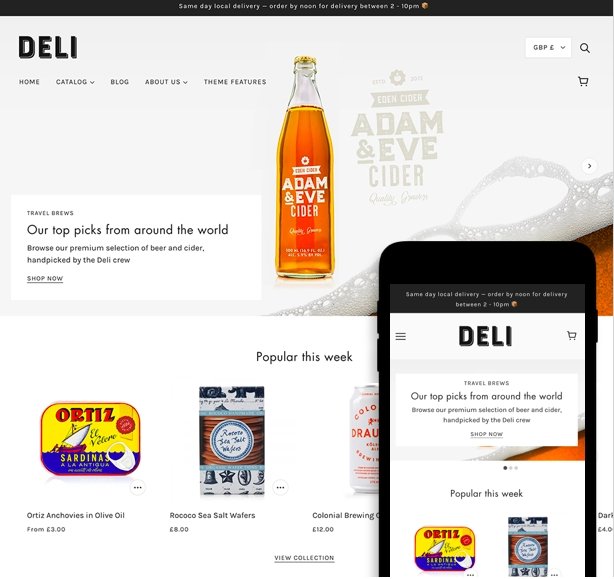 Main highlights:
Integrated customer journey
With this feature, you can include product reviews and pop-ups. It will assist in enriching the customer's journey. Also, deliver necessary information about your products and other services.
Comprehensive color swatches
This feature will allow you to avoid issues with users missing or overlooking descriptions and other types of texts.
Enhanced search
This feature will allow customers to find products easier and discover the most suited alternatives.
How to install Shopify theme to your store?
In case you are a newbie when it comes to the use of Shopify themes, take a look at this short guide. Here we will show you how to make your next step in making your business-related dreams come true.
Step 1 - download the template.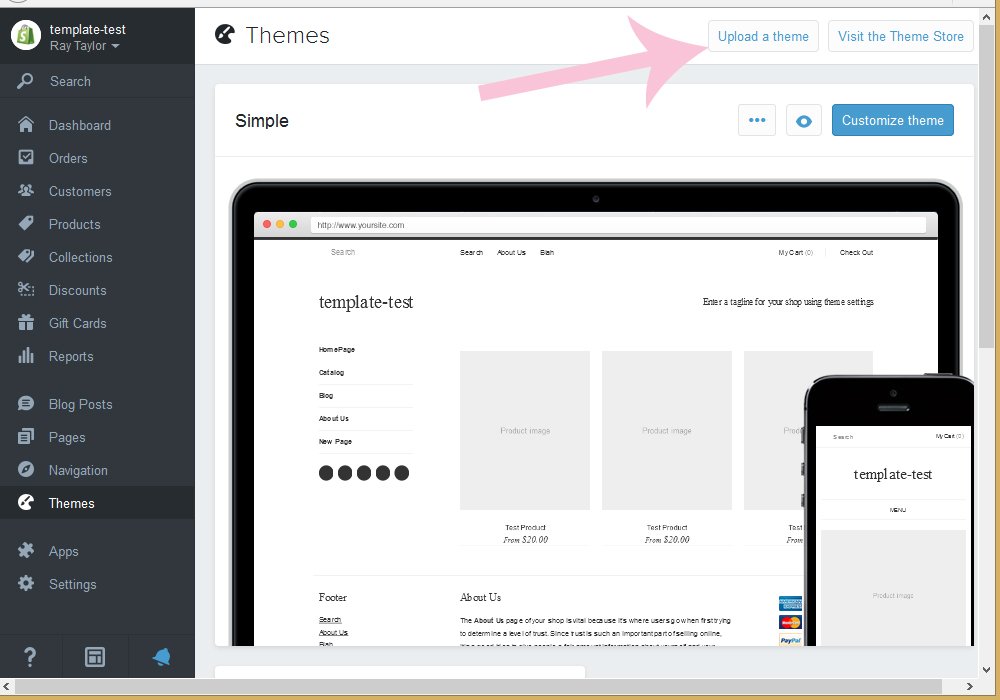 Step 2 - log into your Shopify Admin panel and go to the "Themes" section.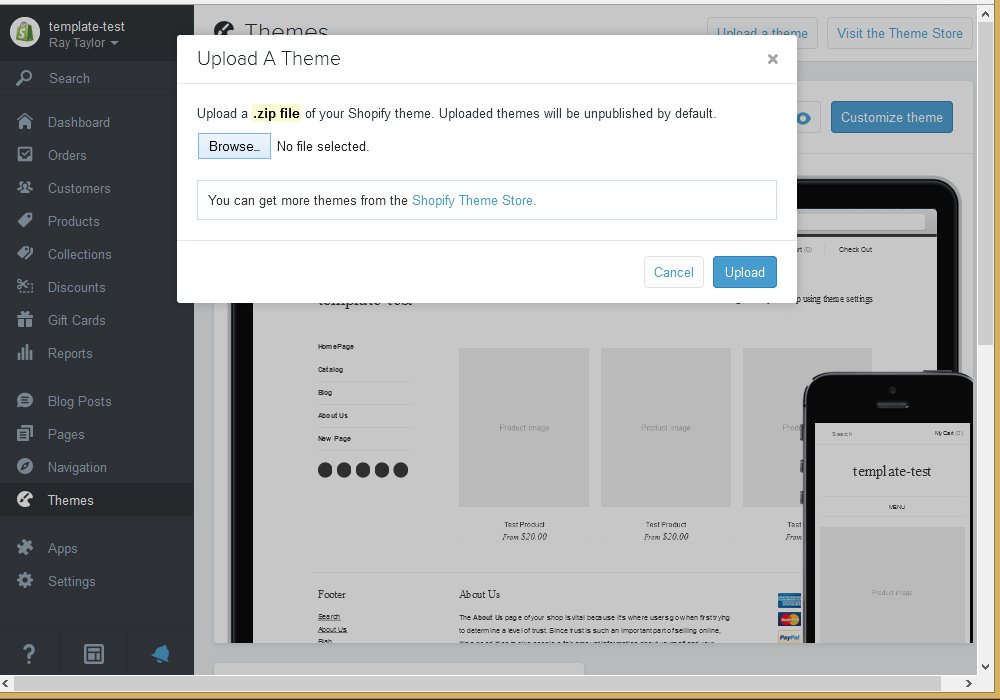 Step 3 - click on the "Upload a themes" button, located in the top right corner.
Step 4 - click on the pop-up window, then on "Browse" button and select your downloaded theme file.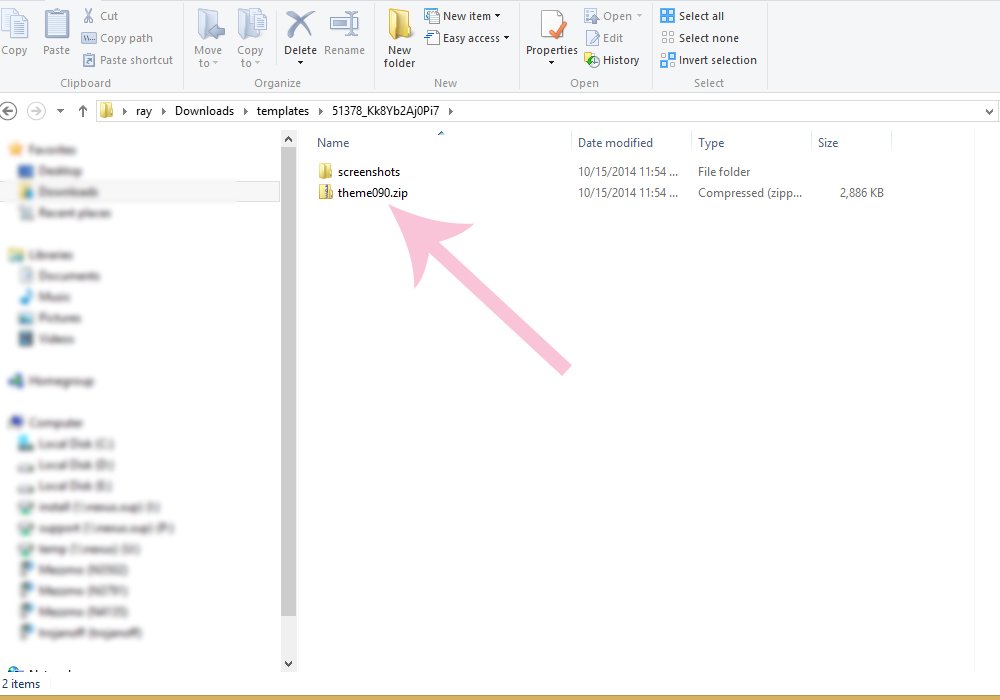 Step 5 - When you are done installing your template, scroll down and click on the "Publish theme" button.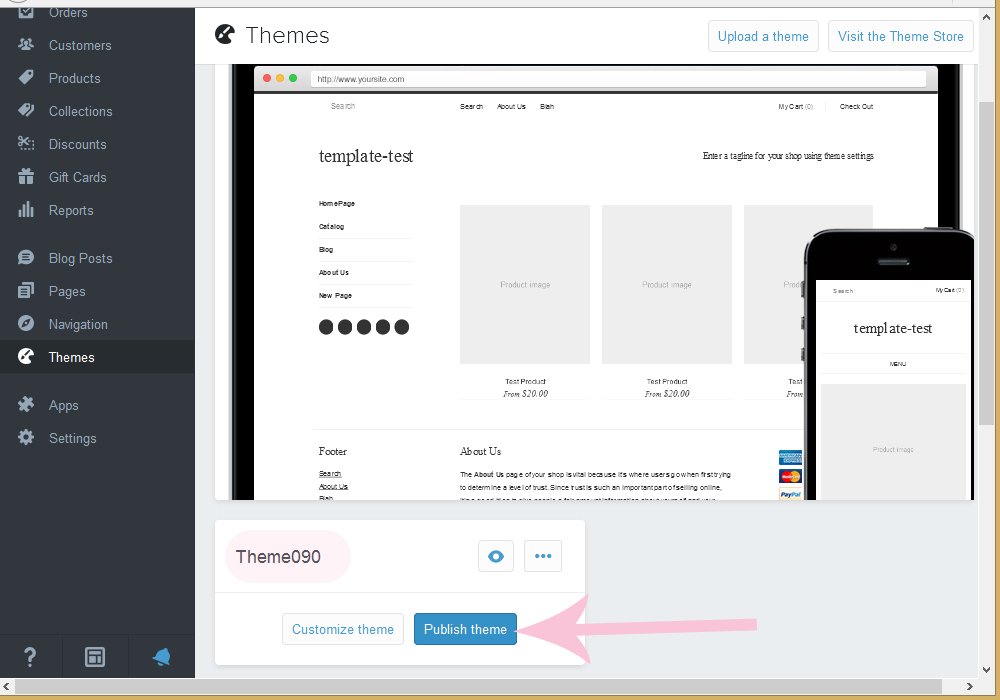 Now, you can preview your site with a new theme installed!
That's it, installing your Shopify theme is so easy. As for now, you can start uploading the content on your new website and start running your e-store.
The Takeaway
Shopify themes are diverse. You can look for them at the Shopify theme store or other places like Theme Forest or Envato.
Choosing the right option could appear a challenge for many merchants. However, with some help, everything is possible. We hope that this guide has helped you to choose the right theme to reap the best results.
Of course, there are many other themes to choose from. If you would ask our team, the best pick would be Wookie or Minimal. Both themes have all tools for the perfect customization of your website. And enough space to optimize your content according to the cornerstone practices of SEO. Once you pick the perfect theme, we will be happy to assist you in choosing the best Shopify app.