By purchasing through the links on this page, you are giving us the opportunity to earn a commission. Your support is greatly appreciated!

With thousands of Shopify eCommerce themes available, it's hard to pick the best one. And doing your own research is time consuming. To help you out, we did all the hard work.

In this article, we compiled the list of the best Shopify themes by category. We looked at design, customer reviews, theme features, the layout, available templates, and when the theme was last updated.

All the themes on the list are newly updated for 2023, so you won't run into outdated, no longer available templates. Without further ado, let's get you a great Shopify theme for your online store.
Best Shopify themes 2023:
1. Booster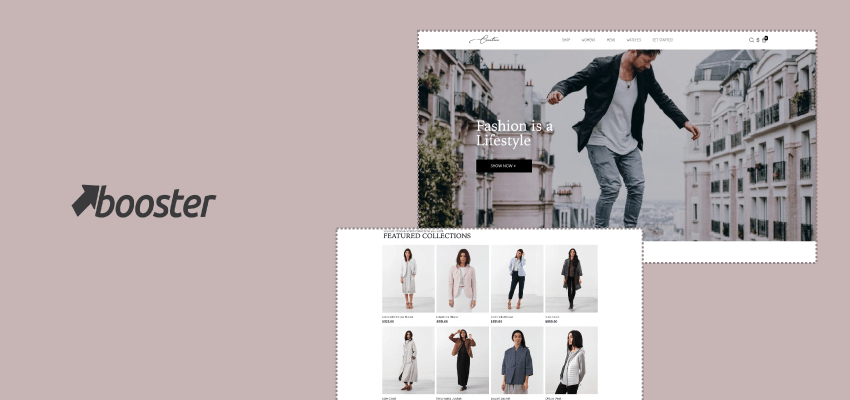 Booster Shopify theme not only offers 25+ design presets but also 40+ marketing tools that will help you save money on apps and plugins. It's an all-in-one solution for eCommerce stores - packed with features, fast loading, and focused on boosting your store's conversion rate.
You can easily customize pre-designed templates without dabbling in coding, allowing you to design a unique brand image. Booster is also optimized for mobile, which is important because nearly one-third of internet users shop on mobile each week.
Theme highlights:
Save $281/month on app fees
Full control over store's appearance
Loads faster than other Shopify themes
40+ conversion optimized marketing tools
2. Electro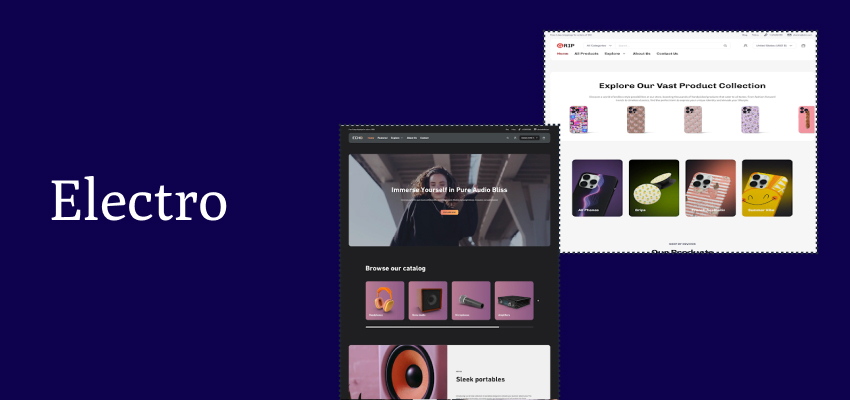 The Electro theme is a powerful and versatile theme specifically designed for electronics and high-tech stores, but it can be customized to meet the needs of any online store. There are 3 styles to choose from in Electro themes: Gadget, Audio and Surveillance.

Amongst all Shopify themes in the market, Electro stands out for its unrivaled page speed, smooth-sailing mobile experience and unique features.
Electro comes with high page speed. Its demo stores score 9x for both mobile and desktop on Google PageSpeed Insights.
Theme highlights:
Unrivaled page speed: all pages generated by Electro theme have 8x Google Pagespeed score on mobile.
The most powerful Product Comparison: Electro makes the best use of your Shopify metafields and metaobjects, empowering your visitors with comprehensive pre-purchase product insights.
Unique Product Page Navigation: So far, Electro is the only theme that supports Product Sticky Bar navigation, which helps visitors navigate more easily through your product page.
Intuitive hotspots: Easily highlight what you want to show to your customers to make them take action.
3. Dawn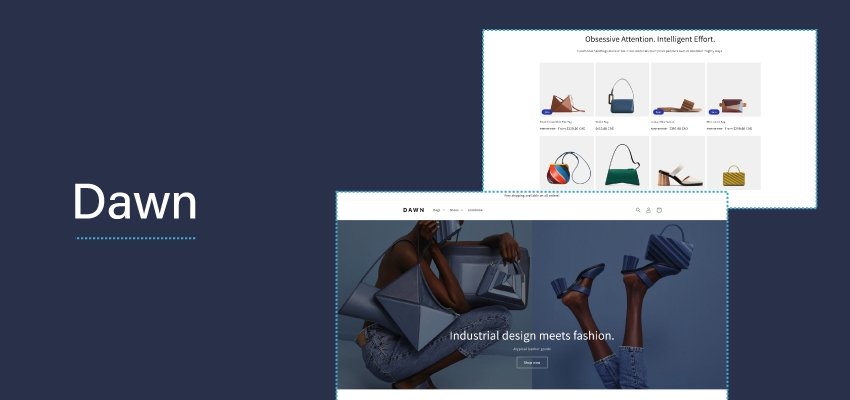 Dawn is a true champion when it comes to free Shopify themes. It's clutter-free, easy to navigate, and includes all basic features needed to launch your Shopify store. Dawn focuses on visual storytelling, allowing you to showcase high quality images. The theme is also easily set up and flexible when it comes to customization.
Theme highlights:
Completely free
Focus on visual storytelling
Minimalist to the core
Mobile-optimized
4. Stockholm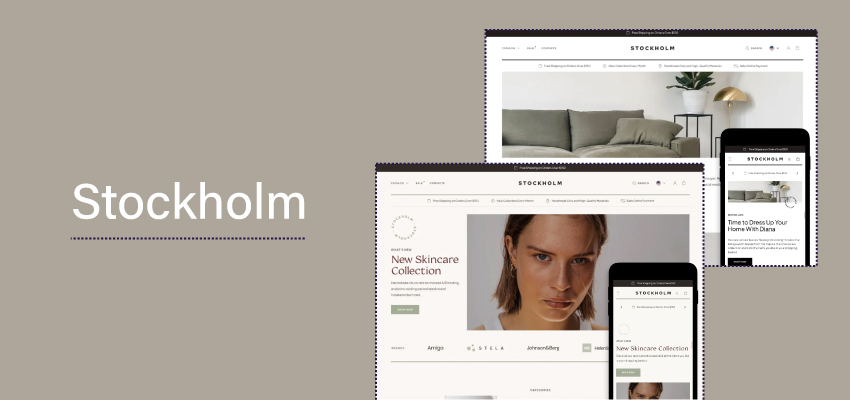 For those who want a clean and minimalist theme for their eCommerce Shopify store, Stockholm is here to deliver. The theme has a great, uncluttered layout, and simple navigation.
While minimal, Stockholm keeps its distinct, modern style, which attracts those seeking harmony. The theme is fit for small and high-volume stores alike, meaning it's powerful to handle shops with lots of products.
Theme highlights:
Focus on user experience
Stylish animations
Homepage video
Mobile-optimized
5. Boom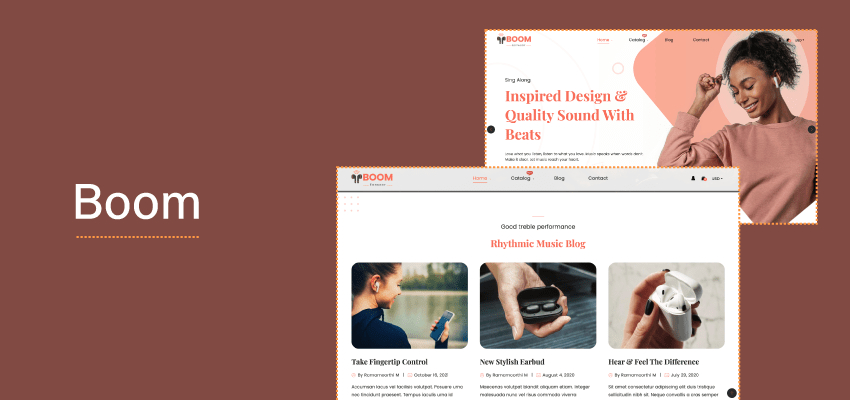 Boom is hands down the best Shopify theme for one-product stores. With over 70 unique pre-designed templates, you'll be able to find one that fits your style and needs.
Single product Shopify themes need a lot of space for storytelling, and Boom delivers on that. With many different available sections, you can tell your story in any way you want. It also comes with a bundle of features that will help your store not only look good, but also perform better.
Theme highlights:
Fully responsive
Fit for any niche / multipurpose
Easily customizable
One of the best sellers
6. Ella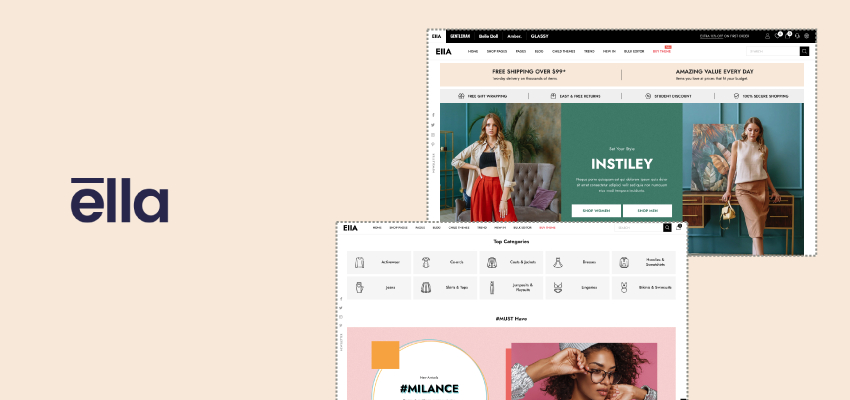 Generally, Ella is a well-functioning and professional multipurpose Shopify theme with a focus on templates for fashion stores. This theme offers templates for category, product, collection pages, as well as blogs.
Ella has quite a lot of built in theme features that will help you save up to $1000 on additional apps. And since mobile shopping is booming, this theme offers mobile-first design and fast loading speeds.
Theme highlights:
Mobile-first design
Maximum customizability
Regularly updated
Fast loading speeds
7. Foodian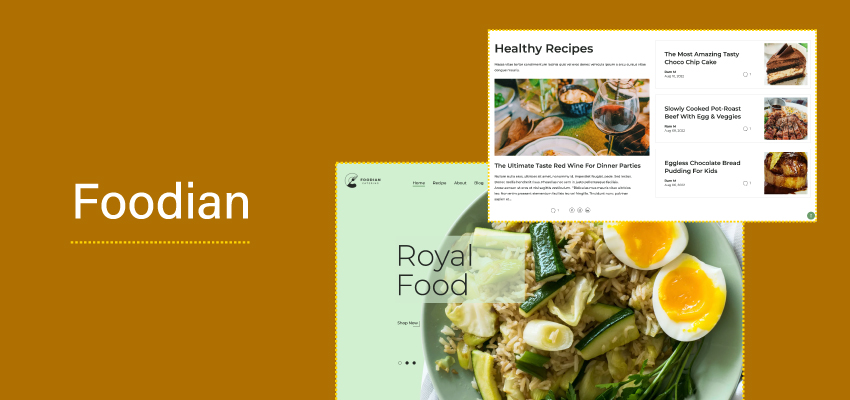 While Foodian is a lesser known theme (introduced at the end of 2022), it offers a perfect layout for bloggers.
Although only having one theme style, Foodian has a powerful admin panel, allowing you to create a unique Shopify blog template for your website. You'll also find all the tools and features needed to launch a successful blog or a store.
Theme highlights:
Fully responsive
Dedicated blog layout
Up-and-coming theme
8. Kalles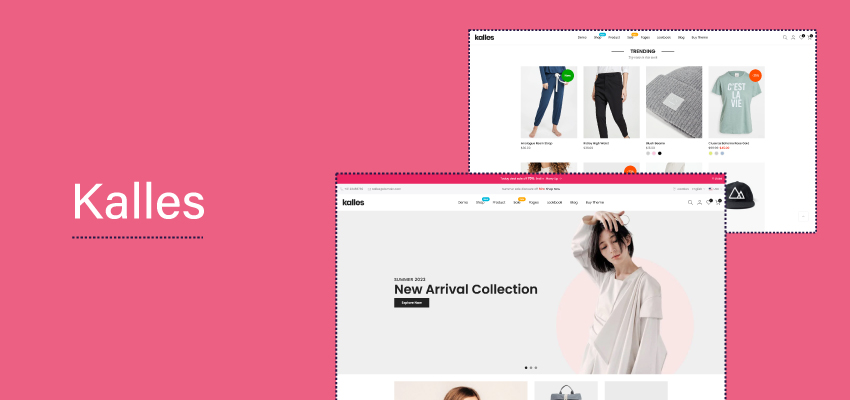 While most modern Shopify themes are fully responsive, Kalles responsive Shopify theme goes a step further and offers a mobile-focused design for all of its templates. The theme is multipurpose and fit for any eCommerce niche out there.
Kalles offers a complete website building toolkit, allowing you to build, edit, and rearrange sections on any page of your website. The theme is regularly updated with the latest features, so you'll always have the newest tools to improve your store with.
Theme highlights:
Mobile-first design
Fit for any eCommerce store
Complete website building toolkit
9. Palo Alto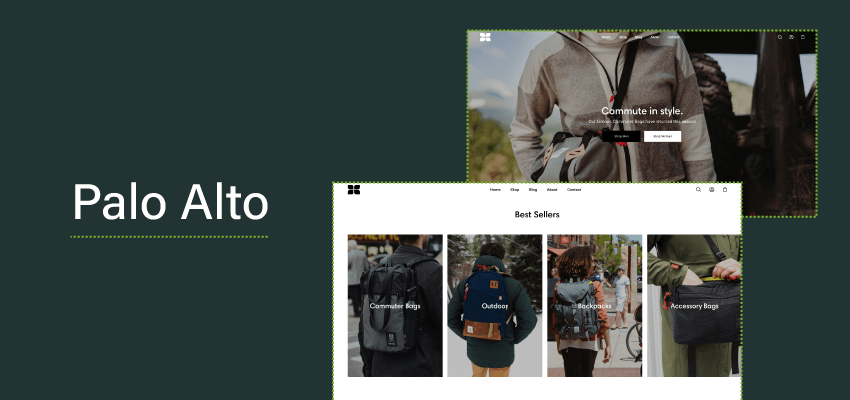 When it comes to good Shopify themes for SEO, no theme will do all the job for you. However, Palo Alto offers SEO friendly features like customizable metadata, responsive design, multi-language support, and easy navigation. The theme is able to handle high-volume stores without sacrificing loading speed.
This Shopify theme is optimized for visual storytelling and longer-form text blocks, which – if done well – can have a positive impact on search engine rankings.
Theme highlights:
100% responsive design
Customizable metadata
Supports translations
Includes a blog
Optimized for high volume traffic
10. Gecko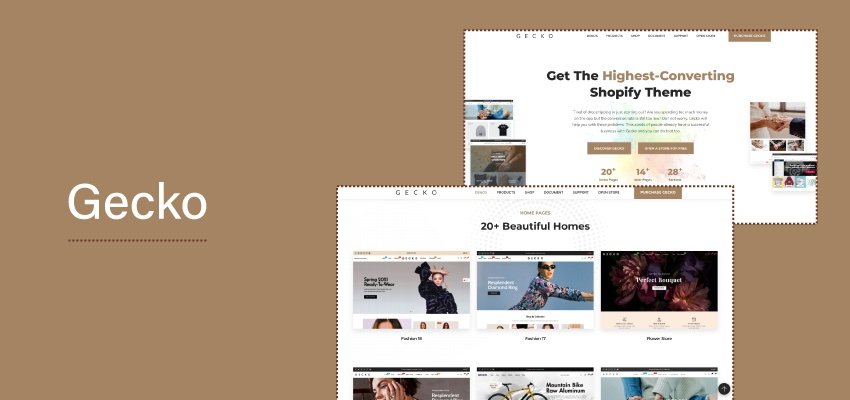 When setting up a Shopify store for dropshipping, you want to stand out. Gecko is highly customizable, from home pages to product pages. You can change layouts, elements, colors, and more. It's an excellent theme for creating a unique, distinguishable, and professional brand presence.
Gecko also offers tons of sales features and responsive design, so you can increase conversions on popular mobile devices as well. With this theme, you'll save money on third-party apps and plugins.
Theme highlights:
Optimized for speed and performance
Highly customizable pages and sections
Responsive design
Packed with sales-forward features
11. Foodie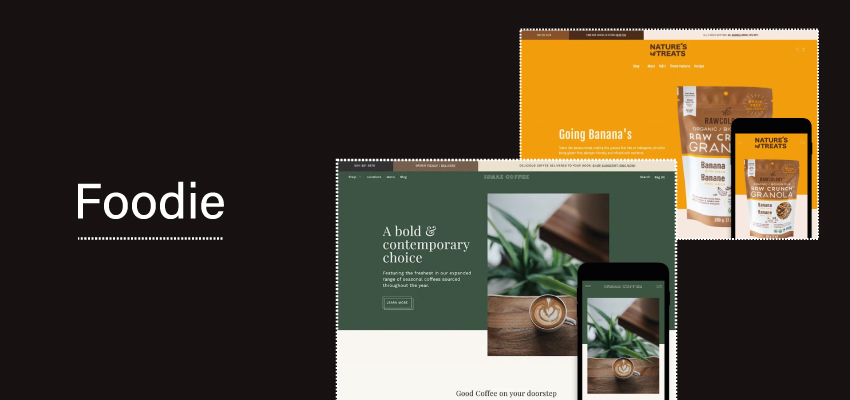 Foodie Shopify theme includes a restaurant menu section and store locator needed for any restaurant website. Shopify restaurant themes should also focus on building a brand through imagery, which Foodie delivers on.
The theme also includes age verifier, ingredients and nutritional information, product videos, and other features that will help you stand out in the ever so competitive restaurant business.
Theme highlights:
Restaurant/cafe menu section
Store locator
Age verifier
Ingredients and nutritional information
High-resolution images
12. Empire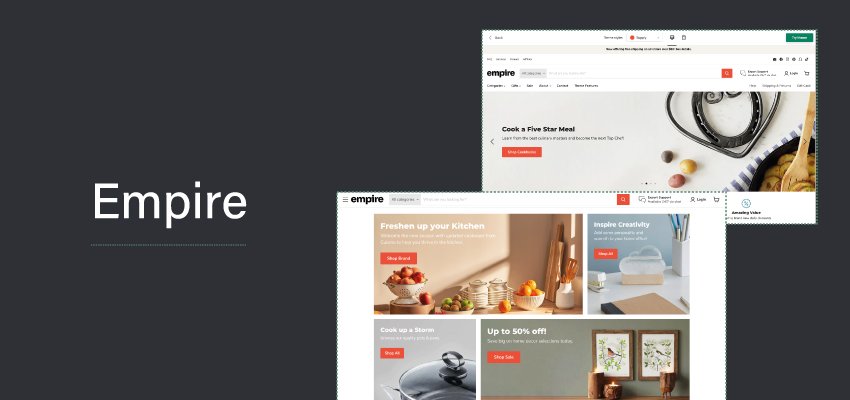 Shopify themes for selling tech products should have a clear, cluster-free product display, enough space for item descriptions, and user reviews. Empire offers all those features with its preset called Industrial. Other features include product comparison, straightforward navigation menu, product filtering, countdown timer, and more.
Theme highlights:
Neat product display
Product comparison
User reviews
Convenient product filtering
13. Label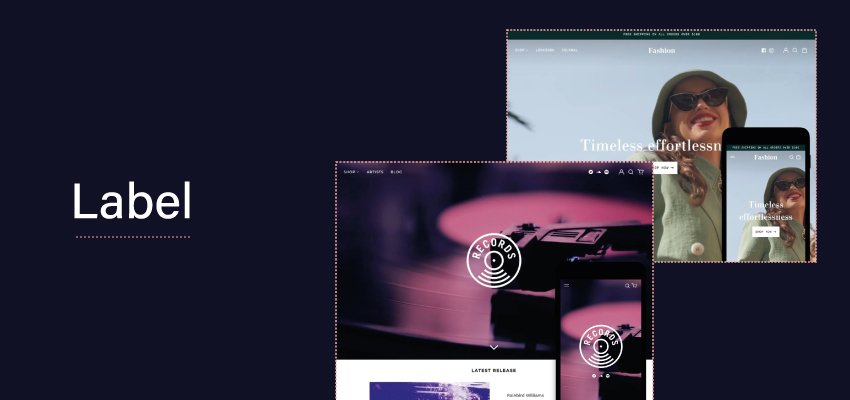 Brand distinction is very important in the entertainment business. That's why it's important to focus on building a brand identity. Label offers bold design and ability to upload high resolution images and videos. It also includes an integrated audio player and events calendar, making it a flexible theme for any entertainment business.
Theme highlights:
Bold design
Integrated audio player
Homepage video
Lookbooks & galleries
Great for digital products
14. Whisk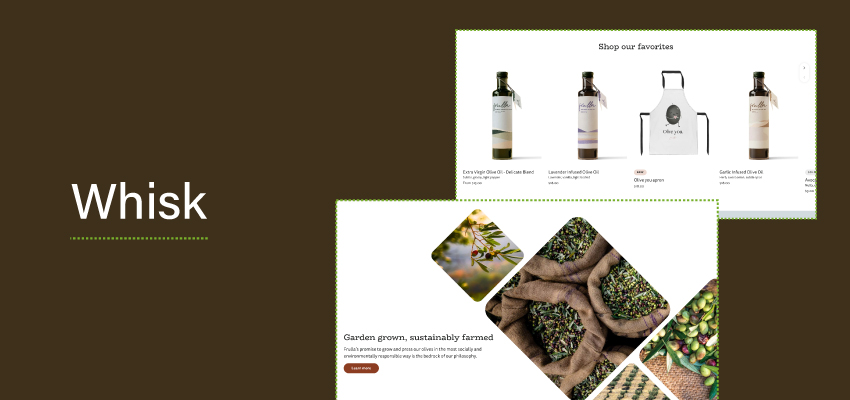 Whisk is a theme dedicated to food product stores. It offers a contemporary design, and includes not only an eShop, but also space for articles, as well as a store locator section with an integrated map. You can add recommended products to articles, this way increasing conversions straight from the blog.
Theme highlights:
Shop from the blog
Mobile optimized
Contemporary design
Store locator with map
Optimized for conversions
15. Maker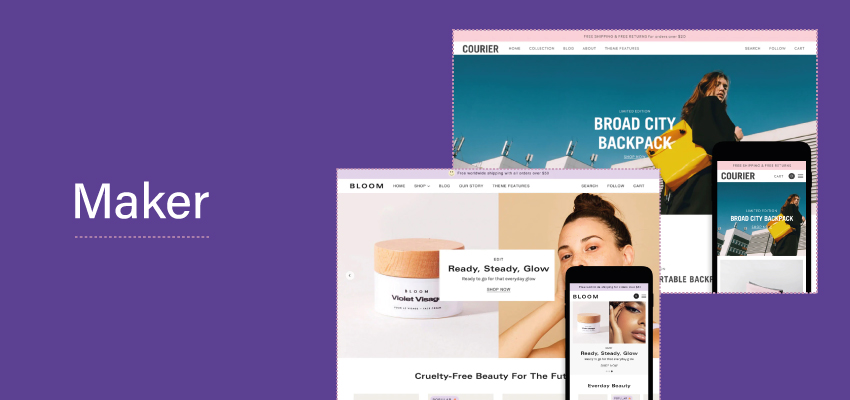 Maker is a beautiful Shopify theme that perfectly balances eCommerce, visual storytelling and editorial content. When it comes to Shopify themes for beauty stores, it's important to focus on the general brand aesthetic, the look and the feel of the shop. Maker combines beauty with conversion-forward features, creating an ideal space for brands looking for a way to stand out.
Theme highlights:
Visual storytelling
Mobile optimized
Beautiful design
Fit for high-volume stores
16. Rentoor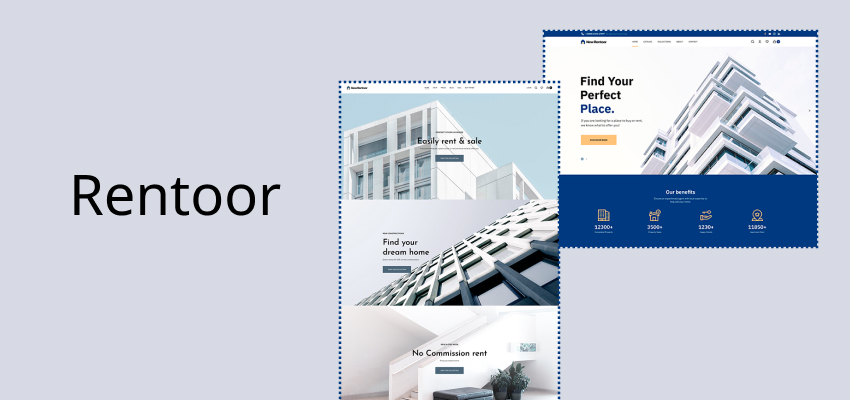 Rentoor is a great Shopify theme for real estate agents looking to start their business online. All the presets are modern and quite minimal, focusing on the houses and apartments for sale or rent. The theme offers powerful filtering tools so you can filter the listings by the city, type, and district. There's also a separate section for customer reviews, as well as newsletter integration to keep people up to date with relevant listings.
Theme highlights:
Powerful filtering for listings
Modern and minimal design
Customer reviews
Mobile optimized
17. Highlight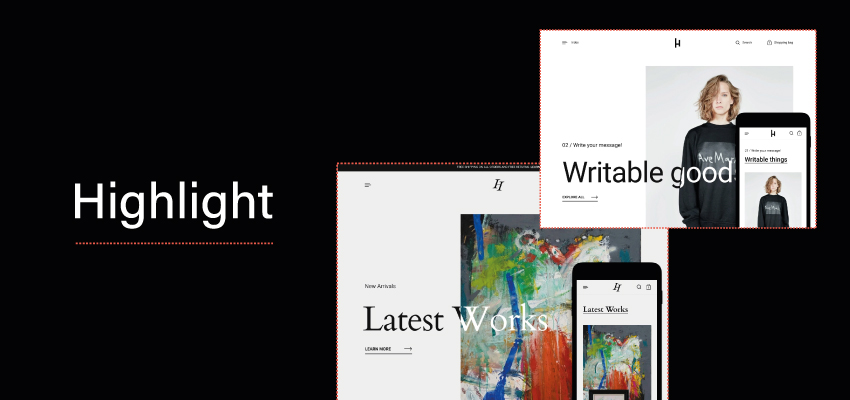 Highlight Shopify theme isn't your standard eCommerce design template. The theme is unique and creative - perfect for a website offering any kind of services. The parallax scrolling and unusual design will help you stand out. Whether you have a marketing agency or want to create a portfolio, Highlight is a great pre-made Shopify theme for offering digital services.
Theme highlights:
Creative parallax scrolling
Fit for visual storytelling
Fit for editorial content
18. Random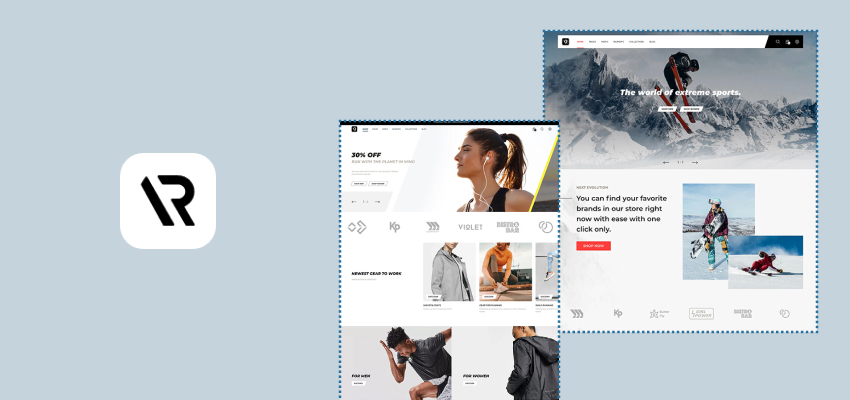 Random is a Shopify theme dedicated to any sports-related eCommerce business. Whether you're selling sports gear or workout clothing, Random offers tons of marketing features, responsive design, clean and structured product display, and powerful product filtering. The theme also includes lookbooks and newsletter popups.
Theme highlights:
Fit for any fitness store
Clean and structure layout
Powerful filtering options
Mobile optimized
19. SmartBook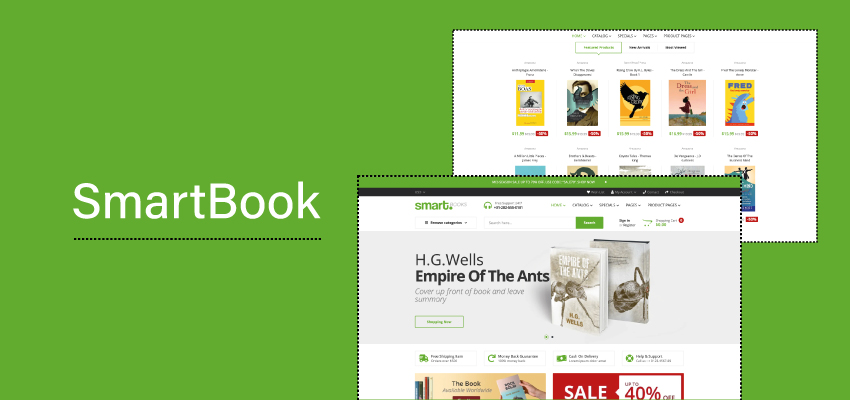 While SmartBook is a theme for selling books, the general layout and functionality comes very close to websites selling online courses. The theme has a variety of different headers, product display options, and menus, and is fit for small and large catalogs alike. You can group courses into categories, and add videos to your website, which makes it a great Shopify theme for online courses.
Theme highlights:
Smooth video integration
Fit for selling digital products
Flexible grouping & filtering
20. Motion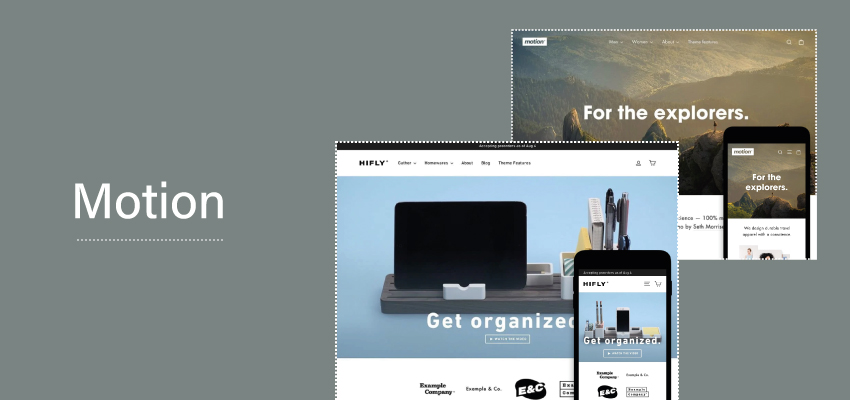 Motion may seem like a fairly minimal Shopify theme, but it offers flexible customization options and great design features, such as animation. If you're looking for a Shopify theme to sell art online, Motion will not disappoint. It's designed for visual storytelling, meaning it encourages you to rely on imagery to build your brand story. And, of course, Motion is optimized for any screen size.
Theme highlights:
Smooth animation feature
Flexible customization
Great for selling art online
Mobile optimized
Designed for visual storytelling
Top Shopify templates by category
If you have a certain requirement for your Shopify theme, be it product or function related, you can browse our selected themes by category:
What makes a Shopify theme great?
Shopify themes vary in features, some offering less, and others seeming like an all-in-one premium solution for your eCommerce business. But what are they key features that should be a no-brainer when choosing a Shopify theme? Here's our criteria:
Responsive design. While most popular Shopify themes claim they're optimized for mobile devices, you should always check how the theme looks on different screens, and evaluate if it meets your standards.
Flexible customization options. A great theme should be highly customizable without having to touch code. Look out for a theme with integrated builders that allow you to edit/add/remove sections, elements, navigation menus, and so on.
Sales features. Every business owner wants their business to grow – and promotional, upselling features can greatly contribute to that. Look for a theme that offers product discount labels, newsletter popups, promotional banners, and other sales-boosting features.
Clear checkout process. You don't want your customers getting frustrated and ending up not buying anything just because they cannot get hang of the buying process. Choose a theme that makes it as clear and simple as possible.
While a lot of Shopify themes are powerful and feature-packed, if you want to build a complex and successful website, you should consider installing one or several useful Shopify apps. The apps can help with search engine optimization, email marketing, displaying discounts, and much more.
Summary
We hope we made your search for the best Shopify theme just a little bit easier. The list is long, so to refresh your memory, let's review our overall winner. Booster is on top of the list for a reason – powerful marketing tools, 25+ design presets, and fast loading speeds are very hard to match. However, such a behemoth of a theme might not be for everyone. The rest of the themes on this list are all great choices depending on what products or services you're selling.
Of course, after you've done the difficult job of choosing your Shopify theme, you'll have to think about further steps to boost sales and increase traffic. Here's our suggestion: