By purchasing through the links on this page, you are giving us the opportunity to earn a commission. Your support is greatly appreciated!

Often appreciated for its flexible design functionalities, Squarespace also provides you with a decent set of Search Engine Optimization capabilities. The website builder includes all the necessities to help you run a well-optimized website that ranks in the highest Google positions. Yet, to achieve this, you must implement some effective SEO practices.

When optimizing your Squarespace website, it's important to involve everything from the site speed to the content. And if you know the SEO basics and use helpful optimization tools like TinyIMG, you don't have to be an SEO manager to do so.

Considering it all, in this article, we will walk you through the best 10 Squarespace SEO practices. You will learn how to make your website rank better both manually and with the help of third-party tools.
Is Squarespace good for SEO?
Yes, Squarespace is a good platform for SEO. Within the past few years, the website builder has noticeably improved its approach to SEO optimizations, allowing various website owners to enhance their website's performance on search engines.
Looking for a way to optimize your on-page SEO? Use TinyIMG meta title & description checker for free
Try TinyIMG
Squarespace SEO pros
Clear and user-friendly interface. Once you build a page or a post, you will find their individual configuration boxes for adding metadata, allowing you to add information without any technical knowledge.
Built-in keywords analytics. Unlike other popular website builders, Squarespace has implemented a feature for analyzing keywords on your website. With it, you can monitor what keywords are effective and what you can add to improve.
Social media integrations. Squarespace allows you to integrate with top social media platforms, including Twitter, Facebook, LinkedIn, and more. This way, you can improve online visibility and also help search engines note your social engagement.
Compatible with smartphones. Every Squarespace theme is mobile-responsive; therefore, your website becomes accessible on all types of screens. With this, you can make a mobile e-commerce-friendly website, and become more credible in Google's eyes.
Includes a free SSL. As all major website builders should, Squarespace protects your website with free SSL certificates. With it, your website server receives an encrypted link to a web browser.
Squarespace SEO cons
No native control over the website's speed. Squarespace doesn't allow you to alter the code to boost your website's loading speed, which is often overlooked by website owners and is one of the most common SEO mistakes. Fortunately, with services like TinyIMG, you can boost your site's speed effortlessly.
Basic blogging possibilities. Perfect for beginners but quite weak for growing your website – that's how we'd describe Squarespace's blogging suite. Although you receive a user-friendly blogging tool, it lacks some advanced features that you'd find in other website builders.
Limited support for plugins. Unlike Shopify or some other website builders, Squarespace offers a smaller list of plugins it works with. Therefore, some optimization tasks must be completed manually.
On-page vs off-page SEO – what's the difference?
On-page and off-page SEO both are crucial for the SEO strategy to be effective. In a nutshell, on-page SEO refers to element optimization directly on a website. Meanwhile, off-page SEO refers to actions taken outside your website and are meant to increase credibility, relevance, as well as website authority.
These SEO types also include different components. When you want to enhance your on-page SEO, you optimize the metadata, keywords, content overall, image alt tags, internal linking, website speed, and other crucial details for the website's performance.
In the meantime, optimizing off-page SEO means you'd need to obtain relevant, high-quality backlinks from credible websites, improve social media marketing, mention outside brands, and anything else that would help to build your website's authority.
How to optimize SEO on Squarespace
Optimizing SEO on your Squarespace website is easy as long as you follow tested and effective practices. However, there are plenty of SEO optimization recommendations online, and finding the right ones for your website may be complicated.
To help you, we have outlined the best tips for Squarespace SEO specifically in the list below:
1. Complete the site audit for SEO
2. Research and optimize your keywords
3. Add keywords to headings and meta descriptions
4. Speed up your website
5. Make your website mobile-responsive
6. Use image ALT texts
7. Deliver high-quality content
8. Set up your linking strategy
9. Implement structured data
10. Build a custom 404 page
Continue reading, learn about each practice in detail, and apply it to your SEO strategy for better online visibility. To avoid overlooking any of the optimization parts, use the Squarespace SEO checklist provided below.
SEO checklist for Squarespace
If you worry about skipping any SEO optimization task, our tip is to use this Squarespace SEO checklist below and mark the box once the task is completed.
| | | |
| --- | --- | --- |
| Categories | Elements | Check |
| Site information | Metadata, site title, site description | ☐ |
| Site design | Mobile-responsive theme, favicon, social sharing, custom 404 page | ☐ |
| Domain and URL setup | Custom domain, SSL, social media, URL slugs, blog post URL format | ☐ |
| Content | Keyword & competitors research, unique content, addressing intent | ☐ |
| Images | Optimization, ALT texts, clear file names | ☐ |
| Linking | Internal linking, backlinks, linking to authoritative sources, social media | ☐ |
| Location information | Adding and publishing business location | ☐ |
| Google | Google Search Console, Google Analytics | ☐ |
1. Complete the site audit for SEO
Completing a website SEO audit will help you find out your site speed, whether the website is mobile-responsive, the website's traffic flow, and whether the web pages get picked up.
To do so, you can either go manually or use a dedicated service, which would extract all relevant information automatically. We recommend getting help from professionals, for example, TinyIMG, which runs page audits and provides you with detailed SEO reports starting from $14.99/month.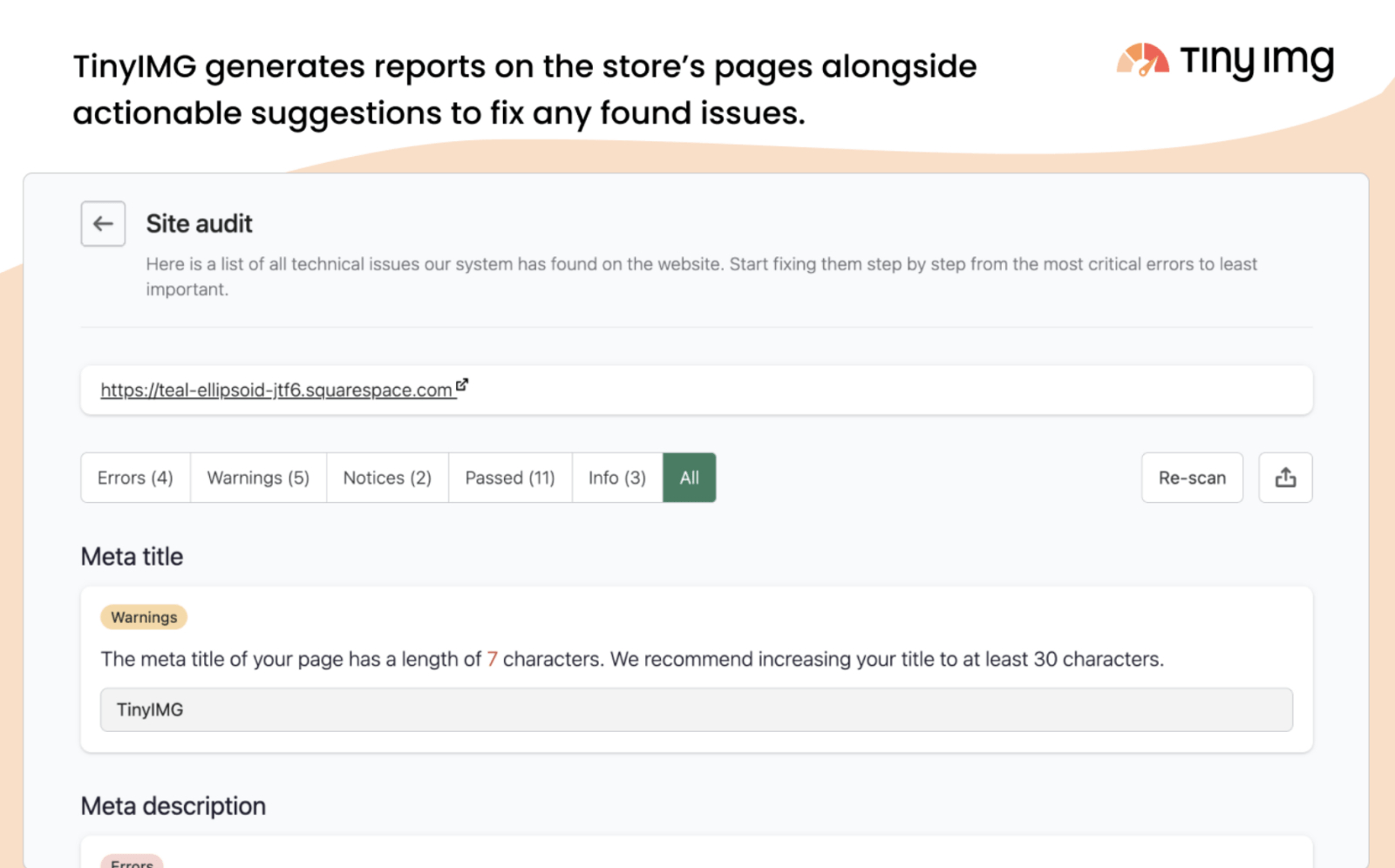 Auditing your Squarespace website on your own requires some technical knowledge, and it consumes time, as you would need to complete things like running a crawl of your website.
2. Research and optimize your keywords
Keywords are crucial for you as a website owner, your site visitors, and search engines. Thanks to them, you know exactly what the audience is looking for and what question you need to help them answer. Meanwhile, potential website visitors use keywords to find the information they are looking for on a search engine.
However, simply stuffing the webpage with random keywords isn't going to help. To help them deliver the result, you need to conduct dedicated keyword research for a specific topic. Once you extract the list of high-ranking word compounds, it's time to build content that would answer the intent.
But don't rush into researching for keywords just yet. When you choose what keywords you want to rank for with your Squarespace webpage, analyze the difficulty of them and how your competitors implement selected keywords. Note that the stronger the competition is, the harder it gets to rank with certain keywords.
The chain of actions that works best for us to optimize the Squarespace webpage for keywords is:
Complete the keyword research relevant to your selected topic.
Outline the highest ranking and other potentially effective keywords.
Analyze your competitors' content based on selected keywords.
Build your content.
Go through your written webpage text and look for opportunities to implement your selected keywords from the analysis.
3. Add keywords to headings and meta descriptions
Adding keywords to headings, also known as header tags (for instance., <H1>, <H2>, <H3>, etc.), is one of the most important on-page SEO practices that can enhance your website's visibility and search engine rankings.
Headings themselves help you structure the page more clearly, and adding keywords to them improves your web page's relevance to certain inquiries. Consequently, search engines consider your website credible and positively evaluate your capabilities in fulfilling the intent of a topic.
Moreover, keywords in headings increase the chance of your content appearing in the featured snippets as well as rich results of Google or other search engines' result pages.
Similarly, using keywords in meta descriptions can help you attract more visitors to your page. Although meta descriptions don't participate in rankings, they are often selling points of websites.
4. Speed up your website
Slow Squarespace websites tend to have fewer visitors than websites with well-optimized loading speeds. You may wonder how a website becomes slow. There may be a few reasons: your website has many unoptimized visuals, you have installed too many redundant plugins, or you're using heavy themes.
However, speeding up your website is easy if you use the right tools and methods. You may start by switching to a lighter website theme and removing the plugins you don't use manually. As for videos or images, it's best to use an optimization tool, like TinyIMG, that can help you compress images. And here are some other changes you can make to improve your Squarespace website speed:
Replace GIFs with static images
Introduce lazy load images
Fix broken links and redirects
Swap from custom to system font
5. Make your website mobile-responsive
Mobile-friendly websites are far more engaging and can attract a broader website visitor base. Not optimizing your website for different screens can affect your SEO, as creating a positive browsing experience is one of the most important factors to rank.
Numerous website owners underestimate the importance of mobile SEO. Not optimizing your Squarespace website for all types of screens may affect your SEO and the bond with the site visitors. By adapting your website for smartphone screens, you make your website more visible on Google search result pages.
Testing your website to see if it's intuitive on mobile devices doesn't require technical knowledge. Simply open your website on a phone and see whether the buttons are responsive and you can scroll the page lag-free, evaluate the quality of images, and if the pages load fast. If your website feels awkward on a mobile device, we suggest you look for a mobile-responsive theme.
6. Use image ALT texts
There are several reasons why using image ALT texts is a must for your Squarespace website, such as better accessibility. But the most important one is that ALT texts are important for image SEO, as they make search engines understand the image and its connection to content more easily.
The ALT text itself is a brief description of an image that includes keywords. It's presented to the website visitors who use screen readers or if the image doesn't load.
7. Deliver high-quality content
With each algorithm, Google and other search engines require website owners to deliver more professional content. This means your website text must be grammatically correct, fulfill the intent, be understandable, and be credible.
Even though many website owners focus on meeting search engines' requirements, it's a mistake to forget the actual readers that make your website rank. To avoid ignoring this, ensure you complete these content strategy tasks:
Conduct thorough research to understand your audience and the dominating issues that you can help with
Make sure you write content that focuses on the intent and answers to the topic
Produce informative and unique content, maintaining an engaging and natural writing style
Avoid reusing the same phrases across the web page and duplicating content overall – always prioritize quality over quantity
Make sure you link to external reliable sources as well as to your other pages (internal linking)
8. Set up your linking strategy
Both internal and external linking are crucial for building your website's credibility and visibility. When linking internally, you help your visitors and search engines to better navigate through your website as well as to understand which pages are more important.
Meanwhile, external linking can be separated into two types. It's linking to reliable sources, which proves your efforts to build content, and backlinks that inform the search engine about your content being relevant to online users within a specific inquiry.
To build an effective external linking strategy, you'd need to link to your website from outside platforms, like social media. Not less important is to look for backlink opportunities and write your content in a way that is shareable.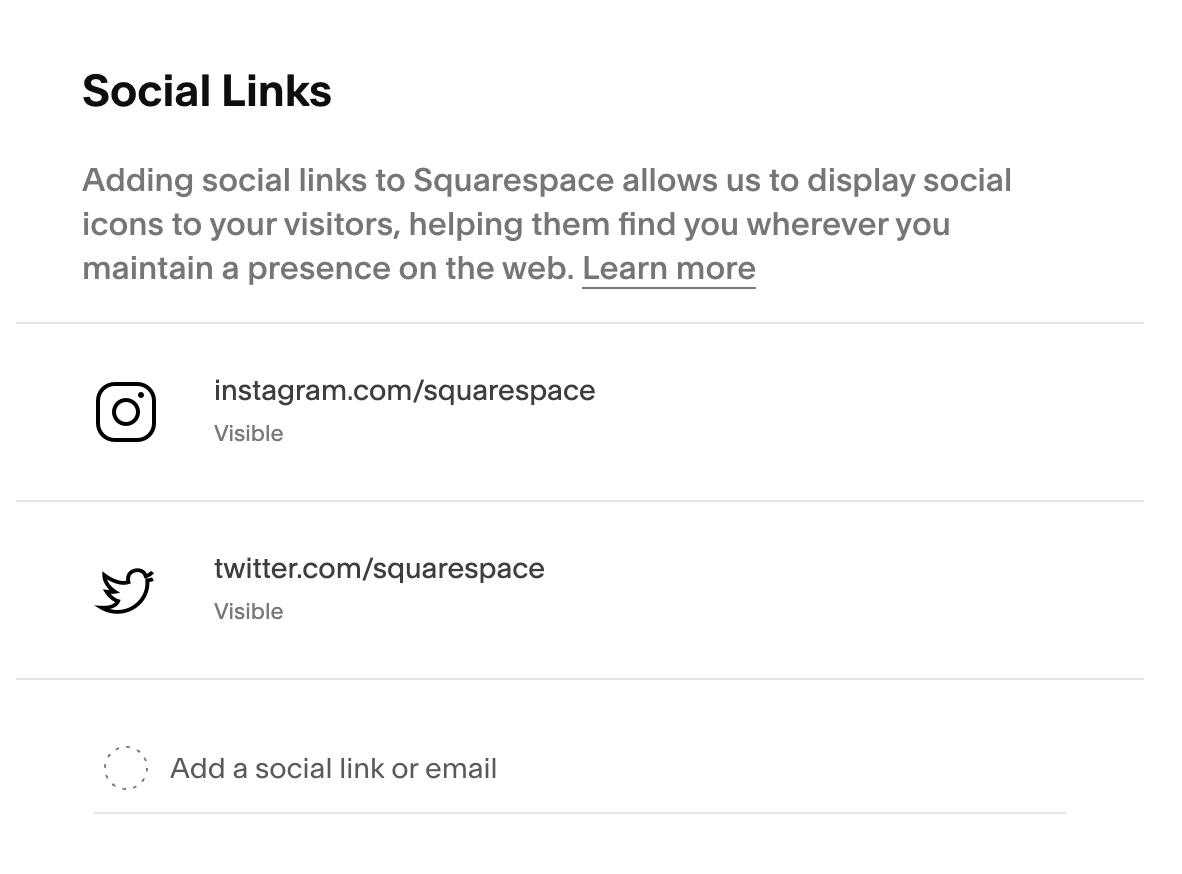 Internal linking implementations include adding navigation menus, including links to footers, adding links on anchor texts throughout the content, and other methods.
9. Implement structured data
Structured data, also known as schema markup, is a type of information you can add to your website's code to get rich snippets in search results more easily. Rich snippets themselves include constructive information about your web page and help potential visitors see what they can find on it.

Structured data is one of the HTML elements, so your visitors won't be able to see it. Adding it to your Squarespace website won't directly improve your ranking. However, it can help your website to stand out from the competitors and collect more traffic.
10. Build a custom 404 page
A 404 error code, also called a broken link, informs about missing web pages. Often this code scares off website visitors, thinking that the whole website is broken. Therefore, it's crucial to create a custom 404 page, which would redirect your potential website visitor to another functional web page.

Even though Squarespace provides you with a default 404 page, you can use one of your own. Nevertheless, we do not recommend redirecting your visitors to the homepage. Considering that search engines evaluate the amount of time a visitor spends on your website, it's best to redirect your reader to some engaging part of your website. For instance, some tool, an About Us page, or an interesting blog post, among other options.
Bottom line
Completing the Squarespace SEO checklist is inevitable if you want your website to grow. From design to SSL protection – every detail ensures you provide your visitors with a good experience and your website becomes more visible to search engines daily.
Even though Squarespace itself has a handful of built-in SEO features for optimizing your website, these may be not enough to outrival your competitors. Therefore, we recommend you install third-party plugins, like TinyIMG, that can help you automatically improve your Squarespace website's SEO.
Frequently asked questions
Yes, Squarespace is good for SEO. While more famous for design possibilities, Squarespace has effectively improved its SEO suite within the past few years. With it, you receive a built-in keywords analytics tool, free SSL, social media integrations, and more.
TinyIMG is the best SEO tool for Squarespace. With this Squarespace plugin, you receive automatic SEO audits and reports, you may also optimize your website speed and images, or even check the quality of your web page metadata.
Bergen has been ranked as one of the best templates for Squarespace SEO. It's fully compatible with all screens and ensures good loading speeds. Additionally, this template is suitable for beginners, as it's easy to customize.