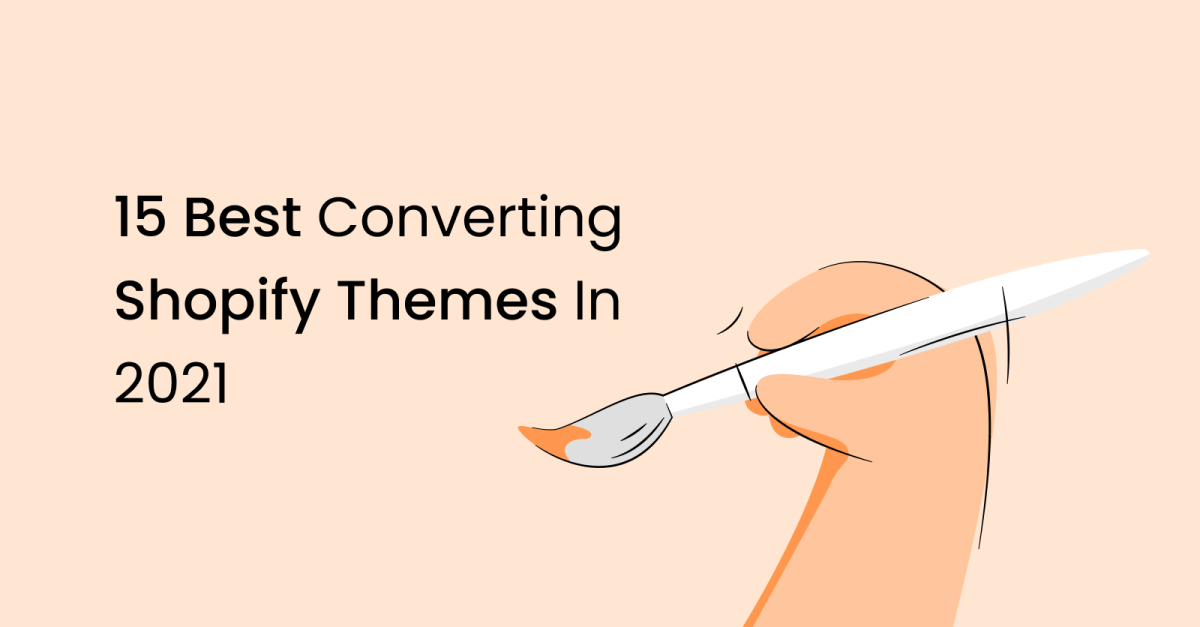 If you own an eCommerce store in this day and age, you needn't be reminded of the relentless competition that exists in the market today. Your potential customers have enough and more options to choose from, which means their expectations are constantly on the rise.
Therefore, your Shopify store today is as good as the customer experience it provides and your store theme has a huge role to play in determining it. A quick Google search of "best converting Shopify themes" will tell you that there are endless choices available for your store.
So, how do you pick the one best suited for your unique needs?
The theme of your store is responsible for its look and feel, functionality, ease of use, and overall shopping experience, and all of these factors work together in driving conversions. Therefore, if you are looking for a Shopify theme for your store, go for one that does justice to what your brand stands for and at the same time, has all the right elements in place to nudge the visitor towards conversion.
Let's take a look at some of the best converting Shopify themes that you can choose from.
Best converting Shopify themes overview
To simplify the process of choosing the highest converting Shopify theme for your store, we have done the heavy lifting for you. Here's a rundown of some of the best Shopify themes that we found. We'll be evaluating them on the basis of the following parameters:
Features,
Usability,
Price,
browser compatibility,
Support.
Based on each of these factors, you can select a theme that works best for your brand's unique requirements. Make sure you also keep in mind that you're choosing the best Shopify theme for mobile, as most consumers tend to make purchases on-the-go.
1. Doni - A creative and minimal Shopify theme for lifestyle products
Doni is known as one of the best converting Shopify themes for both desktop and mobile experiences as it comes with minimal design templates for each page. You can customize each of these templates further to brand them as per your business requirements, making it extremely creative to use!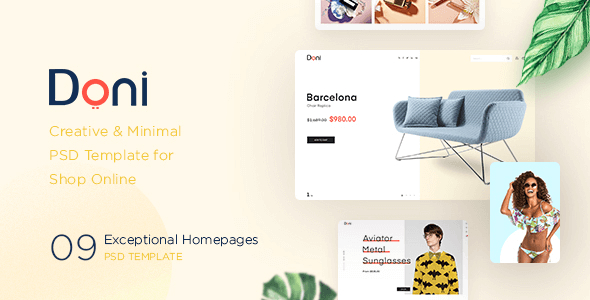 Price: $49
Developer: EngoTheme
Support: 6 months of 24*7 online support (can be extended to 12 months at an additional $12.75)
Browser compatibility: Firefox, Safari, Opera, Chrome, Edge
Features:
Minimalist layout
Shopify responsive theme
Multi-currency support offered
Robust customization support
Provision for product carousels and customer reviews
Unlimited fonts and color options
Product labels included
Advanced widgets provided
2. Minimal - A simple and clear Shopify theme to keep products in focus
With so many distractions around an online shopper, it is important to keep your products up, front and center. Minimal is one of those Shopify responsive themes that focuses on products more than distracting elements across all the pages. It offers a grid as well as listicle layout of products on the home page, helping you get more items discovered.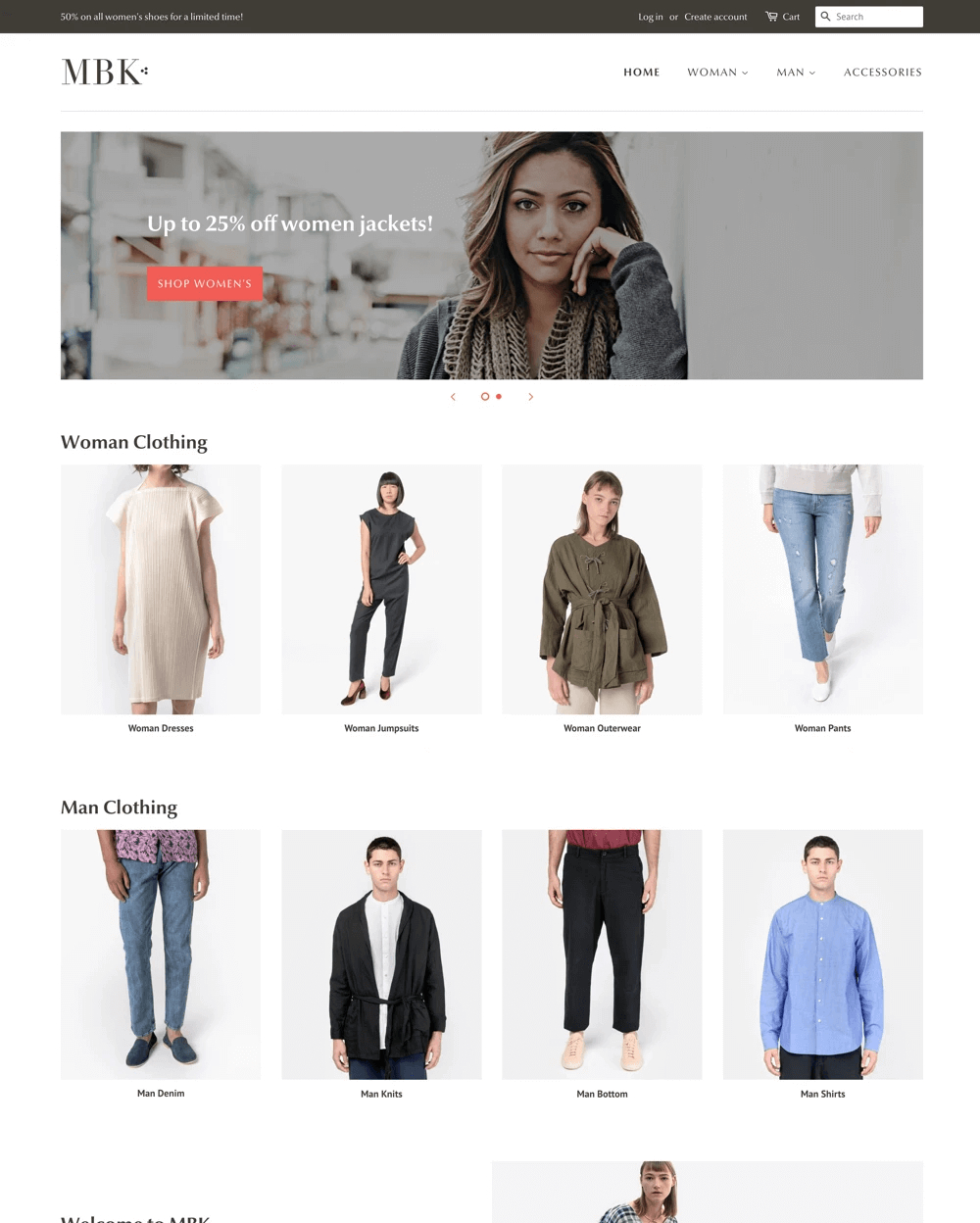 Price: Free
Developer: Shopify
Support: Shopify official support provided
Features:
3 styles available (Vintage, Fashion, and Modern)
Simple, straightforward, and easy to use theme
Best suited for small catalogs
Homepage video and slideshow available
Product recommendations offered
Product image zoom and slider available
SEO and mobile-friendly theme
3. Debutify - A flexible Shopify theme with in-built features for customization
Another one of the highest converting Shopify themes is Debutify. Known for its customizations and in-built features such as the countdown timer, popups and more, it is a common choice for dropshippers and lifestyle brands that have no technical knowledge to customize their store's look. It comes with a drag and drop editor that makes customizations further easier.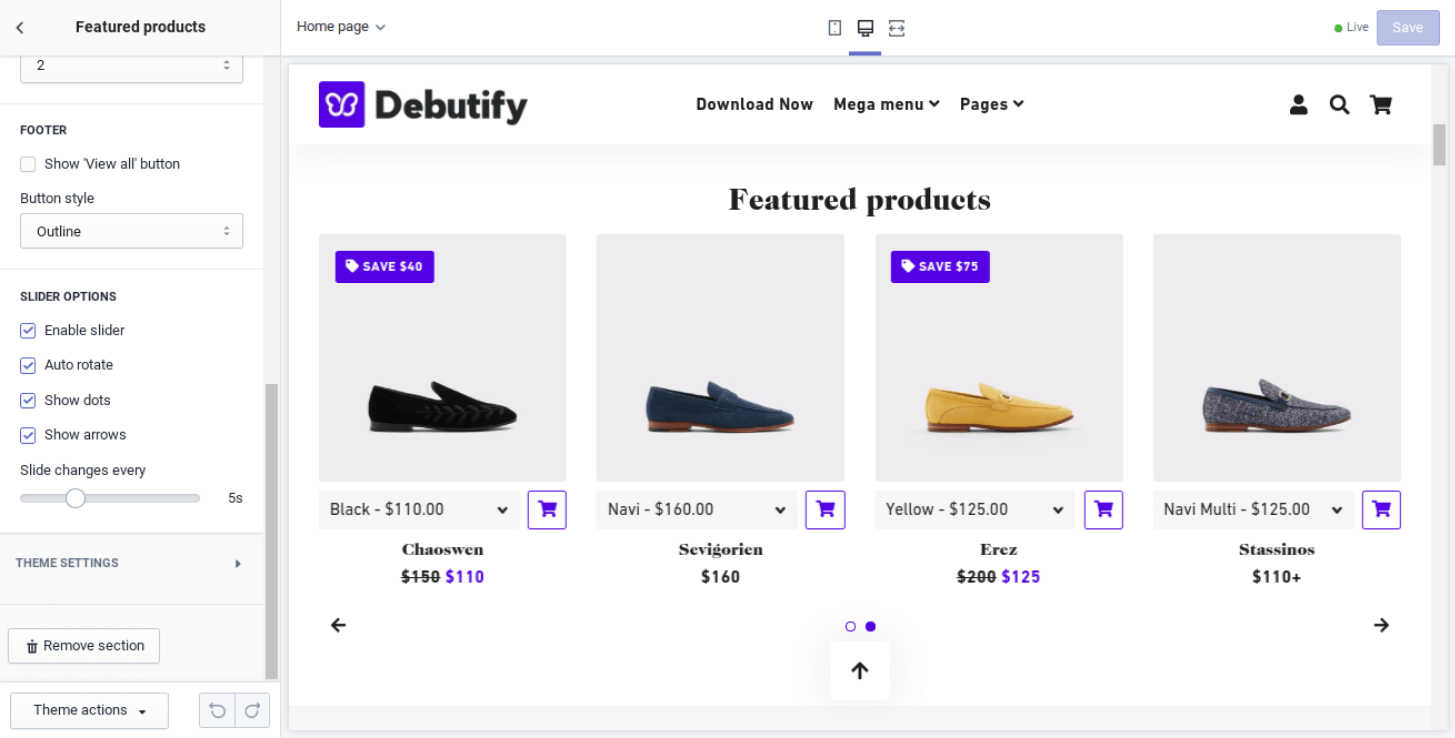 Free trial: Available (14 days)
Price: Plans ranging from free to $48.5/Month
Developer: Shopify
Support: Facebook support with the free version, full support with paid ones
Integrations: Up to 30 available in the paid version
Trustpilot rating: 4.8
Features:
Available in more than 20 languages
Easy to install in 1 click, no coding needed
Best suited for dropshipping businesses
Easy integration with eCommerce apps
Conversion add on features like sticky add to cart, trust badges, pop-ups, cart countdown, upsell bundling available
4. Symmetry - A professional looking Shopify theme to keep products in focus
For brands that'd like to keep a professional outlook even online, Symmetry is one of the best Shopify themes for conversions. It comes with a clean layout that is focused on high-resolution images and media files to highlight what you offer; in an almost editorial-style design.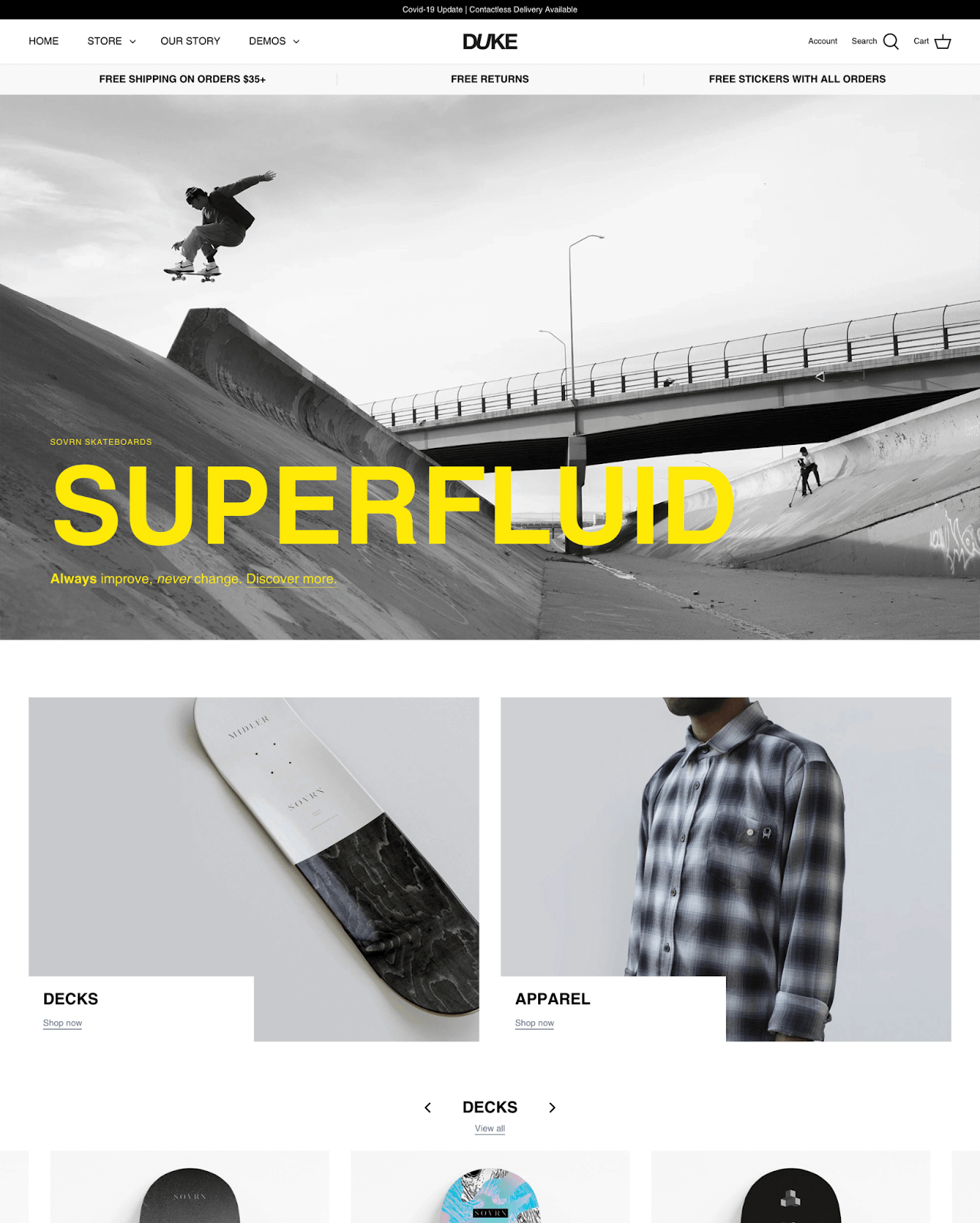 Free trial: Available (14 days)
Price: $180
Developer: Clean Canvas
Features:
4 styles available (Chantilly, Salt Yard, Beatnik, Duke)
Ideal for large inventories
Professional, slick, and seamless navigation
Free stock images by Burst provided
Quick buy feature available
Optimized for various Shopify image sizes
Multi-column and multi-level menu
Multiple scroll homepage with a slideshow feature
Integration with social media apps available
5. Polaris - A minimal and powerful Shopify theme for fashion and apparel products
If you're into fashion and apparel, your goal should be to help store visitors browse through as many products as possible. The Polaris Shopify theme comes with minimal templates for the home page, product page, collection page and more, that can be customized further to suit your brand needs. It also includes both grid and listicle layouts that are responsive to smaller screen sizes.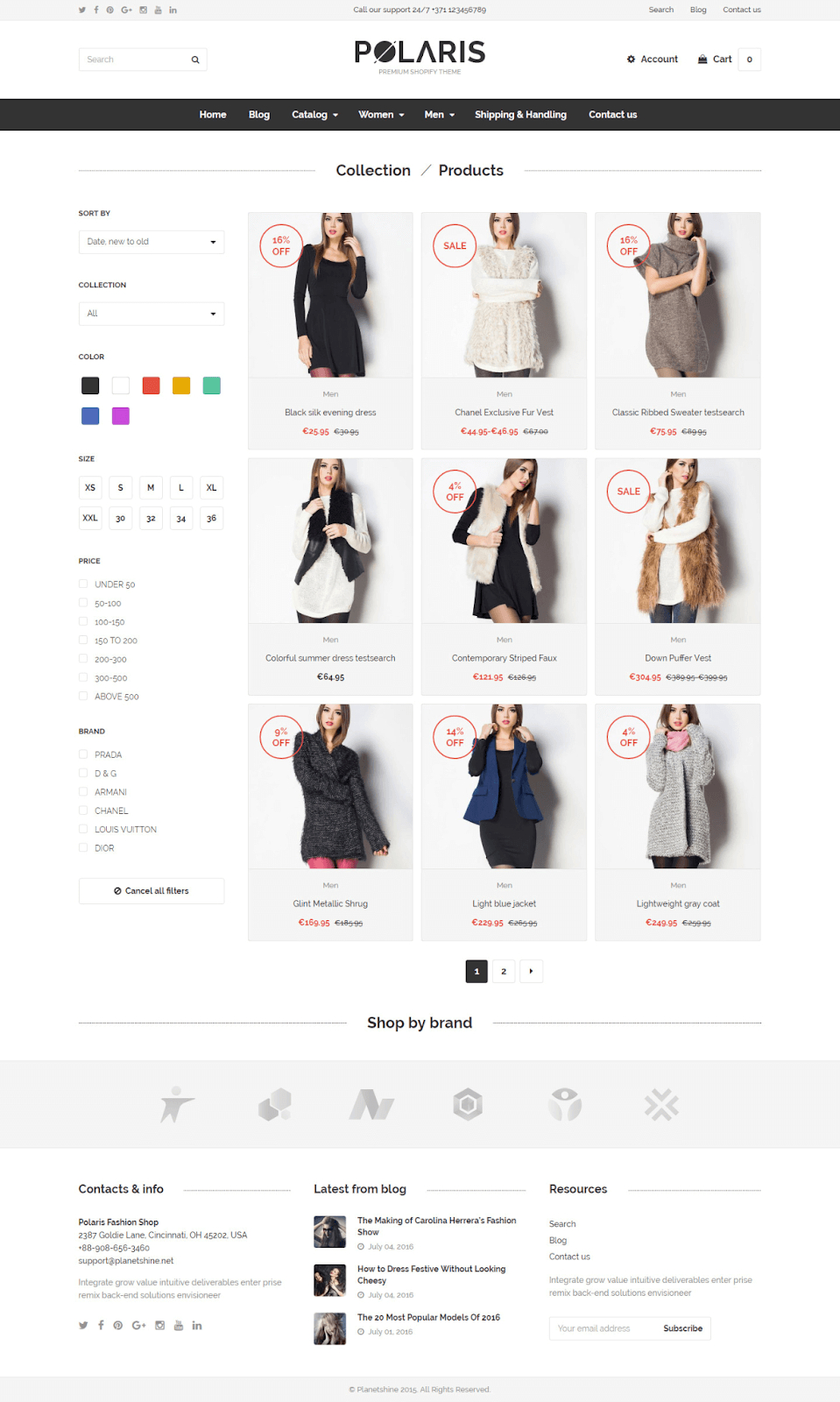 Price: $180
Developer: Planetshine
Features:
Offers Google maps integration in case you own a physical store as well
Minimalist and customizable design
Mobile and tablet optimized responsive design
Hover effects, image sliders, and product labels available
Detailed product filters, full-width menu, and newsletter pop up in built
Quick shop feature available for an accelerated checkout
6. Korando - A clean Shopify theme for electronics and fashion products
If you're looking for a Shopify theme that keeps the visitor's focus on the product details - especially if you sell products like electronics, this is for you. Korando offers clean design layouts for product pages that let you highlight features, helping buyers make informed purchases without distractions. It also comes with multiple homepage layouts to let you experiment with how you want to guide a visitor's buying journey!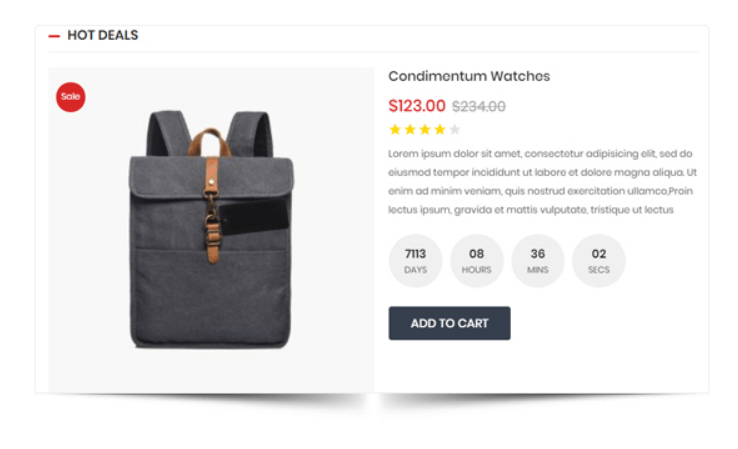 Price: $48.5
Developer: HasTech
Support: 6 months free support from HasTech (can be extended to 12 months for $12.38)
Features:
Best suited for electronics and fashion stores
5+ homepage styles available to choose from
Newsletter pop-ups, testimonials, product videos included
Daily deal section, product quick view window, AJAX mini cart included
Integration with Google Analytics, Oberlo, and other tools
Fully responsive and SEO friendly
7. Wokiee - A multi-purpose Shopify theme for a range of products
If you have a varied range of products that fall into different categories, Wokiee might be the best Shopify theme for you. It offers design layouts for every page that are designed from the standpoint of dropshippers, letting you create visual portfolios and lookbooks on the latest items you add to the site.

Price: $99
Developer: p-themes
Support: 6 months support included (can be extended to 12 months for $31.50)
Features:
Optimized for dropshipping
Social integration available to enable Instagram store
Blog layouts included
Provision to create portfolio and lookbooks,
Pre-order functionality available
Intelligent product recommendation
Powerful admin dashboard with robust customizations
Want your Shopify theme to look good?
Optimize your images to load faster and rank on the search engines with TinyIMG.
Get the app
8. Handy - A light-toned Shopify theme optimized for small screen experiences
Handy is one of the best Shopify themes for conversions as it comes with clean, product-focused design layouts for all the pages. It comes with an infinite product scrolling feature that makes browsing through your store extremely intuitive for visitors. The theme is optimized for large images that provide a seamless experience even on smaller screens.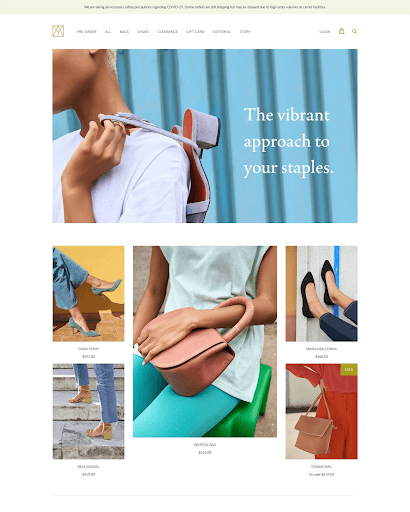 Price: $180
Developer: Pixel Union
Support: Free support available
Features:
3 styles available (Light, Cool, Fresh)
The mobile-first theme, built to convert mobile shoppers
Customizable design with multiple color palettes
Integrated social media feed
The search focused and multi-column menu
Free stock photos by Burst included
Infinite scrolling between product pages
9. Boost - A versatile Shopify theme for in-store experiences
Another theme we really like for its versatility and the ability to deliver an almost in-store like experience, is Boost. It is optimized for large images and comes with elements such as a wide slider that lets you showcase multiple product collections to visitors. It also has a powerful feature called image hotlinking that lets you tag individual product pages on the images you display, to make it easy for buyers to purchase what they like.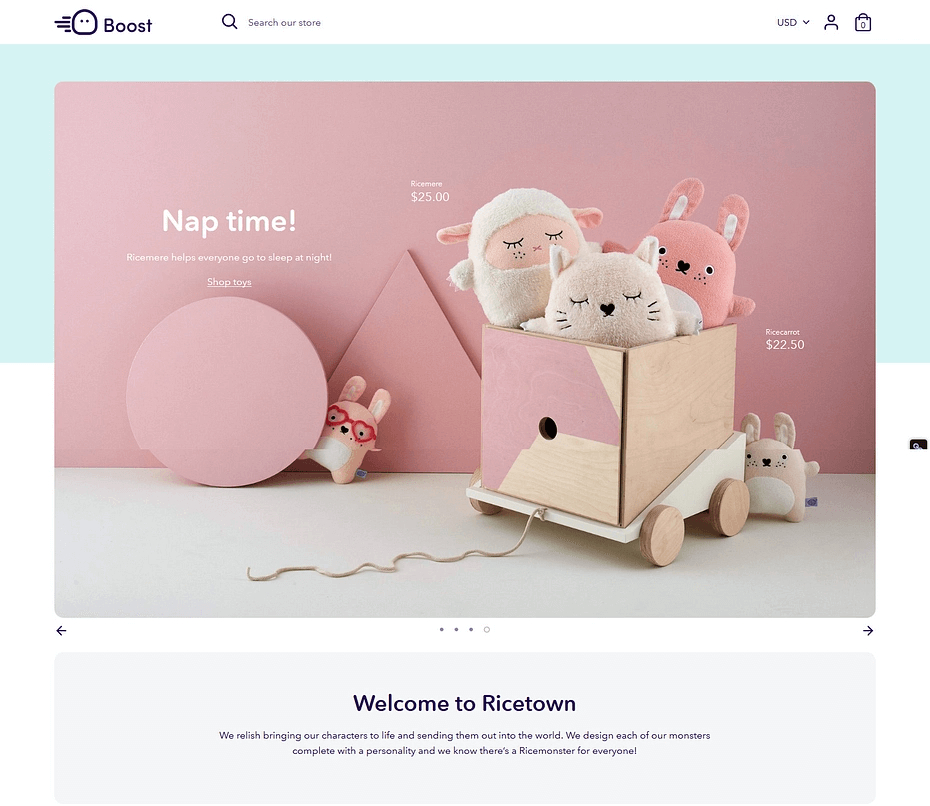 Price: $180
Developer: Clean Canvas
Features:
3 styles available (Spark, Inspire, Flourish)
Image hotspot linking, customizable promotion tiles, and menu promotions available
Predictive search available
Free stock photos by Burst included
Mobile and SEO friendly theme
Free updates provided
10. Shoptimized - An easy-editable Shopify theme for a range of products
A Shopify theme that can be customized to suit absolutely any range of products, Shoptimized is a go-to for most brands. Its mobile-first design layouts come with built-in elements like social proof and FOMO on inventory available and more, helping you make the most of every visit your store gets.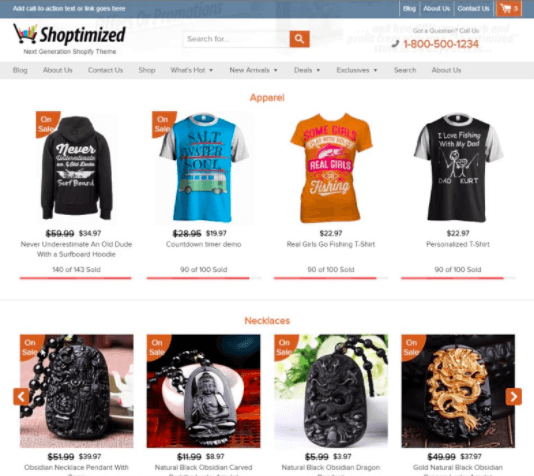 Price: Plans ranging from $167 to $597
Trustpilot rating: 4.2
Features:
Compliant with the Baymard Institute
Built-in persuasion, social proof, and FOMO elements
Currency switcher provided
Email pop-ups and get it by timer
Integrations with all major eCommerce apps
Personalization, up-sell and cross-sell functionality available
Accelerated checkout provided
Suitable for all types of stores
Mobile-first design
11. Flow - A sharp and minimalistic Shopify theme to keep products at the core
A versatile Shopify theme for products across various industries, Flow offers sharp and minimalistic design layouts for various pages. It is optimized for large images and comes with features such as sliders, grids and more to let you showcase as many products in a clean manner to the visitors.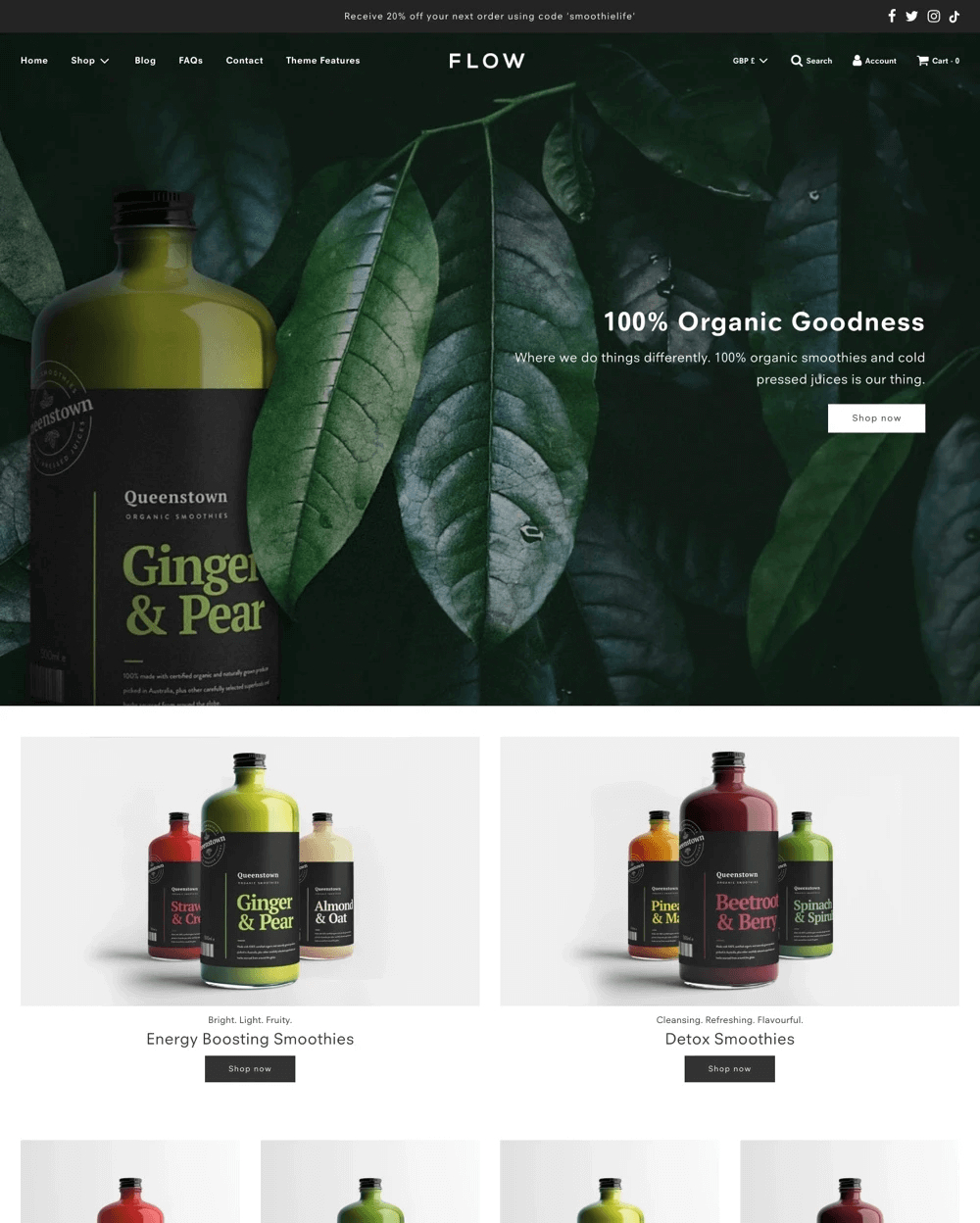 Price: $180
Developer: Eight
Features:
3 styles available (Queenstown, Byron, Cannes)
Long-form home page with video
Unique product grid and slide-out cart available
Dedicated collection-specific sidebar
Completely customizable content sections
Minimalist design with a heavy focus on product imagery
12. Mobilla - A slick and style Shopify theme for lifestyle brands
A Shopify theme that speaks of a high-end lifestyle, Mobilia is a great choice for fashion-forward brands. It offers a clean design across all the pages and is extremely optimize for mobile devices despite keeping its focus on letting you display editorial-style, large images to showcase products.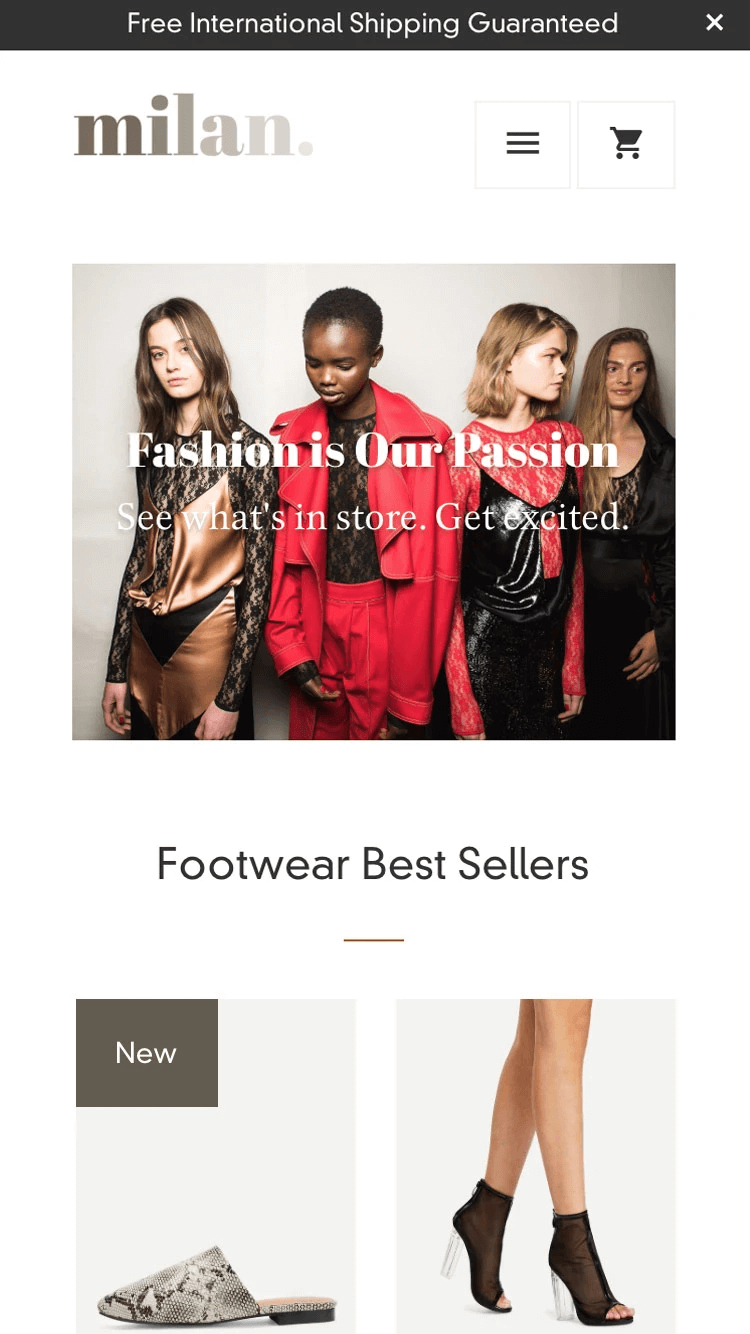 Price: $180
Developer: Out of the Sandbox
Features:
4 styles available (Milan, Napa, Sydney, Tokyo)
Homepage menu lists for large catalogs
A dedicated built-in FAQs page
Product recommendations offered
Modern, catchy, and slick design
Home page video available
Stock photos available for free
Multiple customization options available
13. Booster - A customizable Shopify theme with multiple templates
A Shopify responsive theme that comes with multiple page templates, Booster is a versatile choice to make. It comes with customizable content sections that you can use to create a unique flow of content across all pages, sharing more information with your visitors. It is well-optimized for images as well as videos.

Free trial: Available for 7 days
Price: $250/year for a single store, $400 for two stores
Support: Dedicated customer success team
Features:
Offers one of the fastest page load time
Seamless with all major Shopify apps
Easy setup, no coding skills required
Mobile-first and SEO friendly design
Flexible and robust with customizations
Integration with social platforms inbuilt
Suitable for all kinds of stores
14. Story - A storytelling Shopify theme for noteworthy brands
The new-age consumer wants to know more about the brands they interact with. If you're someone who's willing to share your story with them, Story is one of the best converting Shopify themes. It comes with editable content sections that can be added, removed or moved in pre-existing templates to help you share your story with visitors.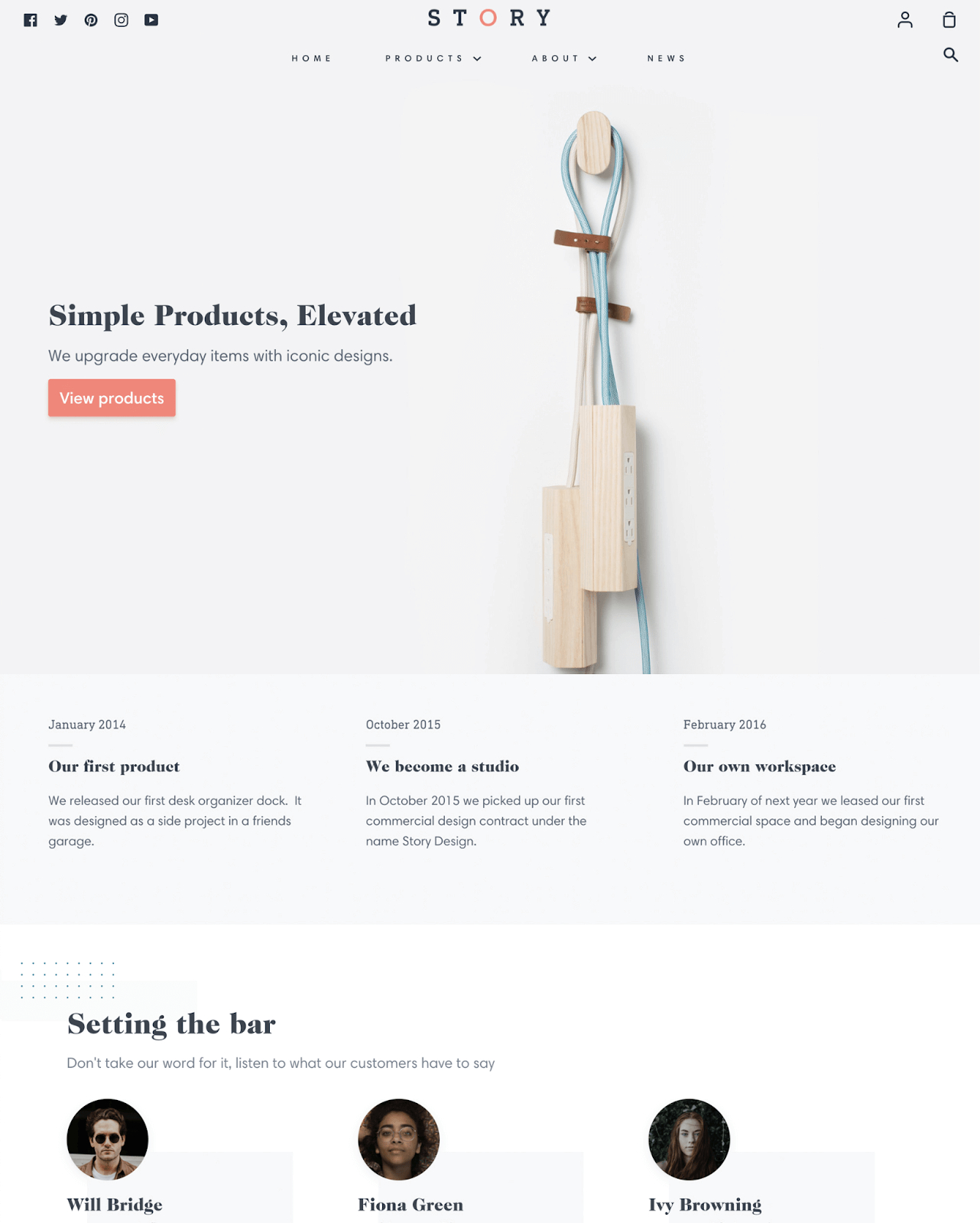 Price: $180
Developer: Group Thought
Support: Available for bug fixes and queries, not available for third party app integrations and installations
Features:
3 styles available (Chronicle, Quest, Heritage)
Best suited if you want to leverage storytelling on convert visitors
Cool, soothing, and calm design and color palette
Provision for lookbooks, team showcase, and custom forms
Story focused product pages
15. Pacific - A modular and expansive Shopify theme
Another editorial style Shopify theme, Pacific offers design layouts that are optimized for large images and comes with pre-existing color palettes. You can customize them all, along with the elements displayed on the pages to create a unique browsing experience, similar to that of magazines.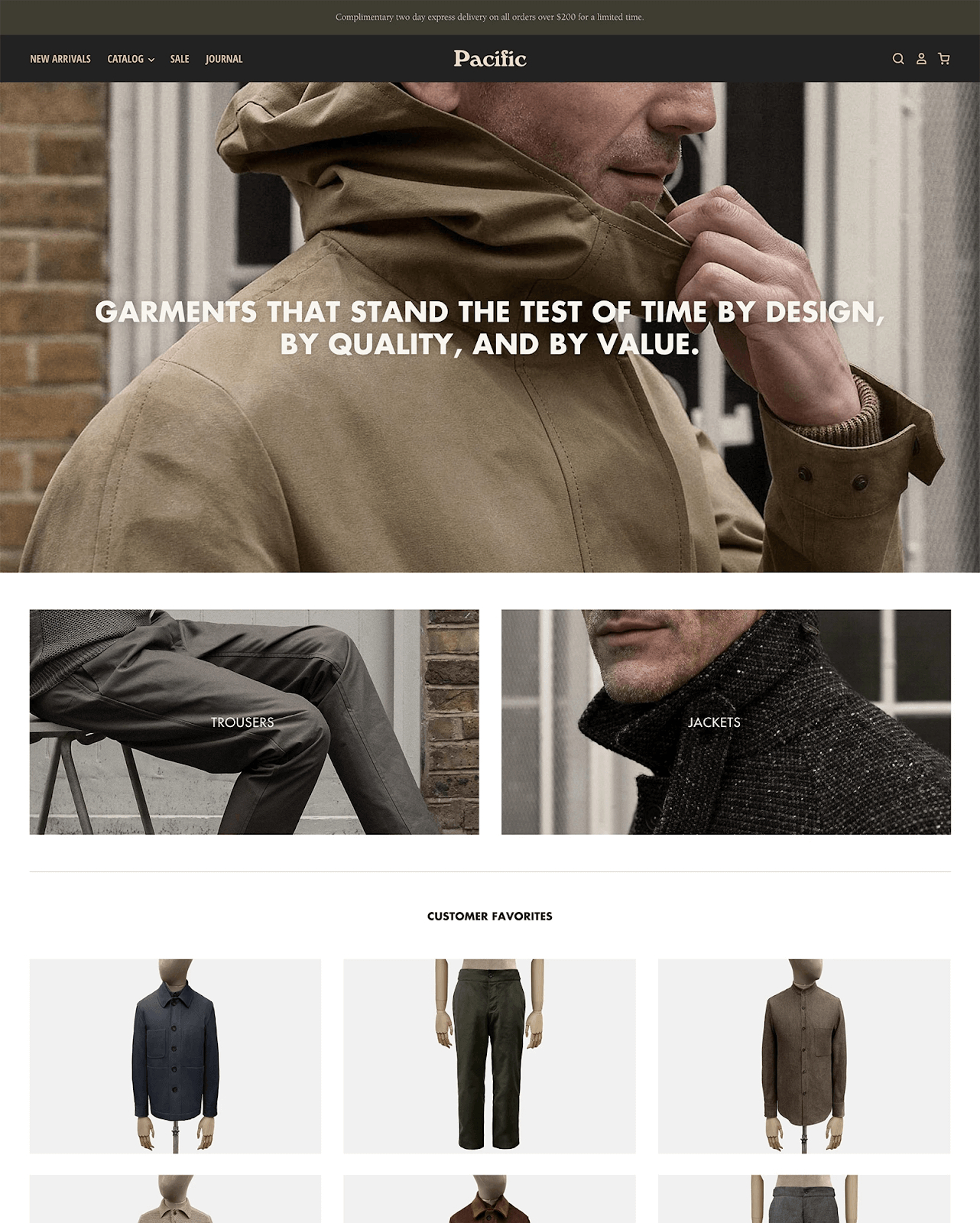 Price: $180
Developer: Pixel Union
Support: Free support included
Features:
4 styles available (Bold, Warm, Cool, Bright)
Ideal for stores with large inventories
Site wide promotion tabs available
Various product page layouts to choose from
Customizable homepage
Multiple styles and color palettes to choose from
7 Actionable tips for choosing a high converting Shopify theme
With an endless array of Shopify themes available for you to evaluate and choose from, selecting the ideal one for your store can be quite overwhelming. To make the shortlisting easier for yourself, here are some tips to choose the best converting Shopify theme:
1. The theme offers a delightful and seamless user experience
First things first, you need a theme that has smooth navigation and a user experience to make shoppers want to return to your store. So, while looking for a theme, don't just go by aesthetics, but look for one that is also functional - a theme that makes it a breeze for shoppers to get from one page to another, wishlist products, compare them, access detailed product reviews, access their profile and make changes, save payment information, and so on.
2. The theme is lightweight
Ideally, your Shopify site should take not more than 2-3 seconds to load. However, most Shopify themes these days have fancy navigation, multiple scrolls, too many carousels and videos, and a whole lot of heavy pages due to which the average page load times tend to increase.
Therefore, select a theme that is lightweight and optimizes for reduced page load times so you don't lose out on any frustrated shoppers. You can also use apps like TinyIMG to ensure your thorough image optimization, keeping your store load time in check.
3. The theme comes with dedicated and high-quality support
Support from the theme developer is critical to help you troubleshoot any issues you might face later on. Therefore, make sure you study enough detailed reviews of each of the themes you have shortlisted so you pick one by a developer known for providing hands-on support whenever needed. You can look for reviews on software customer review websites and make an informed decision.
4. The checkout process is short and hassle-free
You don't want your customers to have to navigate a complex and long checkout process to make a purchase from your store. That's the number one reason for cart abandonment. Look for a theme that offers a straightforward checkout process and has features like guest checkout, a progress bar to indicate the number of steps remaining, option to save personal information, provision to review items before checkout, and so on.
5. The theme comes has in built language and translation support
Do you sell internationally or plan to extend your products to customers all over the world in the near future? In that case, you need to plan in advance and opt for a theme that offers support for translation into languages other than English and also different currencies so you can attract buyers from multiple countries.
6. The theme comes with SEO features
Look for a theme that offers built in support for at least some of the basic SEO features that you would need to ensure your pages rank well on Google. For example, SEO title, headers, metadata, functionality for featured snippets and generating sitemaps, and so on.
7. The theme is mobile responsive
Many people skip this point while purchasing a theme and it ends up costing them a huge number of mobile shoppers. Be sure to evaluate the shortlisted themes on mobile so you can assess what the navigation looks like on mobile, whether the images are fitting in the mobile screen, whether the CTAs are appropriately sized or not, and generally how the theme behaves over mobile.
Pick the best Shopify theme for conversions
Choosing the right theme for your store is simply a matter of being completely aware of your brand language, your product type and catalog size, your requirements from the theme, and your audiences' expectations when they visit your store, so you can shortlist one that does justice to everything your brand stands for and delivers a delightful customer shopping experience.
However, it's best to let go of the pressure of having to choose the perfect one. You can easily switch to another theme in case you aren't satisfied with the one you pick. That said, you don't want to switch multiple times because it just adds to your operational workload and makes for a broken user experience.
Finally, as long as you pick a theme that strikes the perfect balance between aesthetics, functionality, and your brand's design language, you can expect your conversion metrics to go up and to the north very soon.
Do you have the best Shopify theme for conversions yet?
Picked a Shopify theme for your store already?
Your next step should be to optimize your images for a seamless experience!
Get the TinyIMG app today
Frequently asked questions
What is the best converting Shopify theme?
A Shopify theme that is focused on just delivering a great visual experience to your store visitors, but is also optimized to help them easily navigate through the site and find products they want to purchase. A best converting Shopify theme is important for turning visitors into actual buyers for your store.
What is a good conversion rate for Shopify?
Anything more than 3.6% would put you in the best 20% of Shopify stores that have been benchmarked for conversion rates. If you have a conversion rate more than 5.1%, you're doing really well already!
Can you change Shopify themes?
Yes, you can change which theme is live on your online store. But make a backup copy of the theme you're making use of and the theme you want to customize. Download a theme for future use, remove the unused theme, and update an older theme to the current version. It is also advisable to seek help from Shopify theme experts if you're not sure how this works.
What is the fastest Shopify theme?
Themes like Booster and Debutify (as listed in the article) are known as some of the fastest Shopify themes. But as of today, Shopify requires all their theme developers to ensure their design layouts are optimized for faster load times. So you have more choices available and can run a speed test as well to double check.
Are Shopify themes a one time purchase?
Yes, you only need to purchase a theme once for your store. Manual theme updates and support will always be free for you there on.