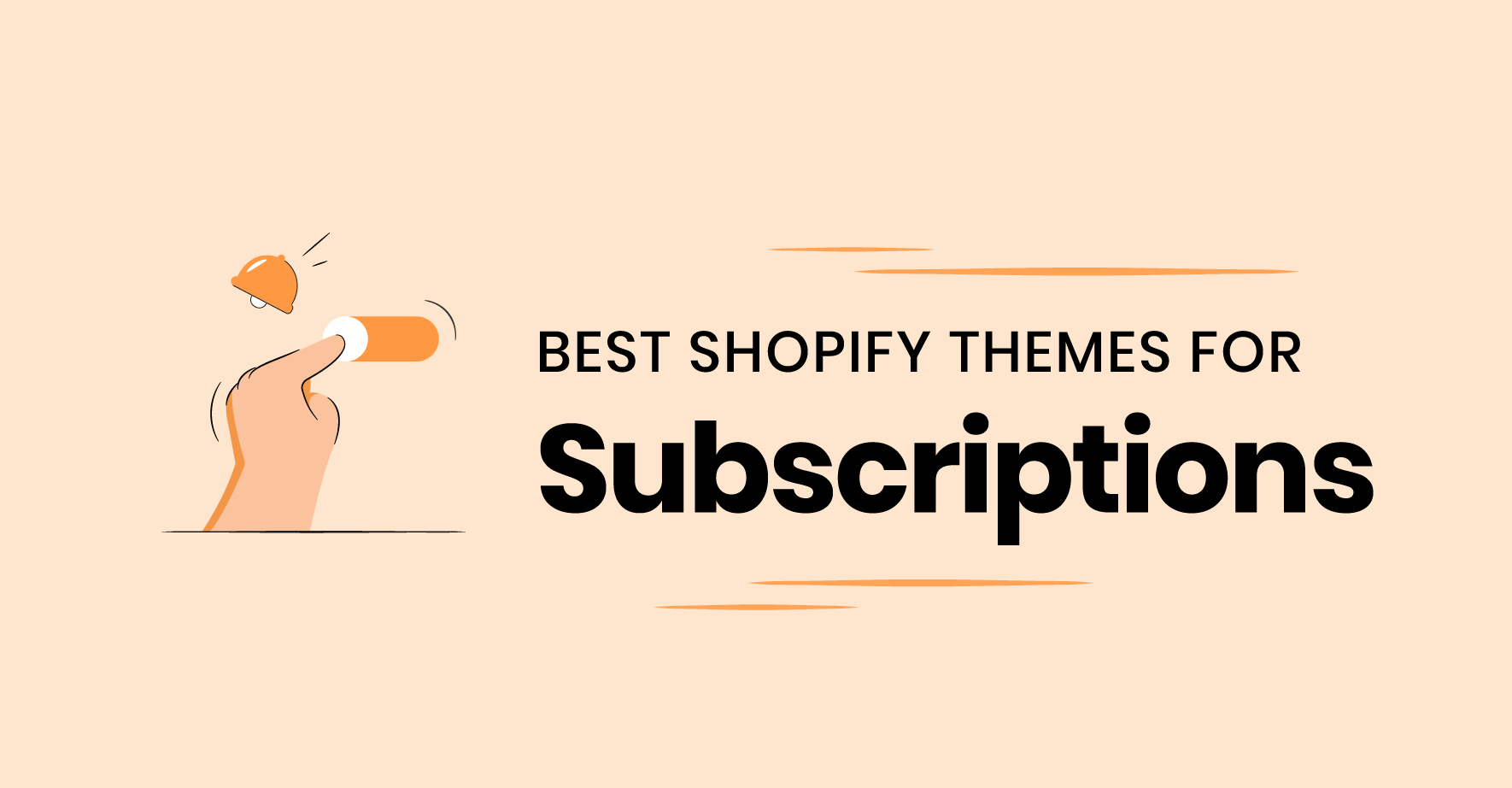 By purchasing through the links on this page, you are giving us the opportunity to earn a commission. Your support is greatly appreciated!

Subscription models are becoming increasingly popular among many businesses. Since Shopify is one of the most popular e-commerce platforms, no wonder that aspiring businesses are turning to it for the best subscription themes.

In order to have a successful subscription-based online shop, your website needs to have a flexible and customizable theme. Since Shopify currently doesn't have an in-built subscription model, you'll need to install a Shopify app specifically for subscriptions. But more on that later.

By choosing a Shopify theme for your online store, you can join great subscription-based businesses like Joshua Tree Coffee. Allow us to help you choose the right Shopify theme for your website by reviewing 10 of the best Shopify themes for recurring payments.
How to choose a Shopify template for a subscription business?
There are a lot of Shopify themes that tick all the boxes when it comes to building a business. But how to choose a perfect Shopify theme for a subscription business? Here's our criteria:
A lot of customization options. If a theme allows for flexible customization, you can personalize your website to exactly reflect your vision and create unique design. It will also make implementing the subscription model easier.
Regular theme updates. Make sure developers update the theme regularly so it keeps up with new trends and doesn't lack features. Usually, the theme description indicates when it was last updated.
Shopify 2.0 availability. Recently, Shopify introduced a new way to build your website, called Online Store 2.0, which allows you to have more customization options than before. Shopify themes that don't have this update are called Vintage themes, and while they still work, you don't have that much control when working on product pages or checkout pages.
Industry compatibility. Do you offer coffee subscriptions? Shaving kits? Meal preps? Pay attention to the theme so it offers functions you need for your particular business.
Top 10 subscription Shopify themes - our detailed list:
We chose the themes above based on user reviews, customizability, ratings, responsiveness, features, and the date they were last updated.
Bring more organic traffic to your Shopify subscription website by making sure it's fast and optimized! Start using TinyIMG today.
Install Tiny IMG now
Now that you know what the themes are, let's get into the detailed overview of each one.
1. Avone – flexible Shopify subscription theme loved by customers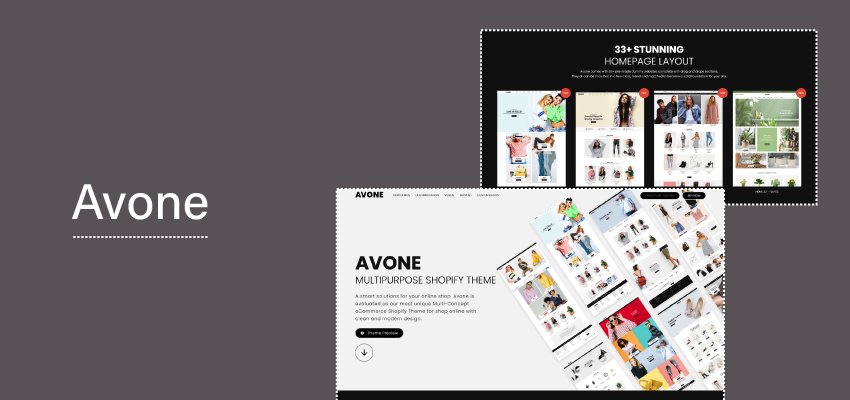 Theme styles: 30+
Price: $79
Main features: Highly customizable, well-rounded
Try theme: Try Avone
Avone is a multipurpose Shopify theme with presets for wine, plants, fashion, electronics, pet accessories stores, and more. This theme offers a lot of features that you'd normally get by installing third party apps. This way, you can save, and only invest in a Shopify subscription app.
With thousands of sales and great reviews, Avone is a frequently updated Shopify theme, so you don't have to worry about outdated features. It's also highly customizable and offers flexible sections, like several header and footer options, as well as multiple product page layouts. Avone looks great on all devices since the design is made to be responsive.

Main features:
Fully customizable
Auto currency switcher
Highly rated among buyers
2. Ella – best selling Shopify theme for any niche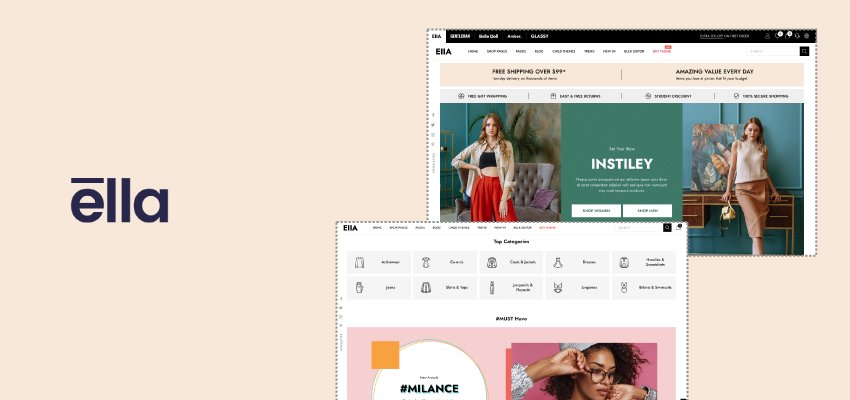 Theme styles: 50+
Price: $89
Main features: Highly customizable, best seller
Try theme: Try Ella
Ella is one of the most popular and best selling Shopify themes on our list. It offers maximum customizability, so even by choosing one of the presets, you can edit and customize your store however you want. This means you'll also have no trouble integrating any subscription app to this theme.
With mobile-first design, you can be sure your customers will have no trouble shopping on any screen they prefer. Ella also includes tons of great features that help with increasing conversions and organic traffic. Theme designers also paid attention to optimizing themes for great UI and UX, so all your store visitors have a great time browsing and buying.

Main features:
Highly customizable
Extra attention to UI & UX
Focused on increasing conversions
3. Be Yours – proven design for a subscription-based business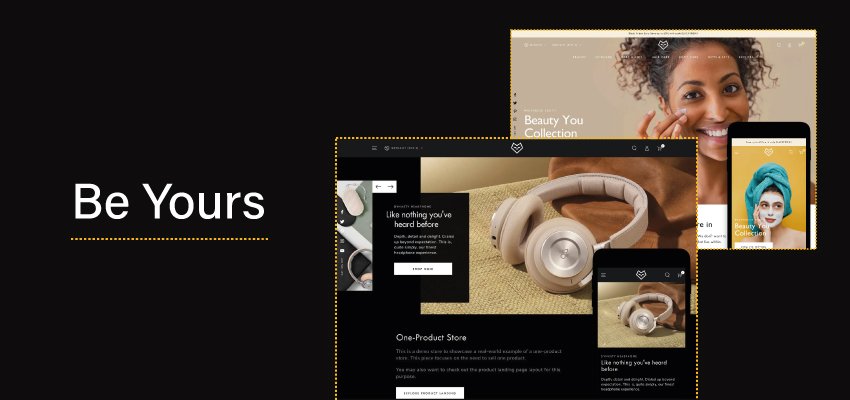 Theme styles: 5
Price: $280
Main features: Focus on UX, fit for one-product stores
Try theme: Try Be Yours
Be Yours is a powerful Shopify theme allowing you to easily integrate one of Shopify's subscription apps and scale your business. This theme puts focus on intuitive user experience, and offers a lot of features needed for a successful business.
Be Yours has presets for one-product stores, 30+ sections, multiple templates for product and collections pages, and more. It's also responsive, meaning your store will look beautiful on any screen.
Cassava Kitchen online shop uses Be Yours Shopify theme with an integrated subscription model, as seen in the screenshot below.

Main features:
Focus on intuitive user experience
Compatible with one-product stores
Great for businesses with physical stores
4. Dawn – best free Shopify subscription theme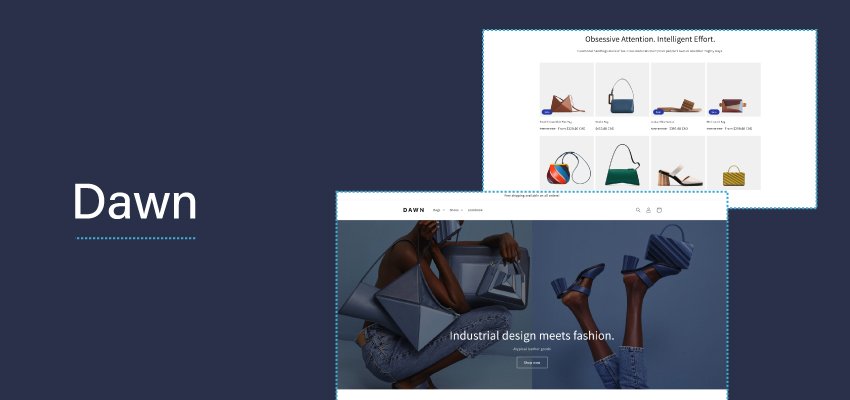 Theme styles: 1
Price: Free
Main features: Advanced customization, minimalist
Try theme: Try Dawn
If you're just starting out with your business and don't want to invest a lot of money right from the start, a free Shopify theme like Dawn is a great start. It's a Shopify 2.0 theme, meaning you have control over how you want sections and pages to look like.
Since Dawn is flexible in terms of customization, you can easily integrate subscription plans for your products. A downside of a free theme is that it only has one pre-designed template, so you have to work with what you have. Other than that, Dawn is minimal, responsive, and offers clear navigation with no clutter.

Main features:
Advanced customization
Minimal & clutter-free
Completely free
5. Champion – Shopify subscription theme built with expertise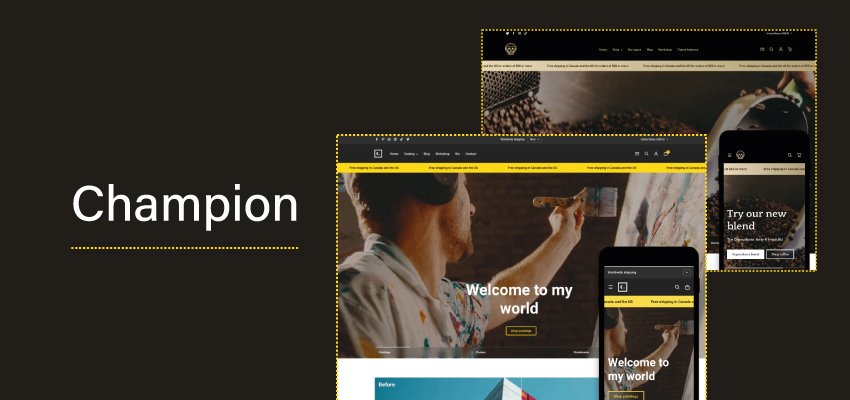 Theme styles: 4
Price: $350
Main features: Focus on conversions, highly flexible
Try theme: Try Champion
Champion was developed by former Shopify employees, so you can trust their expertise in building a theme that will help you scale your business. With over 30 sections, this theme is highly customizable, allowing you to edit presets until the design reflects your e-commerce needs.
Packed with features, Champion offers mega menus, color swatches, custom product badges, quick view, and more. The theme is great for designing time-based promotions in order to incentivise customers to buy. It's also optimized for mobile, so your store visitors will have no problem browsing on the go.

Main features:
Focused on increasing conversions
Developed by Shopify experts
Easy and powerful customization
6. Minimog – contemporary & fast Shopify subscription theme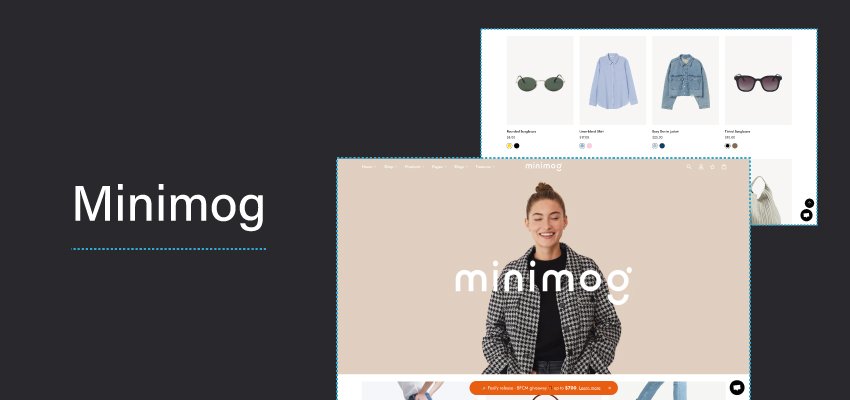 Theme styles: 70+
Price: $88
Main features: Fast, focused on conversions
Try theme: Try Minimog
Minimog is a stylish and contemporary Shopify theme with modern templates. You can choose from 70+ presets focused on such niches like fashion, accessories, coffee, juices, and even pizza. The theme is highly customizable, allowing you to easily integrate a Shopify subscription app to the product pages.
The theme offers advanced filters, mobile-first design, product videos, multi-currency system, and more. No wonder Minimog has thousands of sales and high ratings – the theme has pretty much everything you need to launch a successful subscription-based business.

Main features:
Focused on increasing conversions
Modern and stylish design
Powerful Shopify page builder
7. Kalles – versatile Shopify theme for subscriptions & more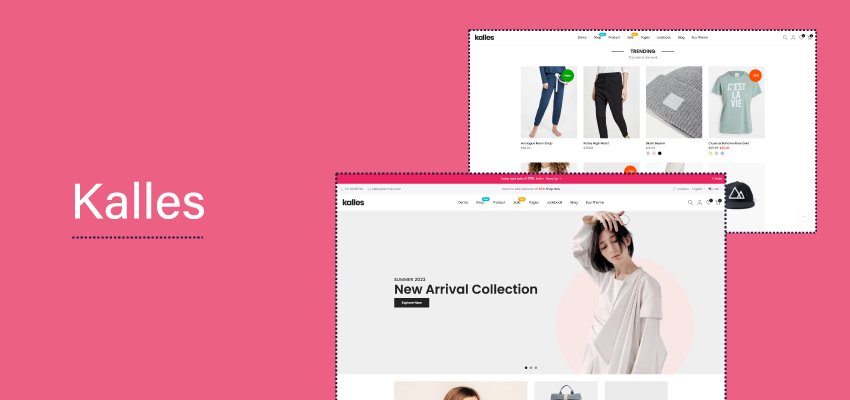 Theme styles: 50+
Price: $89
Main features: Multi-language support, fast
Try theme: Try Kalles
Kalles is a modern and popular Shopify theme for a variety of business niches. It has powerful customization options, allowing you to easily and successfully integrate a Shopify subscription app.
The theme is rich in features, including 800+ Google fonts, multi-language support, responsive design, and more. By installing this theme, you can also get a lot of popular Shopify apps with discounted prices, allowing you to save money in a smart way. Generally, it's a professional, fast, and reliable Shopify theme used by thousands of business owners.

Main features:
Multi-language support
Fast performance
Highly customizable
8. Zeexo – multipurpose Shopify subscription theme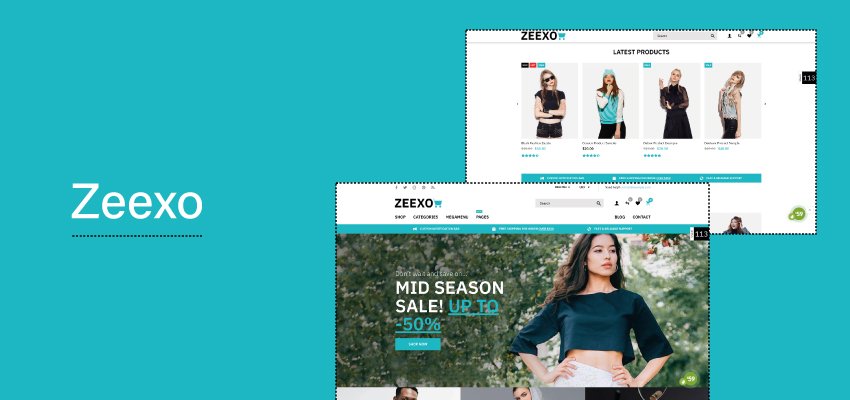 Theme styles: 100+
Price: $59
Main features: RTL support, live builder
Try theme: Try Zeexo
Zeexo is a feature-rich Shopify theme with thousands of sales. It's a great theme for large catalogs as it includes a powerful mega-menu and allows you to add a lot of various sections to your pages.
Since the theme has great value for a number of features it offers, you'll save on a lot of apps and will only have to get a subscription Shopify app. Zeexo is generally a well-rounded theme with features like RTL support, live builder, wishlist, compare products, sales notifications, and responsive design.

Main features:
RTL support
Powerful page builder
Fit for large catalogs
9. Roxxe – responsive Shopify theme for subscription services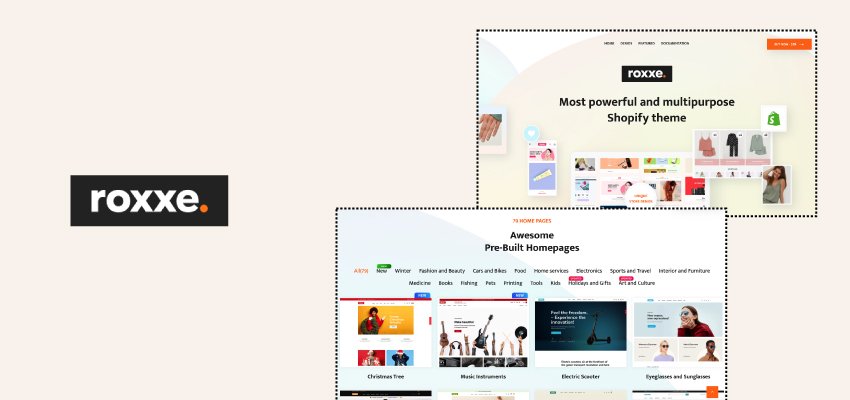 Theme styles: 100+
Price: $69
Main features: Powerful page builder, integrated Shopify apps
Try theme: Try Roxxe
Roxxe is a feature-heavy Shopify theme that is created with modern design trends in mind. It also features a powerful Shopify Visual Builder that allows you to construct exactly the kind of design you want.
You have several header and footer versions as well as multiple product page layouts. Roxxe has several Shopify app integrations, meaning the theme has advanced features that help you save on third party apps. With this theme, you'll have no trouble integrating a subscription app to the product pages.

Main features:
Powerful page builder
Presets for any niche business
Mobile optimized
10. Escoot – best single product Shopify theme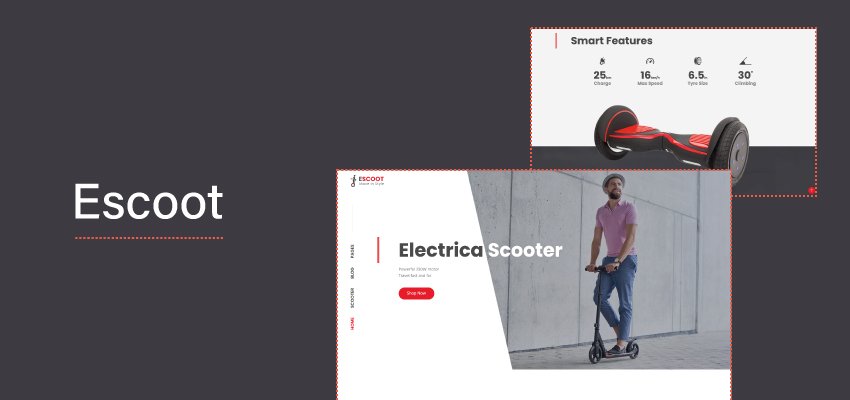 Theme styles: 1
Price: $59
Main features: Highly customizable, unique design
Try theme: Try Escoot
Escoot is a Shopify theme focused on one-product stores. The theme offers unique sections to talk about your brand story and sell the product with text and visuals. With easy customization, you'll be able to integrate a Shopify subscription app with ease.
Despite being one of the less popular Shopify themes on our list, Escoot offers tons of great features, like full responsiveness, Ajax shopping cart, product filters and wishlist, order tracking, currency switcher, and more.

Main features:
Highly customizable
Unique page sections
Great for visual brand storytelling
Final words
As of writing this article, Shopify doesn't offer an in-built subscription model. There are a lot of great Shopify subscription apps that will do the job for you with no troubles, but still have to choose the right theme.
We nailed down 10 flexible, modern Shopify themes with a lot of customization options and frequent updates that are perfect for subscription-based businesses. Some highlights are as follows:
Avone is a well-rounded theme that offers great value for money, Ella is one of the all-time best sellers among Shopify clients, and Dawn is a completely free, classic Shopify theme with minimal design.
Whatever you choose, we hope our list made the decision easier for you.
Looking for more themes? Check out these lists: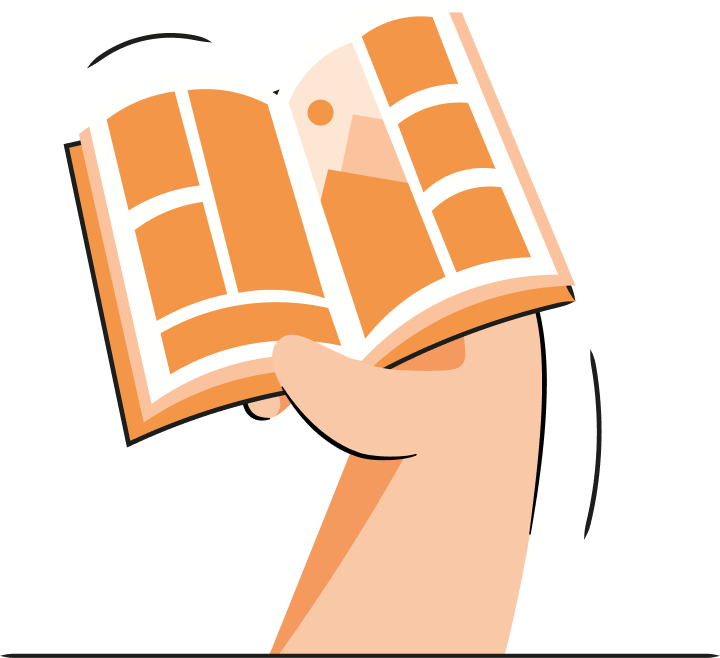 Frequently asked questions
Is Shopify good for a subscription website?
Yes, Shopify is a great platform for a subscription-based online shop as it offers tons of highly customizable presets and a lot of easily manageable subscription apps.
What is the best Shopify theme for subscription?
There are several Shopify themes that are perfect for a website based on recurring payment methods. Some of our favorites are Avone – a versatile Shopify theme; Ella – one of the best sellers on Shopify, Dawn – a completely free yet powerful Shopify theme, and Be Yours – Shopify theme focused on great UX.
What is the best free Shopify theme for a subscription box?
If you want to go for a free option, Dawn is the best Shopify theme for a subscription box. As far as paid options go, Avone is a powerful and versatile Shopify theme that offers great value for money, and Ella is one of the most popular and best-selling Shopify themes across Shopify clients.