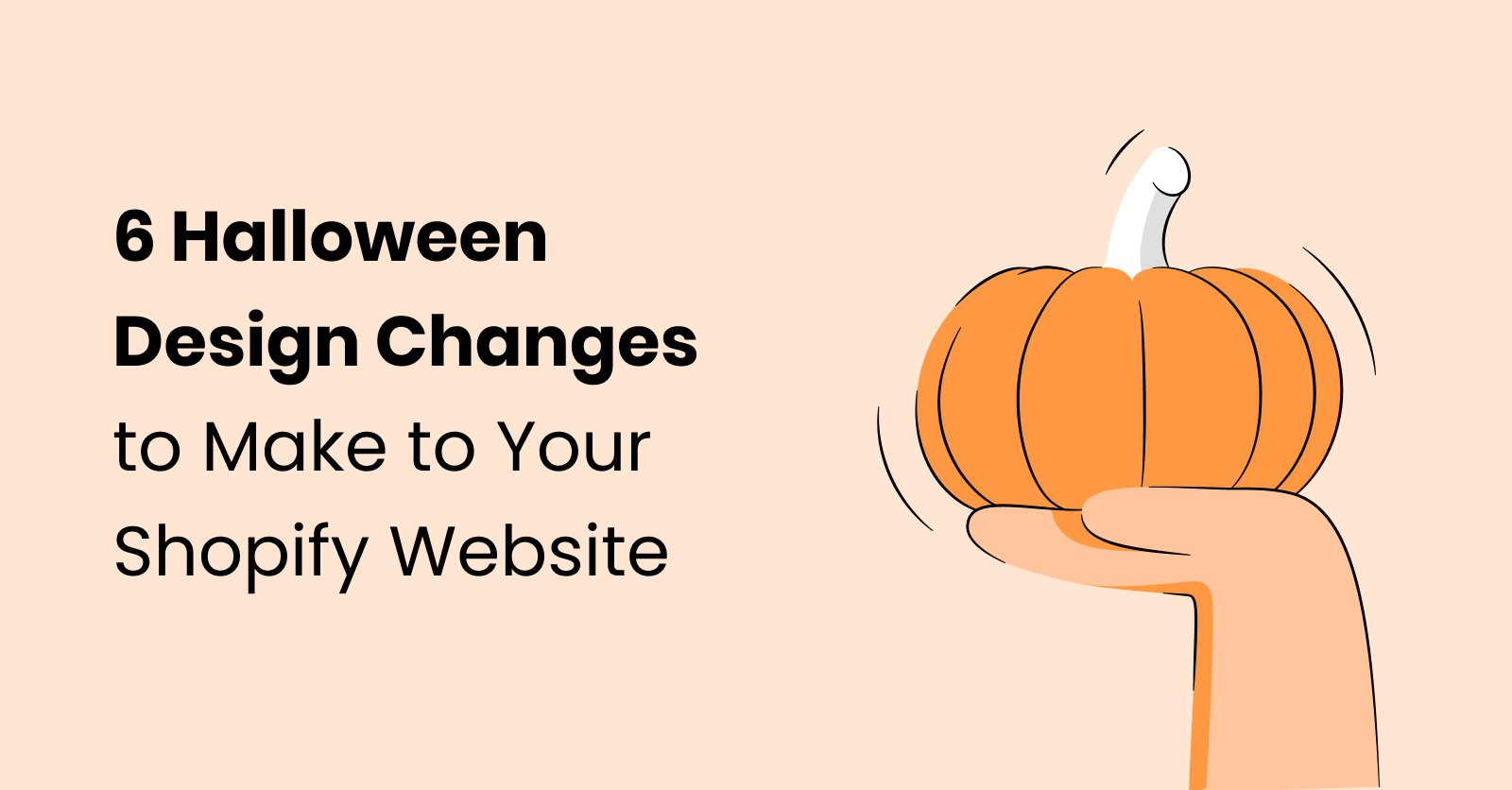 For ecommerce, Halloween is definitely more treat than trick.
In the US and North America, this holiday is becoming a shopping tradition as much as a time for costumes and parties.
E-commerce penetration was more than 34% in 2018 for the revenue generated by Halloween products like costumes, candy and decorations during the month of October.
Compared to all seasonal spending periods tracked by Internet Retailer, Halloween is the holiday with the highest percentage of sales occurring online. It's ahead of Valentine's Day, Mother's Day, the back-to-school period and Christmas/Hanukkah by more than six percentage points.
In other words, shoppers are buying lots of Halloween goods, and they're doing it online more than anywhere else.
This blog will take you through some great design changes you can make to your site for the Halloween holiday, plus a few Halloween marketing tips.
Making the most of Halloween
Halloween is definitely a holiday to focus on. Why?
If you sell products directly related to Halloween, or to parties more generally, this is a huge event. Think costumes, accessories, wigs, make up, and even fashion items like shoes and dresses.
If you don't sell Halloween related products, you can still run a sale over this holiday. With so many shoppers online, it's a great opportunity to catch their attention. This can help you shift summer stock you have left over, clearing up warehouse space for the upcoming Black Friday bonanza. Or you can use it to gather leads for retargeting over the holiday season.
If you want to build long term customer loyalty, this is a great opportunity to build your brand. Establishing a relationship with your customers is about showing you have a similar outlook to them. So if your customers are having fun, dressing up and partying over Halloween, why not show the fun side of your brand too. After all, research shows that 64% of people say they have a relationship with a brand when they feel that brand shares their values.
Whichever of these three applies to you, finding ways to spook up the design on your website is going to be important.
Now it may feel a bit scary to try and come up with ways to catch the eye of customers spending on Halloween. So we've come up with some tricks to make your site a Halloween treat. Today we're going to share with you some Halloween design inspiration on:
Fonts
Logos
Line breaks
Banners
Plus we'll share some smart marketing tips for the Halloween season.
Let's give your site that Halloween look.
Design idea 1: Fonts
Even something small and quick like changing up the fonts on your client's website is a way of bringing the spooky mood.
This is a very simple, yet effective way of getting your customers in the spirit. Fonts are especially useful as they create a Halloween feel without you having to change your actual copy. Plus you can change the fonts to any Shopify theme without altering other design or layout features.
Change the heading fonts, or the fonts of another element, as long as that element is not the main body text. This way, the majority of the text on the site is still easy to read.
Some great fonts to consider are:

(Sources: dafont.com, 1001fonts.com)
Other great options you can download for free include:
CF Haunted House
Shlop
Crypt Creep
Halloween Too
Wild Wood
Try out a few of these fonts to see which one works best with your overall brand and design.
Design idea 2: Logo
A logo can also be a way to interest visitors during the Halloween season. Updating your logo for different holidays is a great way to be playful, offer up a small surprise to customers, and build excitement on social media, which we'll talk more about later.
Duolingo did a great job of "Halloweening" their logo.
Here's Duolingo's normal logo: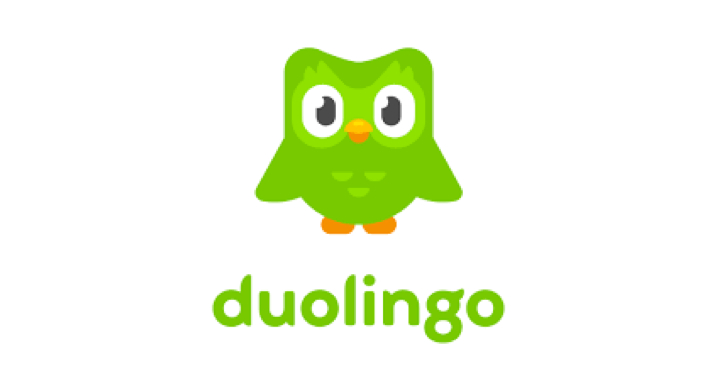 And here's their Halloween version: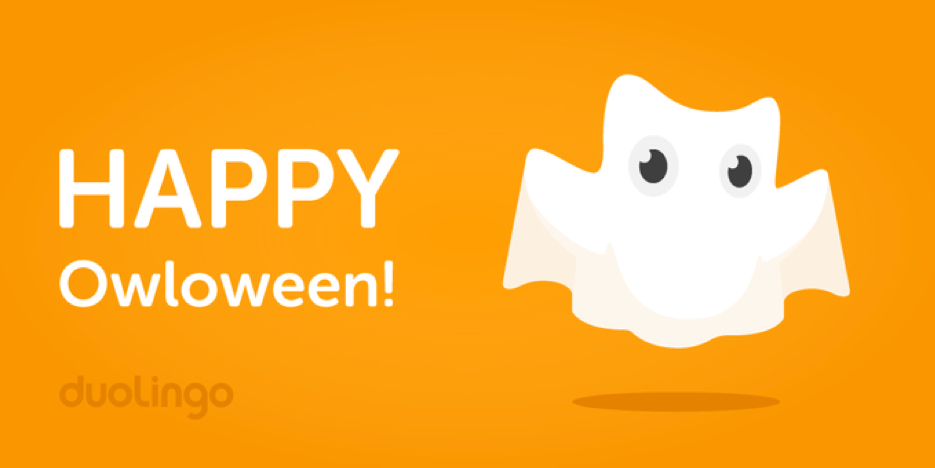 (Source: Duolingo)
Why it works?
They have understood the essence of their brand and logo, which is cuteness. So, even though they've added a Halloween element, the image still feels sweet and fun rather than ghoulish.
They even managed a Halloween themed pun to top it off!
In 2017, the website gblogodesign.co.uk had several design companies come up with examples of redesigned logos for other famous brands with mixed results, but the Nike example shines.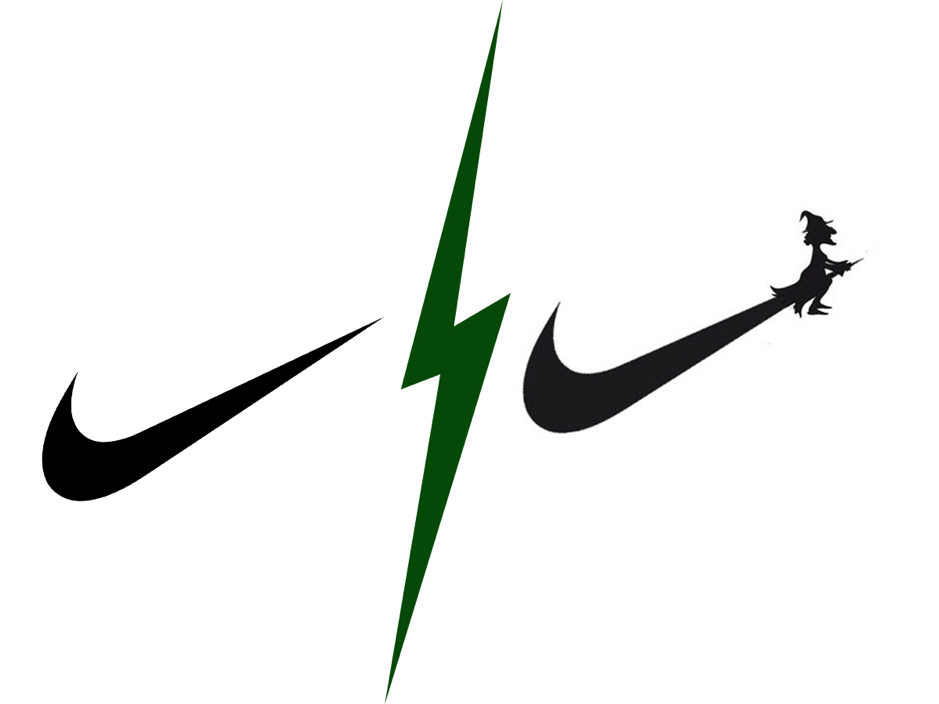 Why it works?
The designer has taken the simplest of designs and kept it simple, using its shape and style with a bit of a twist to bring out Halloween. Plus, the underlying aspect of motion that the logo conveys is emphasized by the addition.
Design idea 3: Line Breaks
You can add some extra focus on your line breaks with an SVG element for Halloween. A spider web as the line break, for example, or a tombstone like this one.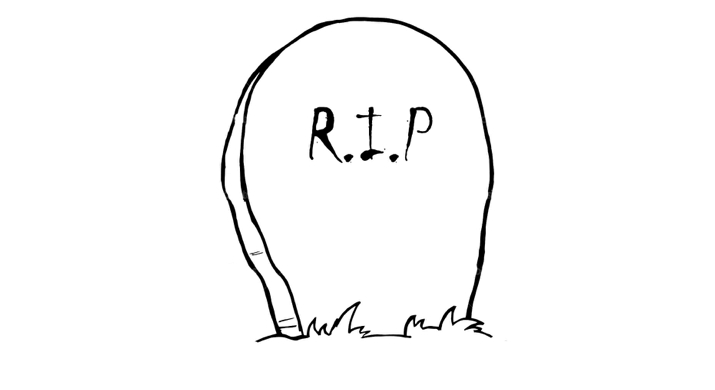 You can find a whole range of free halloween icons to try here. Applying an SVG file to your line breaks can be a bit tricky, but this video tutorial takes you through the basics. Or for a more detailed explanation, including coding, check out this detailed guide to using SVG for web design.
Design idea 4: Halloween banner
Additionally, if your homepage has a slider, make a Halloween banner and add it to the slider. This is also a good position to promote any contests, giveaways or promotions for Halloween too. The vast majority of new visitors will lay eyes on your banner, and the first impression they get will be that there is a Halloween offer on - which is likely to keep them hanging around.
This simple banner is a good example to follow: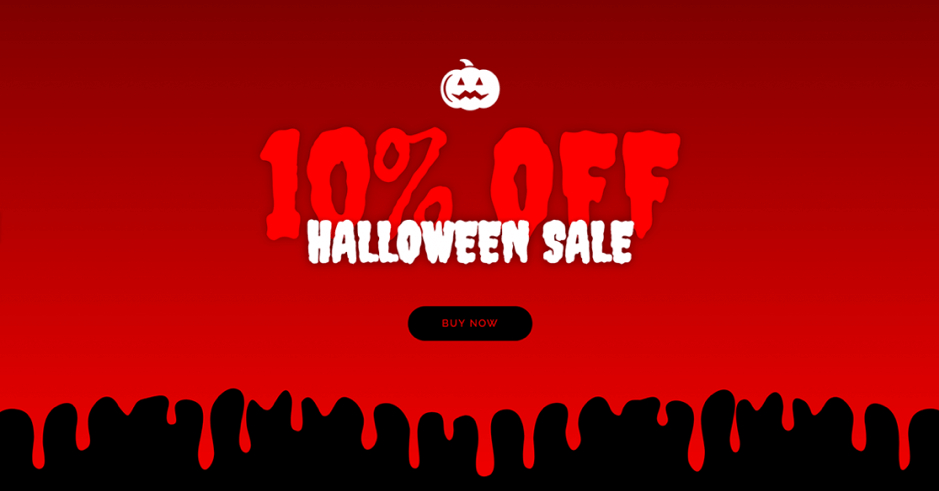 (Source: Elementor)
Why it works?
It includes a familiar Halloween image, the jack o' lantern.
It uses Halloween fonts to reinforce this. We know it is a Halloween themed message without even having to read the text.
The offer is simple and clearly presented.
The banner uses contrast for the call to action button. The black of the button contrasts with the red background to make it stand out.
In terms of banner and image design, picmonkey offer a cool range of Halloween fonts and clip art to try.
Design idea 5: Halloween GIFs
One simple but very effective addition to your website over Halloween is to add a GIF. These can be simple, fun Halloween images to bring your page to life, or you can create one specifically related to a deal or offer you have.
A GIF with a simple happy halloween message will add life and character to your site. You could go for something tasteful like these animated pumpkin carvings: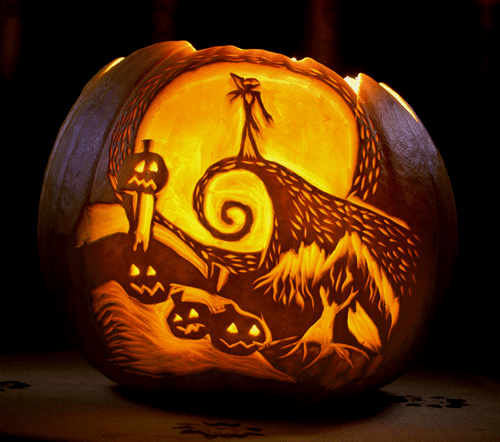 (Source: Best Animations)
Or, for a kids store or a brand that deals in cuteness, try something fun and light like this: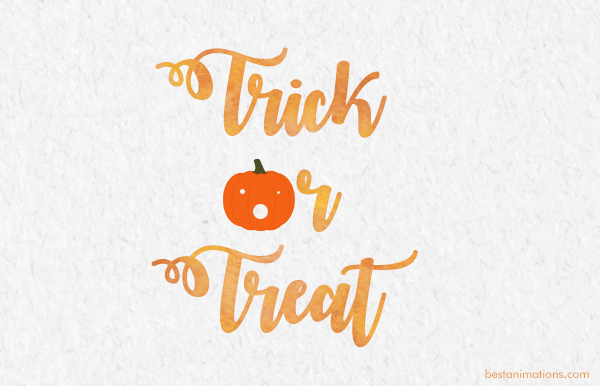 (Source: Best Animations)
Fashion or luxury brands might want something more moody and serious. This October fire scene is a simple but effective image for creating a sophisticated Halloween mood: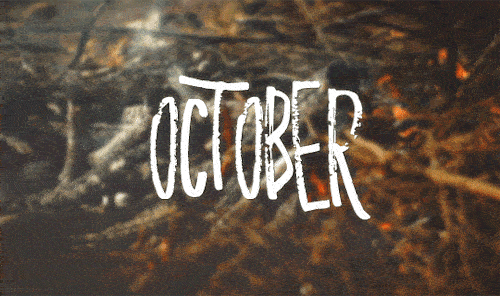 (Source: Best Animations)
If you're running a promotion, you can go for something spooky that will attract the attention of your shoppers.
This horror-inspired effort by Nasty Gal really jumps off the page.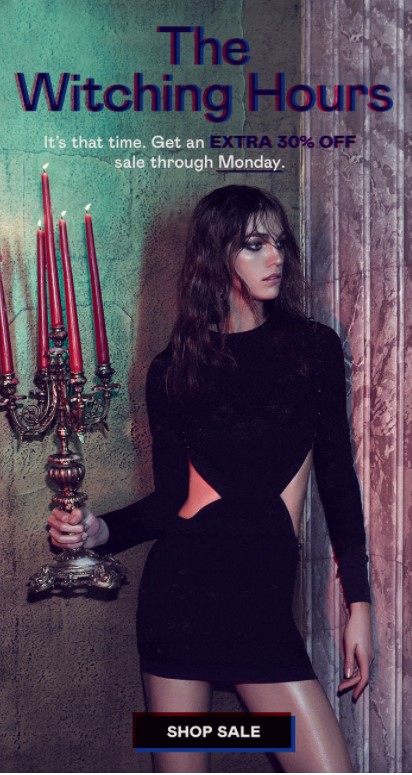 (Source: Mailbakery)
Or you can try something fun that draws attention to a specific offer or benefit, such as free shipping.
The moving ghost in this Fresh Pick Deals GIF adds some fun to the message (along with the creative tagline "Just for boo!") and draws attention to the free shipping on offer.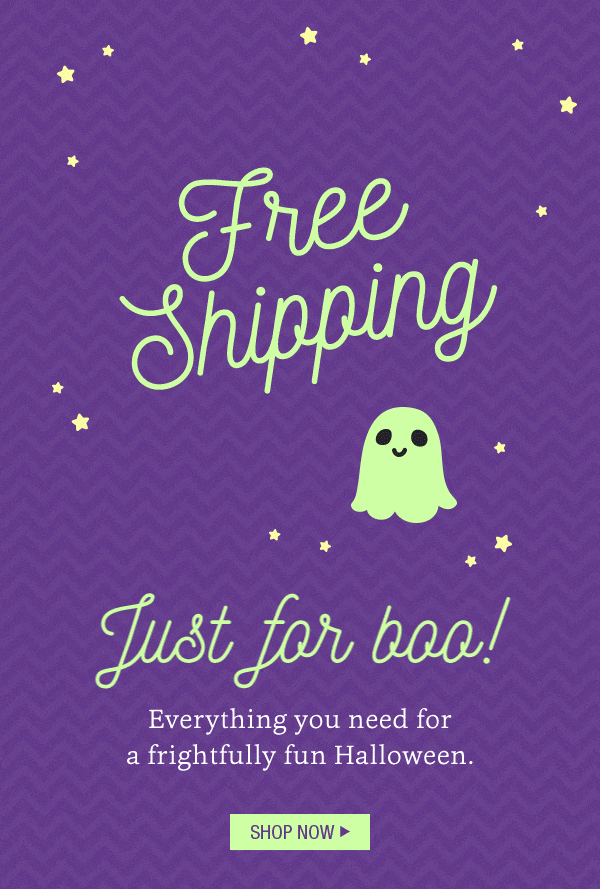 (Source: Mailbakery)
Or what about some staples of your online sales like a countdown timers to drive urgency? While it's not exactly a countdown timer, this GIF by SHOP creates urgency and establishes that Halloween vibe.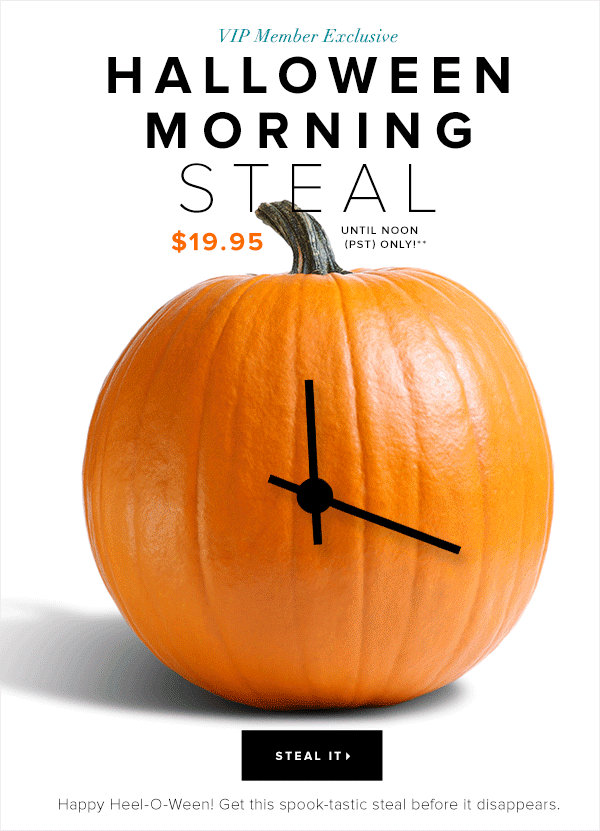 (Source: Pinterest)
Design idea 6: Add Halloween treats to your product photos
If you have the time and resources, creating new product pictures with a Halloween element to them is a great idea. This will work especially well if you are running a Halloween sale and promoting one or two hero products. You can try shooting pictures with a Halloween background, or incorporating them into a Halloween costume or decoration.
For these product shots, Asos have used spooky colors for the background, Halloween themed fashion items, and SVG images on top to give everything the full halloween flavor.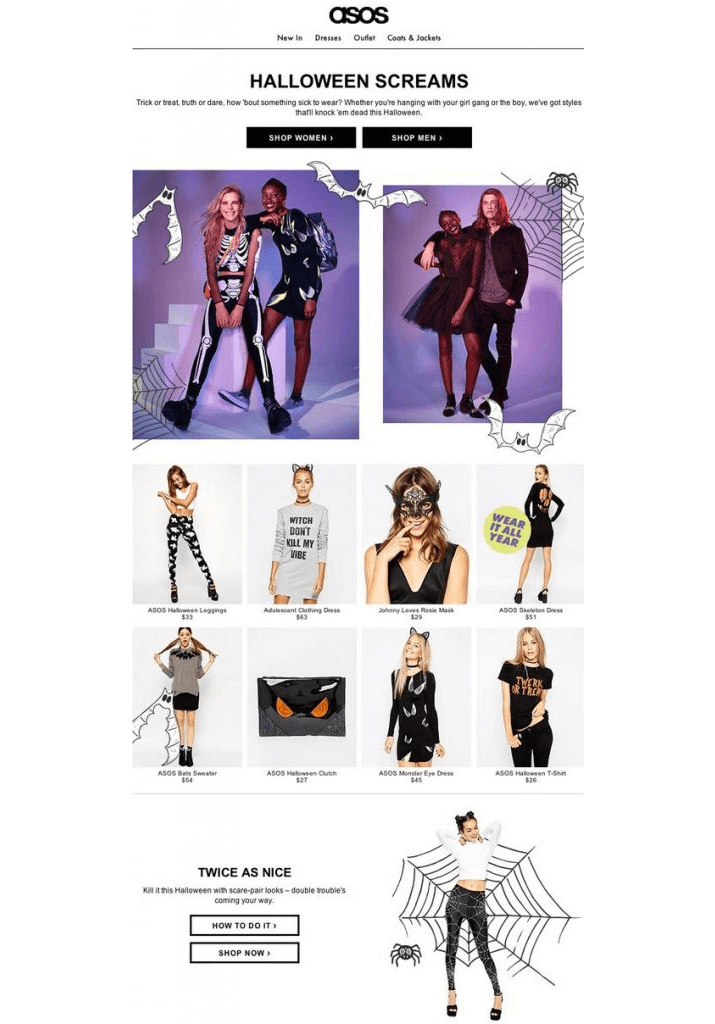 Or if your product really has nothing to do with Halloween, why not create a fun puzzle for your customers and hide some Halloween themed items in your product pictures.
In these shots, Koala mattresses have hidden some spooky objects for their shoppers to find. Can you spot the pumpkin, skull, creepy hand, fangs and pool of blood?


(Source: Shopify)
Marketing tricks (with treats) you can try after you've halloweened your site
So now you've added elements to your site to create a great impression and engage your Halloween customers, it's time to think about marketing tricks you can use to get traffic to your store and then make the most of it over this busy holiday.
Trick 1: Create other seasonal content like blogs, lists or gift ideas
This kind of content can drive traffic to your website, especially if that content is engaging and useful. As people search for topics related to Halloween, you can appeal to similar creative minds by publishing content that is relevant and specific for the holiday.
Tip: Invest in creating content using the keywords "Halloween gift ideas" because during the holiday season, search volume for them amounts to more than 10,000 monthly searches and will get you more than 20 million search results.
The trick to any themed content is to make sure it still relates to the core business. For example, if you sell clothing online, it might make sense to put together a list of costumes that use the products already on sale in your store.
Trick 2: Get creative with your Halloween promotions
Because everybody offers seasonal discounts, consider outside-of-the-box promotions that can attract your customers and make them purchase.
You can offer free items people can give to their friends, family members and colleagues as Halloween gifts. Show the items right on the homepage to capture customer's attention or show it on the cart page as a last-minute offer to boost checkout rate here.
Add a header with a message and CTA copy replacing, for example, "We offer free shipping on orders from $100" with "The Great Pumpkin will deliver all orders of more than $100 for FREE".
Trick 3 - Use multiple channels to get shoppers to your store
Instead of the usual emails and ads, try using new channels to bring customers in. Because there is such a high volume of online activity, web push notifications are a smart solution to try out as they work for both desktop and mobile.
Using a solution like Firepush, you can create a range of opt-ins for push notifications on your store.
Once your shoppers are signed up, you can send them halloween themed push notifications to promote your sale items or simply send them a spooky Halloween greeting. Inkedshop use push notifications to share daily deals, like the one below for a Halloween product. Users who click are directed straight to the product page, with the discount already applied.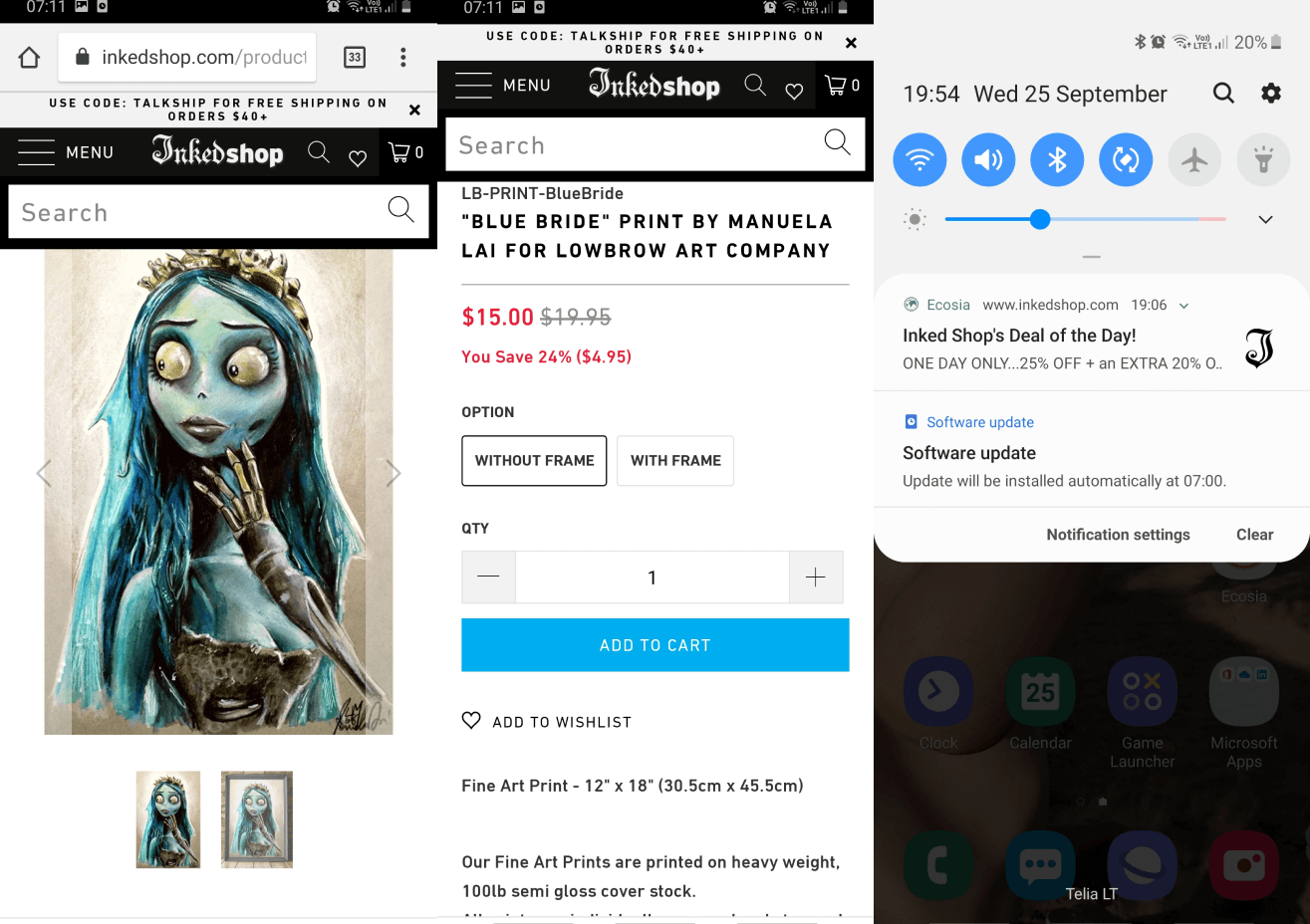 (Source: Firepush)
Trick 4 - Leverage your social channels
1. Update photos to include seasonal imagery, colors or patterns. You could even try dressing up social media icons along with your logo.
2. Let people post selfies in their holiday costumes. Encourage shoppers to put out a picture of themselves using your prominently displayed branded hashtags and tagging your social channels.
3. Jump on the most popular Halloween hashtags to get your social content out there. Aim to use one or two of your branded hashtags per posts, plus one or two of the most popular Halloween hashtags, which include:
#happyhalloween
#halloween2017
#trickortreat
#halloweengiveaway
#halloweencontest
#halloweenparty
#halloweentheme
#halloweennight
#halloweenhaun
Or here are a few sector specific hashtag suggestions:
Fashion / clothing:
#halloweenparty
#halloweenmakeup
#halloweenmakeupideas
#halloweencostume
#halloweennails
Homeware:
#halloweentheme
#halloweendecorations
#halloweenspirit
Food / cookery:
#halloweencandy
#halloweenrecipes
The takeaways
So there you have it. Some quick, effective design tricks you can apply to your site over Halloween, plus a few smart tactics to make the most of them.
The main point to remember is that Halloween is THE ecommerce holiday. Online traffic is huge, with shoppers looking for costume, decoration, food and gift ideas. But you don't need to have Halloween related products to join in. It's also a great opportunity to build your brand and engage your audience with a halloween themed website.