By purchasing through the links on this page, you are giving us the opportunity to earn a commission. Your support is greatly appreciated!

A good Shopify technology theme can bring your electronics store to the next level.

Apart from fashion items, tech products are the most popular commodity that people purchase online. And if you're looking to sell electronics online – or just want to bring your physical store to the internet – you need a fitting theme that displays technology items properly.

That's why we've compiled a list of 17 great Shopify technology themes. This way, you can easily pick the one that's best for you in terms of features and price.
What to look for in the best Shopify technology theme?
Looking for a theme but don't know how to choose the best Shopify electronics theme? We've compiled a list of criteria that will help you choose easier.
Product display. Whether you're a small business or an e-commerce giant, you want your gadgets displayed nicely across the store.
Features to boost sales. Features like quick buy or pop-ups can increase profit, so look out for what features a Shopify theme offers.
Modern design. You can't sell a modern electronic device if the website design takes you back to the 90s.
Social media integration. Allow the potential buyers to share your products with the world to get more reach.
Generally, we advise you to look at the demo previews of the Shopify themes you're interested in. That way, you'll see what features are available, how the display looks, and if it fits your brand.
Top Shopify themes for electronics stores: our shortlist
Before we dive deep into the detailed overview of each theme, let's see the five that made it to our top:
17 best Shopify technology themes: detailed overview
Now that we've mentioned our top five, let's get into the detailed reviews of each theme. We hope this list will help you choose the one most fitting for your electronics store.
1. Empire Theme by Pixel Union – marketplace-inspired Shopify theme for electronic products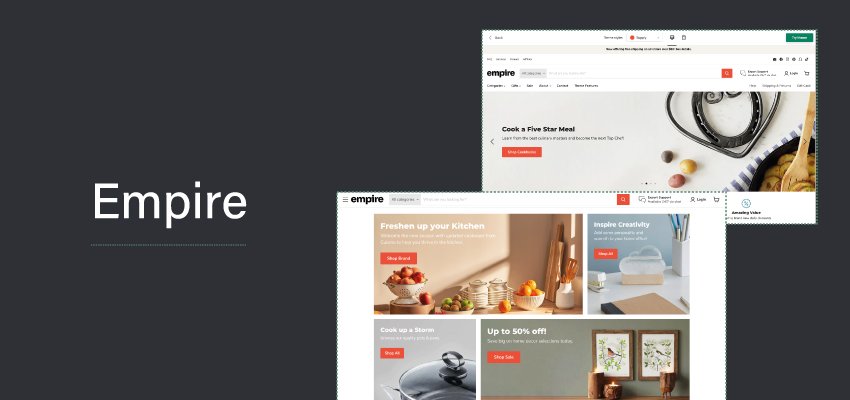 Empire theme offers three bright and vibrant theme styles, perfect for displaying electronic devices. With this theme, you'll be able to display products in a clean, white background from all sides. It's a classic Shopify theme with all features necessary for large stores to function efficiently and effectively.
Empire Theme's highlights:
Ideal for large catalogs
Conversion-boosting navigation
Highly customizable
Stores like The Xebec and Electronic Inventory Online use the Empire Shopify theme, selling laptop accessories and all kinds of electronic products, from cameras to cables and wires. You can see example screenshots below.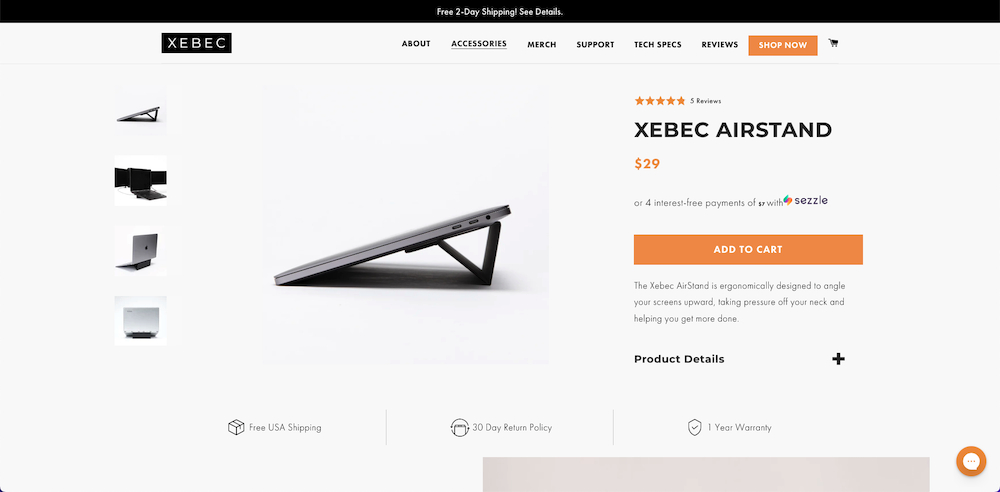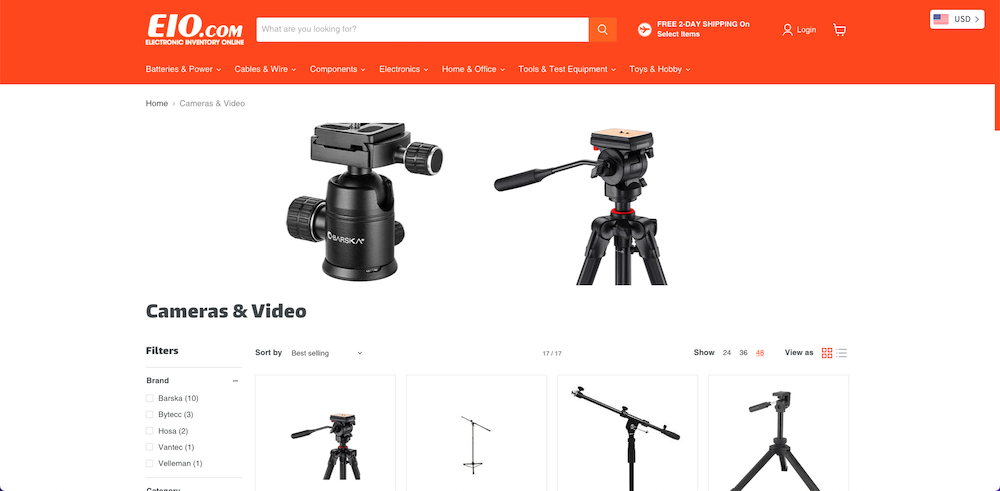 2. Electrox Theme by Designthemes – Shopify electronics theme for e-commerce business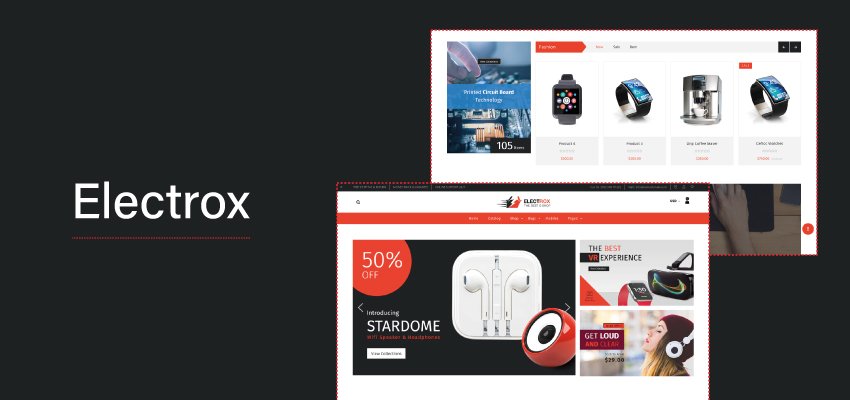 Electrox Shopify theme is built for e-commerce and is specifically advertised as a theme perfect for electronics appliances businesses. The Electrox theme is 100% responsive, it supports multi-currency, includes AJAX sidebar filters, drag & drop homepage blocks, and more.
You can choose from several types of header and footer styles, as well as different styles of menu. This theme is optimized for SEO, coded with HTML5 & CSS3, has built in Google web fonts, social integrations, and more.
Electrox Theme highlights:
100% responsive
Highly customizable
Perfect for e-commerce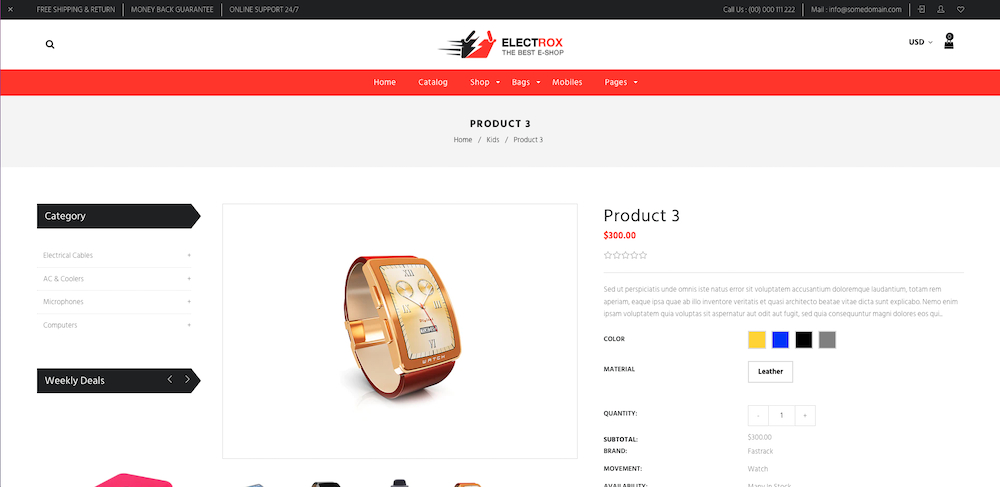 3. Warehouse Theme by Maestrooo – Shopify theme for large catalogs of products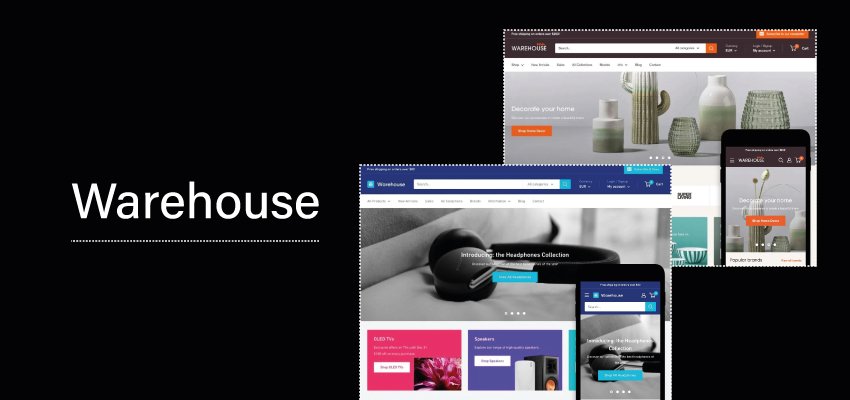 Warehouse theme is great for big electronic stores. It's highly customizable, and developed for the best performance and speed. Looking at the theme demo, you can see that the design is very clean and modern, displaying products with all the information needed. Powerful code allows for lots of customization and features, e.g., uploading high-res product photos.
Warehouse Theme's highlights:
Tailored for large catalogs
Highly customizable layout
Optimized for speed and performance
Stores like The Pi Hut and Tanotis use this Shopify theme for their electronics stores, as displayed in the example screenshots below.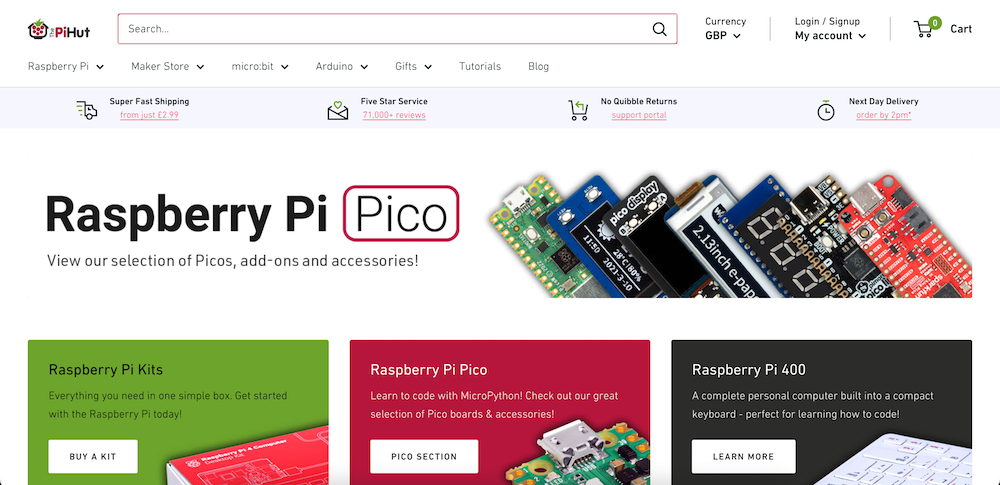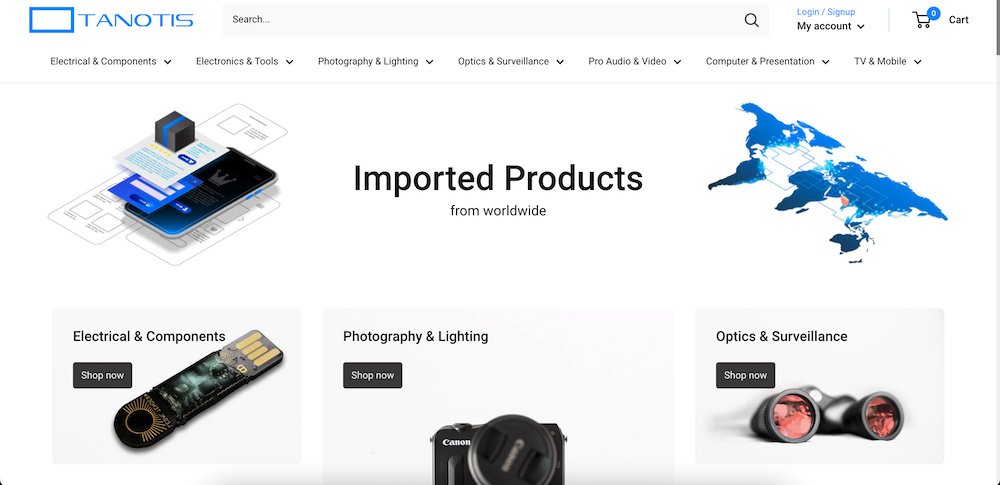 4. Launch Theme by Pixel Union – Shopify theme for electronics startups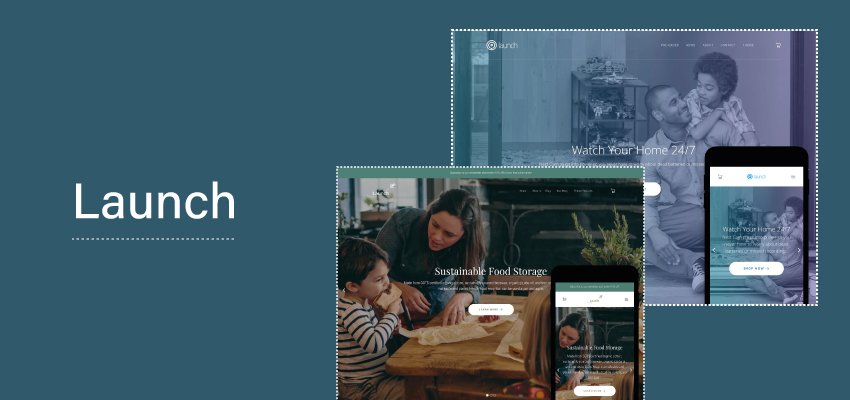 Launch Shopify theme is designed for smaller brands to get them started with business. The theme offers features that will help boost sales, launch kickstarter campaigns, and foster product education. As you'll see in an example below, the theme is very customizable and good looking.
Launch Theme highlights:
Ideal for small catalogs
Quick setup
Product details displayed in homepage
The store AutoBrush that sells toothbrushes for kids, uses the Launch Shopify theme. See it for yourself in the screenshots below.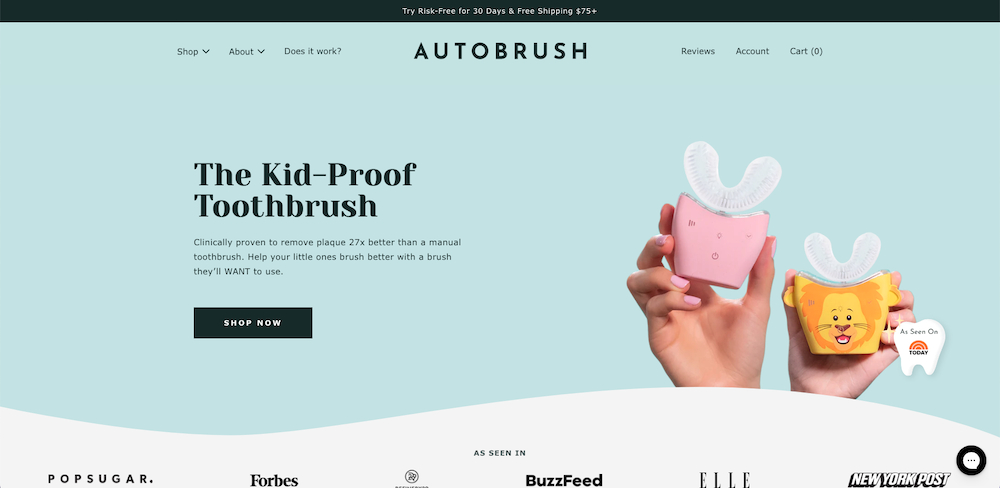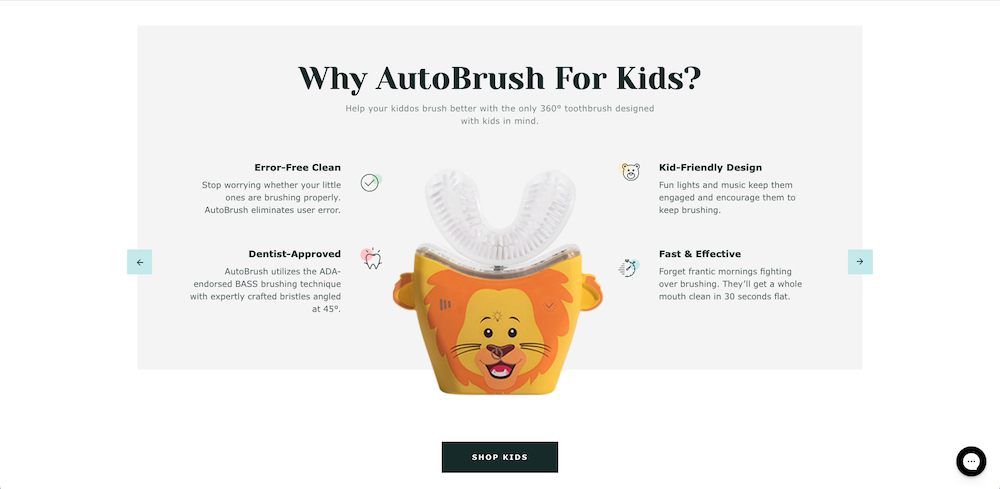 5. Digital World theme by tadatheme – responsive Shopify theme for tech stores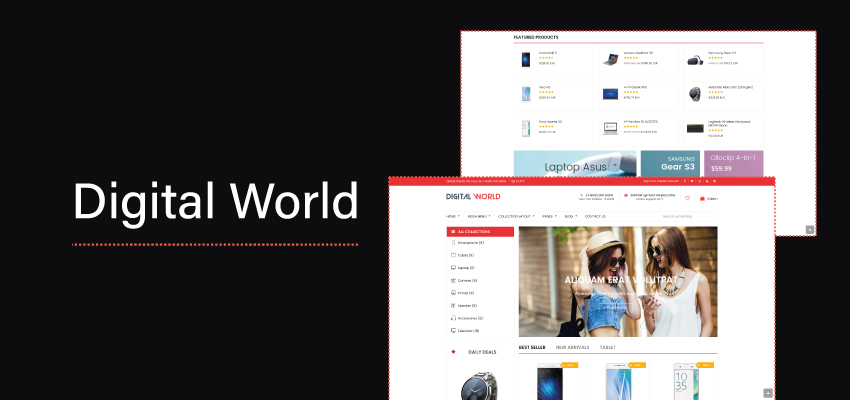 Digital World by tadathemes offers Shopify templates for electronics stores selling phones, computers, cameras, and other tech products. It's a modern ecommerce Shopify theme with all the features needed for a successful store.
This theme offers a lot of section types, like slideshows, galleries, featured products, and much more. You can also choose from three different collection style layouts and 4 different blog style layouts. You will also find that designing and editing this theme is easy with the dedicated page builder.
Digital World theme highlights:
Fully responsive
Fit for large catalogs
Advanced features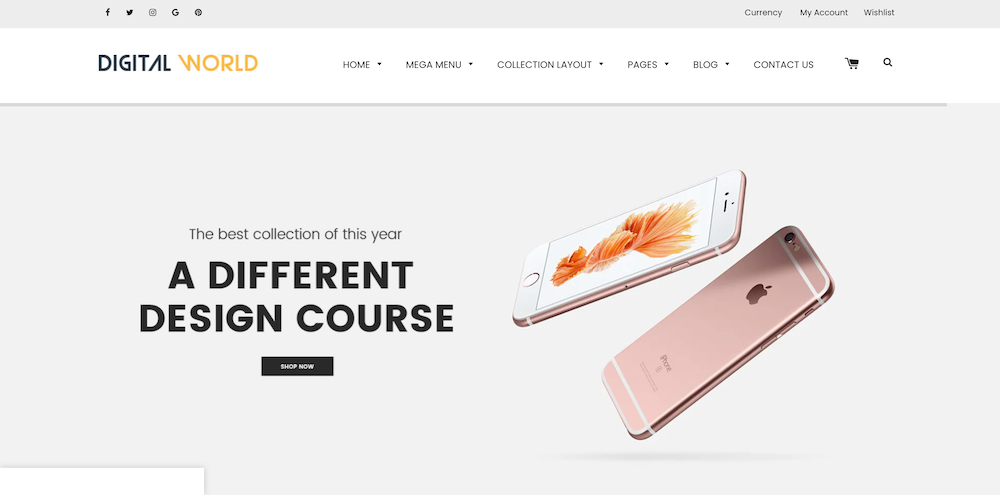 6. Electro Theme by arenacommerce – Shopify electronics store theme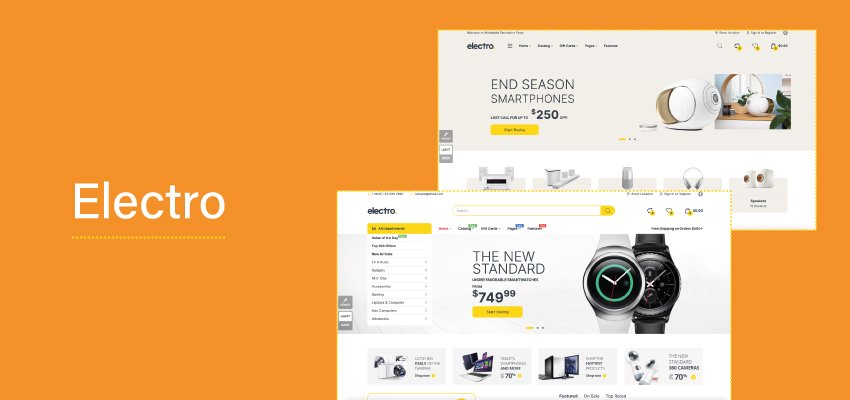 The Electro Shopify theme is built for gadget and digital stores. It's responsive, modern, clean, and functional. The theme is also very flexible, and you can tinker with the layouts to make the store look exactly how you want to.
This theme also has built in scripts and apps so you can save money on third-party tools. For example, RTL support, lazy loading images, multi currency, and more. Electro theme is packed with features that we wouldn't be able to list here. If you want to see how it looks and functions, check out the demo preview.
Electro Theme highlights:
Highly customizable
Fit for large catalogs
Responsive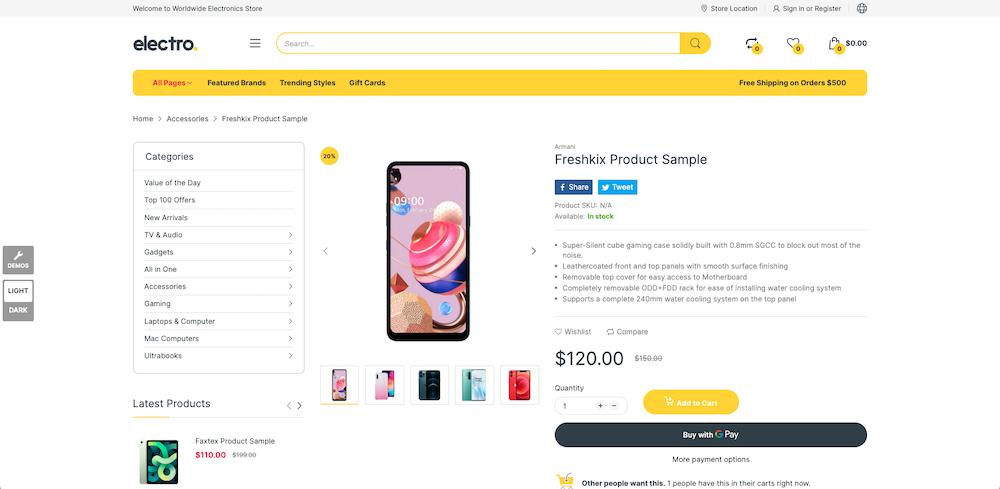 7. Phono Theme by BuddhaThemes – electronics Shopify theme for phones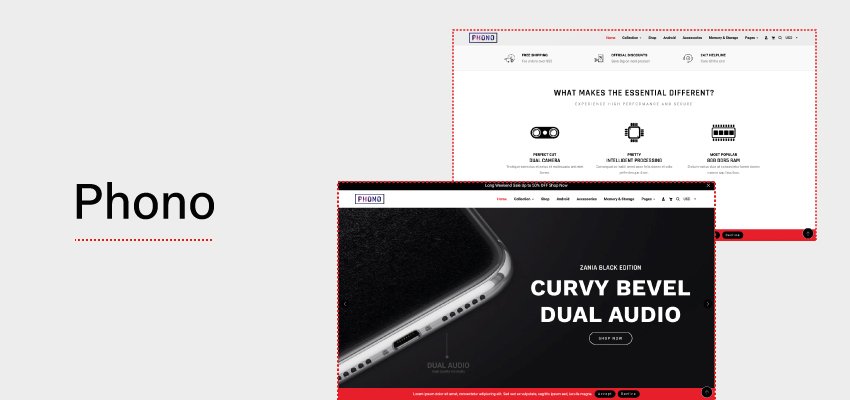 Phono Shopify theme is 100% responsive with modern devices. It's packed with various features, like a powerful admin panel, quick shop & cloud zoom, newsletter popup, AJAX product filters, currency switcher, order tracking, and more.
The theme is great for SEO, has built in Google Web Fonts and social integrations. With Drag & Drop Shopify builder, you can easily customize your store to your liking. The theme is great for electronic devices and gadgets because you can visually display specifications and product details on the homepage.
Phono Theme highlights:
100% responsive
Highly customizable
Animated sections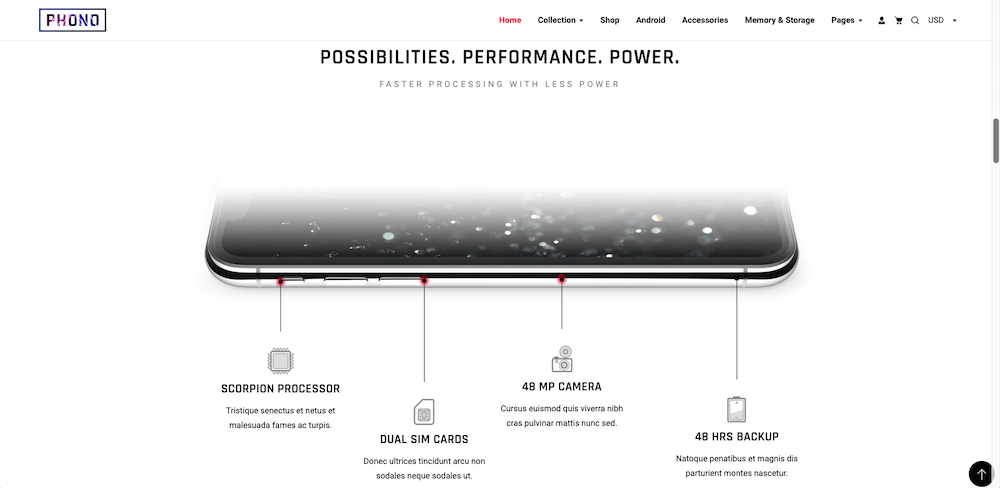 8. ShowTime Theme by Mile High Themes – feature-rich Shopify technology theme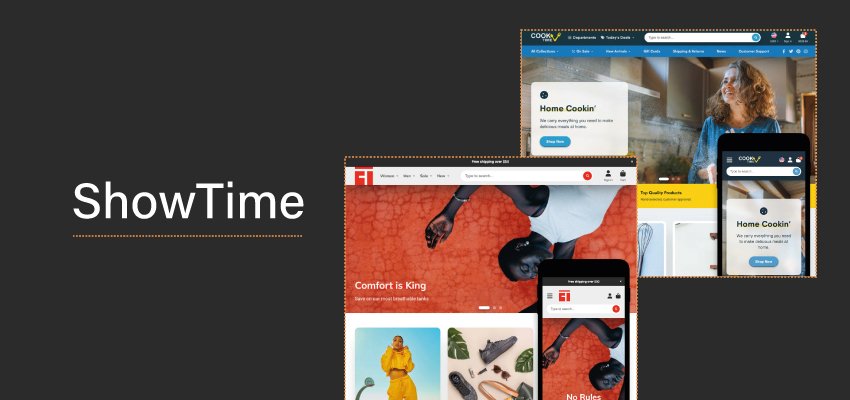 ShowTime is a good looking and modern Shopify theme, perfectly fit for any catalog size but is the best for larger electronics stores. Advertised as a theme for home goods, clothing items and beauty, it's also versatile enough to fit the technology sector as well. If you like how the theme looks and functions, then it's the right one for you.
ShowTime Theme's highlights:
Limitless navigation options
Built-in money-saving features
If you're interested to see a real-life example of the store, check out iDeaPlay – the store that sells all kinds of electronic devices, from headphones to portable power stations.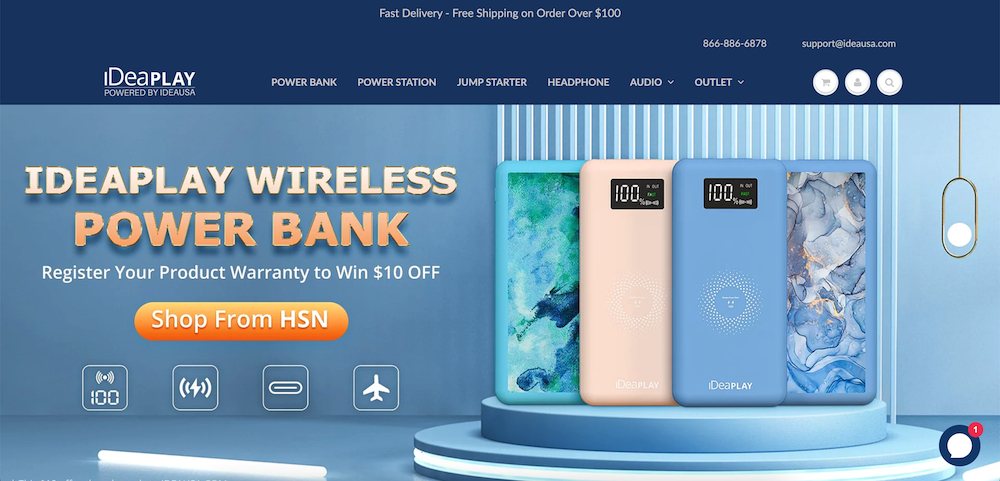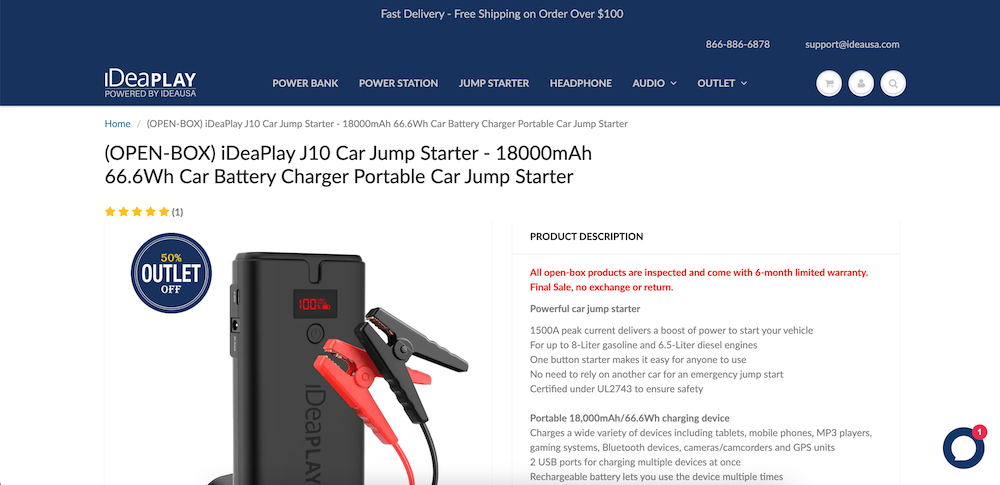 9. Fashionopolism Theme by We Are Underground – Shopify theme for selling electronics in style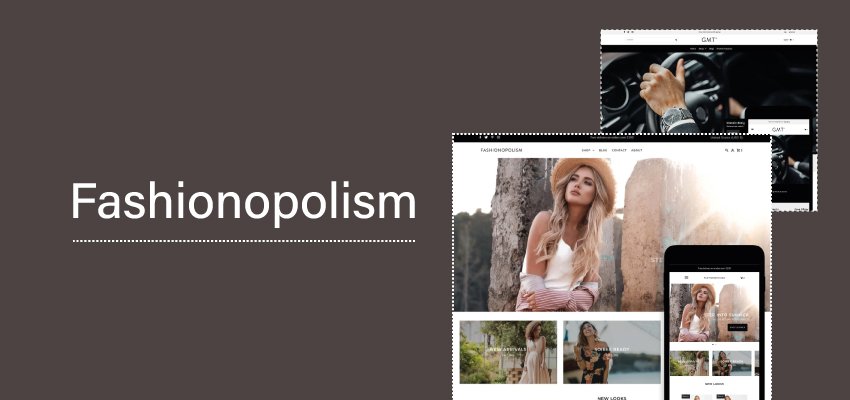 The Fashionopolism Shopify theme can take your electronics brand to the next level. With its modern and luxurious-looking designs, this theme is great for brand-focused stores. It's easy to set up and highly customizable, allowing you to play around with the entire layout.
Fashionopolism Theme highlights:
Designed for dropshippers
Fit for any catalog size
Highly customizable layouts
If you want to see this theme in action, the online store Coby is a great example. It's a brand-focused and good looking shop that specializes in all kinds of electronic devices.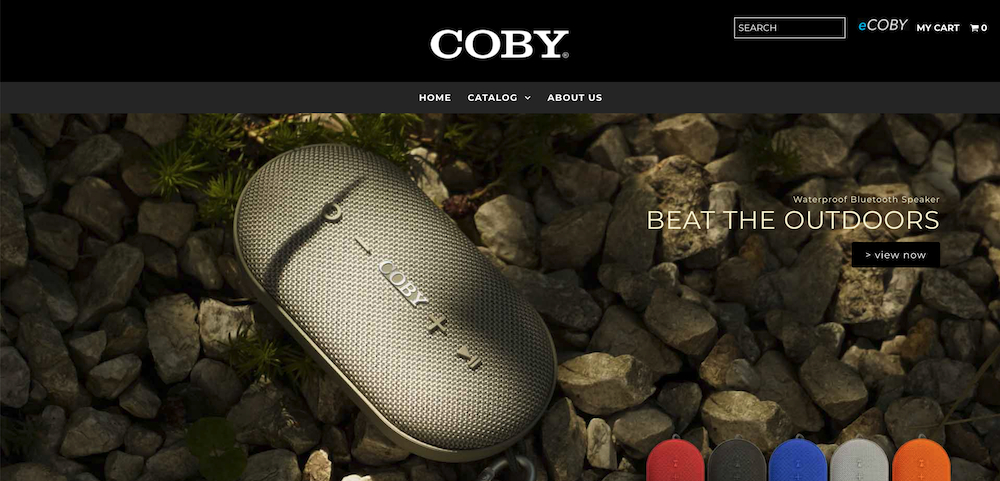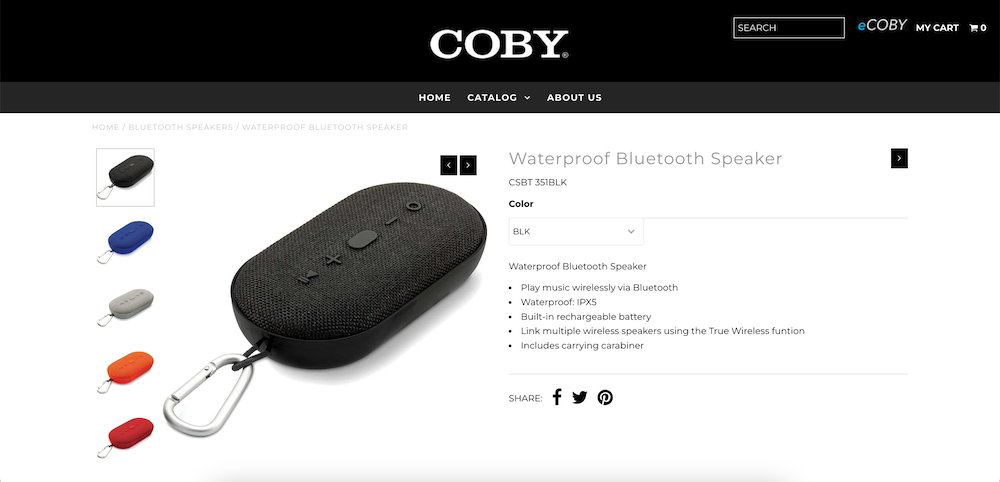 10. Loft Theme by Trailblaze Media – Shopify electronics theme for brand-focused stores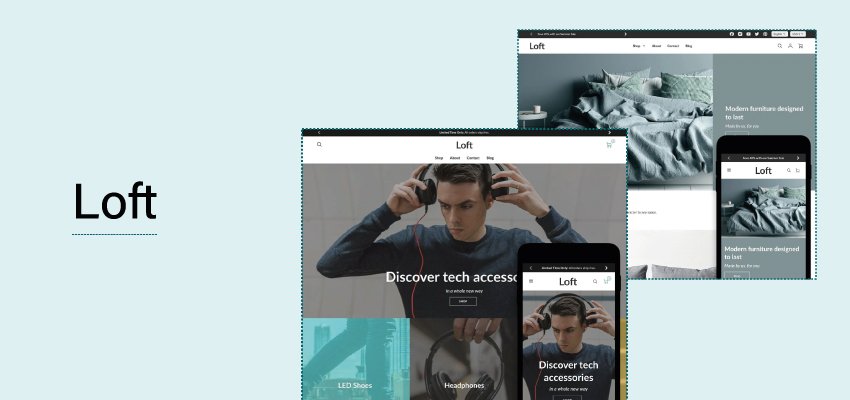 Loft Shopify Theme is great for those looking to tell a story through the world of technology. It's more of a brand-focused theme rather than a marketplace with a huge catalog. If you're looking to sell electronics where appearance is usually important to a buyer, Loft will deliver.
Loft Theme highlights:
Perfect for visual storytelling
Brand-focused
Highly customizable layout
If you want to see this Shopify theme in action, check out itrend365. It's a store that sells trendy, stylish everyday electronics.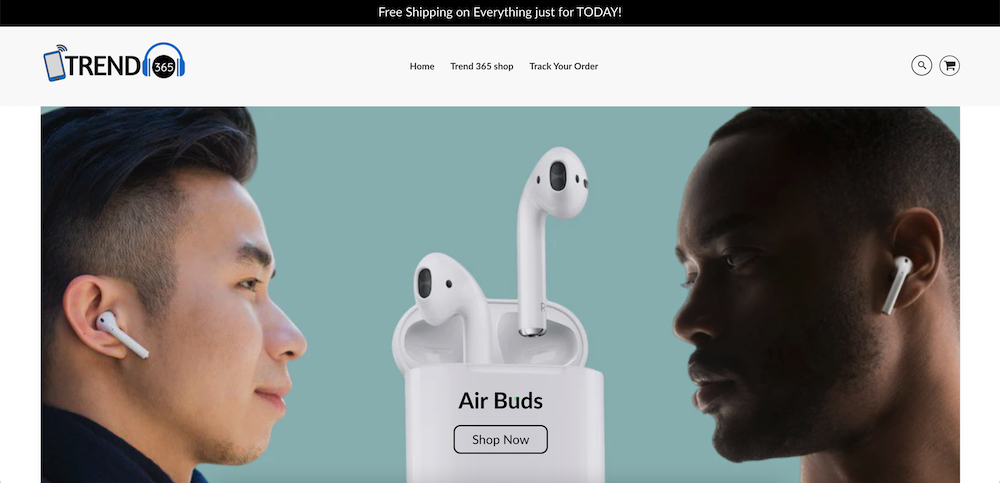 11. Impulse Theme by Archetype Themes – multi-purpose Shopify theme focused on visual storytelling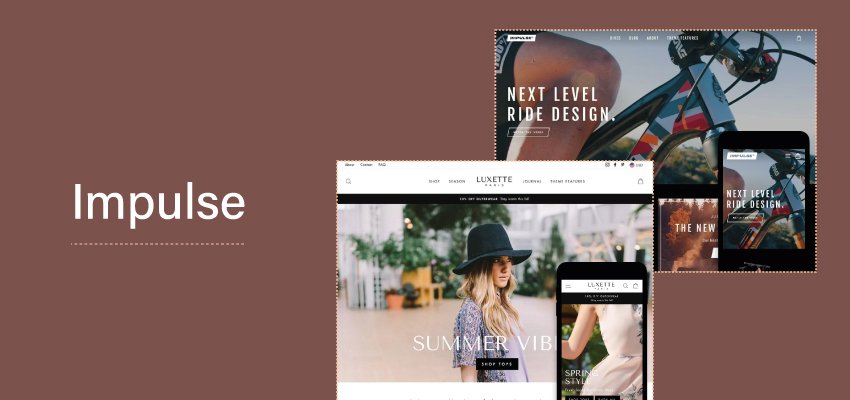 Impulse Shopify theme is visually stunning and focused on brand storytelling – including electronics and technological brands. You can display videos, high resolution photos and more. It offers all features needed for selling effectively and efficiently. While this theme is advertised as more of a lifestyle theme, it's very versatile and can be used for any type of products.
Impulse Theme highlights:
Custom, powerful promotions
Fit for any catalog size
Sales-focused features
If you're interested to see how this theme looks in real life, BETAFPV has you covered. It's a shop that sells drones and their parts.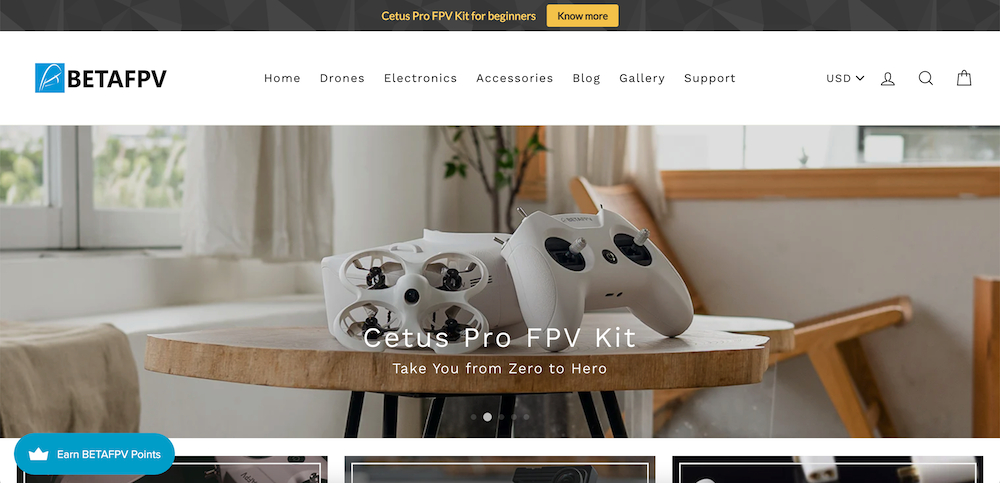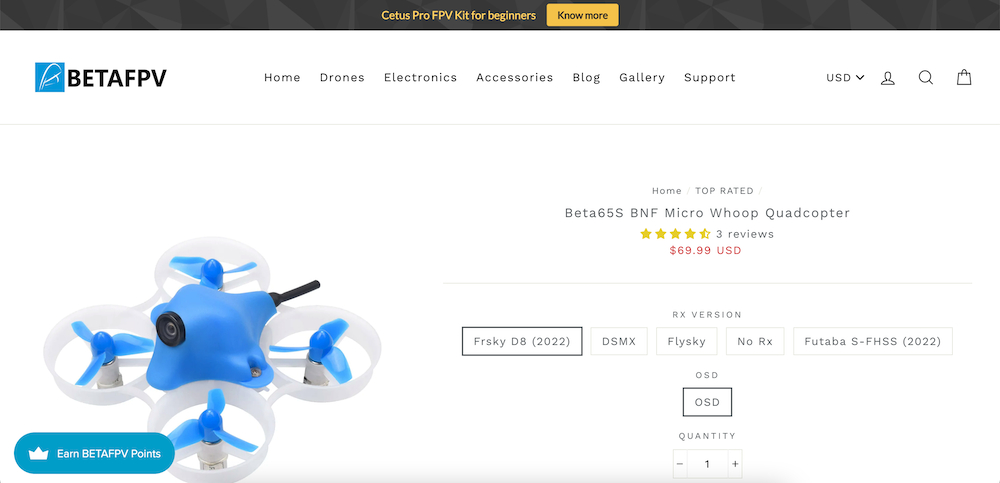 12. Venue Theme by Safe As Milk – sales-focused Shopify theme for electronics stores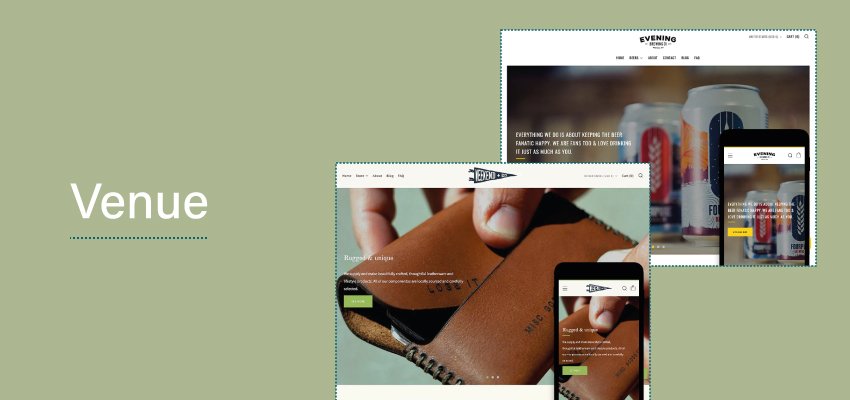 Venue Shopify theme is another great theme for an electronics store that is heavily focused on brand storytelling. It's stylish, good looking and quite maximalist. The theme is designed to increase sales, with all the features you need to focus on selling better and faster. It's versatile, therefore fits any industry, including technology.
Venue Theme highlights:
Easy & intuitive setup
Designed to increase sales
Fit for any catalog size
To see how this Shopify theme works in action, check out Nightlife Electronics. The shop focuses on selling, repairing and restoring synthesizers, drum machines, DJ equipment, and other sound making gadgets.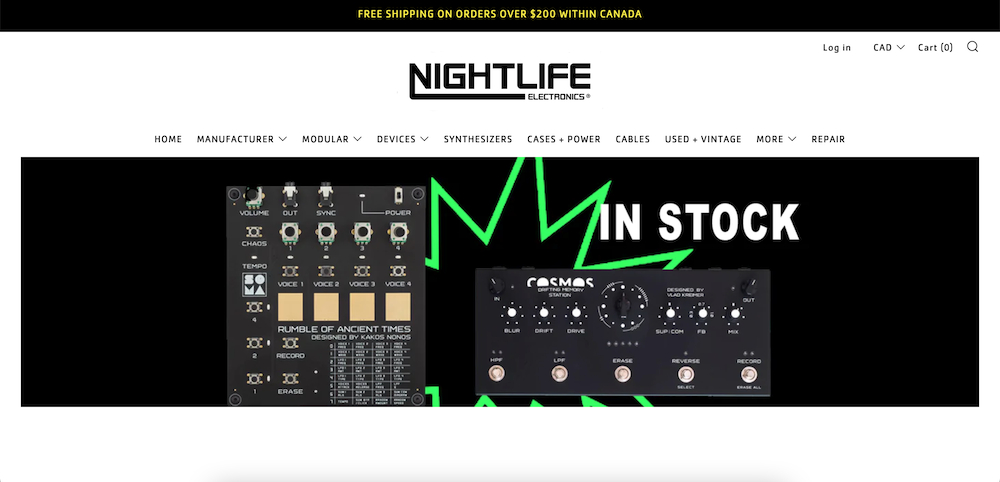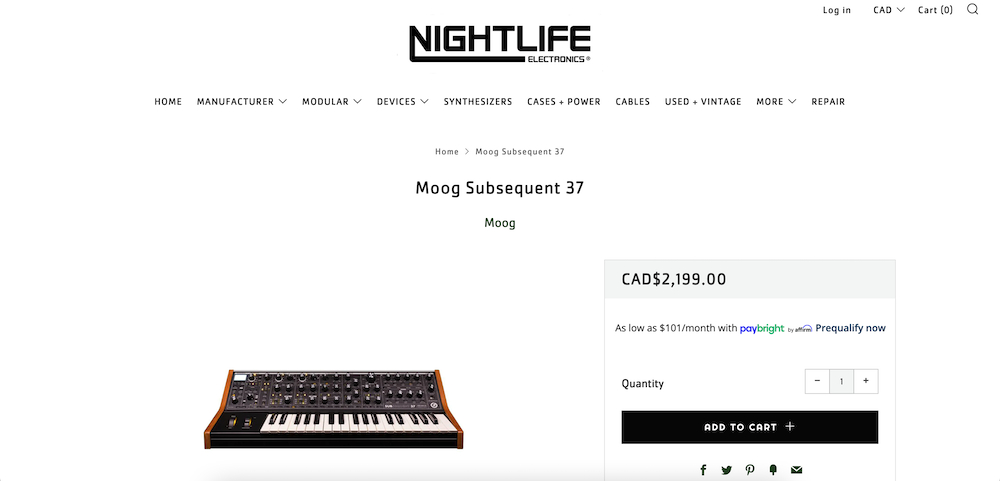 13. Electbox theme by codezeel – Multipurpose electronics Shopify theme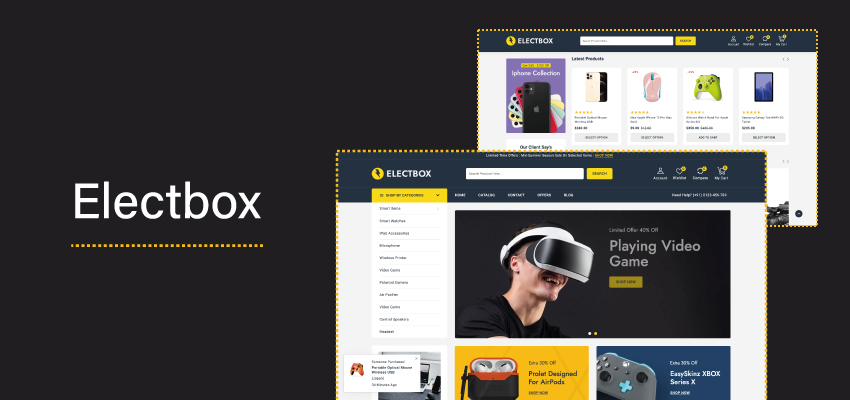 Electbox is a great Shopify theme for all gadgets, games, and electronic stores. This theme only offers one template but it's a great foundation for you to build upon. Electbox is flexible, feature rich, and affordable – great choice for anyone looking to open a store in the electronics sector.
The theme is mobile-first – and knowing that every year, more people shop on their phones, it's a smart investment. With its drag-and-drop function, this theme is easy to customize. And, of course, it comes with conversion boosting features like quick view, Ajax wishlist & compare, sticky shopping cart, and much more. Try it for yourself!
Electbox theme highlights:
Mobile-first layout
Conversion focused features
Save money on additional apps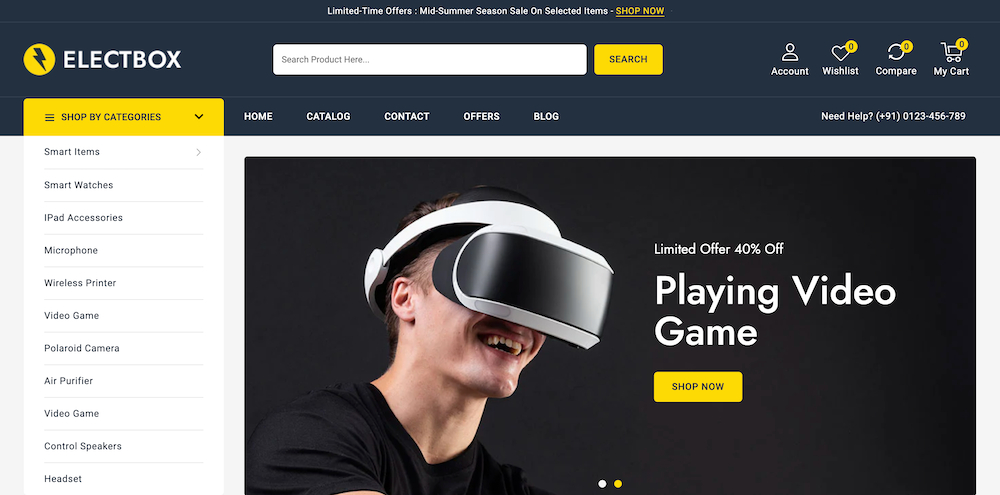 14. Mavon theme by Gloryio – designed to elevate your business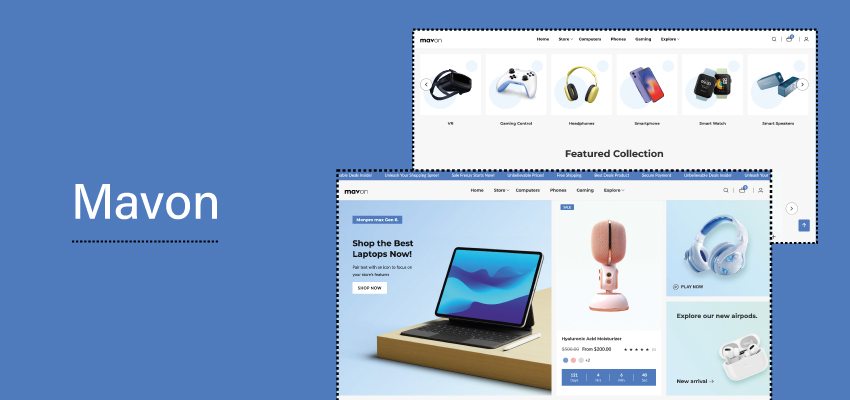 Mavon is a good-looking Shopify theme that's ideal for electronics brands who want to stand out. The theme is focused on great design and smooth user experience. And with an abundance of features, you'll save money on expensive third-party apps.
Mavon may not be the cheapest choice, but it does offer a lot in terms of features. You can build a Shopify store exactly like you want because, with this theme, you get 20+ different sections. There's also advanced filtering, color swatches, quick view, countdown timer, cross-selling, to name just a few available tools.
Mavon theme highlights:
Save money on third-party apps
Focused on ensuring great user experience
Modern and clean design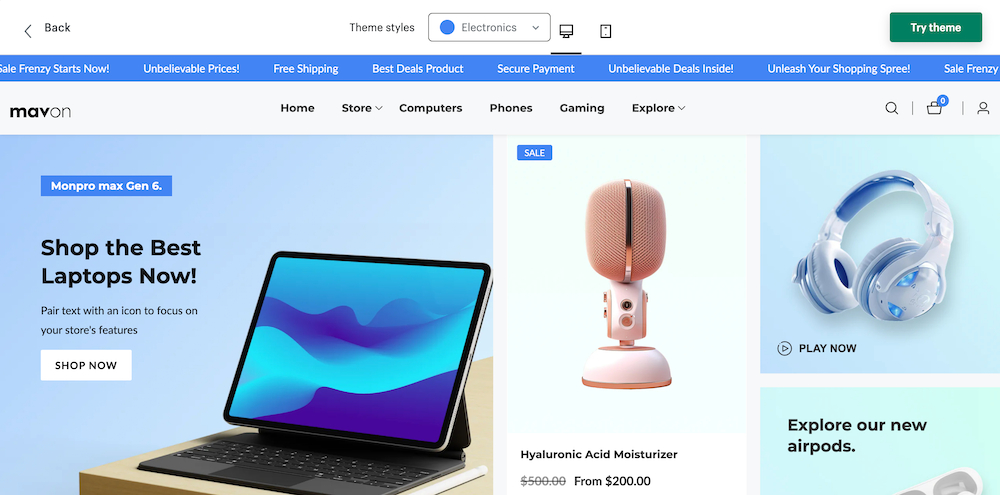 15. Amanto Theme by EngoTheme – multi-purpose Shopify theme for electronics stores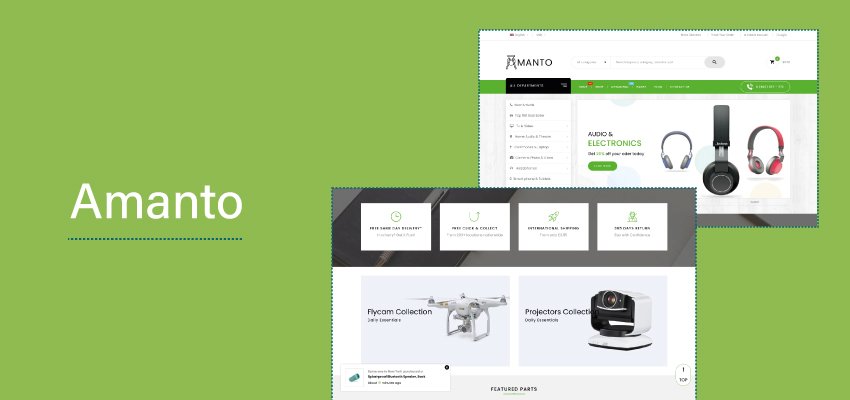 Amanto Shopify theme is clean, feature-packed, and ready to accommodate your electronics shop. It's fully responsive and mobile-ready, designed specifically to look good across all modern devices. The theme is also SEO optimized, so once you set everything up with the store, it will be easier to boost rankings.
Some of the features this Shopify theme includes are flexible built-in mega menu, smart product quick view, automatic price change, advanced layered navigation, newsletter popup, AJAX functionalities, product zoom, and much more.
Amanto Theme highlights:
100% responsive
Highly customizable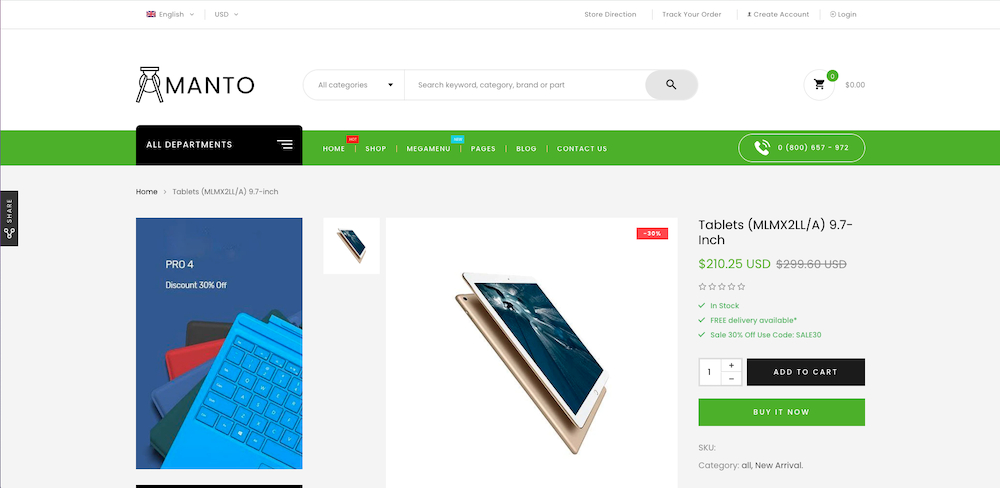 16. Champion theme by Loess Inc. – a visually impactful theme for your tech store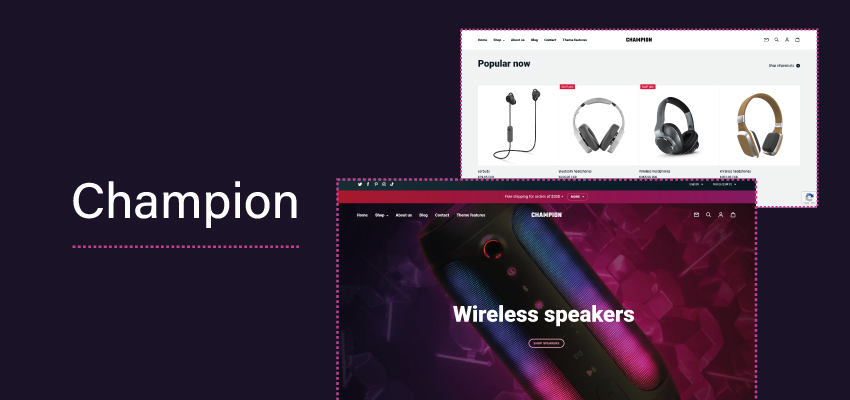 Crafted by ex-Shopify insiders with a keen eye for technology trends, Champion is the go-to Shopify theme for scaling your electronics business. This highly adaptable theme offers over 30 customizable sections, giving you the freedom to tweak presets to perfectly align with your tech-focused e-commerce goals.
Champion is a feature-rich powerhouse, boasting mega menus, color swatches, custom tech badges, and quick view functionalities. It's especially effective for deploying time-sensitive promotions to entice tech-savvy buyers. Plus, the theme is mobile-optimized, ensuring that your customers experience seamless browsing, even when on the move.
Champion theme highlights:
Built by former Shopify employees
Packed with features
Extremely flexible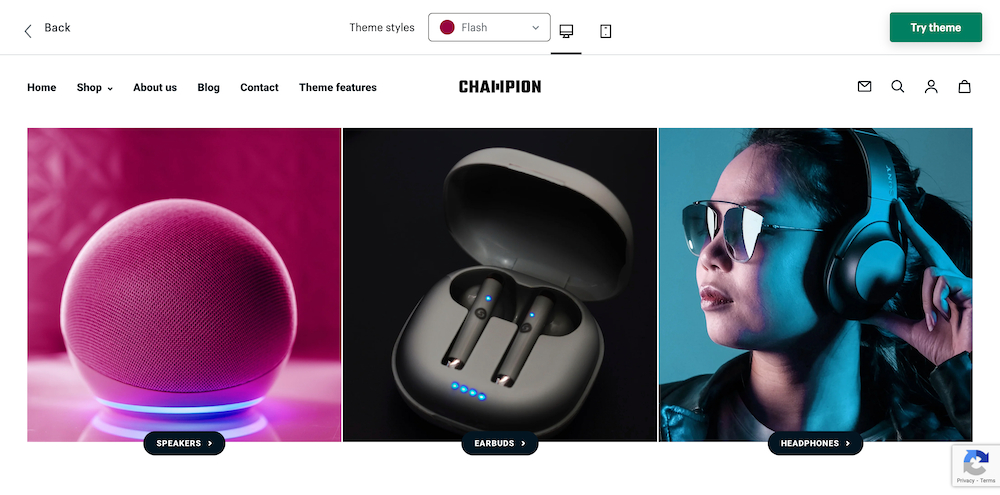 17. Startup theme by Pixel Union – Shopify theme for stores with small catalogs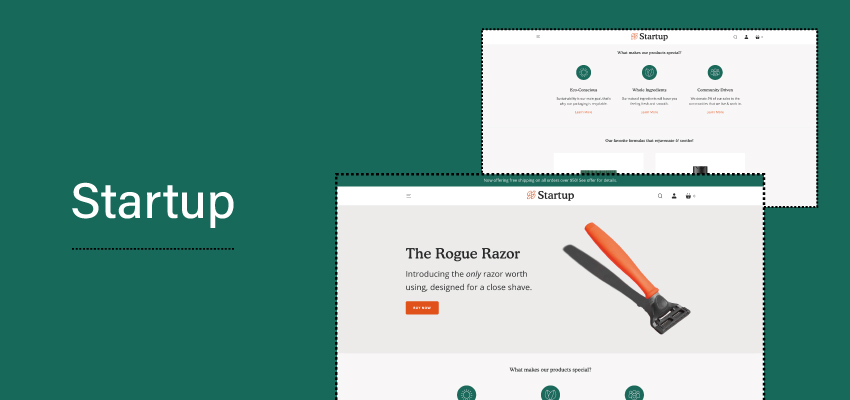 Startup by Pixel Union is an impeccably designed theme that is great fit today's electronics and technology stores. Its responsive layout ensures that your website will display seamlessly across a variety of devices, meeting the standards of the modern consumer.
This theme is for businesses with smaller catalogs—whether you're selling a single, revolutionary tech gadget or a curated selection of high-quality electronics—Startup makes your offerings shine. Its design architecture optimizes product display and promotes ease of purchase, aligning perfectly with direct-to-consumer strategies. The theme offers an age verifier, an indispensable feature for certain tech products that may have age restrictions.
Startup theme highlights:
Highly customizable testimonials
Designed to make products shine
Focused on brand storytelling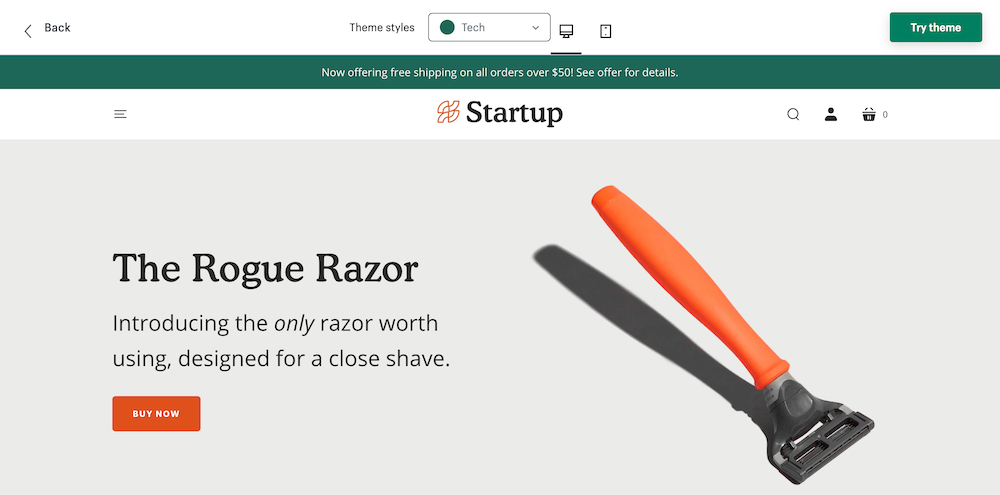 How we selected these Shopify technology themes
In order to select the best Shopify technology themes, we looked through the most popular marketplaces for website templates, i.e., Shopify, ThemeForest and Envato. We have chosen the most popular and highly rated themes.
We have also looked at the analytics to see what themes were used by successful Shopify electronics and technology stores. Our list is carefully curated, and there's something for everyone – whether you're just getting started with your business, or you simply want to rebrand your current online store.
Summary
Choosing the best Shopify theme for your technology online store can be overwhelming. While there are more than enough options you could go for, we hope that our hand-picked list will help you find The One.
Depending on the budget and the size of your business, we recommend Empire, Electrox, Warehouse and Launch. And if you want to opt for a cheaper Shopify theme first, try Electbox. And with that, we wish you good luck on your theme-hunting journey!