By purchasing through the links on this page, you are giving us the opportunity to earn a commission. Your support is greatly appreciated!

Learning about TinyPNG alternatives is the smart thing to do. After all, one tool can't always solve all issues.

So where does TinyPNG fall short?

Some people seek TinyPNG alternatives because the free plan doesn't allow uploading images larger than 5MB. Another obstacle might be that TinyPNG only supports three main image formats: PNG, JPEG, and WebP.

We're here to make sure you know all the best alternatives to TinyPNG and why they stand out.

Let's take a closer look!
Best alternatives to TinyPNG: shortlist
15 best TinyPNG alternatives: overview
1. TinyIMG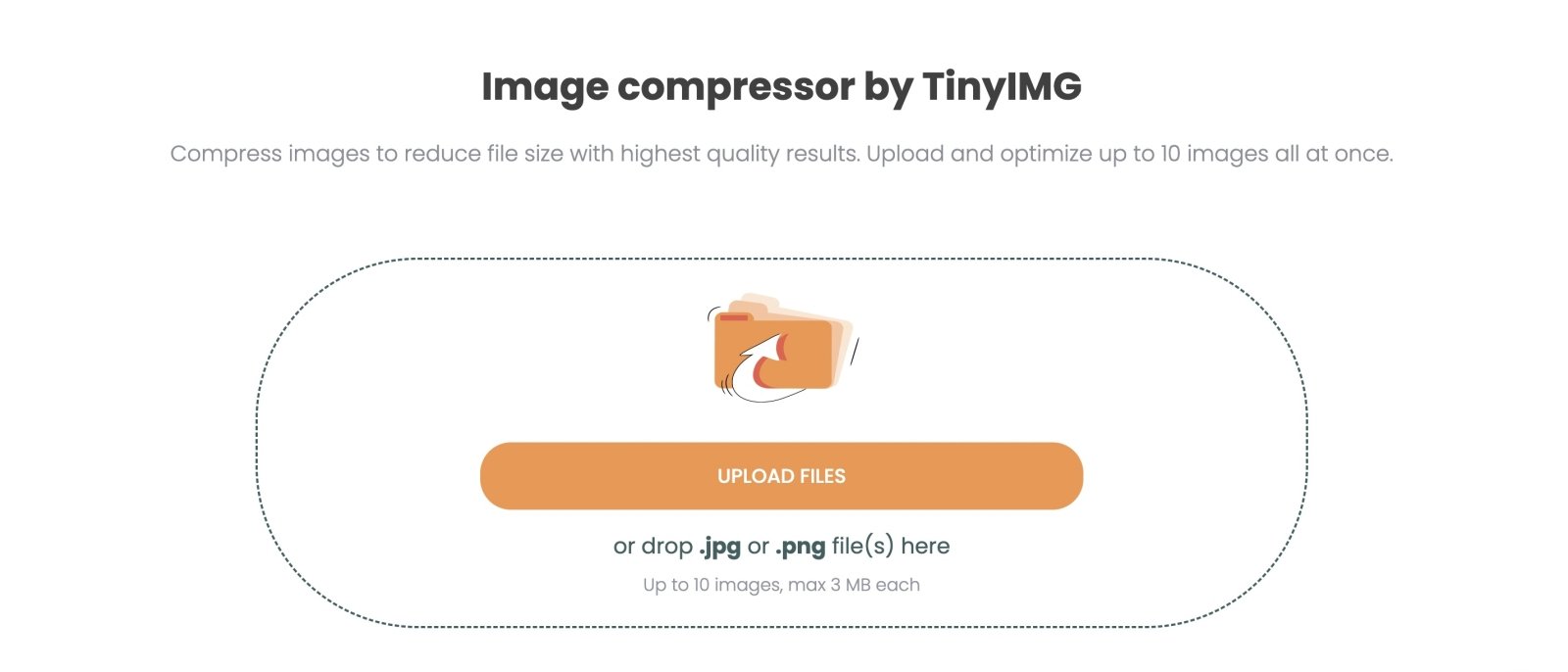 TinyIMG features a free online, easy-to-use image compression tool with the trending drag-and-drop functionality to upload images. Complete with a user-friendly interface, TinyIMG uses a smart algorithm to reduce the file sizes of images. Similar to TinyPNG, TinyIMG compresses JPG and PNG files.
Pros:
Images can be uploaded in bulk
Once the compression is complete, users can see the compressed size of the images
Download compressed images either individually or as a single .zip archive
This tool requires no technical knowledge or expertise, making it perfectly suited for personal use
Cons:
No WebP or GIF file compression
2. Optimizilla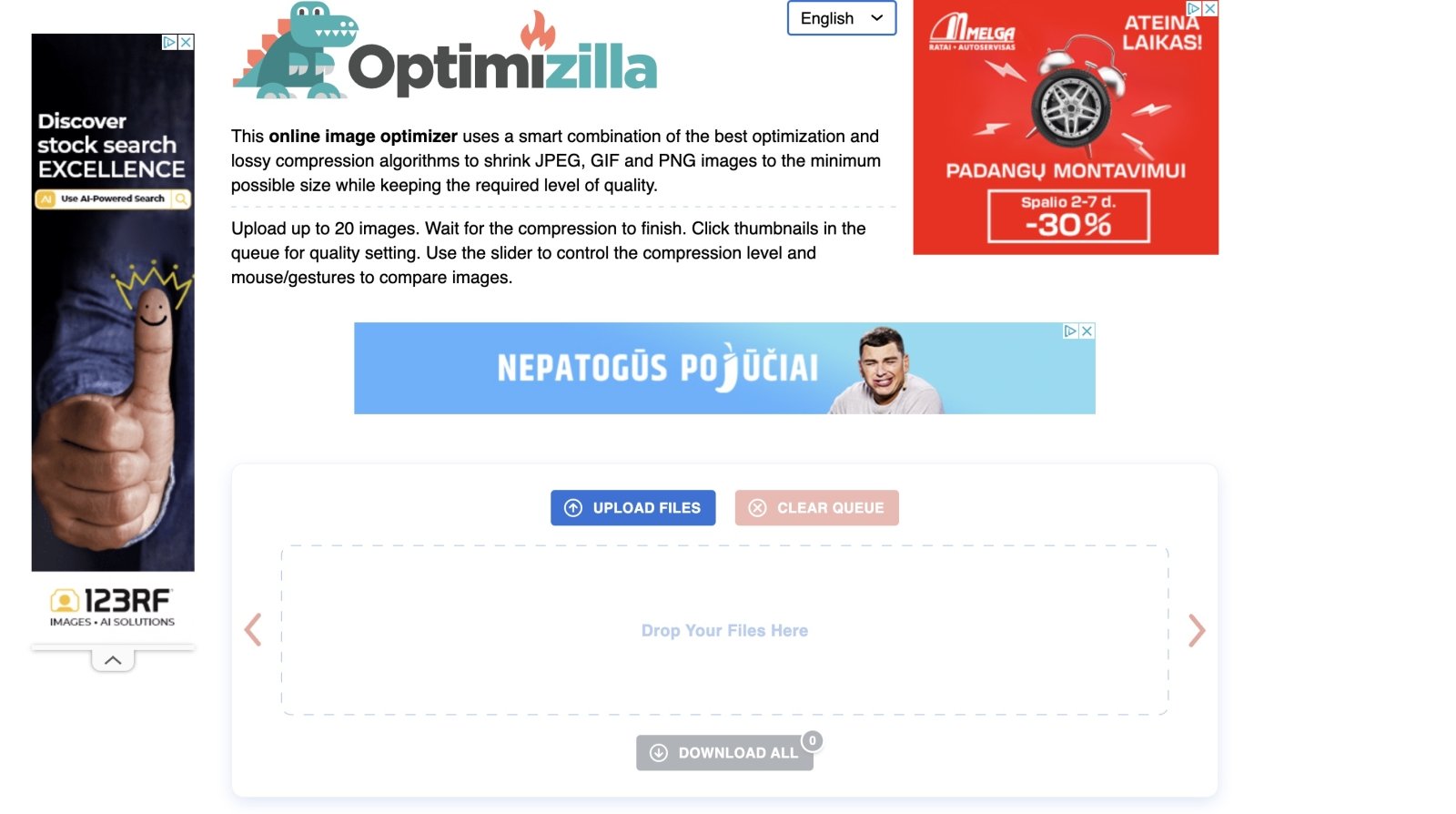 Considered as one of the fastest and most popular optimizers, Optimizilla boasts a single webpage hosting the compression software. In addition, the free online tool supports the simple drag and drop function to upload images.
The highlight of Optimizilla as a TinyPNG alternative is the quality slider. Instead of guessing how much you can compress and still maintain good quality, you can use the slider to find the maximum image compression possible with image quality that still satisfies you.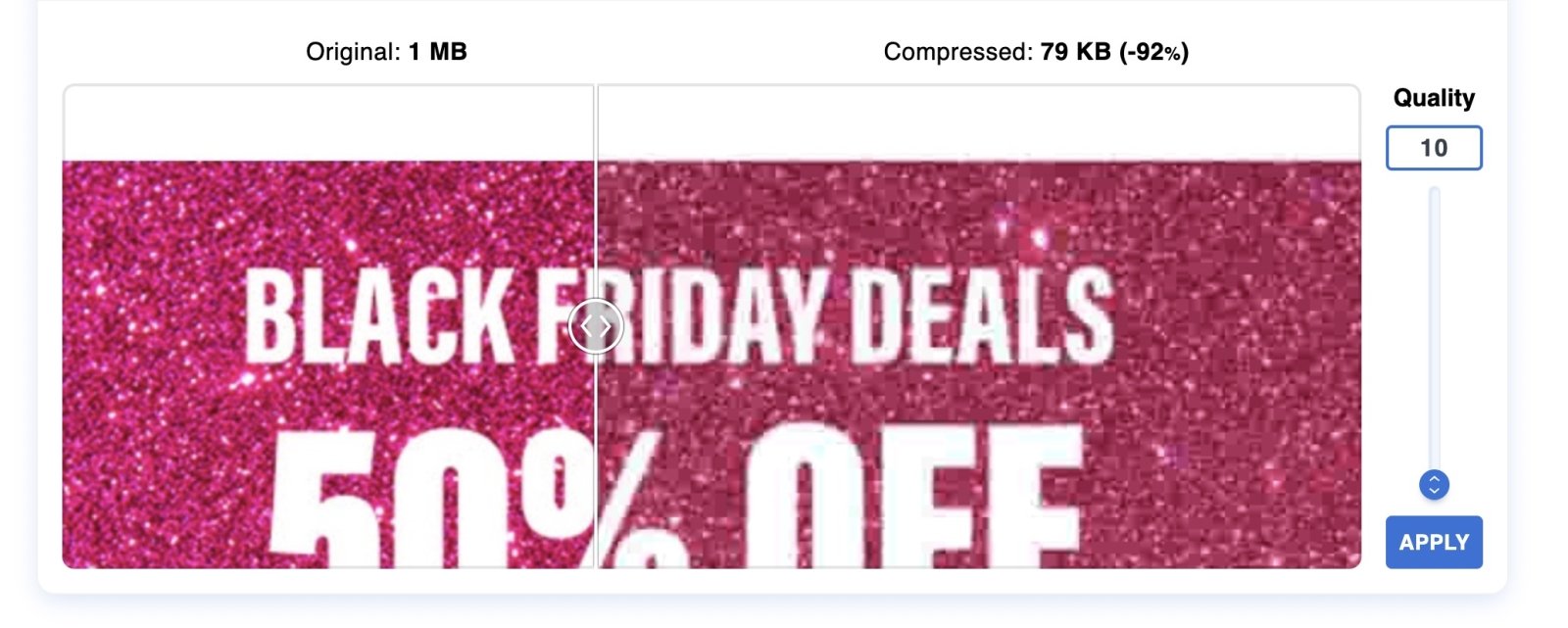 Pros:
Completely free
Users can upload and download bulk images of different formats
Supports compression of up to 20 images at the same time
Supports PNG, JPG, and GIF files
Features a slider to change the level of compression based on the result you see
Once processed, you can view the level of compression applied to the uploaded images
Files can be downloaded both individually or as a single .zip archive
Cons:
No WebP file compression
On-page ads
Outdated interface
3. Compressnow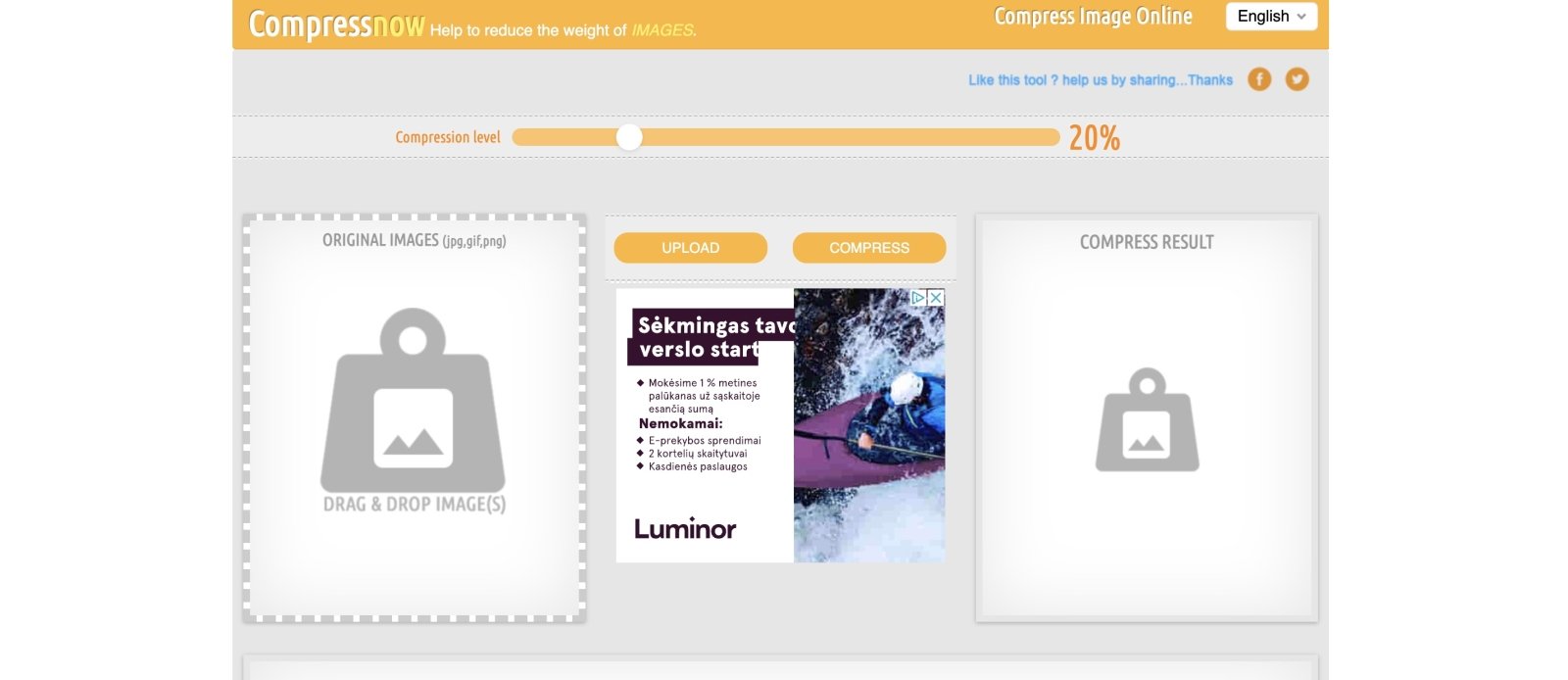 Compressnow is a web-based software that allows users to control the level of compression during image optimization. One of the reasons Compressnow is an excellent alternative to TinyPNG is because it supports four file formats. Furthermore, similar to Optimizilla, Compressnow allows for bulk import and compression of images.
Pros:
Completely free
The supported file formats are JPEG, PNG, GIF, and JPEG
Allows for the compression rate of images to be controlled by percentage
It uses the nifty drag-and-drop method of uploading images
Supports the upload of up to 10 images at the same time
Software translated to 5 languages
Cons:
The total file size of bulk images is limited to 9MB.
Does not keep PNG and GIF transparency while compressing
Web page features ads
4. Gumlet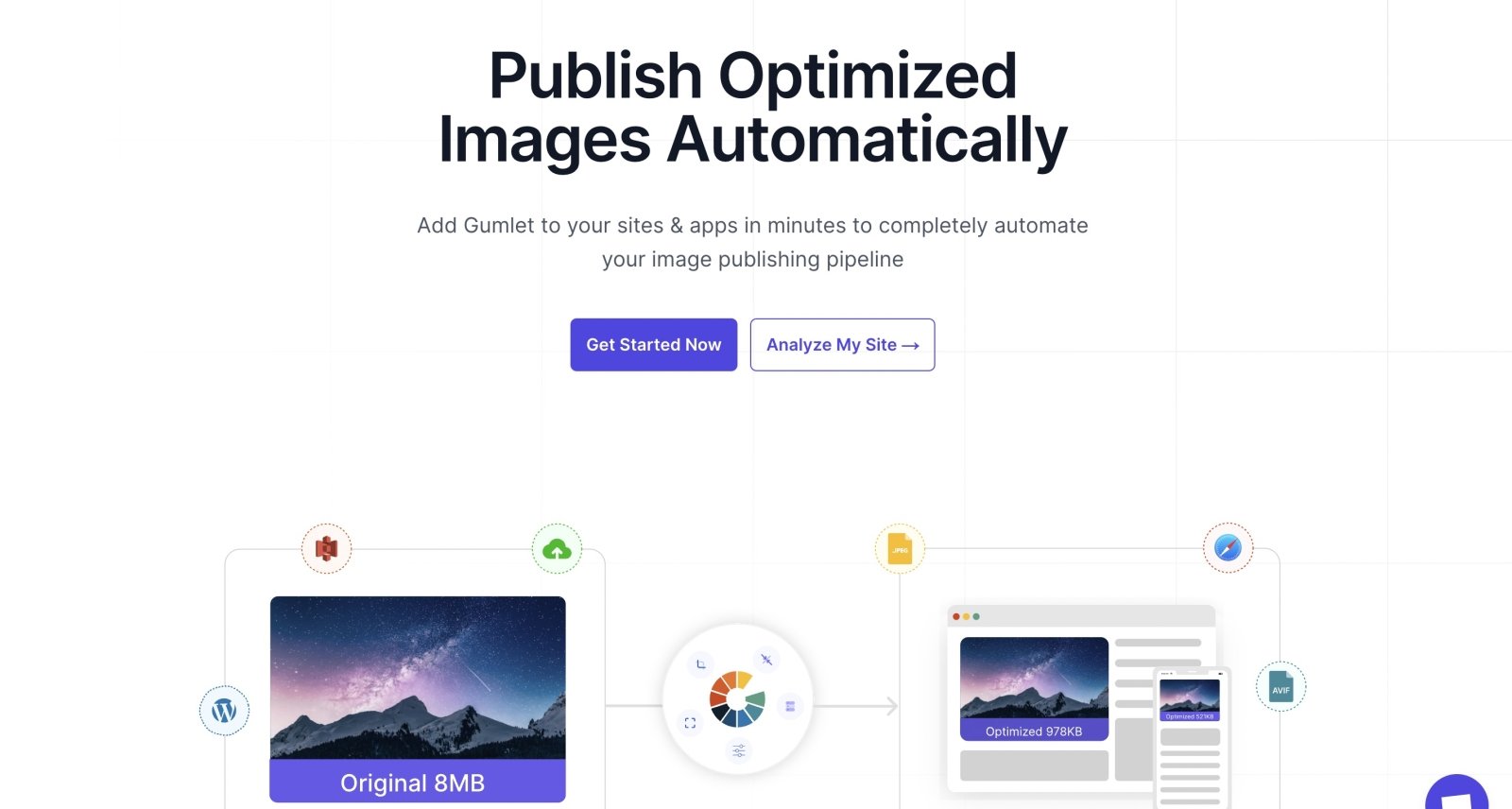 Gumlet is a good image compression software that saves server space for images and speeds up load times. It's not a one-time use web tool; it's a software that you can integrate with your apps and sites to publish optimized images directly to the web.
This unique software applies six optimization steps to compress files up to 65% of their original size. While a bit pricey, it's a sustainable TinyPNG alternative for SMBs and website owners.
Pros:
Easy to integrate without the need for any technical expertise
Both images and videos can be compressed
30GB of bandwidth a month for images with the free plan
Gumlet features a function that resizes and optimizes images according to the screen size of the user's device, effectively reducing load time
Cons:
Gumlet does not have a single-use browser version like TinyPNG
Video and image compression requires separate plans
5. Kraken.io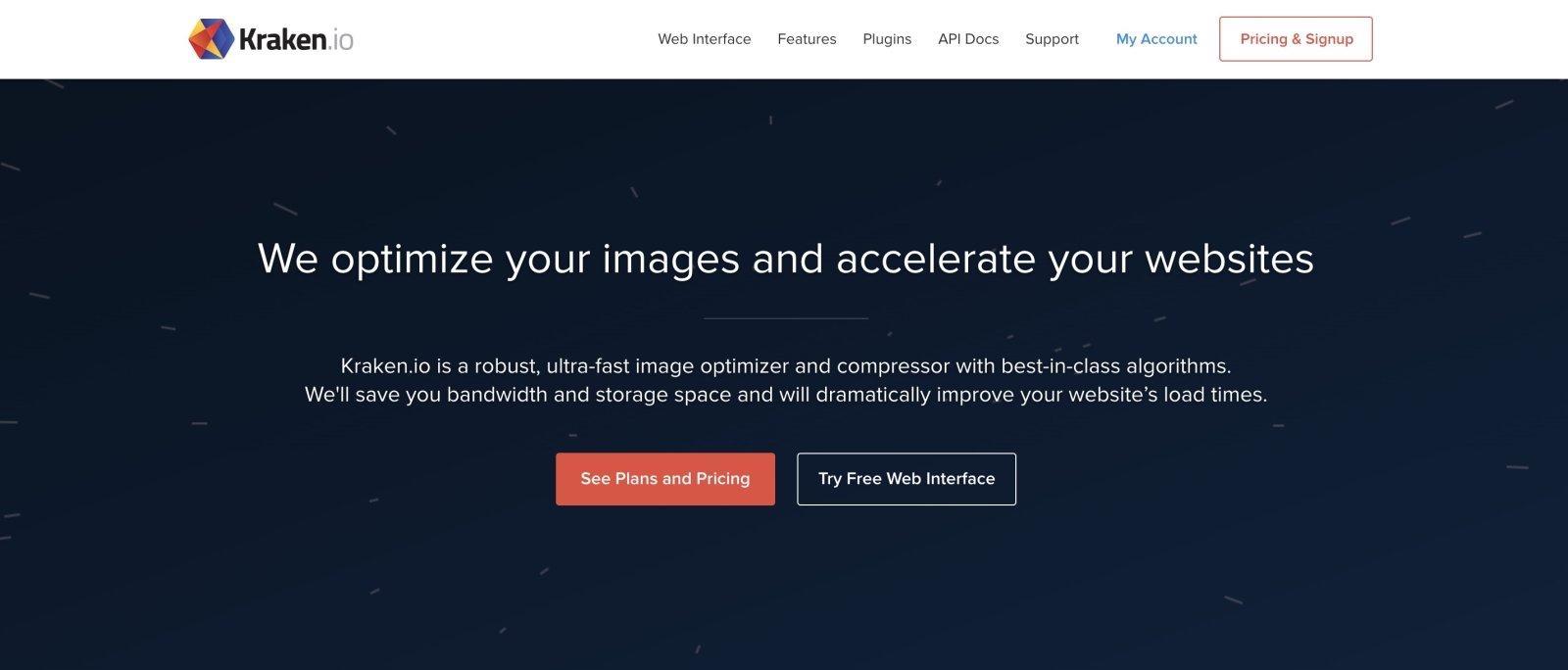 Kraken.io is famous for its fast and efficient features, explicitly built for optimal image compression. Used by some of the best companies like Microsoft, Dell, and Tesla, Kraken.io is one of the most popular plugins available online and worth the mint.
It's also available as an easy-to-use, free web tool where you can choose from three compression methods - not something that's easily available with all TinyPNG alternatives.
Pros:
Available as a web tool
API integration with your application or web page (10 keys, can be used for 10 different websites or blogs)
Both paid and free plans are available
Kraken.io supports JPEG, PNG, and GIF files
Users can optimize images by directly uploading them from Google Drive or Dropbox
Images can also be optimized by uploading them through a URL entry (PRO plan)
The compressed images can be downloaded as a single ZIP file
Cons:
No Shopify integration
Web tool limited to 1MB single file size
6. Image Recycle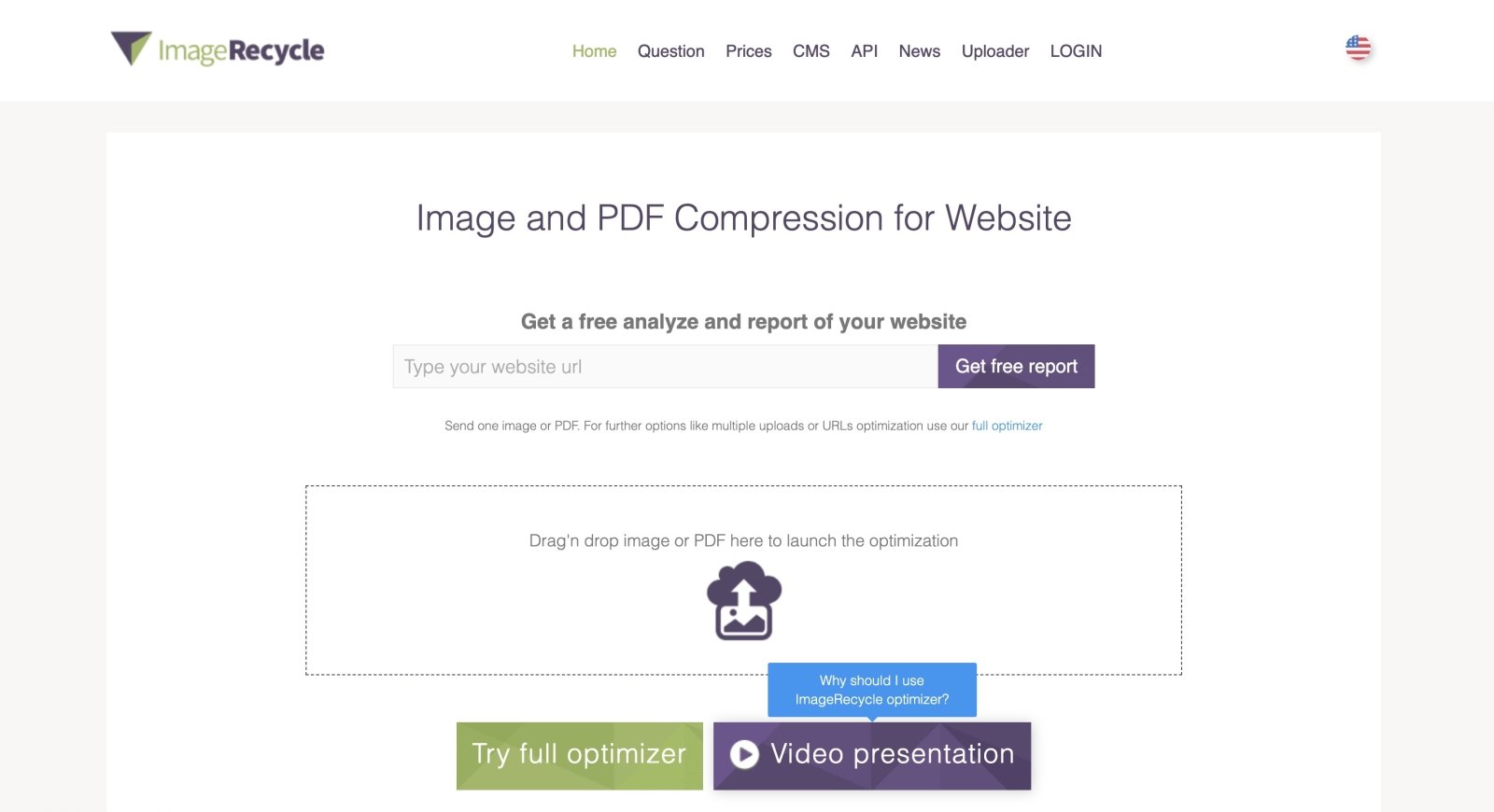 Featuring the trending drag-and-drop function to upload images, Image Recycle does a great job at image compression. This image optimizer compresses both images and PDF files, unlike TinyPNG and some other similar tools. Another additional feature that TinyPNG does not offer is website analysis.
Image Recycle offers a free plan and a paid option for long-term users.
Pros:
An option to safely backup all compressed images for a monthly fee
Background compression of image files can be executed with Image Recycle's WordPress plugin or Magento extension
Upgrading to the paid plan unlocks advanced features (users can try them out with a 15-day free trial)
Video tutorial available
Cons:
Bulk upload not available with the free plan
7. JPEG.io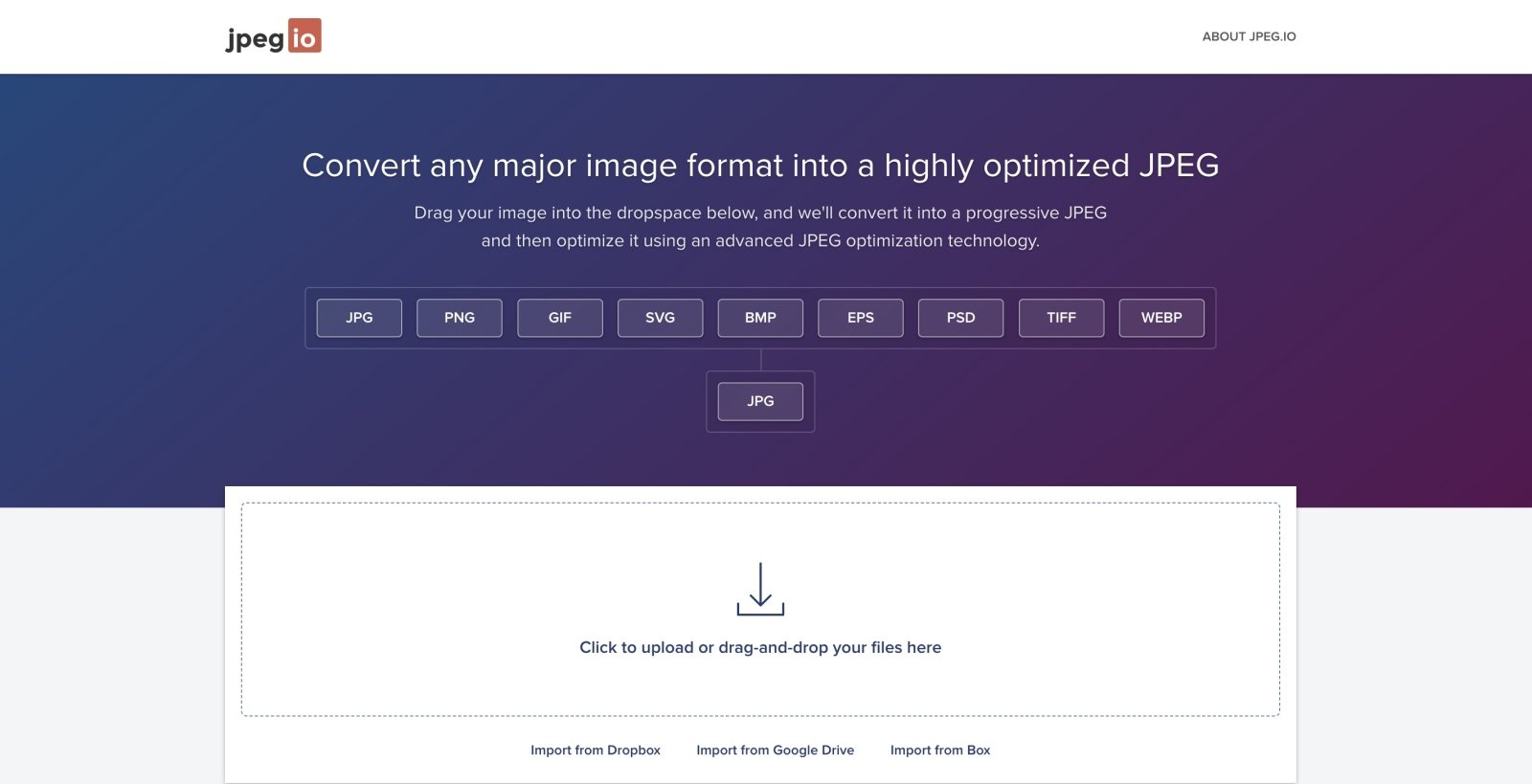 JPEG.io is powered by the popular image optimization tool we've already reviewed, Kraken.io. JPEG.io supports upload in a huge range of file formats, but the compressed version can only be downloaded in progressive JPEG. In addition, this application uses the drag-and-drop feature that enables import from multiple sources.
Pros:
Completely free
Huge range of image file types for upload
Images can be uploaded from Dropbox, Google Drive, and Box
Allows for bulk importing of images
Cons:
Can only download compressed images in JPEG format
8. Imagify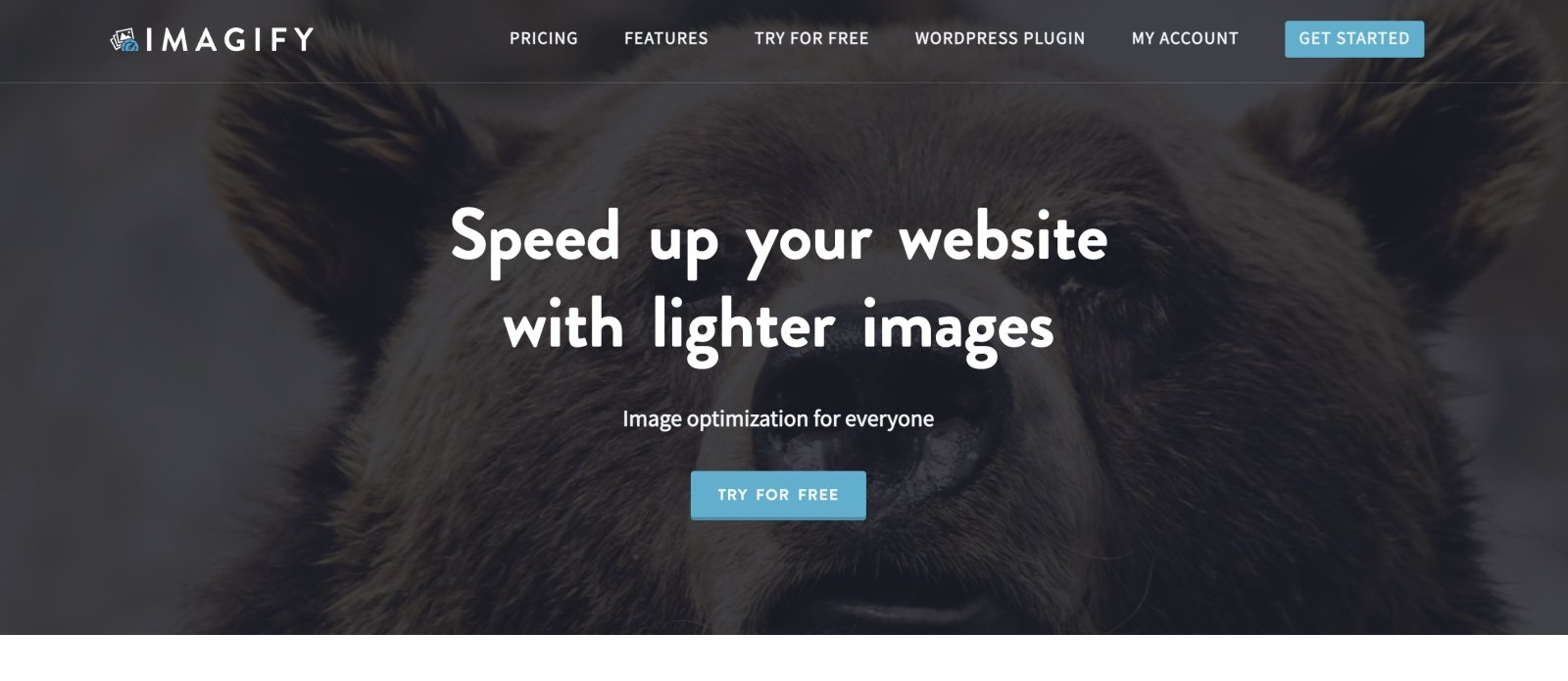 Imagify is an application available in two forms – a plugin and an online web tool, making it an excellent choice for all image optimization needs. Imagify supports resizing images by height, width, or percentage on both the online and plugin versions. In addition, Imagify allows direct uploads from your desktop, making it an efficient and straightforward software.
Pros:
Unlimited websites for plugin use
Three degrees of compression can be applied to image files
Bulk file upload with the application's easy-to-use drag and drop feature.
Formats supported are JPGs, PNGs, PDFs & GIFs
Cons:
The free version features a maximum file upload limit of 2MB
9. Compressor.io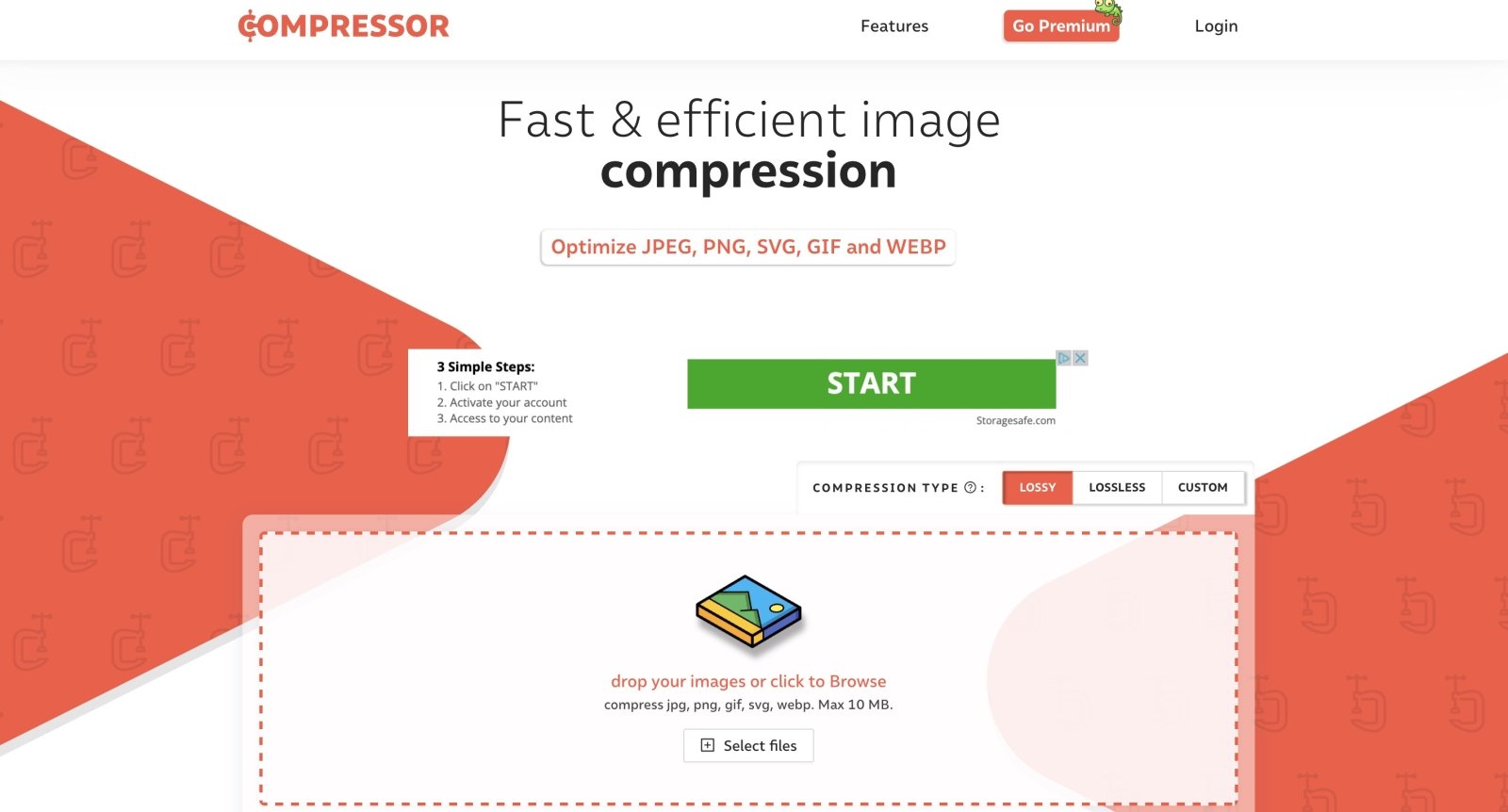 Offering three different compression methods: lossless, lossy, and custom, Compressor.io is a powerful online image optimizer.
Their custom image optimization method is what helps them truly stand out against TinyPNG. It empowers you to control the whole optimization process and outcome - perfect for advanced users who know exactly how they want their images to be optimized.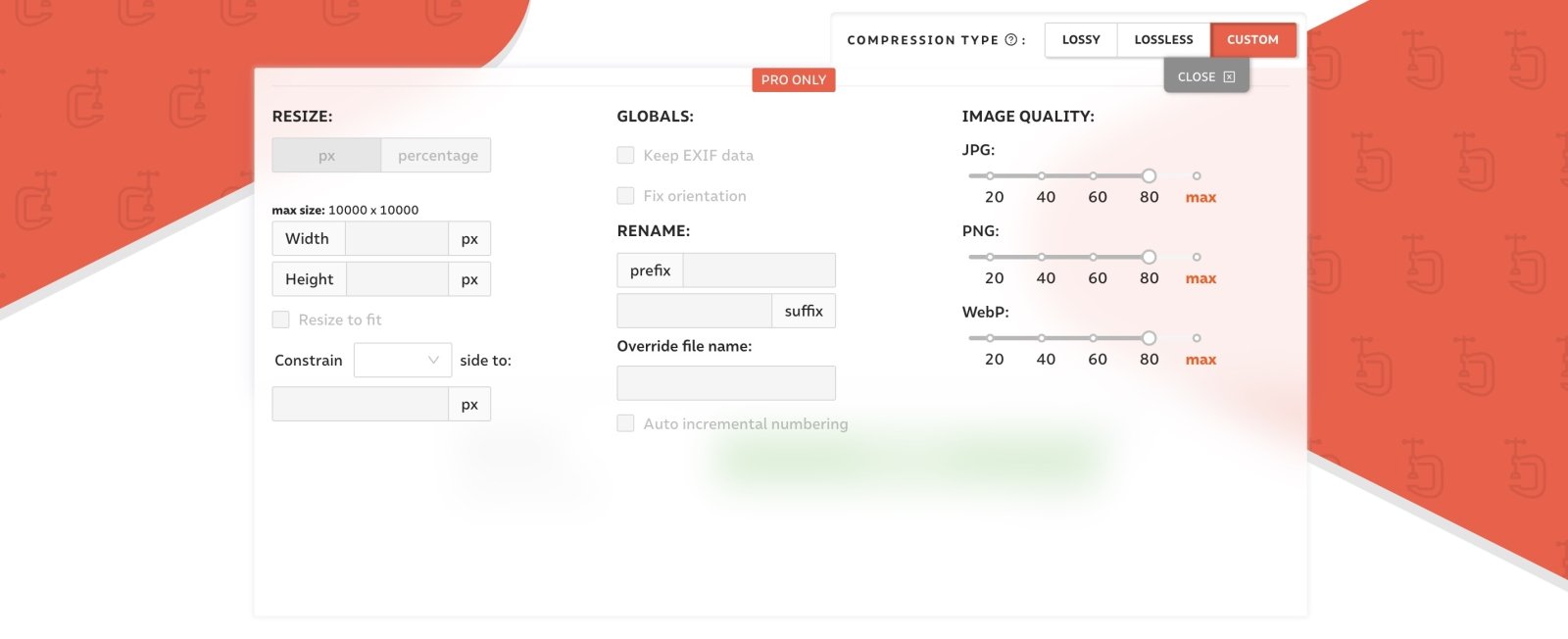 Pros:
The maximum uploading file size limit is 10MB
Powerful custom image optimizer
Supports JPEG, PNG, SVG, GIF, and WEBP file formats
Affordable PRO plan ($50/year)
PRO plan enables file renaming and image resizing
Cons:
No API integration for paid plan
10. Bulk Resize Photos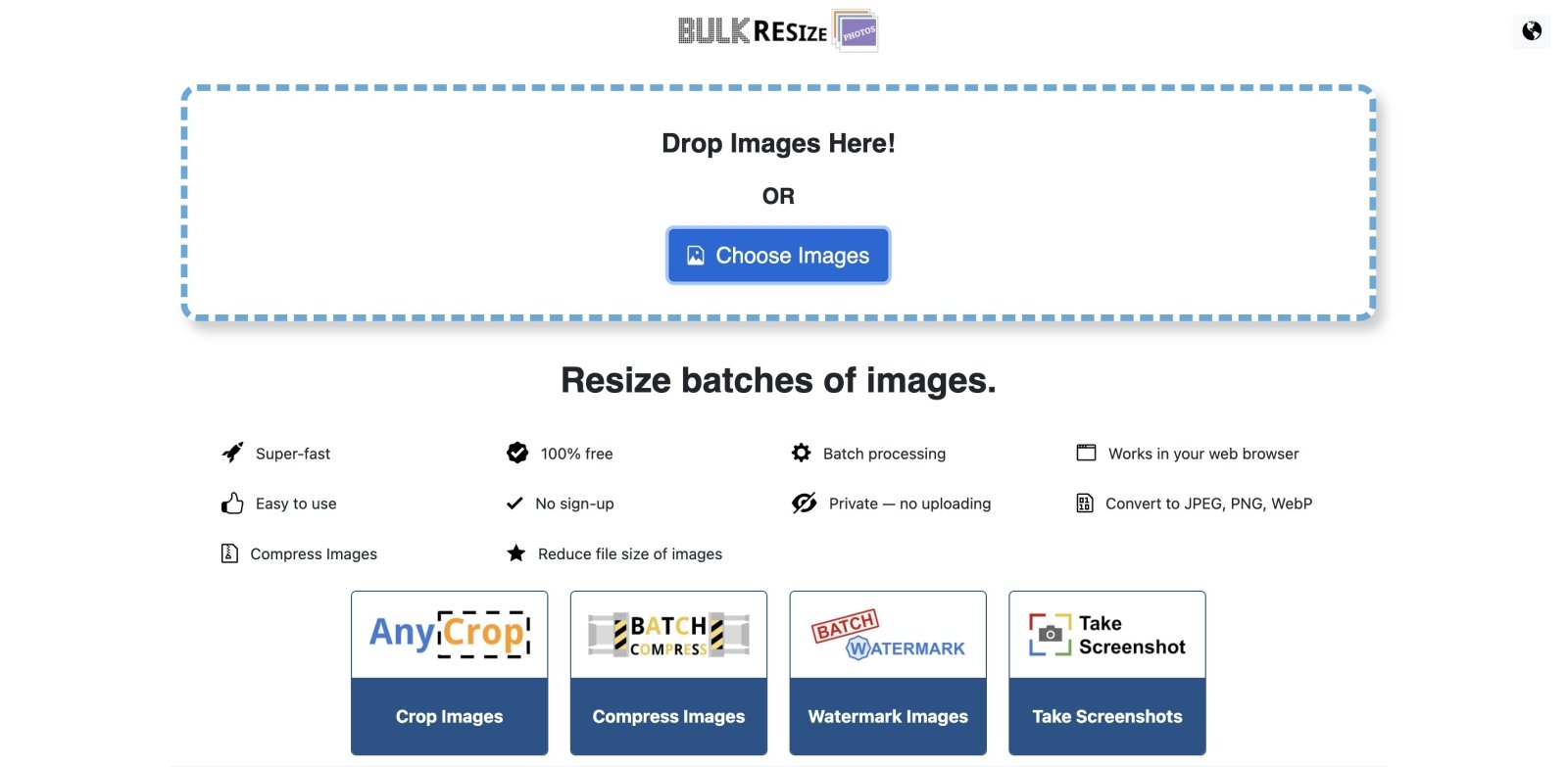 Bulk Resize Photos is an easy-to-use online tool known for its batch processing features. It can compress images quickly and efficiently with little to no effort. This online tool also features resizing capabilities that can be adjusted through dimensions, percentage scaling, and file sizes, allowing a more tailored fit to specific requirements.
Pros:
It features the drag-and-drop mechanism to upload images in bulk
It is 100% free and can be accessed through a web browser
Can convert images into JPEG, PNG, WebP file formats
Allows adding watermark
Can be installed as an app or added as browser extension
Cons:
Limited file formats
Outdated interface
Ads on page
11. JPEGmini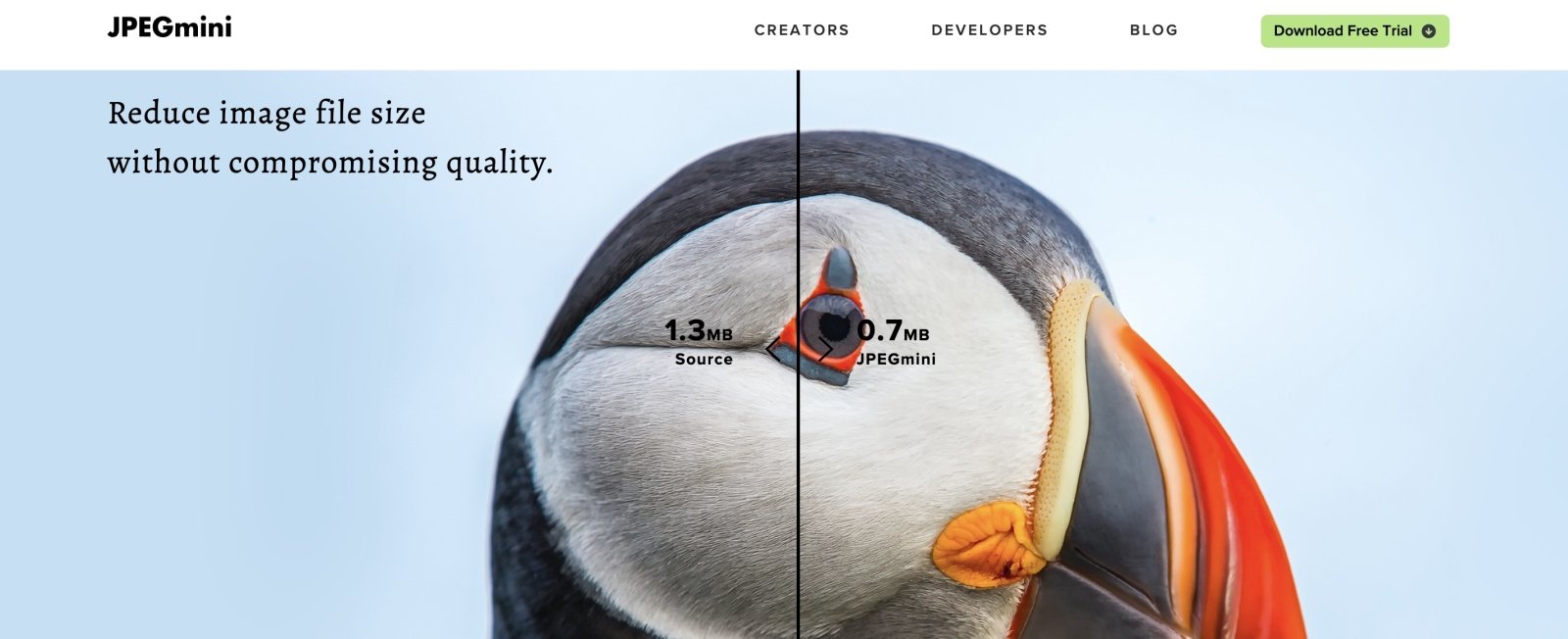 JPEGmini reaches the expectations of any designer, developer, and maker in the industry. Like most image optimization tools, JPEGmini is an image optimizer renowned for its ability to retain quality during image compression. However, JPEGmini is an application that can only be accessed and used to its full potential when subscribed to its PRO edition.
Pros:
Allows for fast upload of high-resolution images and maintaining their quality and resolution
The user interface is simple in appeal and easy to use
Allows the user to compare the quality of the images before and after compression
Cons:
12. Cloudinary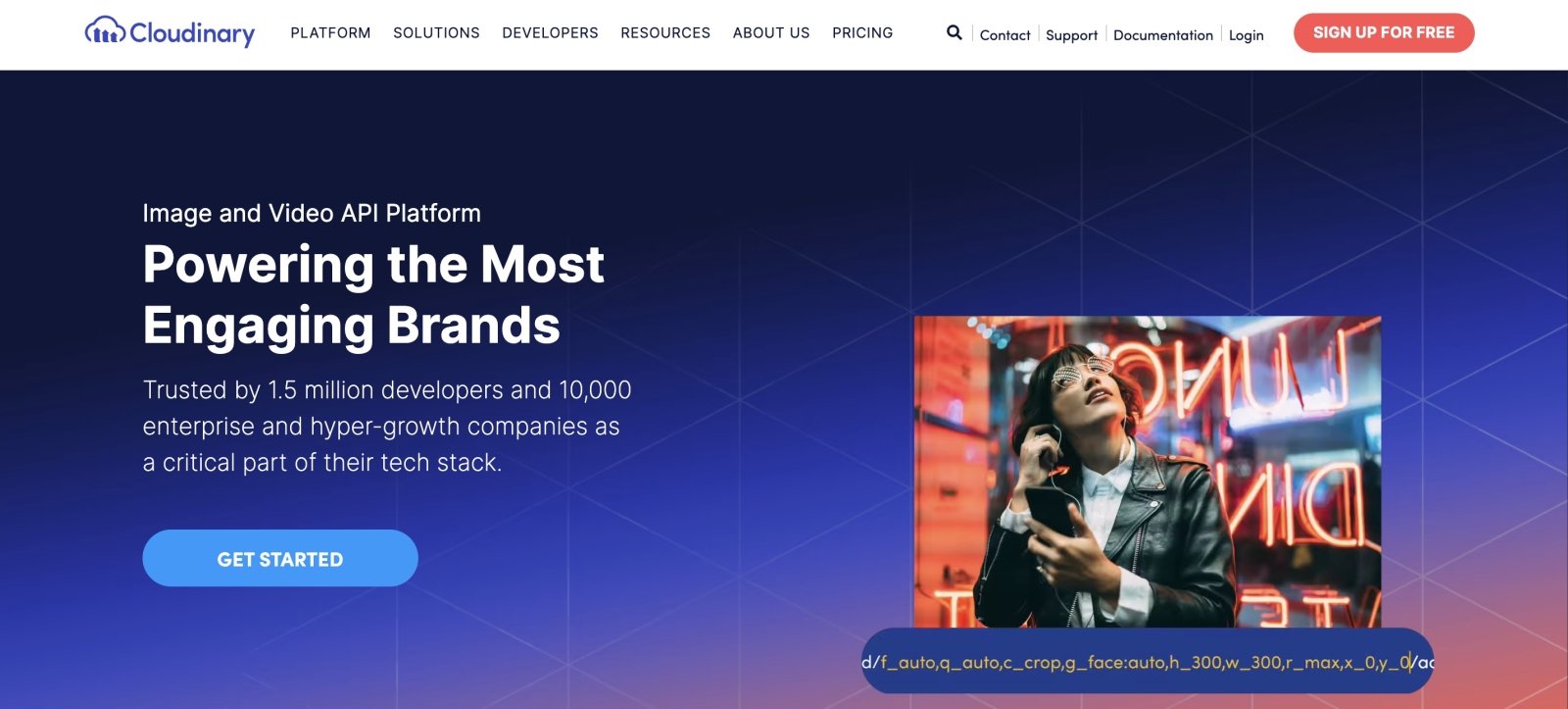 Cloudinary is one of the handiest image optimizing softwares around. It is a video and image optimizing API platform that assists users with their compressing requirements. It also provides rich content to improve the overall media experience.
It's a development-heavy tool with no single-use option, so it's suitable only for business looking to make long term commitments.
Pros:
Provides rich media content quickly through CDNs (Content Delivery Networks),
Offering a load time reduction of up to 60% is one of the application's most significant selling points
Features a media management API for enhancing websites and mobile platforms
Cons:
No longer supports its Shopify app
No web tool
Expensive, not too many optimization credits even with the most expensive plan
13. ResizePhotos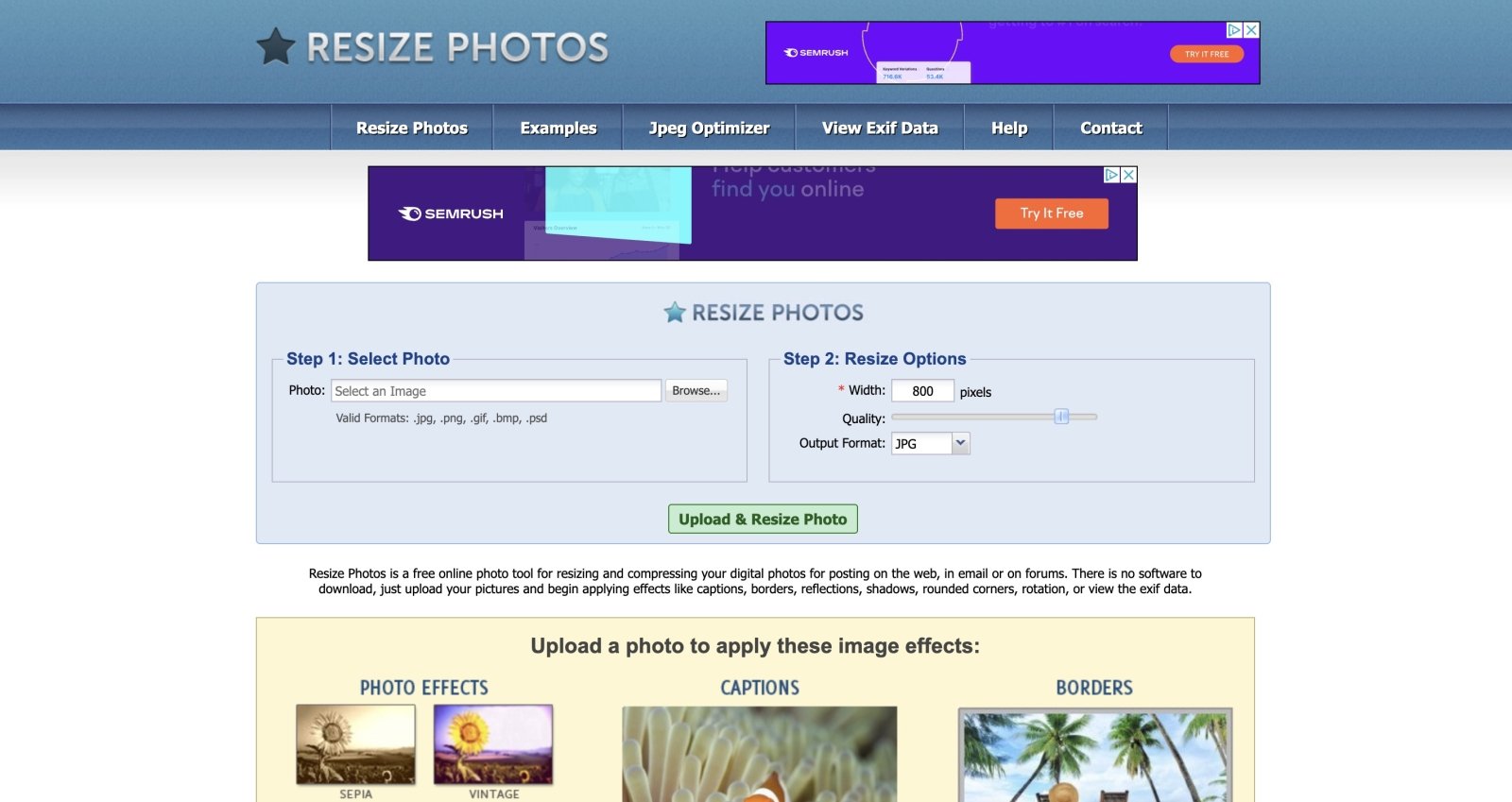 ResizePhotos is a free application that is far more functional than TinyPNG. This online tool can change image dimensions, with the option to compress them using the quality settings. It also features special effects that can be added to individual images.
Be mindful when compressing images with sensitive information though. ResizePhotos has SSL certificate verification issues, meaning your connection might not be fully secure.
Pros:
The biggest range of overall supported image file formats (JPG, GIF, PNG, BMP, and PSD)
The quality of the image can be changed and adjusted using a slider
Additional effects such as borders, captions, shadows, etc., can be applied to images
Cons:
No bulk image upload
SSL verification issues
Outdated interface
A lot of ads
14. Free Image Optimizer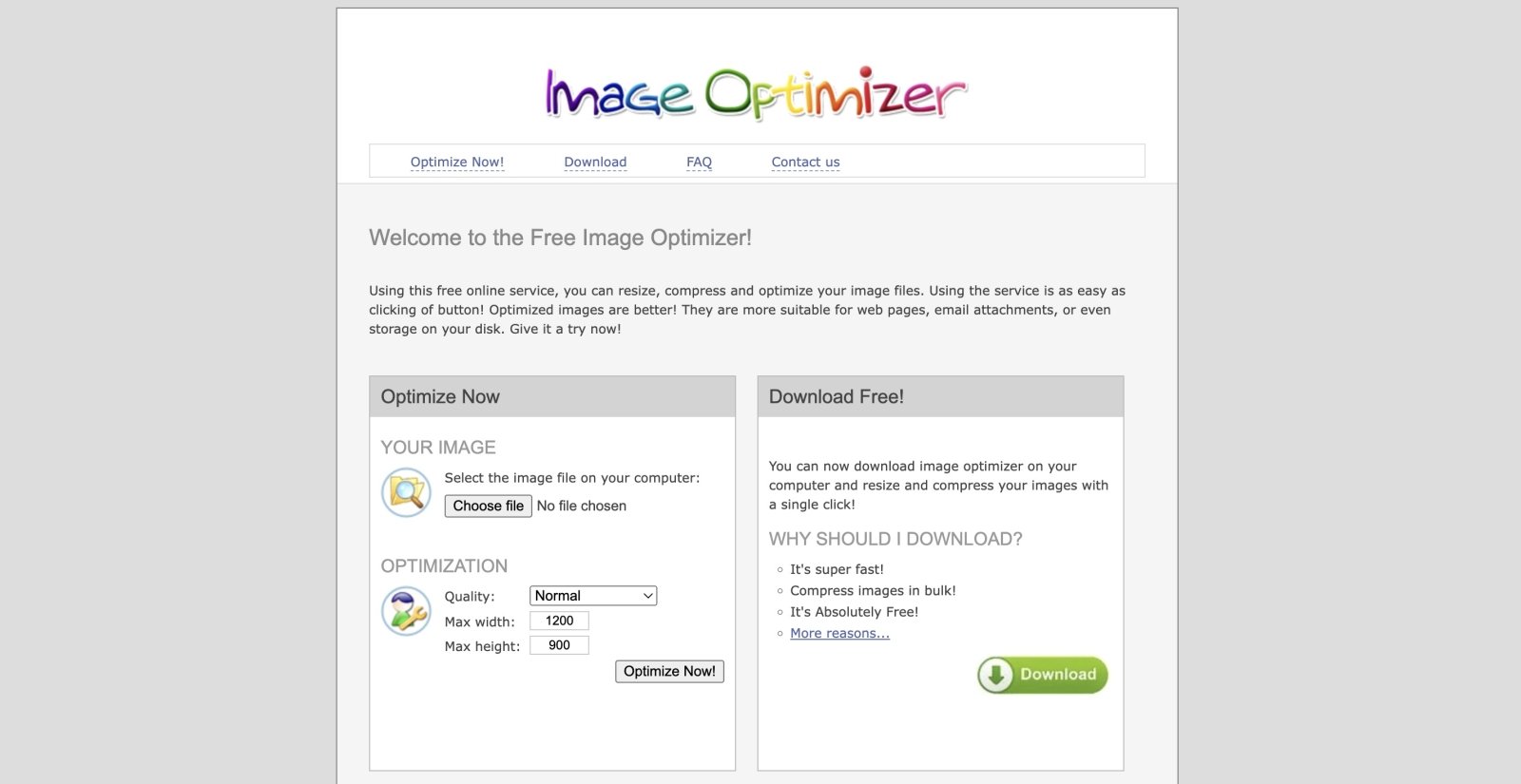 The Free Image Optimizer compression software is a popular alternative because of its simplicity. The featured online version of this tool allows users to resize images and change the file quality. Users can compress image files in three different formats. With a simple user interface, this optimizer focuses on catering to the basic user.
Watch out for the same SSL certificate issues as with ResizePhotos and avoid compressing any sensitive images.
Pros:
Perfect for beginners and basic use
Supported file formats are JPG, PNG, and GIF
Cons:
Maximum image size you can upload is 2.56MB
SSL certificate issues
Outdated interface
Bulk uploads are not supported
15. ImageOptim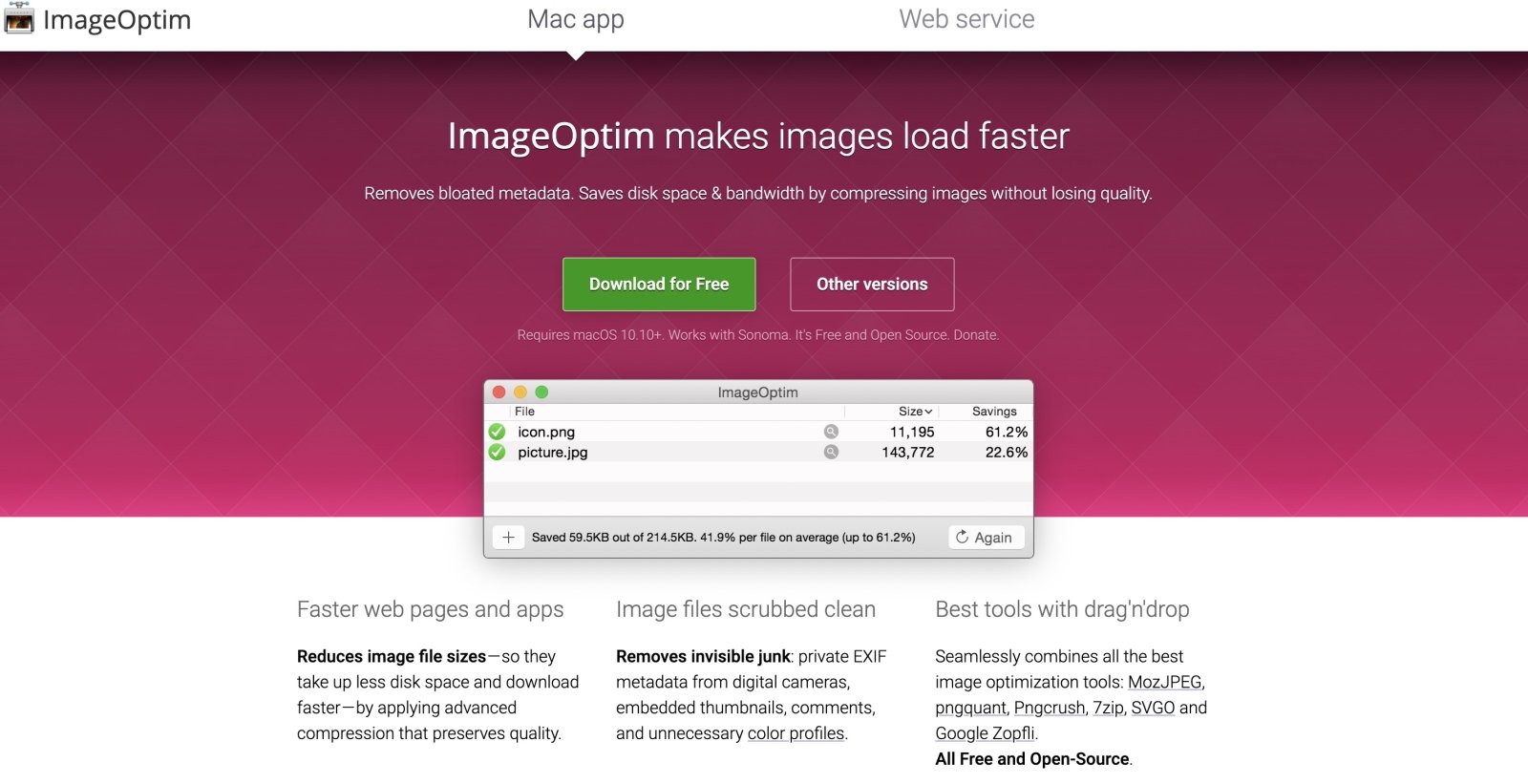 ImageOptim is a freemium image optimization software that allows users to scale the compression level as required. The focus of this tool is not just to reduce the file size of images but also to aid in search engine optimization requirements.
Pros:
The quality and resolution of uploaded images are kept to high standards
The API removes any metadata associated with the image for safety
Several formats and sizes of conversion are available
The software features an online web compressor, a Mac app, and an API
Cons:
ImageOptim online tool can only compress PNG and JPG images
Very expensive web API versions
Why do I need an alternative to TinyPNG?
Most users are comfortable with TinyPNG. However, as requirements for image compression rise and fall, the limitations of TinyPNG become a nagging highlight.
Knowing the best alternatives to TinyPNG, especially when dealing with multiple file formats, can be more valuable than you can imagine.
Here are the top reasons why you may need an alternative to TinyPNG:
TinyPNG is only one application among loads of new software available.
TinyPNG can only compress file formats such as WEBP, JPG, and PNG, whereas other compression software can optimize an extensive range of file formats.
TinyPNG has a file size limit of 5MB per image, which places a damper on those who need to compress huge image files.
The software may be challenging to use for some individuals, leading to the need for simpler alternatives.
Some image compression software offers both lossless and lossy methods of compression suited for both print and web use.
TinyPNG has a reputation, according to online forums, for focusing more on the image size reduction and less on the final quality of the image.
Conclusion
Each of the listed TinyPNG alternatives is unique. You can find some online image compression tools very similar to TinyPNG, free and paid, and other applications will offer additional functionality.
For example, TinyIMG offers an app for Shopify stores to automate image compression and improve SEO performance, and ResizePhotos allows adding special effects to photos.
So whether you're just browsing for more options or know exactly what you need, we're sure you'll find a tool like TinyPNG, only better.