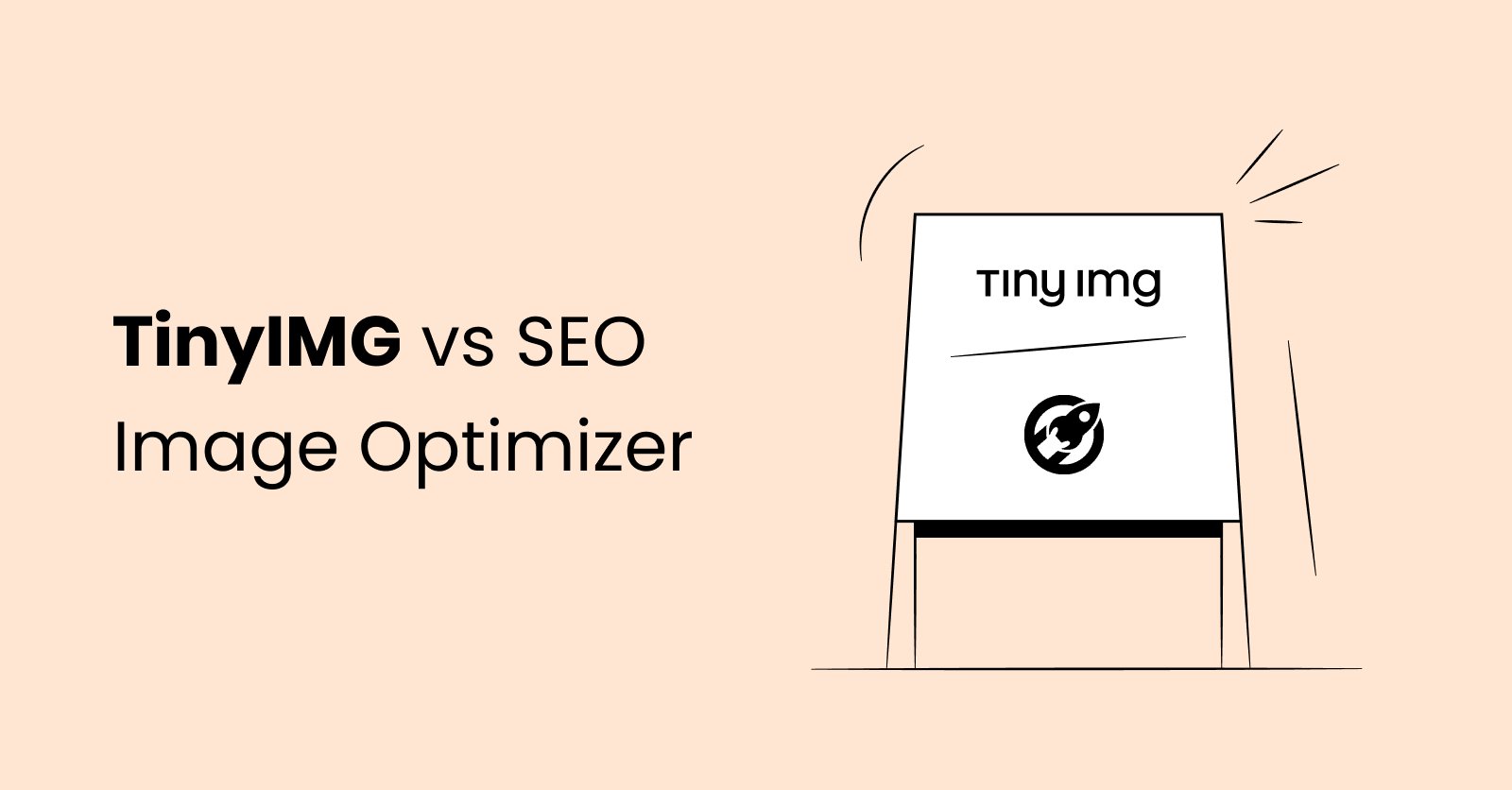 SEO Image Optimizer by Booster Apps is one of the most well-known SEO image apps for Shopify stores. But while it has plenty of useful features, it's important to know that it's not the only image optimization app around. TinyIMG is an excellent alternative which can help increase your image SEO score/rankings.
This article closely compares both apps, so you can see the similarities and differences, and explore the key features and pricing plans of each.
TinyIMG vs SEO Image Optimizer by Booster Apps
SEO Image Optimizer is a highly rated Shopify app. It has a good free plan available, but there's a big jump to the rather pricey paid-for version, which includes complete SEO optimization.
TinyIMG focuses purely on image optimization (and is also highly rated at 5 stars overall on the Shopify App Store). It has a range of flexible pricing plans to suit every Shopify store owner, whether you're just starting to grow your business, or are at enterprise level. Let's look at the features and pricing plans for both apps in detail.
Feature comparison for both apps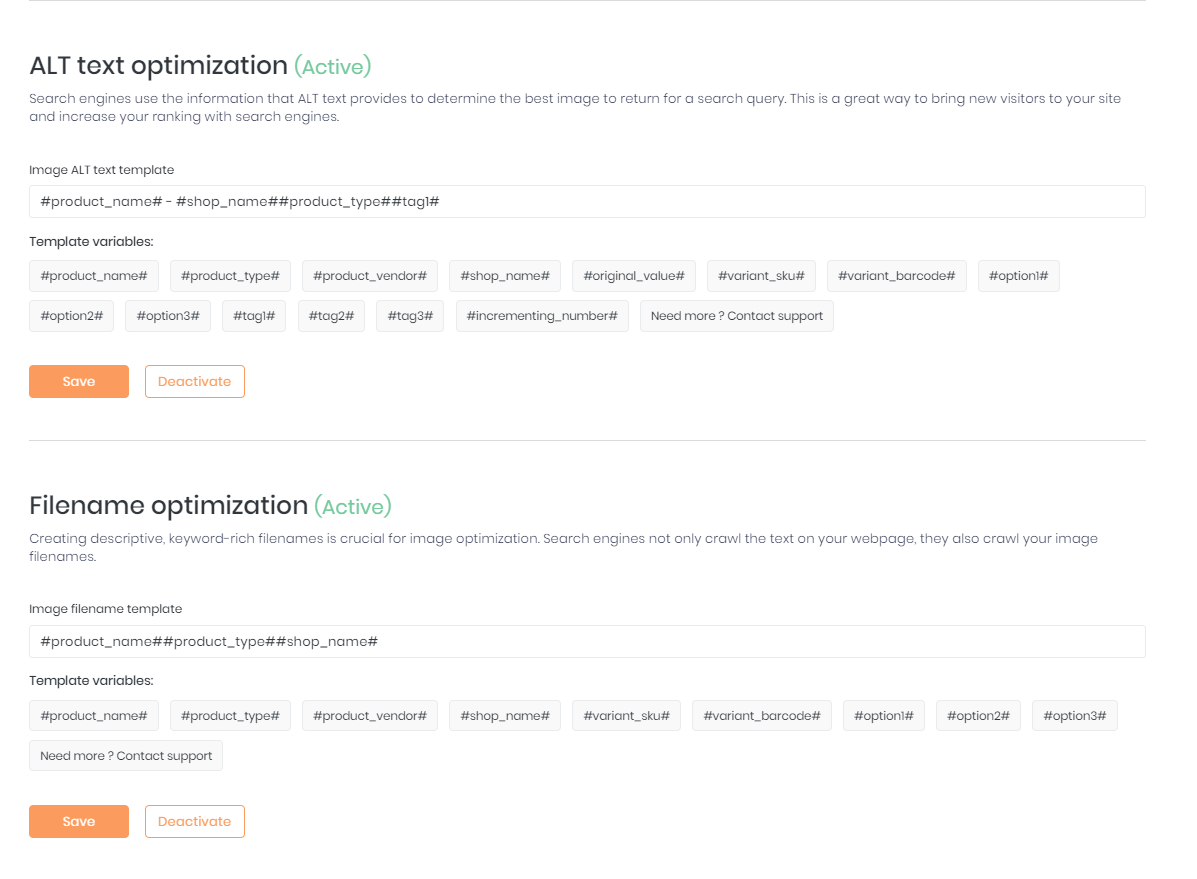 Screenshot of TinyIMG's advanced image compression feature.
Image compression - both apps have this feature which reduces the file size of images - important for helping to speed up your Shopify website. But TinyIMG takes the lead here. It's able to compress images by up to 70%, with virtually no visual quality loss. TinyIMG also converts PNG to JPG or WebP format. The TinyIMG website offers WebP image conversion as a drag and drop interface. This is useful for anyone looking to shrink the size of their images (not just Shopify stores).
Best file format analysis - this is something offered by TinyIMG only; the app automatically chooses the most suitable image format for your Shopify website.
Image resizing - both apps can resize your images. SEO Image Optimizer can make your images square, individually or in bulk. TinyIMG resizes your images to optimize the width and height.
Image ALT text - both apps allow you to add ALT text to your Shopify images - a feature that helps robots understand your image context better. The SEO Image Optimizer tool lets you set up an image ALT tag template for some or all products. TinyIMG automatically adds ALT text to all your images upon upload - the app also optimizes image file name.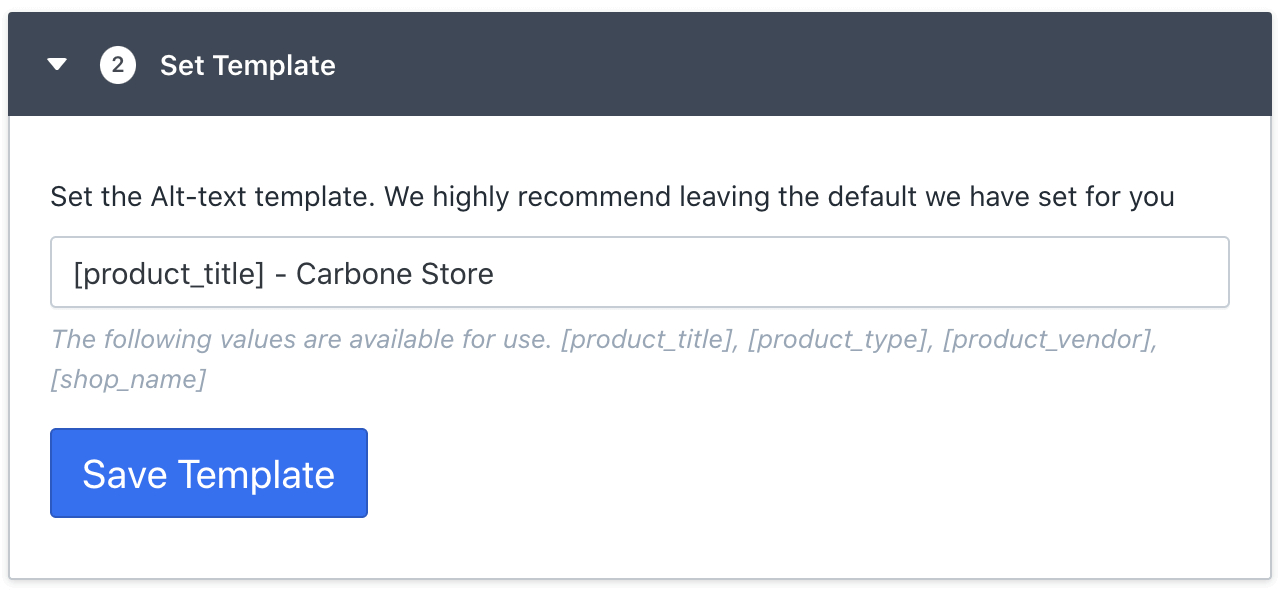 Screenshot of SEO Image Optimizer's ALT text template.
SEO Booster app offers additional SEO features to those mentioned above:
meta tag optimization;
automatic detect and fix for SEO issues;
broken link fixes;
automatic JSON-LD;
Google Snippets.
TinyIMG, on the other hand, focuses on image optimization and does it perfectly.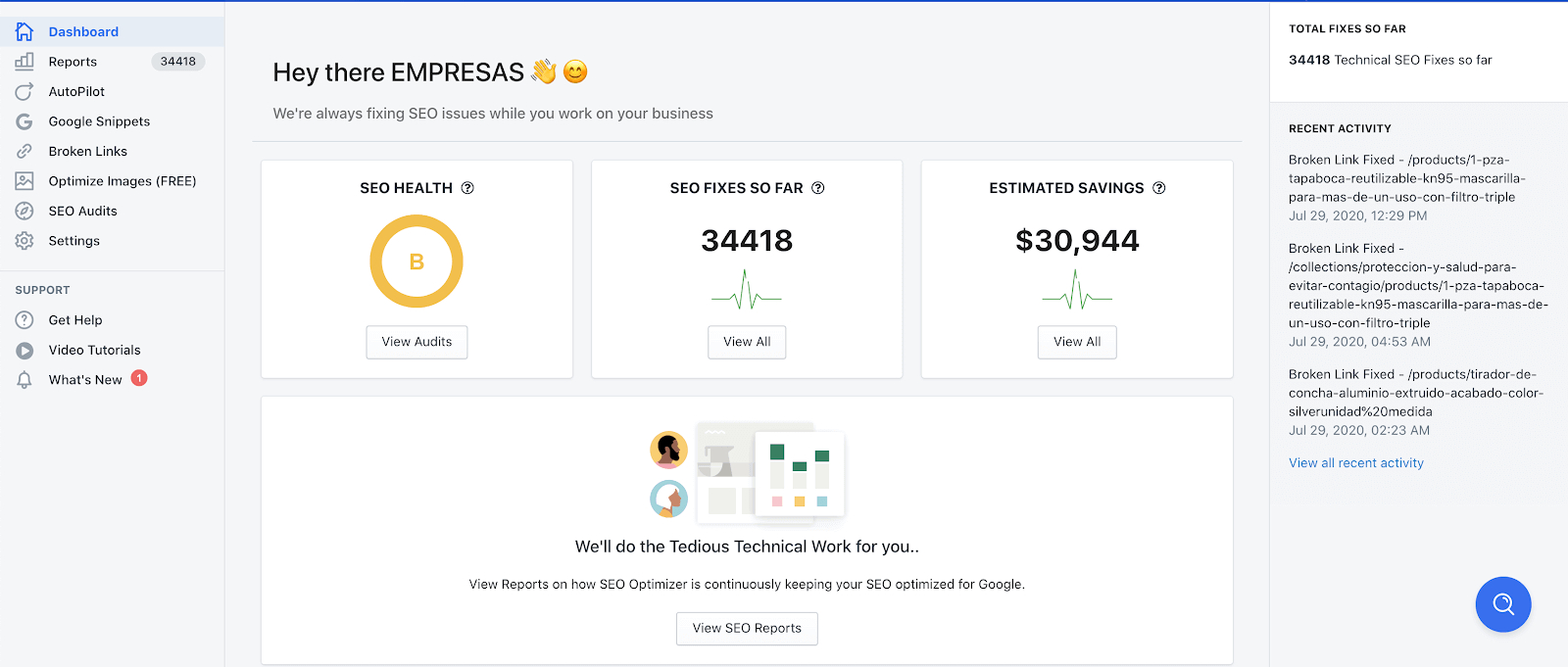 Screenshot from the SEO Image Optimizer dashboard.
Pricing plan comparison
The SEO Image Optimizer Shopify app has two plans to choose from; a free plan and a paid plan. The free plan includes image optimization for an unlimited number of images. To take advantage of all the SEO-related features this app has to offer, you'll need to upgrade to the paid plan, which costs $24.99 per month.
The TinyIMG app is free to install and has four plans available to offer Shopify clients maximum flexibility:
Pay As You Go - includes 50 free image optimizations per month with extra optimizations billed at $0.03 per image.
Monthly - $4.99 per month and includes 300 free images per month. Additional optimizations are billed at $0.02 per image.
24 Months - a great value plan costing $0.99 per month, which includes a generous 3,000 free images across the 24 months. Further optimizations cost just $0.01 per image. This plan is billed every two years.
Special Offer - $9.99 per month and includes 1,500 free images per month. This is the best plan for enterprise clients that have many thousands of images needing optimization. Extra optimizations cost just $0.01 per image.
All TinyIMG plans include a 30-day original image back-up for peace of mind.
Automatic app features
Both apps offer the key benefit of saving time. Automation is standard for image optimization, which means you don't have to edit and optimize your images manually.
TinyIMG, for instance, can automatically download images from your Shopify store, compress and optimize them for SEO best practice, and then upload them again to your store. TinyIMG also allows you to manually optimize images that can't be reached by Shopify's API, such as carousel images, hard-coded images and other app images.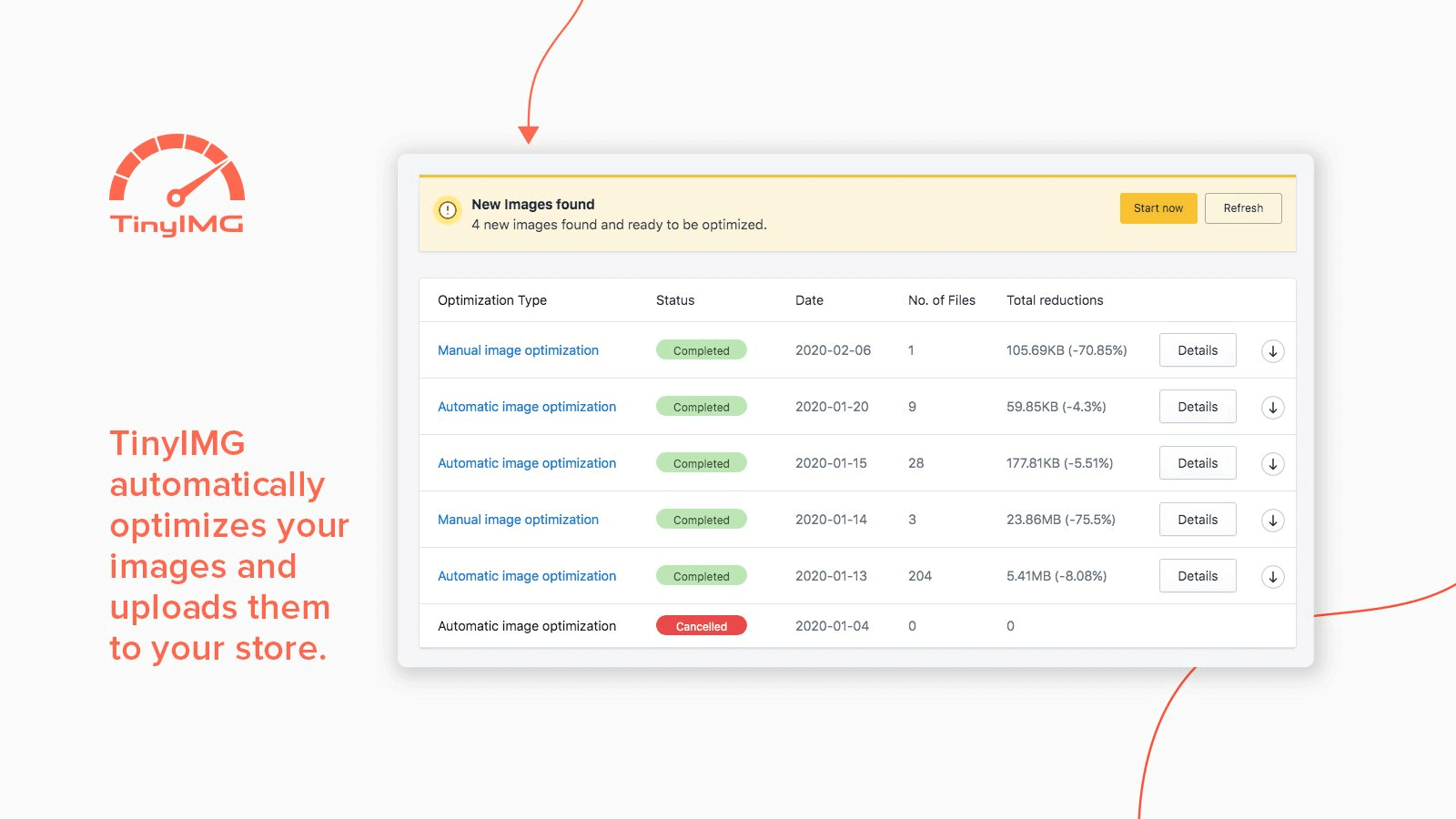 Screenshot of TinyIMG's automatic and manual image optimization feature.
Does image SEO work for Shopify stores?
There are many questions within the Shopify community and around the internet on this topic. Are images good for SEO? Can they bring any real value to your SEO efforts? And what are the best practices for Shopify image optimization?
In answer to the above, yes, image SEO should absolutely form part of your overall SEO strategy. Images account for a large proportion of search engine traffic. A study from 2018 reports that Google Images alone accounted for between 22% and 23% of web searches each month.
But images only work in your favour where SEO is concerned if they're properly optimized with relevant ALT text that describes the content of the picture. Read how TinyIMG helped 21DWDesign improve overall SEO (and fixed an annoying ALT text problem caused by another app).
TinyIMG - a great alternative to SEO Booster Shopify App for images
Both SEO Image Optimizer and TinyIMG offer image optimization for Shopify stores. Image compression, image resizing and ALT text optimization are vital features of each. While SEO Image Optimizer has other features relating to complete SEO optimization, TinyIMG focuses purely on image optimization, with a standout feature of up to 70% image compression.
So which app is best for you? You'll be the judge of course, but if you need a total SEO solution, then SEO Image Optimizer is certainly worth a look. Bear in mind that the app's advanced SEO features come at quite a steep price per month.
And, if image optimization is your key priority - in other words - if you know that:
your images are slowing your Shopify website down, and you need to reduce the size of them significantly without reducing visual quality,
your images don't have the relevant ALT text and file names assigned to them,
you need a flexible pricing plan based on the number of images you have in your store,
and you need automation to save you time and hassle…
Then look no further than TinyIMG. With effortless setup and just a few clicks, TinyIMG takes care of compressing, resizing and adding ALT text to optimize your images, automatically. It not only improves your overall SEO score but also makes your Shopify website lightweight and faster than ever to browse - an absolute must for online web visitors today.
Download TinyIMG for free today via the Shopify App Store to see its many benefits for yourself!