By purchasing through the links on this page, you are giving us the opportunity to earn a commission. Your support is greatly appreciated!

Shopify is a go-to e-commerce platform for thousands of people creating their online business. Pet stores are no exception. There are multiple examples of successful pet-oriented businesses operating on Shopify's platform, like Healthy Spot and Petsense.

Whether you're selling dog accessories, grooming services, or pets themselves, your store needs to look good, work smoothly, and generate income. To do that, you need a fitting Shopify theme to get started. While a theme won't automatically sell your products, you can use the tools, features, and design options to your advantage.

In this article, we'll review 10 best Shopify pet store themes, going over their price, features, and layout design. But before we get into it, let us tell you about how we selected the themes on this list.
How did we select these Shopify pet store themes?
We carefully curated the list to only include up-to-date, modern, feature-packed Shopify themes for pet stores. In other words, our list only contains some of the finest Shopify themes that fit the pet niche.
Here are some of the things to look for in the Shopify theme for a pet store.
Mobile optimization. Just like any e-commerce business, a pet store must work smoothly on mobile. We won't say anything groundbreaking here but most people nowadays shop on their phones. And if your store is not running fast or simply looks off on mobile, you're losing potential revenue.
Attractive design. You'll notice that all of the pet store Shopify themes are colorful and bold. Just like any niche, pet accessory stores and grooming services have their distinct look and brand. Therefore, it's important to consider the niche when selecting a theme for your website.
Price range. What's affordable for one person, might be out of reach for others. We tried to pick themes in different price ranges so you can choose what works best for you and your business.
Promotional features. Most Shopify themes offer a range of features that help with marketing and sales, like discount badges, promotional banners, and a quick shop feature, to name a few. Make sure to check those features before buying a Shopify theme, so you know exactly what you're getting.
10 best Shopify pet store themes - our detailed list:
Pet-related niches are very competitive. Make sure to optimize your Shopify store for search and speed!
Start with using TinyIMG
In order to help you decide which Shopify theme works best for you, let's get into more detailed reviews!
1. Fetch – the best Shopify theme for pet stores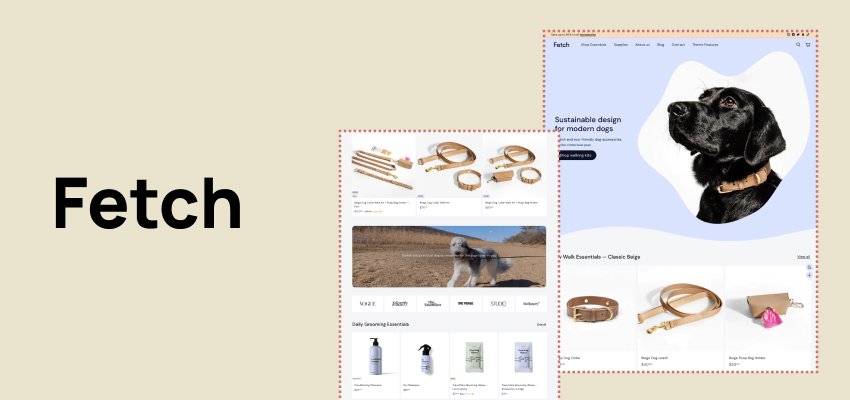 Dropshippers, Physical stores, Visual storytelling
35+ sections, Mobile-first, Powerful promotional tools
Fetch is a Shopify theme created by Archetype Themes specifically for pet supply stores. The combination of powerful features, flexible design, and mobile-first approach, Fetch is our choice for the best Shopify pet store theme.

Speaking of features, this theme has 35+ sections available on all templates, meaning you can customize and personalize your online store however you like. Apart from that, Fetch theme creators put a lot of focus on developing features that help you sell more. That's why there are powerful promotional tools, like lookbooks, sales badges, testimonial sections, countdown timers, and other promotional sections.
2. LuckyDogs – cheap Shopify theme for pet care shops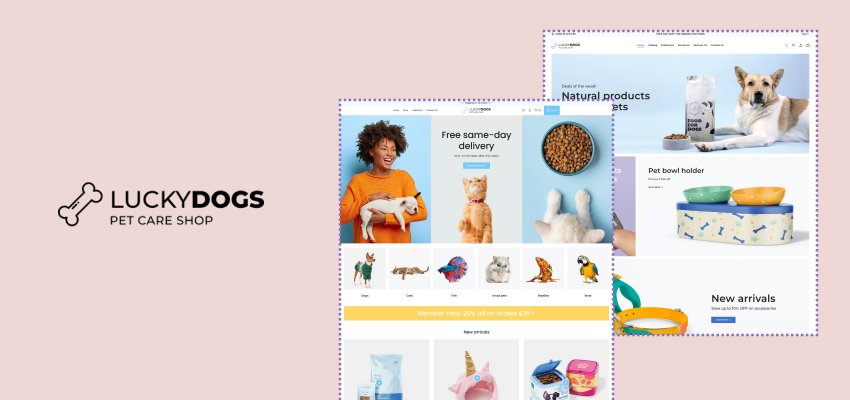 Visual storytelling, Pet food & accessories
Responsive design, RTL support, Promotional tools
LuckyDogs is a bit of an underdog (pun intended) when it comes to Shopify pet store themes. While not extremely popular, this theme is stacked with great features and good-looking templates. LuckyDogs also gets regular updates, meaning the features are up-to-date and it's less likely to be buggy.

Some of the more prominent features include product quick view, Ajax life search, lookbooks, RTL support, dynamic blocks on the product page, "Just bought this product" pop ups, and more. You get access to modern Shopify 2.0 features and Shopify Visual Builder. It's a great and affordable Shopify theme for those looking to start a business focused on our four-legged friends.
3. Petio – Shopify pet store theme perfect for e-commerce business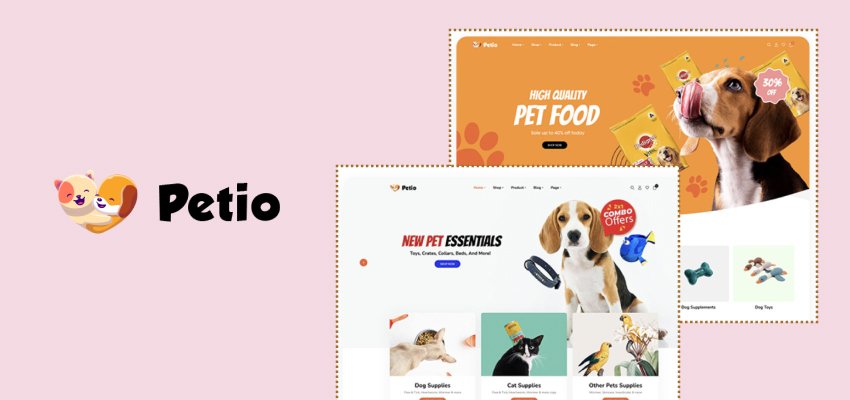 High-volume stores, Pet food & toys
Multi-currency support, Product 3D & AR models, Fully responsive
Petio is a multipurpose Shopify theme that offers 10 pre-built pet store demos. With powerful mega menus, this theme is great for stores with lots of products. You can also add multiple different sections to your store to highlight products, discounts, and special offers.

Petio offers an Ajax sidebar cart, quick view feature, unlimited filters (by size, color, brand, price), product 3D and AR models, and more. Generally, it's a pretty classic-looking Shopify theme that has everything you need to run an e-commerce store.
4. Boost – take creative control with this Shopify theme for pet stores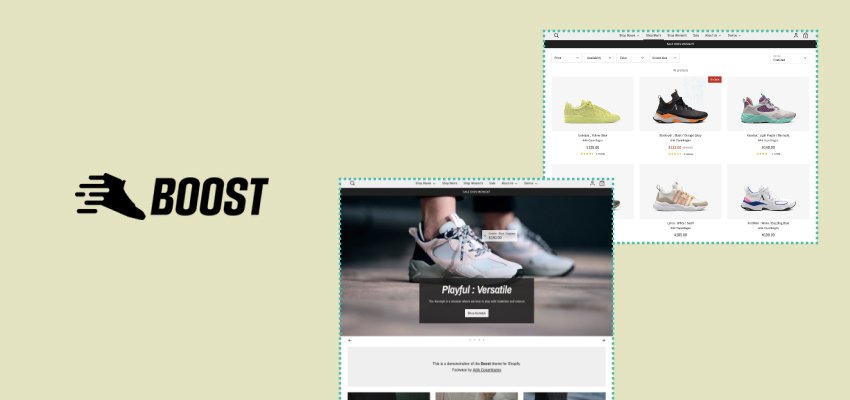 Editorial content, High-volume stores, Quick setup
Unique design, Fully responsive, Fast performance
Boost is a modern and stylish Shopify theme that allows you to get creative with your online pet store. Created by Clean Canvas, this theme boasts 10+ years of experience – which really shows once you open the demo store.

Boost has unique layout sections for product display and brand storytelling. Components load as you scroll, which allows the theme to be faster as you don't have to wait for the whole website to load to be able to use it. If you're looking for something modern and different, Boost is definitely a great choice.
5. Minion – Shopify theme ideal for the pet industry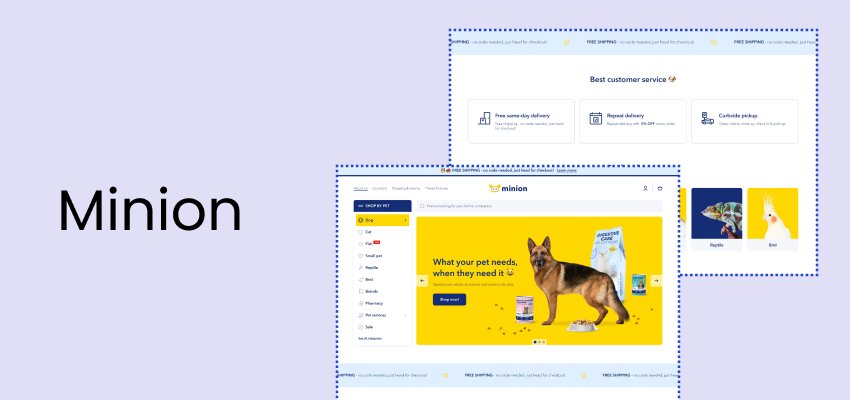 Dropshippers, High-volume stores, Quick setup
20+ sections, Mobile first, Highly flexible
Minion is good-looking with a lot of flexibility and features. It's created for the pet industry but the flexible sections and layouts make it a great choice for other niches as well.

Minion offers three types of navigation, allowing you to personalize your store. There's also a gorgeous map in the store locator section, meaning this theme is great for businesses with physical shops. You also get features like a free shipping progress bar, powerful filtering, slide-out cart, translations, and more.
6. Roxxe – fan favorite multipurpose Shopify theme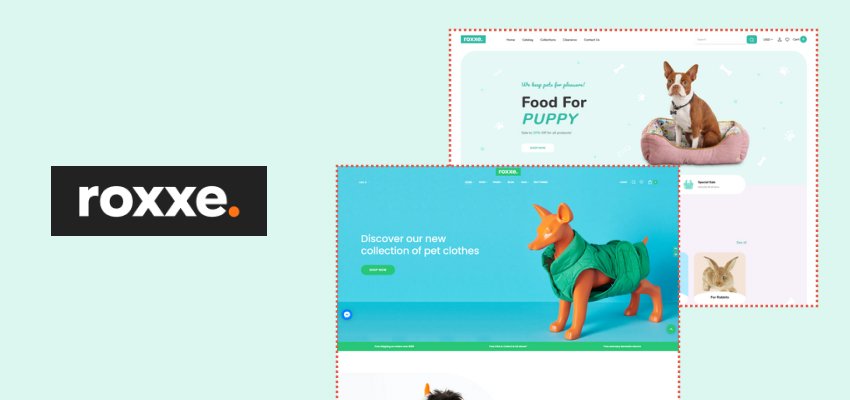 High-volume stores, Quick setup
Mobile optimized, Customizable elements, Compatible with popular apps
Roxxe is a multipurpose Shopify theme that offers two pre-built templates for pet stores. It's a stylish, yet relatively minimal theme in terms of layout and design. Generally, Roxxe is a popular and well-liked theme with a thousand sales and an almost perfect rating.

The theme has a classic mega menu, sale and other badges for products, dynamic blocks, "Just bought" popups, and more. You can also add different types of media files to the product page, like videos and 3D models.
7. Lezada – great Shopify theme focused on growing your business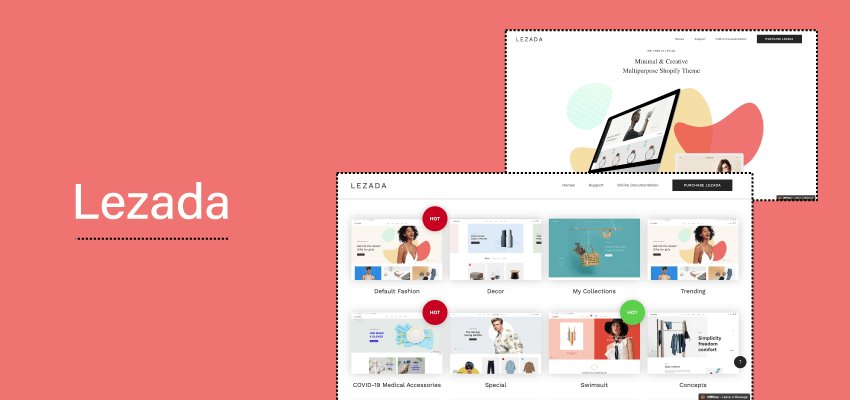 Growing your business, Selling internationally
Mobile first, 50+ sections, Fast performance
Lezada is another very popular Shopify theme for all kinds of niches, including pet stores. You can find 4 pre-built templates specifically for the pet industry. The templates are quite minimal and uncluttered, which gives your store a modern feel.

When it comes to features, Lezada delivers. It's fully customizable, allowing you to change any template however you want. You can also integrate your Instagram account into the homepage, allowing you to diversify your sales channels. To help you sell more, there's RTL, multi-currency and multi-language support, pop-up newsletters, and much more.
8. Kolly – flexible and affordable Shopify pet store theme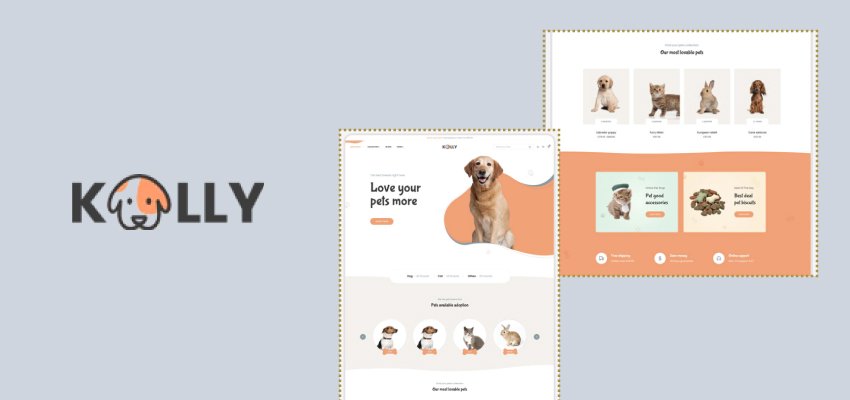 Flexibility and customization
Mobile-optimized, 12+ product pages, RTL support
Kolly is a feature-packed multipurpose Shopify theme with a pre-built template for pet stores. Template designs are carefully created to reflect the niche, like, for example, bone illustrations for a pet store. You can see the example in the attached screenshot.

When it comes to features, Kolly offers advanced filtering, RTL support, quick view, store locator map, mega menu, and more. There's also different blog style variants and Instagram integration. The theme is flexible and customizable with Shopify's drag-and-drop page builder. It's a great and affordable Shopify theme for any pet store owner looking to open an online shop.
9. Champion – Shopify pet store with cutting-edge design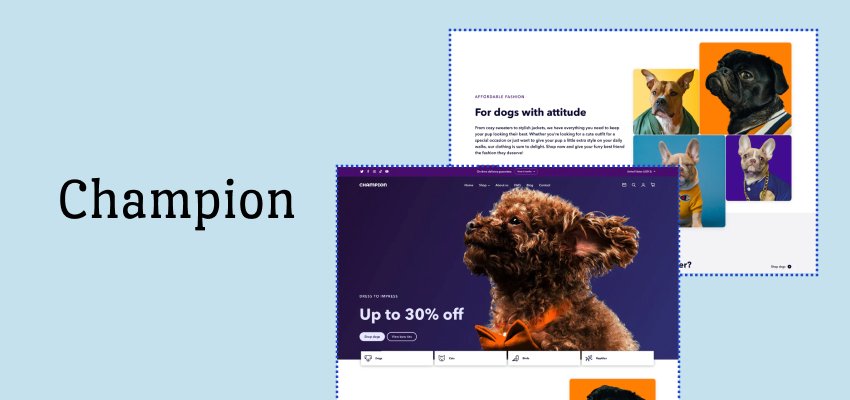 Flash sales, High-volume stores, Quick setup
Mobile optimized, Cutting-edge design, 30+ sections
Champion stands out in terms of design. The theme was created by former Shopify employees with over 5 years of experience developing cutting-edge Shopify themes. Champion is great for business owners looking for a powerful and gorgeous theme to reflect their pet store.

There's an abundance of features, including mega menus, color swatches, lookbooks, quick view, custom product badges, and more. Champion also has a unique before and after slider for grooming services, as well as other smooth and stylish layout elements. And best of all, this theme is highly customizable, allowing you to create a store that perfectly reflects your business.
10. Fabtor – minimal pet store and pet food Shopify theme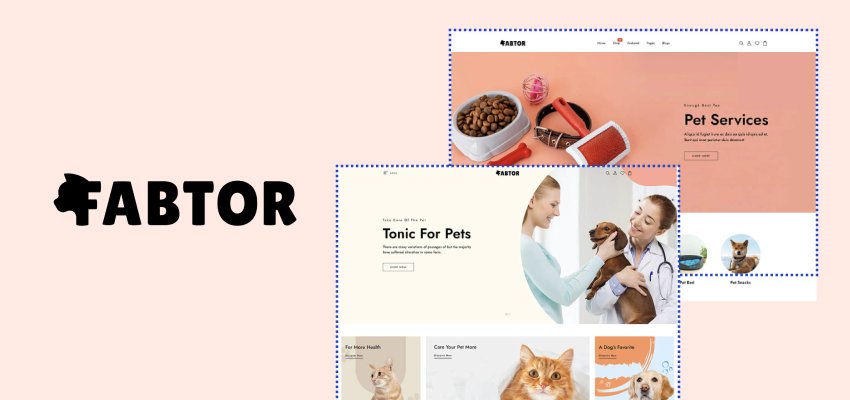 Minimalism, Quick installation
Mobile optimized, Compatible with popular Shopify apps
Fabtor is a dedicated pet store and pet food Shopify theme with 5 pre-built design templates. With its minimal design, Fabtor feels clean and uncluttered. If that's your style, this theme might be for you.

When it comes to features, Fabtor has just about anything you need to build a successful online store. Some of the highlights include impressive mega menus, multi-language and currency support, add-to-cart popups, smart live search, RTL support, and more. The theme is also very easy to install – just one click, and you're in.
Final words
You're in luck today because there's quite a lot of choice when it comes to selecting the best Shopify theme for pet stores. And we only picked the 10 best rated, best designed, and up-to-date themes.
So if you're looking to sell pet products on Shopify, look no further. Here's also a quick rundown of some of our favorite themes on the list: Fetch is an overall stunner when it comes to design and features. At $350, it's quite expensive, so if you want to opt for something more affordable, we suggest LuckyDogs. It's only $19, but you still get all the great features necessary to run an online business.
While choosing the right theme is a great start, a theme itself won't make you sell more.
Here are some useful articles that will help you grow your business: