By purchasing through the links on this page, you are giving us the opportunity to earn a commission. Your support is greatly appreciated!

If you're looking to turn happy customers into advocates and increase sales, Shopify referral app is exactly what you need.

We handpicked 10 best Shopify referral apps to help you choose. Some of them are multi-purpose affiliate marketing or social proof apps with a referral program option. That's why we reviewed not only their referral program features, but also all general features and advantages of these apps.

After app reviews, you will find tips to choose the perfect referral app for your Shopify store and how to set up a profitable Shopify referrals program.
Top 10 Shopify referral apps: overview
For starters, let's take a look at 5 shortlisted Shopify referral apps:
Loox Product Reviews & Photos - best overall Shopify referral app
UpPromote - best app for an advanced affiliate marketing strategy
Automizely Referral&Affiliate - best free referral app for Shopify
Smile: Loyalty & Rewards - best for multi-tier Shopify referral programs
Yotpo Loyalty & Rewards - Shopify referral app with the most creative referral programs
Try TinyIMG today with 50 free image optimizations. Improve your store speed and SEO performance
Try TinyIMG
Now time for an in-depth look into these referral apps for Shopify as well as some worthy alternatives.
1. Loox Product Reviews & Photos - best overall Shopify referral app

$9.99/mo - $299.99/mo, additional charges may apply
No, 14-day free trial available
Loox has shiny reviews from more than 10,000 Shopify stores. It's an all-in-one solution to build trust and turn clients into brand advocates. Loox automated solutions, customization opportunities and perks such as multilingual store support make it an outstanding choice.
All app features:
Automatic review requests
Referral program, auto-generated referral links
Post-purchase upsells
Customizable social proof widgets
Referral program features:
Available for additional $5 as a Loox Referrals add-on for all plans (already included in Unlimited $299.99/mo plan)
Post-purchase, post-review and on-site refer a friend Shopify widget
Dashboard (shares, store visits, revenue)
Fraud protection
Recommended for:
Stores looking for a well-rounded social proof strategy.
2. UpPromote - referral program app for advanced affiliate marketing strategies

UpPromote is a close contender with a different angle. Their app is focused on unlocking affiliate marketing with multi-tier affiliate programs and an Affiliate Marketplace to expand your network.
UpPromote referral program feature offers everything you need to turn customers into advocates. They also have extensive documentation and even a Facebook community to facilitate your growth through referrals.
All app features:
Affiliate programs with many commission options
Option to tier affiliate commission system (motivates affiliates to reach sales milestones)
Customizable features (links, codes, forms, portal)
Dedicated Marketplace
Referral program features:
Option to reward both customer and referred person
Customizable website widget to promote the program
Advanced reports (clicks, sales, referrals, and commission for each customer)
Reward email notifications
Recommended for:
Shopify stores looking to launch a variety of affiliate programs.
Here is a referral page example from TOMA Skin Therapies, who use UpPromote: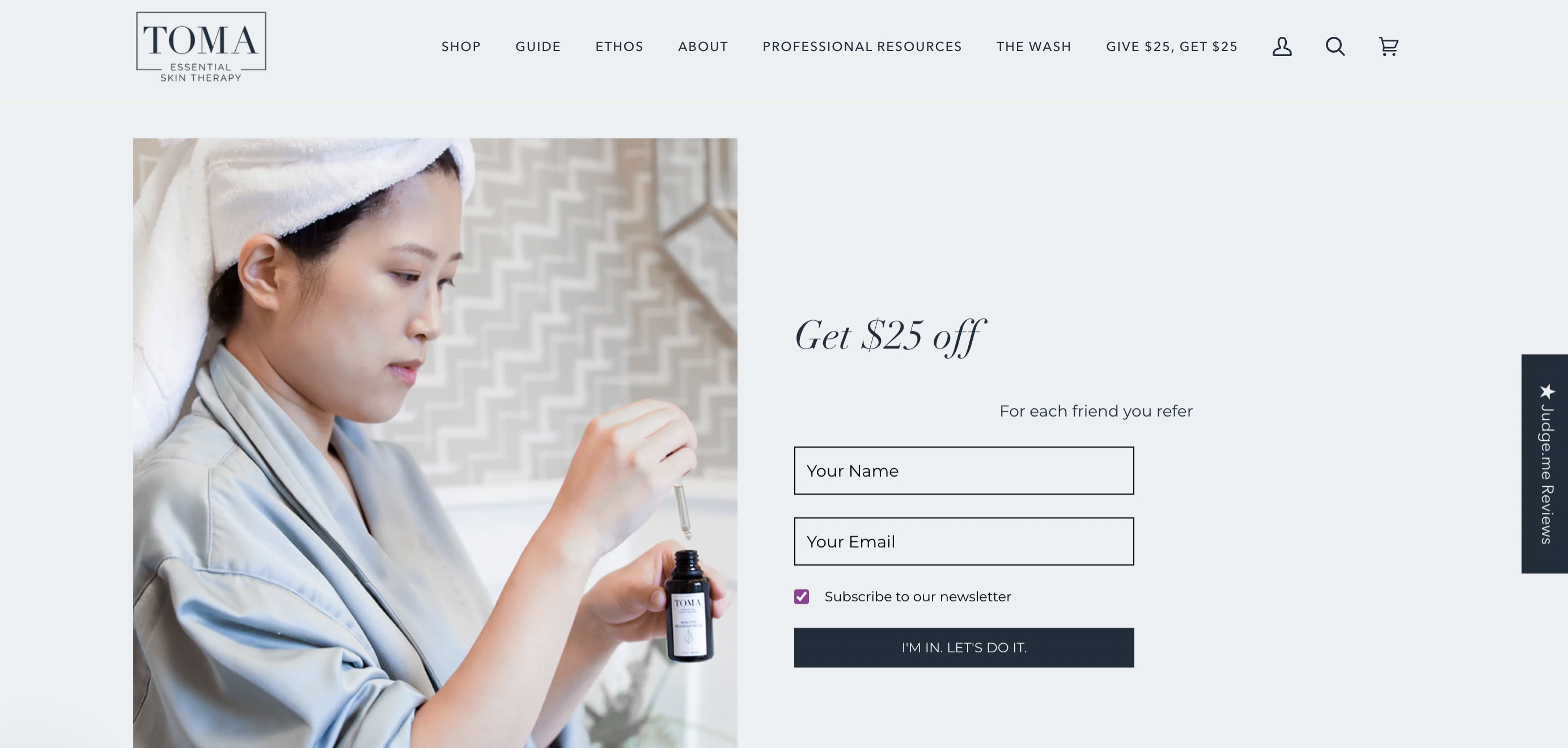 3. Automizely Referral&Affiliate - great free Shopify referrals app

Why pay for something that you can get for free? Sure, perhaps Automizely doesn't boast the same range of additional features as the paid apps above, but if a solid referral program for customers and influencers is the only thing you're after, look no further than this Shopify referral app.
All app features:
Influencer and referral programs
Real-time, segmented conversion analytics
Influencer outreach emails
Referral program features:
Four different referral incentives (percentage or fixed amount off, free shipping, free product)
Prompt reward email notifications
Easy customization (reward amounts, widget design, reward expiration date)
Recommended for:
Shopify stores looking for a free app with a straightforward referral solution that covers existing customers and influencers.
Here is a native-looking Automizely widget promoting a referral program: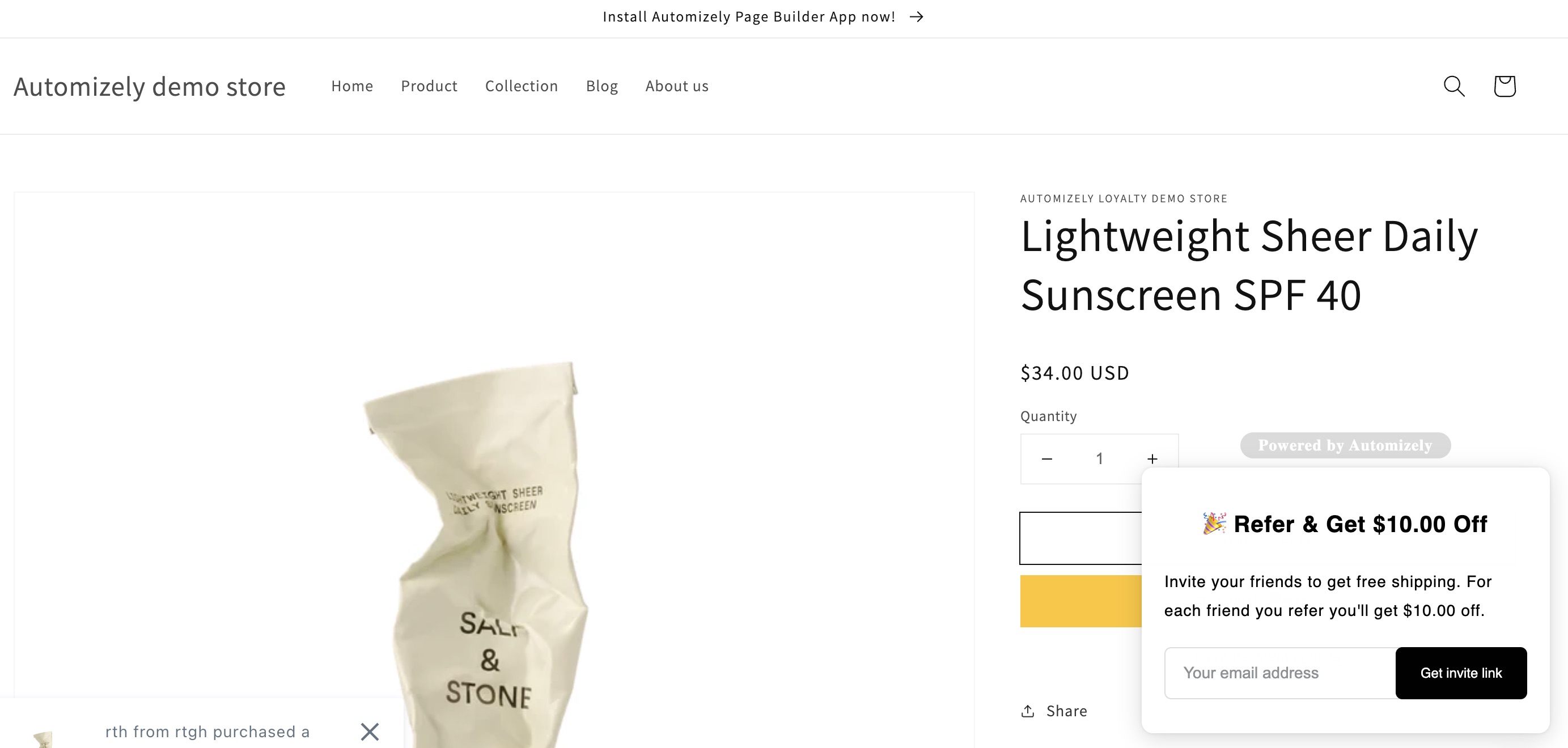 4. Smile: Loyalty & Rewards - best for multi-tier Shopify referral programs

Smile is an exceptional Shopify referral app if you want to encourage repeat purchases with point-based reward programs and enable customer referrals. You won't find too many additional features since it's quite specialized in loyalty programs, but it delivers on that end for sure.
App features:
Points, Referral and VIP programs
Nudge pop-ups to boost engagement
Powerful integrations (Klaviyo, Mailchip, Gorgias) to get as much exposure for your loyalty programs as possible
Four referral rewards (percentage or fixed amount off, free shipping, free product)
Social sharing options
6 preset languages for international loyalty programs
Referral program guides and resources
Recommended for:
All stores that offer convenience goods, cosmetics, food supplements and other products customers order on a recurring basis.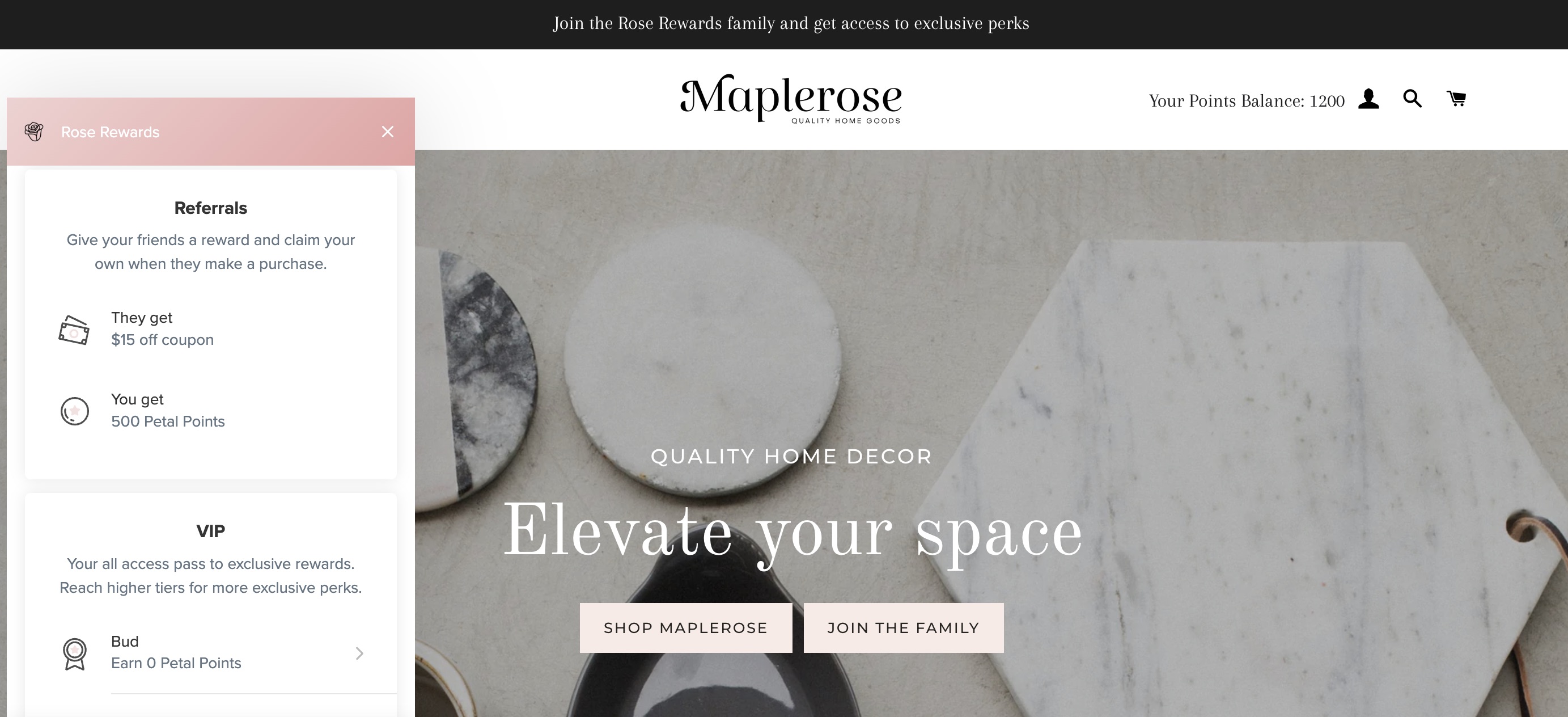 5. Yotpo Loyalty & Rewards - best for unique Shopify referral programs

Free - $249/mo, additional charges may apply
Yotpo platform has five powerful apps, Yotpo Loyalty & Reward being their out-of-the-box approach to loyalty programs. On top of all regular referral program features, you have numerous creative campaign options (e.g. rewarding for social media shares, product reviews), which really makes this app stand out.
App features:
20+ pre-made, creative campaign options
Tier-based reward model with VIP program
Shopify referral programs segmentation based on customer actions
Shopify referral campaigns scheduling
Advanced analytics (overall referral program performance, individual customer actions)
Recommended for:
Stores looking to micro-manage customer journeys with reward systems or launch creative referral programs.
Here is an example of a referrals page built with Yotpo: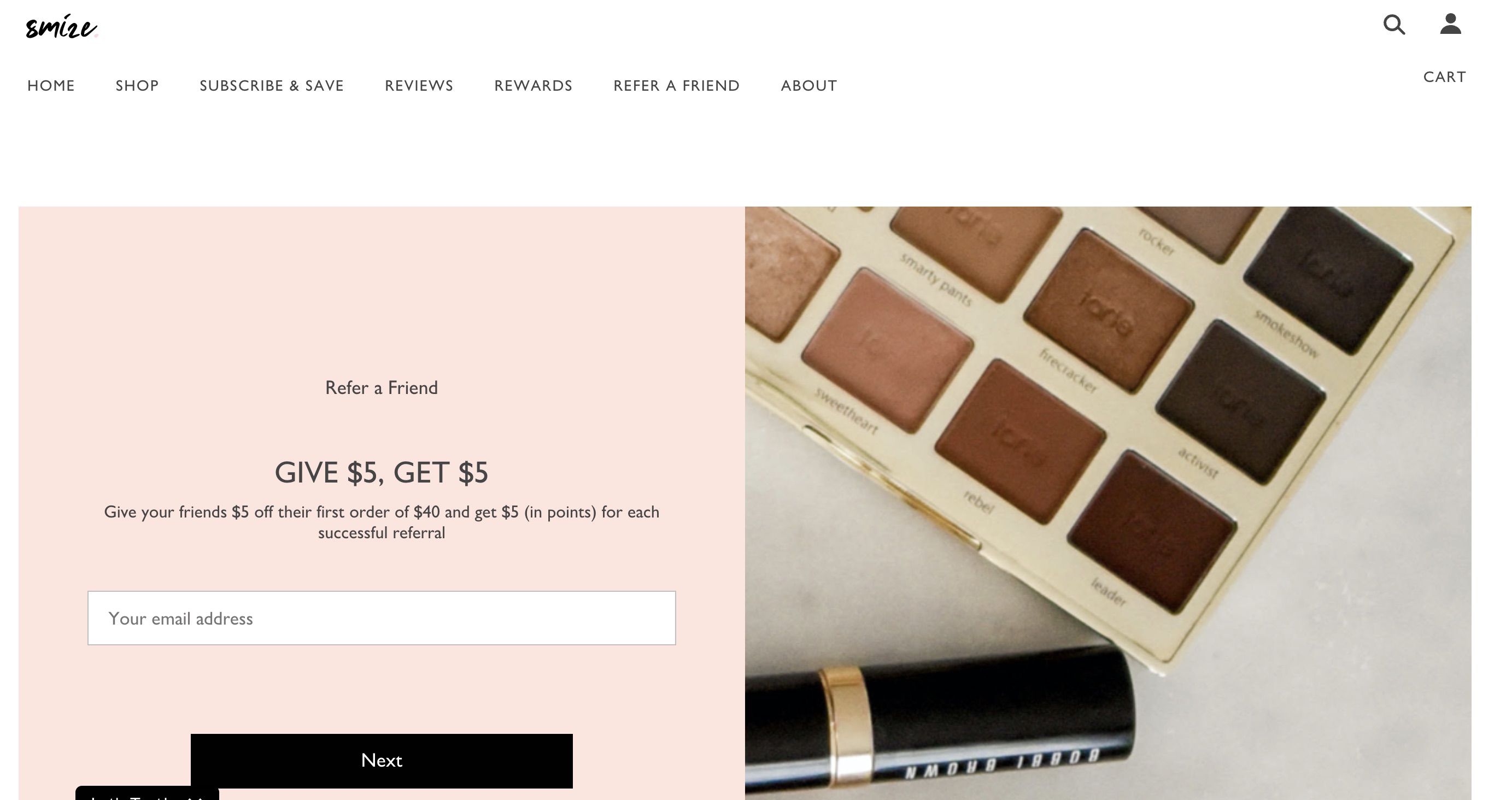 6. Growave Loyalty Program, Reviews + 3

No, 30-day free trial available
Growave is an affordable all-in-one loyalty marketing app with an effective referral program.
All app features:
Shopify referral programs, VIP tiers and rewards
Loyalty points for a variety of interactions
Customer wishlists
Automated collection of photo and video reviews
User generated content integration
Social logins
Referral program features:
Rewards both parties (regular variety of reward options)
Social share links
Analytics dashboard
Branding customization
Recommended for:
Shopify sellers looking for an affordable all-in-one loyalty solution with adequate features.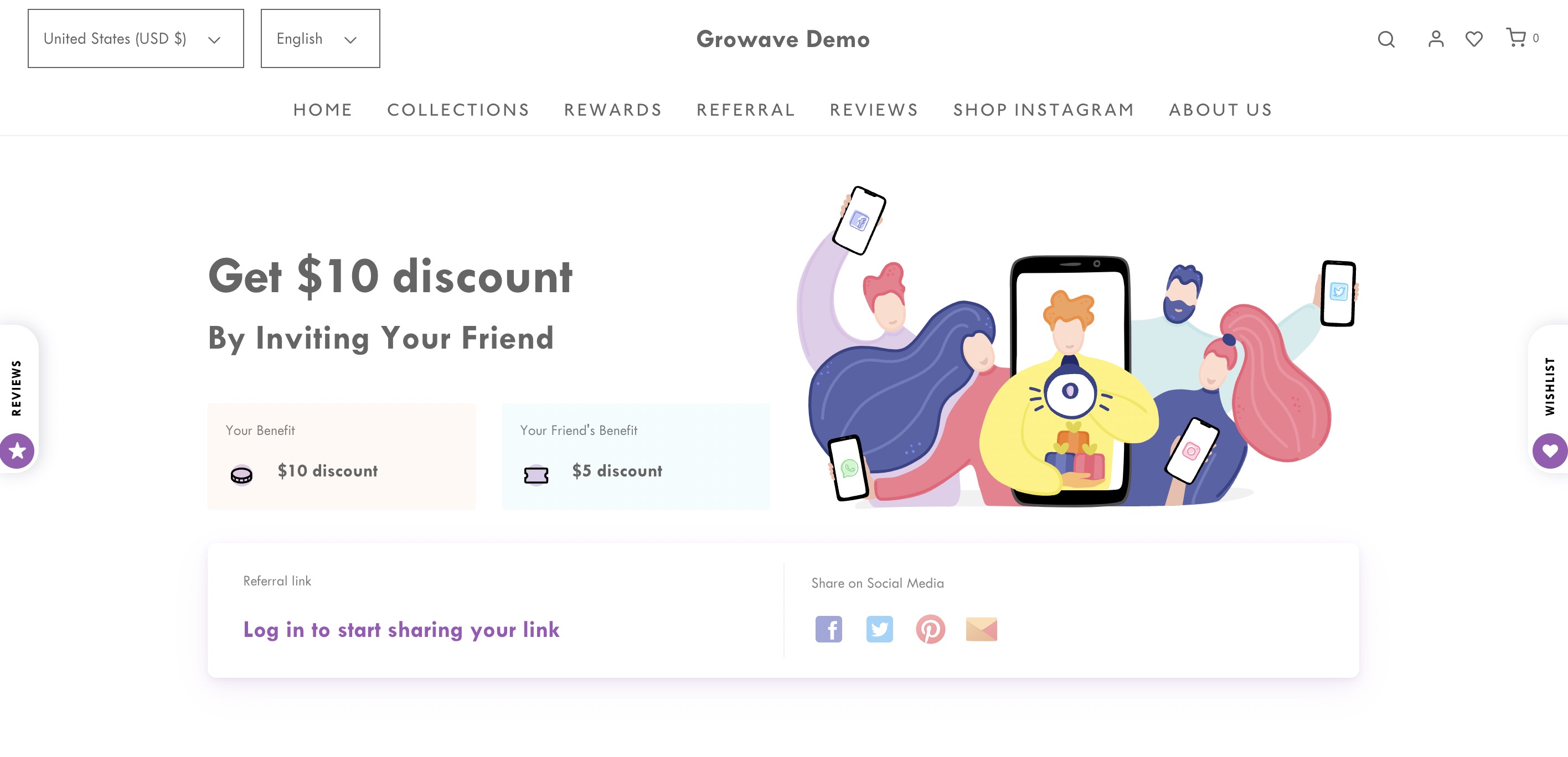 7. Joy: Rewards, Loyalty Program

Joy Shopify referral app offers an alternative approach to referral campaign creation. You can use numerous earning and spending rules and execute your precise referral program vision.
App features:
Many advanced earning rules (signup, place order, write review, social share, referral, and more)
Four spending rules
Customizable design
Supports many languages
Email automations
Recommended for:
Stores that want to utilize rules and put together a fully customized referral program.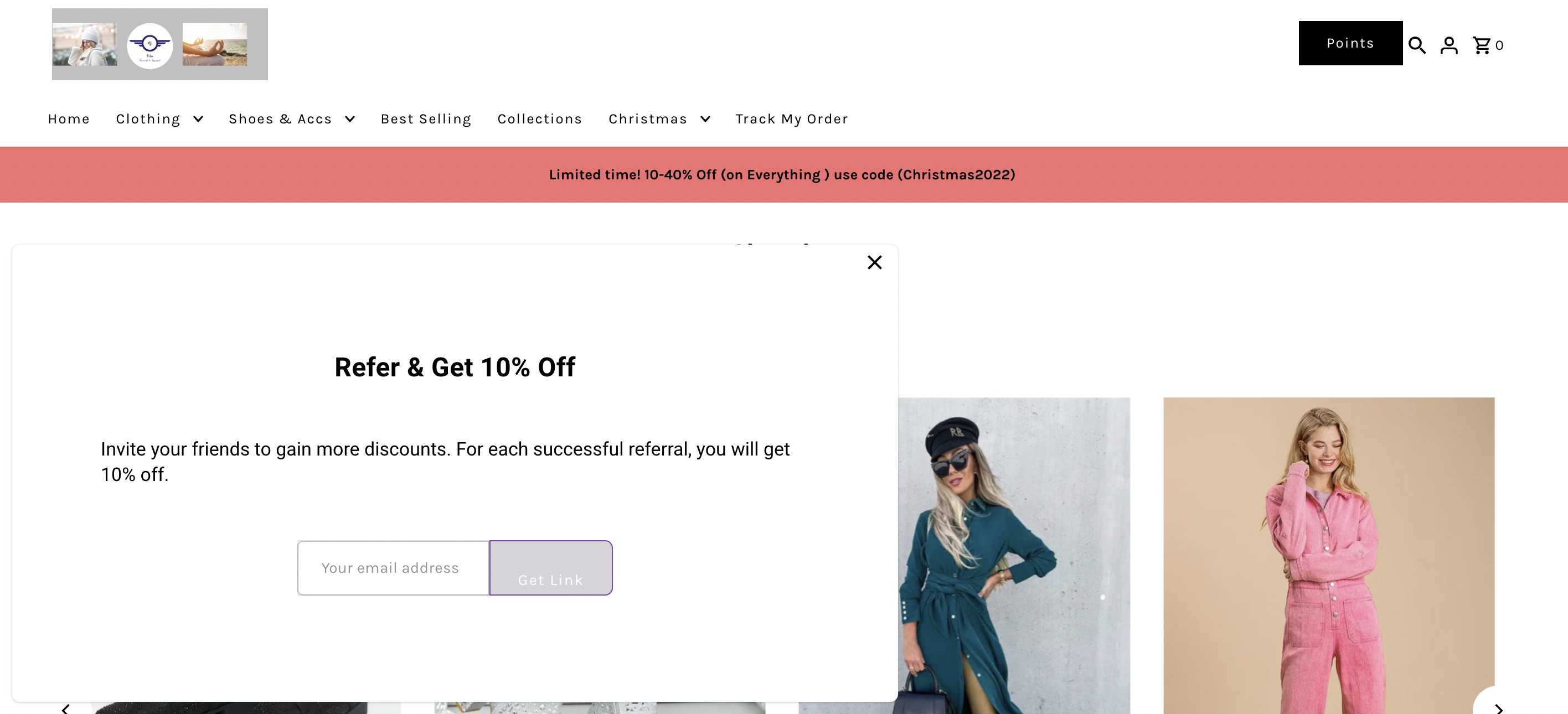 8. Rise.ai Gift Cards & Loyalty Program

$19.99/mo - $599.99/mo, additional charges may apply
No, 7-day free trial available
While the referral program from Rise.ai doesn't have many stand-out features, it is sufficient and the app itself offers more solutions for revenue optimization.
All app features:
Return and refund management (offer gift cards or store credits instead of refunds)
Gift cards (bulk option available)
Rewards program with loyalty cards and store credit encouraging repeat purchases
Referral program features:
All basic referral program features
Allows credit accumulation for customers
Fraud protection
Recommended for:
Stores that want a powerful revenue optimization solution
Stores that want to segment and customize their referral programs based on customer actions
9. BON Loyalty Rewards Referrals

BON is a solid referral app for smaller Shopify stores. Their free plan will be sufficient for any niche or new store that operates in one main language and doesn't plan to exceed 250 monthly referral orders.
App features:
Advanced reward points system (orders, birthdays, accounts, etc)
Customize to your brand
VIP tiers (Professional $349/mo plan only)
Point and reward expiration (with paid plans only)
250+ languages (with paid plans only)
Recommended for:
Stores that want to cater to highly international audiences by geotargeting any language.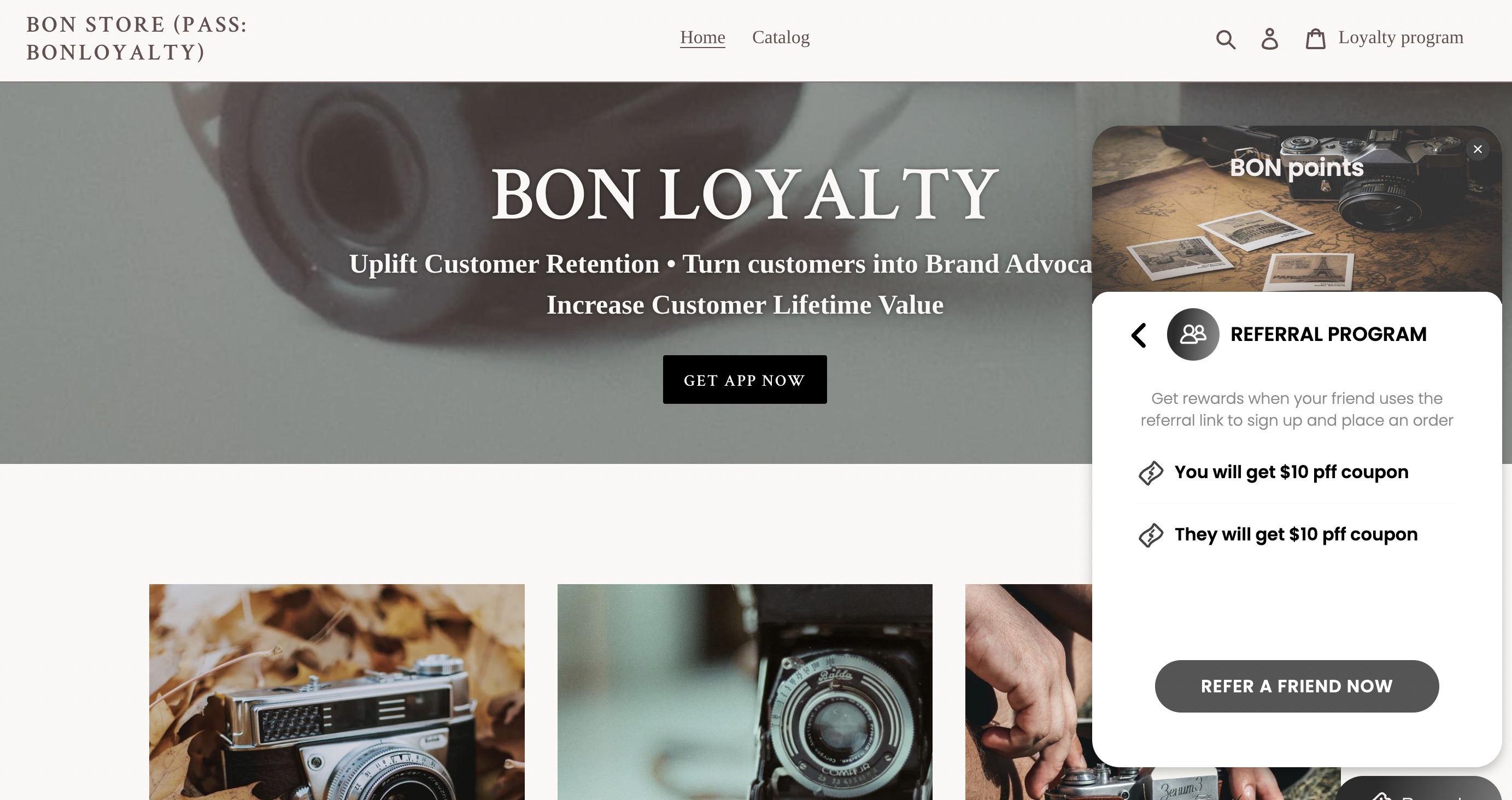 10. Referral Candy

$59/mo - $299/mo, commission fees apply
No, 30-day free trial available
Although a solid alternative, Referral Candy is simply too pricey for what it offers, so it comes as our last suggestion.
App features:
Unlimited customers and referrals
Referral analytics
Post-purchase refer a friend Shopify popups and email referral prompts
Customizable design to fit your brand
Fraud detection
Recommended for:
Shopify stores that are looking for a reliable and straightforward solution for customer referrals and haven't found the perfect app from those above.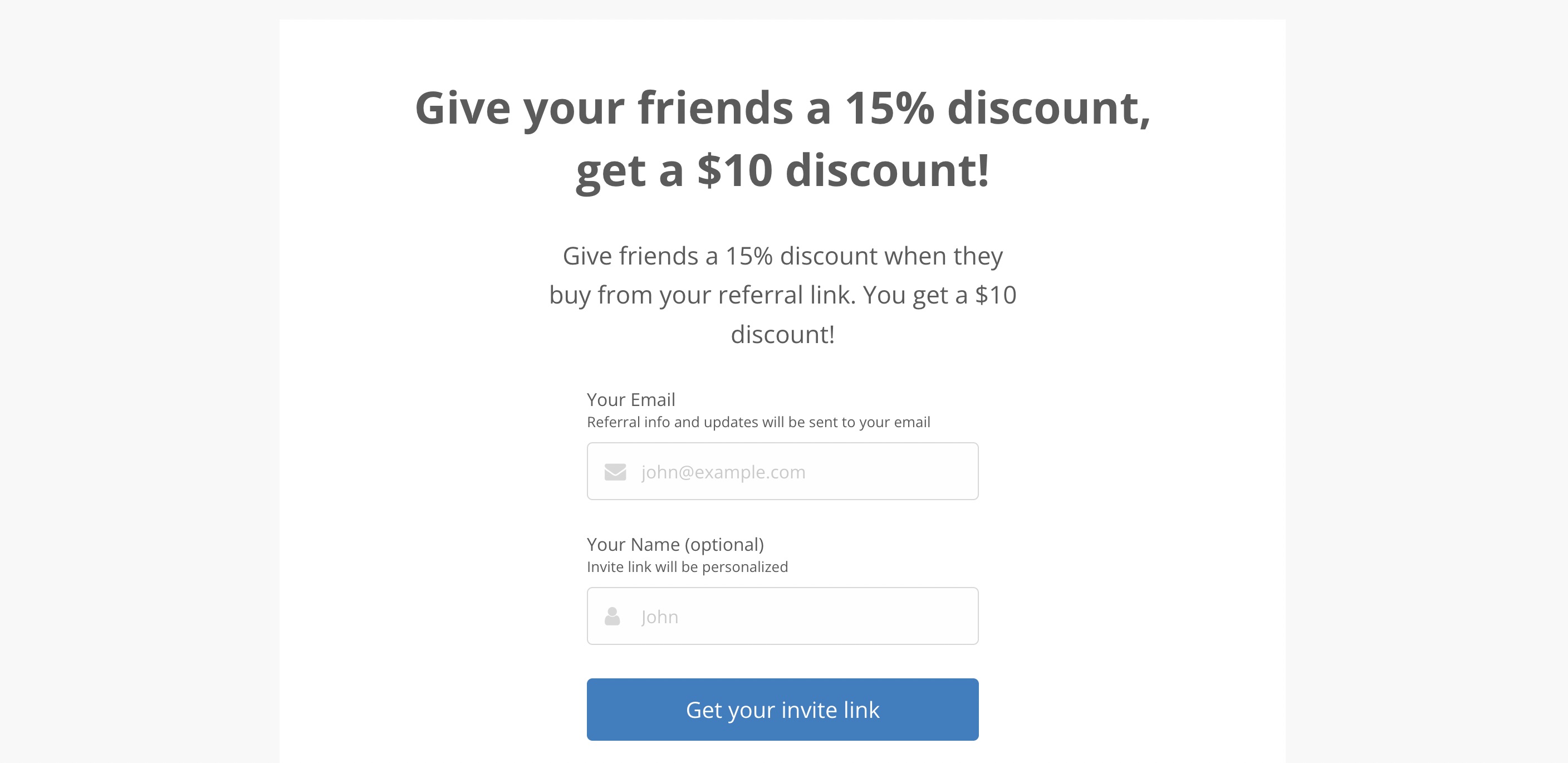 Choosing the best referral app for your store
All these features, benefits and different price ranges - how do you settle on one Shopify app for referrals?
Consider these points to choose a Shopify referrals app that's perfect for you:
Financial investment. Among the best Shopify referral apps there are great free alternatives, such as Automizely. If you decide to go for a paid app, make sure you can justify the costs, because sometimes they can reach hundreds of dollars per month.
Understand how the app charges. Some apps charge a straightforward flat fee, some add commissions on top. Some offer all its features with all plans and increase plan pricing based on amount of store orders. Analyze carefully what the pricing model of your selected paid app will mean for your store in particular to avoid unpleasantly surprising invoices.
Desired scope of programs. An app like Referral Candy will give you one and only functionality - referral programs - but it will be very straightforward to manage. Alternatively, apps like Loox, UpPromote and Growave will empower your marketing strategy with numerous additional revenue streams.
Referral revenue potential for your store. If you're expecting referrals to take off, investing in a specialized app with advanced referral program management can be a good idea. Otherwise, you will do just fine with straightforward Shopify referral apps, like Joy or Smile, most of which also have sufficient free plans.
How to set up a referral program on Shopify?
If you want your Shopify referral program to succeed, you have to know who will be referring new customers, how you will reward them and how to make this program profitable.
Here are basic but effective decisions you have to make to set up a Shopify referral program:
Decide between flat rate and percentage-based commission. Bottom line here - if you're selling something expensive, go for a flat amount reward. However, if you sell inexpensive products, you will probably benefit more from a commission-based referral reward model.
Understand who will refer your store. Do you have very little social media presence? You might have a hard time getting the attention of mass influencers. Double down on post-purchase referral suggestions for existing customers and work with micro influencers while you grow your social media network.
Make sure your referral rewards are worth it. Will people find value in free shipping? Is the 5% discount significant enough to raise interest? Is the product you're offering as a gift desired by many? Step into the shoes of both your existing customer and the person they're referring your business to and optimize your rewards offer on both ends.
Promote your Shopify referral program well. Most Shopify apps will have customizable widgets, post-purchase and email referral promotions. If you don't think it's enough, create a separate landing page and promote it in your main menu.
Final thoughts
There it is - a list of 10 best Shopify referral apps.
From multipurpose revenue optimization giants like Loox, Rise.ai and Growave, to specialized referral apps with creative approaches, like Joy and Yotpo, this list has a solution for every store.
Looking for more? Check out these Shopify app lists:
Frequently asked questions
The easiest way to create a referral program on Shopify is by choosing the perfect Shopify referrals app. To do that, you need to determine your referral awards, what functionalities you want your program to have and how much you're willing to pay for the app.
Our verdict is that Loox is the best referral app Shopify has to offer. However, it's followed by great alternatives with their own advantages, such as UpPromote, Automizely, Smile and Yotpo.