By purchasing through the links on this page, you are giving us the opportunity to earn a commission. Your support is greatly appreciated!

No matter the product, people will want to see it in action. That's why Shopify product video apps play a huge role in an effective product marketing strategy.

In this guide you'll find in-depth 10 best Shopify product video app reviews, unique features, pricing, and additional tips to help you choose the perfect Shopify product video app for your store.
What is a product video app?
A product video app is a tool to display information about your product in video format.
It's particularly valuable for niches like fashion, where customers seek videos in order to set realistic expectations of how the product will look on them.
There are several types of Shopify product video apps:
Video makers - geared towards creating a new video
Video embedding apps - simple apps for embedding existing videos on a page
Video gallery apps - apps designed to create product video galleries
Platform-specific video apps - apps that only integrate with YouTube, Instagram, etc.
Some apps will be cross-functional and have characteristics from several types, but it's important to understand that the difference among them can be quite distinct.
How we chose top Shopify product video apps for this list
We made sure all bases are covered and you're looking only at a variety of top options for each Shopify product video app type.
This was our baseline criteria for all apps that ended up on this top Shopify product video app list:
Shopify store rating - 4 or more
Positive 30 most recent reviews (or all issues regarding the bad ones resolved)
Free plan or free trial available
We also took a careful look at every app's functionalities and unique features, plan pricing and more.
Let's get to it, shall we?
10 best product video apps for Shopify for 2023: in-depth reviews
Before we dive deep into pros and cons of each app, let's take a quick look at our top 5 Shopify product video app shortlist:
But first online shoppers need to find and see your online store! Optimize SEO and speed with a single app
Install TinyIMG now
Now let's move on to in-depth reviews of all 10 best Shopify product video apps.
1. Vidjet - Shoppable Videos

With all 5 star reviews and 1000+ stores trusting it, Vidjet - Shoppable Videos is our overall top pick of best Shopify product video apps.
It has a broad range of features and an ability to tag products in the videos to make them shoppable - something most other apps don't offer.
The pricing variety covers all bases, no coding knowledge is needed to work with the app and advanced video performance analytics will be available to you.
To top it all off, their free plan includes all the core features, you only upgrade to paid ones if you need more users or videos.
Pros:
Integrates with YouTube, TikTok and Klaviyo
Video pop ups available
Shoppable videos
In-depth performance analytics
1-click setup
Cons:
Honestly, nothing we could find
This is what an integrated TikTok video would look like on your product page: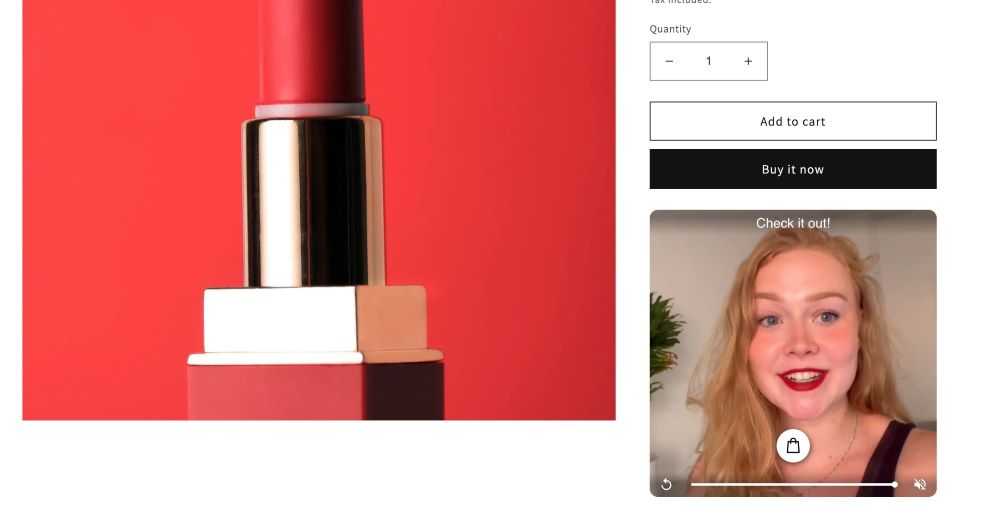 2. Product Videos Gallery

Product Videos Gallery comes in second. It's a somewhat simplified version of Vidjet - Shoppable Videos, but with equally great opportunities to display featured product videos.
Product Videos Gallery supports a variety of social media platforms and offers great customization opportunities for video layouts.
There is only one pricing plan with a flat rate and super simple upload options using video URLs, so it's perfect for smaller Shopify stores that are looking to amp up their product pages without too much investment.
Pros:
Supports TikTok, Vimeo, YouTube
Video gallery option
Lightbox popup display
Video background creation
Cons:
This is what the related videos section display looks like: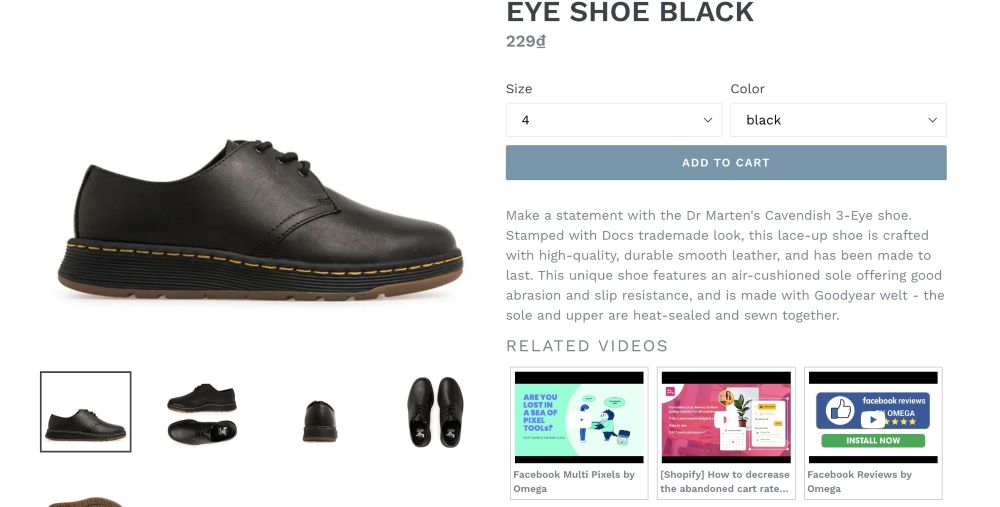 3. Video Background

Video Background is yet another great Shopify product video app with wide integration options and useful features. For example, you can replace an existing page element, like an image, with a video in just one click.
Video Background stands out because their team offers help with app customization and unique feature development. This makes Video Background a number 1 app for stores looking to execute a very unique product video vision.
Pros:
Integrates with TikTok, YouTube and Vimeo
Easy element replacement with video
Section and full page option
One-click installation
Custom feature requests accepted
Exceptional customer support
Cons:
Free plan only applies to stores in development
This is what your homepage with a video background could look like: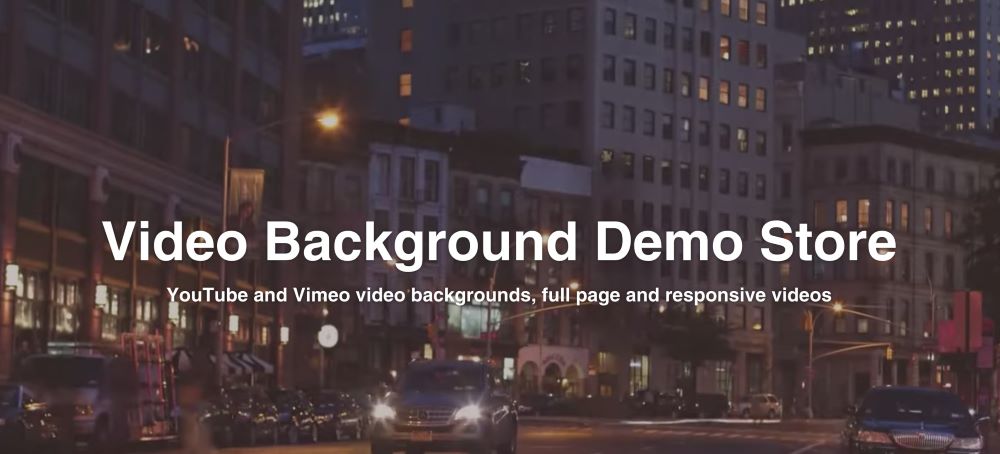 4. YouTube + Vimeo Video Gallery

YouTube + Vimeo Video Gallery is an app tailored specifically to outstanding Shopify product video galleries.
Your galleries made with this app can be reordered at any time, it has a bulk video upload option and a wide range of video gallery customization opportunities.
Unfortunately, it's on the pricier end and quite a few people in the reviews mentioned that they had hiccups during the installation process. However, nothing great support couldn't resolve so we're still wholeheartedly recommending YouTube + Vimeo video gallery Shopify app.
Pros:
Supports both Vimeo and YouTube
Option to add multiple videos at once
A lot of customization opportunities
Ability to create galleries, popups and background videos
Cons:
Complicated installation process
No free plan, paid options quite pricey
Here is a testimonial embedded with this Shopify app: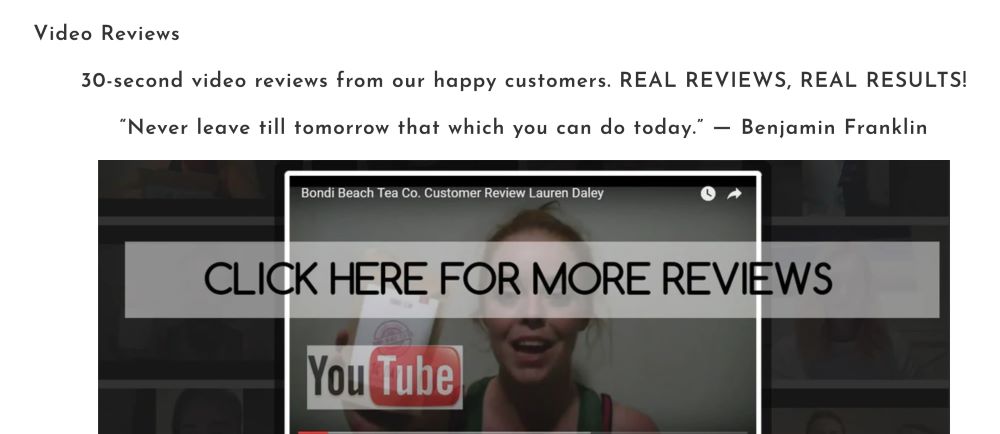 5. Promo.com - Promo Video Maker

Are you in search of an app that will create Shopify product videos from scratch? Promo.com - Promo Video Maker is your number one option.
Pull existing material about your product, such as images, description and testimonials, and create stunning product videos you can share on your store or social media networks.
Pros:
Automated video creation and templates
Ability to share directly on social media
Cons:
Limited available soundtracs
Little customization opportunities
No galleries
Here is what the video will look like on your product page: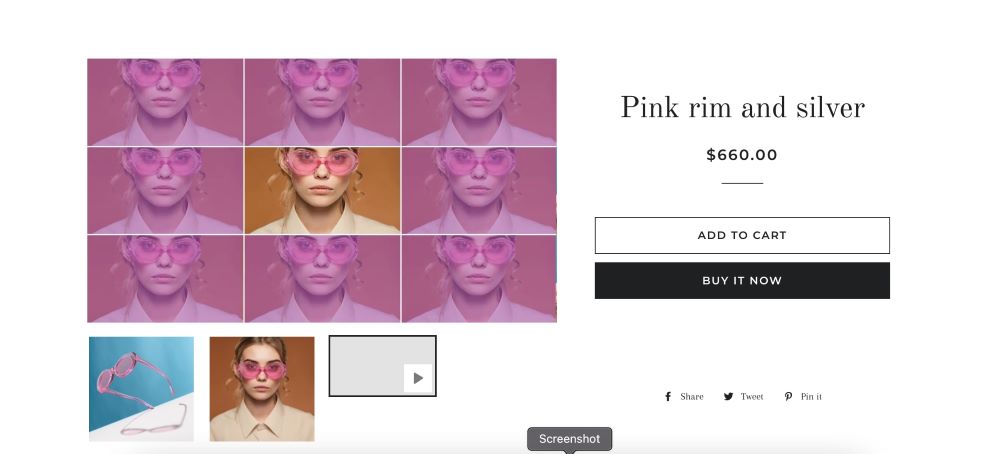 6. Easy Video - Product Videos

Easy Video - Product Videos is a great option if you're using an unconventional Shopify theme. The app's developers invested a lot of effort into making sure the app integrates with all themes, and if it doesn't, their support will go above and beyond to fix that.
Other than that, it has all the features expected from a great Shopify product video app and supports both Vimeo and YouTube.
Pros:
Simple embedding with URL
Supports Vimeo and YouTube
Customizable layout
Cons:
This is what a video popup with Easy Videos - Product Videos looks like: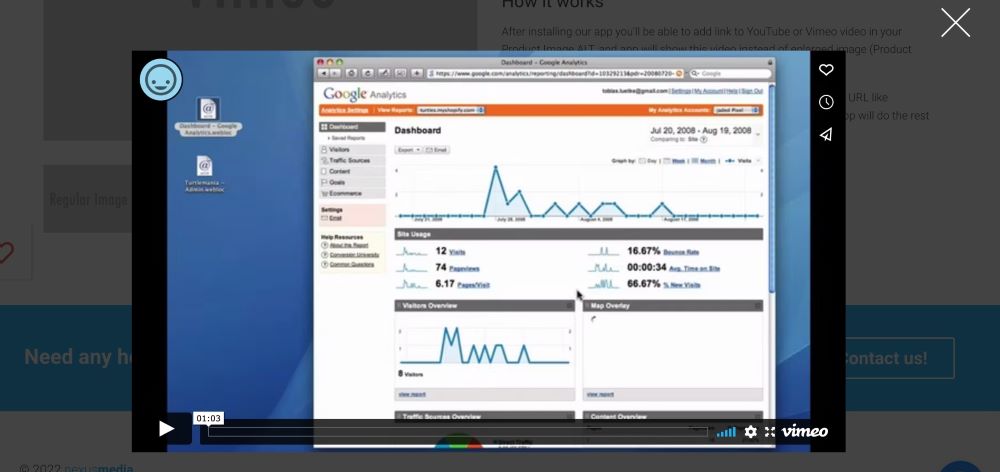 7. YouTube Video Gallery

Are you keeping your product videos on YouTube alone and want to grow your YouTube channel? In that case, check out the YouTube Video Gallery app.
It's exclusive to YouTube, so with all the regular video integration features you also get YouTube-specific perks. For example, you can gain YouTube channel subscribers by adding a convenient subscribe option to product videos on your Shopify store.
Pros:
3 preview layouts
Direct access to your YouTube channel
Cons:
No free plan
Specific to YouTube
Limited features
Here are the YouTube Video Gallery template options and what they would look like on page: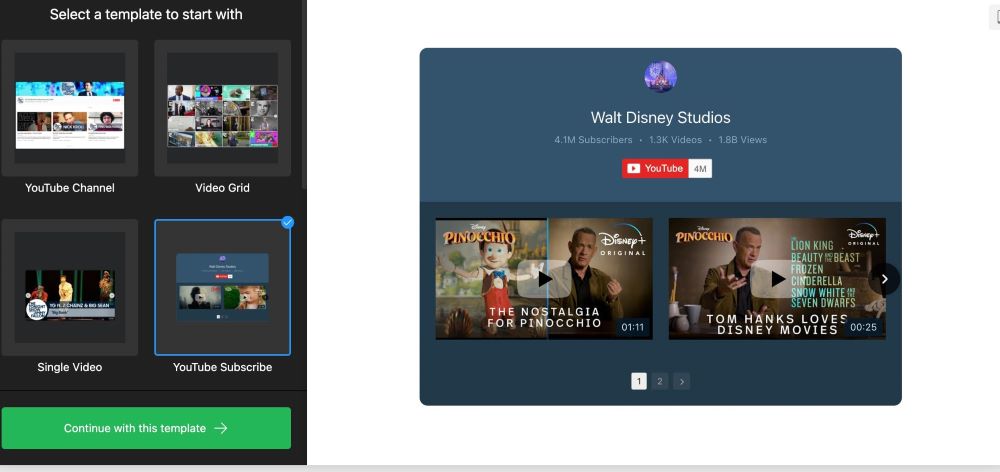 8. POWRful Video Slider | Gallery

POWERful Video Slider does not particularly have any stand-out features, but it's still a great alternative Shopify product video app.
All store owners who struggle with making the most out of new apps should give this one a look since POWERful Video Slider is praised by their users for their instructional materials.
Unfortunately, the free plan has hidden fees as the 3 sliders available will have very limited features and the minute you want a bigger range, you'll have to upgrade.
Pros:
Supports YouTube and Vimeo
Video transition and autoplay features
Helpful instructional materials
Video background and banner options
Cons:
9. Instafeed Instagram Feed/Story

Is Instagram your number one platform? Instafeed allows you to bring both worlds together in no time by showcasing Instagram content on your Shopify website.
The customization does not seem convenient though as most of it has to be done through support. Plus, they start charging you once you hit 1000 page visits. By that they mean page sessions and not unique page views, which can be an unpleasant surprise for many sellers.
Pros:
Supports Instagram feed, stories and highlights
Instagram video gallery display
Social engagement prompts
Convenient social proof display
Cons:
You have to customize via support
Hidden fees
Here is a demo for Instafeed stories and feed display: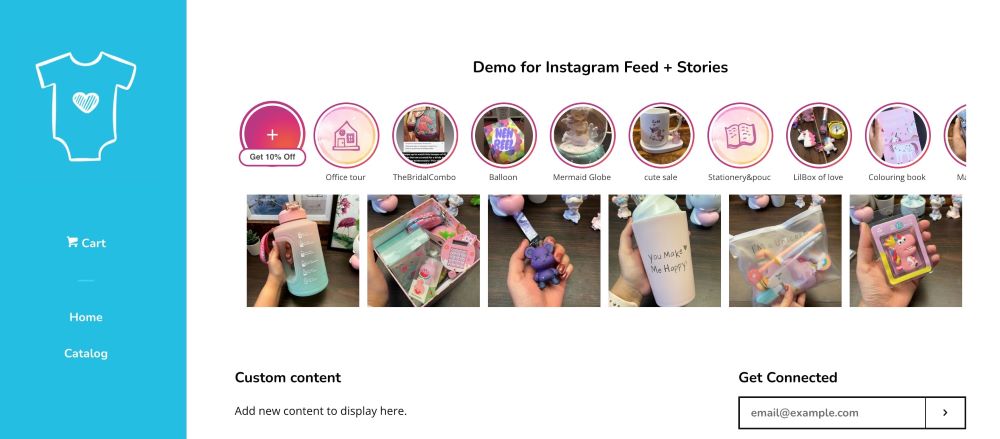 10. Vimeo Create - Video Maker

Vimeo Create - Video Maker Shopify is another Shopify video maker that comes in handy for all Shopify stores that need to create product videos from scratch.
Use your product images, descriptions and other standalone material for automatically generated product videos that appear on any page of your store.
It comes in as a last resort though because the most recent reviews show there are a lot of bugs with the latest updates.
Pros:
Automatic video generation
3000 video ad templates
Cons:
Integrates with Vimeo only
No possibility to publish existing videos
Poor quality latest app updates
A thumbnail of a video generated by Vimeo Video Maker: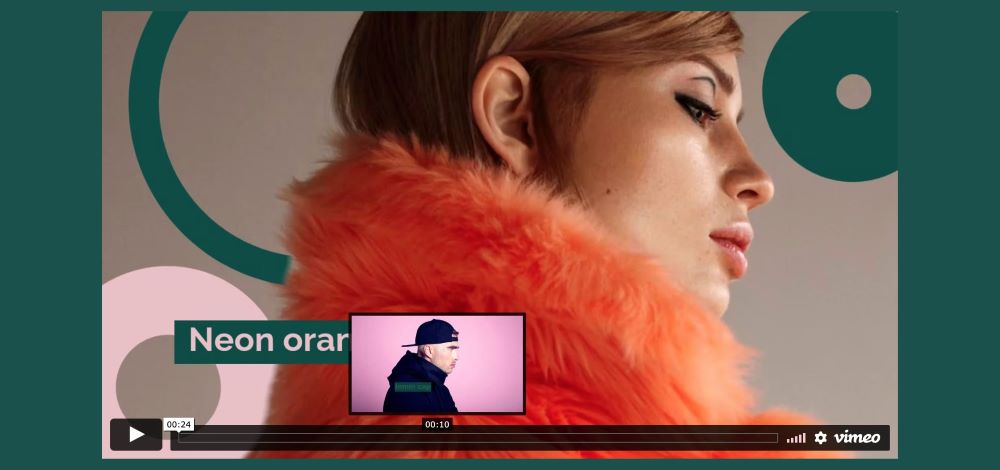 Why do I need a product video app in my Shopify store?
People trust product videos above most other marketing material because of two main things:
Product videos create narratives. They help people imagine products in their lives and create context for them. This incentivizes people to buy the product.
Videos show how the products really are. Seeing products in motion, with no hidden angles or optical illusions increases shoppers' confidence in your product.
Product video apps help you achieve all of that quickly and conveniently, with no coding and minimal time investment.
How to pick the right Shopify product video app for your store
You've read through all of this and you're still struggling to settle on one specific Shopify product video app?
No problem, let's go through a few questions together and they will surely help you narrow down your options.
Do you need to create videos from scratch?
If yes, one of the several Shopify product video maker apps on this list should be your priority.
Are you hoping to include product video galleries in your store?
If so, cross out all apps that do not provide this option.
Will you publish enough videos to justify a paid plan?
Most free plans don't include too many functionalities, but if you're looking to include just one video on your homepage, they might be sufficient.
Are most of your videos already on one of the social media platforms?
If so, look into Shopify product video apps specific to that platform or those that have extensive integration options.
Conclusion
Here it is, the review of 10 best Shopify product video apps! Now you can rest assured your product pages are optimized for conversions and your visitors are seeing the best product presentation possible.
Best of luck!
Looking for more? Check out these app lists: