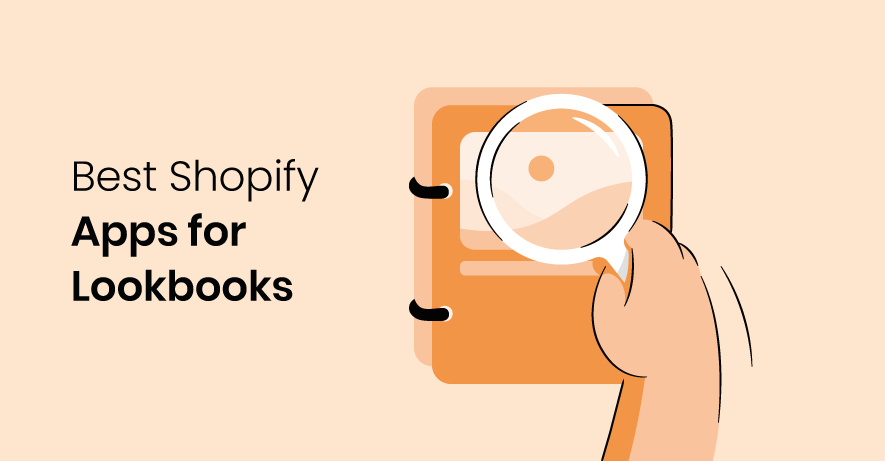 By purchasing through the links on this page, you are giving us the opportunity to earn a commission. Your support is greatly appreciated!

Lookbooks are a great way to bring your product closer to online shoppers.

Creating online product catalogs with Shopify lookbook apps is a breeze. These apps ensure your products get the presentation they deserve with enhanced functionalities.

The lookbook app variety on Shopify app store is vast, so how to pick the perfect fit for your store?

We got you covered.

In this article, we'll look over a carefully selected list of 7 best Shopify lookbook apps with recommendations and tips.
What is a Shopify lookbook app and why do you need one?
Shopify lookbook app is a tool to ensure proper product image presentation. With this app, you can display your product images in gallery format or as a slideshow.
A good Shopify product app also helps you organize your images, offers interactivity features and more.
That being said, you can choose a lookbook-friendly Shopify theme that will let you plug your photos into existing templates. So what do you need a Shopify lookbook app for?
The biggest perk of lookbook apps is that they make your Shopify image galleries shoppable, interactive and creative. With an app you can give your gallery a flip-book look, tag products for direct Add to Cart option, introduce "like" buttons and much more.
All of a sudden simple visual display becomes an interactive feature that encourages visitors to make an informed purchase.
How we selected top Shopify lookbook apps for our list
For an app to end up on our best Shopify lookbook apps list, it had to meet these basic criteria:
Shopify store rating - 4 or more
Positive most recent 30 reviews (or resolved issues on bad ones)
Free plan or free trial available
No or little impact on store speed upon installation
On top of that, we put the functionalities of the apps to a rigorous test, looked at ease of use and value for money.
Top 7 lookbook apps for Shopify for 2023: reviews
Without further ado, here is the list of Shopify lookbook apps that every store could benefit from:
Top three are our ultimate recommendations, while the rest are here as viable alternatives if you can't find a feature you're looking for.
If your store is using many images and apps, make sure it's still optimized for best speed and SEO performance
Try TinyIMG today
Now let's take a look at in-depth reviews of all of them.
1. Lookbook - Shoppable Galleries

4 plans, from Free to $9.99
Expert Village Media Technologies have a total of 10 apps on Shopify store - all focused on enhancing shopping experiences and all with impeccable reviews.
Their Lookbook - Shoppable Galleries is our number 1 recommendation from best Shopify lookbook apps. It really seems to cover all bases for successful lookbook creation.
If you create your Shopify lookbook with this app, it will offer you:
Fully customizable layouts (with custom CSS option)
Direct Add to Cart option - customers can click on any product they fancy from the lookbook, add it to their cart and continue shopping
Shoppable hotspots - highlight your products to make it interaction and purchasing intuitive
Mobile responsiveness - ensure shoppers on any device get only the best experience
On top of that, Lookbook - Shoppable Galleries pricing range offers great value for money and their customer support has received heartfelt appraisals only.
One hiccup is that the app description is a bit confusing. It states that you can create unlimited galleries, however, the pricing table indicates a specific number of galleries for each plan.
In any case, we believe that this app is all around the best option to create lookbooks on Shopify.
Example of demo store with Lookbook - Shoppable Galleries Masonry grid and tagged products: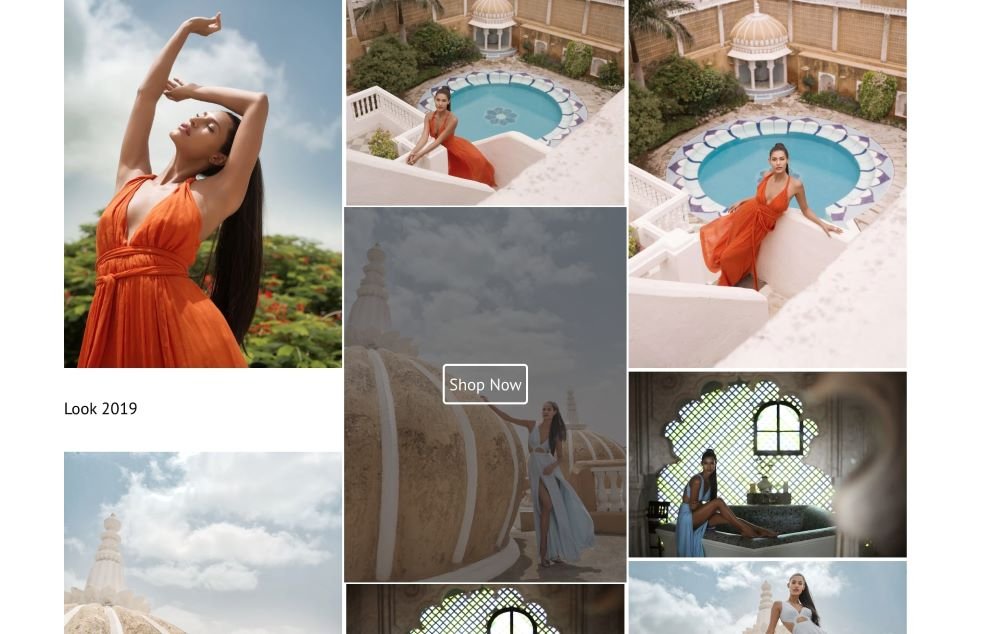 2. Image Gallery + Video

By far the most popular creation of EnormApps, Image Gallery + Video is an SEO optimized lookbook app that allows you to create multiple layers of galleries.
Its main features include:
Ability to add gallery image captions and alt texts
Bulk image upload
4 types of layouts
Vimeo or YouTube video galleries
A unique selling point of this app is the possibility to interlink multiple galleries and create gallery hierarchy. This allows your shoppers to navigate between multiple galleries and get inspired by a variety of looks very conveniently.
Image Gallery + Video no map masonry grid example: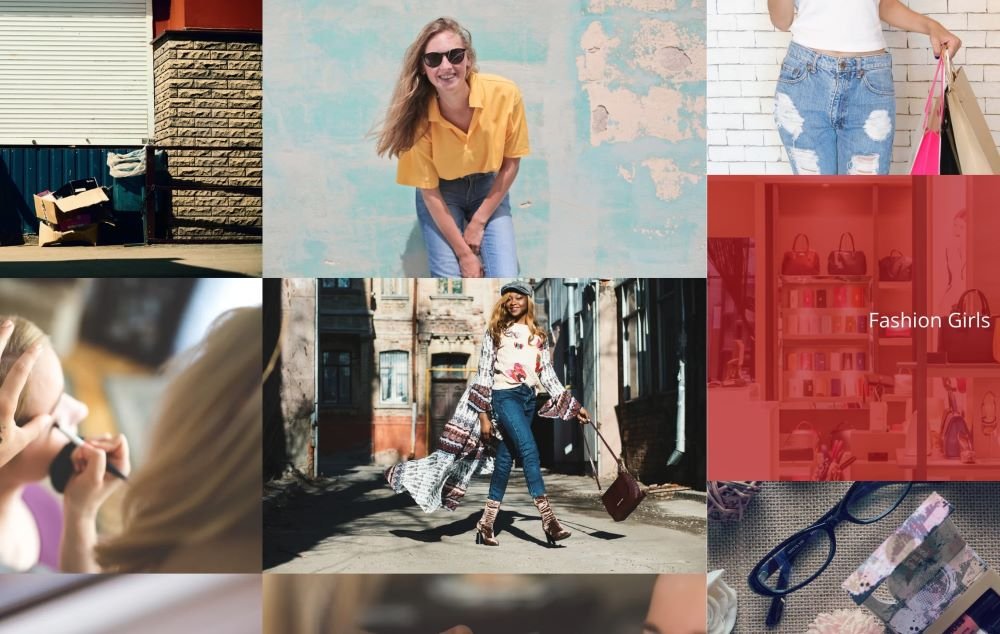 3. XO Gallery

XO Gallery is a very serious contender for these top spots of the best Shopify lookbook app list. It provides incredible customization opportunities and should be the go to app for all those who want to control every detail.
On top of the usual gallery functionalities, such as product tags, bulk image uploads and drag-and-drop layout customization, XO Gallery offers a variety of minor perks.
Take a look for yourself:
37 hover and 16 appear effects
Filters for images
Lazy loading
Hotspots
Zoom-in lightbox
Best part about XO Gallery is that the paid plans have unlimited galleries with unlimited images in them. Unleash your creativity and inspire your shoppers!
All galleries are mobile responsive and their customer support will help you set them up for free.
With all that being said, it's not in the first position because such a variety of features and unlimited options can prove to be confusing for a novice.
XO Gallery's masonry grid with marked hotspots looks like this: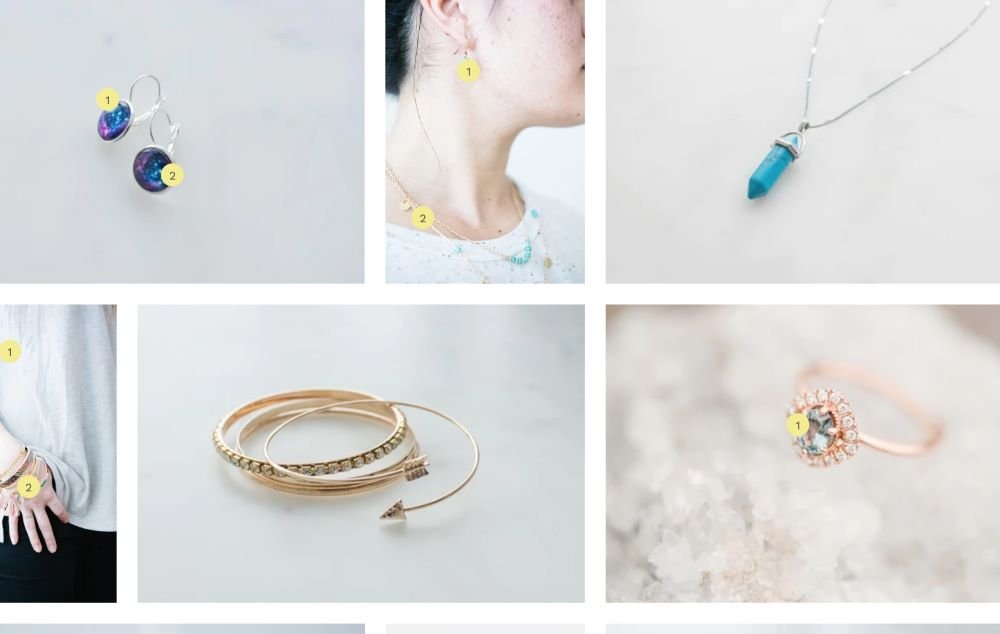 4. Lookbook - Shop by Gallery

Lookbook - Shop by Gallery is another reliable option for Shopify lookbook app. It does not have any flashy additional features, but it has everything you need to create impressive galleries.
With Lookbook - Shop by Gallery, you will get:
Direct Add to Cart option
Product tagging
Customization
SEO features
Plus, it has 4 different plans, so if you haven't found a satisfying pricing option within the previous apps, you should take a look at this one.
Lookbook - Shop by Gallery grid with tagged products: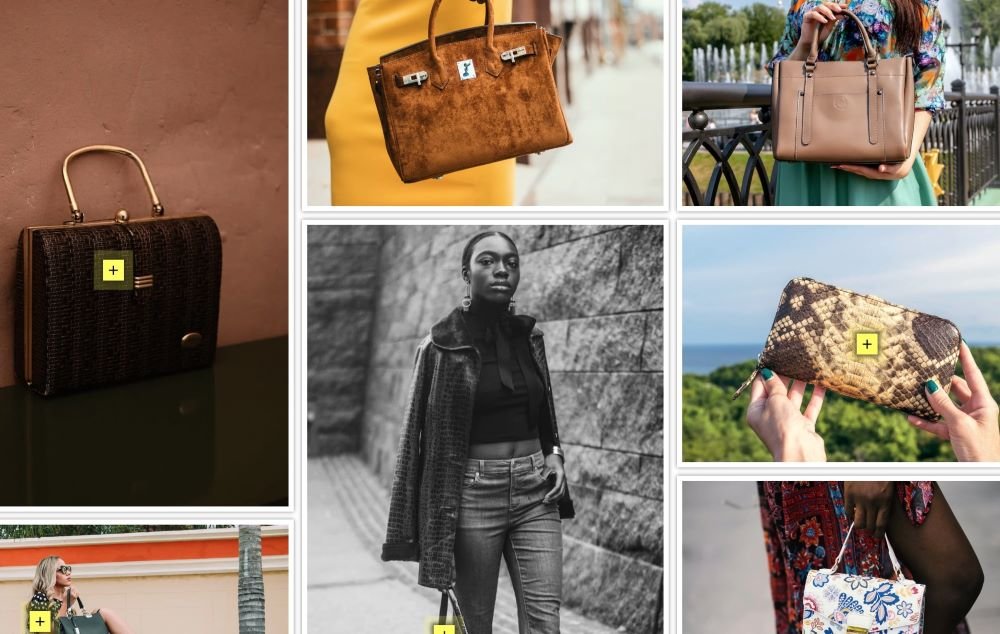 5. Shoppable Fashion Galleries

This is one of the more unique entries in the best Shopify lookbook apps list. Despite not having too many reviews, Shoppable Fashion Galleries seems deserving of a spot because of its creative features.
Among all the usual stuff, like layout customization and product tagging, Shoppable Fashion Galleries has gallery analytics. Basically, you can view how customers interact with your lookbooks, which images sell and use these findings to optimize your galleries.
The most interesting feature though is the Customer Lookbook. Give your shoppers a chance to show off their purchases by creating public galleries on your Shopify website!
Shoppable Fashion Galleries app lookbook with hover effect of tagged products: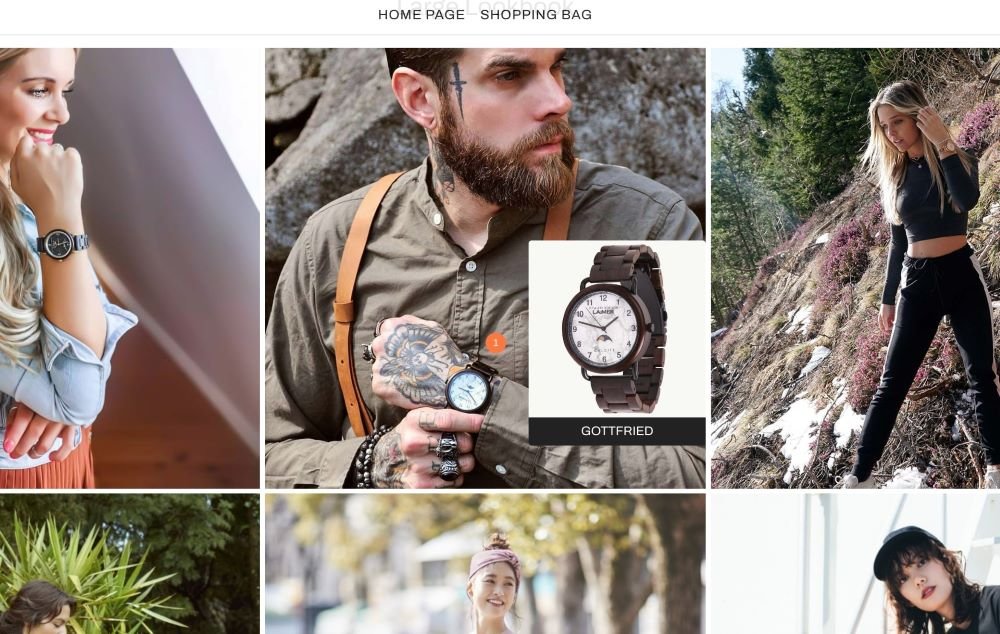 7. LookThru

It's still a little early for this app to be high up on the list. And yet Shopify itself is recommending it so we thought we'd give a closer look too.
LookThru is quite new and offers a specific yet very interesting solution - a real book or magazine look for your product images.
This type of presentation could do wonders for luxury fashion or accessory brands as well as any other products historically associated with magazine advertising.
Plus, it has geolocation targeting so if your lookbooks come in multiple languages, you can ensure people from different countries are seeing the right version without additional effort.
Use the free trial to give it a shot and who knows, maybe you'll be one of the first ones with a very unique Shopify lookbook!
Take a look: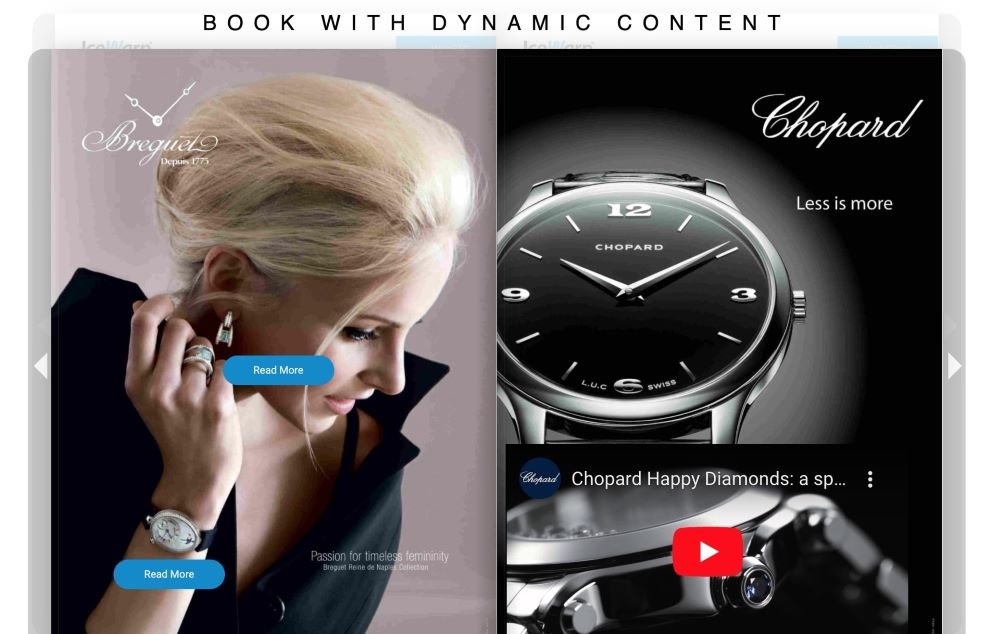 7. Lookbook

Lookbook is on the pricier end and doesn't seem to have any stand out features to justify that. However, you can expect all the necessities for an outstanding lookbook to be there.
Plus, quite a few users emphasized the ease of navigation and incredible customer support, so it's a worthy alternative.
Do note that they had a recent negative review regarding billing issues. It seems that the team resolved it, but it's somewhat concerning that a person couldn't find how to cancel their subscription.
How to choose the best lookbook app for your Shopify store
Hopefully all of these reviews and information helped, but how do you make the final decision?
We suggest considering these factors before committing to one specific Shopify lookbook app:
Customization vs convenience. Usually apps with numerous customization features are hard to set up and navigate. If your goal is to publish two simple galleries, go with apps that offer more straightforward options. However, if you're a fashion store looking to build your brand around numerous galleries, investing time and finances in a more complex app is not a bad idea.
Amount of galleries. If you're just trying things out, pick an app with a free plan. Usually those have a couple of galleries and limited features. Once you see how it's coming together, you can always upgrade to more galleries. Do check whether the app's plans scale well and will suit your future needs.
Price range. More often than not, a lookbook is a good-to-have store feature and not an essential. Decide how much you want to spend on it and then look at options available. That way you won't end up overspending.
Specific needs. Do you know exactly what you want from your galleries but can't find it in any of the feature descriptions? Drop a message or email to your chosen app's support and they will likely tell you whether you can achieve what you're looking for with their app.
And remember, every app on our list has a free trial. If you don't think your first choice is working out, there are many more!
Conclusion
Here it is, 7 Shopify lookbook apps that will amp up the visuals of any Shopify store.
Create a lookbook, display it on any page, let people interact with your products and increase your sales.
Good luck!
Looking for more Shopify apps? Check out these lists:
Frequently asked questions
What is a lookbook gallery?
Lookbook gallery is a marketing tool that helps you create stories around your products. With careful visual presentation and interactive features lookbook galleries are designed to improve conversions.
Are Shopify lookbooks and product galleries the same?
Not exactly. Product galleries are more simplistic and include only the products themselves. Shopify lookbooks are meant to create narratives around products, so they involve more creative presentation, combination suggestions and more.