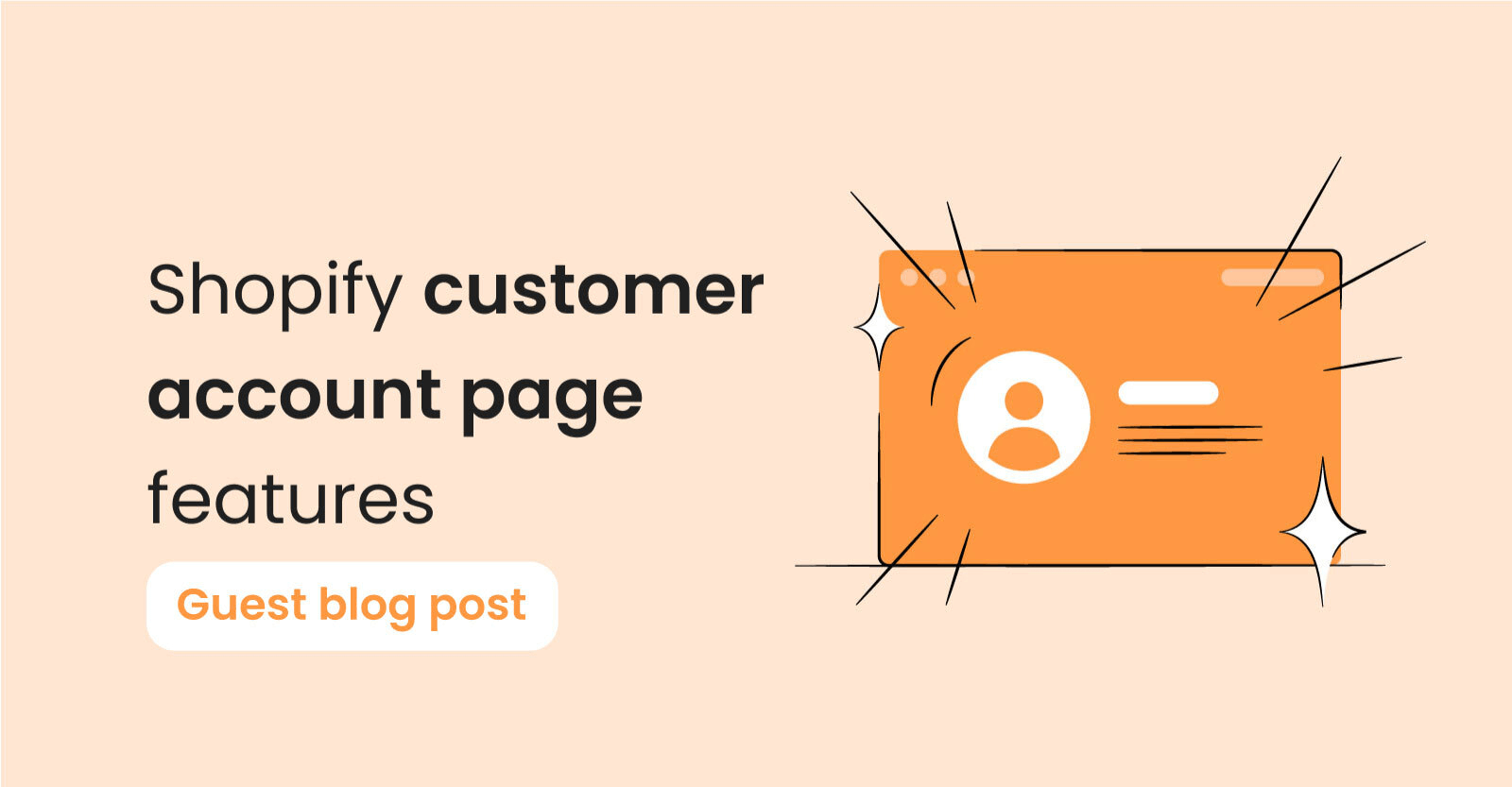 Online shoppers value stores which deliver them the most effortless and personalized online experience.
With an increasing number of online shoppers, brands continuously strive to crack that winning formula that can help them woo the first-time online shopper and turn them into loyal customers. And in this endeavor, brands often overlook the power of customer account pages.
But with the likes of Amazon still driving in more purchases using the customer account page, it's time your Shopify store focuses on it as well. It's time to leverage apps like Flits Shopify customer account pages to do more!
Things to improve on your Shopify customer account page
Check out the 7 tips on how to improve your Shopify customer account page to get more conversions:
1. Ditch the default customer account page by Shopify
The default Shopify customer account page is utterly generic in design and has a standardized look that is the same across all the stores. Such a page would not reflect your brand's personality and will end up looking inconsistent to the rest of your Shopify store design.
To customize your Shopify store's customer account page, download the Flits app to transform your customer account page. The Shopify app will help you set up a page that will reflect your brand, align with your Shopify store's design and make sure your customers experience a seamless shopping experience with your brand.
It offers two Shopify customer account page templates that you can tweak and customize from end to end so that the page feels like it is a part of the rest of the site that you have designed oh-so-carefully and thoughtfully.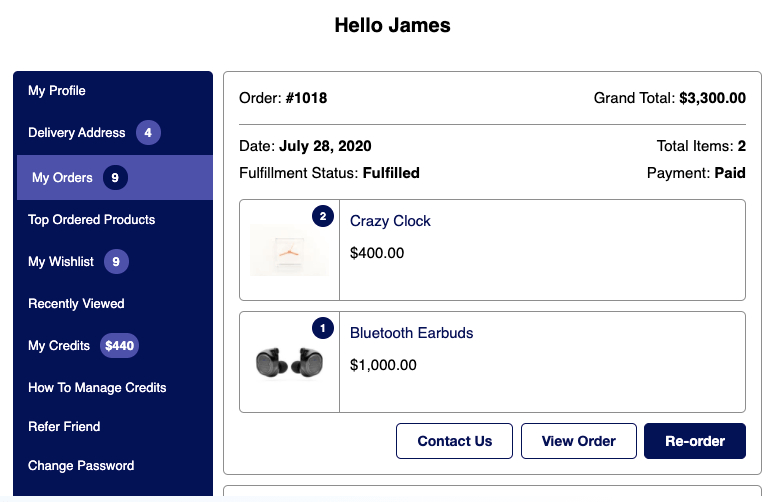 Flits customer account page template UNO
2. Ensure easy signup and login
If your customer registration process involves filling in a lengthy signup form, it can often defer a new visitor from signing up. Therefore brands need to ensure that the signup process is as smooth and quick as possible. Apart from using emails to sign up, enable a one-click login process with an option of doing a direct social login on your Shopify store.
Make Shopify customer account registration easy with Social Login. Social login allows customers to sign up or login via their social media profiles. Since every customer already has an active social profile, the process gets the necessary customer information from their social profiles itself, making the shopper experience more effortless.
Moreover, social login ensures that you get authentic leads as shoppers will have to sign up with their real email IDs and profiles. Information sourced from their social profiles can help you optimize your marketing strategies to personalize your shopper's experience and drive higher conversions.
Use incentives like store credits or first-time purchase discounts to encourage more shoppers to use social login for account registration.
3. Allow customers to wishlist their favorite products
Not every shopper makes a purchase on their first visit. Visitors on your Shopify store may have selected a few items, but without any way to 'save' them, they would end up losing those choices as soon as they leave the site. This is where wishlisting helps.
A wishlist is a feature that lets online shoppers create their own collection of products they like or want to buy. This makes it easier for them to come back to the store later and finish the purchase.
Enable wishlists on your Shopify site for shoppers to save their favourite products from the product catalog, which they may want to buy later. Giving them a choice of wishlisting will also encourage them to create a customer account with your store and save their favorite products. This is especially useful in case of a large catalog.
The wishlist feature makes it effortless for shoppers to save products they like and purchase later. The app makes it easier for you to discover shopper intent and create personalized marketing campaigns to convert intent into successful sales. In addition to that, it lets them also easily view the wishlist within their customer account page!
4. Let customers view their order history
With shoppers spending an increasing amount of time browsing online stores, they often miss on keeping a track of the products they bought before at your store. Most people face online shopping anxiety now; and therefore being able to see their order history makes it simple for them to keep track of their current as well as previous orders.
Add an 'Order History' section within your branded customer account page to let your customers keep track of all the products they've purchased from your Shopify store. If you have a customer account page, you can actually display order history easily along with advanced search filters.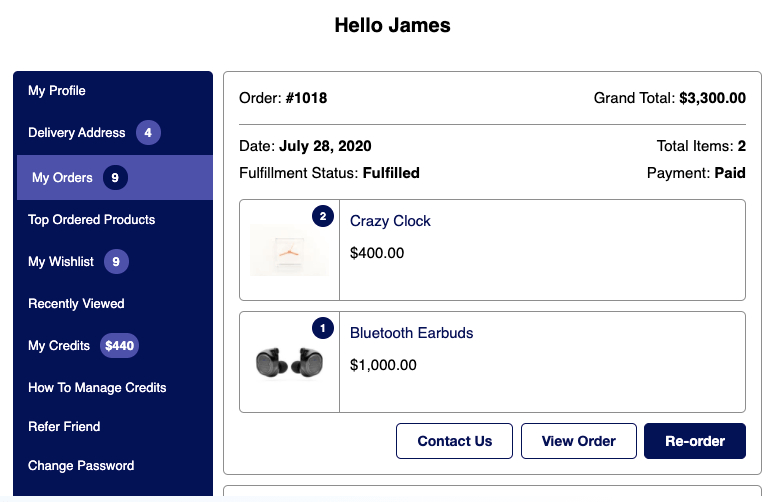 When customers are able to track their previous and current purchases, they increase their engagement and interaction with your store. In the process, they may end up discovering more products and make more purchases.
5. Make it effortless for your customers to reorder
Customers buying products like skincare, healthcare supplements or food items often reorder these items periodically. Usually, these shoppers search the product again in store search and then add it to cart, making it a cumbersome process every time.
Allow shoppers to make repeat purchases with ease by setting up a 'Reorder' button beside such orders on your Shopify store customer account page. A built-in reorder functionality automatically saves product details, shipping and payment information of the customers, making it effortless for the customer to make a repeat purchase.
This way shoppers can view their order history and quickly reorder the items they want to with a single-click add to cart functionality, thus reducing your sales cycle.
6. Show customers their recently viewed items
Oftentimes, shoppers visit a product page, navigate to other pages to explore further, and then want to come back to the product they had viewed previously. However, they end up losing the product page, making it difficult for them to find it again and consider a purchase.
Showing your customers their browsing history is a great way to re-engage returning shoppers and nudge them to revisit the products they may have browsed through but did not purchase or wishlist. Instead of making them go through the whole search process all over again, simply showcase their recently viewed products within the customer account page.

Afterall, the easier you make it for them to find the products they like, the higher are your chances of conversions and success!
7. Incentivize customers by rewarding store credits
All businesses use incentive programs as a critical part of their functioning, whether they're looking to motivate employees, boost sales or encourage customer loyalty. One of the most effective and affordable incentives that online stores offer shoppers is store credit: store money that shoppers can use to purchase products or avail services from your Shopify store.
75% of consumers say they prefer shopping from companies that offer rewards. A powerful tool to use for attracting consumers as well as retaining them on your Shopify store is Store Credits. Shoppers love earning rewards and perceive store money as 'free money', which gets them to shop more using the credits earned and become return customers to earn more rewards.
First-time visitors to your eCommerce site can be enticed to shop with a pop-up offer of an instant store credit for signing up for a newsletter, following your company on a social media site, or making their first purchase. You can even offer these credits as part of a sign-up bonus, referral offer, cashback program or any promotional offer. With a rewards program, you can hook shoppers to your store, boost engagement and increase repeat purchases.
With a Flits customer account page, you can bring your loyalty program onto one dashboard, making it more natural for customers to interact and engage with it.
Personalize your Shopify store's customer account to drive your store's success
An online store's success is largely driven by customer experience and retention. Every Shopify store has a customer account page which can be leveraged to capture more sales and encourage shoppers to make repeat purchases. eCommerce giants like Amazon serve as the perfect example of how an online store can drive more benefits out of customized customer account pages by adding features like rewards, wishlisting and instant reorders.
Customizing your Shopify customer account page is effortless with Flits! It lets you set up these additional features on your customer account pages and elevate their shopping experience for better conversions.