By purchasing through the links on this page, you are giving us the opportunity to earn a commission. Your support is greatly appreciated!

Shopify image zoom app helps you showcase your pictures on a full scale. Successful merchants know that allowing their customers to analyze the product image in detail means a more engaging shopping experience and more completed sales.

With a Shopify app for product image zoom, you can choose from different zoom types, organize your pictures into a gallery, and more without coding or spending heaps of money.

But just like with other top Shopify apps you use, choosing a robust zoom app is just as important. Therefore, we have tested and selected the best 7 Shopify image zoom apps that offer several zoom styles, don't affect the image quality, and come with extra features. Read on, and find the app specifically for your needs.

Make sure your images are compressed and optimized for the best SEO performance

Install TinyIMG now
How did we select these Shopify image zoom apps?
Finding a good image zoom app for a Shopify store might be complicated, as most applications offer image zoom as only a part of the whole set of features. And still, there are the criteria that helped us choose the top apps:
Types of image zoom. Full-size "lightbox" zoom showcases entire images, while "magnifier" zoom lets visitors enhance specific parts of the image. Hence, we chose apps that offered one or a few of these zoom options.
Extra features. Most Shopify image zoom apps also include other additional features, like image variant management, or website design customization. So, we made sure they were also functional and capable of improving your business.
Compatibility. With more customers shopping through their phones, image zoom should work on both desktop and mobile devices. That's why we selected image apps that supported various gadgets equally well.
Pricing. An app with loads of exciting features always sounds great: but signing up for several expensive services with options you won't even use can be a waste of money. Therefore, we ensured the app offered a fair price-to-quality ratio.
Top 7 Shopify image zoom apps: overview
After going through over 80 Shopify apps, we have selected the best 7 image zoom apps for Shopify merchants. All of them offer a high-quality image zoom together with additional functionalities.
Now, let's have a look at all these image zoom apps in detail.
1. Cool Full Page Zoom
Specifications
Features
Mobile-friendly full-size zoom
Cool Full Page Zoom is a simple Shopify app that does exactly what it says in the name – lets anyone easily zoom an image to a full-page size. It's a simple and intuitive app with a selection of different cursors that will match your brand design.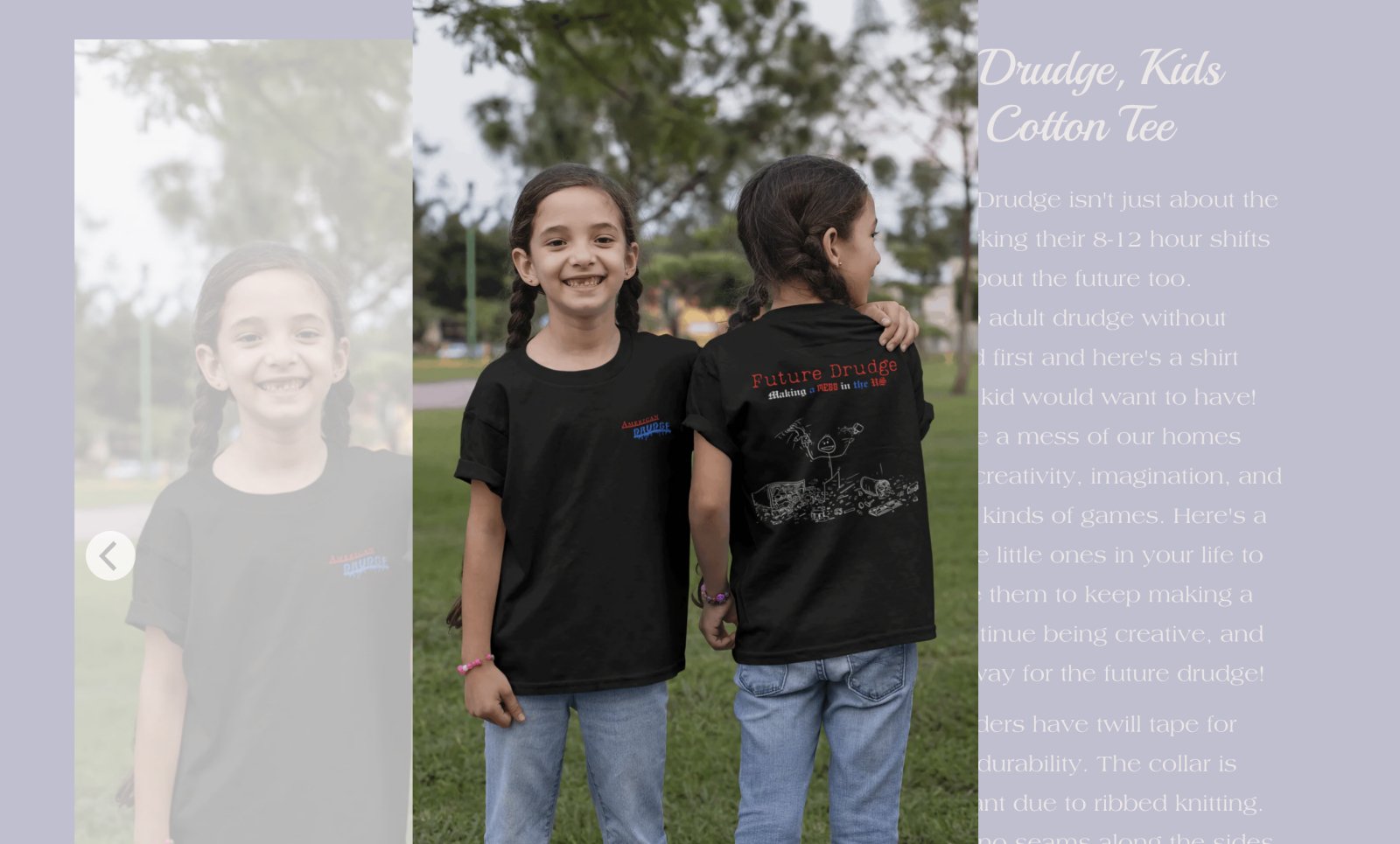 The app focuses on delivering the best experience for you and your customer by allowing you to control the zoomed image to optimize bandwidth. Plus, the app is suitable for all devices and supports mouse clicks as well as touch gestures.
Pros
Selection of different cursors
Compatible with both computers and mobiles
Allows controlling the zoomed image size
User-friendly application
Cons
Only one type of image zoom
The app is easy to install and the results are both simple and effective, making it a suitable choice for beginning merchants. To try it out, you can use a 30-day free trial. Meanwhile, there's only one subscription plan, costing $2.99/month.
2. Cool Image Magnifier
Specifications
Features
Magnifying glass effect on pictures
Cool Image Magnifier offers a "magnifying glass" type of zoom, letting your visitors move their cursor around and zoom to specific parts of each image. This is an excellent option for product images, especially when the items have plenty of small details worth looking into.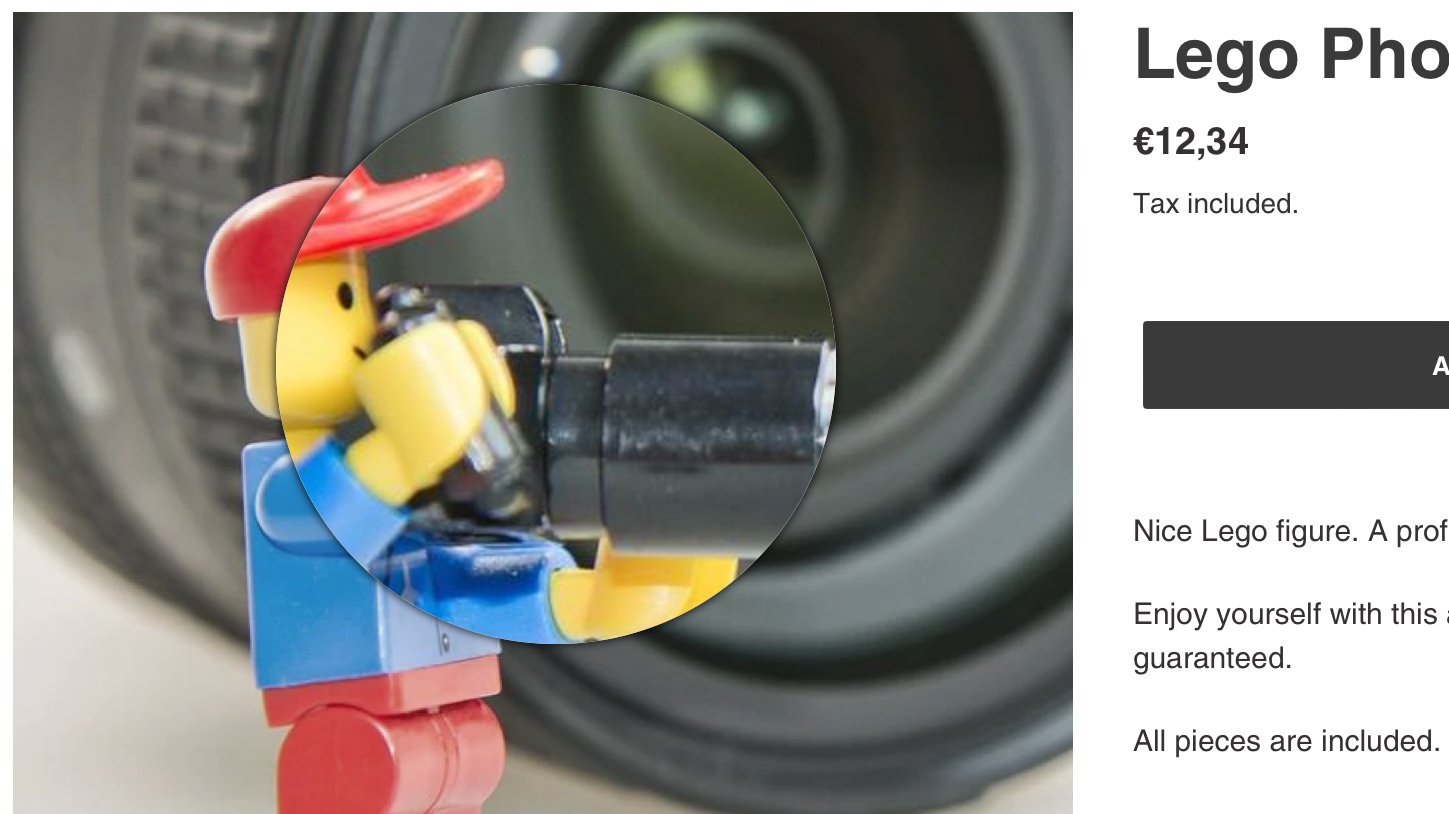 The app also comes with a full-size lightbox display option, bringing additional focus to your media. And you don't have to neglect your wish to retain the matching store design, as you can customize the zoomed image background and even the loupe itself.
Pros
Customizable zoom loupe
Offers a lightbox display option
Retains high-quality zoomed images
Beginner-friendly setup process
Cons
Image zoom only with the loupe
With a single plan for $2.99, Cool Image Magnifier offers simple functionality, done well. This is an excellent option if you're looking for a magnifying-glass type of zoom as well as a reliable option for beginners. Give it a try using a 30-day free trial!
3. VariaSlide ‑ image gallery
Specifications
Features
Zoom on hover and in lightbox pop-up
VariaSlided image gallery app offers more than just zoom functionality: it's also a smart gallery app, helping to better group your images. VariaSlided uses a smart tracking zoom, meaning the image will zoom automatically as the visitor hovers over it. With a single click, the picture opens in full-size lightbox mode.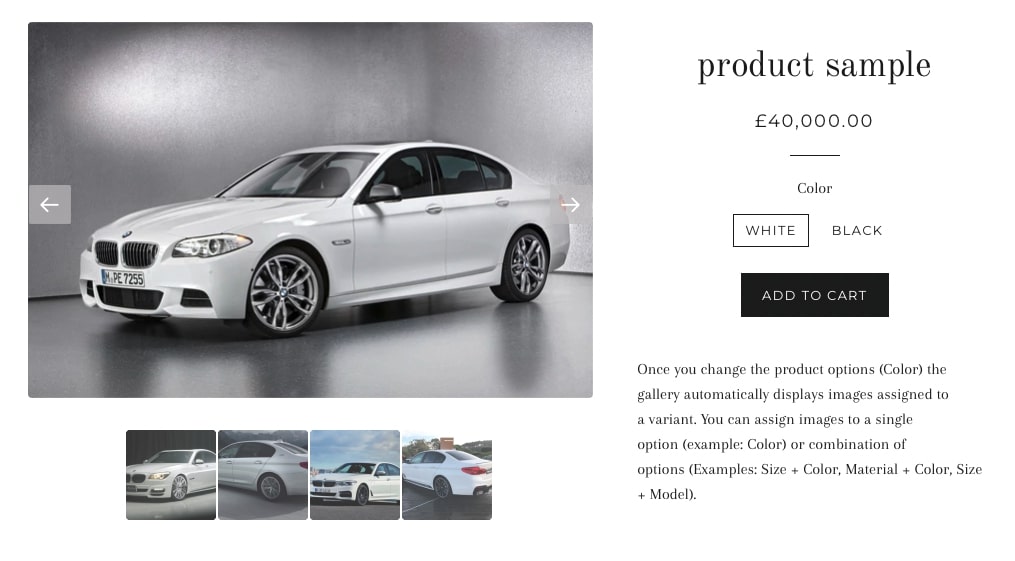 With its smart gallery, you can assign multiple images per variant and choose to present them in a carousel, slider, or gallery with thumbnails. Moreover, you can add both pictures and videos to the same section, allowing your customer to analyze the product better.
Pros
Image zoom on hover and in lightbox pop-up
Allows assigning several pictures per variant
Three types of product gallery presentation
Supports both images and videos
Cons
Offering smart design options and a powerful zoom, VariaSlided costs $9.99/month. Even though this app is pricier than its previous competitors, it offers a more versatile functionality, making it a great choice for both beginning and larger businesses. Plus, you can test it using a 31-day free trial.
4. Variant Image Wizard
Specifications
Features
Variants customization and two zoom types
The Variant Image Wizard app allows you to choose between two types of image zoom. You can either enable a lightbox or magnification, depending on your desires.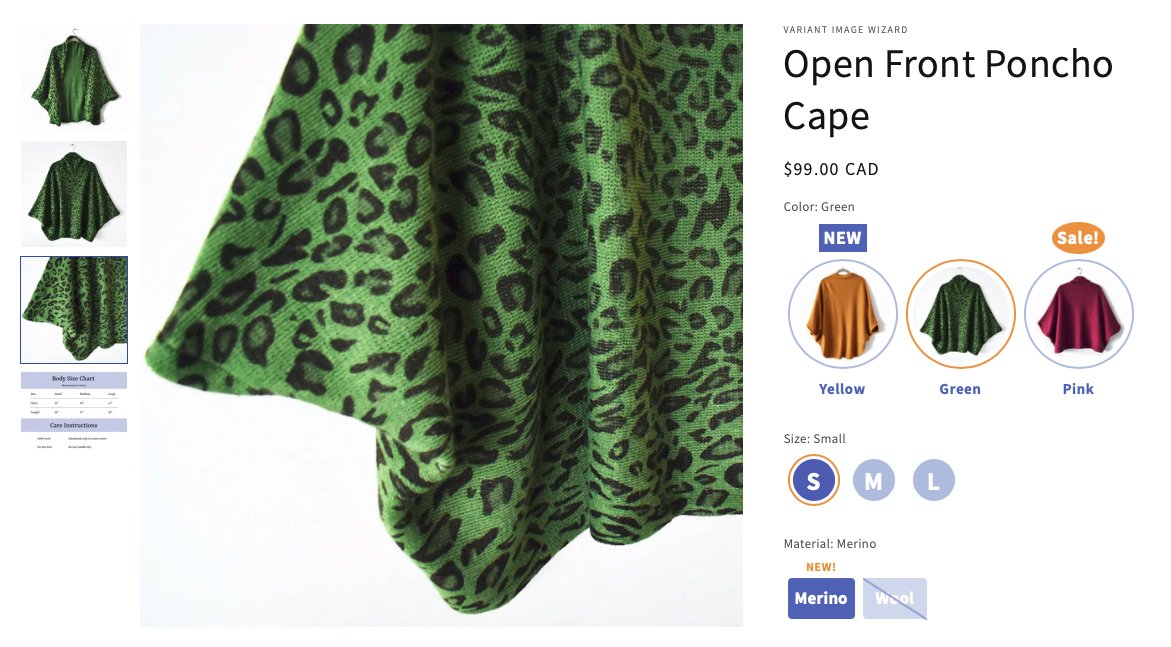 It's also an app that helps you organize your product image variants. You can show your product gallery using an image slider, carousel thumbnails, arrows, and more. Additionally, the app allows you to customize your image swatches, adjusting their shapes and adding alerts or crossing out sold-outs.
Pros
Two types of image zoom
Image slider, carousel, arrows, and other gallery types
Image swatch customization
Free version
Cons
Free version works with only free Shopify themes
Variant Image Wizard is a highly customizable app for organizing your images and improving the customer's experience. The app offers a free plan – which includes all image zooming functionality and different gallery types. For additional features, like variant images and videos, you'd need to go premium. The prices vary from $4.99 to $7.99/month.
5. Magic Zoom Plus
Specifications
Features
Variant images, several zoom options
Magic Zoom Plus is a powerful Shopify image zoom app – with super customizable functionality, it's an excellent do-it-all option. Zoom with a magnifying glass, swipe gestures, lightbox fullscreen mode, and more.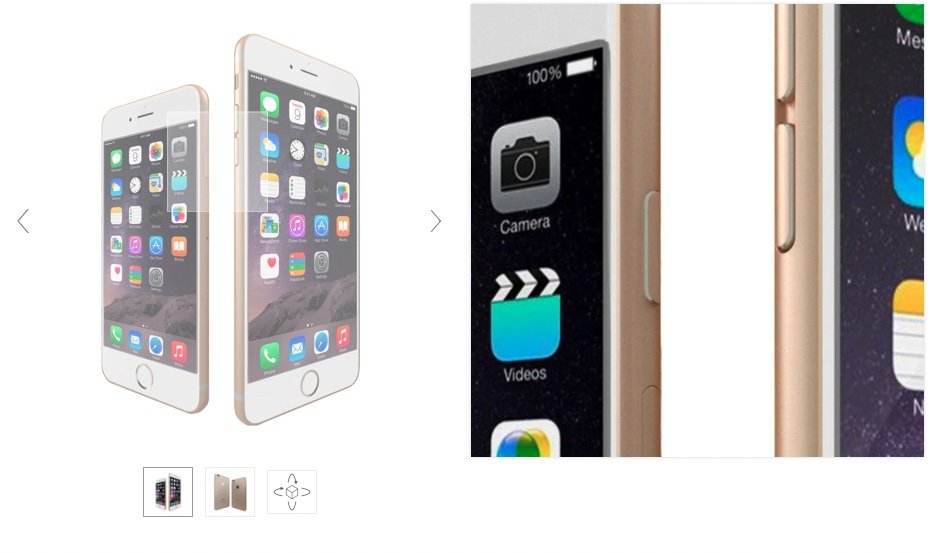 Apart from the image zoom, Magic Zoom Plus allows you to assign multiple variants per product and add videos that will play a part in the whole gallery. Other than that, you can customize the way your gallery is presented and how the customer swipes between images.
Pros
Multiple image zoom modes
Supports product variants
Different gallery types
360 spin product preview
Cons
Unclear free trial conditions
Due to its versatility, Magic Zoom Plus is a suitable option for all-size Shopify stores. The service can be purchased via a one-time fee of $69, which is a great price-to-quality ratio. There's also a free trial, yet the conditions of it aren't clearly stated.
6. GO Product Page Gallery + Zoom
Specifications
Features
Image zoom and product gallery customization
GO is an all-around Shopify app for adding zoom functionality to your product images and optimizing product galleries effortlessly. The app offers you two types of image zoom – lightbox and zoom magnify. Plus, the app supports different gestures, including pinch, touch, and swiping.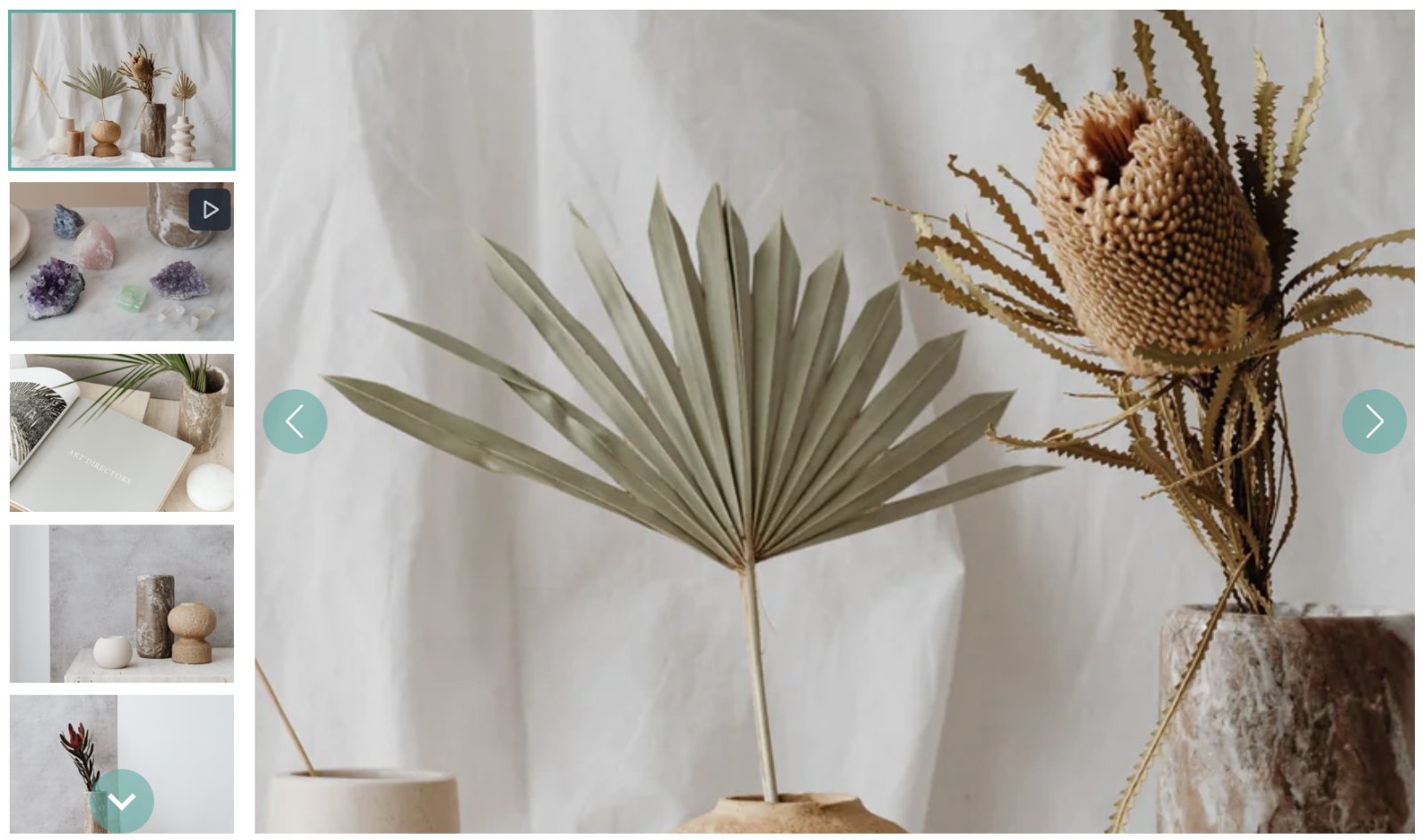 Other than the image zoom, the GO app helps you customize your product image galleries. You can choose among multiple gallery layouts, such as a carousel, slider, and others. Aside from images, you can also add videos and 3D models.
Pros
Customizable image zoom functionality
Multiple product gallery layouts
Works with both mobile and desktop devices
Free for Shopify Trial or Partner plan users
Cons
No additional customizations for galleries
The Shopify image zoom app GO is a decent option for anyone who wants to improve their bond with customers through the product preview. The app offers a free version with all the premium features but only for the Shopify Trial or Partner plan owners. If you're not one of them, the price is $2.99/month and there's also a 14-day free trial.
7. Vario ‑ Variation Swatches
Specifications
Features
Hover on image zoom, product swatches
Vario is natively a Shopify app for swatch customization; however, we couldn't ignore how well its image zoom on hover works. With it, your customer will be able to see the details of a shirt fabric or another product.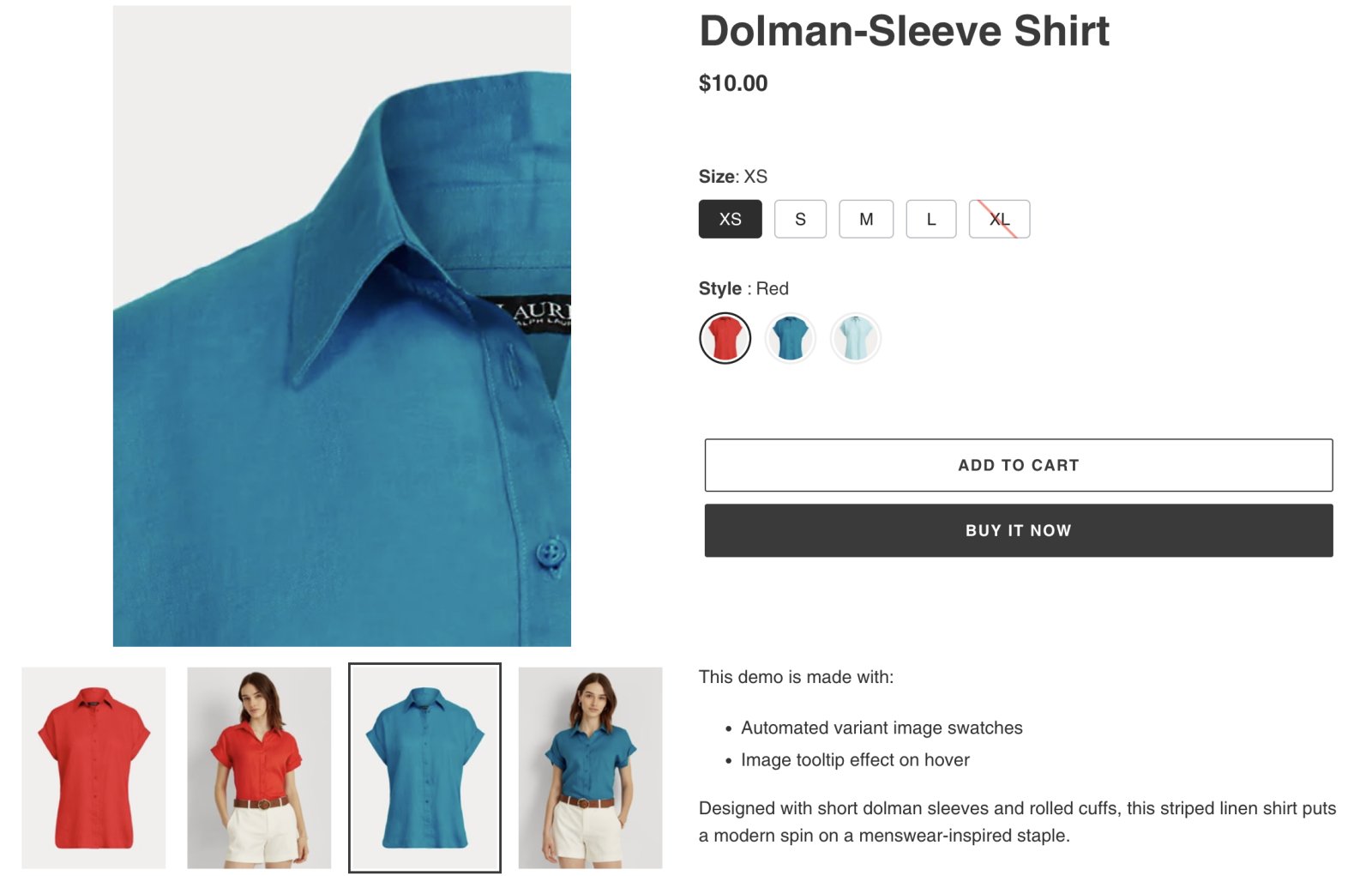 Aside from the image zoom, this app is all about enhancing your product variant swatches. You get the opportunity to adjust their borders, style, and more so that your store design remains untouched.
Pros
High-quality image zoom
Customizable product variant swatches
Works with over 80 Shopify themes
Cons
Free version is available as long as you're on a free Shopify
Image zoom isn't customizable
Vario is a simple but powerful app for adding image zoom to your Shopify store. Although the app offers a free version as long as you're in a developer's mode and it's pricier than the competitors on the list (from $9 to $19/month), we recommend it for small businesses.
Does Shopify have integrated image zoom?
Shopify does not have integrated image zoom options. However, the platform includes an image zoom guide on how you can add this functionality for free on your Shopify store.
With two different methods: jQuery and JavaScript, you can download free files and follow the included guide to set everything up yourself. However, the overall functionality of zoom will depend on your skill set and willingness to code pretty much from scratch.
If that seems like a bad time – it's better to stick with apps developed by the pros. But if you wish, you can use Shopify's integrated functionality and helpful guides to build image zoom yourself.
How to ensure zoomed-in image quality in Shopify?
To ensure good quality of the images, even when they're zoomed in, you need to make sure that the source material is good. This means that your Shopify product image size has to be right. The recommended product image size on Shopify is 2048x2048 pixels for square images, and the biggest size you can upload goes all the way to 4472x4472.
Making sure the images are crisp and large enough will help make sure that the detail is there, even when they're zoomed in.
Of course, larger images also mean larger file sizes. With plenty of images, this can also lead to a longer loading time. To avoid that, make sure your images are fully optimized – we have a guide for Shopify image optimization that should help with exactly that.
Final thoughts
Image zoom apps include a very important feature that's not available right out of the box on Shopify. There is a good selection of excellent applications that can help you not only include various types of zoom functionality – but also manage your product images better.
Our top image zoom app pick is Cool Full Page Zoom which offers simple but powerful image zoom functionality for a budget-friendly price. But you may also use the available Javascript or jQuery options to build something yourself. Whatever it is – good luck building and improving the visitor experience in your store!
Curious to read more? Check out these articles: