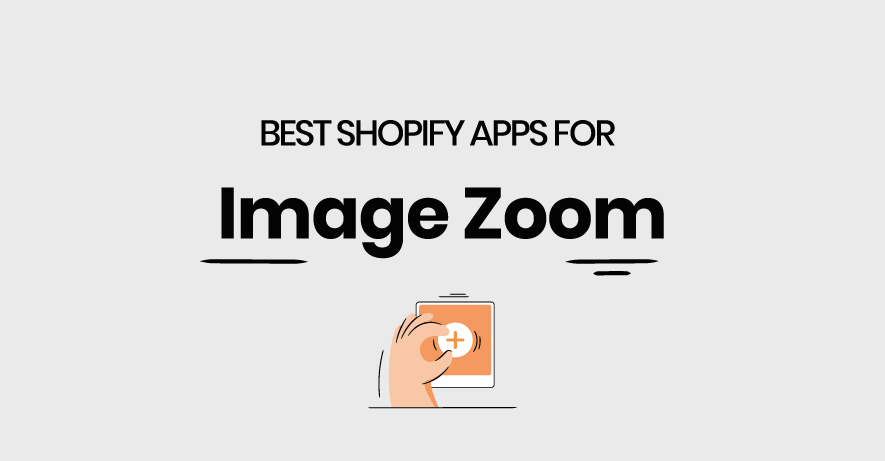 By purchasing through the links on this page, you are giving us the opportunity to earn a commission. Your support is greatly appreciated!

Image zoom is a very important functionality for Shopify stores. Giving your visitors an opportunity to see the product up close, and examine the details offers a better website experience – which can also lead to increased sales.

However, Shopify doesn't offer built-in image zoom functionality. Instead, you need to use existing tools to build it yourself. This is where simple-to-use and functional image zoom apps come in, helping you display images in their full glory.

In this post, we put together the top 5 best Shopify image zoom apps out there. Simple to set up and use, they will give your visitors a better overall shopping experience. The list includes apps with different types of zoom, as well as some additional features to help give your site images some additional powers.

Make sure your images are compressed and optimized for the best SEO performance

Install TinyIMG now!
Top 5 Shopify image zoom apps: overview
These right here are the best Shopify image zoom apps:
Now, let's have a look at all these image zoom apps in detail.
1. Full Page Zoom

Full Page Zoom is a simple Shopify app, doing exactly what it says in the name – letting anyone easily zoom an image to a full-page size. It's a simple, intuitive app that will bring out a plus-shaped cursor icon on an image that can be zoomed. One click expands it to full size, another click will bring it back down.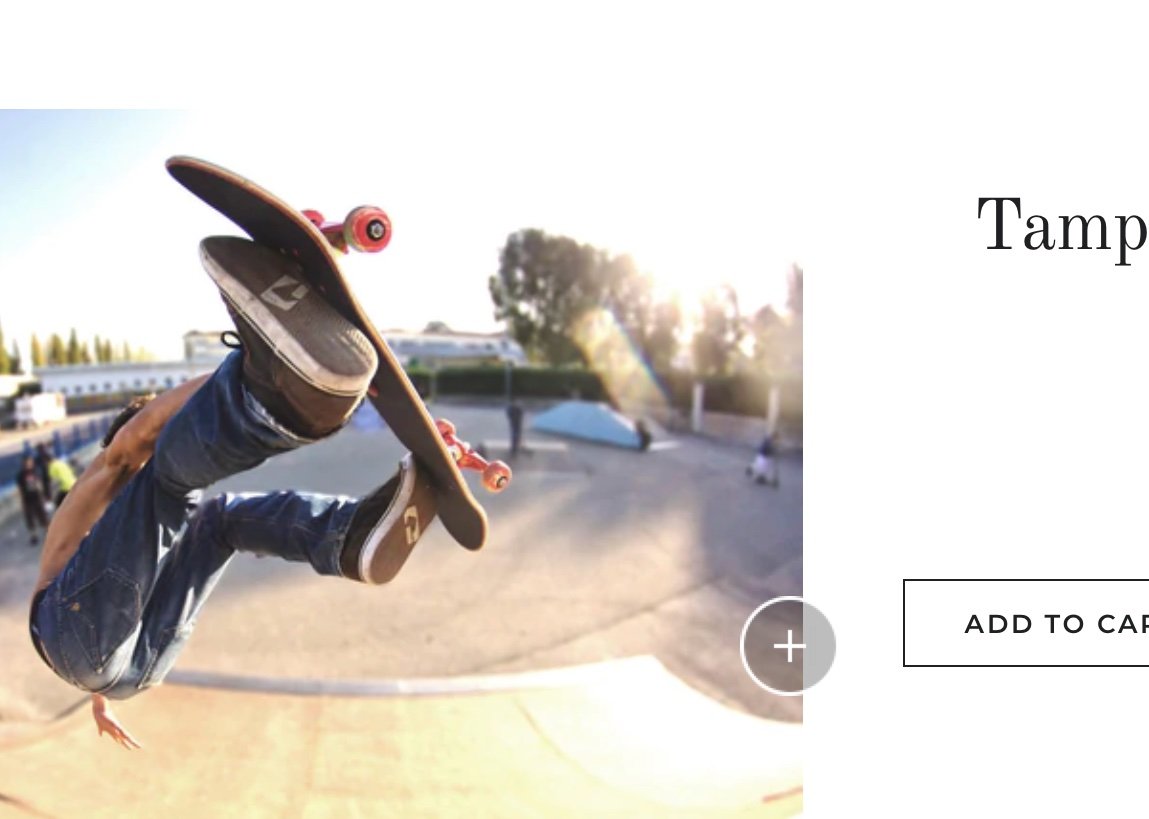 The app is easy to install and implement, and the results are both simple and effective. If you're looking for a simple way to include full-size images on your site, Full Page Zoom is an excellent option. For $2.99/month, it's well worth the seriously small price.
Users in the reviews praise the app's functionality and customer support – which helps you get the best results on your site. Absolutely nothing to complain about here.
2. Cool Image Magnifier

Magnifying glass effect on pictures
Cool Image Magnifier offers a "magnifying glass" type of zoom, letting your visitors move their cursor around and zoom to specific parts of each image. This is an excellent option for product images, especially when the items have plenty of small details worth looking into.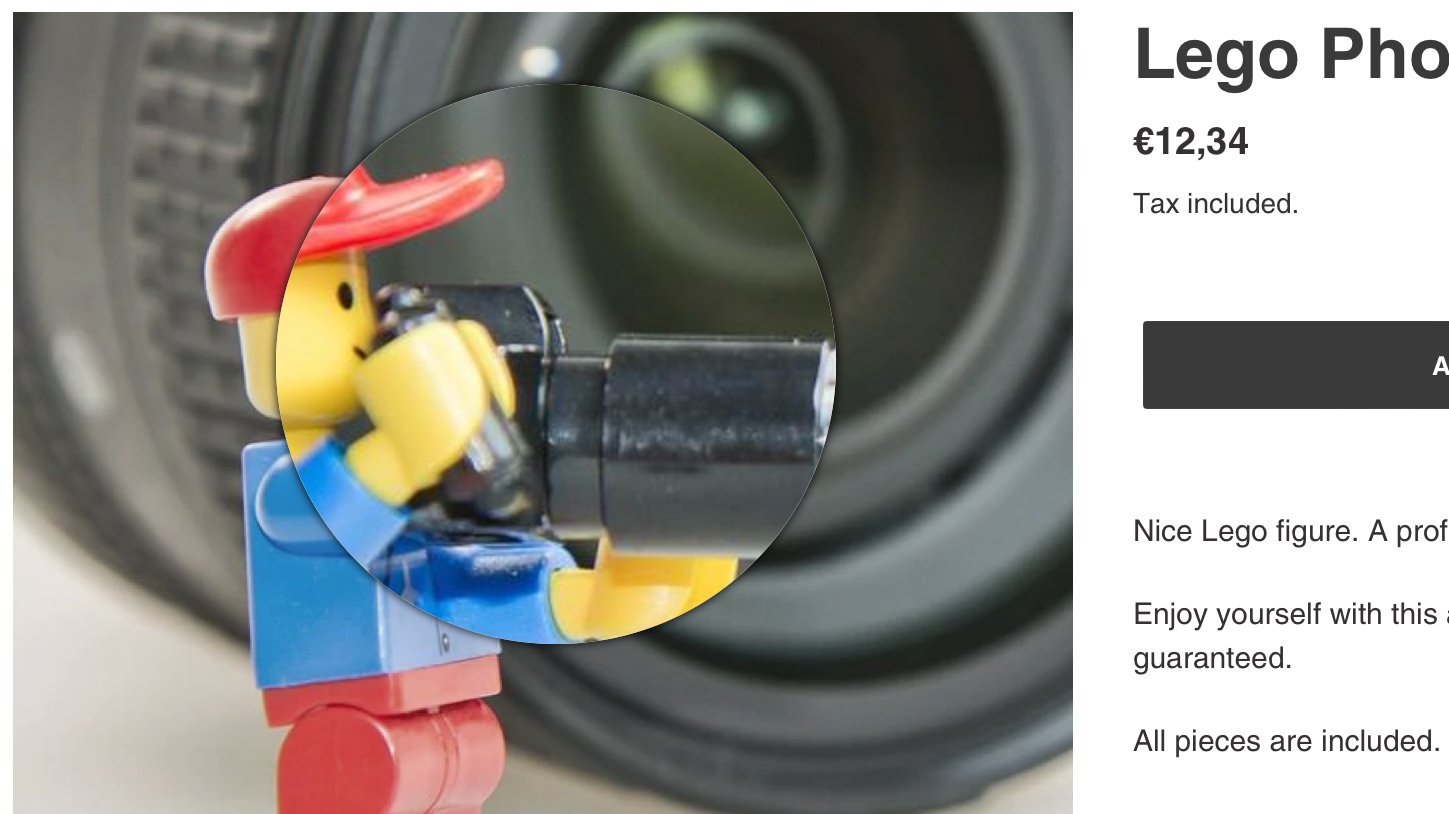 The app also comes with a full-size lightbox display option, bringing additional focus to your media. Everything about Cool Image Magnifier is simple to use: the one-click installation is seamless, and the app is automatically integrated to your existing image galleries.
With a single plan for $2.99, Cool Image Magnifier offers simple functionality, done well. This is an excellent option if you're looking for a magnifying-glass type of zoom. Other users agree, too – the reviews are full of people praising the app's functionality on desktop and mobile devices for many types of products.
3. Variant Images Gallery & Zoom

Image grouping for variants
Variant image gallery app offers more than just zoom functionality: it's also a smart gallery app, helping to better group your images. Instead of dumping everything in, you can display only the images of the selected variant, making your website look more professional and clean.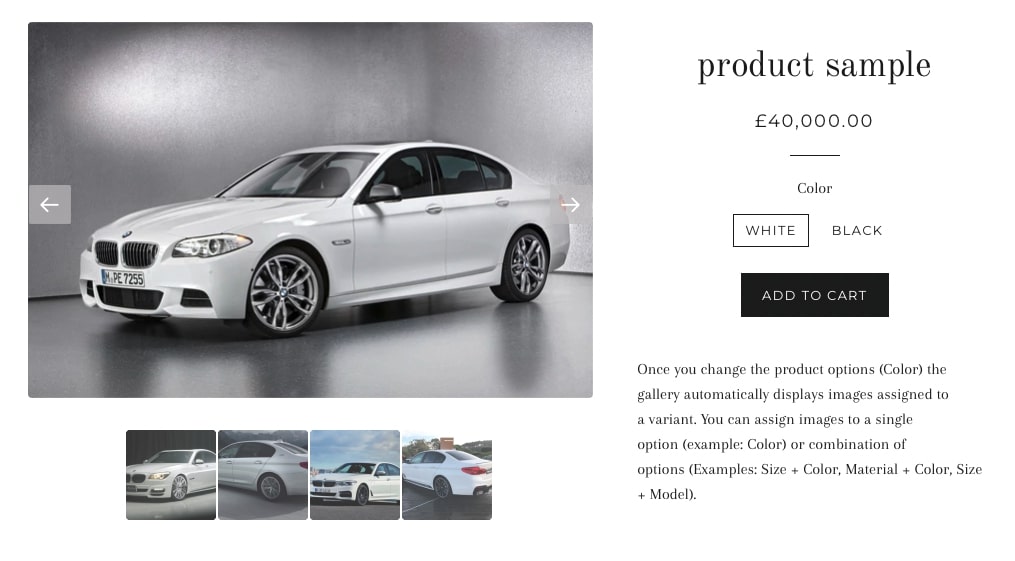 Zoom functionality isn't forgotten too, of course. Variant Images Gallery uses a smart tracking zoom, meaning the image will zoom automatically as the visitor hovers over it. With a single click, the picture opens in full-size lightbox mode.
Offering smart design options and a powerful zoom, Variant Images Gallery costs $9.99/month. Seeing the users in the reviews praise the app's functionality and simplicity – it seems to be worth it.
4. Variant Image Wizard

Variant images and videos, multiple zoom options
Variant Image Wizard app is not only helpful with image zoom. It's also an app that helps you organize your item variants and make them look great on your website. You can show your product gallery using an image slider, carousel thumbnails, arrows, and more.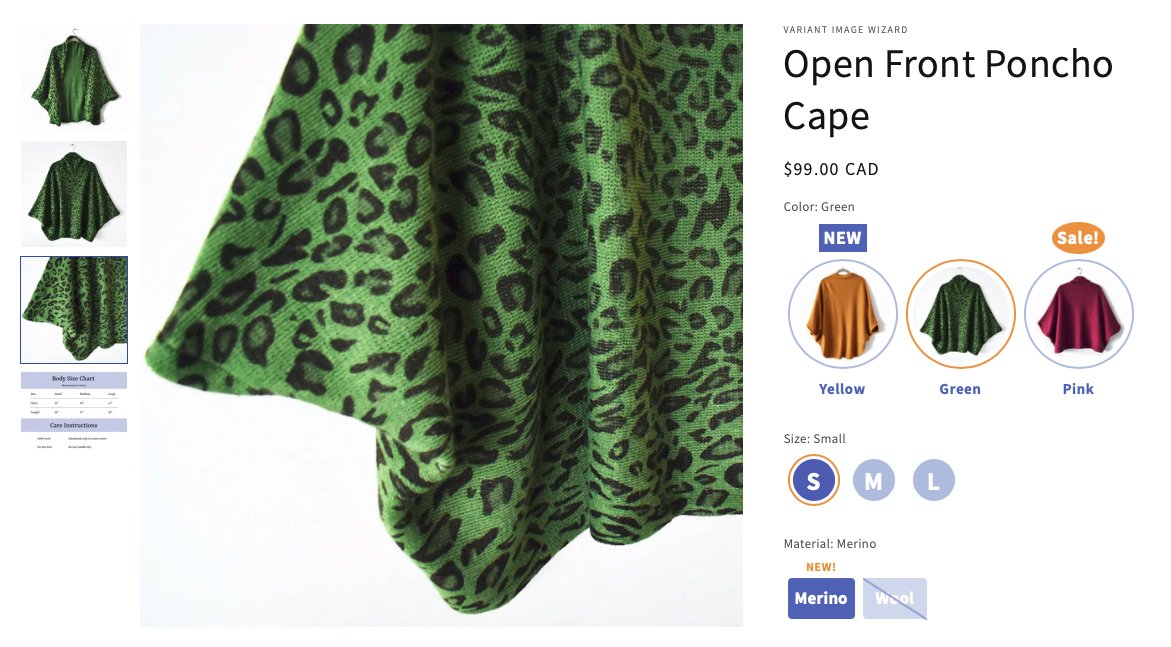 Each item variant on your site can be assigned to specific images, customizable buttons and other elements can also change depending on the color scheme. Magnify zoom and lightbox zoom options are available on all the uploaded images.
Another exciting thing about Variant Image Wizard is that it offers a free plan – which includes all image zooming functionality. For additional features, like variant images and videos, you'll need to pay – up to $7.99 a month. Seeing the user reviews praising the functionality this app brings to their stores, the price seems absolutely worth it.
5. Magic Zoom Plus

Full customization features
Magic Zoom Plus is a powerful Shopify image zoom app – with super customizable functionality, it's an excellent do-it-all option. Zoom with magnifying glass, swipe gestures, lightbox fullscreen mode and more, there are up to 80 settings you can customize to get the best possible result.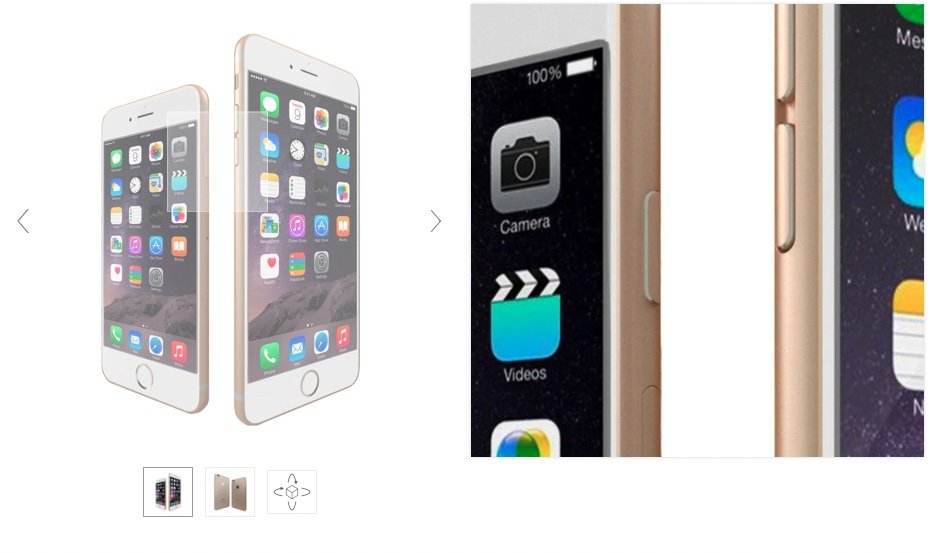 With additional functionality to add video to your galleries, 360-degree product spins, and more, Magic Zoom Plus has just about everything. It's up to you to get the best out of this app.
Magic Zoom Plus can be purchased via a one-time fee. At $69, it's a solid long-term investment, not tying you to recurring monthly payments. With reviews praising how functional and powerful the app is, buyers look happy with this investment.
How to choose a Shopify image zoom app?
Shopify image zoom apps are all slightly different, in their features and the way the zoom functions. Here are some of the main things you should look into when choosing your preferred app:
Type of zoom you want. Full-size "lightbox" zoom showcases entire images, while "magnifier" zoom lets visitors enhance specific parts of the image. Choose the app that offers the exact type of zoom you want.
Only zoom, or something more? Several Shopify image zoom apps also include other additional features, like image variant management, or website design customization.
Pay for the things you need. An app with loads of exciting features always sounds great: but signing up for several expensive services with options you won't even use can be a waste of money. Make sure to pay for what you need!
Does Shopify have integrated image zoom?
Shopify does not have integrated image zoom options. However, the platform includes an image zoom guide on how you can add this functionality for free on your Shopify store.
With two different methods: jQuery and JavaScript, you can download free files and follow the included guide to set everything up yourself. However, the overall functionality of the zoom will depend on your skill set and willingness to code pretty much from scratch.
If that seems like a bad time – it's better to stick with apps developed by the pros. But if you wish, you can use Shopify's integrated functionality and helpful guides to build image zoom yourself.
How to ensure zoomed-in image quality in Shopify?
To ensure good quality of the images, even when they're zoomed in, you need to make sure that the source material is good. This means that your Shopify product image size has to be right. Recommended product image size on Shopify is 2048x2048 pixels for square images, and the biggest size you can upload goes all the way to 4472x4472.
Making sure the images are crisp and large enough will help make sure that the detail is there, even when they're zoomed in.
Of course, larger images also mean larger file sizes. With plenty of images, this can also lead to a longer loading time. To avoid that, make sure your images are fully optimized – we have a guide for Shopify image optimization that should help with exactly that.
Final thoughts
Image zoom apps include a very important feature that's not available right out of the box on Shopify. There is a good selection of excellent applications that can help you not only include various types of zoom functionality – but also manage your product images better.
Find out the features that you want, find the app that best suits your needs, and add this excellent functionality to your Shopify store. Or instead, use the available Javascript or jQuery options to build something yourself. Whatever it is – good luck building and improving visitor experience in your store!
Curious to read more? Check out these articles: