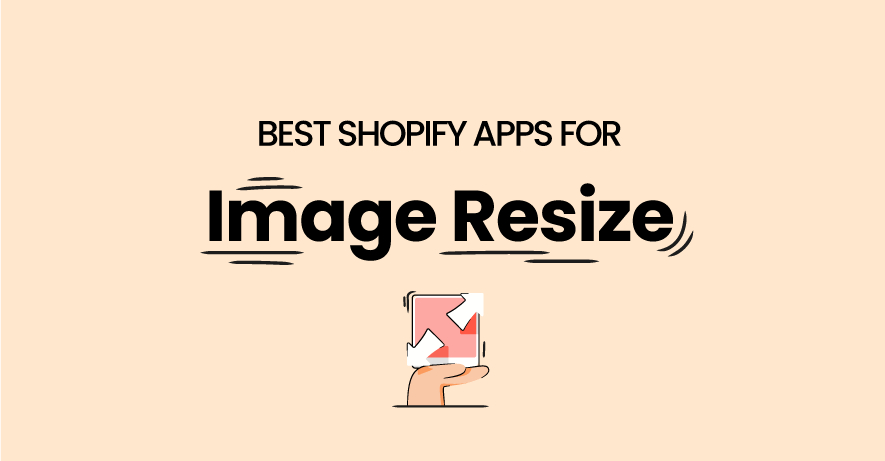 Image size and quality have a massive impact on your Shopify store's performance. Optimized images improve the loading speed of your site and help it rank better on the search engines. Moreover, photo resize helps your business look more professional.
From first sight, optimizing images for Shopify products may seem like real science, but we have gathered all the information you need into a convenient Shopify image size guide. Once you're familiar with that, all you need is an image resizer app that automates all the hard work.
With so many photo resizing apps to choose from, searching for the best one may be overwhelming. To help you out, we reviewed the six best image resizer apps for Shopify and shortlisted our favorites.
Best Shopify image resizing apps: shortlist
Best Shopify image resizers - detailed overview
For your convenience, we reviewed six image resizing apps and listed their pros and cons, so you can decide which app is the best for your case:
1. TinyIMG SEO & Image Optimizer

Automatic image compression and optimization
Image optimization, SEO, resizing in bulk
If you're looking for the best resize app that provides all-around care of your images, TinyIMG is the one to go for. This SEO-focused app has all the features you may need to ensure a fast page load and the best customer experience.
TinyIMG features:
Automatically compresses all images as soon as you upload them
SEO metadata and alt text optimization
Broken link detection and redirection
The Free plan lets you optimize up to 50 images per month and backs up your original photos for 30 days. Monthly subscriptions come with a larger image optimization number and some additional features like page audits and metadata editing.
Pros:
Automatic image optimization with all subscription plans
The perfect app for SEO optimization
SEO and page speed audit feature
Inexpensive paid plans
Cons:
Only 50 images are free to optimize in the Free plan
2. Avada

Automatic alt tag optimization, redirects, SEO analysis
Increasing page loading speed
Avada allows compressing images without losing their quality and provides an all-around Shopify image SEO optimization. With the app, you can optimize alt tags, JSON-LD, and meta tags of your pictures. This means better page loading time and faster Google indexing for your Shopify store.
Avada features:
Compresses images without changing their quality
Provides HTML sitemap for easy page navigation
Can be integrated with Google Search Console for page analytics
The app has two subscription options. The free plan offers Shopify image optimization for up to 50 products a month. With this plan, you also get a free SEO checklist, HTML sitemap, and automatic scan to find and redirect 404 pages. The pro plan costs $29 a month and includes SEO analysis, site verification, automatic SEO fixes, and more.
Pros:
Great features for SEO optimization
Automatic store optimization
Detailed SEO analysis
Cons:
The free plan is pretty limited
3. Photo Resize

Automatic image optimization
The Photo Resize app uses Shopify's design guidelines to make your pictures look good. It allows changing them into a square, landscape, or portrait and adds a background color for a smooth look.
The app runs in the background, so you can use other apps while Photo Resize does its job
Allows to restore pictures if you change your mind
Updates all the images automatically
The app allows resizing the first 50 images for free. Later monthly fee varies from $4 to $79 depending on your needs.
Pros:
Detects updated or newly uploaded images and optimizes them
Quick automatic resizing
Easy and quick installation
Cons:
If you're on a pay as you go plan, the original pictures will only be stored for seven days
4. Bulk Image Edit - Image SEO

Watermarks, customizable alt text templates
For those looking for a more advanced Shopify image resizer, this app is certainly worth checking out. The app allows auto photo resize in bulk and even adds watermarks to your images.
Offers customizable templates for updating image alt text and file name
Allows reverting changes if you change your mind
Resizes images without losing quality
The app features four subscription plans. The Starter plan is free and allows carrying out 50 image edits per month. The Basic plan costs $9.99 and offers a watermark feature and 1000 image edits every month. Professional and Advanced plans charge $19.99 and $49.99 and offer even more image edits, and other features.
Pros:
Paid plans have a watermark function
Allows updating alt text in bulk
All plans have picture backup
Cons:
The free plan is somewhat limited and doesn't offer many exceptional features
5. Crush.pics

Image compression, SEO optimization
Improving page loading speed
Crush.pics compresses images to improve your page's loading speed, and it does it by offering three different compression options. And it does it all by automatically running in the background.
Automated image compression
Image optimization for SEO
Optimizes not just product pictures but also the asset images
Crush.pics offers a free plan that allows optimizing 25MB of images. Paid plans have significantly more features, such as SEO and alt tag renaming, automatic and manual image compression, and product and asset image optimization. Monthly plans cost from $4.99 to $19.99 a month.
Pros:
All the plans include a 30-day backup
Does all the work while running in the background
Offers both automatic and manual image compression
Cons:
Some users complain about compromised image quality
6. Image optimizer

Automatic image compression, alt tag templates, PNG to JPG conversion
Basic image compression and SEO optimization
Image Optimizer by Loyalty Harbour has all the basic image optimization features that a beginner may need. The app offers automatic compression, alt tag templates, image conversion from PNG to JPG, and image backup in case you want to restore your pictures.
The app's features include:
Image compression
Automatic alt text and filename optimization
30-day backup for original images
Image Optimizer features four subscription plans. The free option includes image optimization for up to 50 images a month, auto or manual compression, alt text and filename optimization, PNG to JPG conversion, and a 30-day backup. Paid plans offer all the same features, except for more images per month. The basic plan works on 1,000 images and costs $4.99. They also offer advanced and premium subscription options for those who work with more images.
Pros:
Great for beginners
Offers all the basic image optimization features
Has an original image backup
Cons:
No advanced SEO optimization features, such as analytics
Why should you resize images for Shopify?
Resizing images for Shopify plays an important role in the user experience and even search engine rankings. Here are the main reasons why you should resize the images:
Properly sized images improve your page speed. The larger the images, the longer it takes for a page to load. So resizing images to a suggested size (such as 2048 x 2048 px for a square image) can mean that your page will load faster.
Resizing images helps your page to rank better on search engines. Shopify photo resizing apps allow adding alt tags and naming pictures quickly, improving your Shopify store SEO.
The right size draws attention to the most important parts of the image. In other words, it shows exactly what you want to show. If the image is too wide or too narrow, it may not look as you intended when uploaded without resizing.
If your images are all the same size, your page will look more professional.
How to resize images for Shopify without losing quality?
Nobody wants to compromise their image quality when changing the size of an image. However, it happens very often. Here are a few tips on how to resize your images and not lose their quality:
Refer to Shopify's suggested image sizes
Crop instead of shrinking your images
Research Shopify image resizer apps
Find which resizer app is best for keeping the image quality
Always check the image quality after resizing before posting it on your page
If you choose the right resizing photos app, you don't have to worry about losing the quality.
Other Shopify apps you might be interested in:
Frequently asked questions
Can you resize images in Shopify?
To resize images for Shopify, you need an image resizer app that automatically optimizes your image ratio and helps with your SEO. TinyIMG is one of the best resizing apps for all-round image SEO.
What size should my images be for Shopify?
Shopify experts recommend sizing your pictures at 2048 x 2048 pixels for square product images. For more suggestions, check out the Shopify image size guide.
Does Shopify auto resize images?
Yes, Shopify has size parameters for your images, and will resize the images that don't meet their requirements.
How do I bulk edit images in Shopify?
To bulk edit images in Shopify, download an image editing app that automatically resizes all your images. For the best customer experience on Shopify, all images should be the same size, so editing them in bulk is a good way to go.
How to reduce the MB size of a photo?
Download one of Shopify resize apps and bulk edit images to the MB size you need. Most image resize apps have a free plan, so you can try different apps to find the one that suits you best.