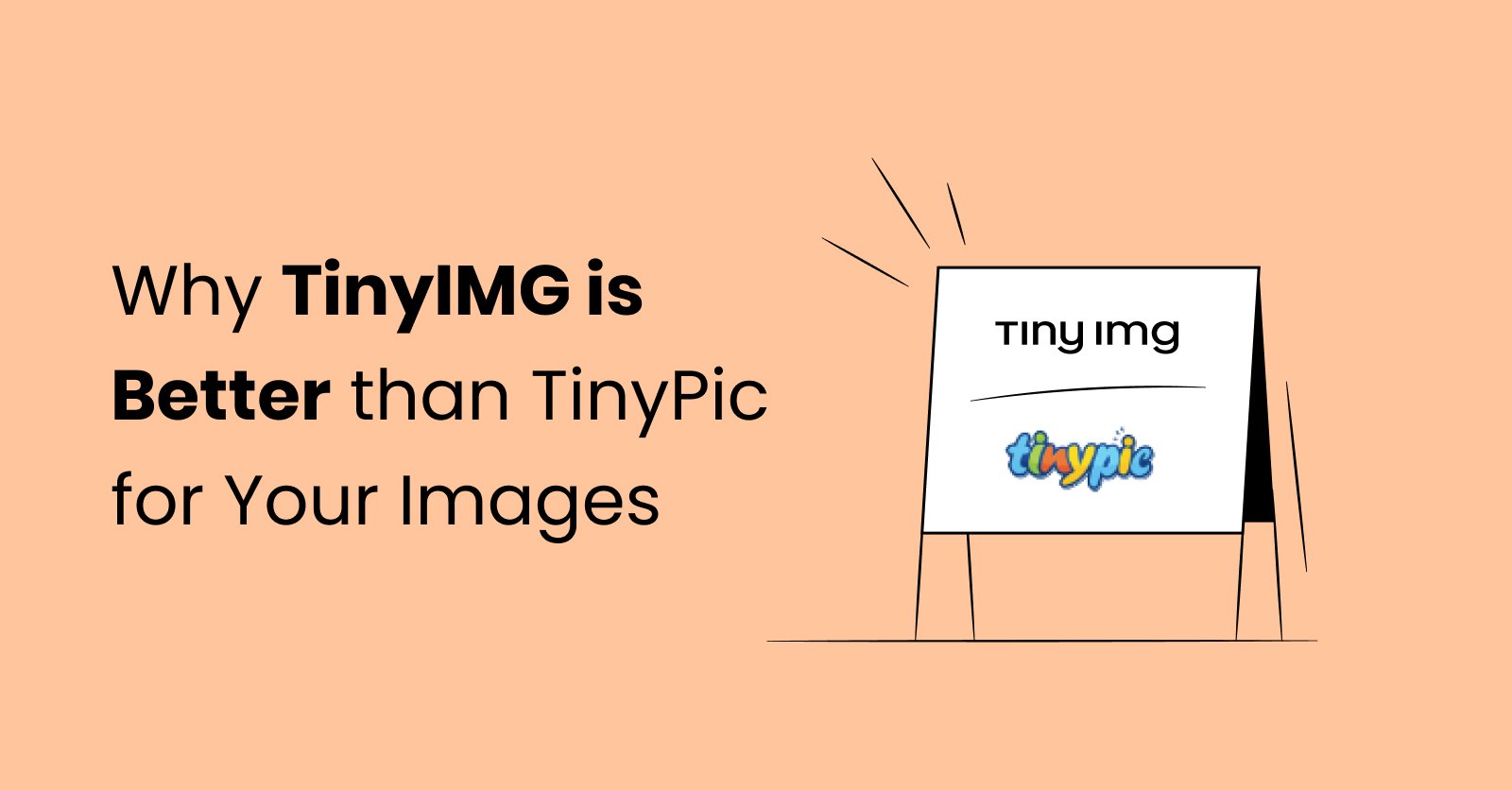 Looking for a way to compress your Shopify store images to make them smaller in size and free up space on your website? Doing this will help your webpages load more quickly and improve the user experience for your customers. Website speed is particularly important for conversions - even a one-second delay can result in a 7% decrease in conversions.
There are a few platforms around that allow you to reduce the size of your images. TinyPic, for example, is a free service that lets you host and share images and videos easily. One of TinyPic's features is that it resizes images and videos above a certain size and generates a shortened URL that can be copied and pasted wherever you need to display your media content.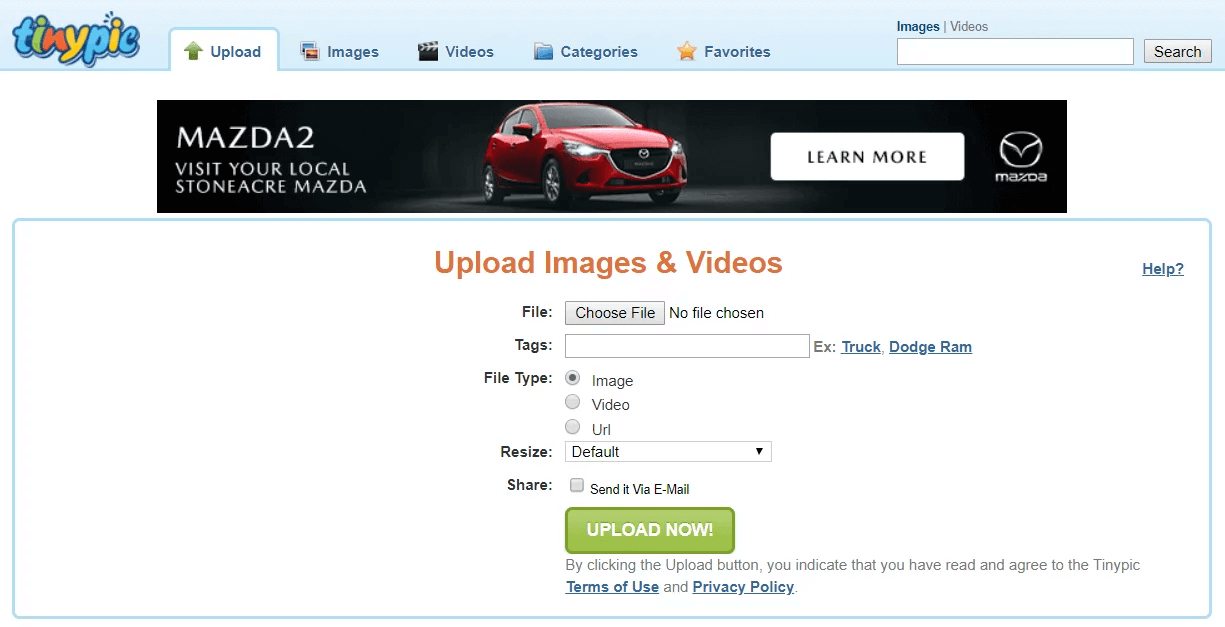 *Screenshot from tinypic.com
You don't need to register to use TinyPic, which makes the service attractive for those needing to share images quickly. All images uploaded are available publicly, so that anyone can see them, and are kept on TinyPic for 90 days if no account is associated with them.
Though TinyPic is a useful service, there are several reasons why it's not the right platform to use if you need to optimize your Shopify store's images.
Why you should look for an alternative to TinyPic
Firstly, you'll likely have many, perhaps even hundreds of images that you need to compress. It would be extremely time-consuming to attempt to use TinyPic to upload and compress each image manually - an automated image compression app would be more suitable.
Secondly, as mentioned earlier, TinyPic deletes images that aren't associated with an account within 90 days. Anyone trying to view your images after they've been deleted will be greeted by a "Picture not found" message. Not ideal when you're trying to show your products off and make sales!
Thirdly, and importantly, TinyPic is closing its service sometime in 2019, as it can no longer rely on advertising revenues to keep it afloat.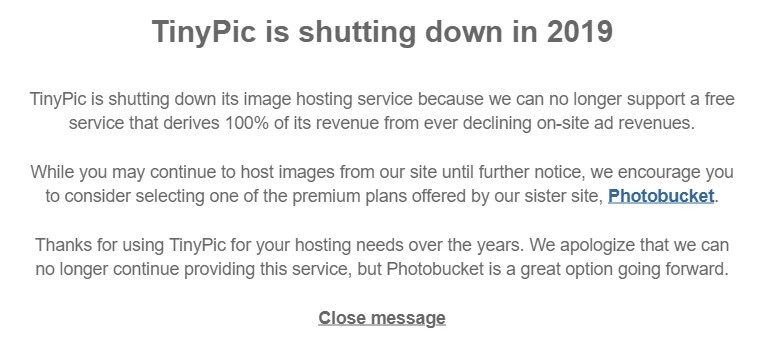 *Screenshot from tinypic.com
TinyPic is owned by Photobucket, another image hosting and sharing service that offers a range of premium plans. Photobucket does have image editing tools so you can resize your images, but this involves a manual process and working on each image one by one. As you can see from the screenshot above, TinyPic recommends that you check out Photobucket, but we think TinyIMG is a much better option for you as a Shopify merchant. Keep reading to find out why!
TinyIMG - intelligent image optimization for Shopify stores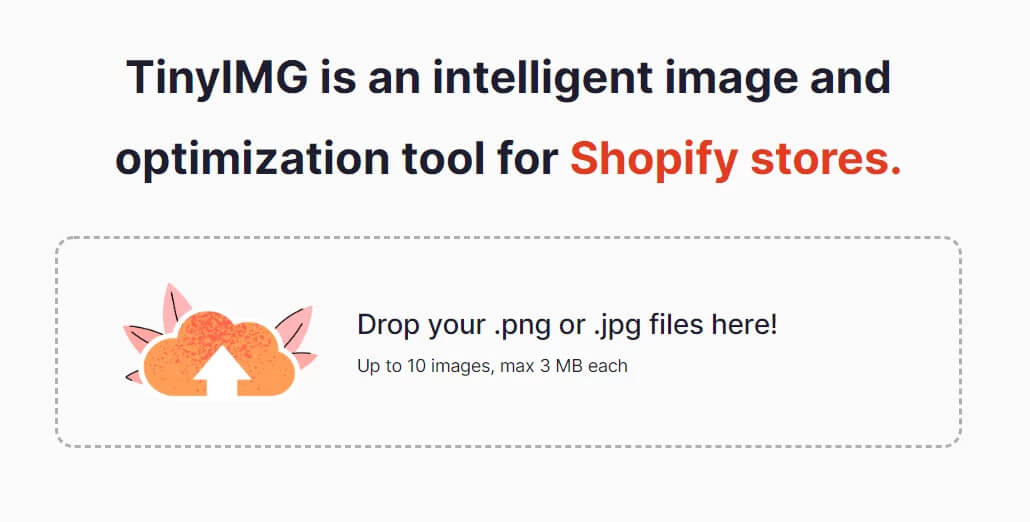 The TinyIMG app has been designed especially with e-commerce in mind. It works with Shopify currently, but the team behind the app are working hard to develop an API so that it will be compatible with other e-commerce platforms such as BigCommerce, WooCommerce, and Magento.
The beauty of TinyIMG is that it's able to compress and optimize your Shopify product and collection images automatically. Once installed, with just a few clicks of your mouse, TinyIMG will search for these images within your Shopify store, download them, optimize them, and then upload the optimized versions back to your store. How's that for a time-saving feature?
Advanced image compression
TinyIMG can reduce the size of your JPG and PNG images by up to three quarters, but better still, the app has a built-in WebP converter, meaning that you can convert your images to the WebP format after they've been optimized.
WebP, for reference, is a smart, smaller image format developed by Google. Shopify has recently announced its support for WebP, which means that the platform will display store images in WebP automatically across supported browsers.
Using WebP format on its own will give you a 30% reduction, on average, in terms of your image sizes. But by compressing your images with TinyIMG first, and then using the app to convert your images to WebP afterwards, you can benefit from a huge 85-90% reduction in the size of your images - with virtually no visual quality loss!
For other Shopify images, such as your banner, homepage or blog images, you can use TinyIMG to manually optimize them, and get the same results.
Automatic image SEO
TinyIMG doesn't just compress your images - it also automatically generates image alt tags and filenames too - these are image attributes that search engine bots look at when determining what your images are about. These bots use this information when displaying search results.
By optimizing your images in this way, TinyIMG helps to boost your SEO efforts and can improve your search engine rankings. Read more image optimization tips for Shopify stores here.
TinyIMG - a better alternative to TinyPic for Shopify stores
Image compression and optimization is a necessary task to carry out if you want your Shopify or Shopify Plus website to perform well. Look no further than TinyIMG to make this process efficient and painless!
By optimizing your images with TinyIMG, you can save time by compressing your product and collection images in bulk. Reducing the size of your images will help to improve the speed of your website and keep your online visitors engaged. With TinyIMG, you can benefit from superior image reduction which will have hardly any impact on the visual quality of your images.
Finally, TinyIMG works hard in the background to put in place an SEO structure for your images, helping search engines to find them and drive organic traffic to your store.
Did you know that TinyIMG is also a better alternative to TinyPNG for Shopify merchants? Read this blog post to find out why!