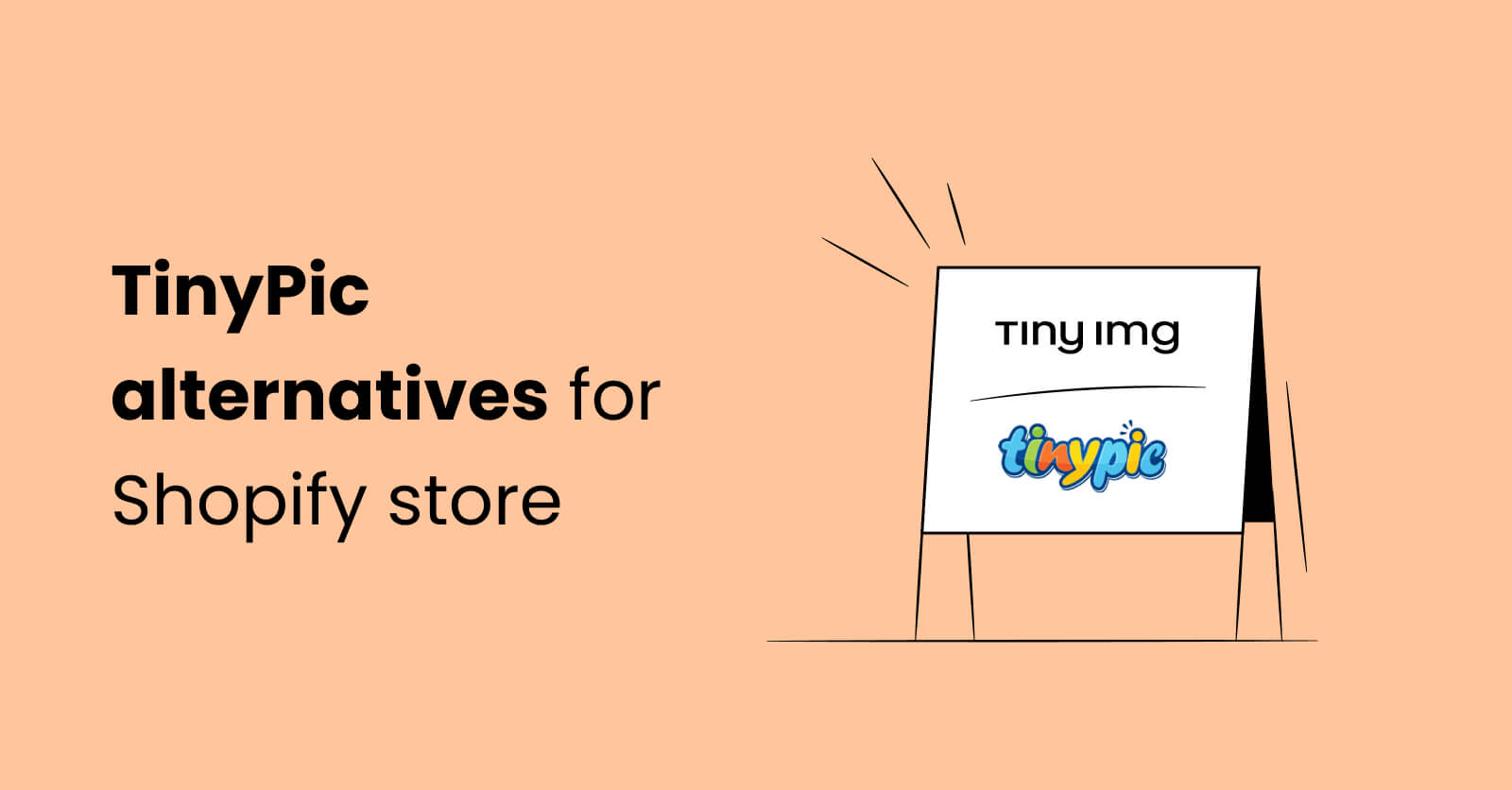 By purchasing through the links on this page, you are giving us the opportunity to earn a commission. Your support is greatly appreciated!

Image optimization is an important part of any Shopify store, helping them boost their SEO ranking. TinyIMG is the right TinyPic alternative, helping you optimise your Shopify images and boosting your search ranking without any hassle.

But image optimization is often overlooked by merchants. In their zeal to offer plenty of visuals to online shoppers, they miss out on how these files could impact their store performance. By optimising your Shopify images, you can shorten your load speed to 2 seconds, the ideal load speed to ensure visitors don't drop off your Shopify store.

As a TinyPic alternative, TinyIMG helps you maximize your impact through your Shopify images, from image optimization to SEO tagging.

Let's dive deeper into how TinyIMG is the right TinyPic alternative for Shopify image optimization.
Best alternatives to TinyPic in 2023
In this article, we have listed and reviewed 5 free alternatives to TinyPic to help you select the right image sharing platform that fits your needs better.
1. Imgur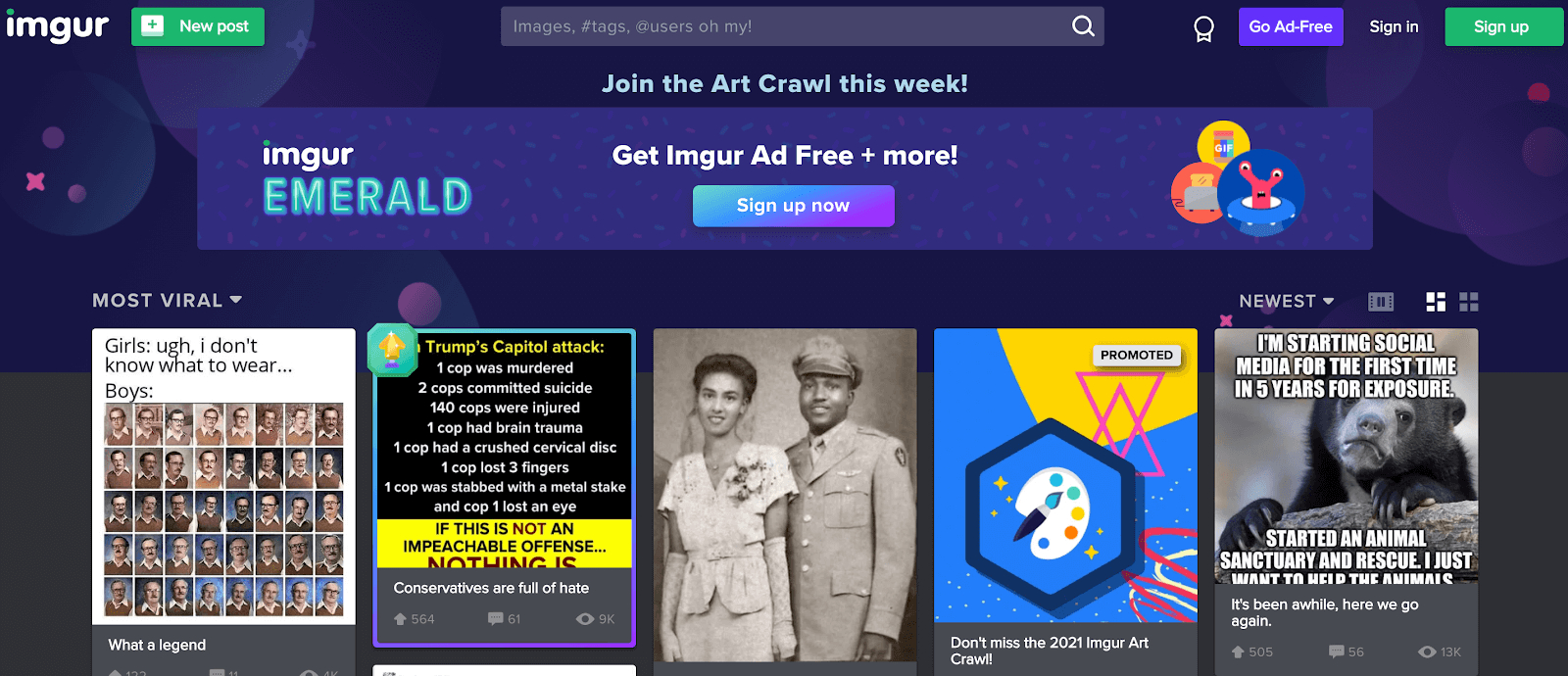 A free and easy-to-use image editing and hosting platform, Imgur is a good alternative to TinyPic.
But to be able to use it, you need to ensure that the maximum image size of what you upload is 20MB. If you're uploading videos, they should not exceed 200MB.
The image restrictions can be a bit of an issue initially, but since Imgur is free for Windows, Mac and Android operating systems, it is a popular choice for many.
2. Flickr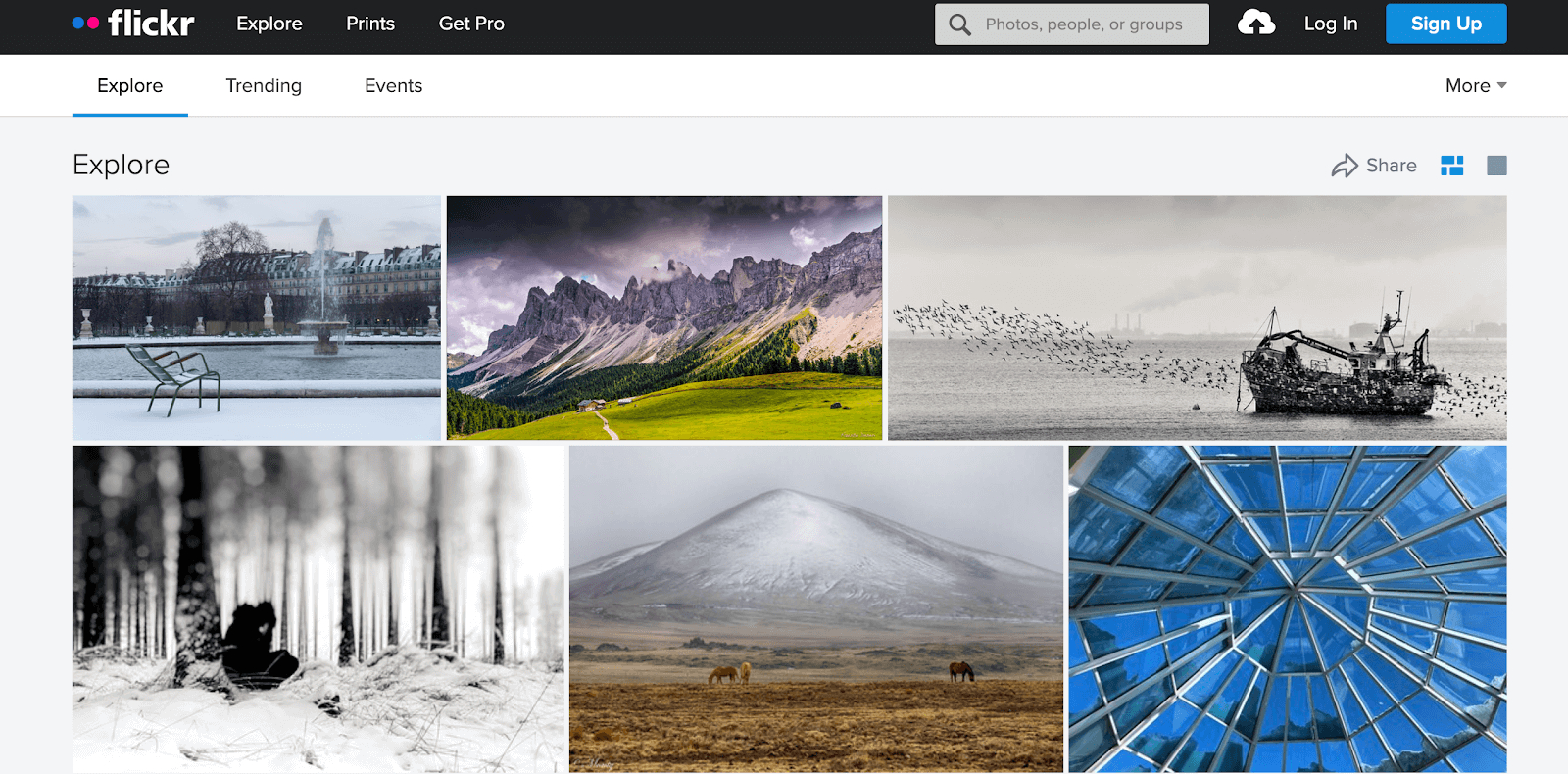 Flickr is another one of the popular online photo and video sharing platforms. It helps you organize all the photos you may have for your store categorically alongwith quick stories that you can add to each for reference.
Some of the competitive features that make Flickr a good alternative to TinyPic are photo organization, direct file uploading and the IFTTT integration that allows photo sharing and storage.
Price: Free plan available; paid plans start from $5.99/ month or $49.99/ year
3. ImageShack

One more alternative to TinyPic that offers an intuitive UI for ease-of-use, is ImageShack. The look and feel of the platform is very similar to that of Pinterest, and it lets you upload multiple images in high resolution settings. So even if you're using photo enhancement services for your images, the photos are safe with ImageShack.
It also has a feature that lets you create albums to organize everything with tags. You can also tweak your privacy options in case you don't want your images to appear publicly.
Pricing: Plans start from $3.99/ month; pro plan from $29.99/ month and premium plan from 1t $99.99/ month
4. PostImage

Another alternative to TinyPic is PostImage. It is a simple site that offers free image hosting for life. The site also gives you the option to create an account or not, which adds to the flexibility it has to offer.
Although, when you upload an image on this site, you need to ensure that the photo is resized. It's one of the most recommended platforms to host images for blogs, forums and websites, owing to its easy-to-use UI.
5. TinyIMG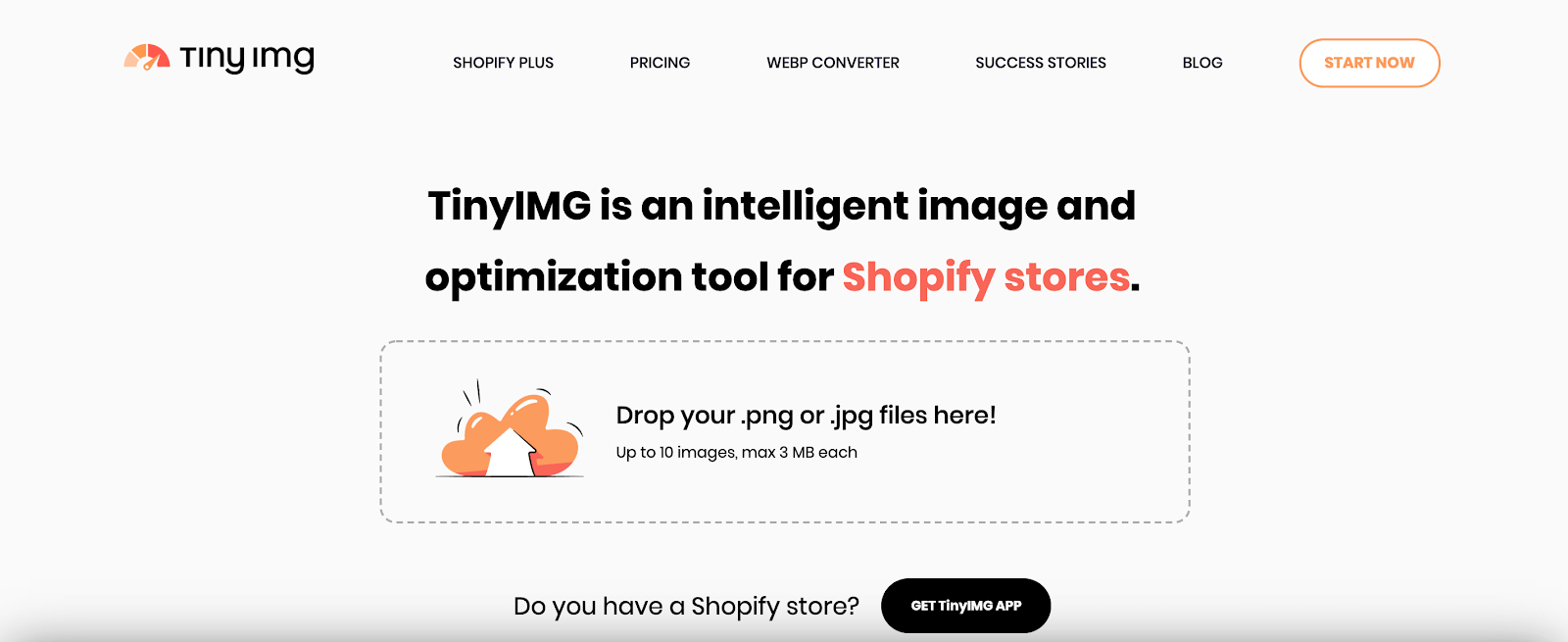 TinyIMG is an intelligent image compression and optimisation tool for Shopify stores. The Shopify app is made keeping in mind the needs that Shopify merchants have and the different use cases for images on a Shopify store.
It has competitive features like SEO and page speed audit, metadata optimization, broken link detection and redirection, image compression and much more!
Why is TinyIMG a good alternative for TinyPic?
1. Advanced image compression
TinyIMG can reduce the size of your JPEG and PNG images by up to three quarters. Other than that, the app has a built-in WebP converter that lets you convert your images to the WebP format after they have been optimized.
The benefit of this is that WebP is a smarter, smaller image format developed by Google and now Shopify supports it too. Using this format brings in an average of 30% reduction in your image size. TinyIMG lets you further reduce the image size with smart optimization.
When you compress the images with TinyIMG first and then use the app to convert them into WebP, you see a 85-90% reduction in the size of the images without any loss of visual quality.
WebP, for reference, is a smart, smaller image format developed by Google. Shopify has recently announced its support for WebP, which means that the platform will display Shopify store images in WebP automatically across supported browsers.
You can use TinyIMG to manually optimize images for your banners, homepage or even the blog to get the same results.
2. Image optimization for SEO
TinyIMG doesn't just compress your images. It also generates image alt tags and filenames that act as image attributes for the search engine bots during crawl. This information lets them know what your images are about and when they should be displayed in the search results.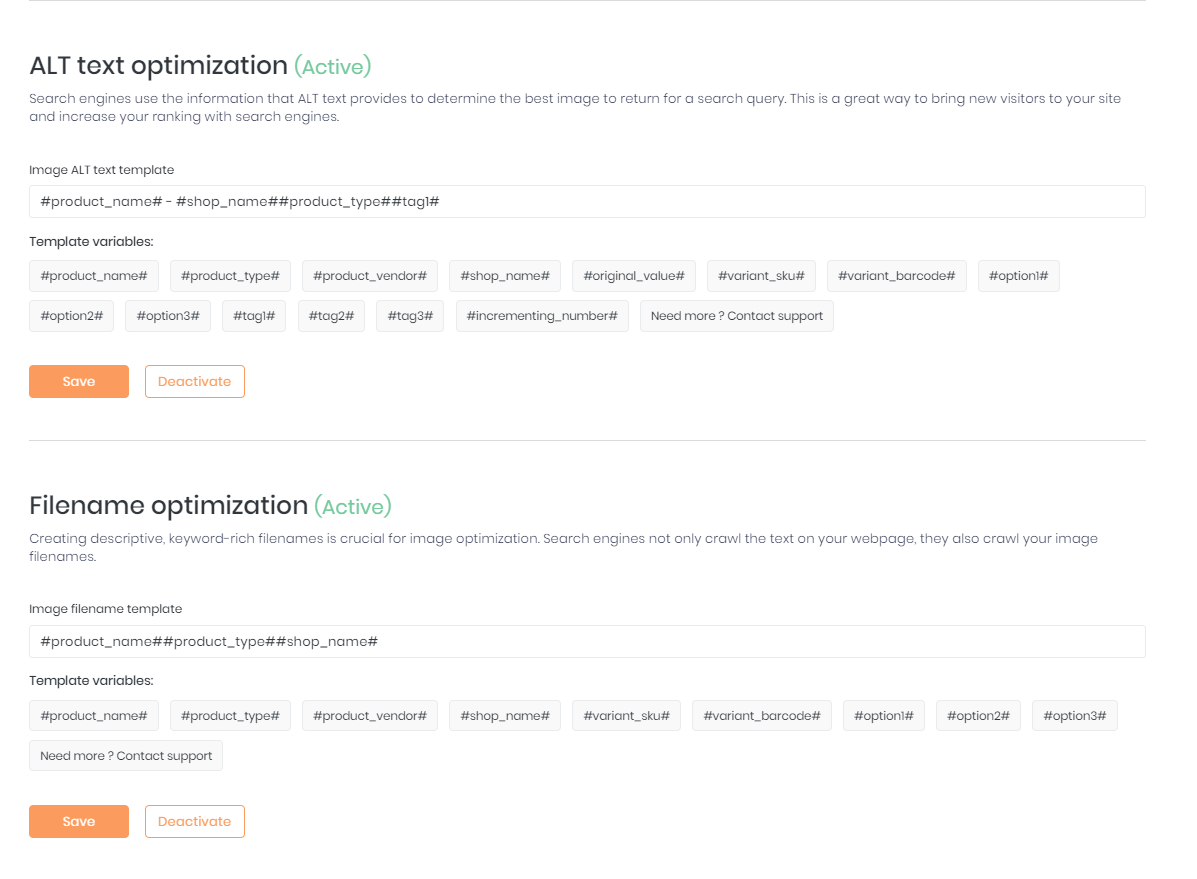 The automatic image optimization actually helps you boost your SEO efforts and has proven to improve search engine rankings. You can read the complete guide to optimizing your images for the search engines here.
3. SEO & page speed store audit
TinyIMG generates reports on the store's page speed and SEO. It also shares actionable suggestions to improve the existing assets and fix the issues found. The app highlights the smallest of fixes that you can make to improve your Shopify store's search engine ranking.
4. SEO Metadata optimisation
Metadata is an important part of your Shopify store. It helps search engines understand what your store has to offer and the content you're sharing with visitors. This further helps boost your search engine rank.
TinyIMG helps you optimize your metadata. It pinpoints all the issues with your Shopify store's metadata and makes suggestions on how to write better meta titles and descriptions, and ALT tags that the search engines are sure to reward.

5. JSON LD metadata with one click
JSON-LD (JavaScript Object Notation for Linked Data) offers a simpler means to create machine-readable data from websites. This makes your website easily indexable by the search crawlers like Googlebot, helping you boost your search-friendliness along with the search ranking.
6. Broken link detection and redirection
As you grow, you might build out more pages on your Shopify store and some might go defunct. TinyIMG helps you identify pages that are broken and set up redirects on them. You can choose the destination URL according to your sales strategy to seamlessly guide a store visitor towards conversion.
The continual broken link detection and redirection helps you improve your search engine rankings, signalling that you keep your store site healthy and updated at all times.

Why Pick TinyIMG for Your Shopify Image Optimisation?
For Shopify image optimisation, it's crucial for merchants to not just optimise their image sizes but also keep in mind compression, meta-tags, and even links. Every part of your Shopify store's SEO needs to be improved.
TinyIMG is the right TinyPic alternative since it ensures that all parts of your Shopify store are auto-optimised. Unlike TinyPic, TinyIMG is built for Shopify, auto-correcting and optimising your Shopify images.