By purchasing through the links on this page, you are giving us the opportunity to earn a commission. Your support is greatly appreciated!

TinyPic was one of the most popular platforms where you could share and host images or videos without spending a penny. Apart from that, this service could compress large files without affecting the image quality, which is another reason why users worldwide chose it.

However, TinyPic isn't available any longer, making users look for another reliable picture hosting service. Luckily, since the day TinyPic was released, more similar platforms became available.

So, we have done our research and testing to list the best TinyPic alternatives for image and file hosting. Here, you will find tips on how to choose an image hosting service for you and learn more about TinyPic's disappearance.

Let's dive deeper into how TinyIMG is the right TinyPic alternative for Shopify image optimization.
Best alternatives to TinyPic in 2023
TinyPic combined simplicity with versatility, offering users an overall powerful image and file hosting platform for free. So, it's natural for you to want an alternative service that would be no worse than you had.
Below, you will find a list of our hand-picked free and paid TinyPic alternatives that offer excellent features, are easy to use, and don't affect your image quality.
1. Imgur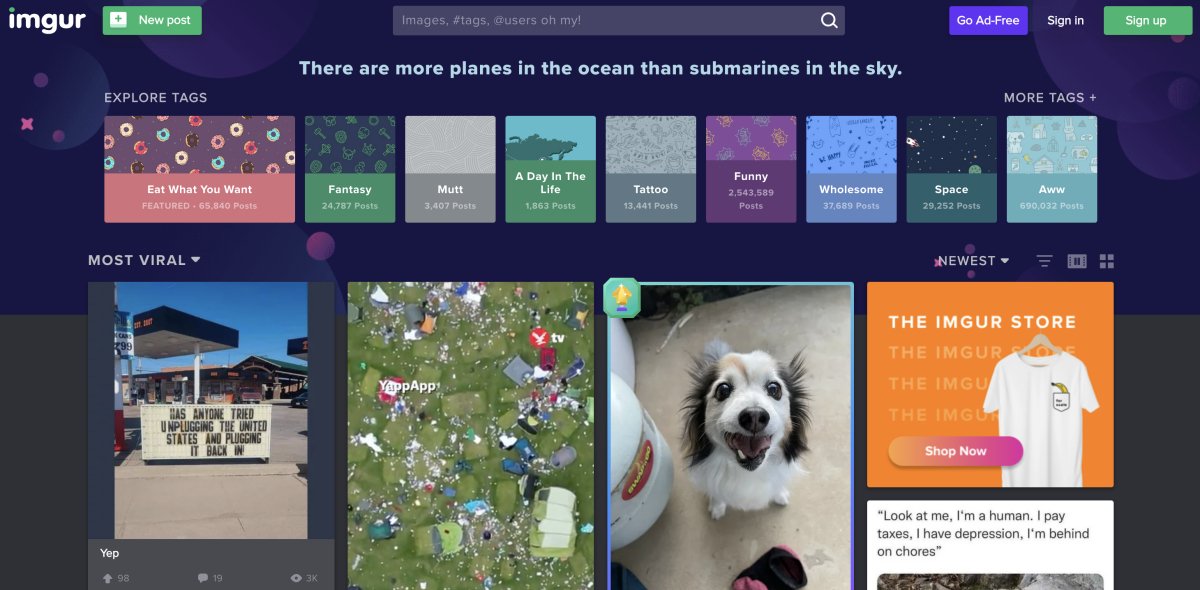 A free and easy-to-use image editing and hosting platform, Imgur is a good alternative to TinyPic. The service is available for free for nearly all the most popular devices, including Windows, Mac, iOS, and Android.
The maximum non-animated file size can be up to 20MB. As for non-animated images, they can be 1MB in size without an account and up to 5MB after signing up. Finally, animated images, as well as videos (no longer than 60s,) can take a maximum of 200MB.
What makes Imgur a good TinyPic alternative:
Imgur allows uploading not only images but also videos and GIFs of up to 200MB in size
There's a built-in image editor, and you can also make image memes
The service automatically compresses your files; for instance, PNG files over 5MB will be converted to JPEGs
Imgur is a completely free image sharing and hosting platform. You may use it either anonymously or with an account.
Suggested reading
2. Flickr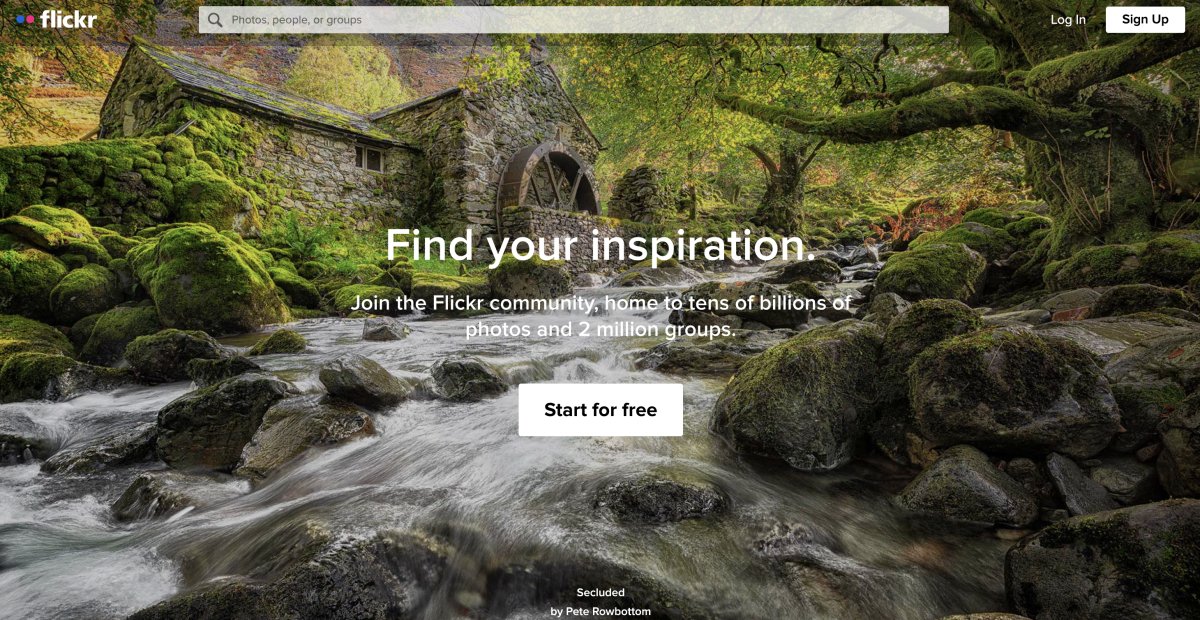 Flickr is one of the top cloud storage for hosting professional and amateur photos. This TinyPic alternative is available in two ways, either free or paid. Moreover, apart from the desktop version, you may also get the app for Android and iOS devices.
Some of the competitive features that make Flickr a good alternative to TinyPic are photo organization, direct file uploading, and the IFTTT integration that allows photo sharing and storage.
What makes Flickr a good TinyPic alternative:
Each Flickr photo can be up to 200MB, while videos can be up to 1GB in size and in any length
Paid users and their visitors can enjoy ad-free browsing, which also means more privacy
There's a built-in photo editor for cropping, straightening, and filtering images
With a free account, you can store up to 1,000 free full-resolution images. At the same time, Flickr Pro allows unlimited pictures per user and offers additional features, like detailed privacy settings for each photo. The prices start from $6/month to $8.18/month, depending on your subscription length.
TinyIMG
TinyIMG is an intelligent image compression and optimization tool for Shopify stores. Perfect as a TinyPic alternative, this software was developed with the daily challenges of Shopify merchants. Hence, it gradually improves the feature set to enhance your website's performance.
The main developer's focus is providing you with high-quality but lightweight images. To do so, it even converts your photos to WebP or other desired formats.
You can either optimize your images through their website or get the TinyIMG Shopify app and enjoy such functionalities:
SEO and page speed audit
Metadata optimization
Broken link detection and redirection
Image compression, SEO, and resizing
TinyIMG's plans start from $2.49/month (more plans available here.) However, for Shopify merchants, the app is also available for free, allowing you to optimize up to 50 images per month.
3. ImageShack

One more alternative to TinyPic, which offers an intuitive UI for ease of use, is ImageShack. The look and feel of the platform is very similar to that of Pinterest. Plus, it lets you upload a whole high-resolution collection. So, even if you're using photo enhancement services, the images are safe with ImageShack.
It also has a feature that lets you create albums to organize everything with tags. Additionally, you can also tweak your privacy options in case you don't want your images to appear publicly.
What makes ImageShack a good TinyPic alternative:
Both premium and free trial users receive the direct linking feature
ImageShack offers unlimited bandwidth for images when they are viewed from their landing pages
You can dynamically change the image size whenever you get a link after uploading a photo
To try out ImageShack first, you get a 30-day free trial. Afterward, prices vary from $3.99 to $99.99/ month, increasing the storage space and offering you dynamic resizing as well as dedicated support.
Suggested reading
4. PostImage

PostImage is a simple but reliable TinyPic alternative that offers free image hosting for life. The site also gives you the option to create an account or stay anonymous, allowing you to enjoy online privacy.
Although the service doesn't resize photos, you can upload images in bulk, and the allowed file size is larger by 4 MB than TinyPic's. It's one of the most recommended platforms to host images for blogs, forums, and websites, owing to its easy-to-use UI.
What makes PostImage a good TinyPic alternative:
Uploaded images can be up to 24MB in size
You can upload up to 1,000 images at the time
There are no limits on how many image files you can upload overall as long as they fit the size capacity
PostImage is a completely free service, available as a browser plugin or a desktop app.
5. Imagesocket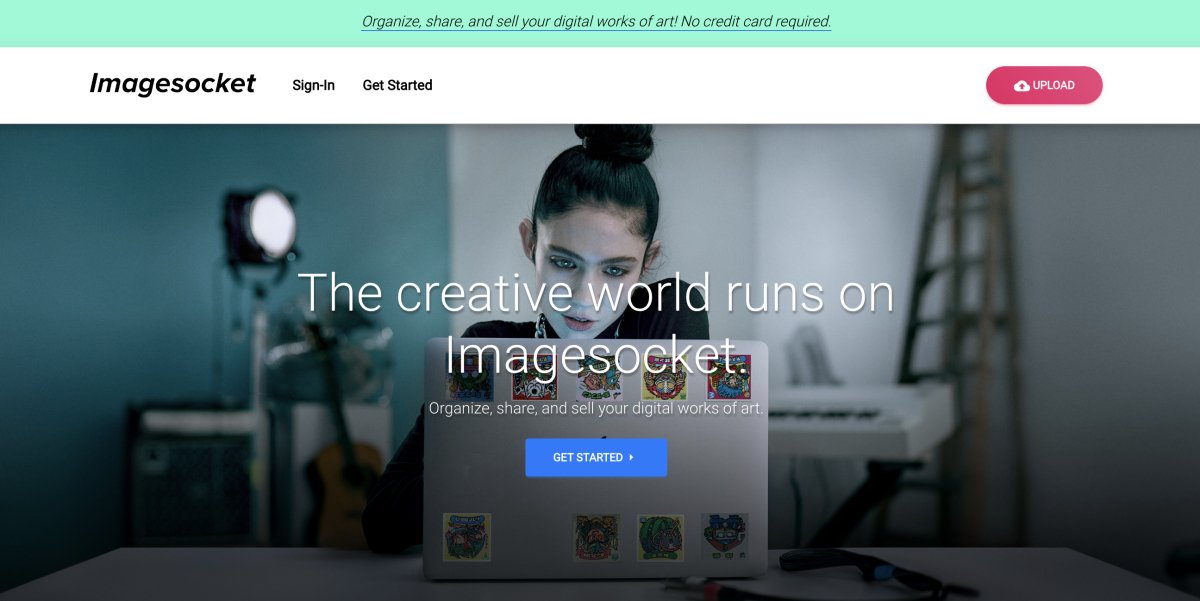 ImageSocket is a TinyPic alternative that is mainly popular among artists. The platform helps you sell your artwork effortlessly by managing clients, projects, invoices, and more. To showcase hosted images, you can build eye-catching galleries that are protected by PCI DSS certification.
ImageSocket supports all popular file formats, including PNG, JPG, RAW, GIF, 4K, and more. Plus, it strongly focuses on helping you go social by offering Hotlinking and social media sharing.
What makes Imagesocket a good TinyPic alternative:
Focuses on client and project management
Protects your uploads with a PCI DSS certification and custom privacy settings
Supports major visual file formats
Imagesocket isn't a free image hosting service. However, you get up to 250 first uploads for free without providing your payment details. There are three pricing plans, starting from $5/year and going to $15/month. The priciest – Business – plan allows uploading unlimited files and lets you have 10 separate user accounts.
6. imgix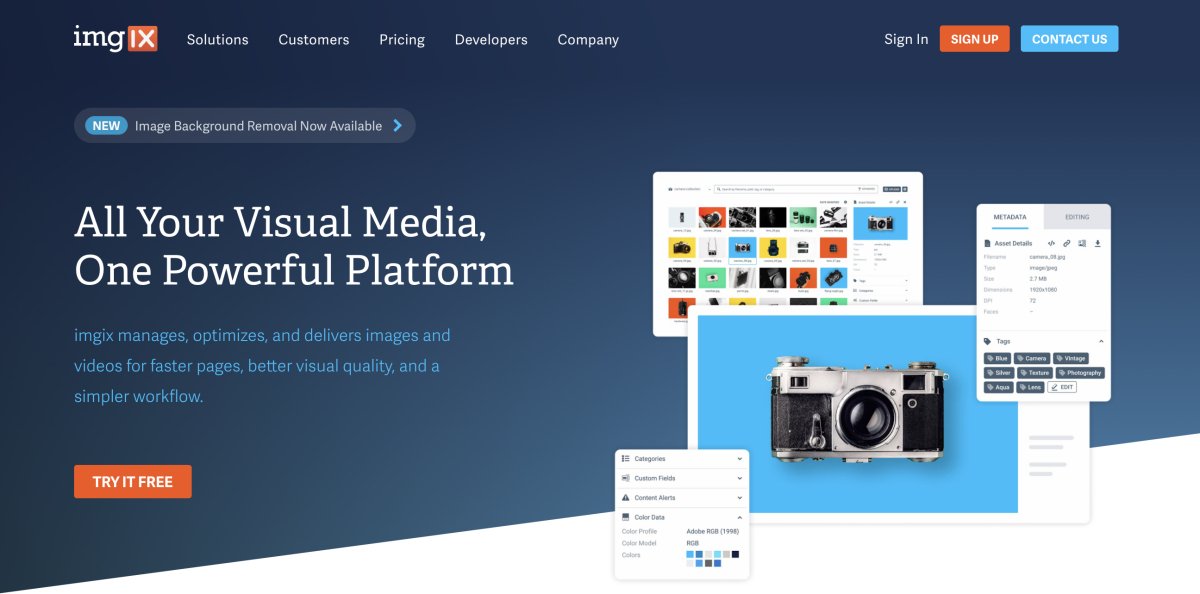 imgix is a cloud-based image and video optimization tool for global content delivery. With it, you can adjust single or numerous images in bulk, no matter the size or format.
Apart from securely hosting your visual files, imgix can help you convert, compress, and visually enhance them. For instance, you can remove red eyes or even background to make your pictures look more professional.
What makes Imagesocket a good TinyPic alternative:
Offers numerous editing functions, such as blending, background removal, noise reduction, and more
imgix uses smart image and video compression to deliver performance-friendly visuals without affecting their quality
It helps you edit and integrate user-generated content onto your website
imgix offers a quite generous free version, which allows you to upload up to 1,000 images, use a built-in editor, have two user accounts, and more. As for premiums, the prices are either $75/ month or $300/month. Yet, with none of the subscriptions, you can upload unlimited files.
7. Img.vision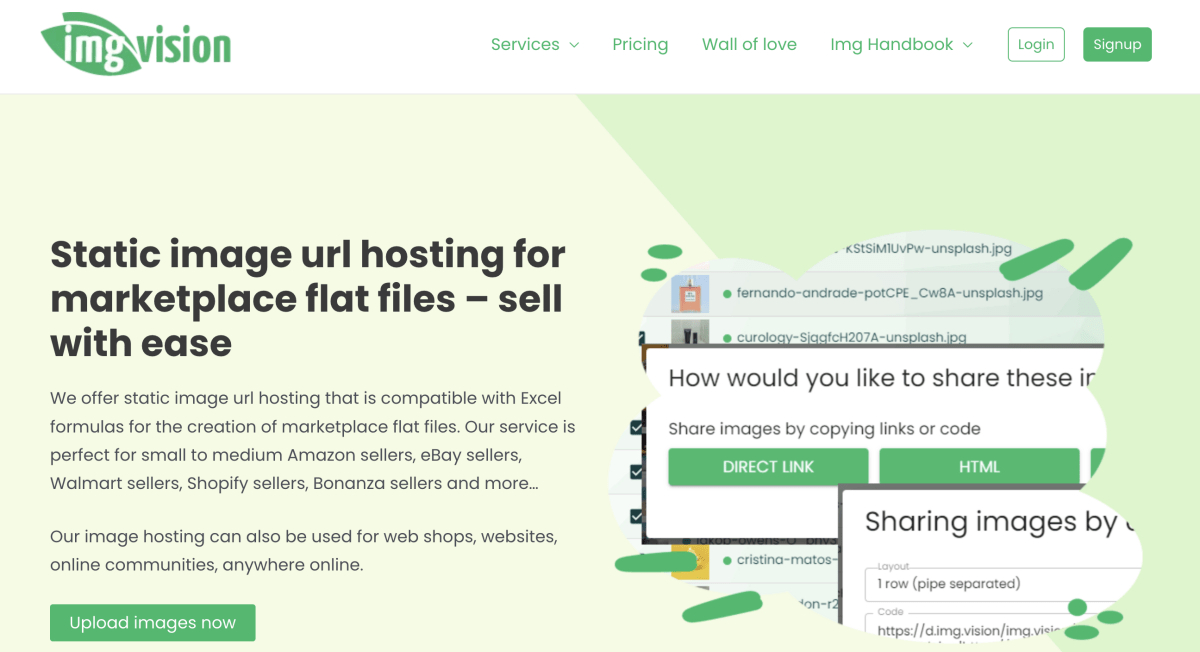 Img.vision is one of the best alternatives to TinyPic due to its rich built-in image editor, marketplace image hosting, and numerous other benefits. Additionally, the service supports many video formats, allowing videographers and vloggers to host their work as well.
Furthermore, you can insert an HTML gallery that displays small thumbnails and a more extensive full image that can be expanded. Those galleries can be hosted on various popular marketplaces, including Shopify.
What makes Img.vision a good TinyPic alternative:
Img.vision automatically optimizes your photos and videos for the best website performance
A built-in editor allows you to adjust brightness, contrast, and colors, you can also add filters and resize, among other functionalities
Uploaded images are loaded with a secure HTTPS certificate
Img.vision offers both free and paid plans. Sadly, with its free version, you can only upload up to 20 images. Meanwhile, upgrading to premium costs from $14.68 to over $67/month. And if you want to upload videos, that will cost additional expenses (from $12 to $192/month.)
8. Cloudflare Images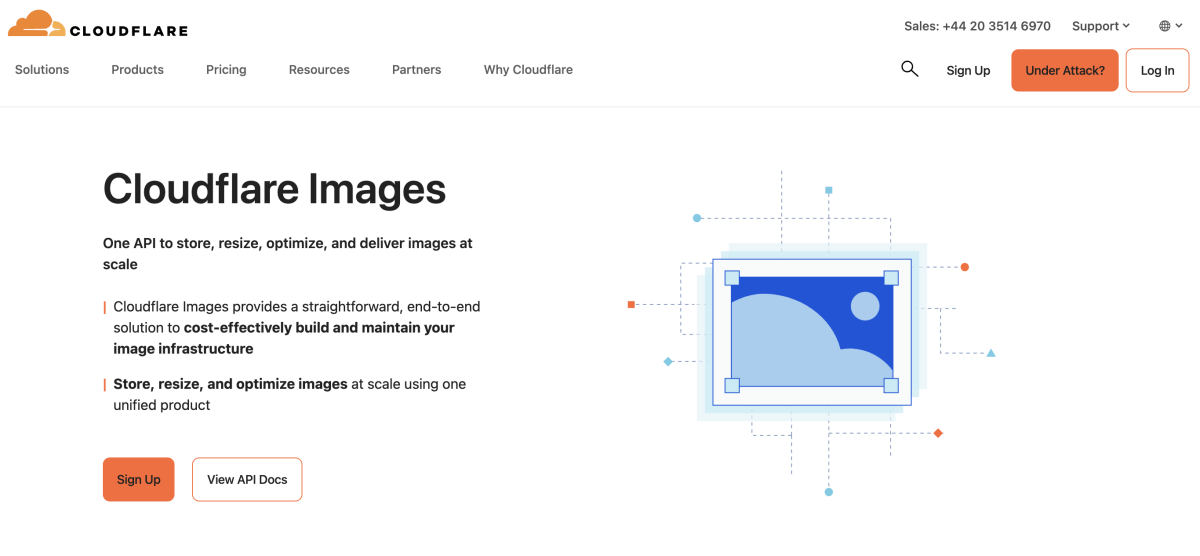 Cloudflare is a widely popular cloud platform that mainly focuses on protecting your website from external threats. However, it's also a popular TinyPic alternative due to offering end-to-end and affordable image infrastructure.
This provider doesn't limit the number of uploads per user and ensures your files are secure on a global network. With it, you can easily optimize your visual files and create variants using an intuitive dashboard.
What makes Cloudflare a good TinyPic alternative:
Image variants, as well as different file formats, don't count toward your stored image quota
The platform can convert your visuals even to AVIF or WebP, resulting in impressive file size
Your images are protected with a signed URL
Cloudflare is not free for image hosting. However, you only pay for the images stored and delivered. The prices are $5 per 100,000 images stored and $1 per 100,000 delivered.
9. SmugMug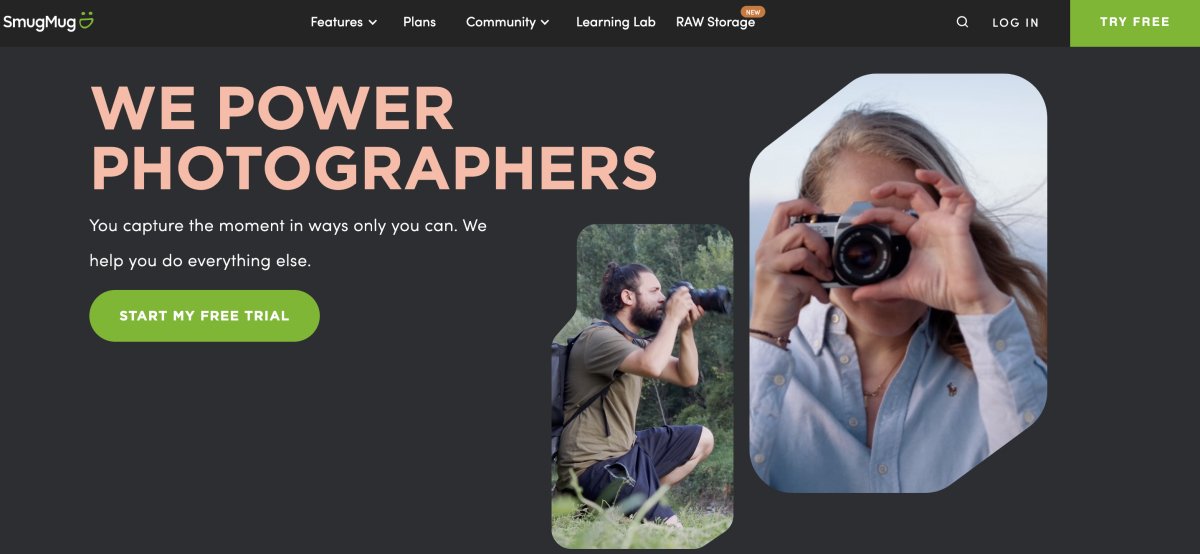 SmugMug is one of the most professional image hosting and sharing alternatives to TinyPic. The service is often selected by artists who intend to sell their work after securely storing them in an unlimited cloud-based SmugMug storage.
The platform can benefit you in several ways: as a photo sharing tool, a place to sell prints, secure storage, or a RAW files manager. Moreover, it is seamlessly integrated with Adobe Lightroom, allowing you to deliver professional pictures to the market.
What makes SmugMug a good TinyPic alternative:
You get unlimited cloud-based photo storage protected with custom privacy settings
The service allows uploading images from Flickr and Google Photos; plus, you may sync it with Adobe Lightroom
Portfolio and Pro plan users get additional marketing and e-commerce tools, such as sales analytics
SmugMug doesn't have a free version, but what it does have is a 14-day free trial without giving your credit card details. The pricing starts from $15 to $54/month. However, the basic – Power – plan excludes all business features.
10. ImageKit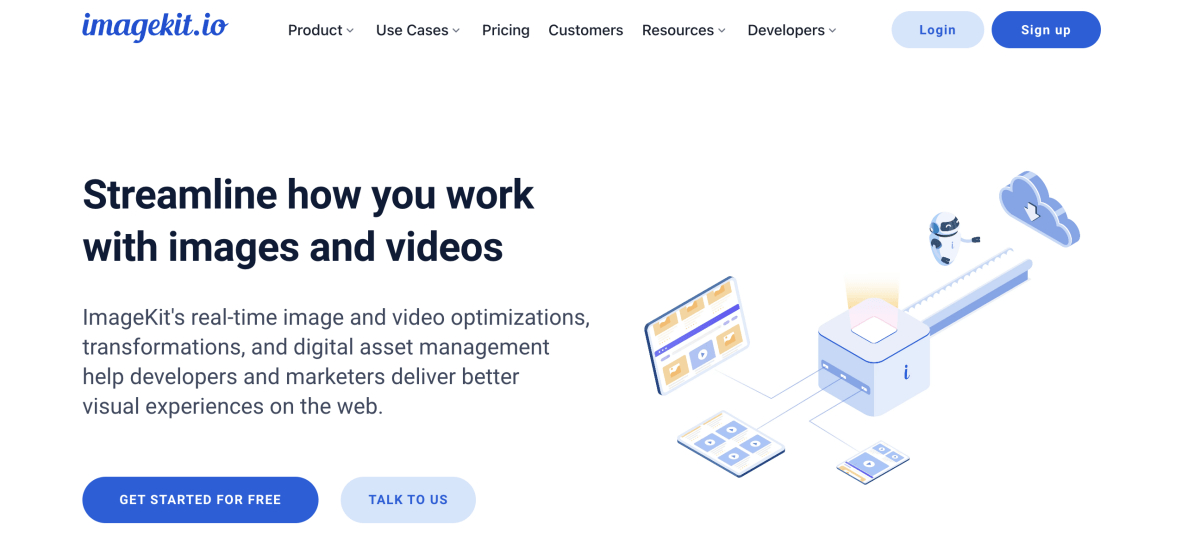 ImageKit is an alternative to TinyPic that provides real-time SEO optimization for photos and videos, as well as secure cloud-based storage for up to 20GB initially. Moreso, you receive AI-driven editing features, such as background removal.
Once your visual files are optimized, compressed, and edited, you may set up security features. For instance, restrict file access to authorized users or even set the expiration time for URLs.
What makes ImageKit a good TinyPic alternative:
ImageKit offers performance optimization functionalities, for instance, lazy loading
You receive a built-in image editor for resizing, rotating, color enhancing, and other tasks
Using an intuitive drag-and-drop interface, you will be able to upload not only visual files but also documents and other attachments
ImageKit costs $49/month for up to 5 users and $500/month or more for businesses. However, if you don't feel like spending that money, you can use a forever free version with up to 20GB bandwidth allowance but unlimited image transformation storage.
How to choose a good alternative to TinyPic?
Migrating from TinyPic should provide you with an even better experience than you had. Therefore, these are the details to pay attention to when choosing an alternative service to TinyPic:
The file size you can upload. TinyPic allowed you to upload up to photos and videos 20MB. Hence, you should choose a platform that thinks the same way or supports even larger files.
Image editor. A TinyPic alternative should have an image editor included, with features like resizing, cropping, color adjusting, filters, and more.
File compression. One of the key features that TinyPic offered was image and file compression. This is a critical functionality in a new image hosting service, allowing you to upload large files without sacrificing the quality.
File sharing. TinyPic provided users with direct image links and HTML embed codes to share their works online effortlessly. So, make sure you select a substitute service that helps you share your uploads easily as well.
Integration with social media platforms. Besides linking, sharing your images on social media is also an excellent way to showcase your images or videos. Make sure you select the service that helps you directly share your files on Instagram, Facebook, and more.
Price. TinyPic was a completely free image and file hosting service. Consequently, you should aim for either a reliable free or affordable premium alternative.
Frequently asked questions
Photobucket had to shut down TinyPic due to a decreasing ad income. Since TinyPic was a free service, it used advertisements that worked as a form of income for years to maintain the platform functional and available.
Imgur is the best free alternative to TinyPic. With it, every user gets to upload both images and videos. There's a built-in editor and automatic file compression. Plus, with an extensive Imgur social network, you will easily reach a wide audience.