By purchasing through the links on this page, you are giving us the opportunity to earn a commission. Your support is greatly appreciated!

Looking for a way to create or improve your Shopify store menu can be a real time-wrecker unless you get a list of tested and selected top Shopify menu apps in one place. That's why we have tested over a dozen navigation applications and selected only the most reputable ones.

Alike with all the best Shopify apps we recommend, we ensured that our best 6 Shopify menu apps would be easy to set up and use, offer flexible designs, have extra functionalities, and wouldn't empty your wallet before making sales.

For those still doubting whether to get the app like that, we have put all benefits of a Shopify menu application in one place too. So, without further ado, let's see who made it to the app list.
Top 6 best Shopify menu apps: overview
TinyIMG is perfect for larger stores. Automate your SEO efforts and get more traffic from search!
Install TinyIMG today
While you can create and edit menus via Shopify Admin, the native system isn't as flexible and intuitive as the Shopify menu apps that you use as add-ons. So, we are rushing to help you choose the best menu application fit for your online store.
Below is the list of the top 6 Shopify menu apps that excel in customization capabilities, ease of use, performance, price, and other essential spheres. Read on, and pick what suits you best!
1. Buddha Mega Menu & Navigation – the best Shopify menu app overall
Specifications
Price
From free to $9.95/month
Our tests showed that the best Shopify menu app is from Buddha Apps. It is easy to set up and beginner-friendly for overall use.
Here, you get tools for creating simple or mega dropdown menus. You can choose from 4 different modern submenu designs. Add plain product names or implement list links leading to specific collections, products, and overall pages.
Buddha Mega Menu & Navigation highlights:
Add images on the menu items
Use additional elements, like badges, countdown timers, icons, labels, etc.
Add links on the menu to product pages, collections, and other store pages
Ability to translate the menu to multiple languages
Great free version
Speaking of a free version, you can add unlimited Tree, Flyout, and mega menus. Alike, there's no limit on added items to the menu. Add up to 5 images and use as many icons as you wish. Lastly, the free version doesn't add a watermark. Meanwhile, premium users are welcomed with no limits and get to use extras, like more menu designs, badges, add to cart button, translated menu, and more.
2. qikify Smart Menu ‑ Mega Menu – robust app for creating Shopify mega menus
Specifications
Price
From free to $7.99/month
Qikify's menu app is another reliable option to improve the store's usability and boost your store's conversion. Helping to make customized multi-level menus, including mega, tabs, tree, and other types of menus, is what they excel in.
If you're worried about empty-looking menus, then let us tell you that qikify allows you to add Google Maps, contact forms, block items, and custom HTML. You can use the menu to link to collections, products as well as other pages along with using tags.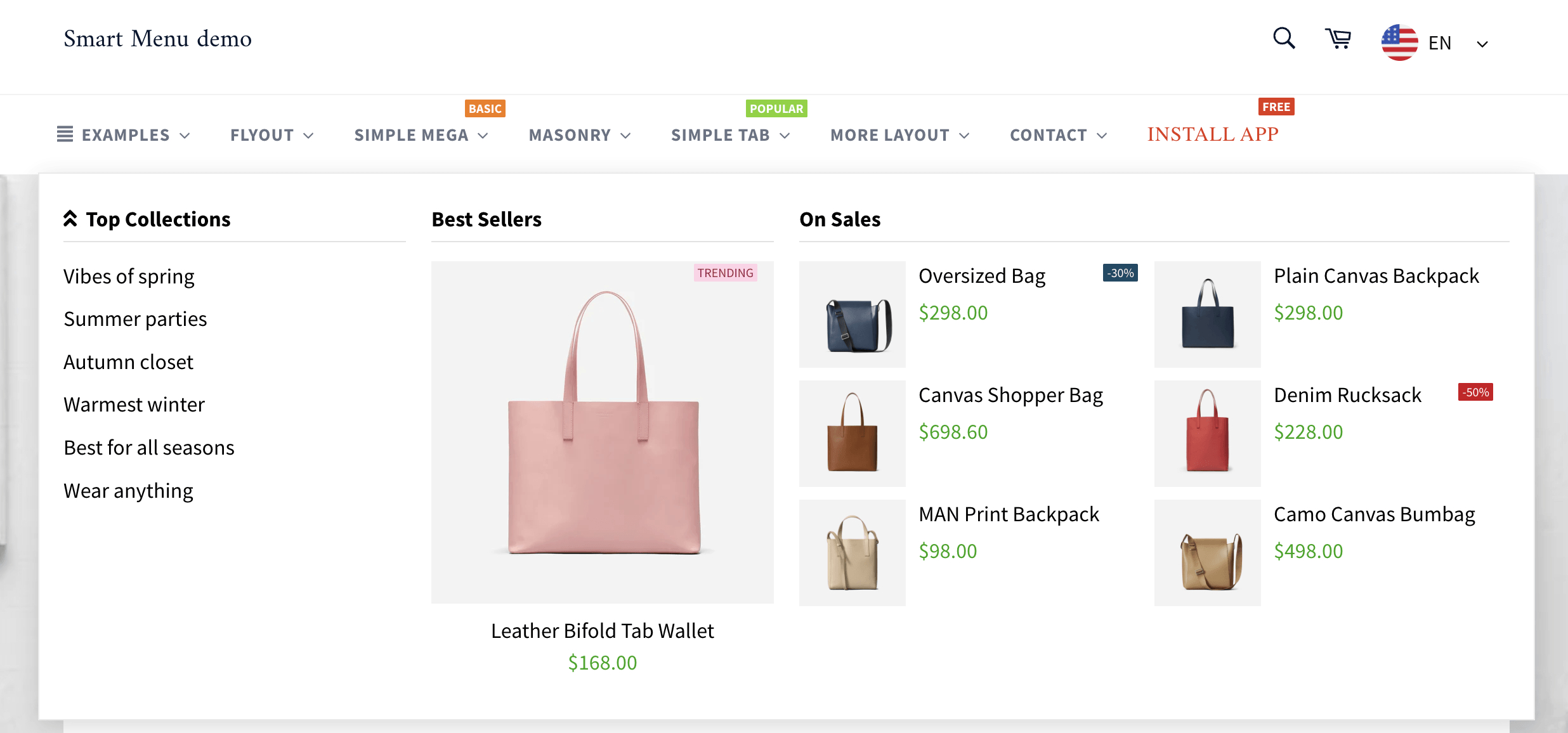 qikify Smart Menu ‑ Mega Men highlights:
Flexible customization for unlimited menu items
Add labels, badges, and icons
Various multi-menu designs
Use masonry grid
Feature-rich free version
If you pick a paid plan, you get a 7-free trial. Both premium plans allow adding unlimited menu items, are free for development stores, support menu animation. Yet, the pricier one offers a wider selection of menus and elements added to it. Meanwhile, the free version comes along with a watermark but lets you store unlimited items and create mega, mobile, or flyout menus that are fully customizable.
3. Meteor Mega Menu – app for eye-catching Shopify menus
Specifications
Price
From free to $14/month
If you're searching for a way to create trendy menus for your store, look no further, as Meteor Mega Menu by Helium is perfect for that. You get 8 different modern menu templates that you can customize according to your needs and preview whenever you like.
The app includes JavaScript API and a CSS editor to create customer-oriented navigation menus effortlessly. You can also use pre-existing menus for an even smoother building process.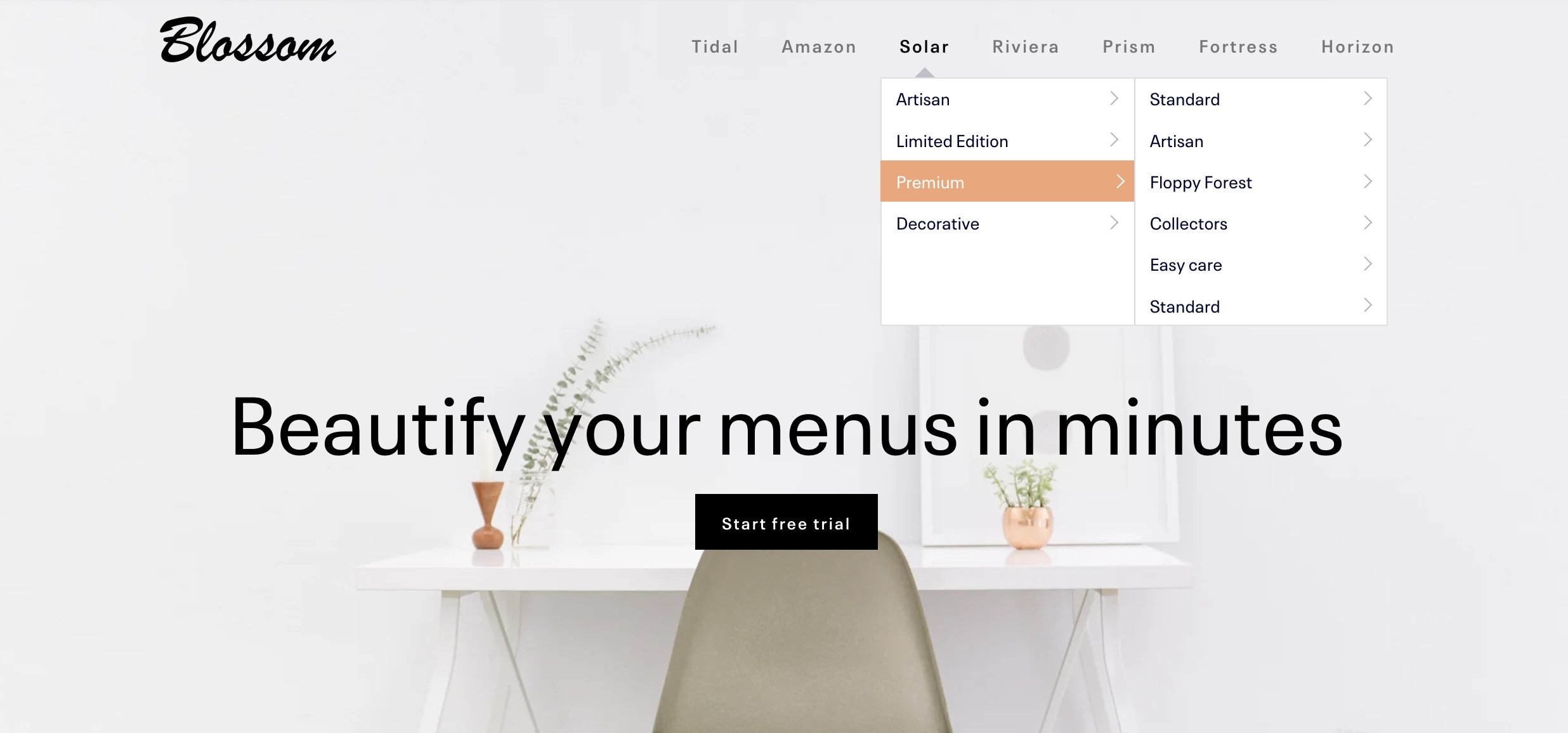 Meteor Mega Menu highlights:
Choose from 8 different menu templates
Use the menu to link to collection, product, blog, or other pages
Add product or collection images straight to the menu
Contact customer support via chat or email
The free version allows you to create a single mega menu and choose from only two menu templates. However, by paying $8/month, you get to build 3 mega menus using 5 different templates. And you can also add menu images. Whereas, the most exclusive plan includes a CSS editor, unlimited menus, and 8 templates.
4. Globo Mega Menu, Navigation – free option to build Shopify menus
Specifications
Price
From free to $9.90/month
The menu app by Globo is a great option for those looking for a free service. Free users get to build two mega menus as well as unlimited dropdown menus and add a link list, images, products, contact form, and other elements to them.
Meanwhile, the paid plan is more flexible, offering you multiple-level menus. You can also improve your menu bar using icons, a search box, contact form and match the details to the store's design.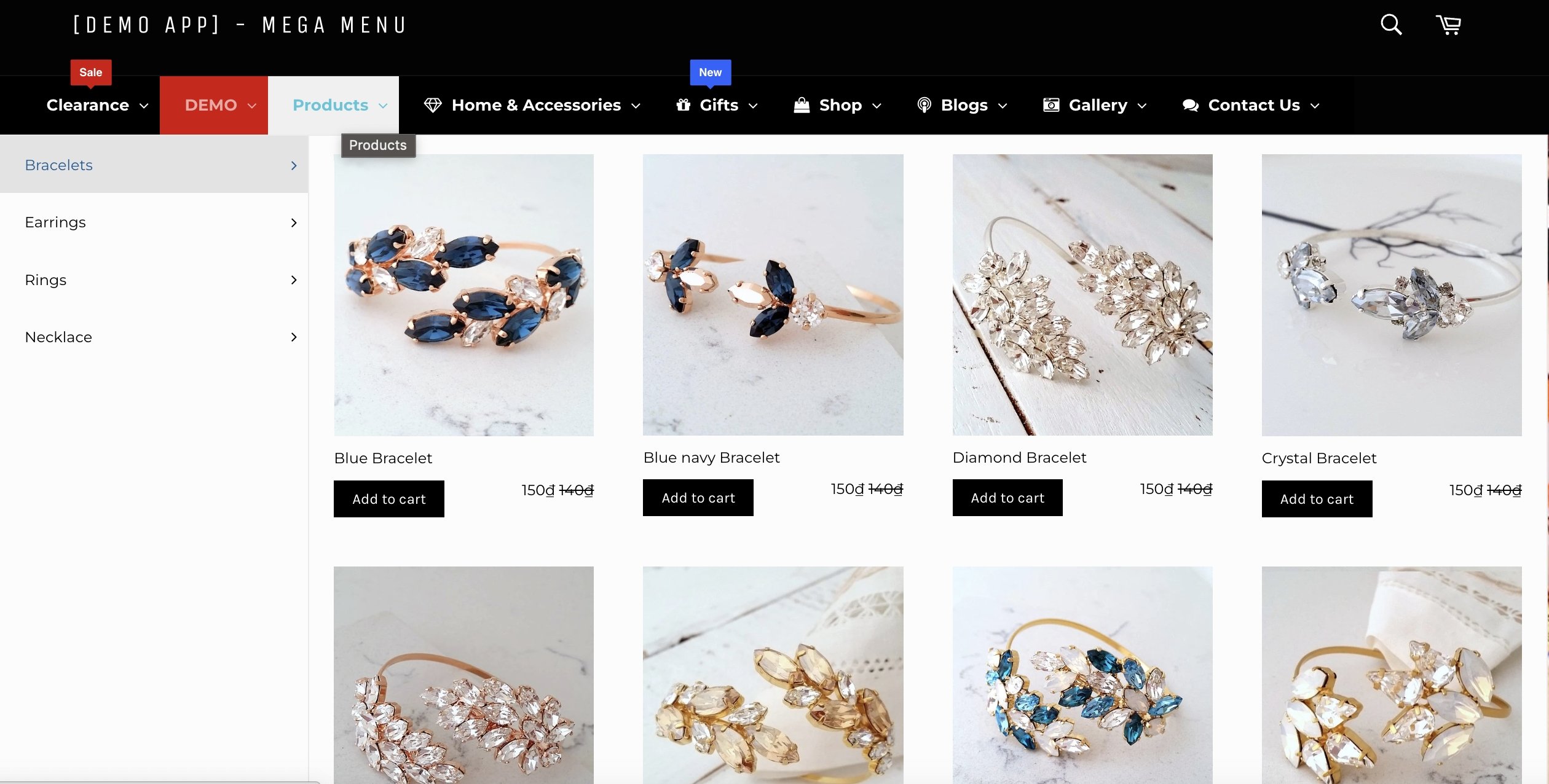 Globo Mega Menu, Navigation highlights:
Benefit from mobile-focused menu setup
Add featured products, block HTML, new blog posts, and more
Build the main, filter, smart, or food menus
Add "HOT, NEW" badges
Even though the paid plan costs $9.90 per month, the set of features makes it worth it. You are allowed to import and export existing menus and enjoy not having the app's branding on them. Moreover, the menu can be viewed in different languages and currencies.
5. Power Tools Filter Menu – menu app for user-oriented product filtering
Specifications
Free plan
14-day free trial
Although pricier than the majority of the menu apps, the filter menu app by Power Tools helps you boost your revenue by making your store easier to navigate. Create customized filter menus using this user-friendly app effortlessly.
You can make advanced product filters for brands, types, tags, collections, variants, and pricing. And the app supports all Shopify store themes, allowing you to improve the shop's navigation system without limits.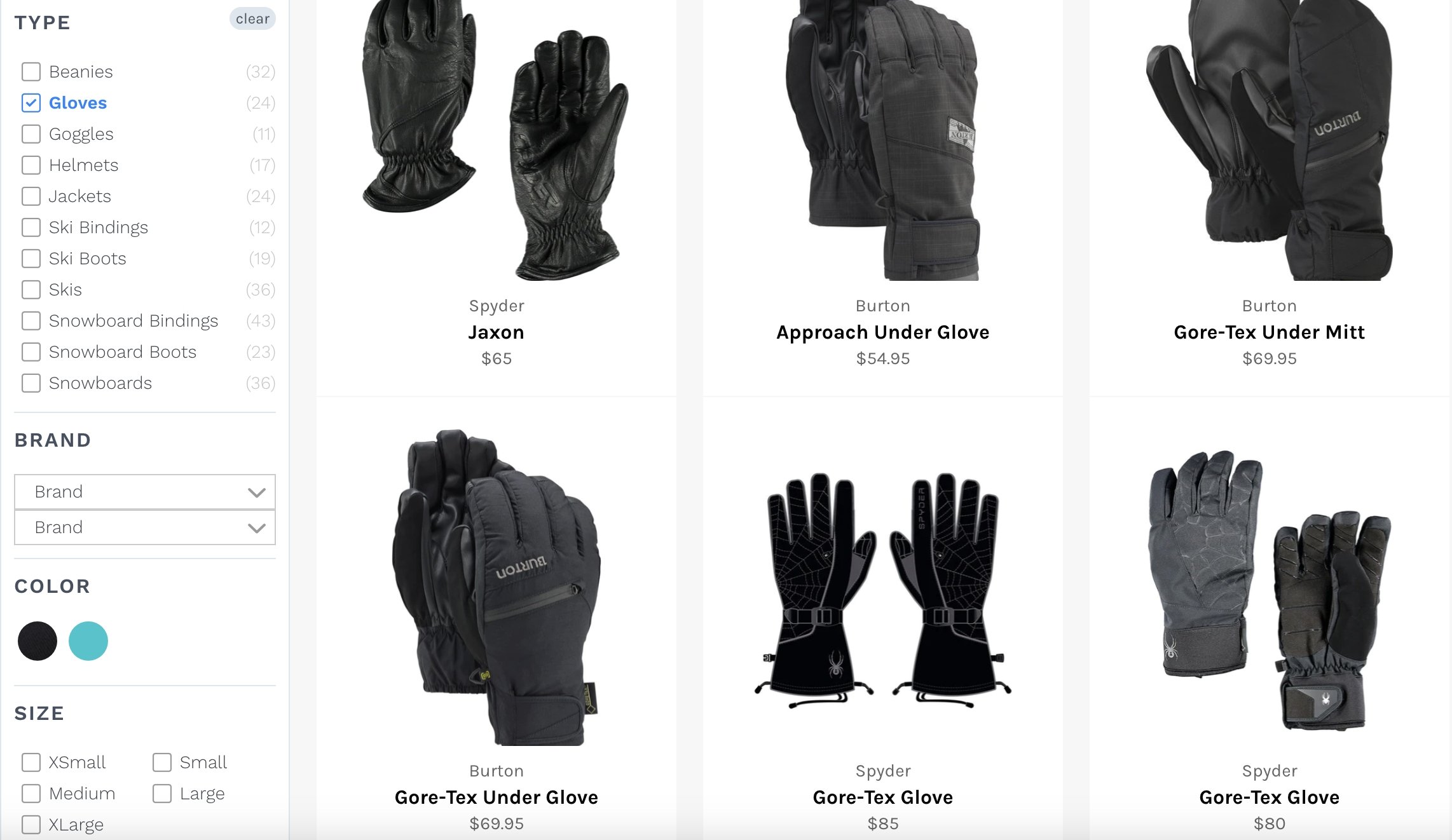 Power Tools Filter Menu highlights:
Build effective filters for product type, price, tag, brand, and other details
Enjoy the intuitive interface
Adapt the app for any Shopify theme
Power Tools Filter Menu doesn't have a free version. And there's only one subscription plan to use, which costs $15.99 per month. Nevertheless, you can use a 14-free trial to feel the waters and decide whether this exact app is a match for your needs.
6. AI Search, Filter & Recommend – boost sales with AI recommendations
Specifications
Price
From free to $69/month
The truth is data is the king of successful online businesses. Therefore, the filter menu app by Boost Commerce relies on AI to help you build the most effective navigational system for your Shopify store.
The program uses the smart search engine to reveal the most relevant search results based on your merchandise. You get to build accurate filter menus that also have AI recommendations specifically for your customer, leading to potential sales.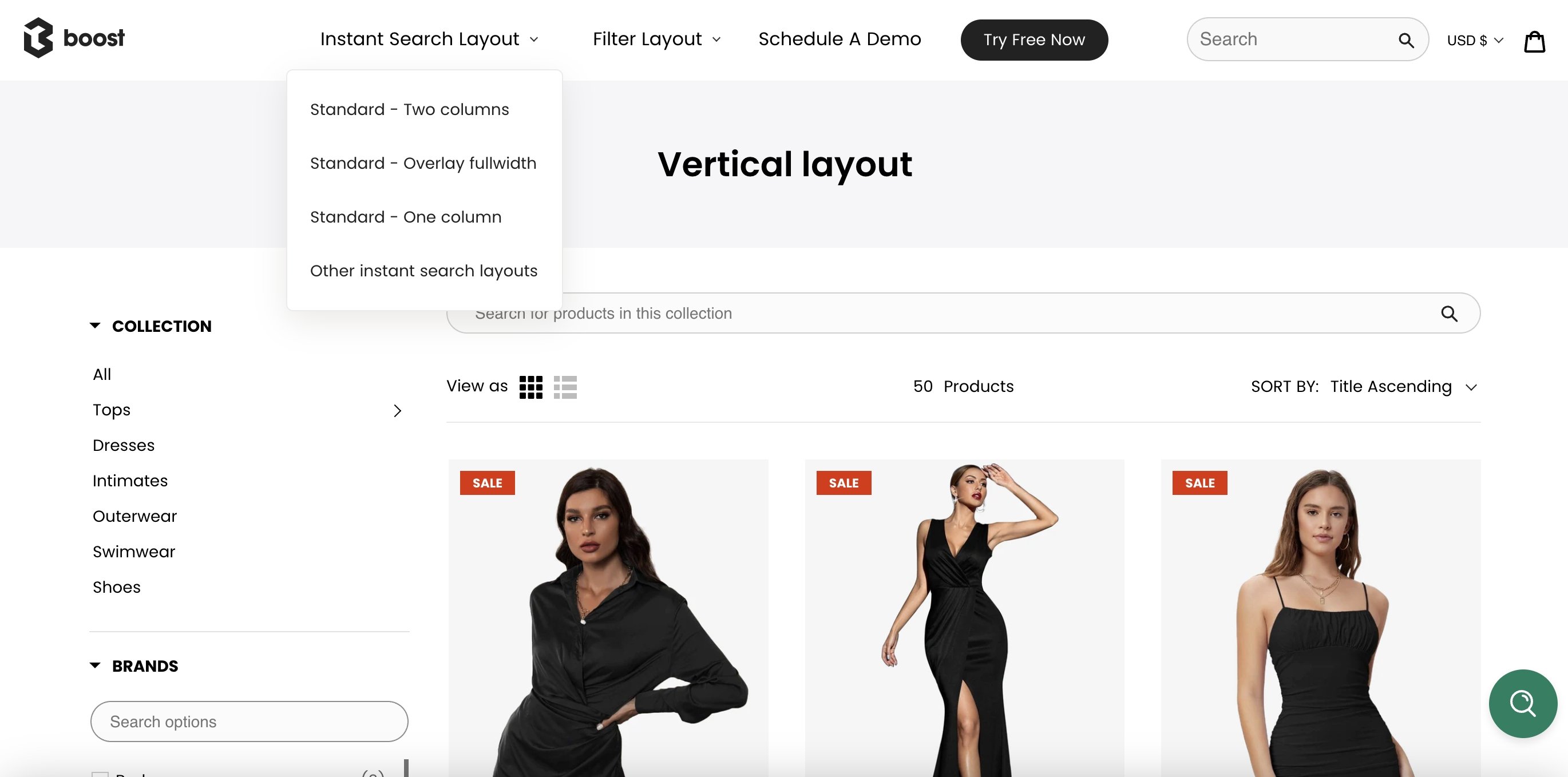 AI Search, Filter & Recommend highlights:
Add an AI-powered search bar for accurate results
Adjust recommendations settings
Add up to 1 million items
Use analytics to learn about the search behavior
Boost Commerce's filter menu app is available for free only in the development mode. Meaning, affiliates, partners, dormant, and stores on a Shopify free trial can test the fully-fledged app without commitment. Now, the three paid plans offer rather the same set of features. What differs is the allowed number of products, and the Plus plan includes the AWS server.
How we chose the top menu apps for Shopify
Choosing the best menu app for Shopify requires knowing the reason why you need the app in the first place. Perhaps it's for building the menu from scratch or improving existing ones. Or maybe you need to add an advanced filtering program?
However, the basics of the criteria remain the same. And below are the factors that we took into consideration when picking the top menu apps for Shopify:
Available types of Shopify menus. The more menu variants the app supports, the higher chance of improving your customer's experience. We ensured the provider allowed building mega menus, tree, flyout, and other menu types.
Menu customization. With the possibility of adding simple items or lists linked to any page of your store, you get to make accurate and customer-friendly menus. We picked the menu apps that let you add a custom menu in the Shopify store to offer better navigation for the customer.
Extra functionalities. Regular conversion growth consists of over a dozen of different SEO and marketing tactics. Therefore, we looked for menu apps that also include additional elements, such as badges, icons, and other features that help to draw customers' attention.
Ease of use. A user-friendly application ensures that results are achieved faster and more fluently. So, we ensured all our selected Shopify menu apps were easy to set up and offered an intuitive interface.
Price. Whether you're just starting with your Shopify store or already have thousands of loyal customers, it's always important to take care of your finances that maintain the shop. Consequently, we also look for menu apps that offer the best price-to-quality ratio.
Why should you use a menu app for a Shopify store?
The Shopify menu app can help you save time and money, improve customer experience, as well as increase profit. But how do these apps actually add up to these results? Let's find that out right below:
Quick setup and comfortable further use. Although Shopify has the menu editor natively, it's discouraging due to confusing functionality. Apart from that, there aren't many customization settings, leading to out-of-context menu designs. On the contrary, dedicated menu apps for Shopify prioritize user-friendliness, offer multiple menu templates, and have extra elements to add.
Improved customer experience. Finding desired products in a Shopify store is one of the main aspects that make the customer choose that exact shop. Reputable Shopify menu apps help you build well-optimized menus and apply customized filtering systems that make your store easier to navigate.
Revenue growth. Just like all the best apps for Shopify, menu apps concentrate on providing you with as many features as possible in one place. That said, the top Shopify menu apps allow you to add badges, icons, tags, and other elements that draw attention to featured products and burning deals.
Summary
Easy-to-navigate Shopify stores are more likely to grow the number of loyal customers, which also means more successful sales. Making your shop adapted for a quick search is a doddle if you use a dedicated Shopify menu application.
Our top pick is the Buddha Mega Menu & Navigation app. It allows you to build mega menus as well as submenus, like tree, tabbed, simple, or contact. You can also add images, badges, icons, and other elements straight to the menu. The app is available either for free or for $9.95 per month.
This guide gave you a hint of what the best Shopify menu app should look like. However, note that the Shopify app should always be chosen based on your specific needs.
Curious to read more? Check out these articles: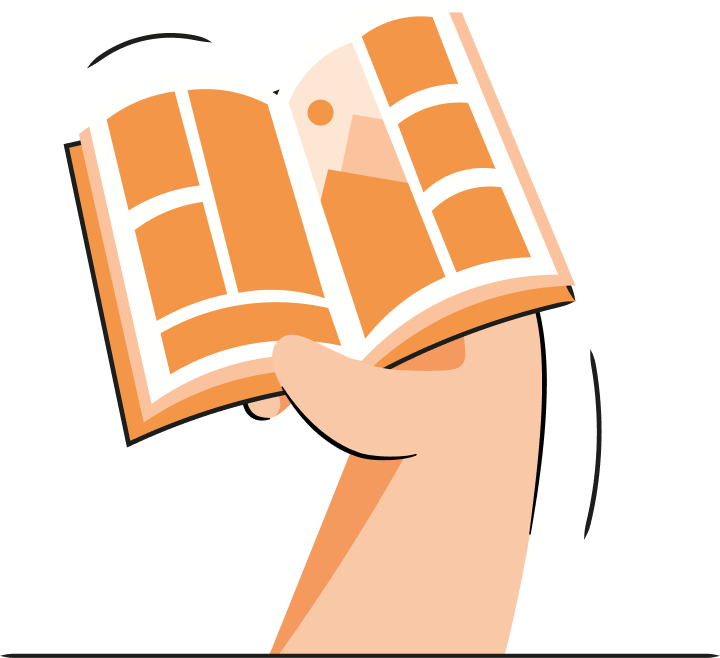 Frequently asked questions
Buddha Mega Menu & Navigation is the best Shopify menu app on the market. This application may suit anyone's needs by offering free and paid plans. It helps you create mega menus and submenus and customize them based on your preferences.
The best mega menu app for Shopify is Buddha Mega Menu & Navigation. However, qikify Smart Menu ‑ Mega Menu is also a reliable option. Both apps focus on easy and flexible customization, rich functionality, and more to help you boost conversion rates with an advanced mega menu.