By purchasing through the links on this page, you are giving us the opportunity to earn a commission. Your support is greatly appreciated!

How does your Shopify store transition from paid traffic to free organic traffic from SEO?

As Italian shoe and accessory store Speedd have discovered, image optimization really helps. Page speed is a key factor used by Google's algorithm when ranking your site. And optimizing the Alt-text on your images means they rank better in image search.

What's more, your customers will love it too! Google research conducted in 2018 found that 53% of mobile users leave a site that takes longer than 3 seconds to load.

Speedd wanted to reduce its dependence on paid traffic to become more profitable. And with a little help from TinyIMG, it has improved its SEO performance to make that possible. Discover how Speedd has used TinyIMG, and the impressive results it has achieved so far, in this Shopify success story.
From dropshipping to Shopify Plus success - the story of Speedd
Daniele Giorgi and Letizia Corzani, the team behind Speedd, come from a background in dropshipping. As dropshippers, they learned the marketing skills that any successful e-commerce entrepreneur needs.
In 2019, they decided they wanted to take full control of their operations. So they set up their own e-commerce store, Speed.
At first, they sold fashion accessories but soon realized that a smarter move would be to concentrate solely on shoes. As Letizia explains: "With shoes people know their size and the business is more standardized. You don't get the same concentration of returns that you find with other fashion items."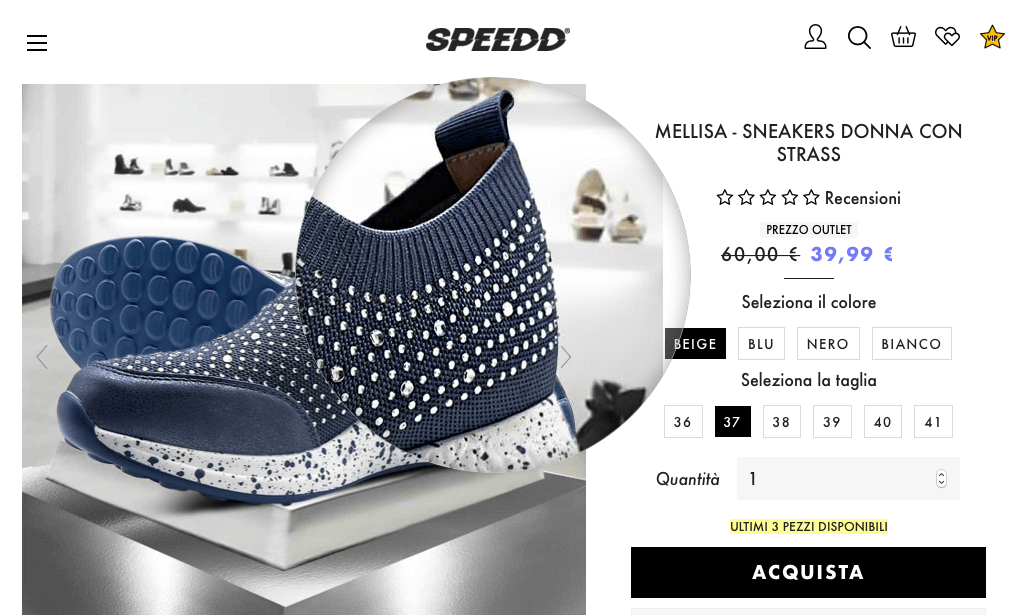 The team at Speedd focused on footwear thanks to the low return rates in this product niche
And once they had their focus, they began growing the store.
Shifting from paid ads to free organic traffic
Like most Shopify stores, Speedd used social media to build up its following and grow traffic to its online store. And, like most Shopify stores, this was great at first.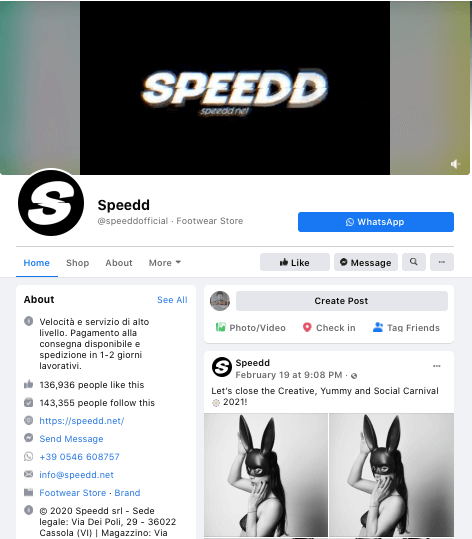 Speed has a large social media presence, with over 140,000 followers
But as Speedd grew, this marketing model created some serious headaches:
It was difficult to turn their large social media following into consistent traffic on their site.

It was expensive to keep finding new customers through paid Facebook and Instagram ads.
Here's Daniele to explain: "We have a really strong presence on social media, but we still have some issues translating that to organic traffic. So far, we've been paying for a lot of our traffic, but we realize that's an unsustainable model. For growth we need more organic traffic."
So what's the solution? The answer is SEO.
For many Shopify merchants, SEO creates feelings of stress or worry. After all, compared to paid ads, SEO feels more complex. With Facebook ads you just create an ad, define the audience, launch the ad and see the traffic roll in. But with SEO, there are many factors to consider:
Content:

Your Shopify store needs content that can help it rank on search engines

Links:

Getting links to your site is a great way to improve its domain authority, which helps it perform better on Google search

Site speed:

Google gives higher rankings to sites that offer a better user experience, including site speed. And according to the

latest announcement from Google on page experience in SEO

, from May 2021 page experience, including site speed, will play a much bigger part in how Google ranks your site.

Images:

Alt tags on images help your site to rank well in image search.
Getting your head around all of this can seem complicated. But the good news is, there are Shopify apps out there to help. As Daniele puts it: "We're not specialists, so we needed to find a tool that would help put us in the right direction."
Image rich Shopify stores a challenge for SEO and site speed
Speedd is an online shoe store. That means images are everything. Customers want to see the latest trainers in high resolution. They want the colours to pop, and they want to zoom in on the tiniest detail.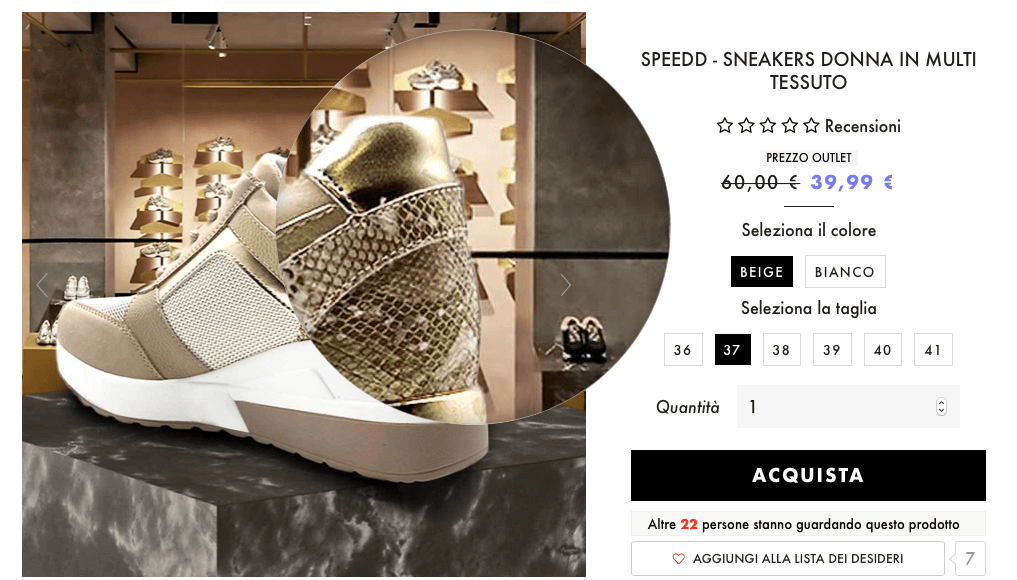 Shoppers on Speedd's e-commerce store can explore every detail of each product thanks to high quality images available
And of course, on a Shopify store like Speedd, there are plenty of images.
This combination of high quality and high quantity can be a real problem. "We have a lot of images and we were seeing that our pages were not loading as quickly as we'd like, especially when it comes to mobile and that was a problem for us," Letizia recounts.
Not only was this a major inconvenience for Speedd's shoppers, it was also a problem for their SEO.
An image optimization SEO tool that fits like a shoe
Daniele was sure of something. They needed to find an app that would help them slash page load speeds, especially for mobile, and also help them improve their overall SEO.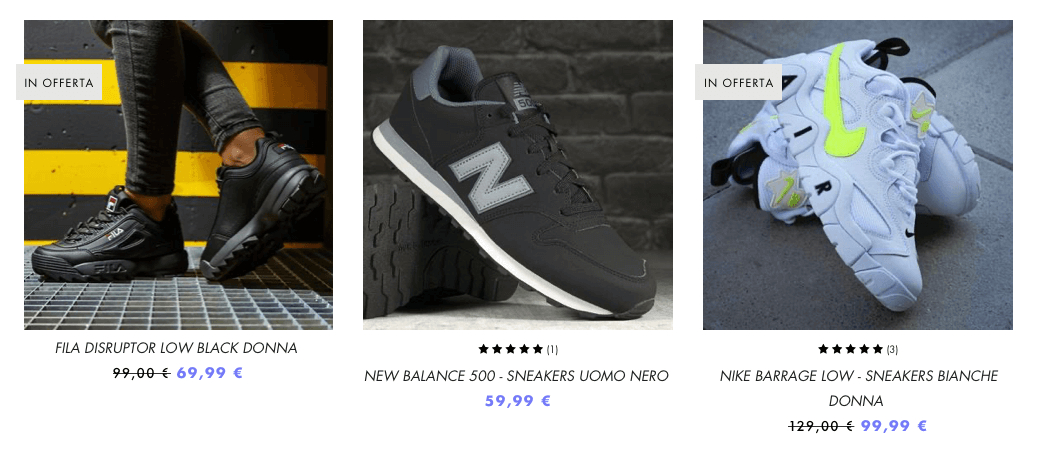 With so many high quality images, Speedd's site was performing sluggishly, especially on mobile
After some searching through the apps on offer, he settled on TinyIMG. Why? His answer is simple:
"TinyIMG offered the most comprehensive range of tools and it was by far the most user friendly. I didn't even need to ask TinyIMG's great support team for help. It was so intuitive that I was able to do the whole thing myself."
Daniele Giorgi, Information Technology Specialist, Speedd
To fix their site speed and improve their SEO, Daniele and Letizia used TinyIMG's image optimization tool. This tool compressed their images, it also created Alt-text for their images too. Because Google can't tell what an image shows, addingAlt-text to your images is very important. Alt-text explains to Google what the image shows, which helps improve the page's ranking and also improves your chances of ranking for Google Image searches.
While all this sounds complex, optimizing images and adding Alt-text using TinyIMG was child's play for Speedd.
"TinyIMG has a great dashboard and I would say that it's impossible to make it easier to use."
Letizia Corzani, Senior Buyer, Speedd
Need an easy-to-use SEO app with dedicated support for Shopify Plus?
Try TinyIMG!
The results: Faster loading and improved SEO
After optimizing their images using TinyIMG, Letizia and Daniele witnessed a big improvement in their site's performance. Here's a breakdown of their image optimization in numbers:
Total images optimized using TinyIMG: 9,185

Totals savings made: 3,583.99 MB
And here's a quick summary of image optimization package Speedd used:
Automatic optimization:

This means any new images added to Speedd's online store are automatically optimized.

Lossless compression:

When optimizing your images, you can choose between lossless and lossy compression. Lossy compression makes your image files even smaller, but you lose some image quality. With lossless compression, the quality remains the same but the image files are smaller. Speedd chose to use lossless compression so customers still get high quality images on the site.

Optimize ALT:

This means that ALT texts are generated (or optimized if they already exist) for Speedd's images. ALT texts are used by Google to tell what the image is about, and are important for SEO.

Optimize filename:

Google also uses image file names to understand what is shown in an image. Speedd chose to have TinyIMG optimize their image filenames for SEO.

Now we know exactly what Speedd did, let's take a closer look at the details of the results the Shopify plus store was able to achieve using the TinyIMG Shopify app.
Improved load speed on their Shopify store
"We were able to increase page load speed, especially on mobile."
Letizia Corzani, Senior Buyer, Speedd
Speedd saw a big jump in their overall page load speed rating (as evaluated by Google). The before and after ratings tell the story themselves, with load speed rating jumping from 18 to 70.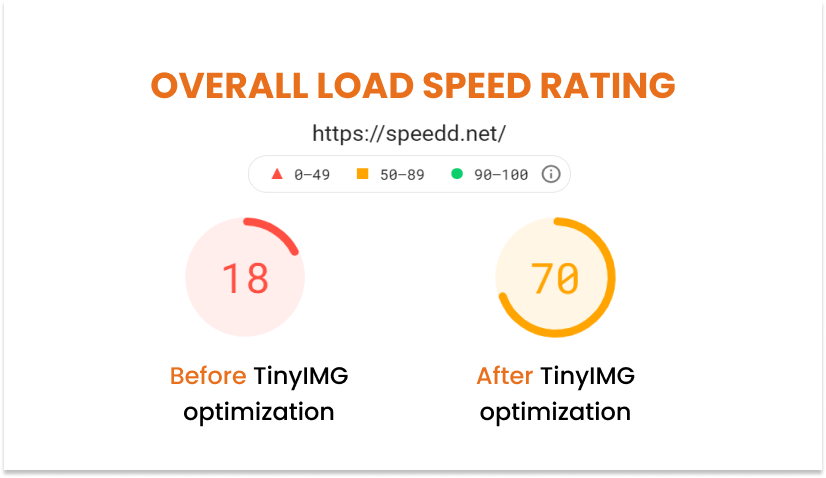 This translates into a much better user experience for Speedd's customers, as this Google lab data shows.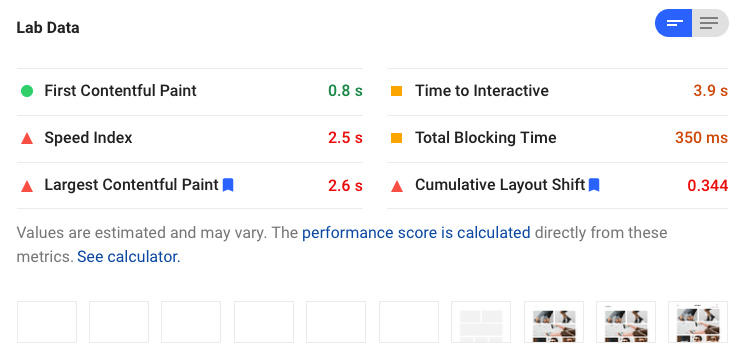 After optimizing with TinyIMG, the First Contentful Paint on Speedd's home page takes just 0.8 seconds. This means that after 0.8 seconds the images on the page appear. According to SEO experts, e-commerce stores should aim for 2 seconds or less, so Speedd is now performing well above average.
What's more, Speedd's home page is fully interactive in under 4 seconds. Time to Interactive is an important metric. Shoppers don't want to wait before exploring your store, so a lag before your site is interactive can hurt sales.
What about product pages? For Speedd, these pages are crucial. They are competing with brick-and-mortar shoe stores, where customers can see the product from every angle, and feel it's texture. To recreate this experience online, Speedd uses multiple, high-quality images on each product page.
A typical product page has 9 zoomable, high-quality images, plus detailed product specs and description. This example, for New Balance 5 trainers, show's how much detail Speedd's product pages go into.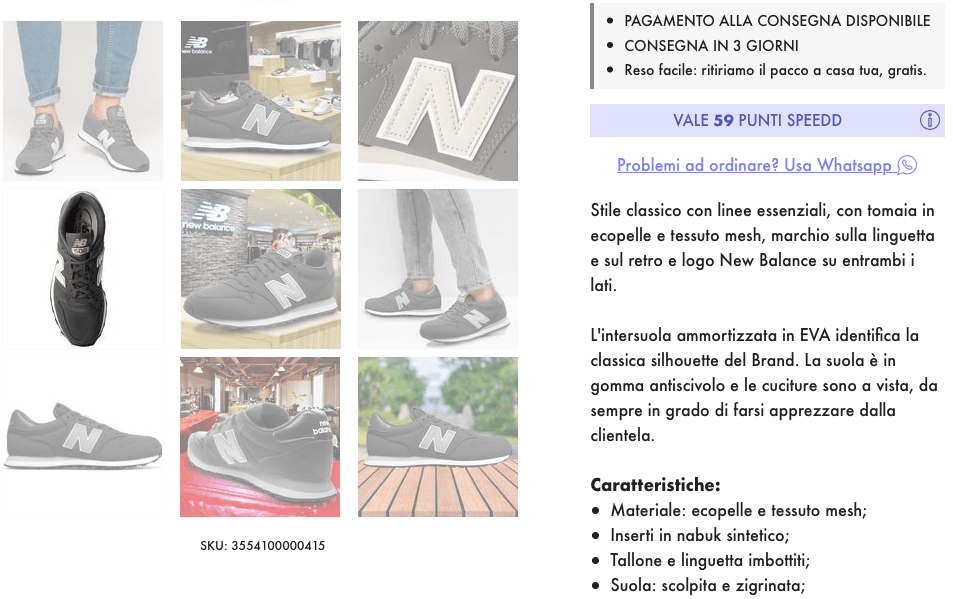 Having this many images could really hurt Speedd's load speed. But, having optimized these images, this page now performs well. Here's the Google lab data for this product page.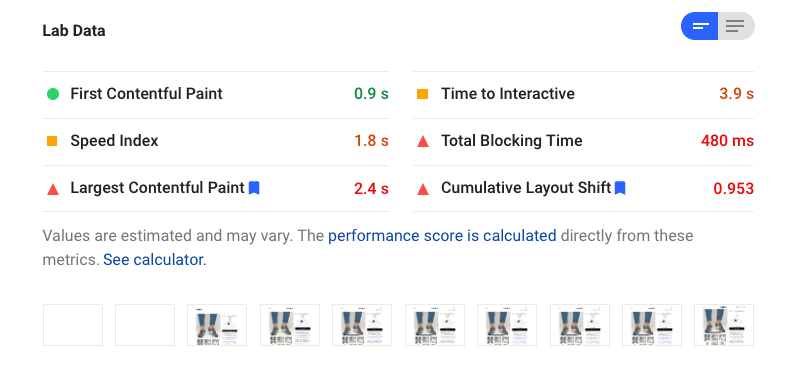 The page is loaded in less than a second, and fully interactive in under 4 seconds. Considering how many images this page has, this is an excellent result.
Improved SEO performance on Google Lighthouse
The improvement in load speed has translated into improved SEO.
"We saw a real improvement in our SEO. After we'd started using TinyIMG, we started getting better reports on Google Lighthouse."
Daniele Giorgi, Information Technology Specialist, Speed
So why has Speedd's SEO performance improved? Here are the key reasons:
Better load speed means better SEO:

Improving load speed is one of the ways you can boost your SEO performance. It enables Google's bots to crawl your pages faster. Plus, Google gives higher rankings to pages that load faster.

Optimized ALT texts and filenames enhance SEO performance:

With the ALT texts and filenames optimized for all of its images, Google now understands more about what is on Speedd's site. This means Google is more likely to rank the site higher, especially for searches for specific products.
Speedd's Shopify success story: the takeaways
"I'd definitely say that TinyIMG was the right choice for us."
Daniele Giorgi, Information Technology Specialist, Speedd
With almost no effort, Speedd has improved both the user experience and the SEO of its Shopify store. This is helping the store in its overall effort to move away from paid ads as a source of traffic.
Most importantly, Speedd hasn't had to sacrifice quality. Its product pages still offer shoppers a super-detailed look at each product via multiple, high-quality images.