By purchasing through the links on this page, you are giving us the opportunity to earn a commission. Your support is greatly appreciated!
At a glance:
Shopify store name: Higooga
Website: higooga.com
Owner: Yammie Pang
Niche: Pet supplies
Founded: 2020
Mission: Offer stylish products for busy pet parents
TinyIMG contribution: 1500+ images optimized, 850MB saved
Biggest TinyIMG benefits: affordability, automation, easy setup and use, visible results
Covering as many business needs as possible at low cost and minimal time investment - that's at the top of every Shopify seller's mind. Even more so for a recently launched and bootstrapped pet supply store like Higooga.
TinyIMG ensures all Higooga's image SEO needs are covered. With over 1500 product images compressed and optimized, the owner Yammie has one less thing to worry about when running her business.
"TinyIMG has been a lifesaver, really. You set everything in one go and then it just runs and does everything for you."

Yammie, Owner of Higooga
Now let's see how Higooga and TinyIMG got here.
On a mission to help stylish and busy pet parents
The pandemic brought about challenges that hit hard just about everyone. But where most saw only problems, Yammie also spotted an opportunity. The skyrocketing early 2020 demand for eCommerce retailers was the perfect setting to take on her lifelong dream - to open her own eCommerce business.
And is there a better place to look for a business idea than the issues you yourself face?
Yammie is a proud parent of a huge Mancoon cat, and she reflects that "finding pet items that look nice at home, are functional and affordable wasn't easy". She suspected that she was not alone, and she was right. That's how the idea to launch a pet supply store was born.
Together with her business partner at the time, Yammie founded Higooga in early 2020. Armed with extensive marketing experience, Yammie took on Higooga's marketing whereas her business partner managed the operational side. Not long after Higooga started taking off.
At this point, it's Yammie and two remote team members working hard to offer stylish items for busy pet owners. Higooga is in the testing phase. They're shifting their business model a little and focusing on cat owners in order to perfect their personalized shopping experience.
And it shows. Higooga's products are clearly carefully selected and the customer journey is highly customized and intuitive. On top of the basic product catalog, you can use creative collections designed to answer your needs.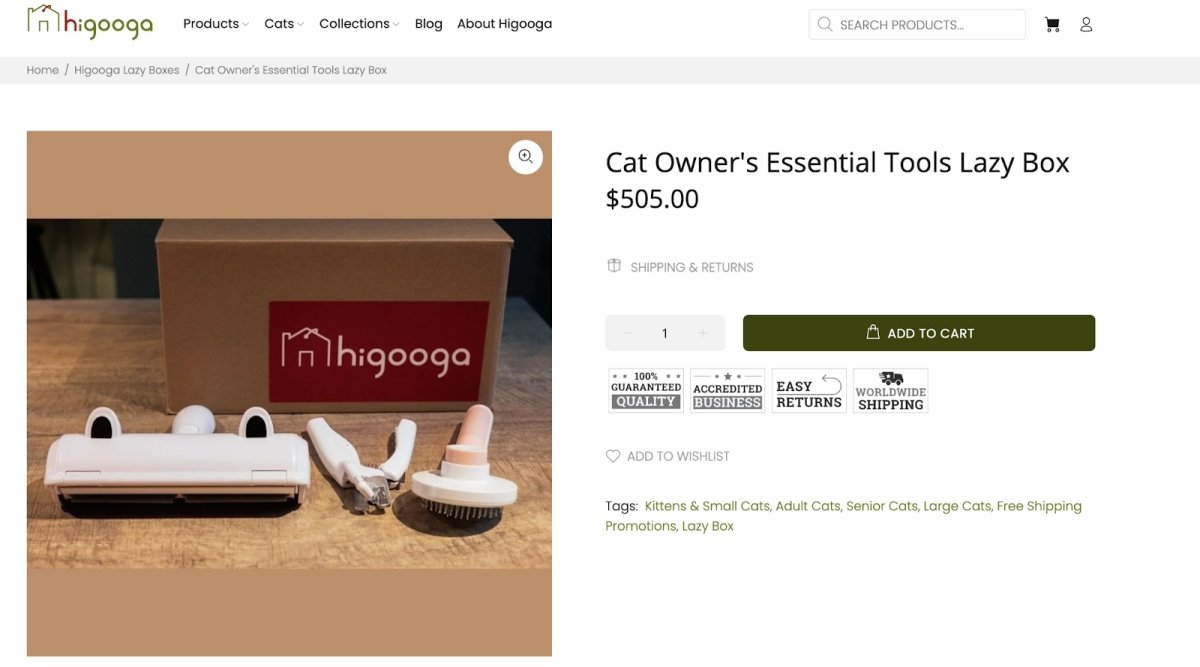 For example, their LazyBox concept is an easy answer for a confused new pet parent: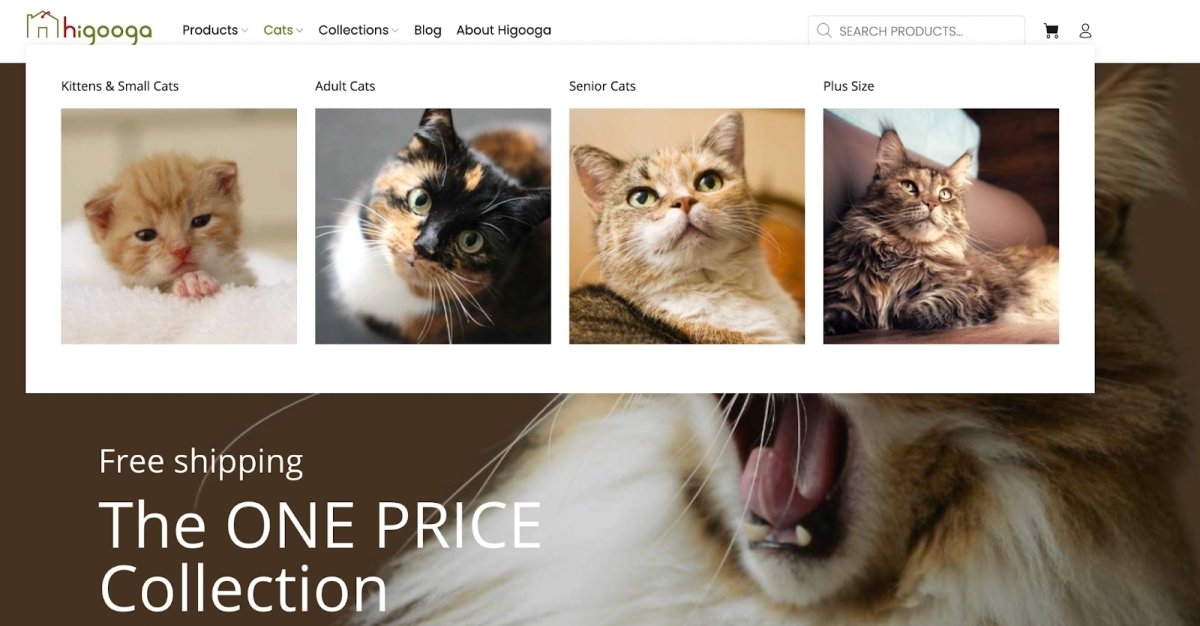 Yammie shares that she draws a lot of inspiration from IKEA:
"When you're looking for a piece of furniture that looks good at home, is cheap and functional, I think everybody would most probably go to IKEA, right? We're small at the moment, but the idea is there. We want to build something that is like an IKEA for pets".
SEO with TinyIMG as a long term growth plan
As online IKEA for pets is no small goal, Yammie focuses on SEO as her long-term, sustainable growth plan. Thanks to her background in marketing Yammie knew that SEO is a long game, so time and expenses can quickly become her main obstacles.
That's where TinyIMG came in to save the day.
Higooga's start with TinyIMG
With 6-8 images per product and many products available on the site, Higooga started facing page speed issues soon after the launch.
"When I first started this website, I didn't really have an idea about image sizes. When I discovered TinyIMG, I had about 50 products in the store already", admits Yammie. Going back to manually optimize and reupload all product images would take up so much time that it simply wasn't an option.
Yammie set out to look for an automated and budget-friendly solution. Her goal was an app that would handle all manual image SEO tasks and allow her to focus on the creative side of marketing. TinyIMG came up as a suggestion in one of the articles while browsing the web.
Yammie makes budget optimization one of her top priorities. Understandably so, as it's easy to get carried away with the recurring subscription budget for Shopify apps. To avoid that, she puts the apps of her choice to a rigorous test before committing to them, so she spent some time talking to TinyIMG support about functionalities and potential results before picking a plan.
On our side, we did our best to clear up any doubts. Plus, knowing how crucial managing expenses is for small business owners, we presented Yammie with a discount on her chosen 2-year plan.
It didn't take too long for us to find common ground. And once Higooga installed TinyIMG, results spoke for themselves.
TinyIMG did its magic on all existing product images and still does for the new ones uploaded to the website. As of now, it optimized 850MB worth of space on Higooga's product photos.
"Honestly, I think the app saved my life, because I didn't have to spend a lot of money and time redoing everything", happily shares Yammie.
Automation and affordability as top TinyIMG advantages
"I'm bootstrapping at the moment, so I'm running on very low resources and a very low budget." That paired with the fact that Higooga is going through many tests at the moment does not leave a lot of room for side tasks or side projects.
The beauty of TinyIMG is that it does all the work and you don't have to think about it unless you want to.
Yammie agrees and shares that overall, "it's a very convenient app. On an ongoing basis, I don't have to worry about images at all". One of her team members is responsible for getting images from suppliers and uploading them on the website. TinyIMG does the rest.
Automated image compression is TinyIMG's bread and butter and it's what Yammie uses the most, but she also takes advantage of more features.
"I use alt text and filename optimization. After I installed the app, I set it and now I'm just letting it run".
The other topic that kept coming up was cost efficiency. "TinyIMG is good value for money. It's quite cheap for how much it does".
An important app for everyone who lacks resources
When asked if she'd spread the word about her experience with TinyIMG, Yammie said that "in fact, I have recommended TinyIMG already to fellow small business owners. And I'd do it again. It's an important app for everyone who lacks resources".
We're so happy to support all the great Shopify visionaries. Facilitating small business growth is one of our biggest motivations at TinyIMG, so we're thrilled to learn that Higooga sees that as the main takeaway from their journey with us.