By purchasing through the links on this page, you are giving us the opportunity to earn a commission. Your support is greatly appreciated!
Caravan Cover Shop's partnership with TinyIMG in numbers
Home page load time reduced by 3 seconds
SEO score of 90 achieved
Product pages loading 3X faster
Time needed for a user interaction to be completed reduced from 170 milliseconds to 60 milliseconds
Support provided is "second to none"
Easy to use: "TinyIMG makes life simpler"
The story behind Caravan Cover Shop
Kirk and Lianne are true digital nomads. After leaving their home in Australia three years ago, they moved to what was then the heartland for nomads, Chiang Mai in Thailand. Since then, they've taken off on a global journey that has seen them explore Europe and the UK.
And all this was made possible thanks to their three ecommerce stores.
Kirk's wife, Lianne, had taken a dropshipping course and they had immersed themselves in everything ecommerce. Lianne had built their first store from scratch and together they'd set out on their e-adventure. With their first store making traction they decided to diversify and move on to establishing a second store. This time, however, they decided to go a slightly easier route and not build that store from the ground up. They got the opportunity to buy a store selling caravan covers that was already up and running, and Kirk took it. As he explains:
"It already had a google adwords campaign built into it, etc. It was already performing well, so we purchased that."
With the two stores under their belt, they acquired a third. The reasoning was strategic, as Kirk explains:
"We saw that store come up for auction through Flipper.com and that was in the same niche as our caravan cover store. The opportunity seemed too good to miss so we grabbed it really cheaply. I've fully renovated it, and we're now working out how we're going to advertise them both in a way that they grab the top two or three real estate spots in google."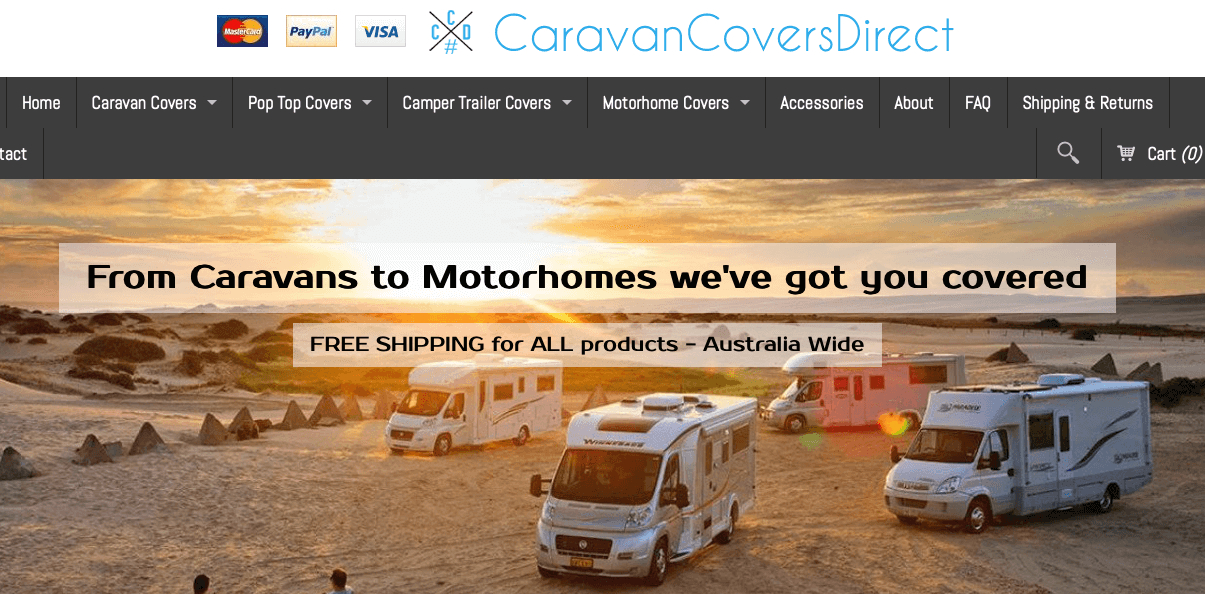 Two of the stores Lianne and Kirk run are in the same industry. Caravan Covers Direct ...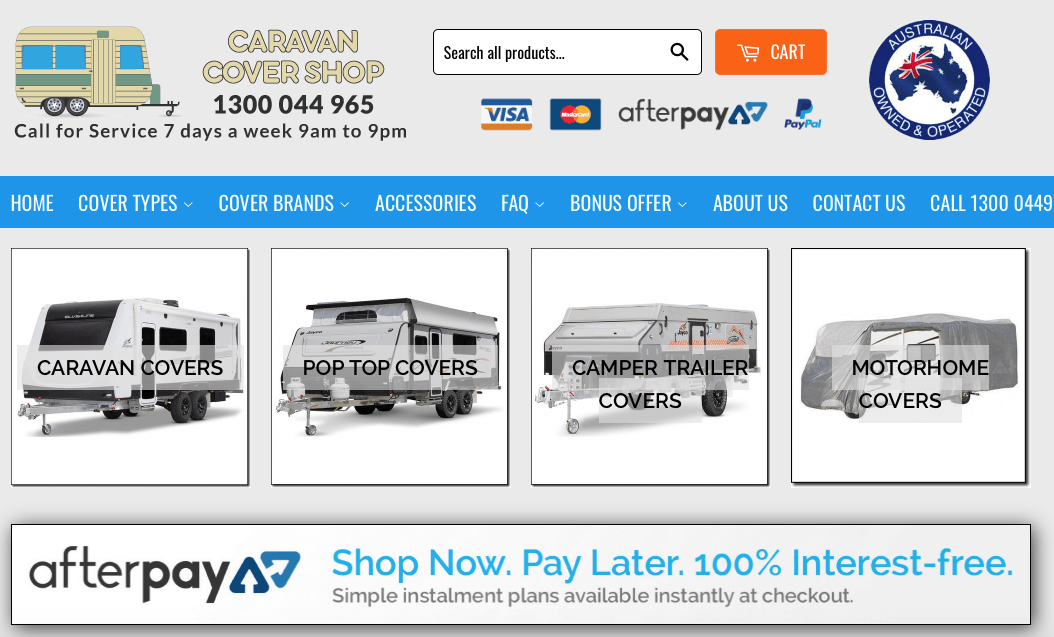 … and Caravan Cover Shop
Fast forward to now. The couple are running three separate Shopify stores, and they are as lean an operation as they could be.
Getting to grips with SEO for ecommerce
Running three stores between them, however, can be tough. Kirk is very open about how difficult it can seem at times:
"We don't have a huge advertising budget. We don't have teams of support people behind us writing code. I've been learning CSS on the side, but it's just the two of us. Things sometimes seem insurmountable with how much you need to know, how much you need to learn. Occasionally google changes the goal posts with google ads, so you have to constantly update your knowledge."
So much to learn, so little time
"SEO in particular can be confounding at the best of times, especially when time is a very scarce resource."
"Improving your ranking is just a really slow process. It takes months, and you need to let Google's algorithm slowly find you in favor, and push you to the top. It's not an overnight silver bullet thing."
In the stormy seas of ecommerce, entrepreneurs like Kirk are heavily reliant on their SERP rankings to set them on a course toward the top. And this can be perplexing, especially for smaller operations that have no technical support staff. Learning the ins and outs of the complex world of SEO is beyond the means of smaller operations who do not have the luxury of time on their hands.
Kirk's time is divided between the actual hard lifting of building his sites and maintaining invaluable customer support. Factor in the fact that for two of his sites he provides 12-hour support 7 days a week, and it's clear his time is really at a premium.
Budget and customer support are key
Faced with the challenge of improving his sites' SEO and performance, and with little time to spare, Kirk began looking for an app that could help him.
Kirk has two key considerations when considering an app.
"For me, pricing is an issue. With the third store we bought, we were immediately out of pocket and we need to make money. So pricing was the number one issue."
"Then, of course, functionality comes along with that as well. I'll install an app, I'll give it a bit of a trial, see how easy the user interface is, how well is it going to integrate. I might run off a couple of quick support requests, test the support and see if there's a quick response. All that rolled into one is how I gauge whether an app is going to be successful for me or not."
TinyIMG met these criteria - it's free trial option and pricing fitted with Kirk's budget. And when it comes to customer support, Kirk is equally impressed:
"Support wise, it's second to none."
An app that takes care of itself
Kirk installed TinyIMG on his first two stores, and immediately saw the benefits. But it was during the complex process of rebuilding and launching his third site that he saw the full benefits TinyIMG could deliver. It was, a Kirk puts it, "a Godsend".
"With the third store it was like walking into a bombsite and then needing to clean it up: the text, the imagery, the descriptions, the SEO (or lack of it), everything needed tidying up or deletion or replacement. I already had TinyIMG SEO running on both my other stores, and the guy that had this third store had a few apps, but he had basically let the store go and had run it into the ground. Some of the apps were no longer supported."
"So, I just stripped it of all the apps and started again. I installed TinyIMG, stripped down all the images from the store, replaced them with updated images and just let TinyIMG do the hard yards."
"It's so simple, all you've got to do is have the naming correct of the filenames and the app does the rest, which I just love. It's very, very simple. Then of course you get the emails, notifications saying TinyIMG has just updated 30 images in half an hour. It's just nice to know that it's done that."
"Now I go in and add a new product without even thinking about SEO issues with alt text and other things like that, which up until this point had been a bit of a headache for me. Because learning all of this, it really is a momentous task. Having the TinyIMG SEO working for me now is a godsend."
A user-friendly interface that is easy to use
With limited time to get to grips with the technical ins and outs of many other apps, Kirk is impressed by how user friendly TinyIMG is:
"Interface wise, I do need something a little bit simpler, and I just find TinyIMG is right up my alley with its simplicity. It seems very simple, very straightforward, easy to use and implement. I've had no issues with anything. Apps like TinyIMG make life simpler."
The results: Improved SEO, a faster site and better user experience
Kirk is clearly happy with the price, support and interface. But what about the results TinyIMG has delivered for this stores? Let's zoom in on one of his sites and take a detailed look at the results in 4 different areas:
SEO score
Ongoing SEO improvement
Site load speed
User experience
SEO score: 90
Kirk's main interest was improving SEO, and the first major result that TinyIMG delivered was an enhanced SEO score for Caravan Cover Shop.
This was achieved by doing three things:
Optimising all of the images on the site
Arranging file names for all images so that they tell Google what the image is about.
Adding ALT texts to all the images to provide additional information to Google.
After optimizing the images on his site, it achieved an SEO score of 90.

TinyIMG helped Caravan Cover Shop achieve an SEO score of 90
Ongoing SEO improvement
As the graphic above indicates, improving SEO was just a first step in getting the site performing well. While Kirk was looking for a simple tool that would fix his SEO, he was also looking to learn more about how he could further improve his site's performance. So the TinyIMG team shared a range of practical tips aimed at specifically addressing performance issues he was experiencing.

Kirk received a detailed list of recommendations for further improvements from the TinyIMG team
As the final suggestion on this list indicates, much of this optimization is about finding the right balance between different demands. In this case, switching away from lazily loaded images would further boost SEO (because Google's bots could now crawl those images as well) but would damage site load speed. And load speed was a major issue for Caravan Cover Shop.
Improving site load speed
In total, TinyIMG has optimized over 4,000 images across all Kirk's stores, saving over 100MB in the process. This has resulted in much faster load speeds for these sites. And improving load speed is critically important for conversion – 53% of shoppers will abandon a site if it takes more than 3 seconds to load.
Load speed also impacts SEO in two important ways:
1. Crawlability: Google's bots 'crawl' your website to discover what content is there. This helps Google decide what type of site you are, and which kinds of searches you will be relevant for. If your site is slow to load, this limits how much of your site Google's bots can crawl in a given time. This can mean not all of your site is seen by Google's bots, which will lower your overall SEO score.
2. Bounce rate: Your bounce rate is the number of the visitors who land on your site and then quickly leave without performing any action. Google tracks bounce rate to help it judge if your site is a good place to send users or not. And one of the biggest factors to impact your bounce rate is how quickly your pages take to load – the slower the load speed, the higher the bounce rate.
Let's take a look at some specific pages Caravan Cover Shop store, and see how their load speed performance improved after TinyIMG optimization.
The largest improvement was seen on the home page. This page is critical for conversion, as a slowly loading home page can result in a high bounce rate and lost sales.
Overall load speed rating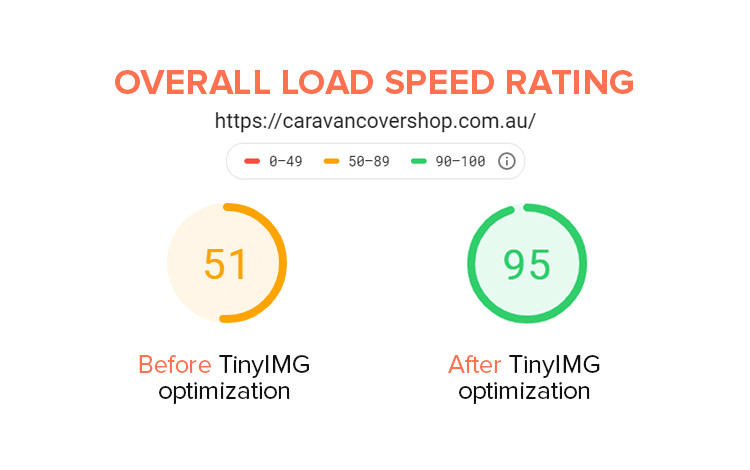 Specific metrics:
First Contentful Paint (when the first images are visible to the user) was reduced from 3.4 seconds to 0.9 seconds.
Speed Index (when the full site is visible to the user) improved from 4.5 seconds to 1.2 seconds.
Caravan Cover Shop's product pages contain a lot of high quality images. This can make them very slow to load, especially on mobile. TinyIMG optimization helped to improve the load speed for both mobile and desktop.
On mobile
Overall load speed rating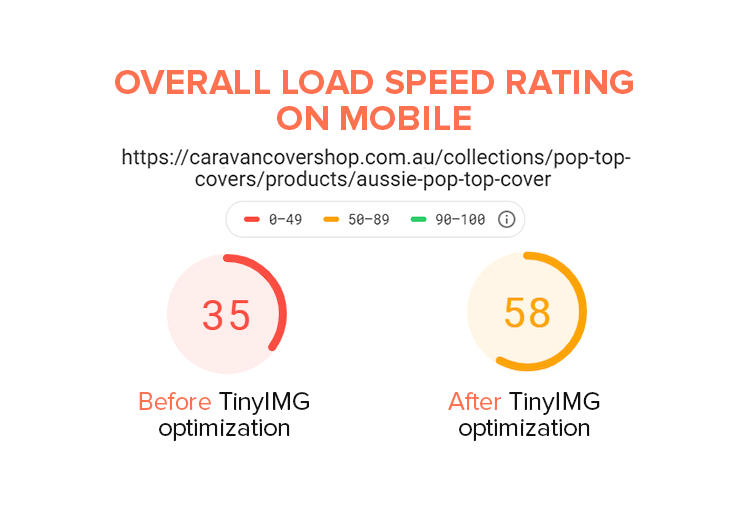 Specific metrics:
First Contentful Paint (when the first images are visible to the user) was reduced by 0.5 seconds.
Speed Index (when the full site is visible to the user) improved by 2.6 seconds.
On Desktop
Overall load speed rating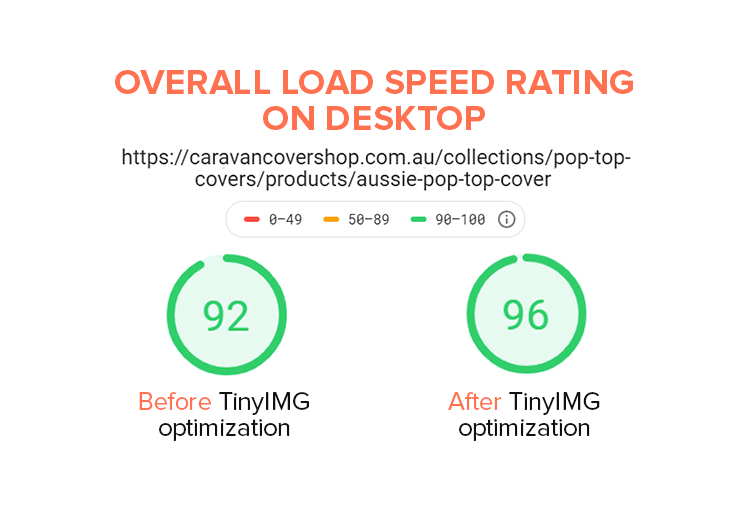 Specific metrics:
First Contentful Paint (when the first images are visible to the user) improved from 0.9 to 0.8 seconds.
Speed Index (when the full site is visible to the user) improved from 1.5 seconds to 1.2 seconds.
An improved user experience
Faster load speeds are not just about conversion and SEO. User experience is a key factor too. So when you think about site speed, it's important to not only consider the initial time it takes for the site to become visible. You should also consider how long it takes to become interaction, and how quickly interactions (like clicks) take to be performed. A store that is quick and responsive will improve the overall user experience, which can boost customer loyalty and advocacy rates.
So let's take a look at a couple of key metrics related to user experience that improved after TinyIMG optimization.
Metric 1:
Time to Interactive (TTI). This is the time is takes before your website can be interacted with (not just viewed). Google defines Time to Interactive as:
The point at which layout has stabilized, key webfonts are visible, and the main thread is available enough to handle user input. (Source: bowlerhat.co.uk)
Metric 2:
Max Potential First Input Delay (FID). First Input Delay measures the time it takes for the browser to respond to a user interaction (such as a click). And Max Potential First Input Delay is a metric that shows the longest possible time a users could wait for an interaction to be performed. In other words, it shows, in milliseconds, the longest task on the page.
The product pages on Caravan Cover Shop are highly interactive. They feature a number of product images, each of which is zoomable so customers can inspect products in detail.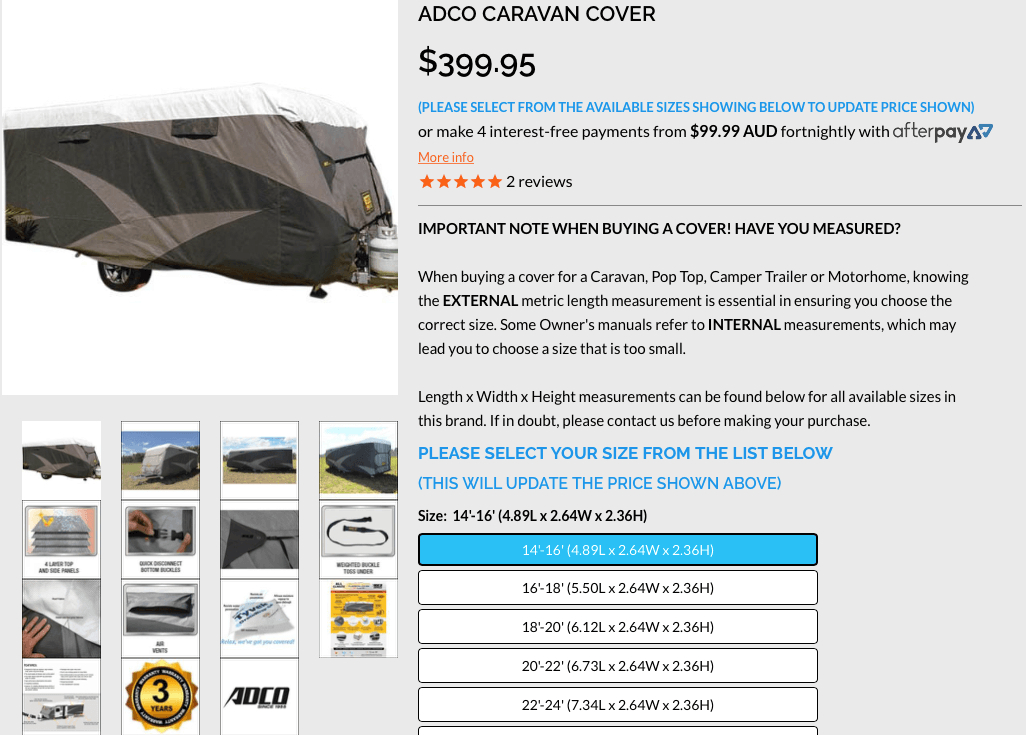 The product pages on Caravan Cover Shop have lots for users to explore
TinyIMG optimization dramatically improved the speed of the interactions on product pages like this one.
Metrics before TinyIMG optimization

As this graphic shows, interactions on this page were very slow. Shoppers were having to wait almost 9 seconds before they could interact with the images or size options on the site. And once they did click, it could take up to 170 milliseconds for that action to be performed.
Metrics after TinyIMG optimization

After optimization, the experience for shoppers is much improved. The page is now fully interactive in just 2.7 seconds, and it now takes up to 60 milliseconds for a user action to be carried out. This is almost one third of the time it previously was.
Summary
Kirk came to TinyIMG looking for improved SEO for his Shopify stores. He has received not only very competitive SEO scores, but also improved load speeds and user experience. This means metrics across the customer journey have been improved:
Improved SEO means more traffic to the site.
Faster load speeds mean a lower bounce rate and more conversions.
Improved user experience means higher customer satisfaction and loyalty.
And crucially for Kirk, and his lifestyle as a digital nomad entrepreneur, with TinyIMG set up he can concentrate on developing his stores and providing great customer service, safe in the knowledge his images are taken care of.
"All I know is that, with the TinyIMG app running in the background, when people are looking at images or when they are searching, they're going to find us more easily. And that just gives me the confidence I need in order to manage the store and not have that added stress of why we aren't getting so much traffic."