By purchasing through the links on this page, you are giving us the opportunity to earn a commission. Your support is greatly appreciated!
1. What are Email Newsletters?
Email newsletters are just another type of digital marketing tools. When it comes to digital marketing, email proves to be the best way to inform your audience about your organization, business, and product for any news about your business.
Email newsletters come in many forms, designs, and layouts, it depends on your digital marketing strategy how much effort you put into an email newsletter. Email newsletters are an easy way to reach your audience.
The email newsletter should be exciting and should follow the AIDA model. If your email newsletter is based on the AIDA model means it will grab audience attention, help them develop an interest in your newsletter, and create a desire in their heart to follow whatever it is written in your email newsletter and urge them to take action according to it.
2. Purpose of Email Newsletters
Email newsletters help you connect with your audience. It helps you reach your customers and help them learn about your brand. Email newsletters help customers to reach your website. Not everyone uses Facebook and Twitter, but everyone has an email. When you send an email newsletter, it can drive your audience to your online website if they don't already know about your website. This way, your sales increase, and you have more reach of followers and audience. Some of the primary purposes of email newsletter are:
2.1 Communication:
Email newsletters help you communicate with your audience, so they have the latest information about your brand.
2.2 Reaching the audience:
More than 4 billion people use emails, so when you use Email as a marketing platform, you will reach many viewers and potential customers.
2.3 Effectiveness:
A newsletter is sent directly to someone's personal mailbox. There is no doubt in the fact that everyone will explore your email at least once.
2.4 Marketing:
Email newsletters can be sent based on consumer behavior, which means marketers can learn about their audience and their buying preferences. Then present tailor-made product lines through the email newsletter. In the sense of a marketing sales funnel, email newsletters fall at the very top of the funnel allowing you to filter prospective buyers and subscribers who show interest.
2.5 Knowledge:
When people learn about a brand and have more understanding of it, they prefer it more. In your newsletter, you can tell them about your brand, how you work on your product, and how you can help your audience.
2.6 Relationship:
In this competitive market, the only brand that will strive and survive is the one that will have a better relationship with their audience. An email newsletter is the best way to build a strong relationship with the audience.
3. Email Newsletter Structure
To communicate with your audience, you need to create the best email newsletter. The structure of the email newsletter contains the following components:
3.1 Template:
You can use pre-designed templates, or a web designer can create an HTML template.
Your template should be in a classical and professional form that grabs the attention of your audience.
3.2 Design:
The design of your newsletter should be expressive and informative, also EYE-CATCHING. Design involves styles, fonts, and colors of the email newsletter. The design of your email newsletter should attract the audience.
3.3 Copy:
The copy should include knowledge and promotion. It should not be too lengthy and should involve sufficient information. Market your brand with high-quality content.
3.4 Subject line:
The subject line is the building block of your email newsletter. It should be intriguing, funny, and creative, so people are intrigued to open the email newsletter. It should not contain more than 50 letters and no less than 20.
3.5 CTAs:
CTA stands for ''call to action''. An example of a call to action is "learn more," "make an order," "get discount," etc., just a click away in an email newsletter. There shouldn't be too many CTA buttons in your email newsletter's promotional section, as it may seem pushy. A call to action button should be added after promoting the brand so the audience will be intrigued to take action.
3.6 Sender's name:
You are the one communicating with your customer. To make them feel comfortable with your brand to create a friendly bond, you can use your name. The sender's name is the first thing a customer will see along with the subject line.
3.7 Unsubscribe link:
It is better to create an unsubscribe link in your email newsletter so you can better learn about your potential customers and avoid bugging your audience.
4. Email Newsletter Design Ideas:
4.1 Business update newsletter design example:
Business update email newsletters are used to update your staff, investors, customers, or clients on your company's state.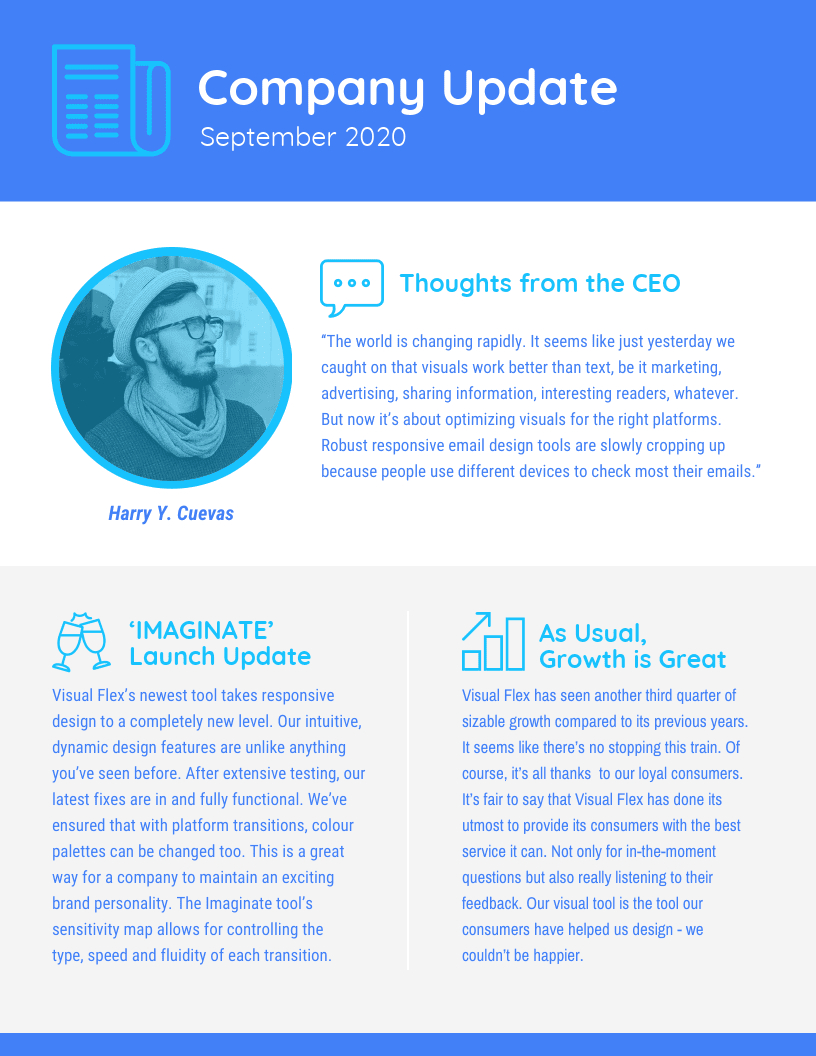 How to design this type of email newsletter:
To blend images into an email design, give them a color filter that matches the rest of the design by adding a color layer over the image and adjusting the opacity within an online editor. The blue color filter on the image in the email newsletter template above blends seamlessly with the rest of the design using this technique.
4.2 Home store reopening email newsletter
This eye-catching store opening newsletter is clean, stylish, and practical. You can also add your business website and how customers can buy your products, i.e., PayPal, Instagram, Facebook, or any other payment method that works best for you and your customers.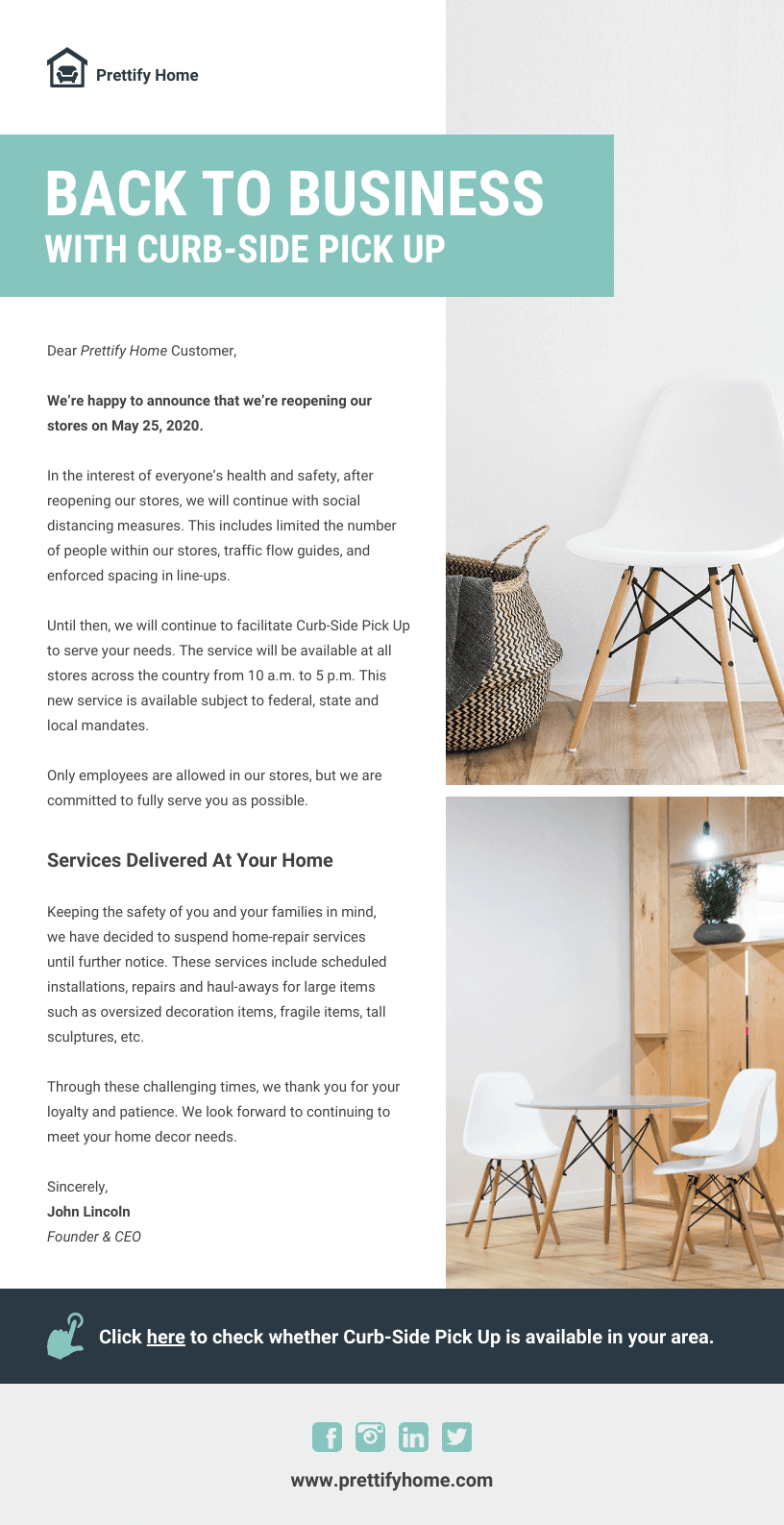 How to design this type of email newsletter:
You can swap out the photos in any of the online templates. This newsletter is made using a venngage online editor. Enter their drag and drop online editor by clicking the template image above. Click the photo and the "Replace" button. Upload your photos or choose from their in-editor free stock photo library. They have many options for many beautiful templates for email newsletters.
5. Email Newsletter Best Practices
Some of the practices which will help you create beautiful email newsletters are:
Your email newsletter should not be too lengthy. It should have all the necessary information but presented briefly. Your audience will not spend too much time reading the whole newsletter, so try to address your purpose as prominently as possible.
Keep an eye on your active users. If you have any inactive users, try to reactivate them, but it's not possible then remove them from your mailing list, or else some email service providers will mark them as spam or irrelevant Email. Maintaining email list hygiene is equally important, and its always recommended to validate your email list before the campaign.
Divide your subscribers based on their gender occupation language age and location to be easy for you to do segmented Marketing. You don't want to send women related newsletters to men as they will just ignore it.
Use easy to understand vocabulary but keep grammar on point and double-check for your mistakes. Avoid repeating your message and be concise and clear for your email newsletter.
Avoid making your email newsletter serious and annoying. Try to add some fun and use anecdotes and compelling images to get the desired attention from your audience.
Moreover, analyze your emails and the effect it has on your audience. Avoid framing your audience with too many emails. Many people will open an Email newsletter on their cell phones, so keep your email newsletters mobile friendly.
The bottom line is email newsletters have proved to be the best digital marketing strategy as you can easily reach your audience through emails. The marketing of your brand depends on the design of your email newsletter. More interesting and stunning the newsletter, the more audience and customers it will attract.
About the author:
John Davier
Content marketing guru at MailMunch. I'm passionate about writing content that resonates with people. Live simply, give generously, stay happy.