By purchasing through the links on this page, you are giving us the opportunity to earn a commission. Your support is greatly appreciated!

Long gone are the days when social media was only about selfies and food pictures. Today more and more creators and brands are discovering the power of social media for e-commerce. Therefore, today we will share why you should pay more attention to your social media presence while developing your product or service.

Continue reading to learn the importance of social media for e-commerce, the most useful platforms, and some practical tips on using them effectively.
Why is social media important for e-commerce?
There are a few key reasons why social media plays a massive role in your e-commerce business. Let's look at some of the most important ones.
Sell your products and services
As a business, your main goal is to sell your products and services. With social media's help, you can ease up the shopping process for your clients, making them more inclined to invest in what you have to offer.
For example, sharing an Instagram Story of the T-shirt you're selling and adding a link to your e-shop will increase your potential clients' likelihood of buying it.
In this case, a person wouldn't need to type in your brand name in Google to find your e-shop. With just one link, your potential client will find what she or he is looking for.
Increase your brand awareness
People buy from the brands they know and trust. One of the best ways to introduce yourself to your potential clients is through your social media activity.
For instance, after seeing some backstages of what you do at work, hearing about your brand's mission and values, the client will have more trust in you as a creator and as a brand. After gaining your audience's trust, it is more likely that your social media followers will purchase your products or services.
Attract potential clients
Use social media for your e-commerce business with a long-term vision in mind.
It means that focusing on the clients who are purchasing your products today is no longer enough. Make sure to take time to create bonds with people who may not buy your products now but might do so in the future.
If anything, the global pandemic has proved how important it is to invest in your social media to create bonds with your audience.
Even if people may not have the financial means to buy from you now, they will come back to their trusted brand when they can do so. Your goal is to become that kind of brand and stay patient along the way.
Which social media platform should I use?
First and foremost, there is no need for you to use all of them. On the contrary, making a strategic decision on what platform to use will only make you reach your business results faster.
Depending on your brand's goals, you can choose LinkedIn, Facebook, Instagram, TikTok. Of course, there are more, like the new audio-based social media app Clubhouse, but for today let's stick to the basics.
One thing to mention before we dive into the nitty-gritty of each app. If earlier most of the brands focused on their image on LinkedIn on Facebook, today most of them are switching to more informal platforms, such as Instagram or TikTok. The features the latter apps offer are excellent for those brands who want to strengthen their bond with their clients. Usually, in an entertaining and fun way.
LinkedIn
As we have already mentioned, LinkedIn is an excellent social media platform for anyone who seeks to create a professional brand image. This is a perfect place to establish yourself as an expert in a particular area and find a like-minded audience.
While you wouldn't be able to sell directly through LinkedIn, this platform will help develop your brand as one that can be trusted. You can also use LinkedIn Sales Navigator to find and engage with decision makers in your target audience.
Moreover, with the new LinkedIn Stories feature, you can share some of the creative processes at your work, which users will appreciate, and might want to check your e-shop.
Facebook
If you already have your Facebook page and use it to sell your products or services, good job! Today we would like to offer to take a look at the Facebook groups.
Recently, the role of Facebook groups has been increasing as more and more individuals are joining them. Joining Facebook groups is a great way to increase your e-commerce business's awareness.
Your job is to choose the most relevant Facebook groups in your industry and post regularly to make the group members remember you. Make sure your posts are informative and valuable to the users.
We love practicing what we preach, and below, you can see us sharing valuable information with Shopify's group audience.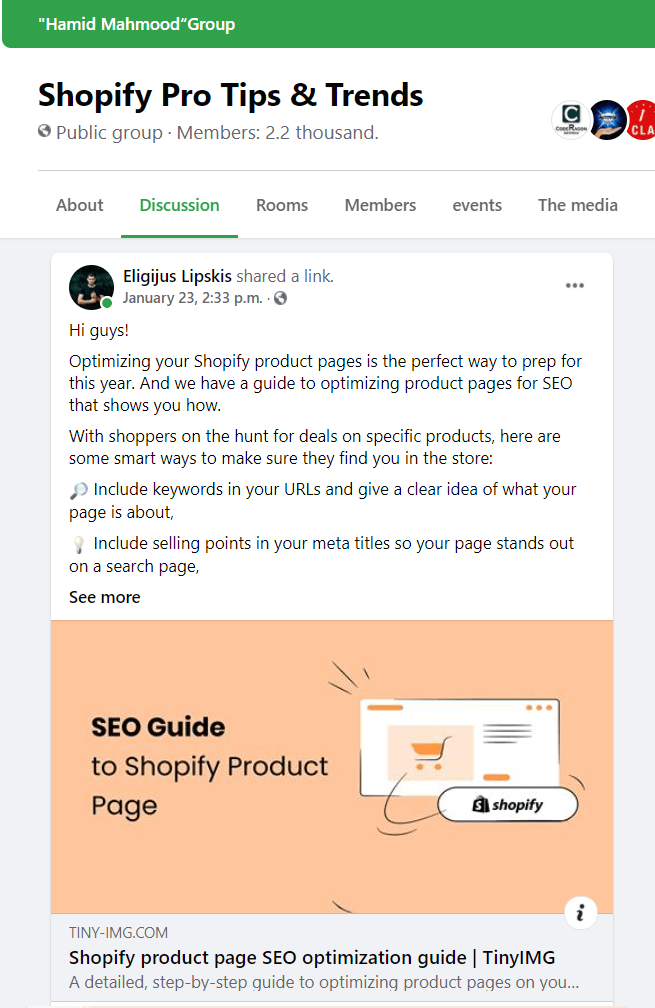 Instagram
Instagram is an excellent middle ground between LinkedIn (that is more on a formal side) and TikTok (that is used mostly for entertainment). On Instagram, you can emphasize your expertise (e.g., sharing testimonials) and show more of your fun side using the Reels function.
When it comes to Instagram, it is the best platform to encourage your clients to create content for you. By sharing a client with, say, a bag or jewelry purchased from you, you will create a positive image online.
TikTok
While TikTok started as more of a youth platform, today, more and more brands are beginning to use it to achieve their business goals.
The main rule here - have fun and be creative. Your entertaining content can help you to guide potential clients to your e-shop. Therefore, putting some effort into thinking outside the box might be a good investment.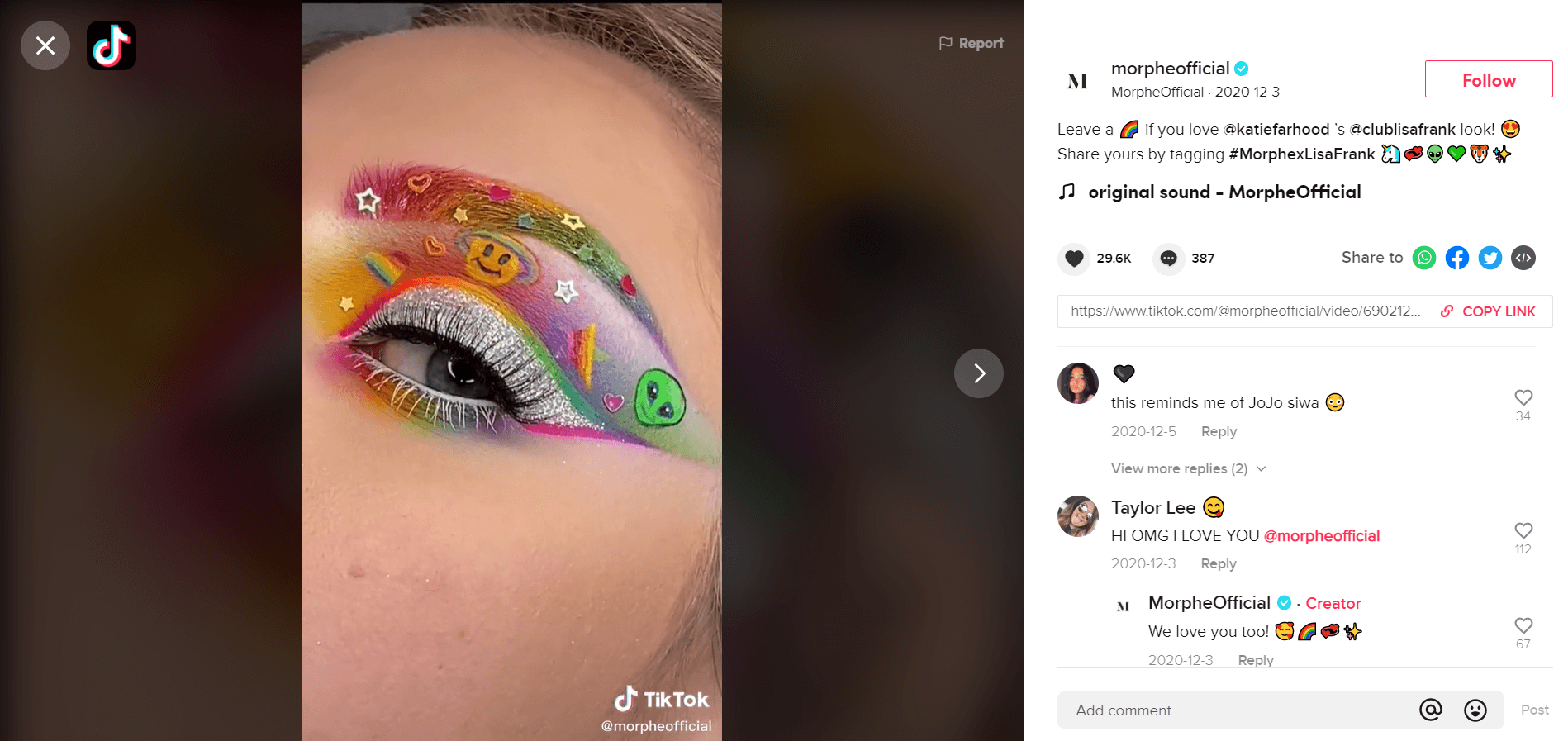 Tips and tricks for improving your social media
Now that you are aware of the importance of social media for e-commerce let's see some actionable steps you can take to improve your accounts.
Some general advice
Stay consistent

with your brand voice and image. That includes using the same colors, fonts, and logos on every platform you decide to join. Doing so helps your audience to recognize you and trust you.

Use the power of a CTA

(call to action). With every post you release, make sure you tell your audience what to do next. In most cases, that would be directing them to your e-shop, so that they could find all the excellent products you have to offer.

Make sure clients are happy when they visit your e-shop

. In this case, make sure your products have clear descriptions and high-quality photos.
When you are done with the basics, let's quickly recap how to use different social media platforms effectively.
LinkedIn
1. Make sure you fill your profile with all the necessary information. Double-check if you have provided the website to your e-shop, contacts, and other relevant information.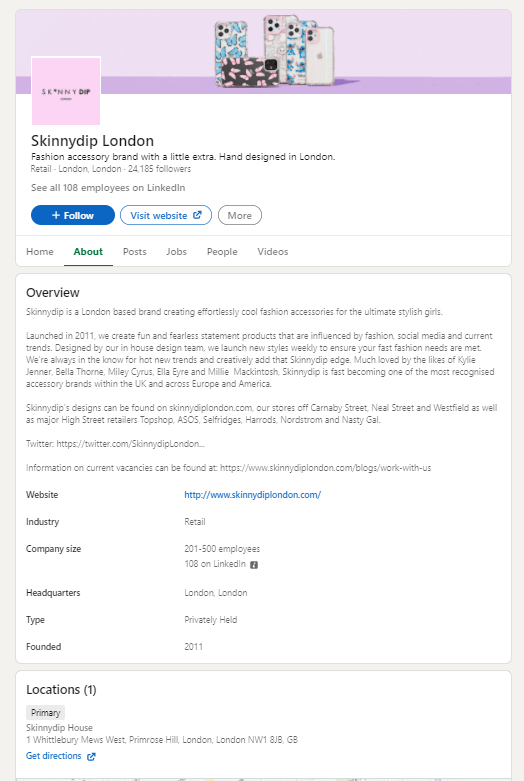 2. Post twice a week. The good thing about LinkedIn is that you won't need to be posting 24/7. Usually, two high-quality posts are more than enough. Share some insights from your industry, tell details about your products and encourage discussion.
3. Interact with other members and pages. Make sure you follow the relevant people and brands and take time to interact with them. This might create strong and useful connections.
Facebook
Take care of the basics. Again, make sure you update your Facebook page with your contact information and a link to your website. This will make it easier for clients to find your products.

Interact in the groups. As we have already mentioned, the role of

Facebook groups is increasing. Join ones that are relevant to your industry, and make sure you post there consistently.
Instagram
1. Take care of your profile. Write an informative bio, use relevant hashtags, and upload high-quality content.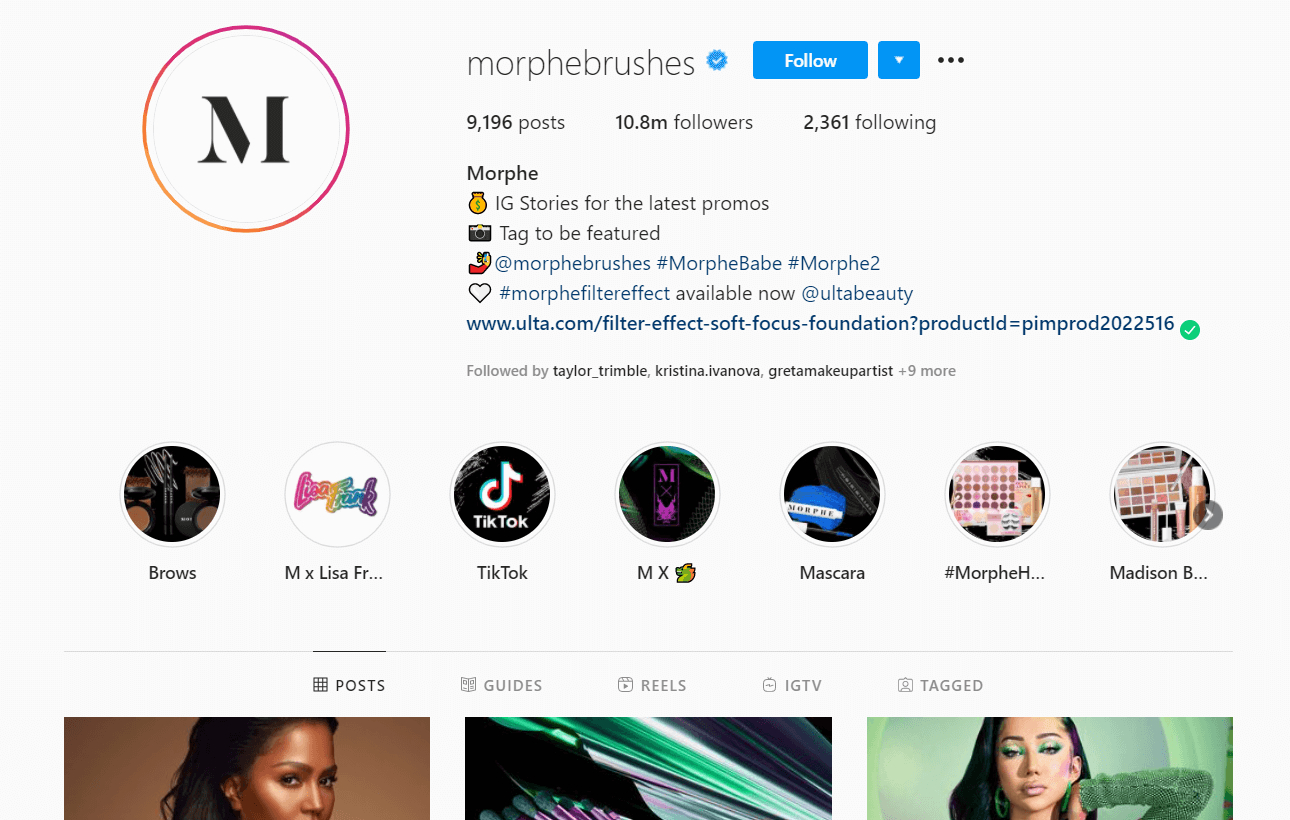 2. Interact with your audience. Create polls on Instagram Stories, ask questions, and encourage your audience to share their experience with your product.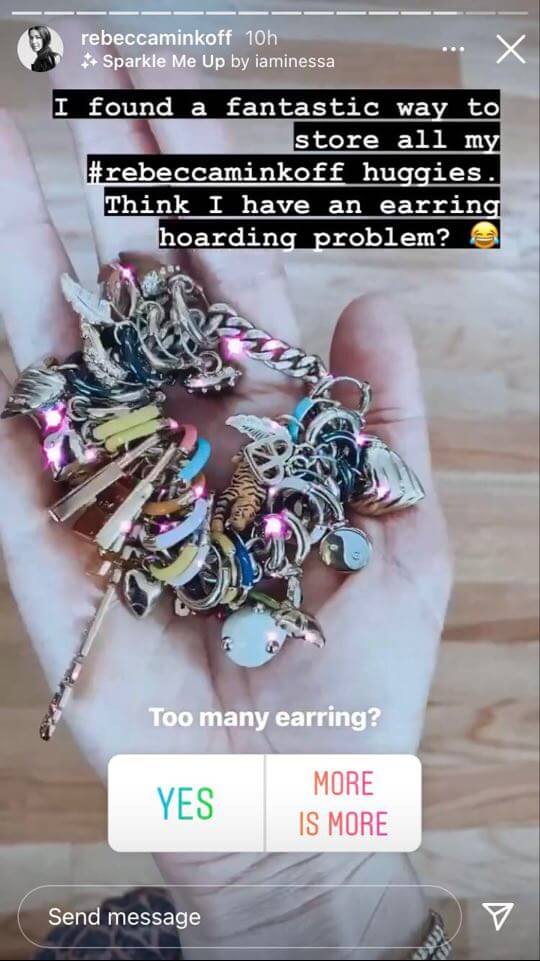 3. Always respond to the comments. No, liking a comment is not a response. Take some time each week to respond to every comment you get on your social media platforms. This will help to create a closer bond with your current and potential clients.
TikTok
Have fun and stay creative

. As

TikTok

is meant to entertain, make sure your content is interesting and creative. This will increase your chance of getting noticed.

Make your entertaining content useful

. Find that sweet spot between fun and education, and make sure your audience learns something new by watching your content.
Bottom line
Now that we have discussed the importance of social media in e-commerce, we encourage you to test it out for yourself. Join the most relevant social media platforms in your industry, and invest some time and effort to foster your business goals. We promise, it will be worth it!