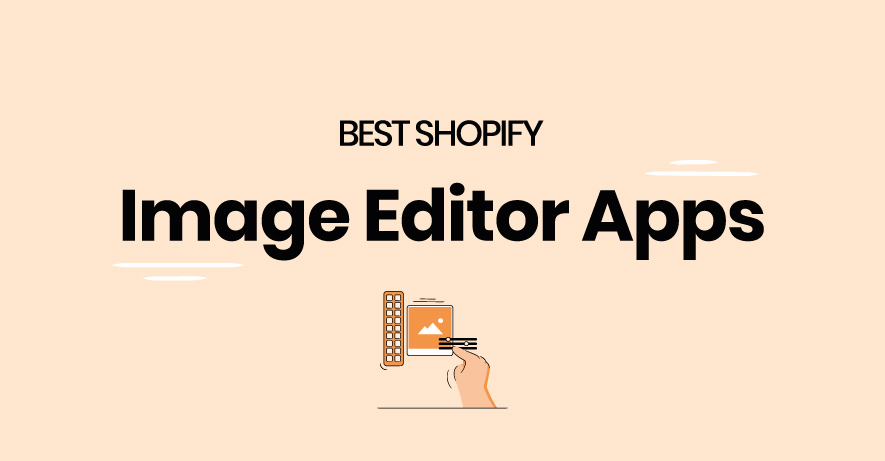 By purchasing through the links on this page, you are giving us the opportunity to earn a commission. Your support is greatly appreciated!

Shopify image editors are a great way to make your store look more professional in a relatively easy way. Photoshop can be hard to learn, especially for a beginner, so having a photo editor to optimize your Shopify store will make the editing process more efficient.

However, just like with other Shopify apps, there are plenty of options. So what did we do? Yes, we made a shortlist of various different options for you! We chose the 7 best photo editor apps by testing their features, checking reviews, and reviewing the pricing plans.
Best Shopify photo editor apps: shortlist
Here is the shortlist we selected for this article:
7 best Shopify image editors: overview
Of course, there is a lot more to say about each photo editor app, so let's start.
1. Swap Photo Editor

3 photo editors, background & logo remover
Swap Photo Editor is feature-heavy and allows you to edit images in your Shopify store professionally – just like you would on Photoshop. in fact, this app offers three different photo editors: Adobe Editor, Photopea, and their own Swap Editor. This means that whether you're a beginner at editing or an advanced editing guru, you'll find a sweet spot with this app.
The features don't end at cropping and resizing, you can remove backgrounds, logos, watermarks, compress your images, and more. What's even better is that you can do it all in bulk!
Other features:
Unlimited usage
Pay once for a year
Responsive customer support
So when it comes to powerful eCommerce photo editors, Swap definitely has you covered.
2. PixPix Image Editor

Image crop & resize, bulk image editing, advanced editor
$9.99/month (free plan available)
PixPix is a feature-rich Shopify photo editor that allows you to crop, resize images, change or remove backgrounds, logos, and fix colors. You can edit product photos in bulk, and draw and put text or logos on any image.
Some users say the free plan is enough for basic image editing tasks. However, the paid version features a more advanced editor called Photopea which has powerful, Photoshop-like tools that allow you to take photo editing to the next level. It also allows you to bulk upload images.
You can give the paid version a shot for 7 days for free!
Other features:
Intuitive interface
Beginner-friendly
Image orientation change
SEO image editor
An all-in-one Shopify photo editor with lots of features, PixPix is extremely easy to use and navigate.
3. Pixelz: Photo Retouching

Professional retouching, fast delivery
$0.95/photo (Free to install)
Pixelz does more than just your usual Shopify product photo editor app. Aside from background removing, cropping, resizing, and other editing essentials, the app also provides professional photo retouching.
It works by combining expert Photoshop retouchers with AI, delivering the results efficiently and affordably. All you have to do is send the images you want to retouch by midnight, and get them back polished by 9 AM the next day.
Other features:
Adding shadows
Color matching
All editing essentials
If you're looking to freshen up your Shopify store and give it a more professional, clean look, Pixelz certainly delivers on that promise.
4. Easy Photo Background Remover

Fully automatic, background color picker
$0.50/photo (Free to install)
This AI-driven background remover will detect the object in your image and remove the background automatically. All you have to do is click once. You will also be able to choose any background color you want – so it doesn't have to be white. Match it with your store's design with ease.
Using the bulk feature, you'll be able to remove backgrounds from 15 photos at once. However, after using two free credits, the pricing will be $0.50 per photo. So, depending on your store size, this could be a pretty smart investment.
Removing the background of the photo can make your Shopify store look more professional and put together – and with this photo editor you can achieve just that.
5. Retouchpro.ai Image Editor

Automated photo editing, bulk image processing & editing
$9.95/month (free plan available)
Retouchpro.ai offers Shopify store owners an AI-based feature that automates photo editing saving you time and money. The editor can crop, remove backgrounds or add shadows, all in a few seconds. You can also upload, process, and edit images in bulk, saving you from spending time on manual tasks.
The app has a free plan, and you can use automated cropping and resizing without paying a penny. It also has some other features available, like background removal, shadow generator, and aspect ratio changer.
Other features:
Fast processing
Shadow generator
Watermark images
If you're looking for a powerful image editing tool that automates frequent manual tasks, go for Retouchpro.ai!
6. BIE: Bulk Image Editor

Bulk image editing, easy interface, task manager
From $4.99/month (free plan available)
No surprises here, it's all in the name – the main feature of this Shopify app is bulk image editing. You can edit photos straight from your collections. The editor allows you to trim, square, reshape, enhance, filter, compress images, and more.
The app has a free plan, but it's pretty limited: 100 monthly image edits, 1 scheduled task, and 30 image backup days. However, paid plans start from just $4.99/month, then it goes to $14.99/month and finally $49.99/month.
If you want a straightforward Shopify image editor with a clean design and simple interface, BIE could be your choice.
7. Upload-Lift Image Upload

Unlimited image uploads, easy photo editing
From $9/month (free plan available)
Upload-Lift allows you to upload an unlimited number of files/images to your Shopify store. You can add files that are up to 5GB in size! They can also be any file type. This app isn't only just an eCommerce image editor, but the array of features is useful if you're trying to boost your Shopify store's potential.
The editing tool in this app is pretty simple – you can edit the images and preview them before uploading.
As pricing plans go, you get unlimited file uploads with every plan – that includes the free one. You also get 50 uploads linked to orders, a maximum of 10MB upload file size, and your file uploads will be stored for 30 days. With pricier plans, the numbers of those listed features increase, so you're allowed to do more, upload bigger files, and so on.
All in all, if your store is image-heavy, those unlimited file uploads could surely come in handy!
Summary
When it comes to eCommerce, product images can make or break your store. So going for the best Shopify photo editing app that fits your particular needs is a smart investment.
Make sure you know what you're looking for because the apps in our list offer different features and pricing plans. For example, Swap Photo Editor has all the features you could potentially need in one place – and they offer three separate editors for different skill levels. The app offers a 3-day free trial, but it might not be enough to see if it's the right choice for you.
When it comes to free options, Retouchpro.ai has a decent free plan with an array of features that could be a good starting point for your store.
Whatever you choose from the list, we're sure it will improve your Shopify store visually and attract more visitors!
Other Shopify apps you might be interested in:
Frequently asked questions
Does Shopify have its own image editor?
Yes, you can edit your photos from your Shopify admin panel. You can crop, resize images, draw on them, and change the rotation. Since the native Shopify editor is pretty limited, we encourage installing one of many Shopify's image editor apps.
What can a Shopify image editor app do?
With a Shopify image editor app, you can crop, resize images, remove and change backgrounds, add or remove shadows, remove logos, watermarks, add text, retouch photos, and more. Generally, the assortment of features depends on a particular image editor.