By purchasing through the links on this page, you are giving us the opportunity to earn a commission. Your support is greatly appreciated!

Did you know that existing customers are 50% more likely to make a purchase than new ones? To utilize all that potential as well as present your new clients with the best product recommendations, you need a Shopify upsell app.

We reviewed the best of what Shopify app store has to offer. All these apps have exceptional upselling and cross-selling features, shiny reviews, reasonable pricing models as well as various unique perks. We'll also cover additional tips for effectively upselling on Shopify.
What is upselling and cross-selling on Shopify?
You know those widgets or pop ups that offer you product upgrades or additional product recommendations? Like this complete-the-look widget on a product page?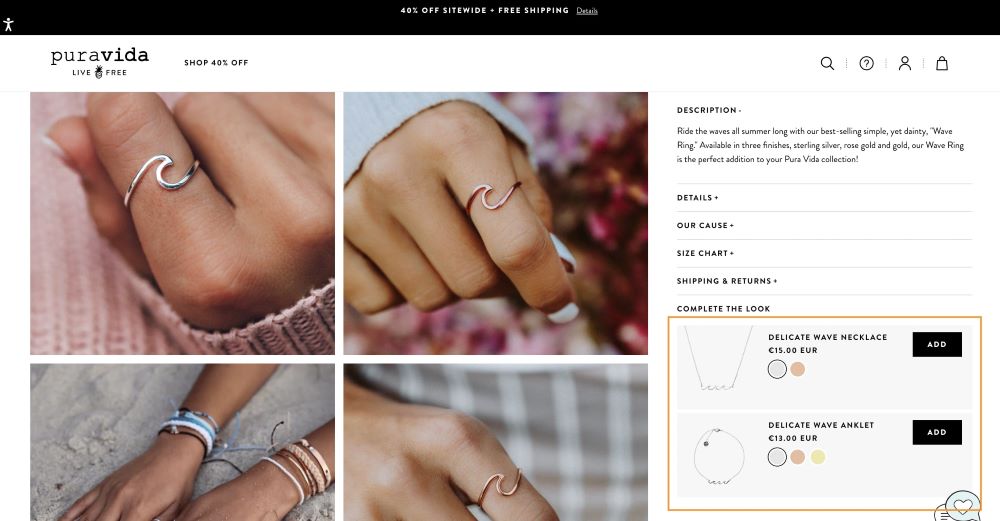 That's upselling and cross-selling.
Upselling and cross-selling are techniques designed to maximize average order value and orders per customer. Put simply, they help you sell more and increase revenue.
Upselling refers to suggesting an upgraded, more expensive version of a chosen product. Imagine, a person is buying rain gear and a tent from an outdoor supply store. However, the tent they chose isn't fully waterproof. A pop up appears at checkout, offering a waterproof version of the same tent with a 10% discount. The customer immediately swaps out their first choice for this, more expensive tent. That's upselling.
Cross-selling means recommending other but related, usually cheaper products. For example, a person purchasing a new phone gets a phone case and a protective screen cover recommendations right before the checkout.
As powerful as it is, it's one of the more underutilized sales techniques. Even though many stores out there have some kind of upsell or cross-sell attempts, displaying outdated widgets with half-asked product suggestions won't cut it.
People need real value, so your Shopify store should present them only with personalized, slick-looking product recommendations.
One of these 9 amazing Shopify upsell and cross-sell apps will help you do exactly that.
Top 9 Shopify upsell apps for 2023: overview
First, let's look at the shortlist of 5 Shopify upsell and cross-sell apps and why they stand out:
UFE Cross Sell & Upsell Bundle - overall best Shopify upsell and cross-sell app
LimeSpot Upsell & Cross-sell - best range of upsell features (includes email upselling)
ReConvert Upsell & Cross sell - affordable option with advanced Thank You page upselling
Frequently Bought Together - best algorithm for automated upselling and cross-selling
Zoorix: Cross Sell & Bundles - best Shopify upsell app for beginners
Don't lose sales because you product images are too slow to load. Improve your store's page speed today
Install TinyIMG now
Now time for an in-depth look at what these 9 best Shopify upsell and cross-sell apps bring to the table.
1. UFE Cross Sell & Upsell Bundle - top overall Shopify upsell app

Free - $249.99/mo, flat fee
UFE has to be our first choice of best Shopify upsell and cross-sell apps. Unbeatable feature variety on the lower end plans, flat monthly fees, straightforward interface, some of the best customer support - it's all there.
If your store makes 50 monthly sales or less, you can use the UFE upsell app for free with unlimited funnel views and pretty much all app features - amazing for small Shopify sellers.
Who should use UFE:
Small Shopify stores
Stores with few sales but big order value
Wholesalers (great bulk purchase upsell)
Stores looking for a well-rounded upsell solution with flat fees and rare features (e.g. downsells and multilingual upsell widgets).
What UFE is great at:
Comprehensive free plan
No commission fees on any plans
Covers most upsell options (product page, cart and checkout page, thank you page, homepage).
Dynamic bulk buy offers
Huge emphasis on smooth and seamless customer experience
Optional downsells for hesitant customers
Upsell widgets support many languages
Possible upsell offer scheduling
A/B/N testing
Great, easy-to-understand analytics dashboards
UFE areas for improvement:
Note that the plans are based on sales volume of the whole store, not the ones generated by the app
Limited widget customization
No email or SMS upsells
Free plan includes their watermark
What does working with UFE look like:
Here is a recommended item widget on a demo product page of UFE. It highlights not only product prices, but also main features and a discount to sway the purchasing decision: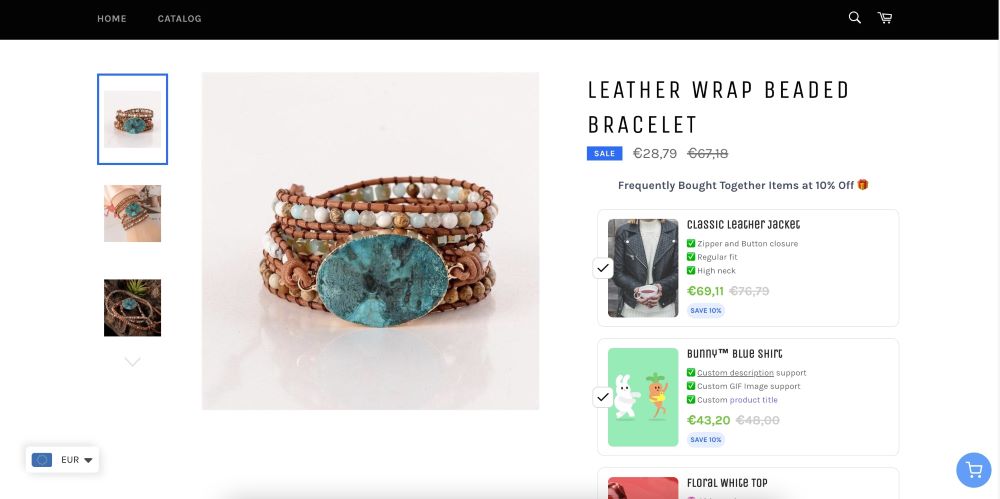 2. LimeSpot Upsell & Cross-sell - biggest range of upsell options

$15/mo - $400/mo, commission fees apply
No, 15-day free trial available
LimeSpot is the top choice for Shopify stores that aren't afraid to invest into a multichannel upsell strategy. They offer a great range of website upsells (even on blog or 404 pages). What's most important - with their Premium plan you can take it one step further and unlock the power of email and SMS upsell strategies.
Who should use LimeSpot:
Stores looking to take their upsells to the next level with personalized post-purchase emails.
What LimeSpot is great at:
Email and SMS upsells (only with $400/mo Premium plan)
Highly targeted widgets, real-time customer segmentation (browsing patterns, purchase history, device, location, and more)
Huge variety of recommendation boxes (frequently bought together, related, trending, etc.)
Option to include product recommendations on blog and 404 pages
Live widget preview
Supports A/B widget testing
Plans allow feature add-ons
Additional services (content customization, headless eCommerce)
LimeSpot areas for improvement:
Confusing pricing model, in general expensive
No Shopify demo store available for review
3. ReConvert Upsell & Cross sell - best for advanced Thank You page upselling

$4.99/mo - $29.99/mo, commission fees might apply
No, 30-day free trial available
ReConvert has been a leader among Shopify upsell and cross-sell apps for a while, famous for its Thank You page upsell features. At this point, it offers a lot more and is one of the more affordable options.
Who should use ReConvert:
Stores looking to triple-down on post-purchase upsells.
What ReConvert is great at:
Advanced thank you page optimization (only with Pro $14.99/mo plan)
Post-purchase survey
Automatic funnel generation
Advanced checkout triggers and segmentation (make product suggestions or custom thank you pages based on specific customer actions and purchases)
Advanced analytics
Customer segmentation and tracking
Compatible with any Shopify theme
ReConvert areas for improvement:
No free plan
Reported customer confusion due to misleading button placement in widgets
Quite complicated funnel setup
No email of SMS upsells
What does working with ReConvert look like:
Let ReConvert turn your Thank You page into a powerhouse by displaying custom discount codes, suggested additional products and more: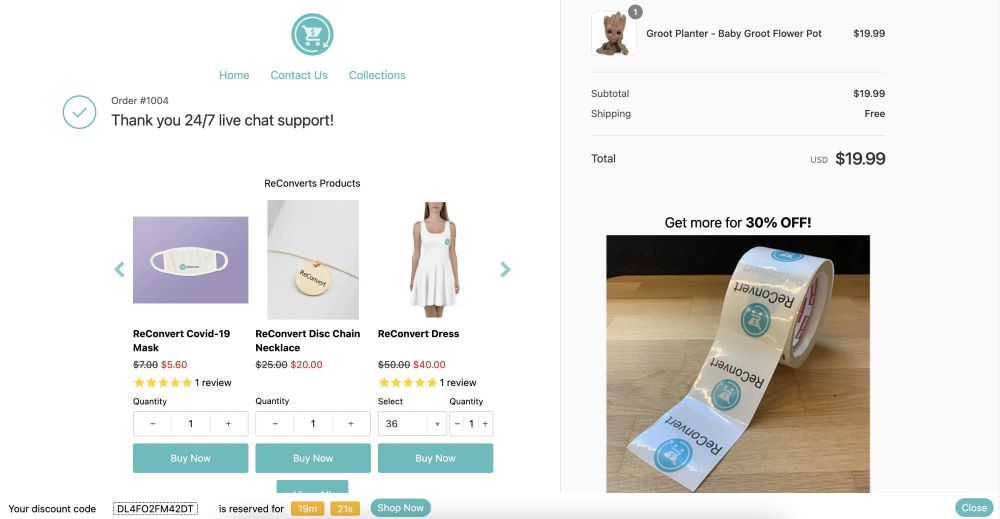 4. Frequently Bought Together - best algorithm for automated product cross-selling

Free - $19.99/mo, flat fee
Frequently Bought Together chose their niche and capitalized on it. They constantly fine-tune their algorithm based on customer behavior patterns and feedback. Because of that, this Shopify app is an automated cross-selling leader able to suggest additional products your customers will actually want.
Who should use Frequently Bought Together:
Stores that want to effortlessly create real value for their customers thanks to an advanced algorithm.
What Frequently Bought Together is great at:
Flat monthly rate without commissions
Unlimited widgets and products
Huge focus on product suggestion algorithm development
Easy but powerful visual customization
Powerful analytics
Recommendation tuning (geotarget specific recommendation lists and manually select recommended products)
Frequently Bought Together areas for improvement:
No post-purchase upselling
Not very flexible support (only email, refuses video calls)
Although customizable, the basic widget design could use a facelift
Plan prices scale based on your Shopify plan, no additional features get added
What does working with Frequently Bought Together look like:
Here is a basic yet effective Frequently Bought Together widget with recommended products: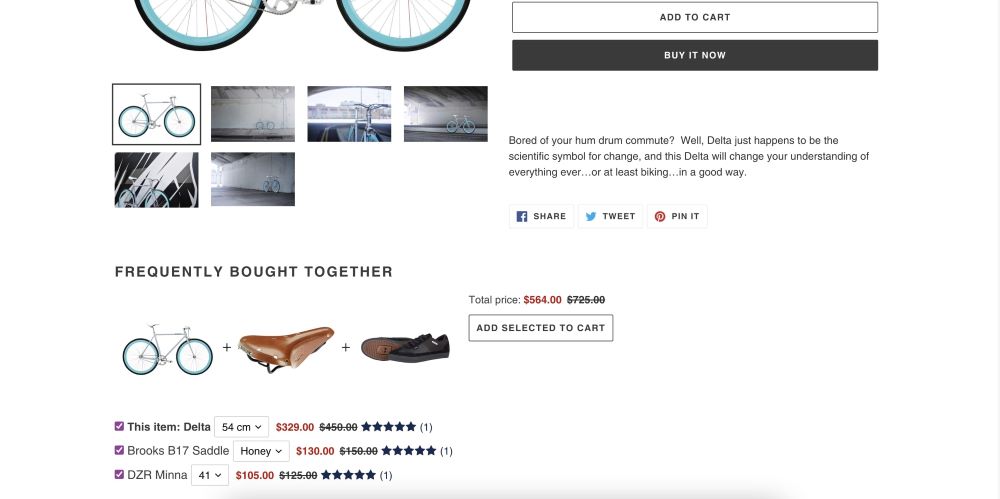 5. Zoorix: Cross Sell & Bundles - best option for beginners

Free - $19.99/mo, flat fee
Zoorix is a straightforward app designed to be as intuitive and simplistic as possible without sacrificing feature variety.
Same as in UFE, almost all features are completely free for stores with fewer than 50 monthly orders, making it a super appealing solution for new or small Shopify sellers.
Who should use Zoorix:
Great for new Shopify sellers and complete upselling beginners.
What Zoorix is great at:
No commissions
New Mix & Match recommendation based on product collections
Bulk upsells
Collapsable recommended product sliders
A lot of variation for bundle upsells
Multilingual widgets
Intuitive dashboard and straightforward analytics
Zoorix areas for improvement:
Note that Zoorix plans upgrade based on total store sales, not those generated by the app
What does working with Zoorix look like:
Here is an example of a cross-sell slider created with Zoorix: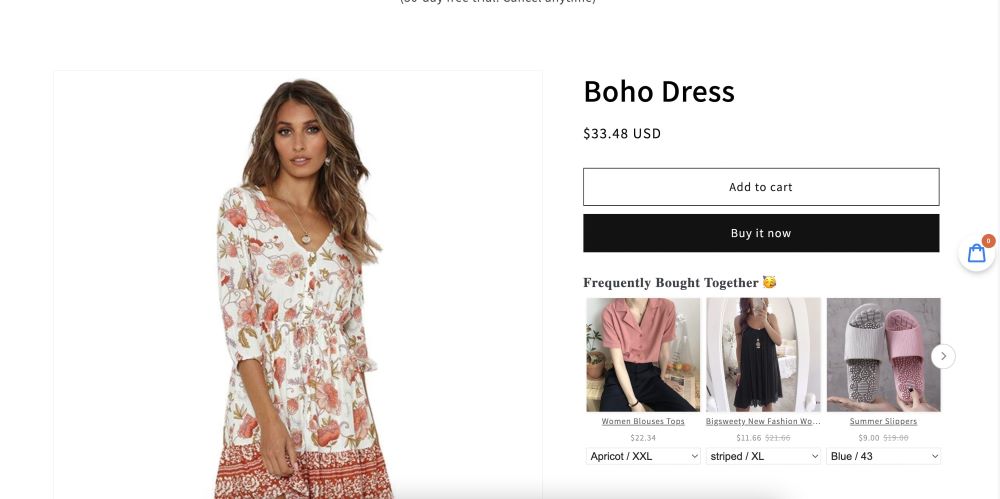 6. Honeycomb Upsell & Cross Sell

Free - $149.99/mo, flat fee
Honeycomb upsell and cross-sell app offers everything one would expect plus a full autopilot mode. It will generate upsell and cross-sell campaigns from scratch and you have a 7-day free trial to decide if you're satisfied with the result.
Who should use Honeycomb:
Great for sellers that want fully automated upsell management.
What Honeycomb is great at:
Sufficient free plan features, no commission fees
Powerful autopilot mode
Good customization possibilities
Optional downsell
Funnel A/B tests
One click post-purchase upsells (customers don't need to re-enter their card details)
Built-in personalization features for upsell widgets
Supports custom CSS and JavaScript
Performance tracking and analytics
Desktop and mobile preview
Honeycomb areas for improvement:
Reported clashes with other apps
Poor quality demo store
In-checkout upsell available only for Shopify Plus members
7. In Cart Upsell & Cross Sell

Free - $59.99/mo, flat fee
While In Cart does fall behind on the design front, it has a clear mission in mind - make upselling a native shopping experience. They denounce popups and focus on making their widgets as unobtrusive as possible. If you share the sentiment, give them a shot.
Who should use In Cart:
Shopify sellers that hate pop ups and want to offer only native upsell experiences.
What In Cart is great at:
Flat pricing, long paid plan free trial
Product offer setup based on triggers (certain actions of your customers)
Performance tracking and analytics
Advanced targeting (location, order amount, type and more)
A/B testing
Live chat support
In Cart areas for improvement:
Only one upsell offer available with the free plan
Outdated and poor quality design widget (e.g. reported overlapping elements in widgets)
Average customer support responsiveness
What does working with In Cart look like:
Here is an example product page with cross-sell widget generated by In Cart: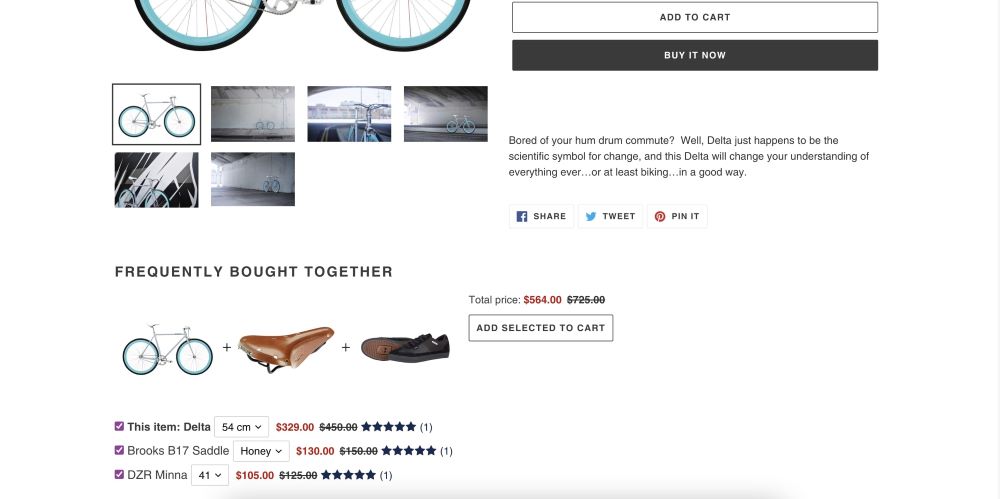 8. Bold Upsell

No, 14-day free trial available
The app is called Bold Upsell, and they live up to their name. Their unique feature is upsell funnels. How does that work?
When your customers get a pop up with a recommendation that doesn't interest them, they will try to close it. However, they will immediately get another recommendation with an educated guess (different type or cheaper product) that might fit their needs better. While based on customer behavior, this kind of approach is very intrusive and can backfire.
Who should use Bold Upsell:
Shopify stores looking to try out the power of upsell funnels.
What Bold Upsell is great at:
Popups with variant and quantity options
Widget customization (supports custom CSS)
Post-purchase upsells
Performance tracking (includes purchasing trends)
Upsell campaign scheduling
Triggers and automatic recommendations available
Upsell funnels (based on customers previous actions) - $99/mo add-on for all plans
Bold Upsell areas for improvement:
No product page upsells
Strange plan upgrade system (based on upsell views per month)
Outdated app UI
Reported issues with support responsiveness regarding technical issues
What does working with Bold Upsell look like:
A pop up with related product suggestion created with Bold Upsell: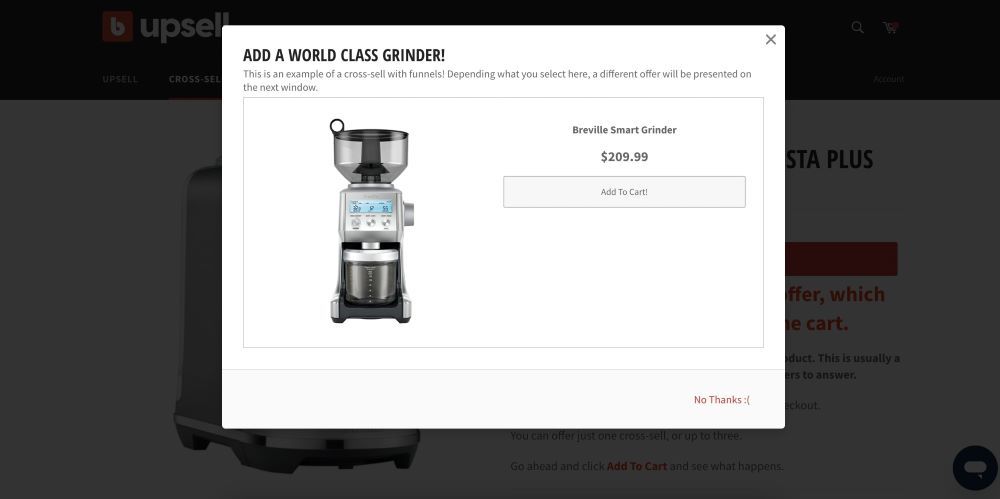 9. Upsell-Pop Ups-Email Marketing

Free - $9/mo, flat fee, custom pricing options
Upsell-Pop Ups-Email Marketing is an app that tries to do it all and succeeds. Well, almost. You get a range of marketing automation features, loyalty programs and powerful upsell widgets. However, there is a lot of space for improvement. The app is quite complicated to use and has quite a few reported bugs, so it comes as our last suggestion.
Who should use Upsell–Pop Ups–Email Marketing:
Shopify sellers that want to cover as many bases as possible with one app.
What Upsell–Pop Ups–Email Marketing is great at:
One-click post-purchase upsells
Advanced SMS and email marketing (includes upsell campaigns)
Segmentation and A/B testing
Post-purchase survey
Social proof product widgets
Abandoned cart recovery
Reward and loyalty program
Option to book a demo call
Upsell–Pop Ups–Email Marketing areas for improvement:
A bit confusing what exactly you get with each plan
Charges based on customer profiles
No proper demo store to test
Very complex interface and app navigation
Reported app crashes in the past 6 months
Additional Shopify upselling and cross-selling tips
A good Shopify cross-sell and upsell app ensures smooth sailing of your sales strategies. But you can unlock a whole different level of upselling power with a bit of additional effort.
Make good use of confirmation emails. Sending a plain order confirmation email is a sin. Most people look at their order confirmation emails with extra care, some even return to them multiple times. On top of that, they look at them after just making a purchase, which is when people are the most prone to making another purchase due to release of endorphins and dopamine (yes, science). Don't waste this potential and include product recommendations.
Select recommended products based on the purchase journey stage. Upsell, meaning suggest upgraded versions of their chosen product, right before the purchase. But don't recommend a premium version of the same product post-purchase, you want the person to be content with their decision. Post-purchase pages are for cross-selling related products.
Make use of big value purchases. Cross-sell like crazy to those who are already committed to an expensive purchase, they will be a lot more prone to cheap add-on products.
Final thoughts
Done and done! Now you can comfortably create your upselling and cross-selling strategies.
While UFE, LimeSpot and ReConvert are our top suggestions for a Shopify upsell app, you can be confident that any app on this list is a worthy solution.
Time to unlock the power of upselling!
Looking for more? Check out these lists:
Frequently asked questions
You'll get the most out of your upsell and cross-sell widgets if you place them on product, cart and thank you pages. However, you should also utilize targeted email campaigns or unfortunate 404 cases to maximize your upsell potential.
Not exactly. Product recommendation is a broad term that includes upselling, cross-selling, downselling and more AOV maximization techniques. Upselling refers specifically to recommending a more expensive or better version of the same product